Let's face it. People come to 'Sin City' to party, and there's no denying the fact that the Las Vegas Strip smells like weed. For whatever reason, the aroma is especially potent in between New York-New York and The Cosmopolitan. It's almost as if Snoop Dogg, Cheech & Chong, and Willie Nelson are in some high-roller suite with a fan pointed down directly on the intersection of Las Vegas Blvd and MGM Rd.
Typically, the essence will slowly fade away the further north you go down the Strip, reappearing again vigorously near Fremont Street. Sure, you can walk down the Vegas Strip while high, which is always fun. However, if you're looking to do some amusing activities that will take the experience to a whole other level here are eight psychedelic things to do in Vegas while high.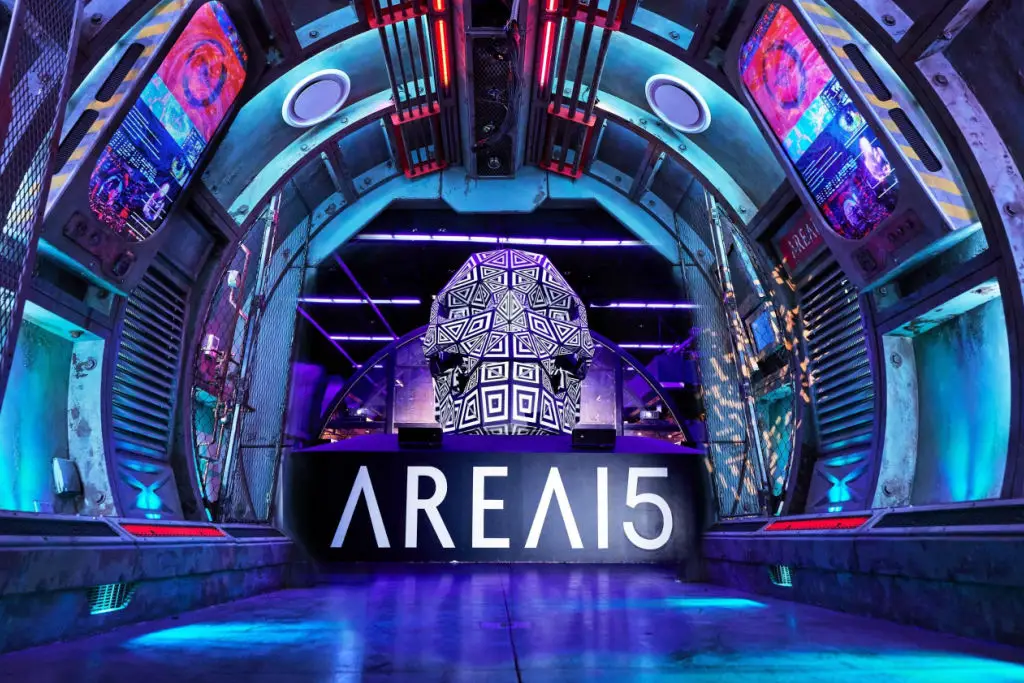 Tip: It's important to note that the less research you do will make the experience much more extraordinary. For this reason, pick out the attraction(s) which seem the most interesting and buy tickets without learning too much about them before visiting. All of the links below offer the best prices in Vegas!
Fun Psychedelic Things To Do in Vegas While High
Before moving forward, of course, we have to state that this article is for experienced smokers only. First timers, you're out of here. Or, if you're the guy who immediately takes a nap sitting up, sorry buddy, this isn't for you. You know who you are. This is for the explorers, the adventurers, the wanderers, the free spirits—and, anyone else looking to expand their minds.
Save up to 50% on Vegas Attractions
One of the easiest ways to save a ton of money in Las Vegas is with a Go City Explorer Pass. It includes all the best attractions, tours, and activities at one affordable rate. If you plan on hitting up just a couple of the major tourist attractions, it's an absolute no-brainer. 👇
1. Get Lost in Meow Wolf's Omega Mart
First off, you should do as little research as possible about Meow Wolf's Omega Mart. Just go! In fact, the funniest thing ever would be to bring someone who has literally no idea what they're walking into.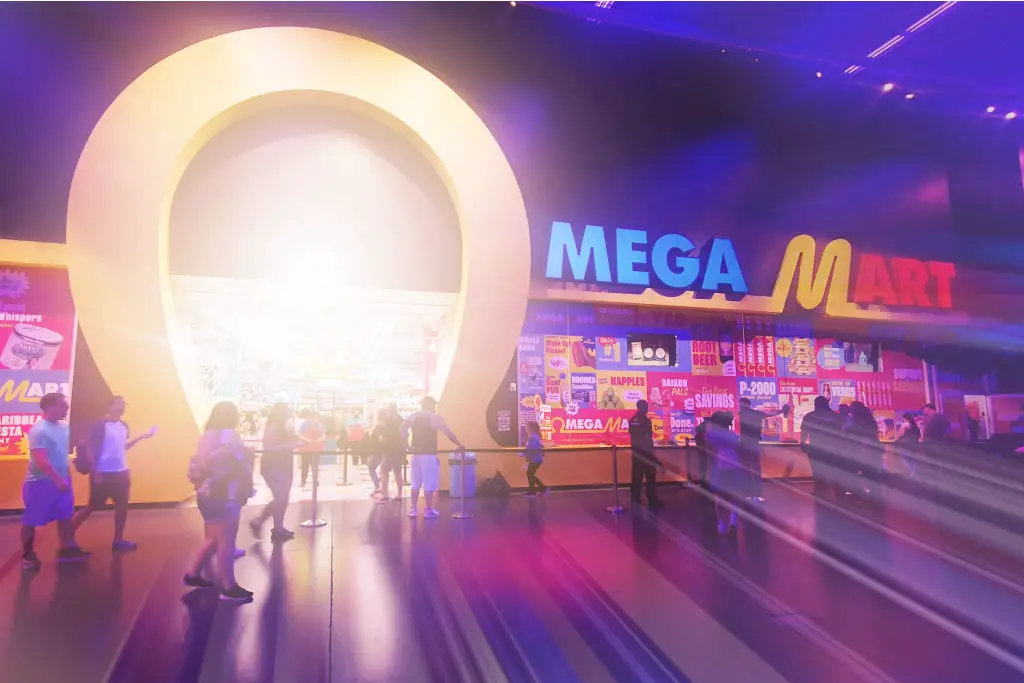 Many people, like us, agree it's one of the coolest things they've ever done—it's a hoot! We're going to keep the description as minimal as possible because we want you to be surprised. For example, if this were a movie, you wouldn't even want to watch the preview, just know it's awesome.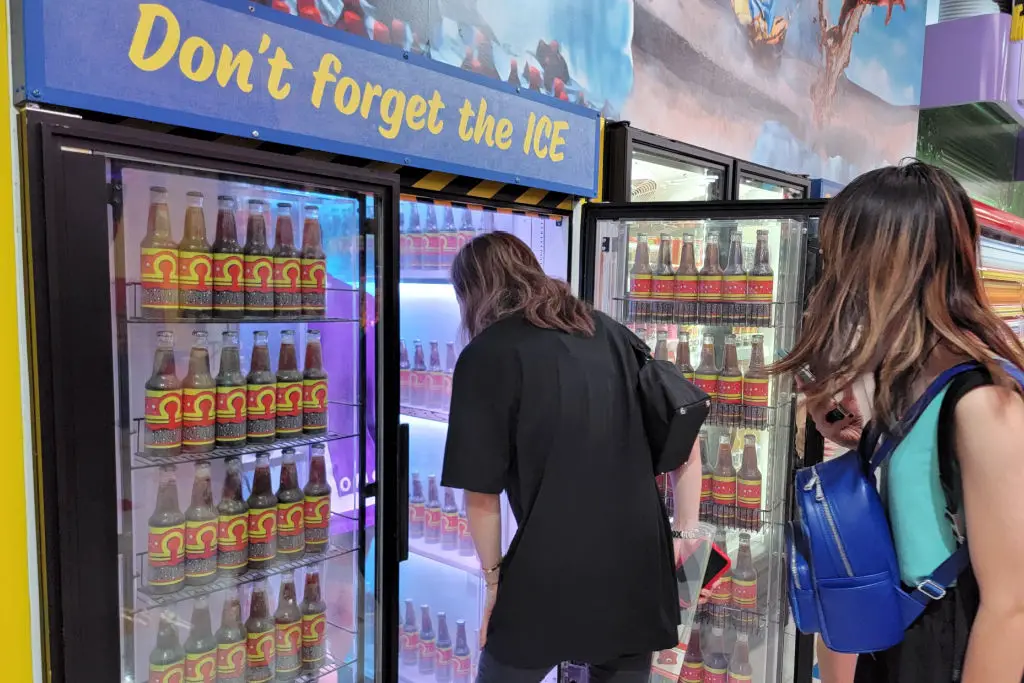 In short, the entire experience is a work of art. You're going to enter a fake massive supermarket called Omega Mart that's filled with products that will amuse and confuse you're brain, full of peculiar employees, and portals that lead to extraterrestrial lands. What?!?!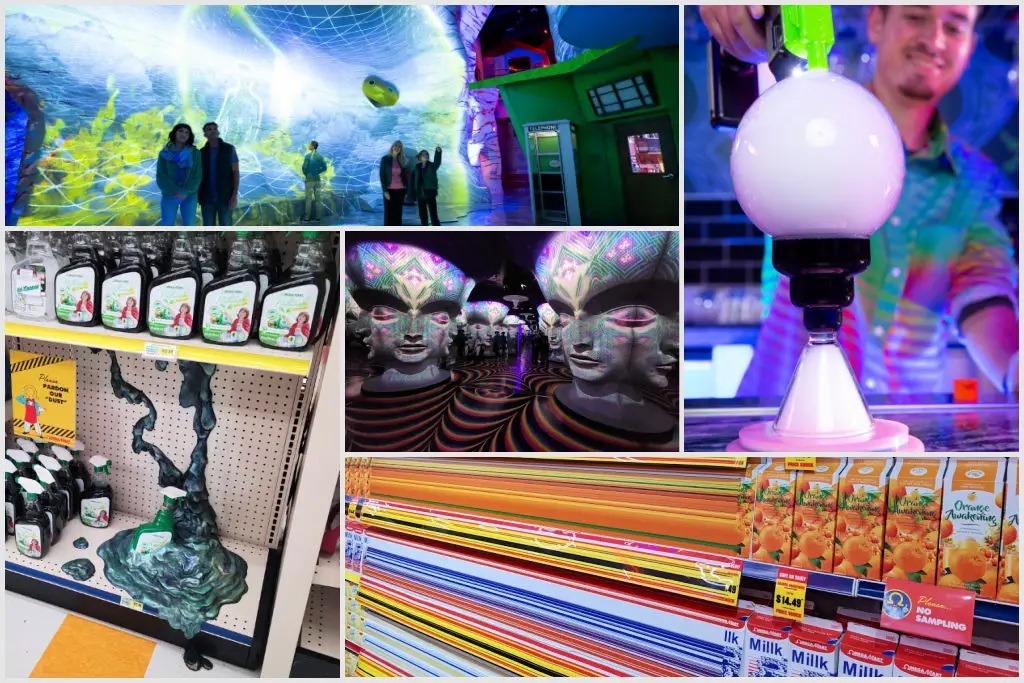 Meow Wolf's Omega Mart has been exhaustively detailed to create a trippy out-of-this-world experience. We really don't want to ruin it, so let's leave it at that. Also, be sure to check out Illuminarium—it's located in Area 15, the same building as Omega Mart.
Meow Wolf's Omega Mart > Buy Tickets
FAQ – Meow Wolf Omega Mart
How much does it cost to go into Omega Mart?
It costs $49 per person to visit Meow Wolf Omega Mart. Moreover, Meow Wolf recommends visitors buy tickets in advance as there are limited spaces and high demand.
How long does it take to tour Omega Mart?
It takes about two hours to thoroughly tour the facility and you should arrive 10 minutes before your allotted time slot.
How late is Omega Mart open?
Omega Mart is open until midnight. The last admission is granted at 10:20 p.m.
Where is Omega Mart located?
Omega Mart is located within AREA15, at 3215 S. Rancho Dr, the art and entertainment district positioned about 1 mile west of Wynn Encore. Therefore, you'll most likely need a rideshare service depending on where you're staying.
2. FlyOver Las Vegas
"Do you like flying? I got something that will really make you fly." LOL!
While some people may enjoy going on The Big Apple Coaster at New York-New York or jumping off The Strat with SkyJump, for us, those activities are a bit too much—while high. However, the FlyOver Las Vegas ride is just the right amount of rush to look for.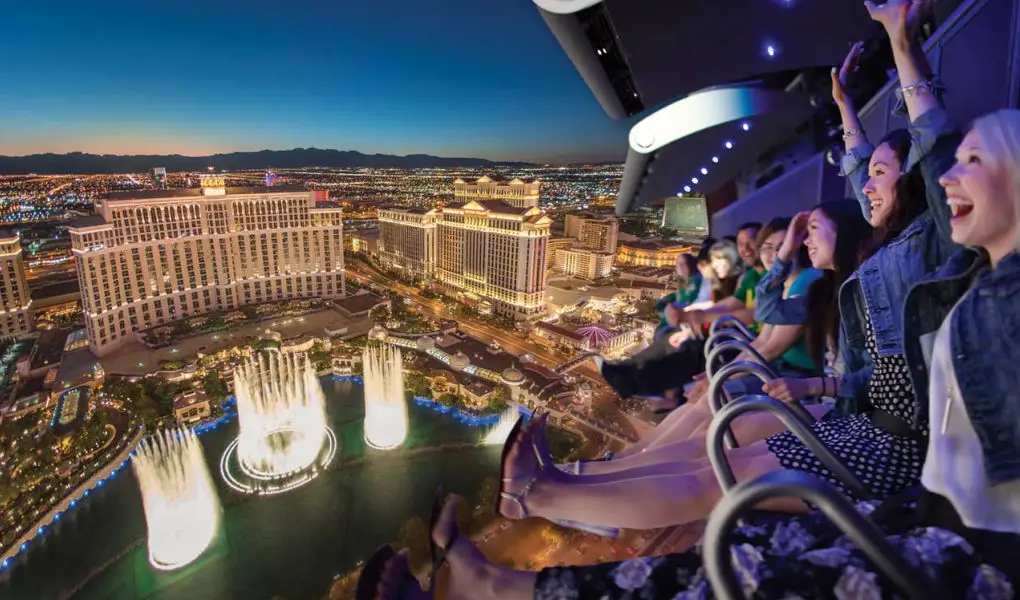 Located next to the Hard Rock Cafe's ridiculously large guitar, kitty-corner from New York-New York, (basically, the exact spot where the scent of Maui Wowie is the strongest,) FlyOver is conveniently positioned right on the Strip. Upon entering, guests are immediately transported to a relaxed nature-inspired landscape with soothing sounds and tranquil lighting.
We don't know if it's 7D, 8D, or 9D, but this is a thrilling ride that really does make you feel like you're flying. In fact, FlyOver is completely immersive, meaning passengers feel the dips, the dives, the wind, the mist, the scents, and even the speed.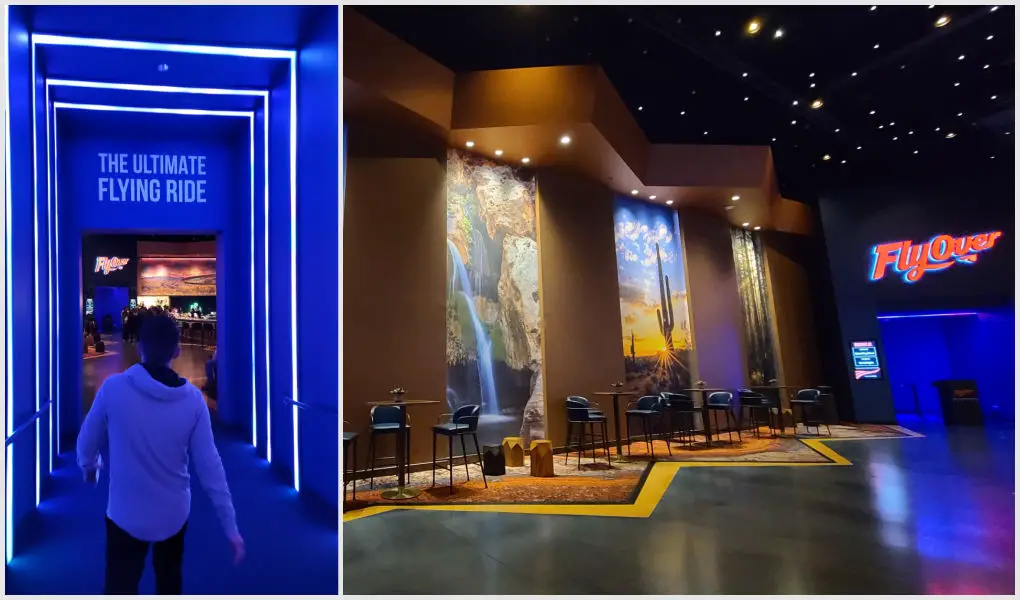 We'd arrive a bit early to enjoy a pre-flight cocktail and pick out the exact adventure you'd like to go on, as they are frequently updated. For example, all movies are destination-based, so you could be flying over the Canadian Rockies, Iceland, or Monument Valley.
Serving drinks like the Desert Sunset and Prickly Pear Margarita, the Lost Cactus Bar features winding river floors, slot canyon-like walls, and a star ceiling. Finally, FlyOver is open from 9 a.m. to 9 p.m.
3 Best Hotels in Vegas With Balconies
Did you know that very few hotels in Las Vegas have balconies (for obvious reasons)? Many visitors to Las Vegas wonder what the best place to smoke is only after realizing that their hotel doesn't have a balcony.
Sure, you can walk down the Strip or find a parking lot but "technically," it's illegal to use in public. Wouldn't it be chill to smoke on a balcony overlooking the Strip? Of course, be courteous to other guests, and be sure to close your balcony door. 😉 On a side note, if you really can't find a place, just go to New York-New York's 'The Park' and find a cozy spot to sit.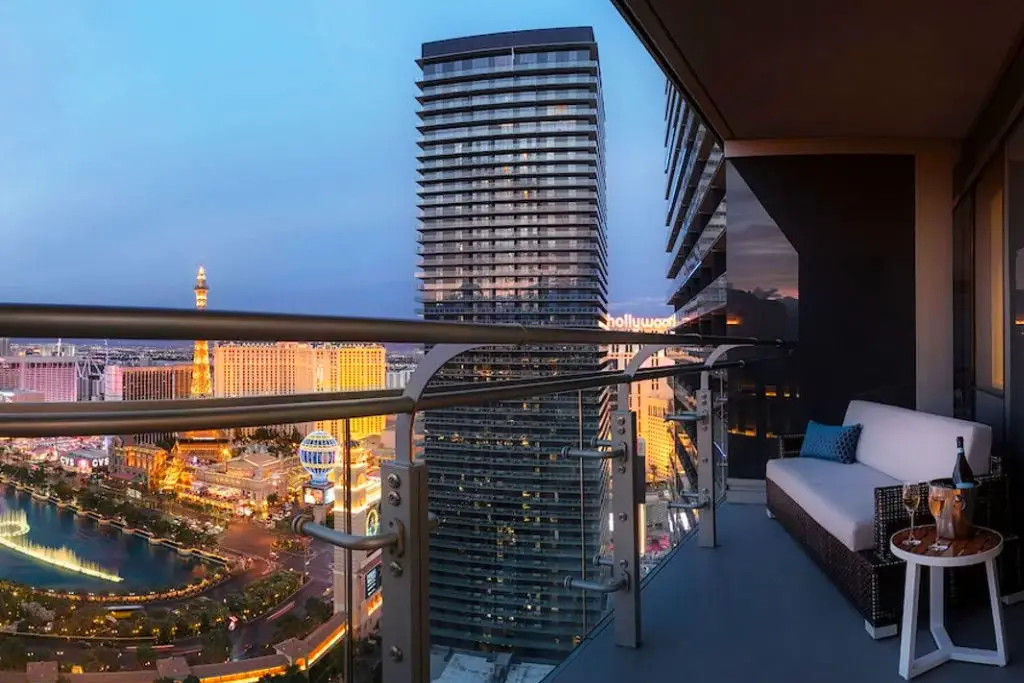 Nevertheless, below are pretty much the only three hotels with fantastic balcony views sorted from least expensive to most. Are you supposed to smoke on the balconies? Probably not. But a little puffy puff never hurt anyone and I won't tell anyone if you don't. However, be mindful of FreshAir sensors because they will bust you.
If your budget allows, The Cosmoplitan's Bellagio Fountain View Room is epic and it's the only hotel that permits guests to smoke on balconies worry/hassle-free.
💸 Hilton Vacation Club Polo Towers > 1 Bedroom 1 King Suite
💰 Signature at MGM Grand > Deluxe Balcony Strip View Suite
💎 The Cosmopolitan > Studio, Terrace, Bellagio Fountain View Room
3. Immerse Yourself in Van Gogh – (Ends September 2023)
Through Immersive Van Gogh, the art of Vincent Van Gogh has been reimagined and brought to fans on an epic scale, immersing viewers, unlike anything anyone has seen before. This exhibit allows visitors to experience his masterpieces like never before.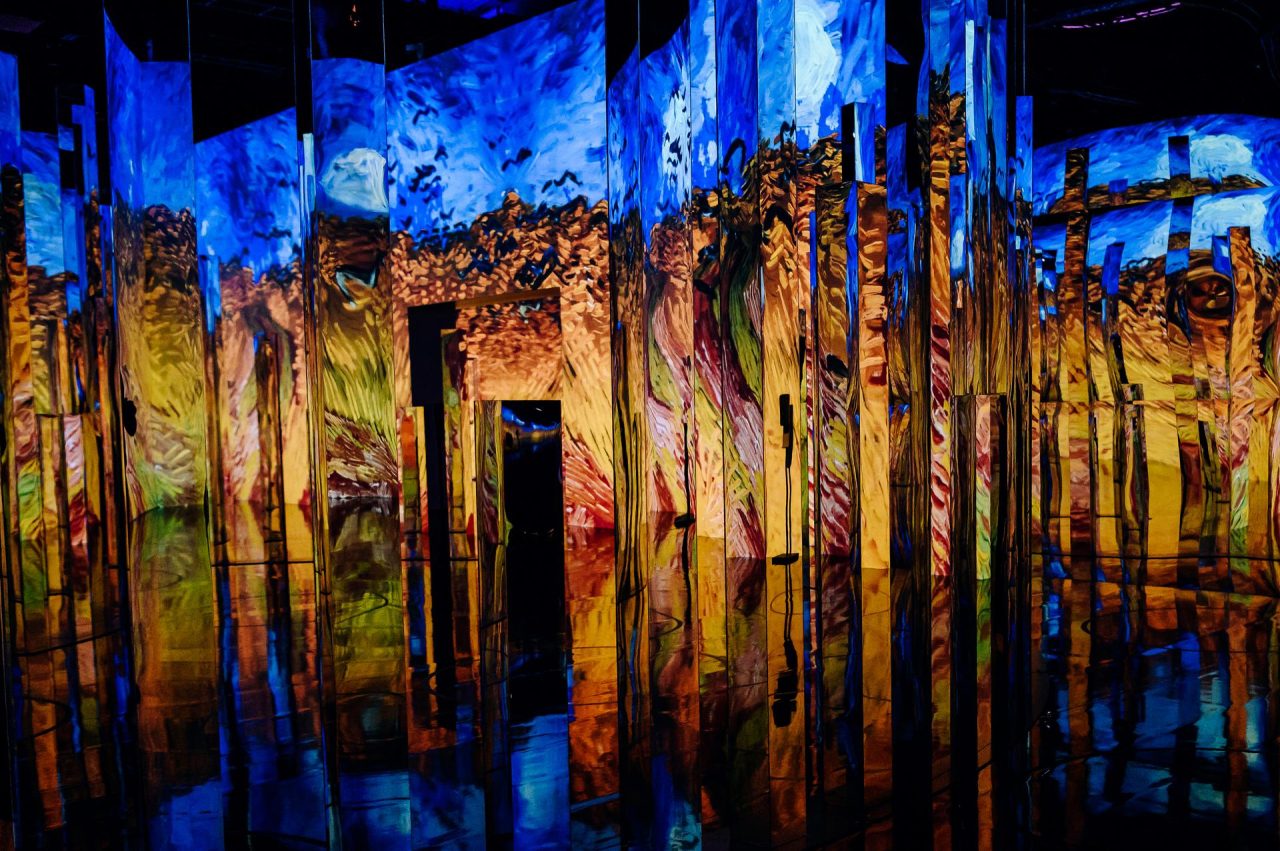 You will be mesmerized by the stunning projections, moving images, details, colors, and brilliance of the exhibit. The show lasts about 35 minutes but it loops, so you can rewatch it.
Immersive Van Gogh is located on level 3 of The Shops at Crystals, adjacent to ARIA at 3720 S Las Vegas Blvd.
Immersive Van Gogh > Buy Tickets
4. Piff the Magic Dragon in a Land Called Honalee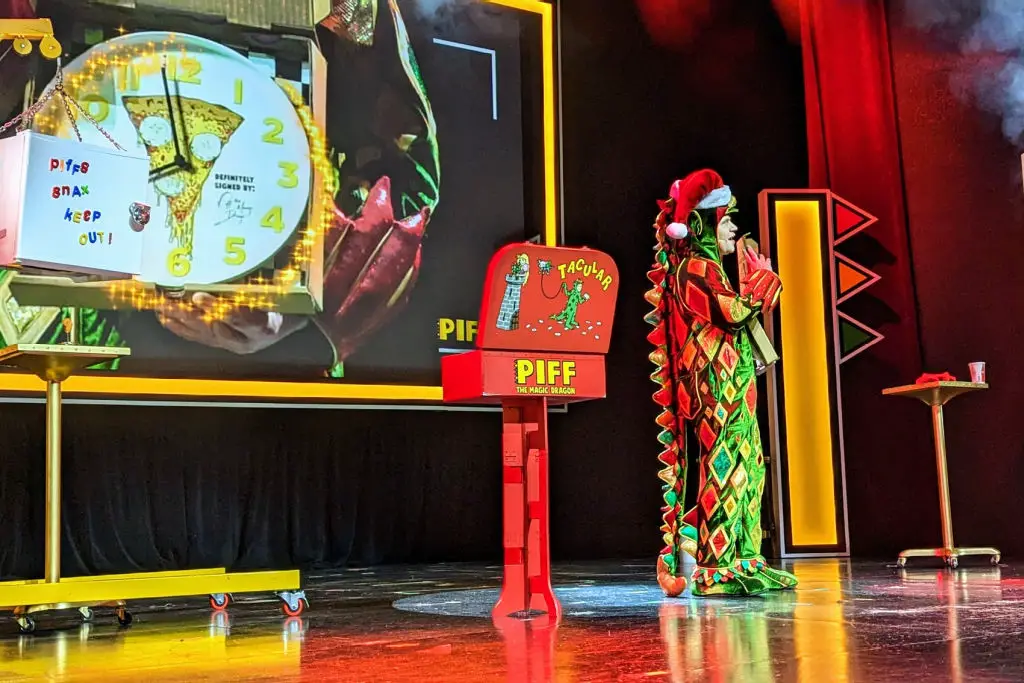 If you're going to "Puff the Magic Dragon," you might as well go see Piff the Magic Dragon at the Flamingo Hotel. When it comes to combining magic and comedy in Las Vegas, there's no one better currently than Piff the Magic Dragon. After all, it's a dude with a British accent dressed up in a dragon outfit, whose main sidekick is a chihuahua named Mr. Piffles. If you were happy before you showed up you're going to be left in stitches after.
Piff the Magic Dragon > Buy Tickets
5. You'll Float Too at Escape IT
Las Vegas' newest escape room, Escape IT, based on the movie of the same name "IT" is also the most immersive, detailed, and terrifying. In fact, the experience is so realistic that it begins just about the second you walk through the front door.
Immediately, visitors will feel as if they are in the eerie town of Derry, Maine, with the mission of finding children of the town. Of course, Pennywise will be pursuing you with every step through each of the 20 interactive rooms.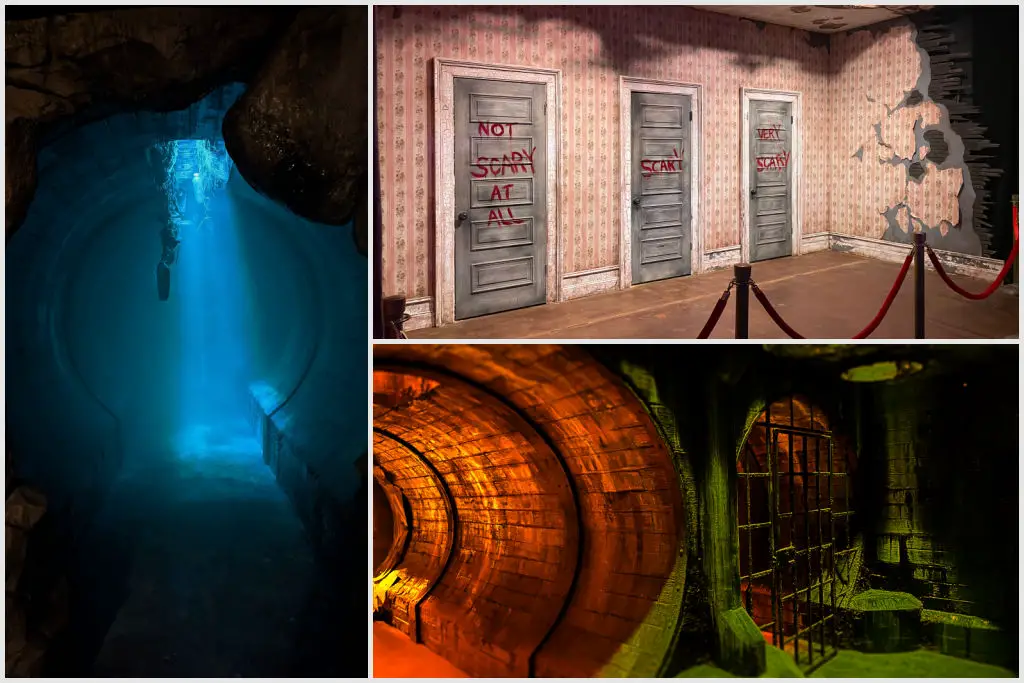 From live actors, mood lighting, animatronics, and ultra-modern special effects Escape IT will make you feel like you're in the movie. You'll even walk through a clown funeral room and sewer tunnels.
For those that have been to an escape room before, this adventure is more of an immersion experience. Nevertheless, there are twists, turns, and puzzles along the way. Finally, there's a carnival-style arcade and a gift shop with exclusive merchandise. Escape IT is located near downtown and below are the hours.
Wednesday and Thursday: 4:00 p.m. – 11:00 p.m.
Friday: 2:00 p.m. to Midnight
Saturday: 2:00 p.m. to Midnight
Sunday: 4:00 p.m. -11:00 p.m.
6. Get Wrecked in a Wreck Room
For whatever reason, some people get ultra-focused and energized after indulging. For those that do, the Wreck Room may be just what you're looking for—you'll get to break, demolish, and pulverize everything in the room.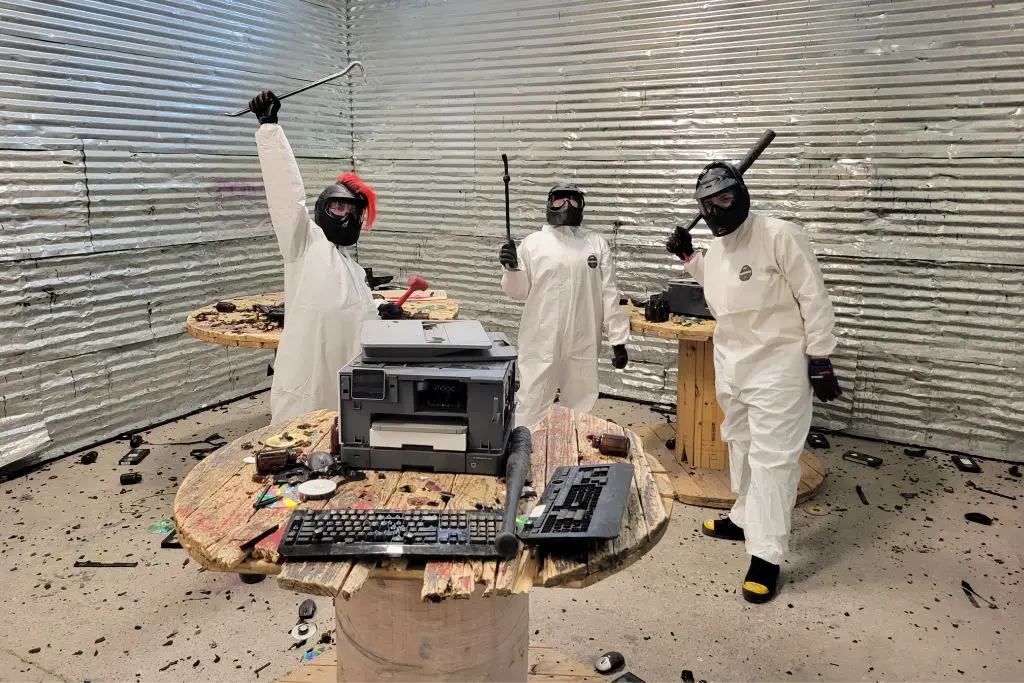 First, you'll be supplied with safety gear. Then, you'll be given the option of a bat or crowbar. Next, you'll be led into the Wreck Room where you'll have 30 minutes to break everything from plates and bottles to TVs and furniture. While 30 minutes doesn't necessarily sound like a ton of time, it is. So just go with it.
You'll be thirsty afterward. Walk over to the nearby Golden Tiki Room to rehydrate.
Address: 4090 Schiff Dr.
7. I Want to Get High, So High…on the High Roller
As the highest Ferris Wheel in the U.S., the High Roller is 550 feet tall and is made up of 28 pods that spin around a giant wheel. Each enclosed pod holds up to 40 passengers and is climate controlled and the ride lasts 30 minutes.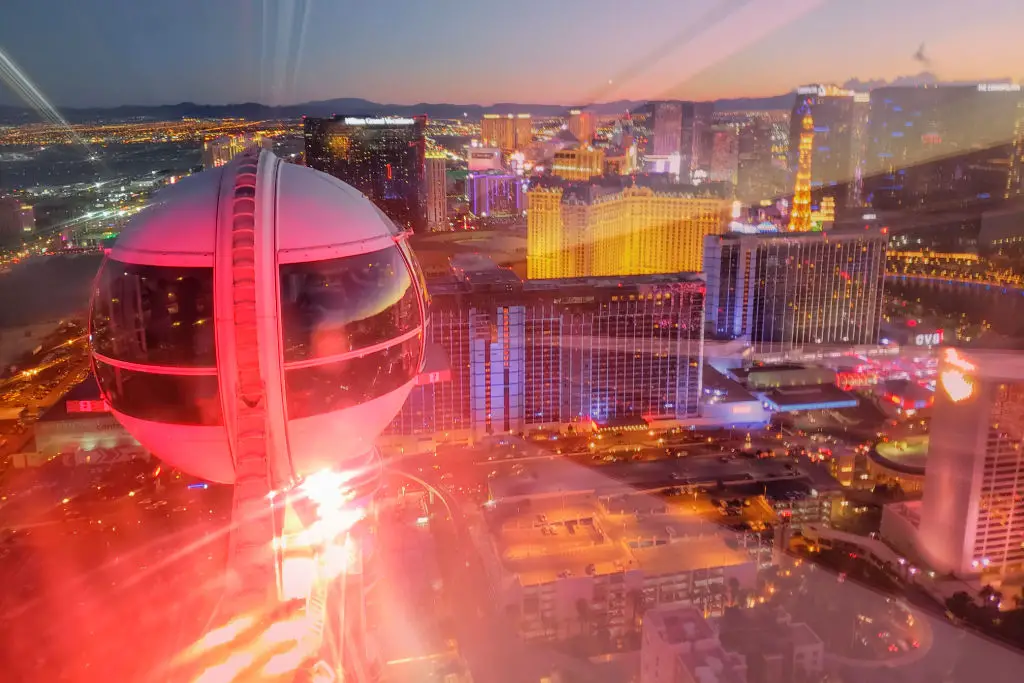 Those passengers that really want to get wasted should opt for the Happy Half Hour Anytime tickets. Pods are limited to 25 passengers and include a bartender and an open bar.
To summarize, The Happy Half Hour pod provides passengers with unlimited drinks for 3o minutes. Bartenders are generous with the liquor and you can have as many cocktails as you want, including simply doing shots. Some people get so drunk in the 30 minutes that they're done for the night, LOL!
High Roller Ferris Wheel > Buy Tickets
8. Cirque du Soleil and Chill
Instead of Netflix and chill, it's Vegas. You might as well just do Cirque du Soleil and chill. Two of the most psychedelic shows are The Beatles LOVE and KÀ—both shows are 90 minutes and feature several scene changes and thrilling acrobats.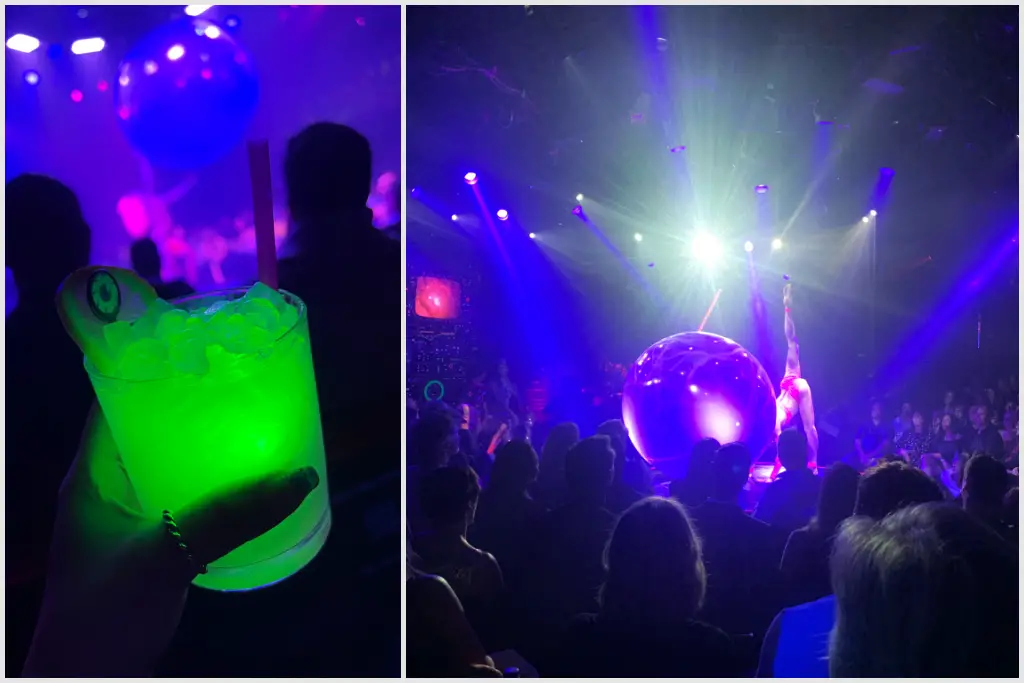 If you're not feeling Cirque du Soleil some good alternatives are:
Jabbawockeez: America's best dance crew at the MGM Grand
MJ Live: MJ impersonators with great music at the Tropicana
Opium: Adults only, very trippy, you can eat and drink during the show located at The Cosmopolitan
Finally, before or after the show be sure to eat at one of these 10 unique places on the Strip.
There are so many fun and psychedelic things to do in Las Vegas which is why we love going to the 'Neon Capital of the World.' The city offers so many experiences that are found nowhere else around the world—so take advantage of them while here. Enjoy the party!
We Need Your Help
Did you find this article helpful? If so, bookmark it and when you're planning your next vacation click on any of the links below before finalizing reservations. You'll get the best price, we'll earn a small commission, and you'll help support future articles.
Thank you!
BEST TRAVEL SEARCH ENGINES
🏘️ Book Your Accommodation
We use Tripadvisor and Priceline's Express Deals to compare prices and reviews in advance and check availability
✈️ Book Your Flight in Advance
To find the cheapest flight options, you can use WayAway and Skyscanner to find the most suitable choice for you
🚗 Reserve Your Rental Car
Use DiscoverCars and Skyscanner to compare prices and view the largest selection of vehicles