Hiking in the Scottish Highlands will change your life. Our quest has always been to discover and share travel experiences that offer great value. Recently, we enjoyed one of the best hiking tours in Stirling, Scotland, about an hour north of Glasgow and we're excited to share more about it.
Feeling a wee bit sluggish? Stressed? Tired of the daily grind? We may have the perfect remedy to reignite that dying inner spark. However, this goes beyond saying, "Just take a vacation." Instead, we're suggesting devoting time to moving, discovering, and exploring the Scottish Highlands!
Best Scottish Highlands Hiking Holiday
So many people will go on a vacation and they'll walk—but it will be through cities, museums, shopping malls, and the buffet line at an all-inclusive resort.
"After our week surrounded by inspiring scenery, we felt physically and mentally rejuvenated and pleasantly disconnected."
Why do so many travelers seem to avoid exploring the great outdoors while on holiday? Especially, when there are places like the Gartmore Estate that exist and are so easily accessible.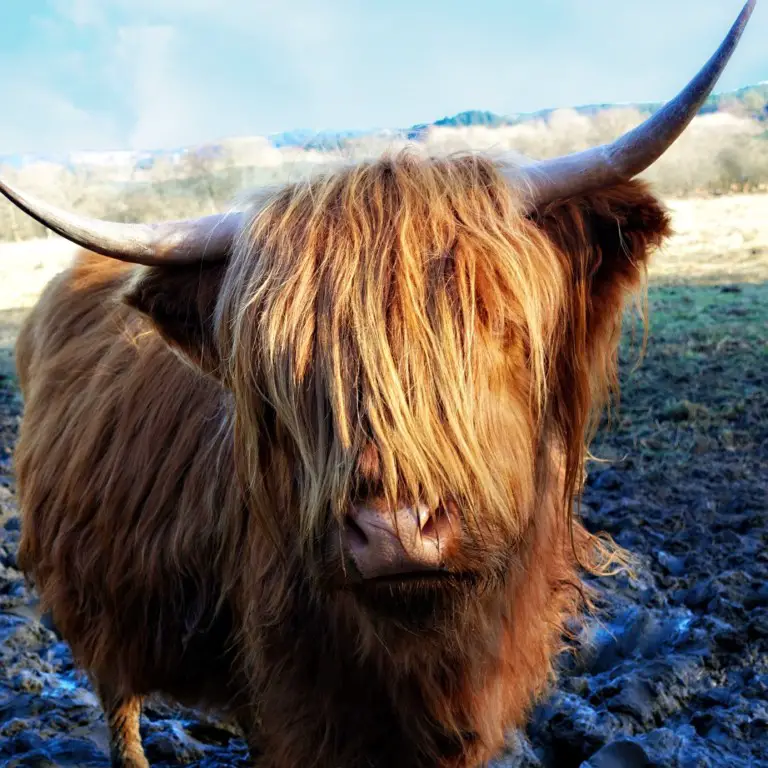 As a result, after about a week out walking in the Scottish Highlands, we discovered a sense of rejuvenation that we hadn't felt in a long time. Each day brought on an exciting adventure and a fun, new challenge. Our bodies reveled in the endorphins generated from that glorious, natural hiker's high.
When you're ready to book your next flight, follow these three easy steps to get the best price.
The Gartmore House > Historic Country Manor
The Gartmore House is an 18th-century historic country manor is set in Loch Lomond and Trossachs National Park. Located on 75 acres of private land, a stay on the Gartmore Estate is quiet and peaceful.
By the way, the Gartmore Estate is a not-for-profit charitable trust with folks that have a true passion for education. They specialize in hosting Activity Breaks where visitors come to enjoy and grow in their favorite creative pastimes. Some of the activities include painting, yoga, knitting, photography, hill walking, quilting and patchworking, jewelry, foraging, and more!
While we loved the Hill Walking Holiday but doesn't foraging sound cool? Similar to a 'Bear Grylls-style' adventure? We learned guests explore the Scottish Hills foraging for edibles and learn how to survive in the wilderness. We have that flagged for our next visit.
To reach the Gartmore Estate, most travelers will take the train from Glasgow Queen Street railway station to the Stirling railway station—from Stirling, complimentary pickup is offered by Gartmore Estate.
Budget Tip: The Z Hotel Glasgow is located across the street from Glasgow Queen Street railway station. While compact, it's extremely clean and affordable, and the price cannot be beaten. Willing to choose the best places to stay by yourself or are you interested in getting off the beaten path? Try Trivago: a service comparing the best prices.
Experience a Gartmore Walking Holiday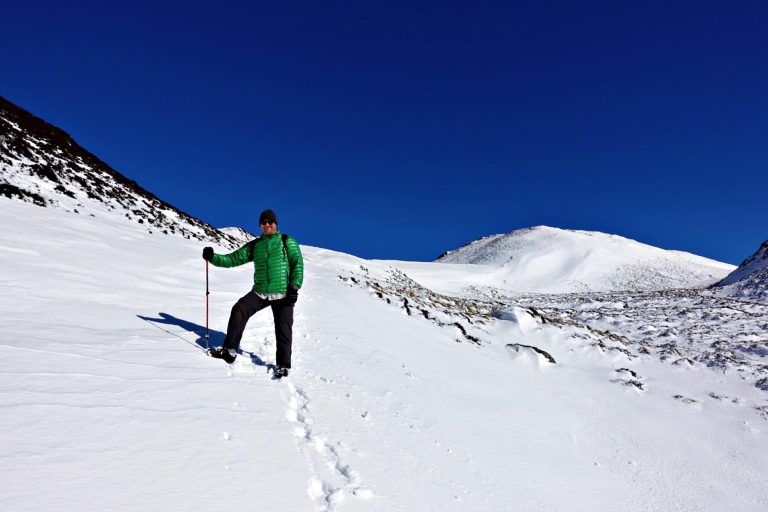 Don't let the term "walking holiday" fool you! Our week was adventurous and fun! Before arriving, we assumed our hikes would start and end from the Gartmore House. However, every morning we were transported to a new trailhead around the region. This allowed us to experience four very different days of weather, terrain, and trails.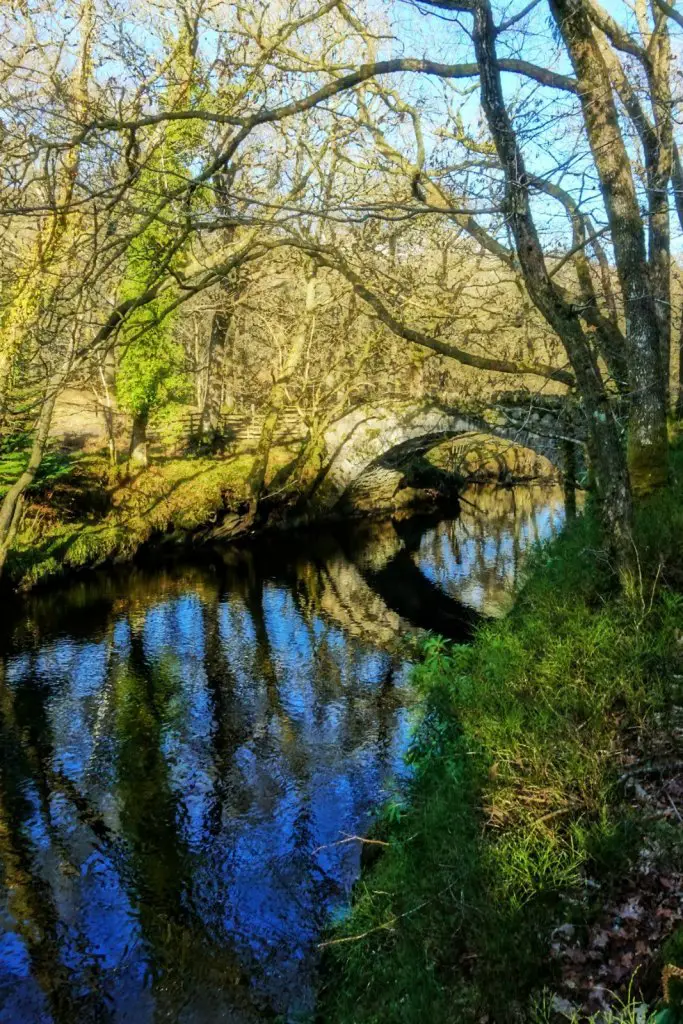 One of the most brilliant aspects of our walking holiday was that there was little planning or stress involved. Essentially, all we needed to do was simply show up and someone else planned our day of hiking, which we loved.
Our days were organized by Gavin Clarke, a local Scottish guide who designed our daily itinerary based on our personal preferences and fitness levels. He even had gear we could borrow such as hiking boots, walking poles, waterproof pants, and gaiters.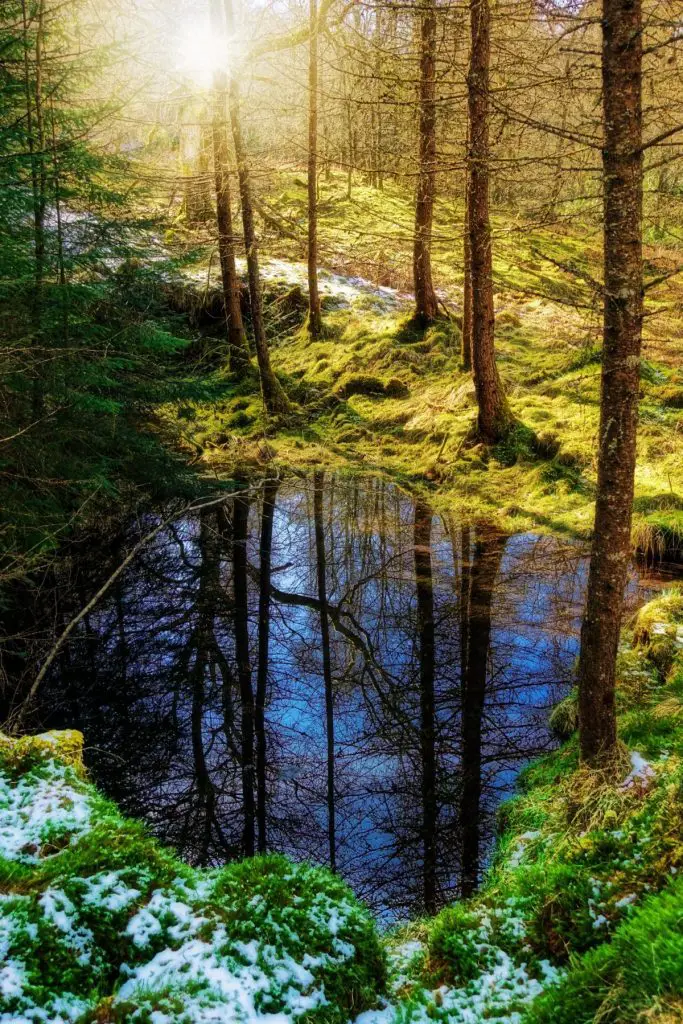 We suggest bringing your favorite hiking boots, a pair of water-resistant pants, walking poles, and a comfortable day pack. For the day you'll need cameras, snacks, water, and any necessary outdoor wear (hats, gloves, raincoats, etc.). A packed lunch is provided each day. Trust us, this is one of the best hiking tours in Scotland!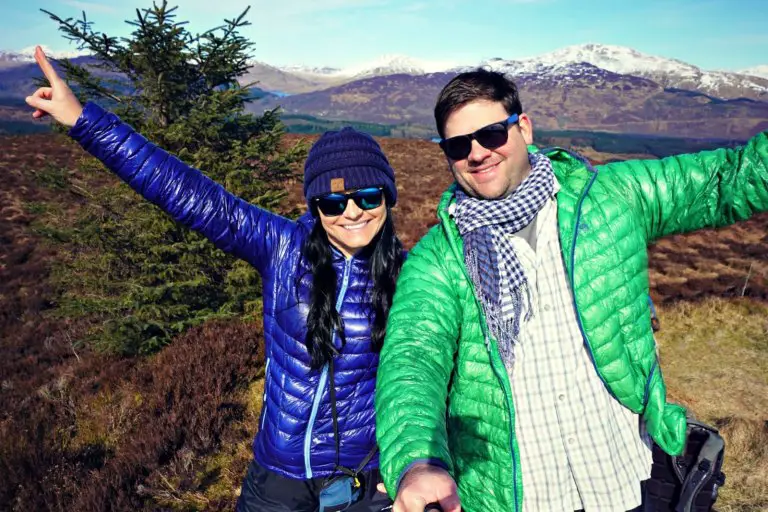 Hiking the Scottish Hills > The Ultimate Decompressor
Hiking is the ultimate decompressor and stress reliever. Studies continuously show that spending time in nature is a natural mood enhancer and helps fight off common mental health issues like depression.
Our goal is to inspire others to get out in nature and try a walking holiday.  We invite you to check out our video above to get a glimpse of what our outdoor adventure was like with the folks at the Gartmore Estate. They specialize in Activity Holidays and their Scottish Hill Walking is one of their most popular guest experiences.
Guest Rooms at the Gartmore House
On an average hiking holiday, after a long day out on the trails, hikers will return to their basic (sometimes highly trafficked) accommodations. Thankfully, the rooms at the Gartmore House were anything but basic. We loved our time doing some of the best hiking in Scotland, however, after a long day out on the trails, we always looked forward to coming back to our cozy room.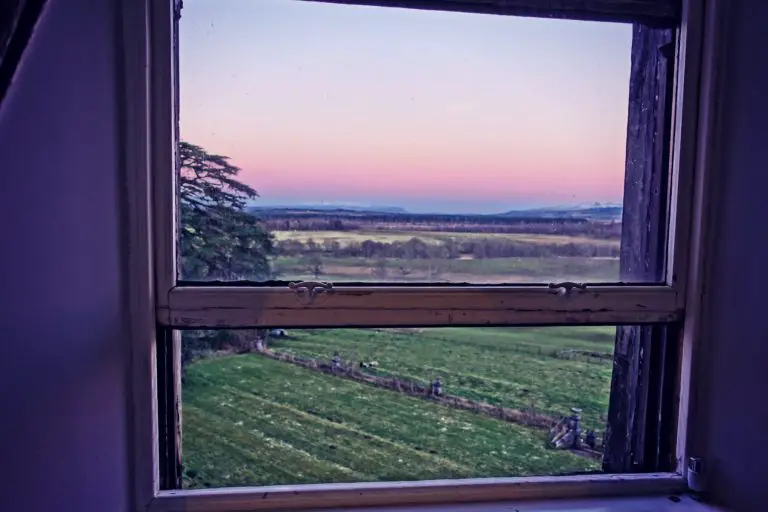 Our room was super spacious with a king-sized, comfortable bed. There was lots of room to unpack and feel settled. We appreciated our little "coffee station" where coffee, tea, biscuits, and chocolates were replenished daily.
Additionally, another perk was that all toiletries were generously provided. It's unfortunate how many accommodations no longer supply shampoo or soap for guests, especially in Europe.
From our room, we could see a silhouette of the Stirling Castle and Wallace Monument off in the distance. In the evenings, we'd look out the massive windows at enjoying views of the sunset, mountains, and farm animals.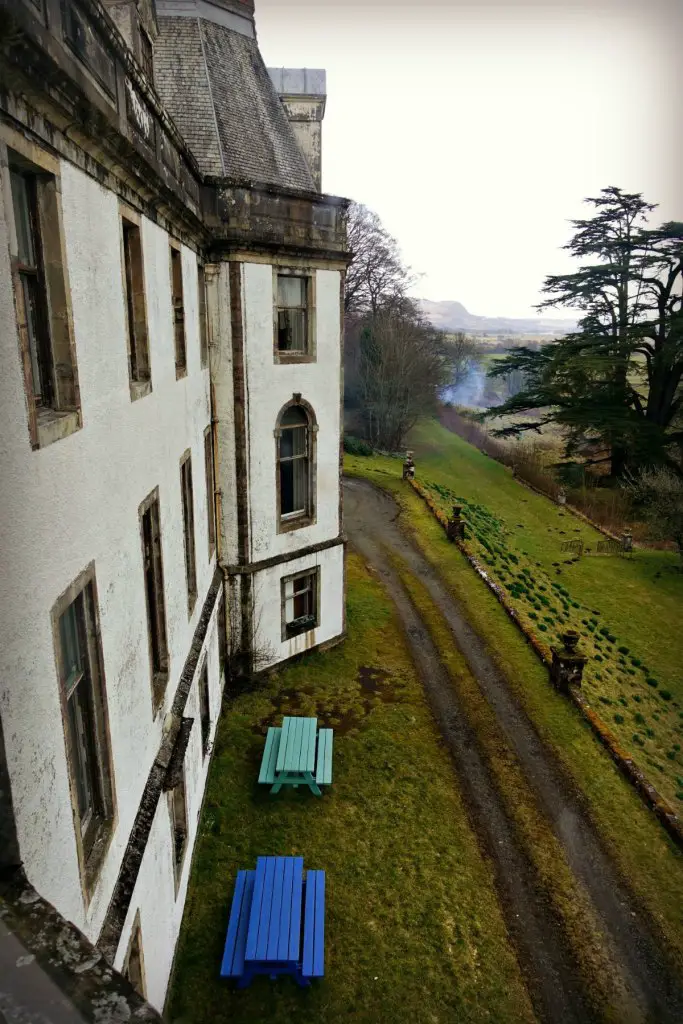 From experience, we will tell you not all hiker's accommodations in the U.K. are this comfortable or offer this much value.
How's the Food at the Gartmore House?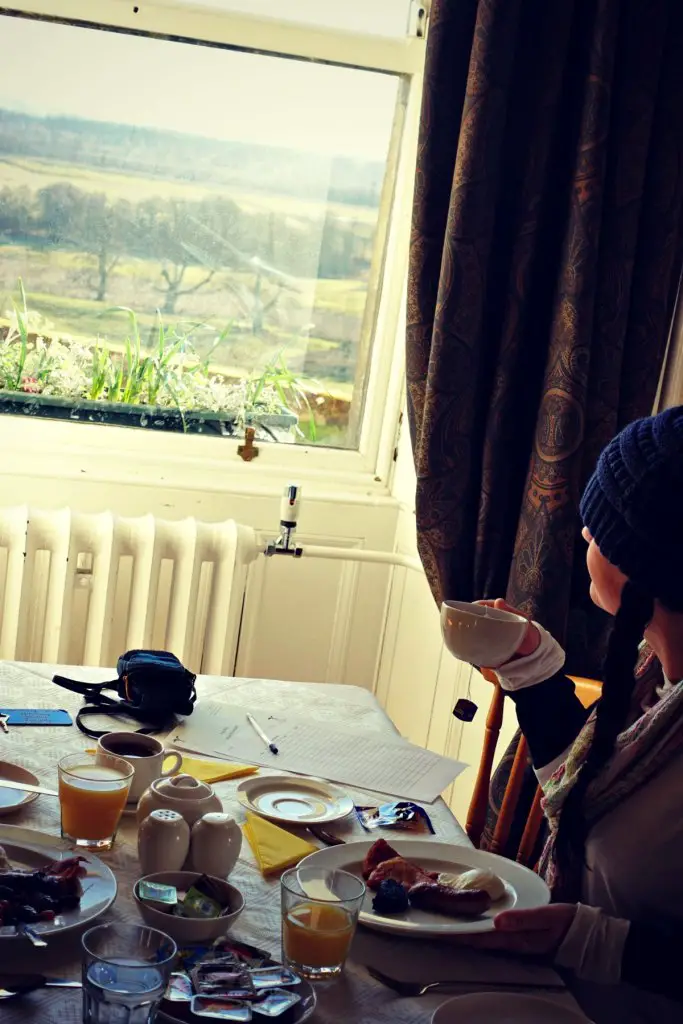 All Activity Holidays at the Gartmore Estate come full board which includes three daily meals. Typically, this will be a traditional Scottish breakfast, lunch, and a tasty three-course dinner. The food was amazing!
Every day we'd receive a dinner itinerary (that's what I playfully called it) in which you could select from three different items in each course; starters, mains, and desserts. The chefs prepared hearty, professionally prepared dishes and we were pleasantly surprised at the quality and selection. Therefore, the portions were large and we never once left feeling hungry.
Day Trips from the Gartmore House
Guests have the opportunity to explore some of the nearby towns and cities. Holidays lasting for four days or more include an optional day trip. On our hiking holiday, we were able to tour the cities of Dollar and Stirling.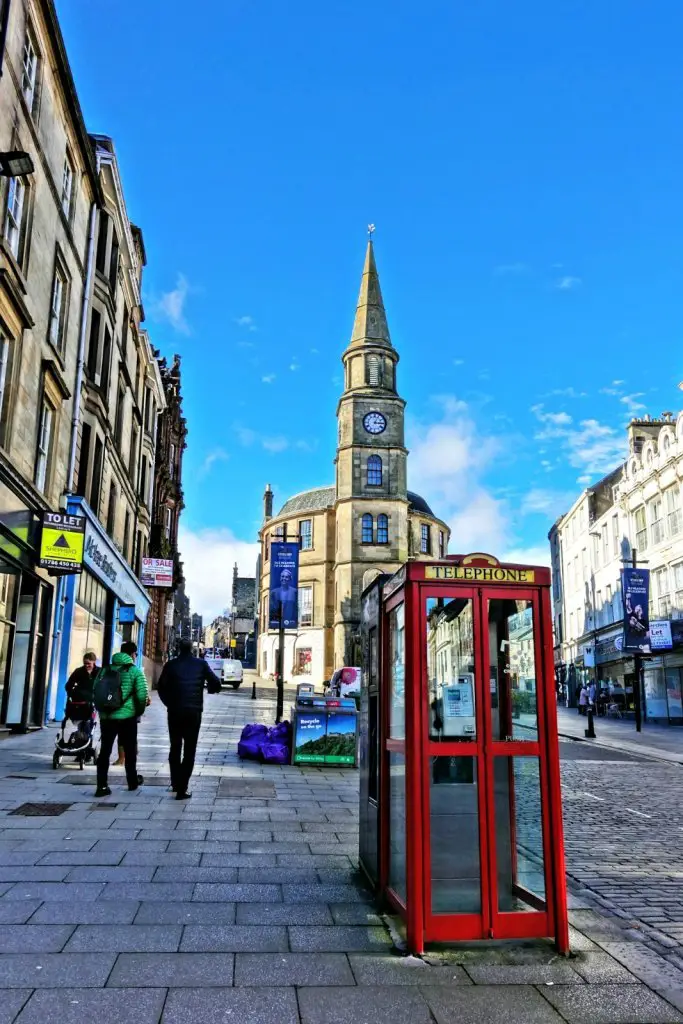 Stirling is a charming, walkable city where you can climb to the lookout of Stirling Castle or visit the Wallace Tower. Each attraction does have an admittance fee. We recommend stopping for drinks and roasting marshmallows at Monterey Jack's.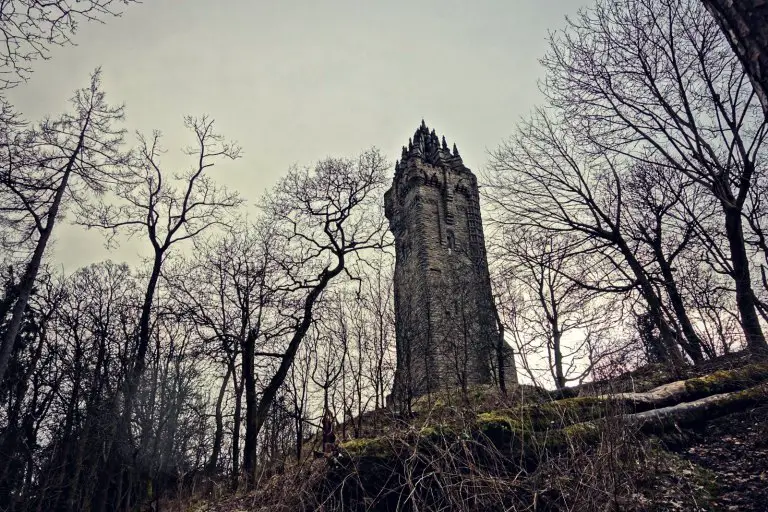 Excursions to Aberfoyle and Loch Katrine are other options. Boat cruises on the Loch Katrine are available at an additional fee. Transportation is included.
What to Do During Down Time?
After dinner, we'd relax in the parlor room to enjoy the cozy fireplace. Sometimes we would have dessert and coffee served there as we decompressed from the day. Essentially, this is a place for detoxing, so there are not any televisions in the rooms, which we recognized as a good thing.
Wi-Fi can also be slow and spotty due to the remote location. Again, this is probably a good thing, as we were her to escape. Consider bringing some good books for evenings. There is a small library on location.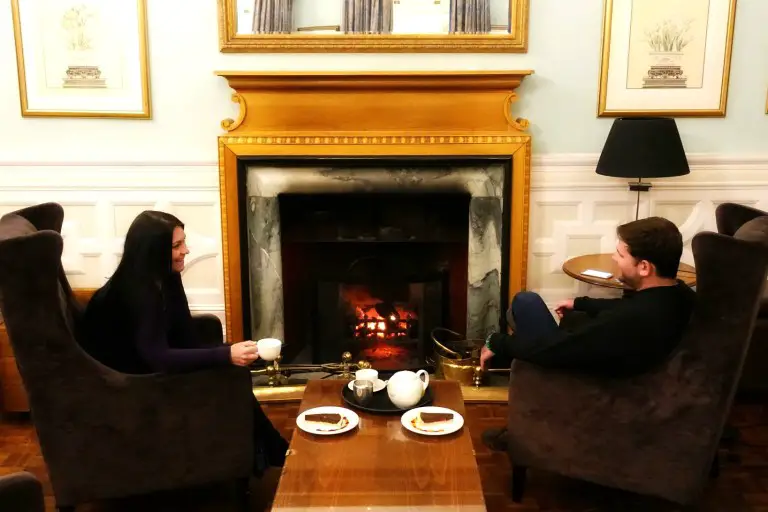 Towards the end of our trip, we were told we were going to have a special dinner and some live entertainment. The Gartmore House arranged a Champagne dinner in the Cayzer room. The room is right out of the movies. It's wood-paneled and features a stunning boardroom table, a fireplace, and a decorated frieze.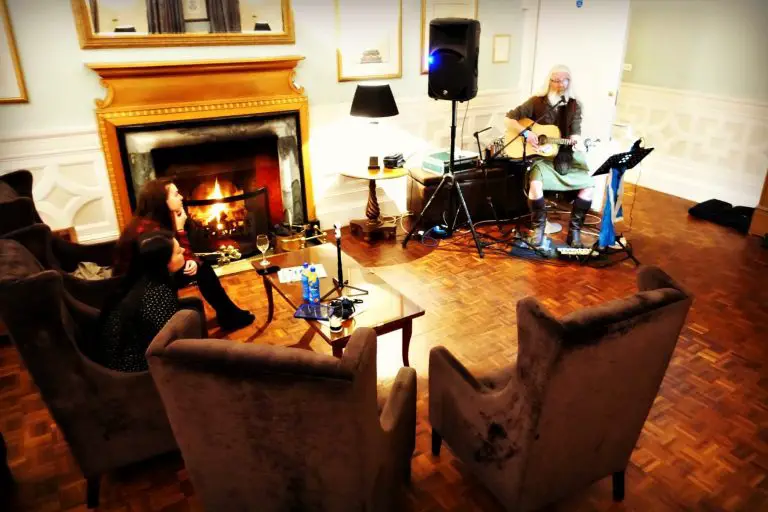 Afterward, we were brought into the parlor where local Scottish singer Gary MacAlba Speirs put on a phenomenal live performance. His amazing act consisted of Celtic songs, jokes, and stories of local folklore.
Over a Guinness, we sang along to familiar songs and laughed over stories of recent adventures. Saint Patrick's Day was just a few days prior, so Celtic vibes were still going strong! We learned that each Activity Holiday concludes with a special live performance for all the guests.
Cost for the Activity Holiday
There are specialized rates and perks that come with an Activity Holiday package. We participated in the Walking Holiday and for everything we experienced, it was a phenomenal deal. The organized Activity Holidays vary slightly in length and price, but on average the rate is about USD 100 per person per day.
As a result, each Activity Holiday Package is extremely affordable and includes:
Transfers to and from Stirling Train Station.
Full Room and Board, three meals daily.
Unlimited tea and coffee.
Toiletries.
An evening of live entertainment.
Four Days with Private Guide (Walking Holiday) or Tutor.
Optional day trip/transport to Aberfoyle or Loch Katrine.
How to Get to the Gartmore Estate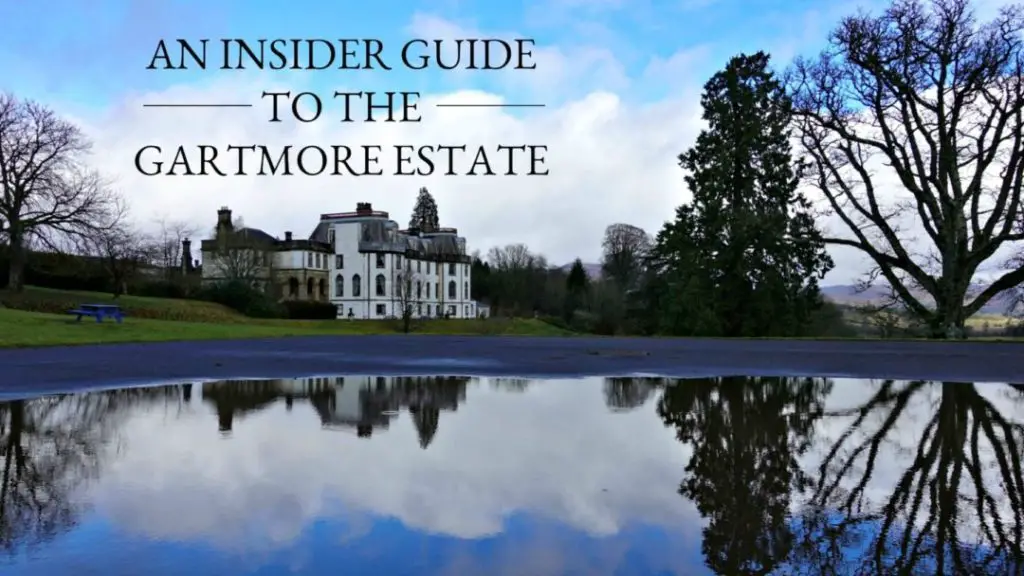 From Glasgow, the Gartmore Estate can be reached in about an hour with a vehicle. You may also take a train from Glasgow to Stirling. In this case, it's about a 30-minute ride to Stirling, and a 40-minute drive from the Stirling train station to the Gartmore Estate. The free transfer will take you from the train station directly to the door of the Gartmore House!
Do you have any questions or comments related to a walking holiday in the Scottish Highlands? If so, please let us know below.