Kaunas, Lithuania has proved to be a very cool destination. First impressions lead you to think it's a little rough around the edges but dig deeper and it's a chill city with a quirky, artsy vibe.  Before we knew it we were hanging out in the back alleys.
Kaunas Lithuania | Traveling and Exploring the Back Alleys
On a whim, we decided to look for the nearest geocache to cross off Lithuania on our Geocaching map. Just a few minute's walk from the city center, we found ourselves in a back alley surrounded by a massive amount of visual stimulation.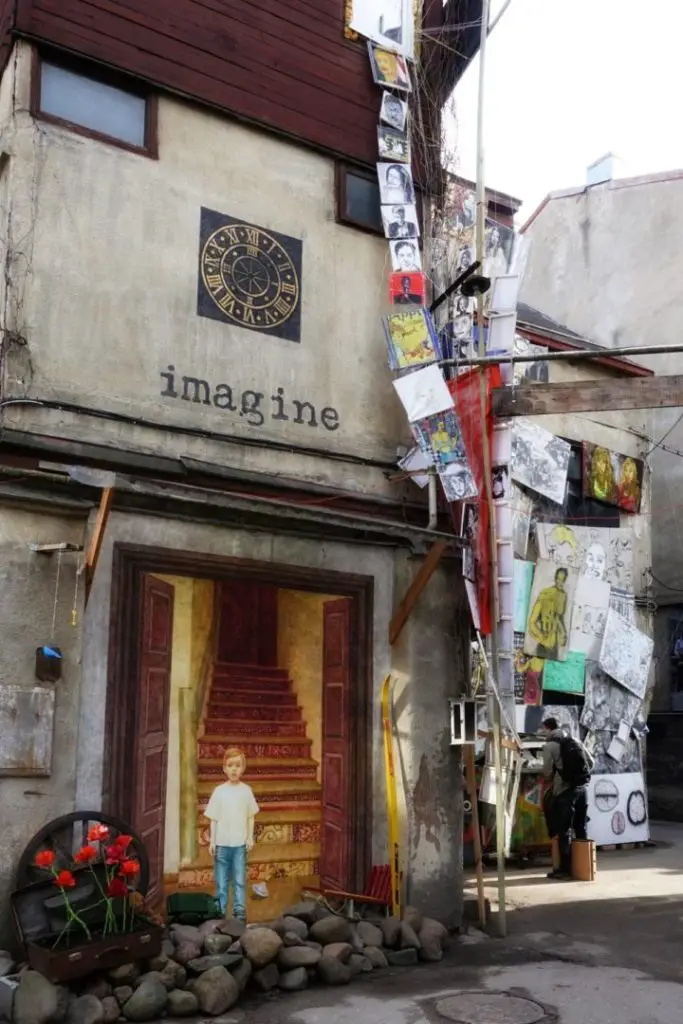 Geocaching seriously takes us to the most hidden, random places. Hidden in the middle of the city, Kiemo Galerijos is a free, outdoor art gallery that is constantly evolving and changing. While we were there an artist was adding concrete to a brick wall for his newest addition.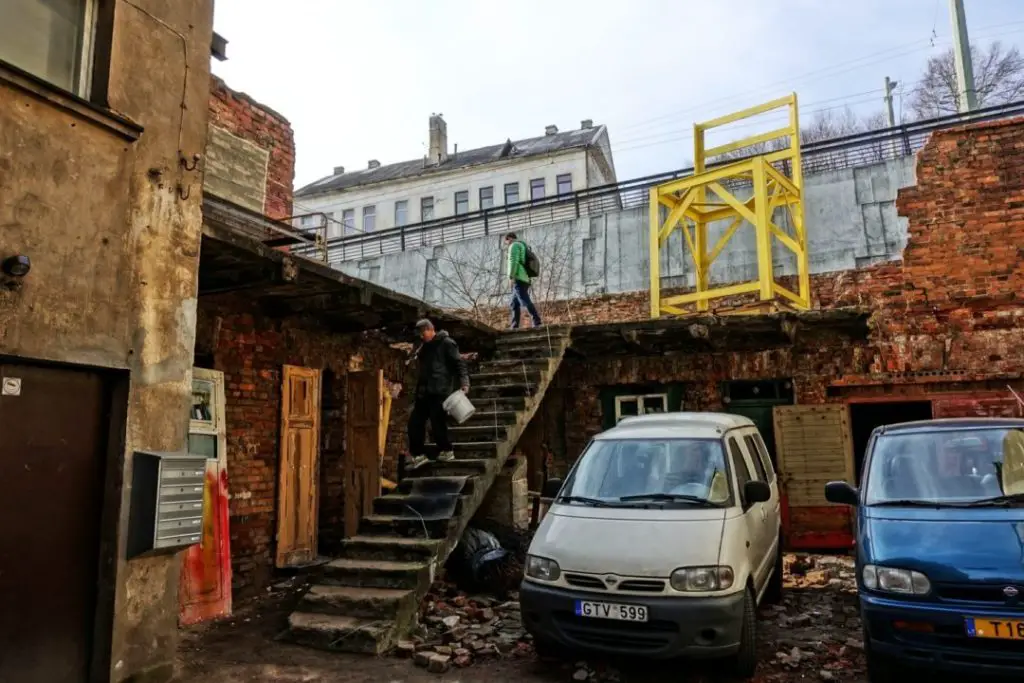 There were detailed murals, mirrored walls, and supersized objects. The space was full of interesting displays, such as this corner below which made us do a double-take. The gallery pays homage to Lithuania's painful past intending to preserve its nineteenth-century architecture.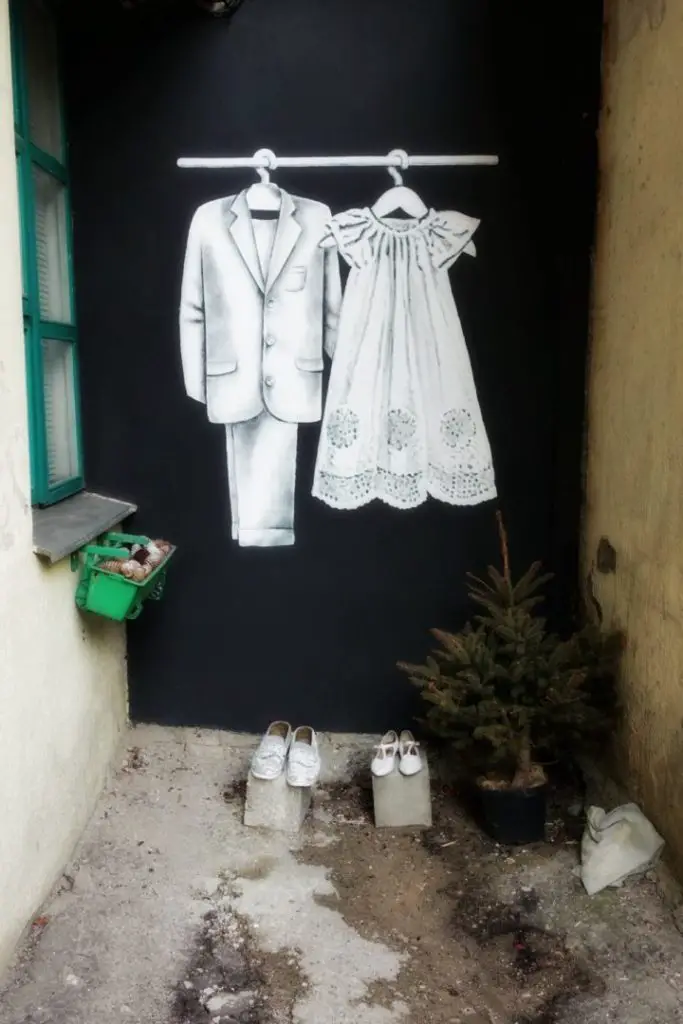 In the global treasure-hunting game of Geocaching, folks use a GPS signal to search for hidden containers that contain a log to sign to acknowledge that you've found it. We had one clue to help us: the bathtub. From this vantage point, we knew we're getting closer. Look at the random bathtub hanging off the brick wall.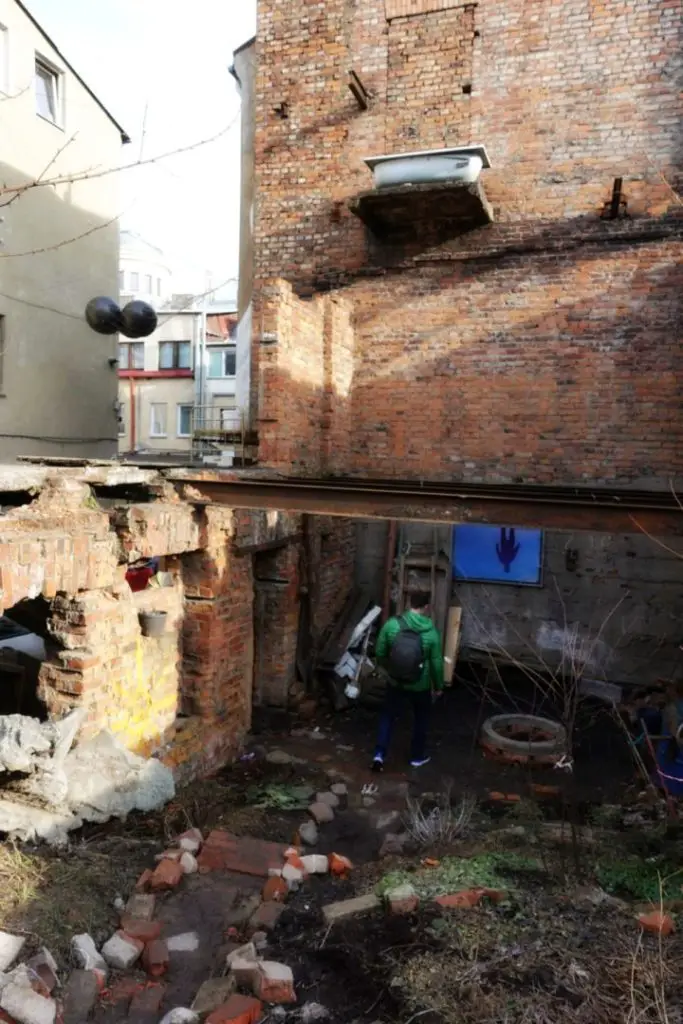 This geocache is the perfect representation of the Kaunas; discreet, unassuming, and full of artsy, colorful corners which makes it a fun place to explore. In the end, we found the container and discovered another hidden gem thanks to one of our favorite outdoor pastimes.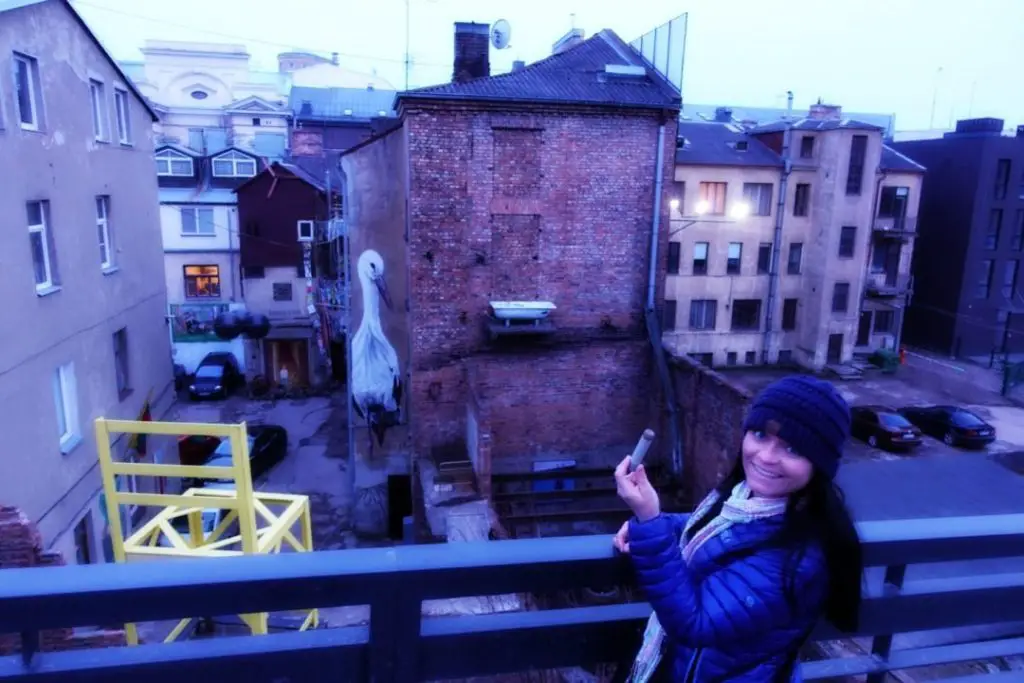 Interested in learning more about Geocaching? It's a fun way to explore the world around you and to discover new places that you normally wouldn't know about around the globe. Learn more by reading our Introductory Guide to Geocaching. Happy hunting!
Where Did We Stay?
We stayed in a newly renovated, clean, apartment with hosts that aim to please! The unit was about a 15-20 minute walk from the city center and can be reached by local bus numbers 1, 14, 15, 29, or 35 from the Žemaičiu g. bus stop. At the time, the cost was around USD 42 per night. The city is known for its abundance of rental apartments, other wonderful options include:
Budget: Lovely Apartment (city center) or Stay in Kaunas (clean apt, modern, Netflix) or Kaunas City Hotel
Mid-Range: Laisves ave. Apartments (beautiful) or Jolie Apartments (modern cozy)
Luxury: Monte Pacis (Baroque-style) or Park Inn (sauna, fitness room)
We loved our visit to Kaunas, Lithuania. Have you been there before? Please share your experience in the comments section below.