Sveti Stefan or Saint Stephan is one of Montenegro's most stunning locations. This tiny islet is attached to the mainland by a thin stretch of pink pebbles and is adorned with 15th-century terra-cotta roofed buildings.
As one of the most eye-catching sites on Montenegro's Budva Riviera, Sveti Stefan often graces the covers of travel guides, websites, and postcards. Of course, travelers to Montenegro are excited to explore this iconic destination. However, some don't realize until they reach the island's iron gate, that one of the country's most gorgeous properties is closed off to the public.
During our visit to Sveti Stefan, we wondered why this historic island is unattainable, with its entrance blocked by a huge iron gate. In Croatia, islets like Primošten and Rovinj are celebrated tourist attractions. Why would Sveti Stefan be any different?
This is Montenegro's Most Popular Tour ⇒ From Kotor, Budva, Tivat, or Herceg Novi: Boka Bay Day Cruise
History of Sveti Stefan
The speck of offshore land is just over a mile around, making space a hot commodity. Originally, the island was used as a means of coastal defense with a fortress that housed 12 families. In the 15th century, the settlement emerged into a fortified village of sorts, built to defend against the Turks. The island was also a popular hangout for Adriatic pirates.
Check Out These Excursions ⇒ Montenegro – Top 10 Tours, Trips & Activities
Later, in the 1800s, about 400 local families converted the island into a more traditional small village. Ensuring that they maximized the limited land available, they constructed their stone houses right up to the edge. Even today, this unique design makes the island both visually and structurally alluring, especially with the painted white shutters.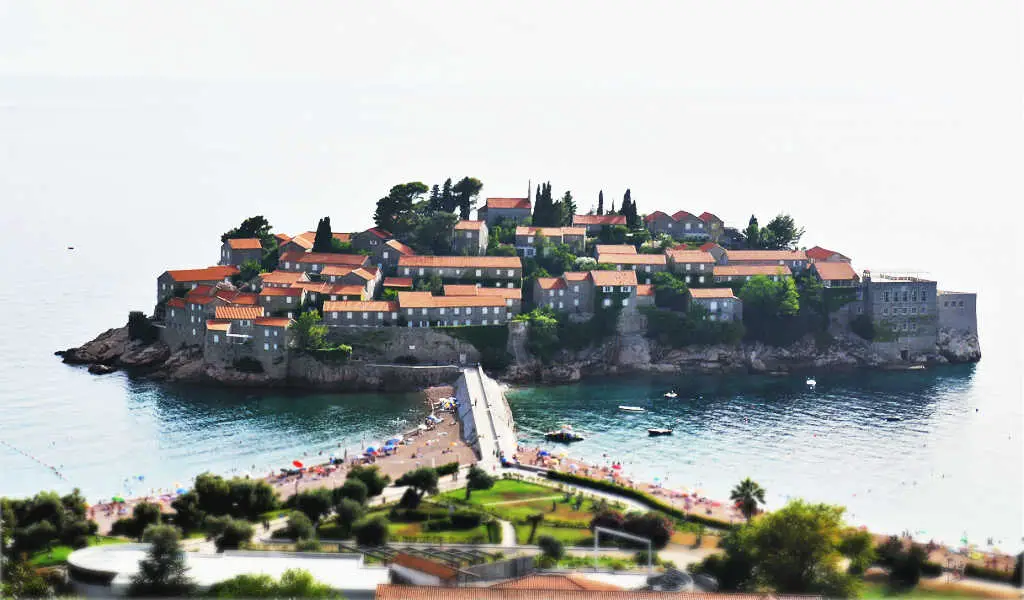 A Communist Resort
In communist times, the government decided to use this island to its advantage for tourism purposes. Thus, the local villagers lost their homes and were moved to the mainland.
During the reconstruction, the thin isthmus that connects the island to the mainland was made. In technical terms, a gravel strip that connects an island to the mainland is called a tombolo.
Montenegro's Craziest Tour: Montenegro: Tara River Whitewater Rafting
Additionally, the family homes were converted into singular lodgings and the Praskvica Monastery was turned into a Communist casino. Once complete, Sveti Stefan established itself as an exclusive resort accessible to only the high-profile elites of the world.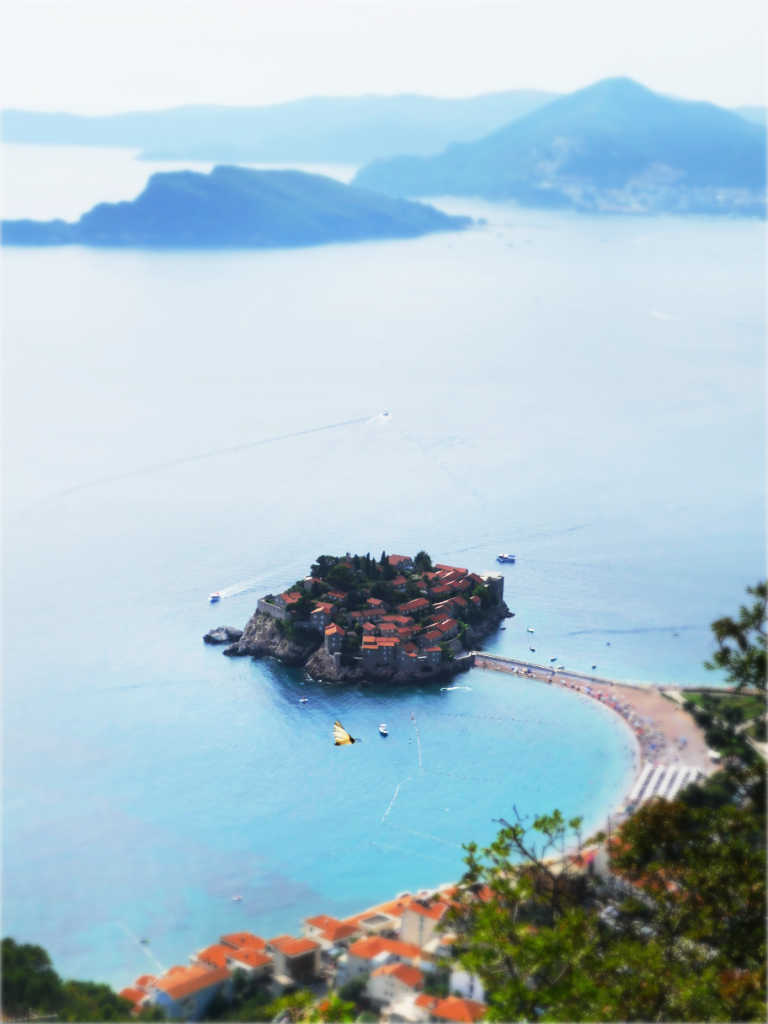 List of Celebrity Visitors to Sveti Stefan
A wave of celebrities and high-profile clients have visited Sveti Stefan, especially in the 1960s and 1970s including:
Kirk Douglas
Elizabeth Taylor
Doris Day
Geraldine Chaplin
Orsen Wells
Sophia Loren and her famous film producer husband Carlo Ponti
Princess Margaret
Marilyn Monroe
Sidney Poitier
Richard Vidmark
Sylvester Stallone
Jeremy Irons
Swedish athlete Jan Ingemar Stenmark
Italian King Umberto II of Savoy
Soviet Astronaut Yuri Gagarin
Model Claudia Schiffer
Andre Marlow
Alberto Moravia
Andrea Bocelli
Best Boat Tour: Blue Cave, Mamula Island, Submarine Tunnels, and Our Lady of the Rocks
Sveti Stefan was also used to host political conferences and served as a chess venue. As a result, world-class chess players like America's Bobby Fischer and Russia's Boris Spassky visited the island, as well.
Bring Sveti Stefan Home With You: Sveti Stefan Room Separator or Large Wall Mural
The resort ultimately fell to decline in the 1990s when Yugoslavia dissipated.
Please Elite Only
To recreate the old charm of the island, the Montenegrin Government opened up international bids for a refurbishment project. In 2007, Aman Resorts secured the contract and was granted a 30-year lease, for the entire island. The resort finished its revitalization project and opened in 2009.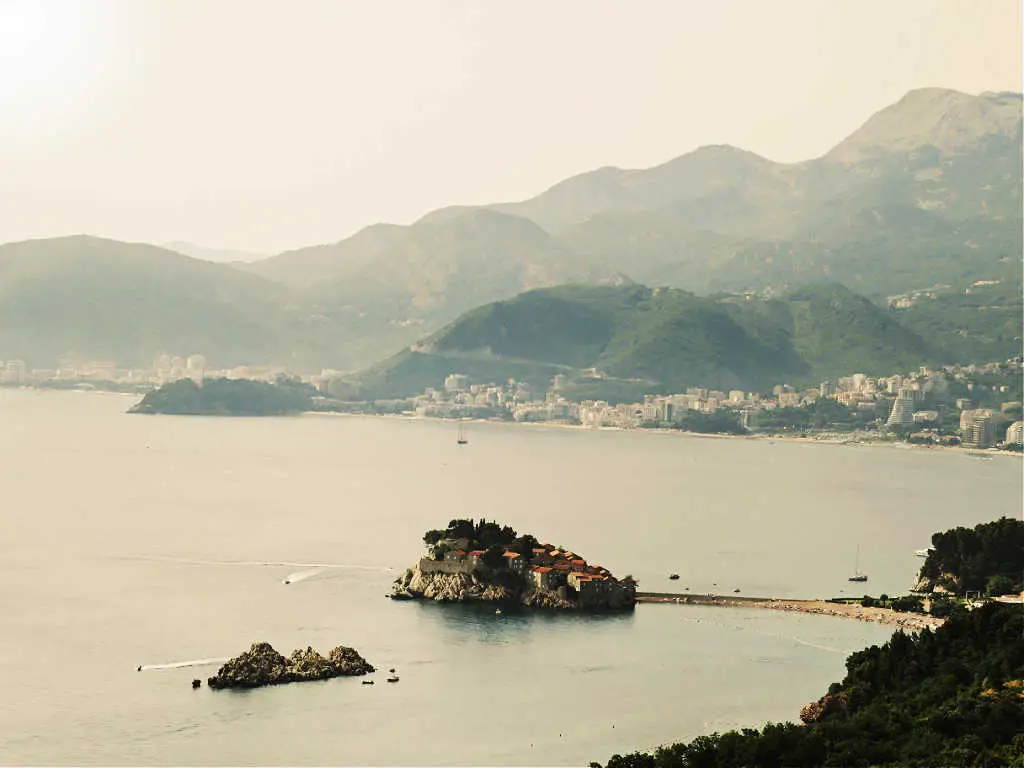 Today, Sveti Stefan is now entirely taken over by the luxury hotel group. This international franchise caters only to the most elite with 5-star properties located all over the world. Also, with a 7:1 staff-to-guest ratio, their properties boast unmatched service and the essence of a peaceful sanctuary. Interestingly enough, 13 Aman properties are located within UNESCO heritage sites.
At this time, Vladislav Doronin, a Russian billionaire, businessman, and real estate developer, is the Chairman and CEO of Aman Resorts and Hotels.
There's a rumor that the property is so elusive that members of the press are restricted from taking photos while on location. Of course, this would make sense to protect the privacy of the resort's most elite guests.
Sveti Stefan Room Rates
So how much does it cost to stay at Aman Sveti Stefan? Some online pricing suggests room rates begin at 1,500 dollars a night. However, if you search "What is the cheapest Aman Resort?" guests can get a general idea of pricing.
Check This Out: Sveti Stefan Decorative 3 Piece Bedding Set
The search results reveal "…the cheapest Aman Resort is Aman Sveti Stefan, which can be booked for as little $640 per night if you do your research." It also states, "Paid room rates hover from $640 to $1,500 per night."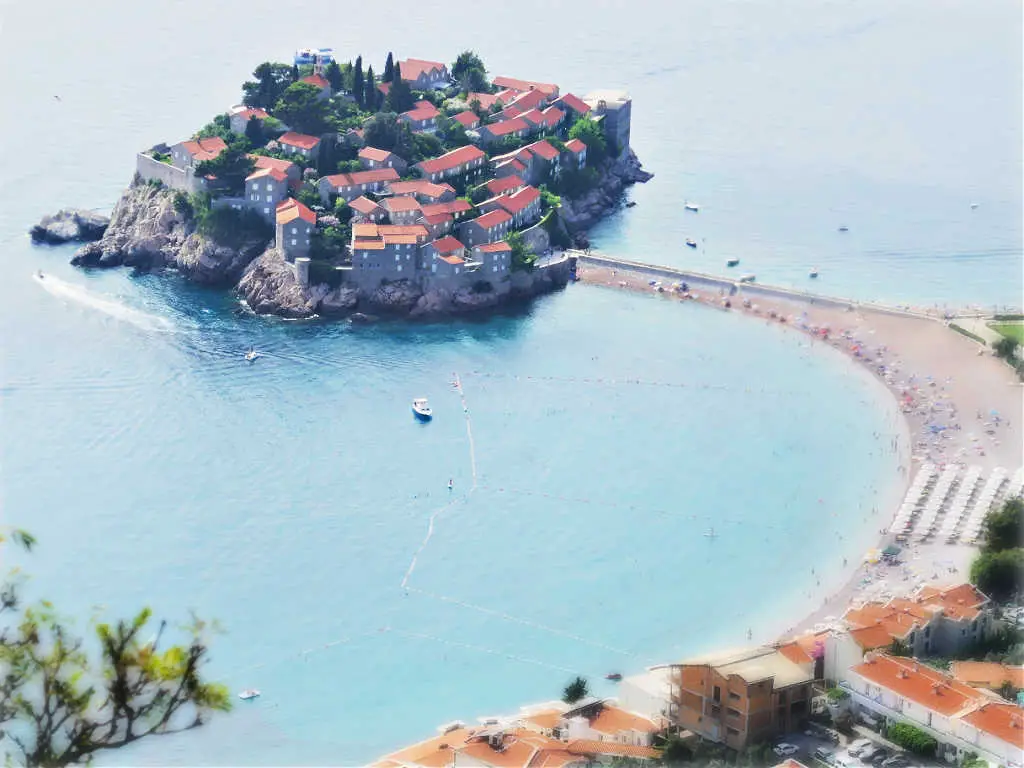 Modern Day Fortress
Although Sveti Stefan is a resort of luxurious opulence, it's ironic that this island that once served as a fortress still functions as one today. Only in these modern times, its walls are used to keep the elite in and commoners, like us, out.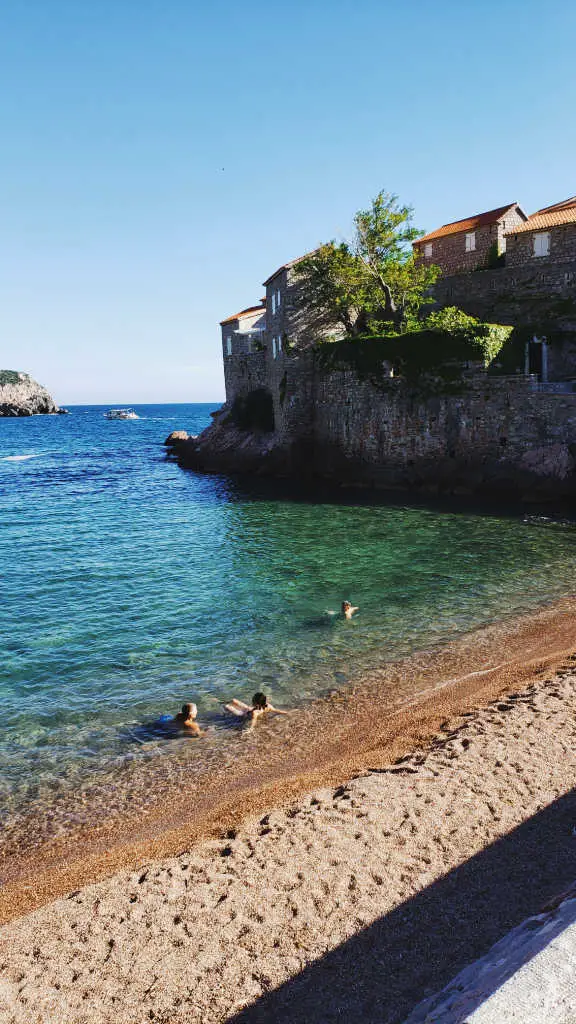 Best Way to Experience Sveti Stefan
Sadly, Sveti Stefan continues its reign as a resort dedicated to only the world's wealthiest tourists. Still, the property and island remain off-limits to the general public. However, at least we can experience a small piece of how the other half live…by swimming next to the island!
Joking aside, the beautiful clean beaches in front of the island are open and quite accessible to everyday folks. In fact, spending a day along its shores will only set you back 2 euros per hour for parking.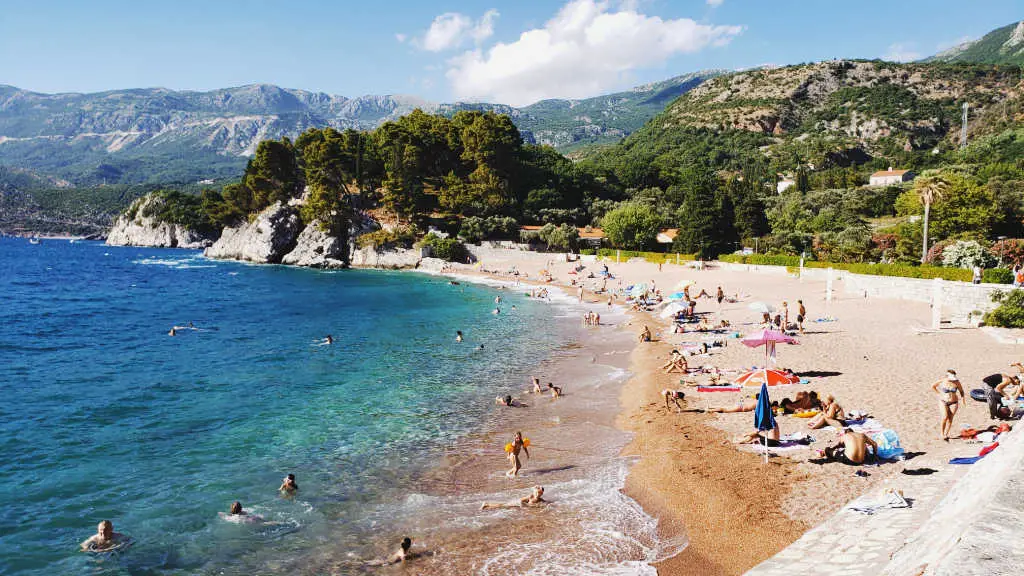 Another option is to enjoy Sveti Stefan over a tasty meal, coffee, or cocktail. For instance, those looking to splurge can opt to enjoy Aman's mainland restaurant, Olive Restaurant & Bar. (Currently, the Olive Restaurant & Bar is closed until further notice.) Personally, we enjoyed watching the sunset on the terrace at Restaurant Adrovic Sveti Stefan.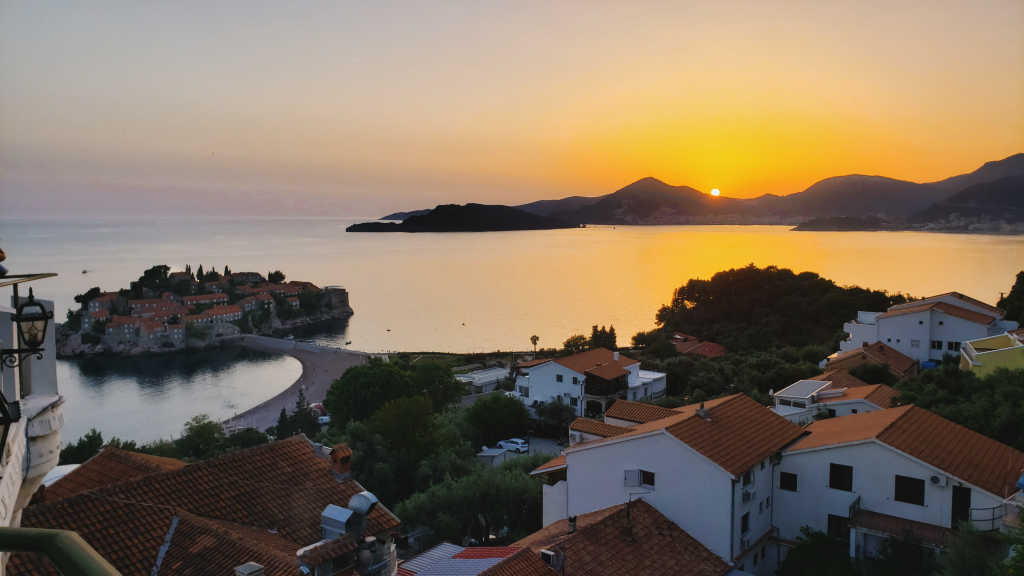 Still Closed for the 2022 Summer Season
According to its website, the Aman Sveti Stefan and Villa Miločer remain closed, even for the duration of the 2022 summer season. In addition, the Olive Restaurant & Bar remains closed until further notice.
Budget Tip: Check out WayAway—a new flight aggregator platform that provides travelers with the best rates on airline tickets. Users can also purchase the WayAway Plus membership plan, which gives cashback on flights, accommodation, car rentals, tours, and more.