With so many finding respite in the presence of wildlife, many travelers may wonder "Where are the best safaris near me?" Across the country, there are opportunities everywhere to see animals—zoos, nature centers, national parks, and wildlife preserves.
While many safaris (or game drives) are self-driven, this post will also share destinations where visitors can enjoy a guided animal safari. All these places will offer something on par with an African safari but are hosted closer to home, right here in the United States.
Safaris in the USA
For those looking for a safari experience close to home, each region hosts a variety of great options. Additionally, each park offers a genuine safari adventure, complete with roaming animals, open lands, and some type of drive-through navigation.
SAFARIS NEAR ME
Select a region or scroll down to view all.
Be aware that some safari experiences are for adults only, while others are more for families. It is important to note, that for the safety of the animals, each one has a strict no-pets allowed policy. Sorry, Benji, you must stay in the hotel room.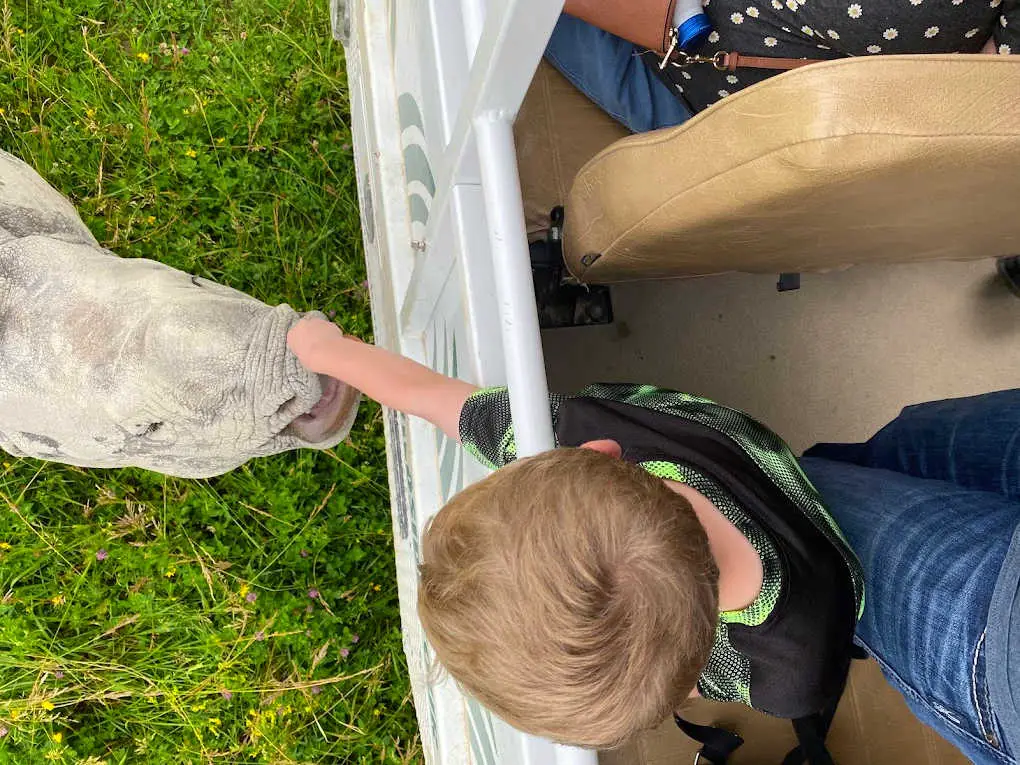 Safaris Near Me >> Pacific Coastal
Along the country's Pacific coastline, travelers will find a variety of wildlife experiences—ranging from a safari featuring Africa's most endangered creatures and a mock hot air balloon safari to a farm offering time with Zodiak bears.
Safari West – Santa Rosa, CA
Located 12 miles north of Santa Rosa, Safari West is a wildlife preserve offering conservation safaris and tented glamping. Over 900 animals from over 90 different species freely roam the 400-acre property—Safari West is about as close as you can get in the U.S. to a traditional African safari.
Climb aboard one of the custom safari vehicles to explore the Sonoma Serengeti where you can see zebras, giraffes, ostriches, antelope, and more. What's special about Safari West is that the experience can be modified to fit the needs of both adult-only trips and families with children.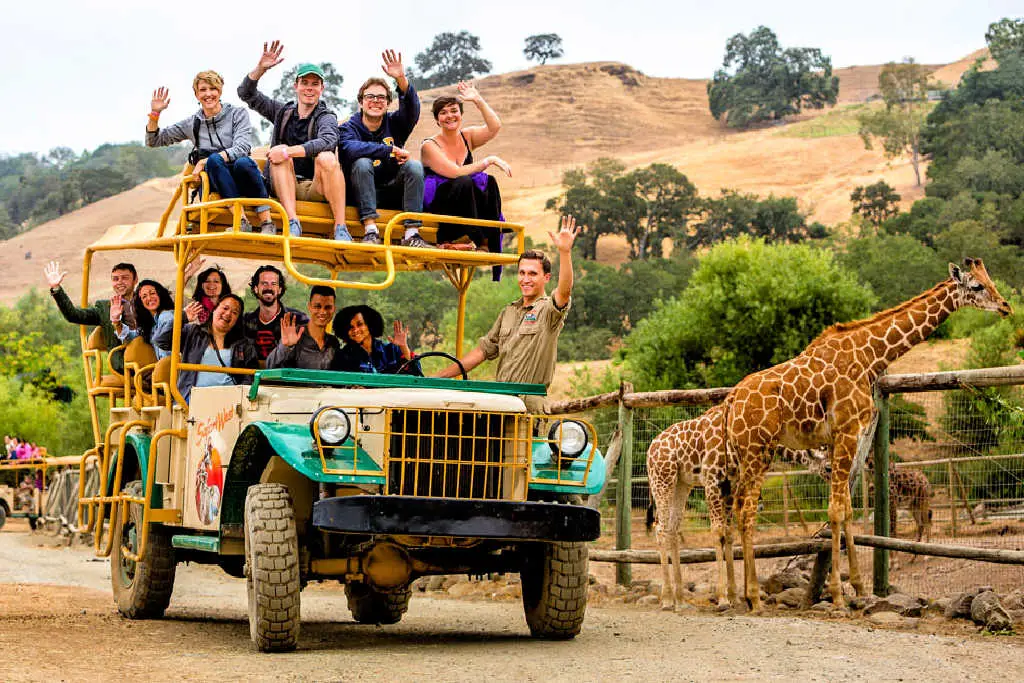 For example, if you book a private safari, wine, beer, and appetizers can be added to the tour for an extra cost. For families, the Cozy Cottage has sleeping capabilities for six, with a king bed and a double bunk bed.
To check prices or to make reservations, click here >> Safari West
B. Bryan Preserve – Point Arena, CA
In Point Arena, guests can appreciate a slice of Africa on the Mendocino Coast at B. Bryan Preserve, which focuses on the breeding and conservation of Africa's most endangered species. These include very specific herds of zebra, antelope, and giraffe. A variety of tour options are available for booking, including self-guided car safaris, VIP tours, and guided tours.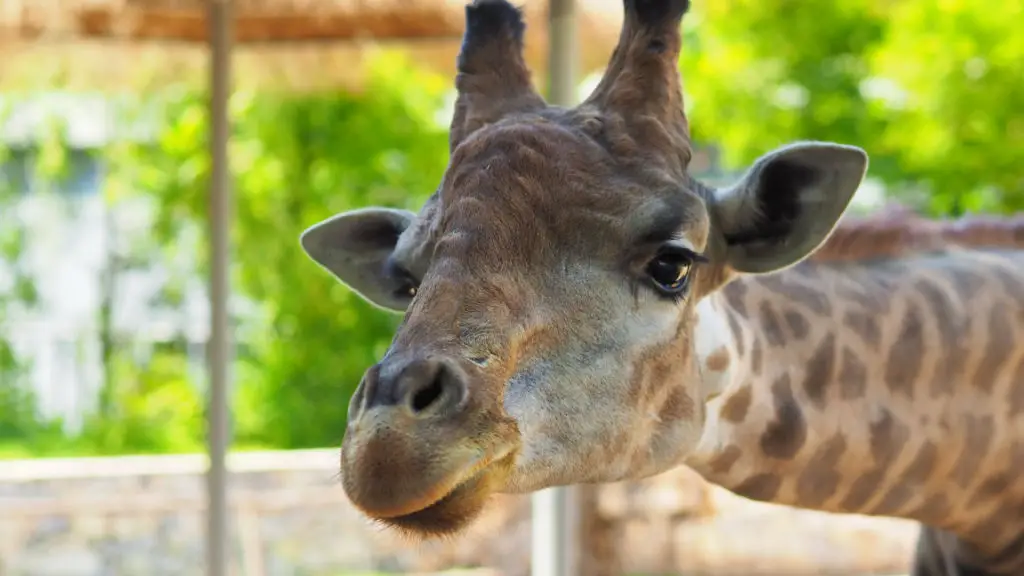 Hand-feeding the giraffes is always a highlight on each visit. If a daytime visit just isn't enough, the property hosts three cottages and one carriage house—each offering a full kitchen and a private hot tub.
San Diego Zoo Safari Park – San Diego, CA
Sister attraction to the San Diego Zoo, the San Diego Zoo Safari Park allows visitors to choose from a number of different safari opportunities. Home to over 3,600 animals, some unique wildlife excursions are available, such as a Flightline safari and a tethered balloon safari. Take note, the San Diego Zoo Safari Park is primarily a walk-through sanctuary. Safari tram tours are another option but are an additional cost.
Northwest Trek Wildlife Park – Eatonville, WA
With a focus on wildlife from America's Northwest, the Northwest Trek Wildlife Park offers three methods of exploration—walking paths, Wild Drives self-drives, and Keeper Adventure Jeep Tours. Photography safaris are another option.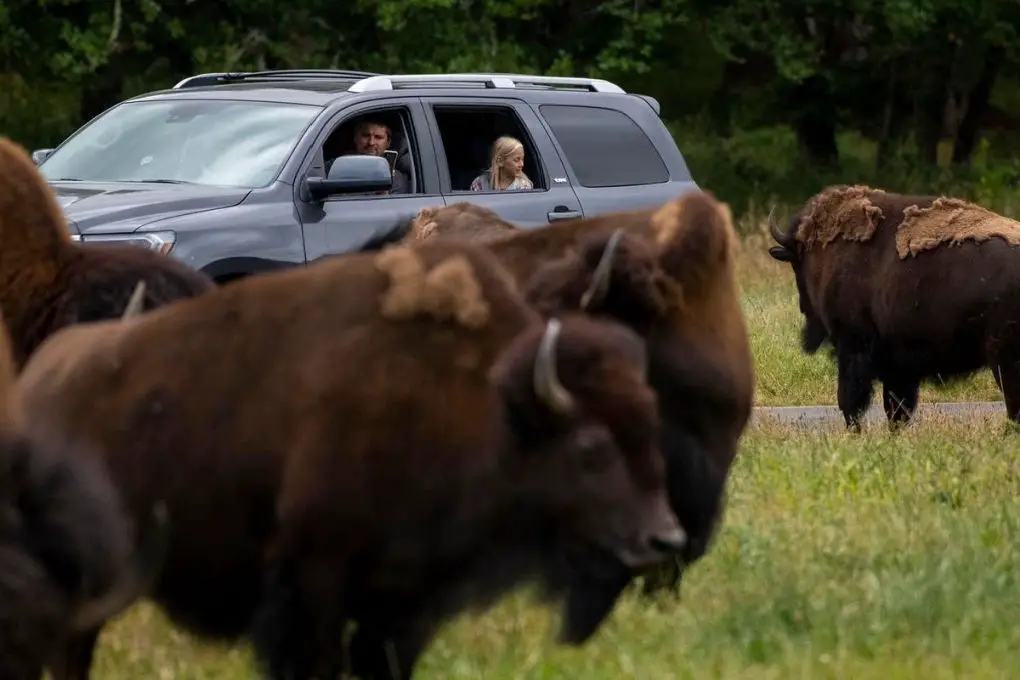 The park's free-roaming area comprises 435 acres for herds of elk, bison, moose, caribou, deer, bighorn sheep, and mountain goats. There are no opportunities for 1:1 animal interactions, so no feeding or petting is allowed.
Wildlife Safari –  Winston, OR
Open year-round, Wildlife Safari is a fun-filled family attraction where you can observe over 500 animals roaming freely from Asia, Africa, and the Americas. The park is over 600 acres and it takes about one to two hours to complete the 4.5-mile drive.
If you or a loved one has a favorite animal, Encounters allow you the opportunity to spend quality time with one! There are daily meet and greets with tigers, lions, red pandas, elephants, giraffes, bears, hippos, cheetahs, and more.
The Hampton Inn & Suites Roseburg is a comfortable option for nearby lodging.
Olympia Game Farm – Sequim, WA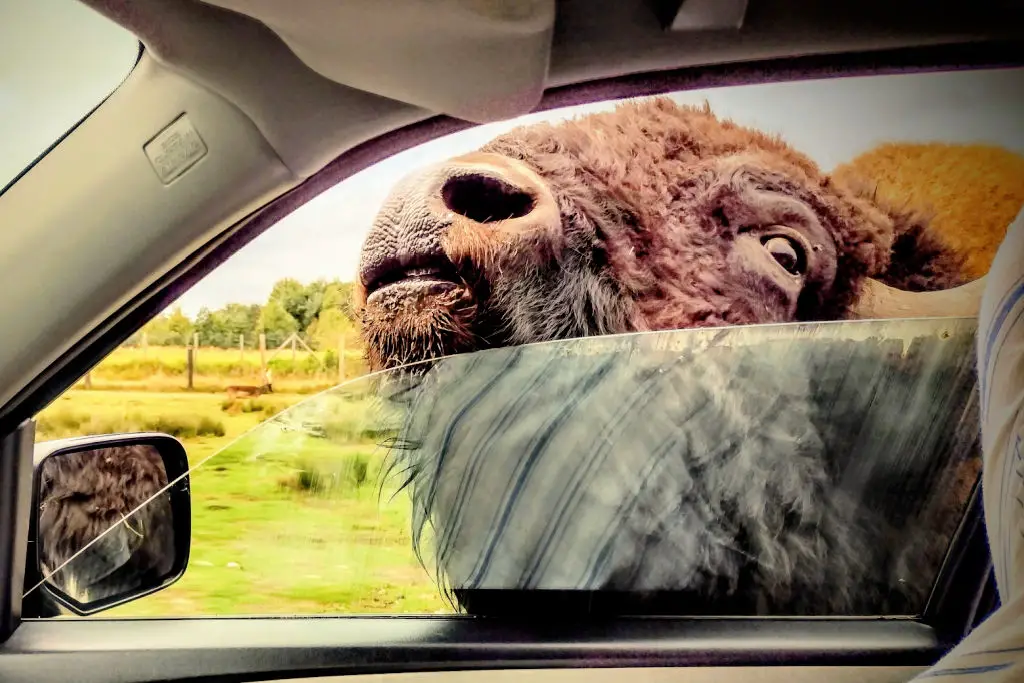 If your family loves animals, then the Olympia Game Farm welcomes visitors with year-round game drive tours. The farm offers 84 acres of terrain full of wildlife, such as llamas, elk, zebra, deer, yaks, American bison, and Zodiak bears. The tour takes about an hour. Additionally, there are certain times when you can feed animals wheat bread that is supplied by the farm.
Safaris Near Me >> Southwest
If you find yourself in Texas looking for wildlife experiences, you're in luck. The state offers an abundance of safari opportunities, everything from traditional hunting safaris to family-friendly self-driven tours.
Exotic Resort Zoo – Johnson City, TX
Geared toward children and family vacations, the Exotic Resort Zoo offers two options for a kid-friendly safari—a guided tractor ride or self-drive. If wildlife fuels your family's travels, then consider a stay on one of the property's safari cabins that feature two resort-style swimming pools. Overnight stays include complimentary zoo experiences.
Johnson City is also the home to the Lyndon B. Johnson National Historical Park, Pedernales Falls State Park,  Lyndon B. Johnson's Boyhood Home, and the Texas White House. Also, there are several nearby wineries to tour—making it the perfect place for an extended weekend or vacation. Pair up the Exotic Resort Zoo with a stay at the Carter Creek Winery Resort & Spa for a relaxing retreat.
Cherokee Trace – Jacksonville, TX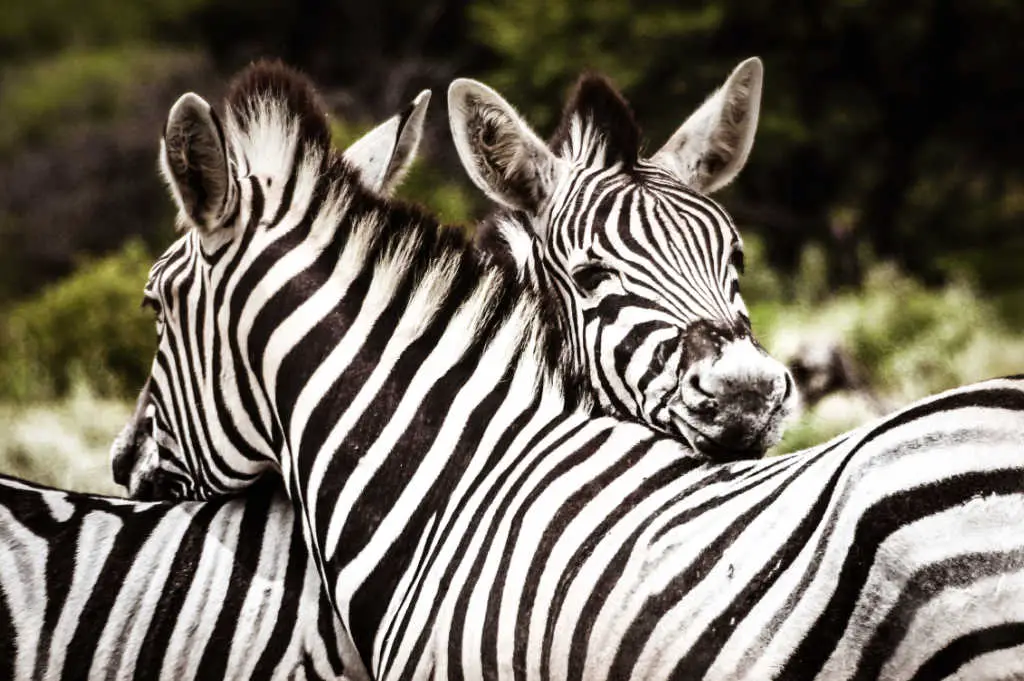 This 300-acre animal reserve offers self-drive safaris and the chance to hand-feed dozens of endangered animals and 25 exotic species from around the world. It takes about 1-2 hours to tour Cherokee Trace, however, the admission price permits as many drives as time allows. The majority of the wildlife is hooved animals, mostly deer, zebra, and antelope.
Aggieland Safari – Bryan, TX
Deemed the "Serengeti of the South," Aggieland Safari allows guests to get up close and personal with free-roaming wildlife in over 250 acres of grassy plain pastures. During a self-safari, visitors may interact with local residents including bison, ostrich, zebras, antelope, wildebeest, and more.
Natural Bridge Wildlife Ranch – San Antonio, TX
Experience the essence of an African Safari—Texas style! The Natural Bridge Wildlife Ranch has over 700 animals and 45 species spread out over 450 acres of Texas Hill Country. The self-drive route lasts six scenic miles and passes over creek beds, rolling hills, and oak tree forests.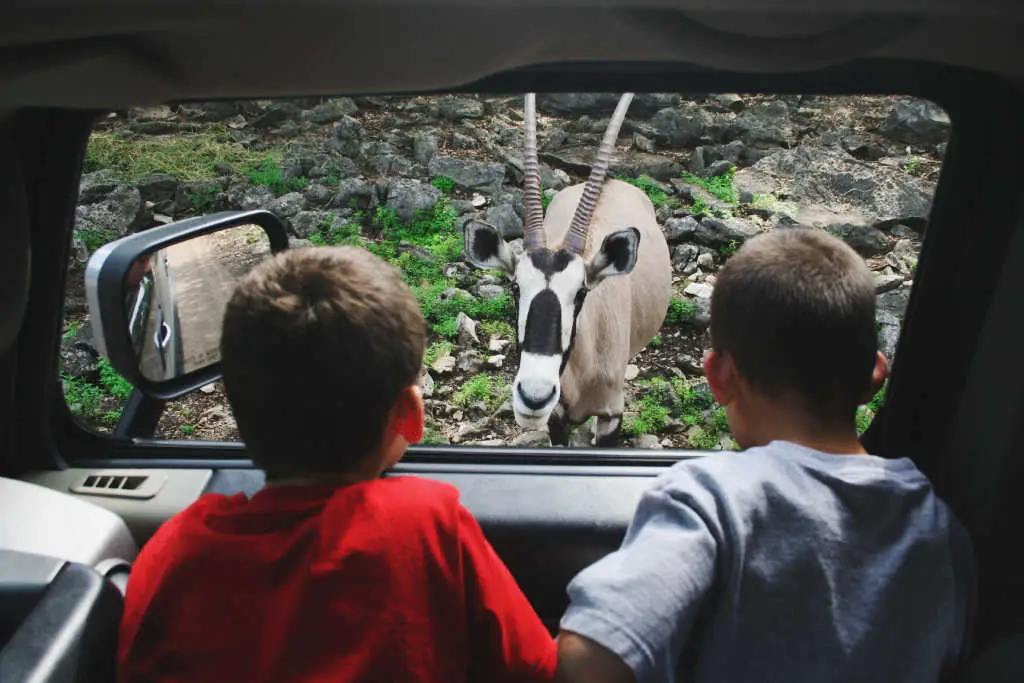 The drive takes about 1-2 hours but admission offers multiple trips if time allows. Feed is available for about $5 per bag. Guided safari tours are also available in a custom-built Safari Rover or Safari Shuttle and can be booked online.
Families may enjoy pairing up Natural Bridge Wildlife Ranch with The Resort At Schlitterbahn, one of America's most popular and largest waterparks.
Star S Ranch – Mason, TX
With the goal to create a true Texas safari, the 14,000-acre Star S Ranch is geared toward hunting African wildlife. In fact, the Star S Ranch hosts the largest herds of African wildlife, outside of Africa. With the Star S Ranch private airport, Hunter's Lodge, and four casitas, this is as close as you'll get to a traditional game safari, on this side of the world.
Fossil Rim Wildlife Center – Glen Rose, TX
Dedicated to conservation, the Fossil Rim Wildlife Center considers the 1,800-acre property more of a sanctuary, rather than just another drive-through safari. The 7.2-mile route allows guests to interact with approximately 1,100 different roaming animals.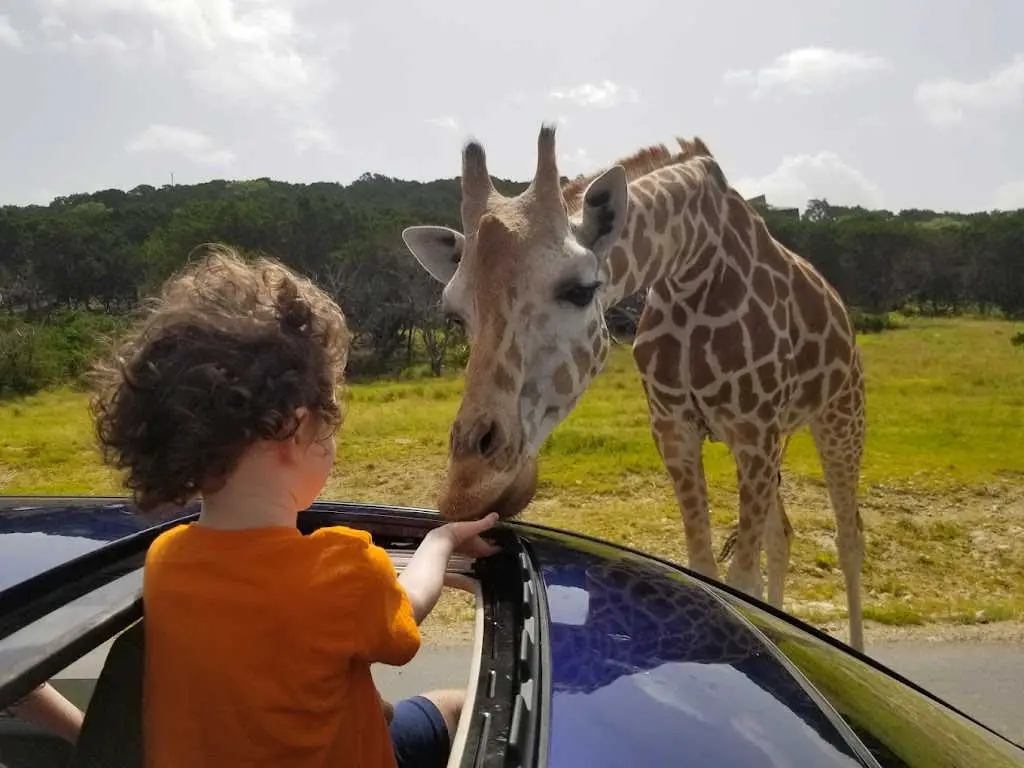 While there are a number of African Plains game, opportunities to see giraffes, cheetahs, and rhinos are visitor favorites. There are multiple visiting options available. These include self-driving tours, public guided tours, privately guided tours, twilight tours, photography tours, or behind-the-scenes guided tours.
Out of Africa – Camp Verde, AZ
Going beyond the concept of a basic drive-through park, Out of Africa strives to replicate a real African bush safari. Located in the beautiful Black Hills of Camp Verde, the wildlife preserve offers animal shows, specialty encounters, and organized feeds.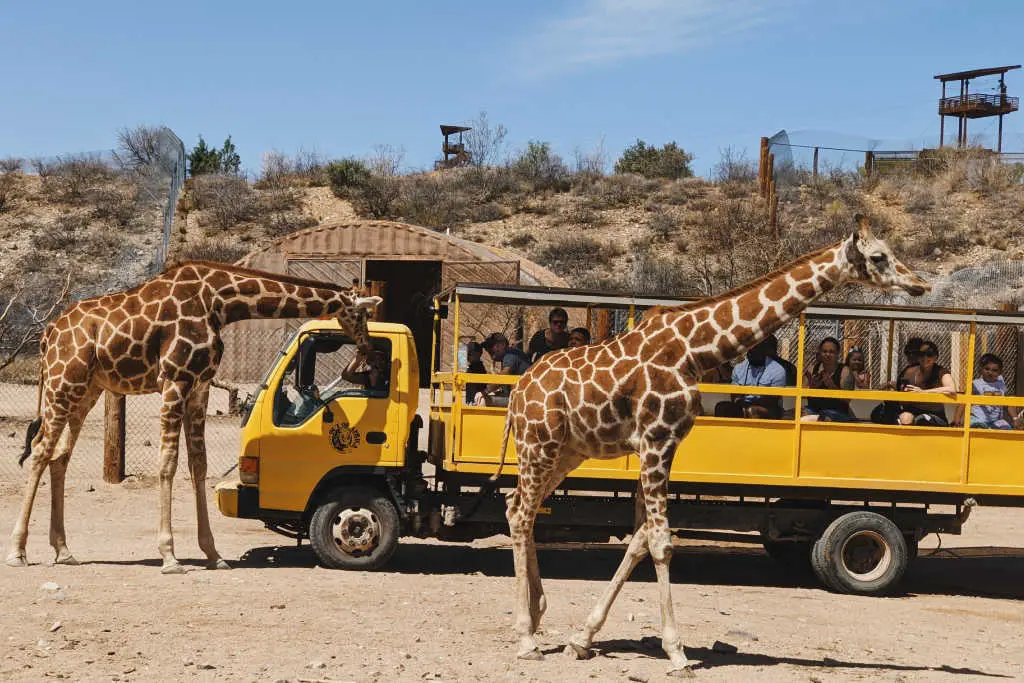 A 30-minute narrated African Bush Safari tour is included in the price and showcases herd-style animals that free roam including water buffalo, giraffes, zebras, antelopes, and ostriches. An upgraded, longer tour aboard a SuperMog is another option.
To customize your visit, the preserve has a variety of different opportunities, including bundle packages, Zip lining, VIP tours, and more private experiences.
Bearizona Wildlife Park – Williams, AZ
Drive through the Arizona ponderosa pine forest to enjoy the local North American wildlife from the comfort of your own vehicle. Guests of Bearizona Wildlife Park are welcome to drive the 3-mile route at their own pace.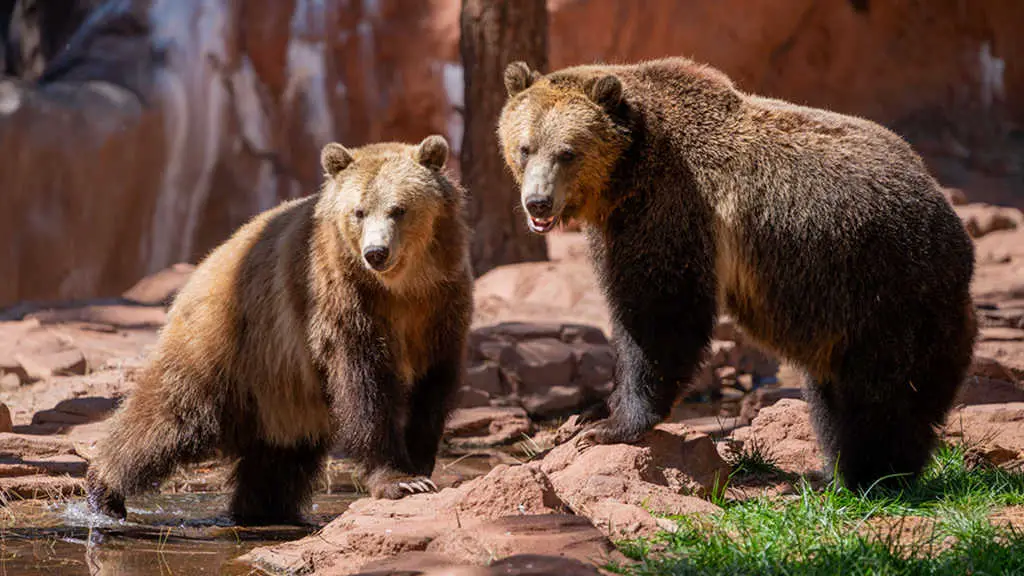 Featured animals include bears, wolves, bison, elk, and other hooved animals. Admission includes unlimited passes through the route however you cannot leave and return.
Bearizona is a popular stop for motorists as it is one of the best attractions along historic Route 66. Also, it's near Grand Canyon National Park, making the Grand Canyon Railway Hotel a perfect accommodation option.
Safaris Near Me >> Rocky Mountains
While most of the Rocky Mountain region is full of rugged landscapes, Nevada's desert-like climate is the perfect destination for a camel safari.
Camel Safari – Bunkerville, NV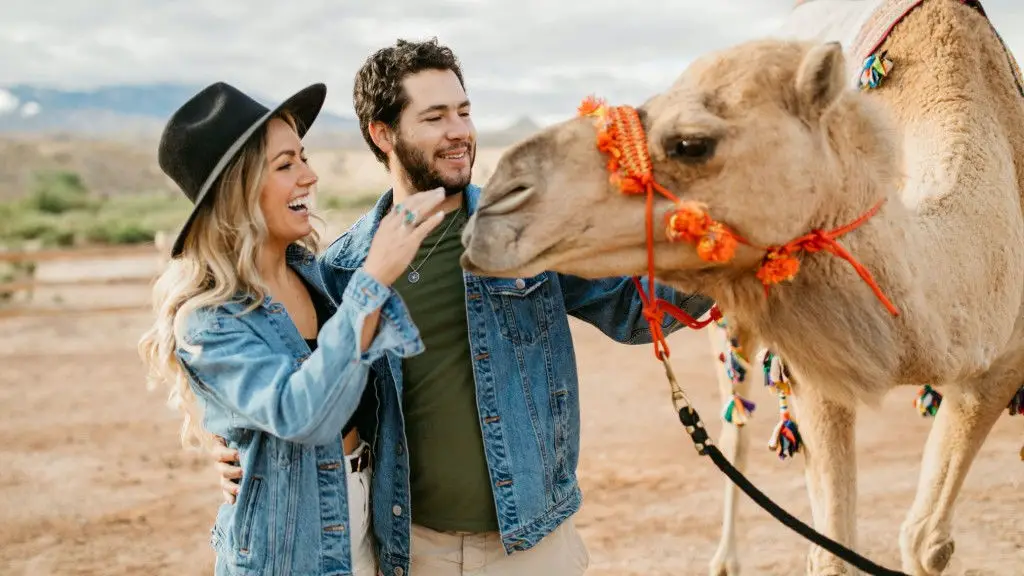 Located about an hour north of Las Vegas, Camel Safari offers two-hour desert safaris by camel, ATV, or by tram. Exotic enough to be seen on "The Bachelorette" those that can't make the trip to Morocco may appreciate the next best thing.
Budget Tip: The Camel Safari – Safari Tram Ride and Zoo Tour from Las Vegas makes it easy and affordable to visit.
Yellowstone Bear World – Rexburg, ID
Idaho's most popular wildlife attraction is Yellowstone Bear World. This wildlife safari is often visited by travelers from West Yellowstone and Jackson Hole. As you drive your own vehicle through the park, you'll encounter the very best Rocky Mountain animals including, elk, bison, moose, mule deer, white-tailed deer, mountain goats, and of course, both American black bear and grizzly bear.
One nice characteristic about this particular safari is that large vehicles, such as RVs and motorhomes are welcome to drive the route. While there are more private wildlife experiences offered at an additional cost, general admission also includes the amusement rides, the petting zoo, and as many drives through the park that day as your time allows.
Safaris Near Me >> Midwest
Surprisingly, Ohio hosts some of the most authentic safari experiences that travelers can find in the USA. Just be aware, many parks and outfitters work seasonally.
The Wilds – Cumberland, OH
If you're an American who will never be able to check an African safari off your bucket list, then this is the travel experience you've been looking for. The Wilds is probably one of the most authentic safari experiences available in the USA.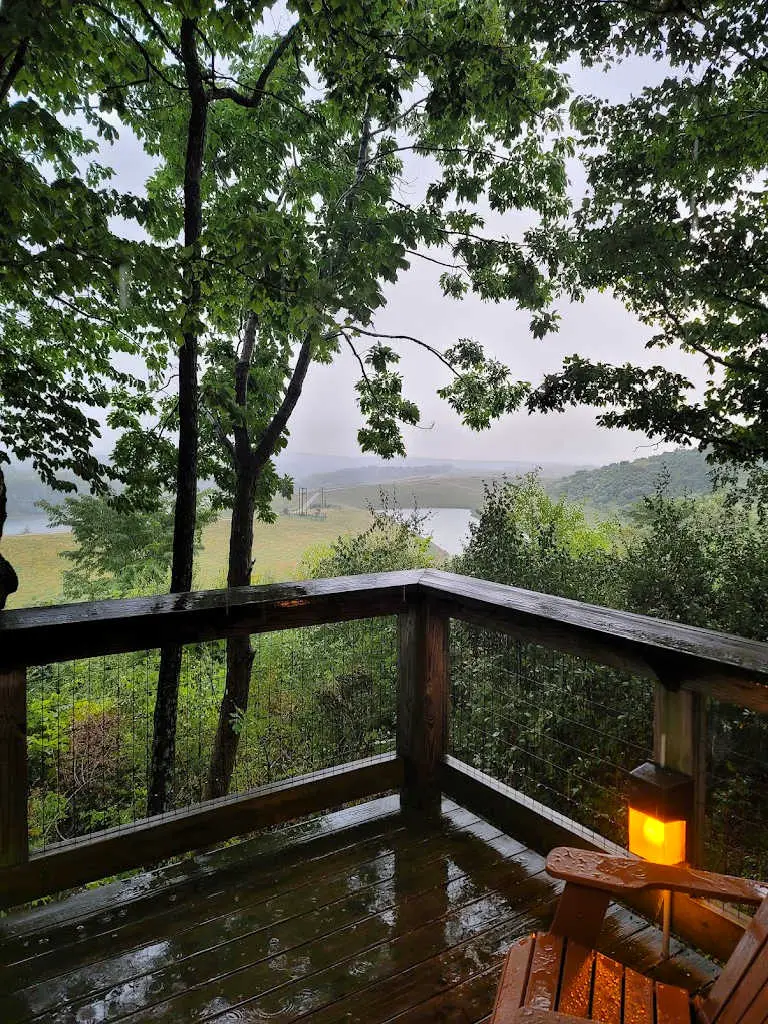 Knowledgeable guides take guests on a two-hour adventure through open habitats to see cheetahs, rhinos, giraffes, zebras, and much more. The conservation center also has opportunities to make your safari complete, with overnight yurt stays, 3-course dinners, and specialty off-roading drives to scout for animals. For family vacations, there are cabins and a 12-person lodge is also available.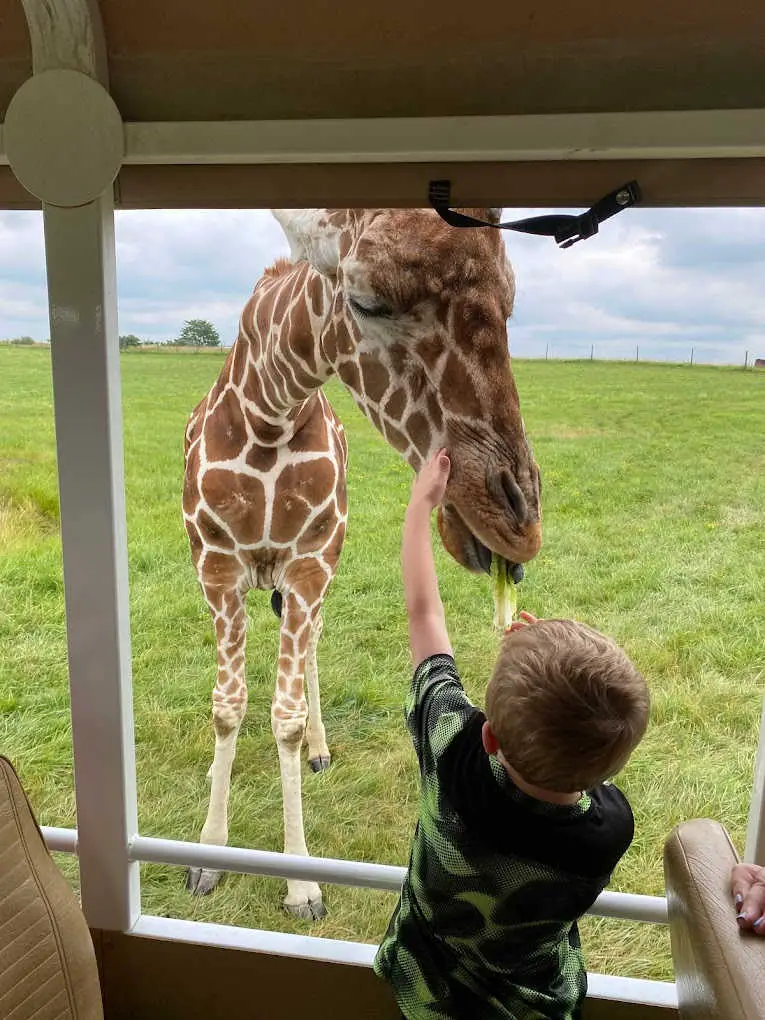 Other than hand-feeding the animals, most guests agree that the highlight is sitting around the campfire as night falls, watching the watering hole for wildlife enjoying a bottle of wine.
Generally, safaris operate from May through October, however, there are winter tours too. This would be an amazing honeymoon, engagement, or anniversary trip idea because overnight yurt stays are 21+ only.
African Safari Wildlife Park – Clinton, OH
With the warning of "not for those who like pristine vehicles," the 100-acre African Safari Wildlife Park offers a chance to come face to face with various hoofed animals. Visitors can self-drive the route as many times as they'd like but the journey is expensive, so be sure to bring a heavy wallet.
Unfortunately, the park only provides one cup of animal feed per group (not per individual) and all other attractions or cups of feed are an additional charge. Visitors can't help but notice the placement of the car vacuums at the exit for an additional fee of $2.00.
Buffalo Safari Jeep Tours – Custer, SD
One reason travelers decide to take a Buffalo Safari Jeep Tour is to give themselves a break from driving and let someone else play tour guide. Many families appreciate the opportunity to sit back, enjoy the ride, and listen to narration from a local guide.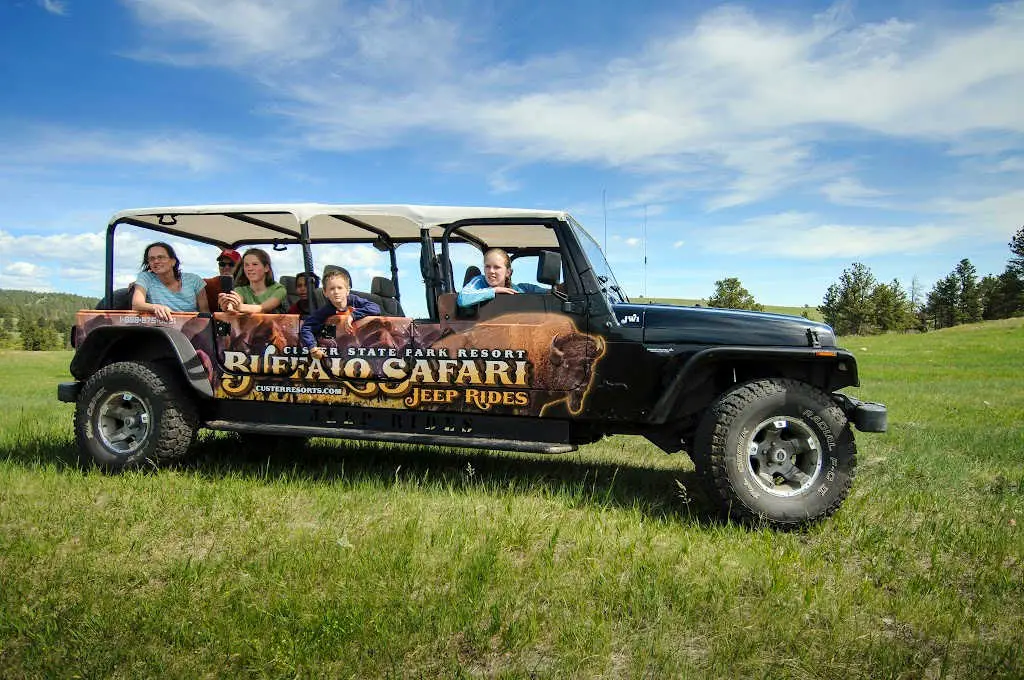 On this 1.5 to 2-hour safari, guests set out in search of buffalo, deer, longhorn sheep, prairie dogs, elk, and pronghorn. Take note, going off-road seems to depend on where the animals are congregating. Therefore, off-roading is not a guarantee. If wildlife is along the main road, that's where you'll spend the majority of your time.
Budget Tip: Pair this safari with the Mount Rushmore and Black Hills Tour with Two Meals and a Music Variety Show tour. Stay at the Bavarian Inn, a European-inspired boutique mountain resort.
Eureka Springs Safari Park – Eagle Rock, MO
Offering a 4-mile drive-through safari and a petting zoo, Eureka Springs Safari Park is home to over 500 animals from all over the world, representing 56 species. Visitors can see camels, emus, kangaroos, deer, and buffalo. There are opportunities to hand-feed select animals. When seasonally available, VIP ATV tours are also an option. Eureka Springs Safari Park is the sister park to Branson's Promised Land Zoo, both of which are faith-based attractions.
Branson's Promised Land Zoo – Branson, MO
From the comfort of your own vehicle, families can set off on a 45-minute drive-through safari to feed a variety of farm and hooved animals. Many visitors take advantage of the VIP experience to enjoy a tram tour and 1:1 interactions with specialty animals such as baby kangaroos, lemurs, or spider monkeys. Affiliated with Eureka Springs Safari Park, Branson's Promised Land Zoo is also a faith-based attraction.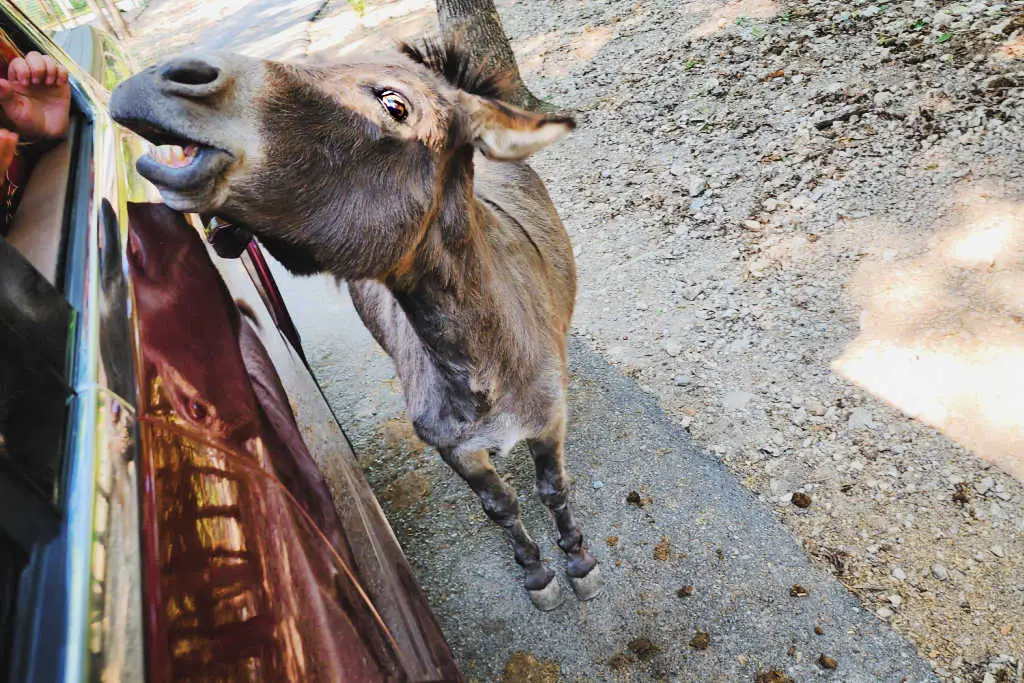 After the safari, keep the outdoorsy feel going by staying at the Lodge of the Ozarks which captures the spirit and the beauty of the great outdoors.
Springfield Wild Animal Safari – Strafford, MO
This 5-mile drive drive-through safari allows guests to choose their own adventure, whether by private car, rented safari vehicle, or open bus. Set among 350 acres, visitors will note no cages, only free-roaming wildlife and beautiful scenic views.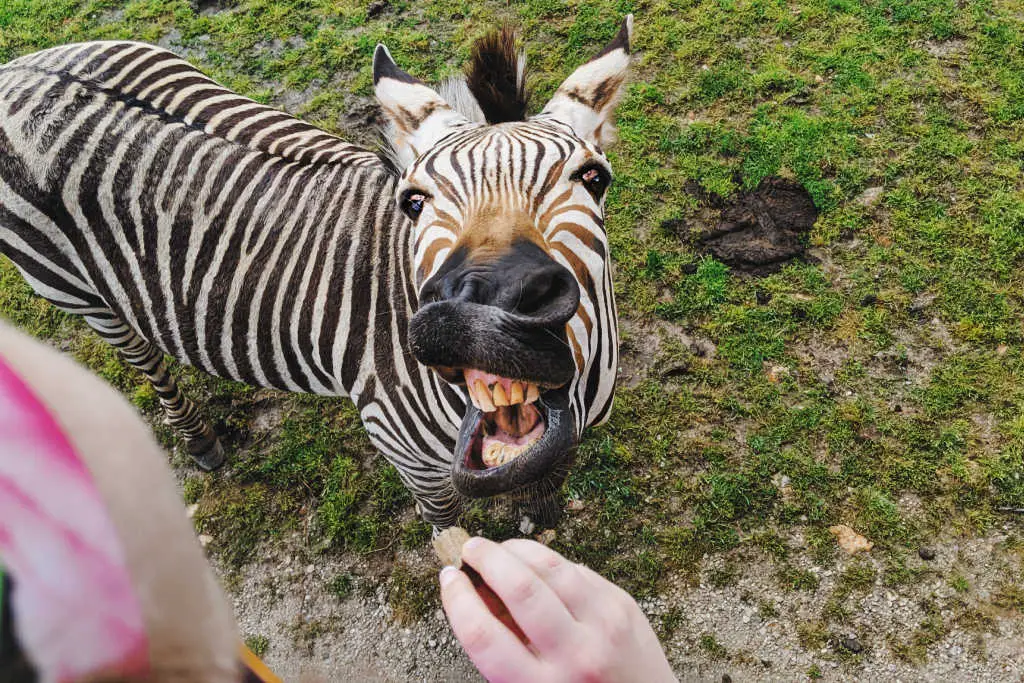 Visitors of Springfield Wild Animal Safari love the opportunity to feed and interact with unique wildlife like zebras, emus, and llamas.
Budget Tip: Be sure to stay in the same room as Elvis Presley at the Best Western Route 66 Rail Haven.
Lee G. Simmons Wildlife Safari – Ashland, NE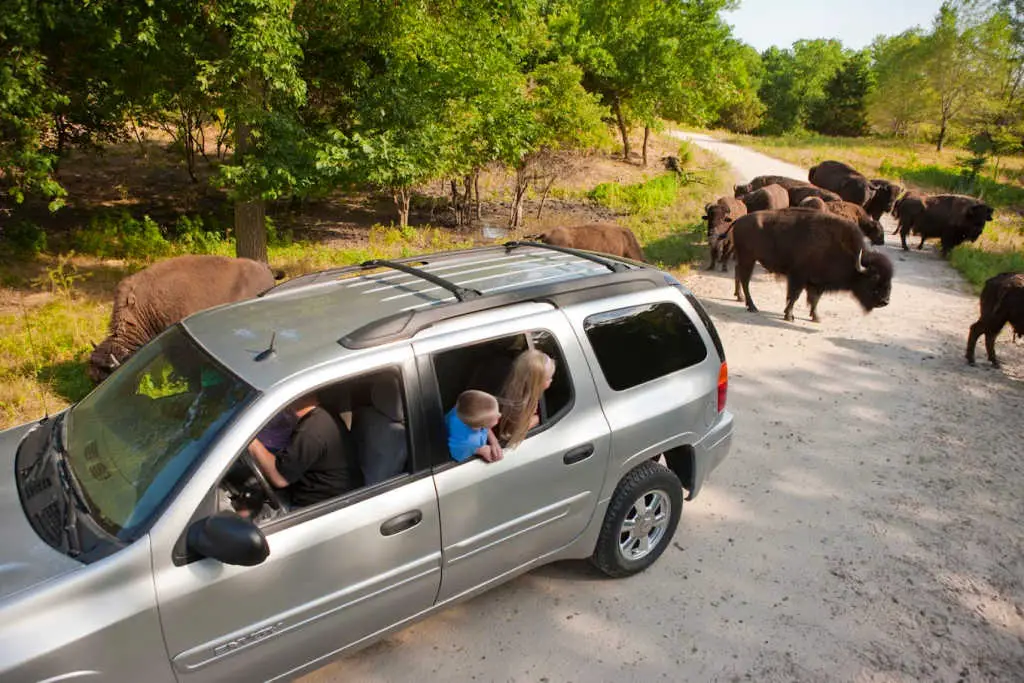 The 440-acre drive-through Lee G. Simmons Wildlife Park allows visitors to explore several different animal lands. Considered a self-safari, the featured wildlife includes antelope, deer, sandhill cranes, and a large buffalo herd. A short walk takes guests to see the wolves' woods exhibit. The Lee G. Simmons Wildlife Park is open from April through October.
Lee Richarson Zoo – Garden City, KS
Although technically not a safari, the Lee Richardson Zoo deserves a feature for being the only self-drive zoo in the country. Additionally, this is a great attraction option for those on a tight budget. Admission to the zoo is always free for pedestrians and the self-drive is only $10 per vehicle. Even further, throughout the year, the zoo offers Wild Wednesdays which is the drive-through that is also free for all guests.
Safaris Near Me >> Northeast
The Mid-Atlantic region has some great safari opportunities but all parks operate seasonally. Please be sure to check websites for hours of operation. Some parks offer both walking and driving wildlife encounters.
Keystone Safari – Grove City, PA
See over 100 grazing animals at the Keystone Safari, an interactive, 144-acre drive-through safari park. As all of the animals are considered non-dangerous, visitors are welcome to purchase animal feed to lure the animals right to their car windows. Standout animals include zebras, bison, and emus.
Lake Tobias Wildlife Park – Halifax, PA
Pennsylvania's rolling hills are a great place to enjoy an American-style safari. Visitors can climb aboard an open-air cruiser with a knowledgeable guide to learn fun facts about wildlife. Many of the 150 acres simulate the animals' natural habitats.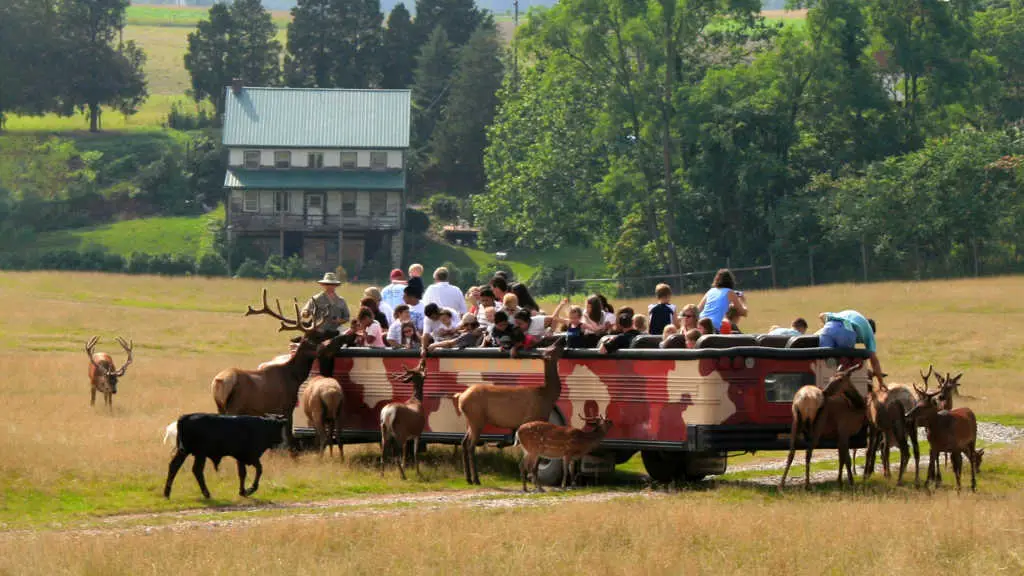 Each tour lasts about 45 minutes and guests are welcome to purchase special feed to lure the animals to the cruiser. Take note, in April and November guests are allowed to use their own vehicle to enjoy the safari.
Six Flags Great Adventure & Safari – Jackson, NJ
Using your own vehicle, visitors can see over 1,200 animals from six continents including tigers, lions, elephants, rhinos, and giraffes. There are 11 sections to explore, with each different land highlighting its native animals. Almost all animals roam freely with only the predators kept safely behind fences. The 5-mile route traverses 350 acres and takes about 1.5 to 2 hours.
Catoctin Wildlife Preserve – Thurmont, MD
African zebras, camels, and American bison are some of the wildlife you'll encounter at Catoctin Wildlife Preserve. Guests explore 25 wooded acres in an open-air safari cruiser with opportunities for photography and animal feeding. The safari lasts about 45 minutes to one hour, depending on the wildlife encounters.
Safaris Near Me >> Southeast
Maybe chalk it up to year-round visiting weather, but the Southeast region of the U.S. boasts some of the best safari experiences in the country.
Virginia Safari Park – Natural Bridge, VA
On a mission to allow guests to see animals in a more natural environment, the Virginia Safari Park hosts 180 acres of free-roaming animals. Safaris are self-driven and guests are welcome to stop and feed the animals at their leisure. Located in the beautiful Shenandoah Valley, this safari experience is consistently ranked as one of the best safari experiences in the country.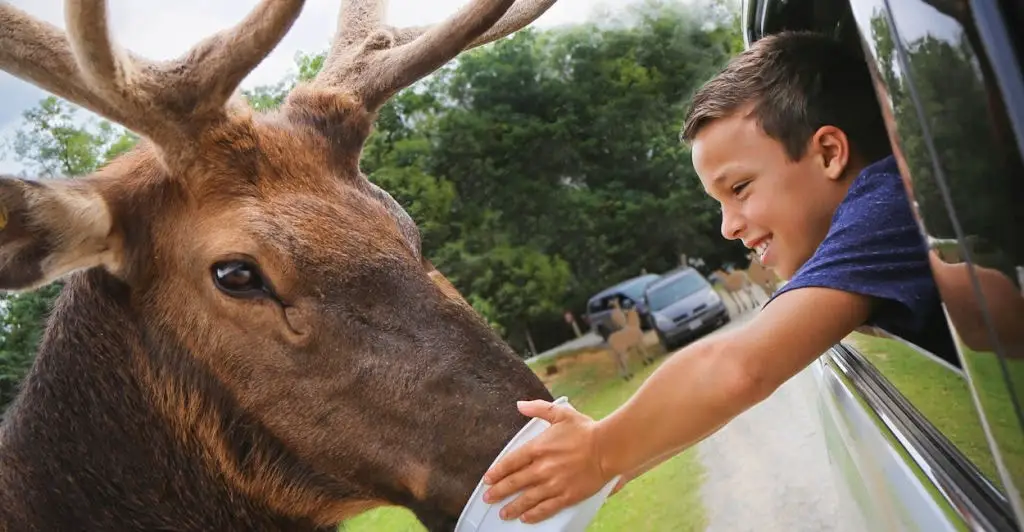 Some bonuses of this park include the freedom to drive through as many times as you'd like, a free guidebook, and the ability for guests to ride in the back of pick-up trucks. Pair this experience with the best historical sites in Virginia.
Pine Mountain Safari – Pine Mountain, GA
If you love exotic animals, then a day at Pine Mountain Safari is a walk on the wild side! From your own vehicle, guests can come face-to-face with 75 species of animals across a 250-acre park.
The route is 2.5 miles route is an opportunity to encounter zebras, emus, ostrich, American bison, watusi, and many other animals in a natural habitat. Feeding is permitted within the park with provided feed only.
Lion Country Safari – Loxahatchee, Florida
Offering Florida's only drive-through safari experience, Lion Country Safari claims to be the first cageless zoo in the United States. The route is divided into seven habitats across 600 acres featuring hundreds of animals. The park also has the largest herds of zebra, rhino, and giraffes in the country. Boasting both a free audio guide and an online guidebook, it is easy to see why Lion Country consistently ranks as one of the best safari experiences in the United States.
Kilimanjaro Safaris (Disney) – Lake Buena Vista, FL
Located in Disney's Animal Kingdom, Kilimanjaro Safaris simulates an 18-minute expedition through the lush African savannah. Thirty species of African wildlife roam freely through 110 acres, while an expert safari guide points out animals and shares fascinating facts.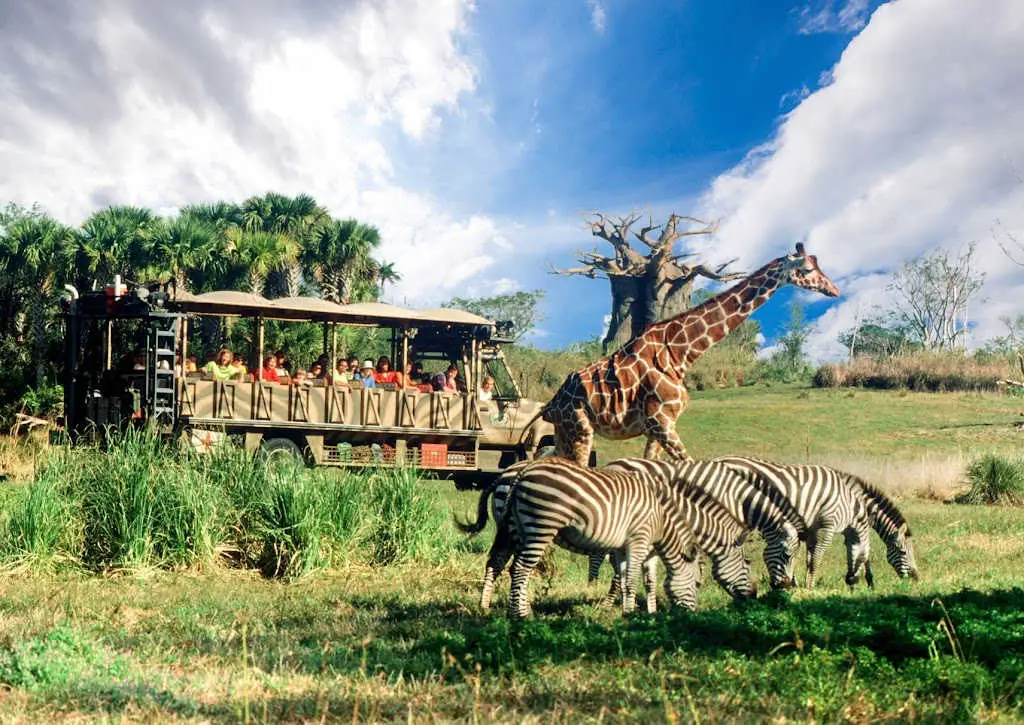 The open-air safari is part of the experience at the Animal Kingdom. To check current prices or to make reservations, click here >> Animal Kingdom Lodge.