There are many free things to do in Warsaw, Poland. Many of them include the highlights of the city. So much to see, so many museums, so many restaurants, and so many attractions!
8 Best Free Things to Do in Warsaw
When traveling through Warsaw, it's important to remember that the best things in life are free. Below are a few of our favorite best free things to do in Warsaw, Poland.
1. Dancing Fountain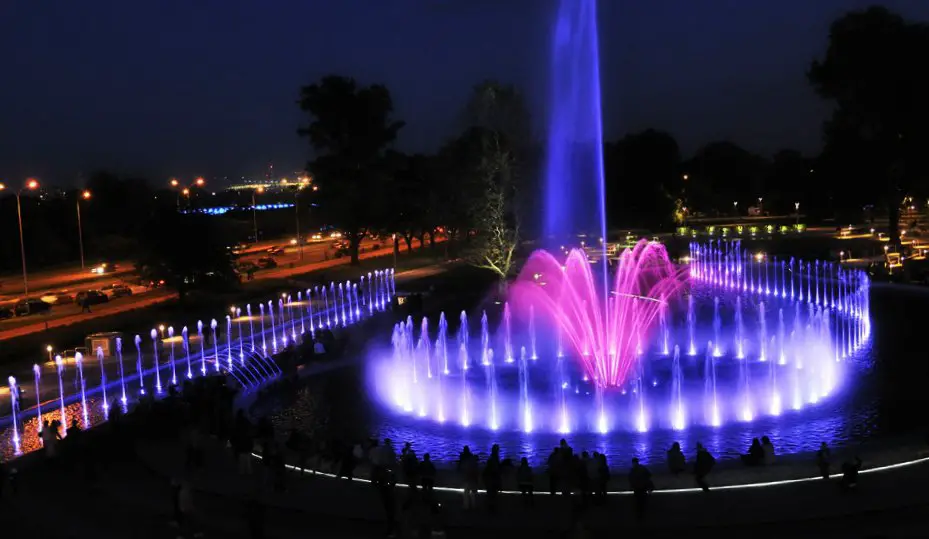 Opened in 2011, the Dancing Fountain operates in the evenings on weekends in the summer months. 367 nozzles shoot water into the evening sky with music, lights, and lasers to accentuate the spectacular effect. The musical accompaniments range from upbeat pop to Chopin. Shows take place Friday and Saturday nights at 9:00 p.m. and run throughout the summer.
2. Free Guided City Tours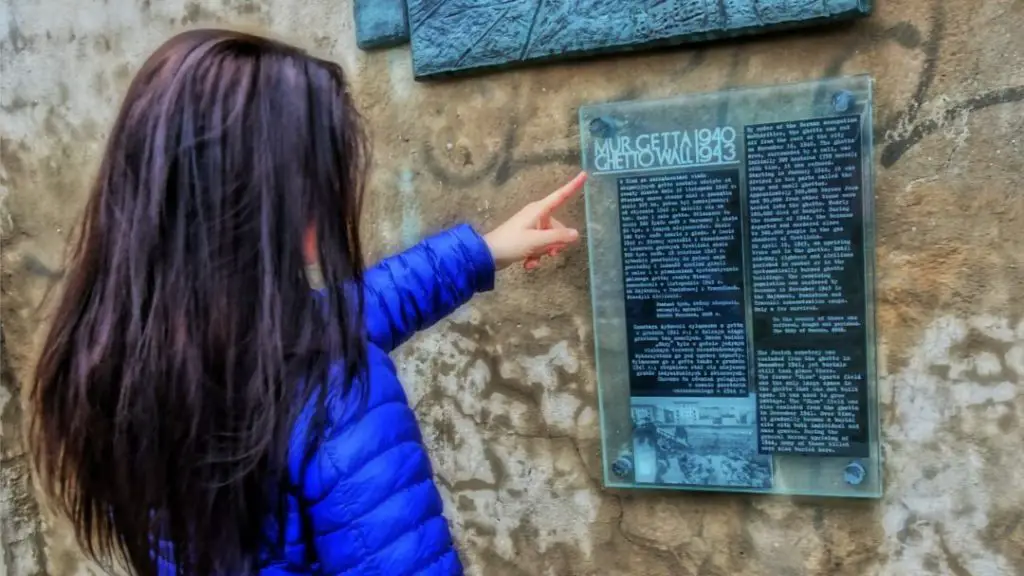 Visitors of Warsaw appreciate the turbulent and rich history, colorful architecture, hidden streets, and beautiful green parks. Whatever your passion, you'll find a free walking tour here to accent it. They include:
Historic old town
Jewish Warsaw
Warsaw at war
Communist Warsaw
Alternative Warsaw
Warsaw street art
Various tours are organized in nearly all of the major cities throughout Poland to support and promote tourism. They take place May through September daily, although it is highly recommended to check each city's tour schedule.
When you're ready to book your flight, follow these three easy steps to get the best price.
3. Free Admission to Museums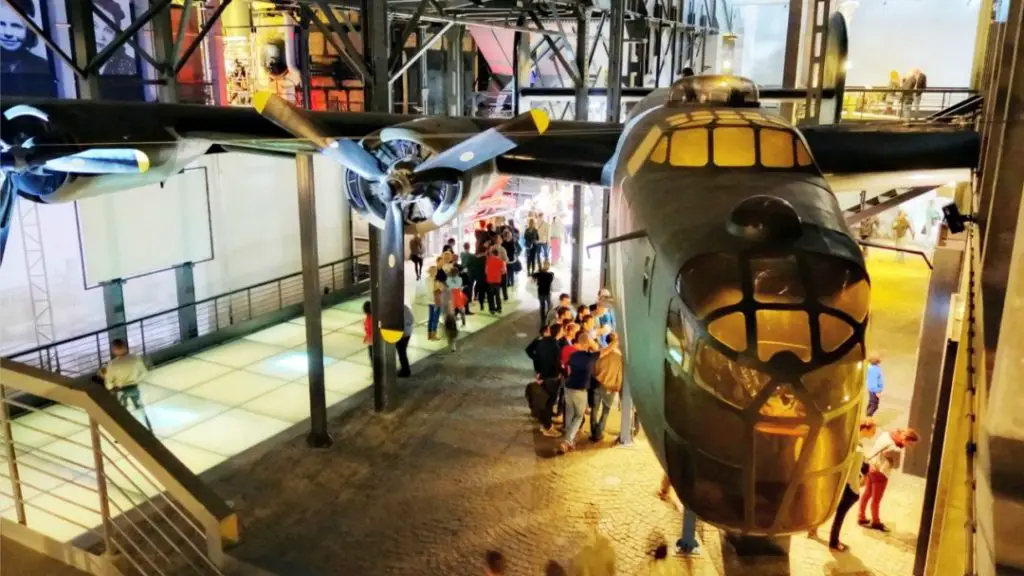 Many museums in Warsaw offer one day of free entrance per week. For example, we were randomly walking by the Museum of Warsaw on a Thursday (the free day) and enjoyed a quick one-hour visit.
Tip: Make sure to visit the website of the museum you'd like to visit to verify the free day.
4. Lazienki Park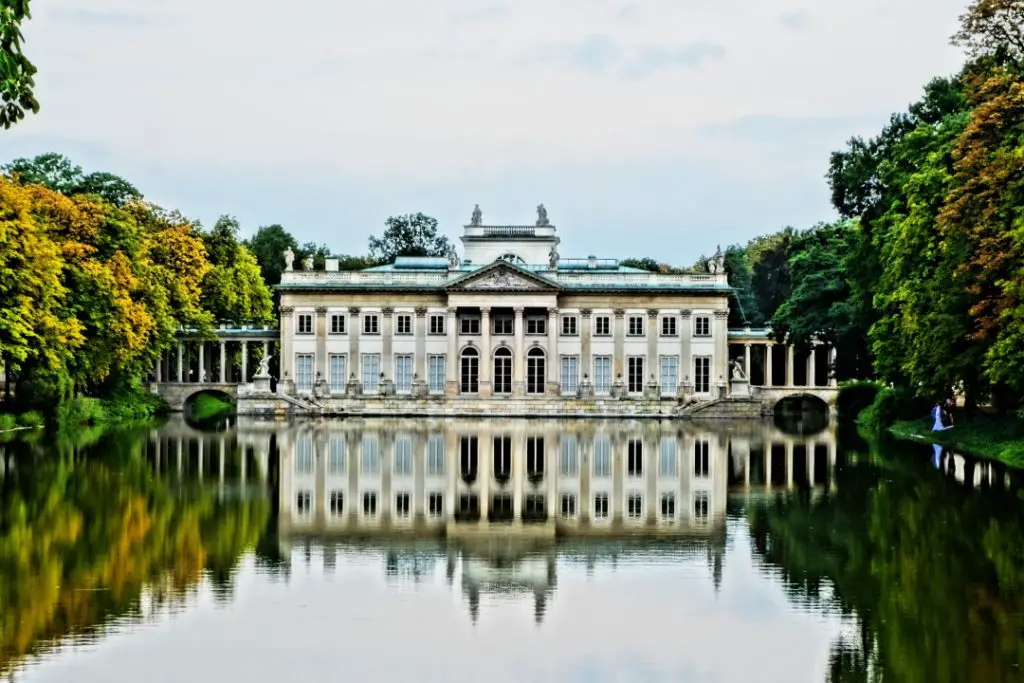 The largest park in Warsaw was originally designed as a baths park during the 17th century and is now a public park with numerous palaces, manors, and monuments. Additionally, free summer concerts are organized near the Frederic Chopin Monument on Sundays.
We use this budget-savvy travel health insurance to protect our trips – get a quick quote.
5. Street Performers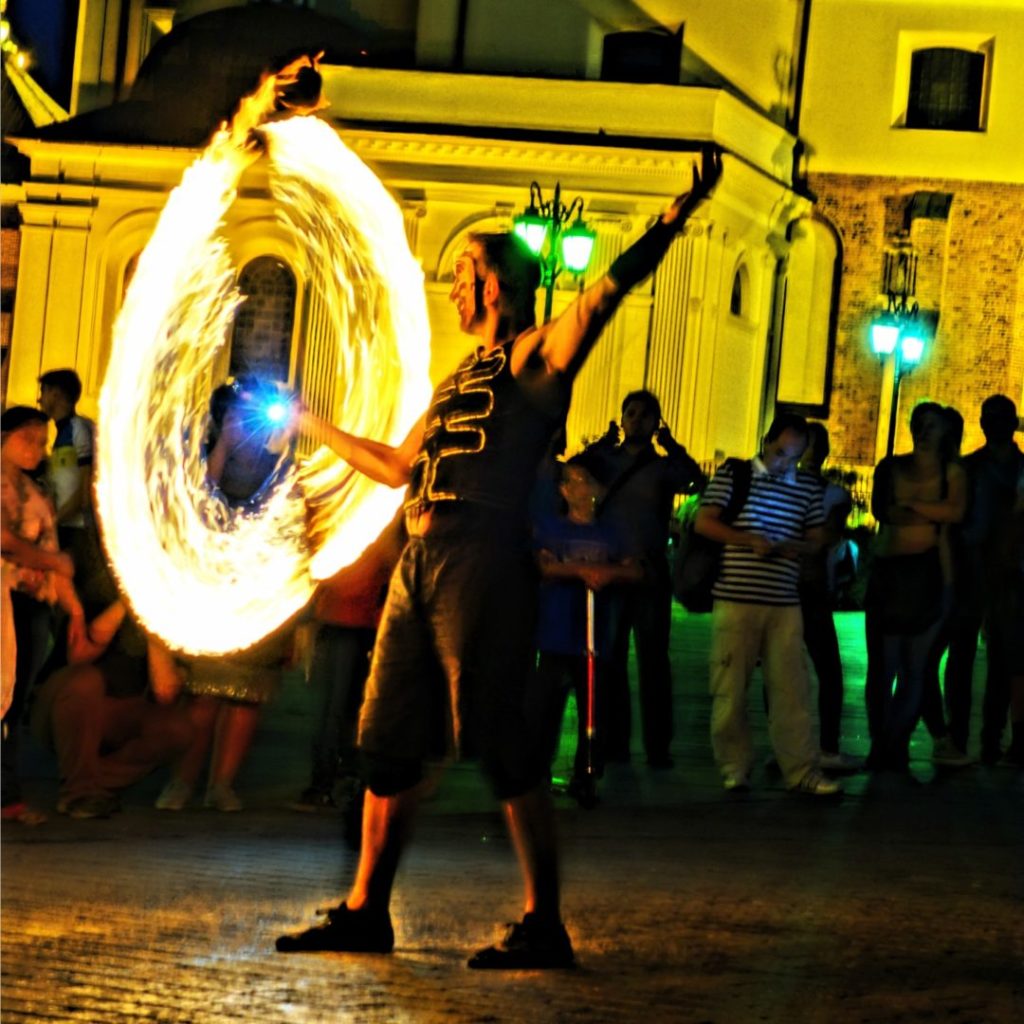 Observing street performers and other various street artists can be a real pleasure as many of them are extremely talented. Make sure to head to Sigismund's Column right before sunset to partake in this authentic European experience.
6. Walk Along Trakt Królewski (the Royal Route)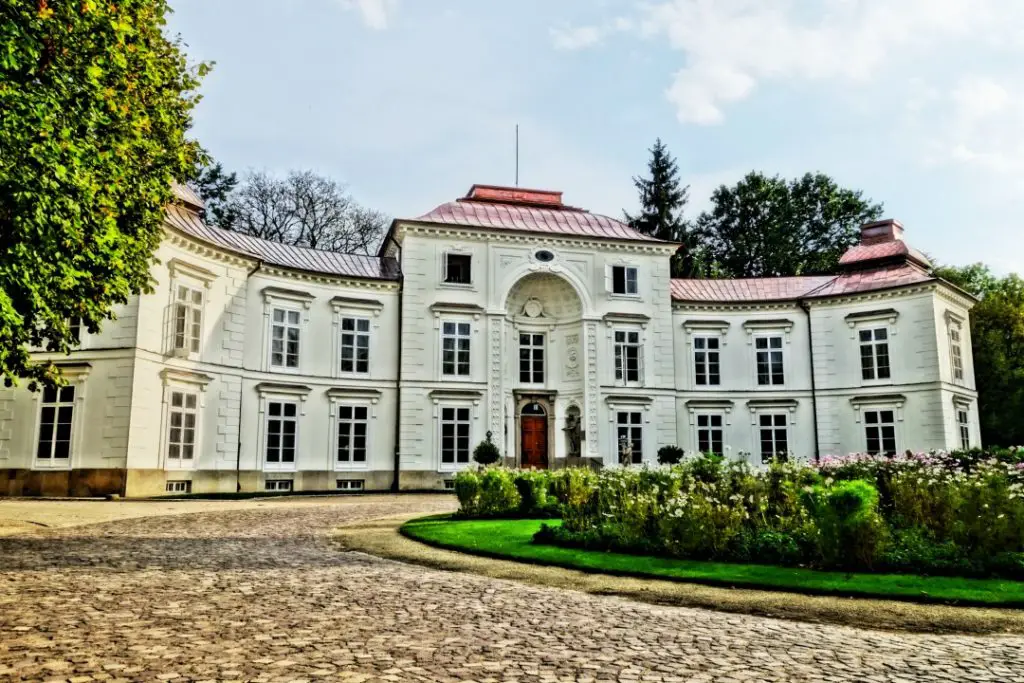 The Royal Route is easily the most spectacular part of the city. It begins in the Old Town and travels south for over a mile. Start on Krakowskie Przedmieście Street and continue south passing:
University of Warsaw's campus
Church of Saint Anne
The Nicolaus Copernicus monument
Polish Academy of Sciences
Three Crosses Square (with Saint Alexander's Church)
Royal Łazienki Park
7. Sunset Temat Rzeka Beach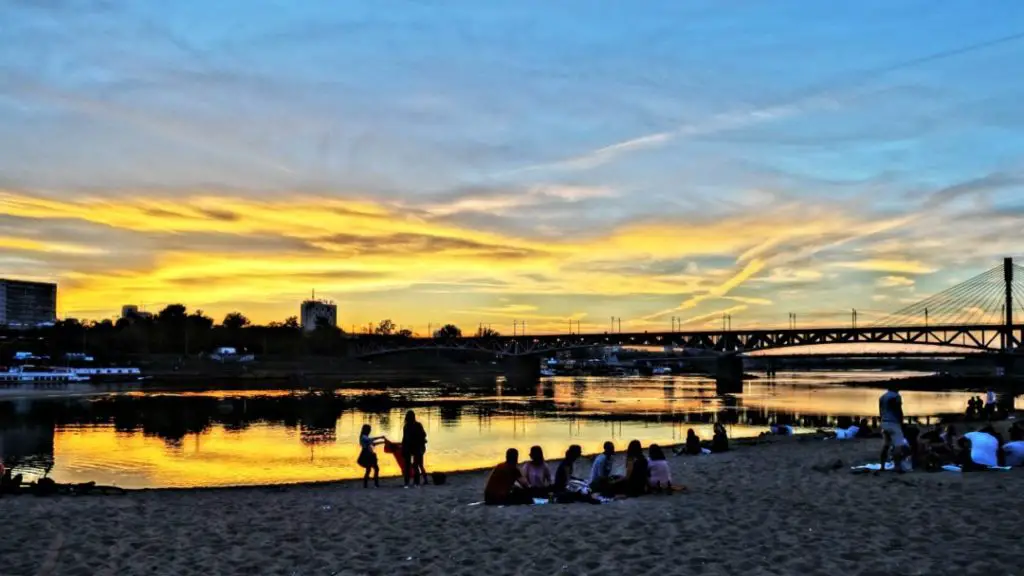 Probably one of the hippest places you'll come across is the Vistula River at sunset. We joined several hundred other people at Temat Rzeka and caught the tail end of the sun setting over Warsaw. Many brought their picnic blanket plus food and drinks to watch the sunset. After the sunset, follow the college students to local bars and cafes to enjoy a few cocktails. OK, maybe not.
8. Bicycle-Sharing | Veturilo-Nextbike Polska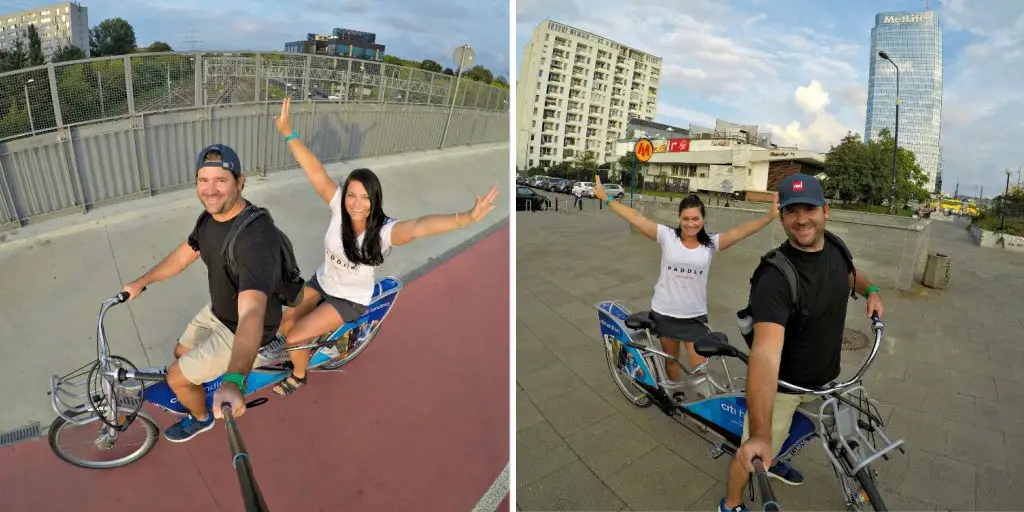 Look Ma! No hands! Warsaw is the bike-friendly city in Europe that you haven't heard about. You can make your way around the entire city by safely cruising through the bike lanes.
Where to Stay
Below are the recommended places to stay based on budget and having an amazing location!
Budget: Ibis Warszawa Stare Miasto (clean, modern, and comfortable)
Mid-Range: Castle Inn (boutique in a great location)
Luxury: Hotel Bellotto (casino onsite) or MONDRIAN Luxury Suites & Apartments (views of Old Town)
What to Do
Sometimes you have to spend a bit of money to have a good time. These are the most popular tours in Warsaw!
See more of our time in Poland in the short clip below
We had fun exploring the city through the city's bicycle-sharing system (Veturilo – Nextbike Polska). We spotted a tandem bike and HAD to take one out. Did you know the person in the back doesn't have to do much work?!
There are lots of budget-savvy travel opportunities around Warsaw. You just need to know where to look!