Many lovely Santorini hotels can fit nearly everyone's budget. We found one that cost less than USD 30 per night. It was sparkling clean, providing dramatic views, had a swimming pool, and was a short walk from one of Santorini's best beaches.
Santorini is a volcanic island known for its mind-blowing caldera views, dramatic cliffs, and cave houses. It's also known as a luxurious honeymoon destination. We've been asked repeatedly, "How did you do Santorini on a budget?" Well, here's your answer.
Our short guide will highlight when to go, where to stay, what to see, where to eat, and of course, add a few suggestions on where to splurge. Finally, we'll also provide the best-guided tours of Santorini, Greece.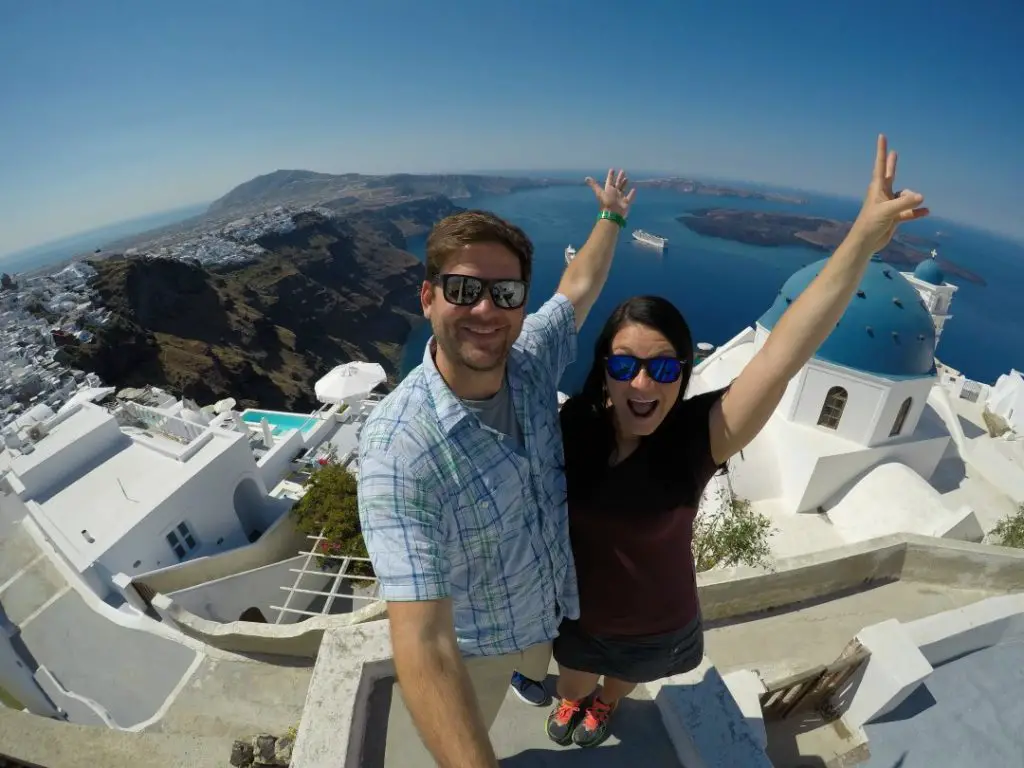 Cut to the Chase
Here are the best three budget hotels by area:
🏩 Perissa: Aretousa Villas
🏨 Kamari: Zacharakis Studios
🛎️ Firostefani: Villa Fotini
We go over each hotel in greater detail below!
Top-5 Excursions in Santorini
If you're headed to Santorini you'll want to do at least one of these epic excursions.
Santorini Hotels on a Budget – Best Places to Stay and Things to Do!
General Impressions of Santorini
Given the geologic history of the region, Santorini's landscape is unlike any other destination in the world. The white cave houses built on the remnants of an extinct volcano make the island dreamy and picturesque. This makes Santorini a very popular wedding and honeymoon destination and a major cruise ship port.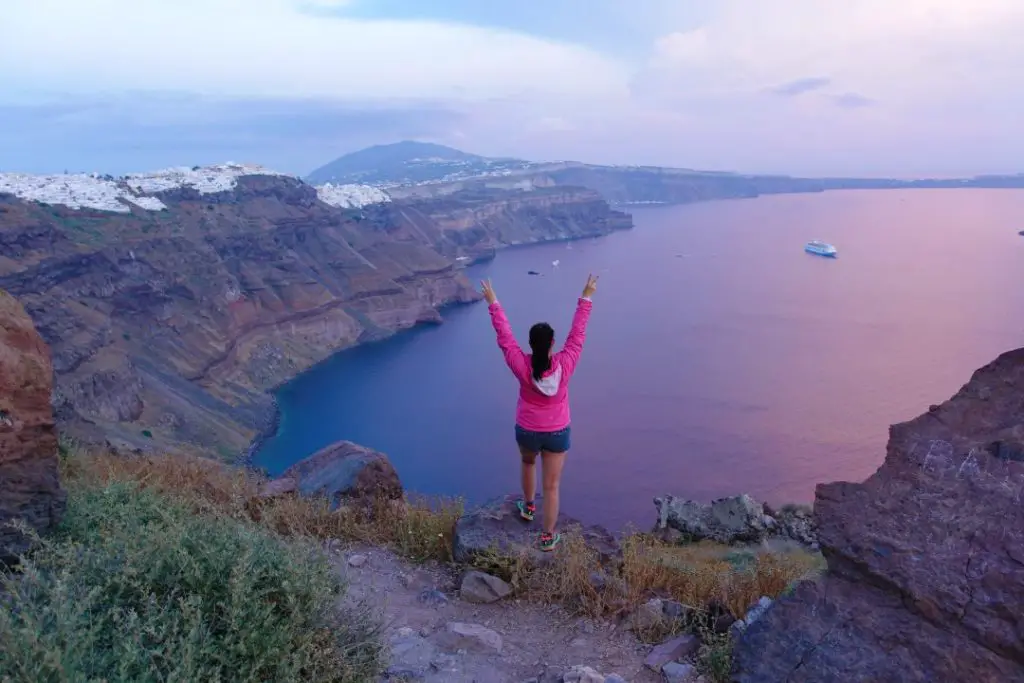 Although we enjoyed our visit, certain areas felt crowded and overrun by tourists. We couldn't possibly imagine visiting in July or August during the summer high season. I cannot stress it enough, try to visit in the shoulder season.
Most Popular Tour: Catamaran Cruise with Lunch & Open Bar – It's Amazing!
Sadly, mass tourism has taken its toll and has made some parts of Santorini feel like a soup sandwich. This is why we recommend visiting places like Pyrgos and Vothonas, where you can get away from the crowds and get a sneak peek into traditional Santorini life.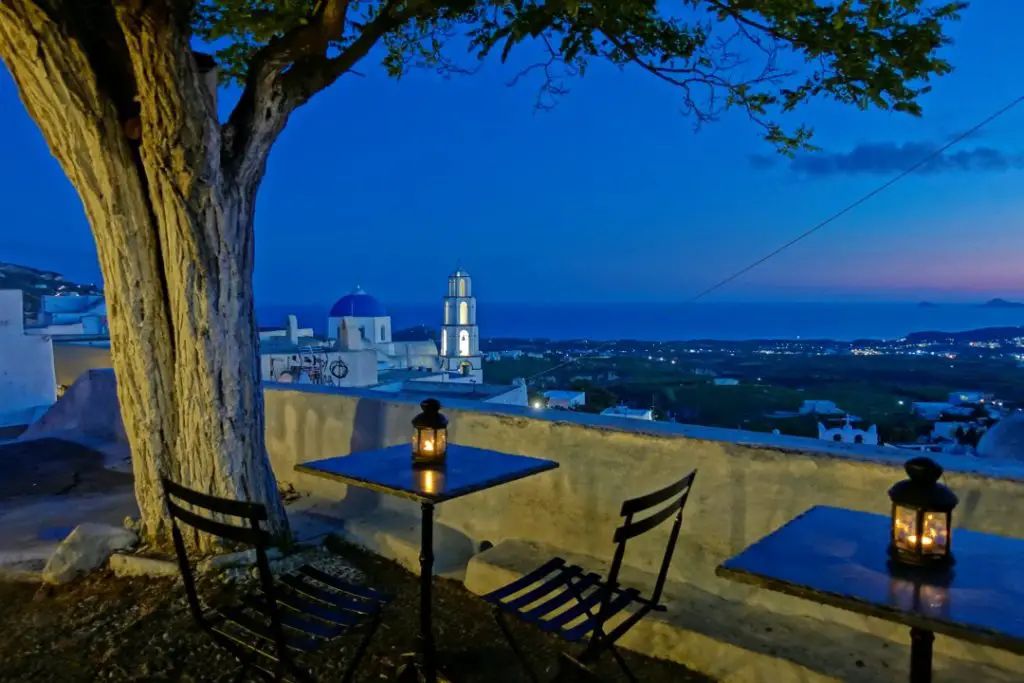 When to Visit Santorini
The best times to visit Santorini are between April and early June or early September to November. Not only will it be considerably cheaper during these months, but it will be a much more pleasant experience. The island will be less bombarded with tourists, traffic will be less congested, and locals may be in a better mood.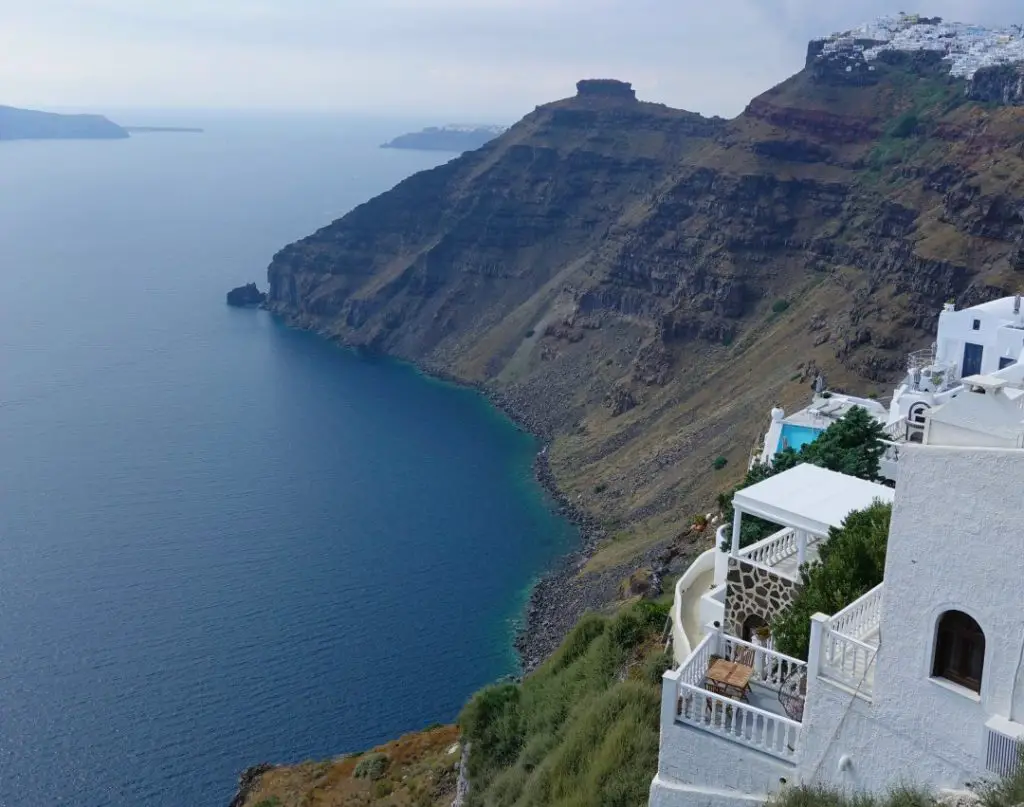 If we could recommend the ideal time to visit, we'd suggest early June or mid to late September to find the best deal on Santorini hotels. During these months, the weather is still warm and most tourists are back to work or school.
Looking For Adventure?: Horseback Ride Through Santorini's Mountains and Black Beaches
Also, prices drop significantly during the shoulder season. The key to saving money on this island paradise is timing. The prices rise dramatically during July and August!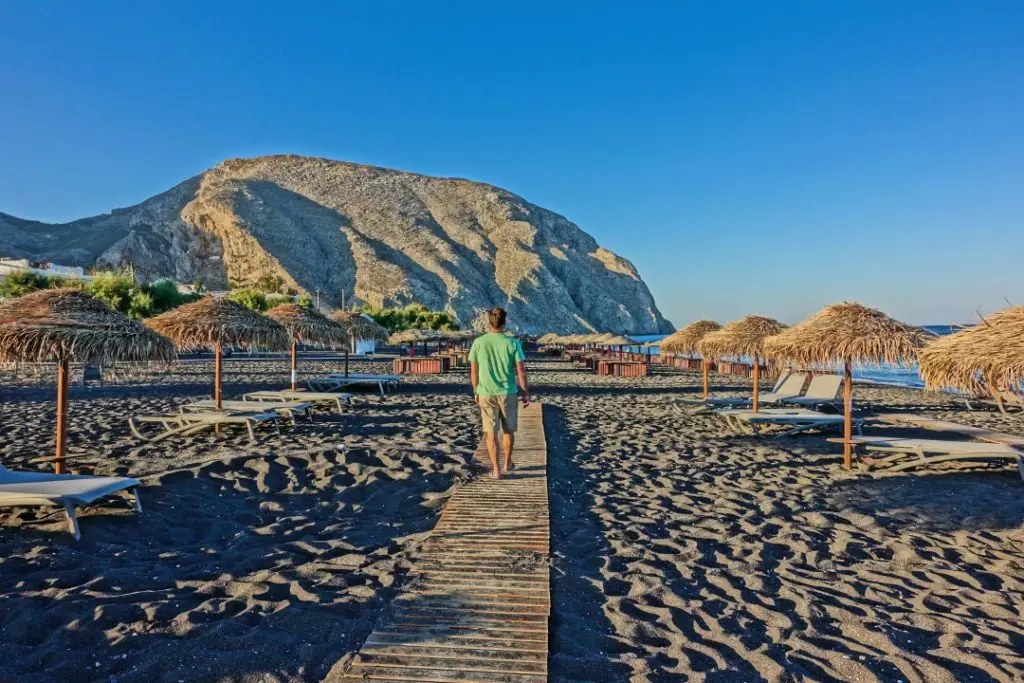 Logistics – Getting Around Santorini
Many tourists opt to use ferries as their main mode of transportation to explore the different islands. Also, flying directly into Santorini can be expensive. You may save a lot of money by flying into Athens and then taking the ferry to Santorini.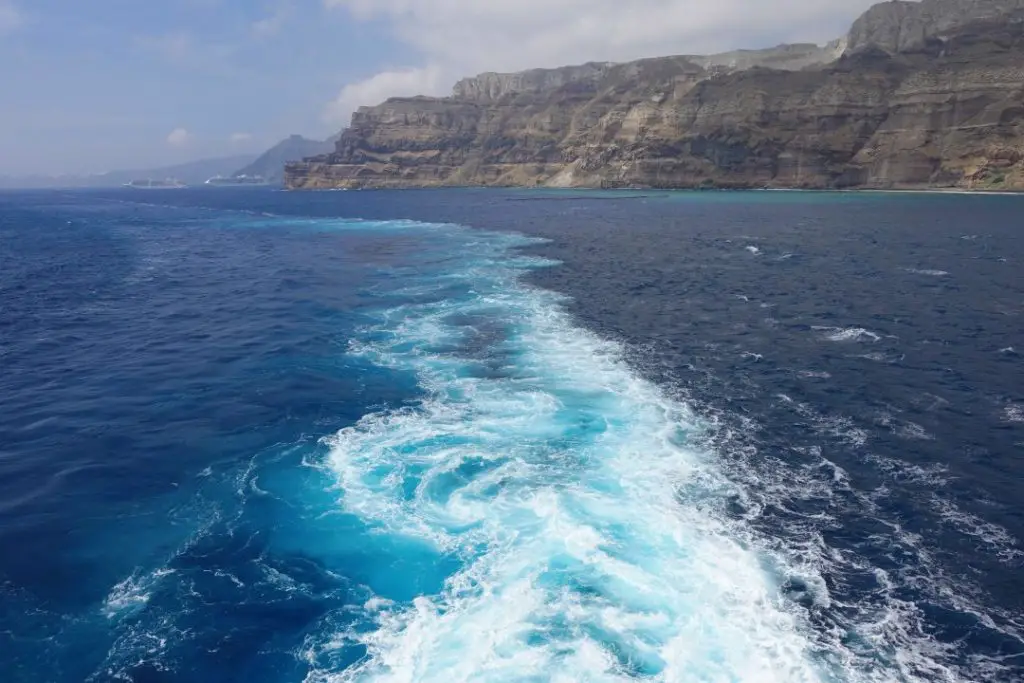 After our visit, we ferried from Santorini back to Athens on the Blue Star Ferry. The entire journey takes approximately eight hours and costs approximately USD 40 per person one way. If you have the time this is a good option and a nice way to see other islands along the way.
If you do decide to rent a car, we always go with Discover Cars to make sure we're getting the lowest rates.
Our Itinerary – Santorini on a Budget
We stayed for nine nights on the island of Santorini. We stayed in a total of three Santorini hotels. The first hotel in Perissa was USD 28 per night. The second and third hotels in Kamari and Firostefani were each about USD 55 per night.
Charter a Private Boat: Use Sailo, It's More Affordable Than You May Think!
We stayed in these locations because they are some of the cheapest on the island. Also, they have many things to see and do in their respective areas. In contrast, the villages of Oia and Imerovigli are some of the most expensive.
Santorini: Perissa 3 – nights ➡ Kamari – 4 nights ➡ Firostefani – 2 nights
1. Perissa Santorini
We stayed for three nights in Perissa, Santorini. If we could have revised our original itinerary, we would have spent more time in Perissa and less time in Kamari. Perissa was the least crowded of the three areas where we stayed.
We loved the long, thick stretch of the black sand beach. The seaside promenade felt quaint, quiet, and romantic.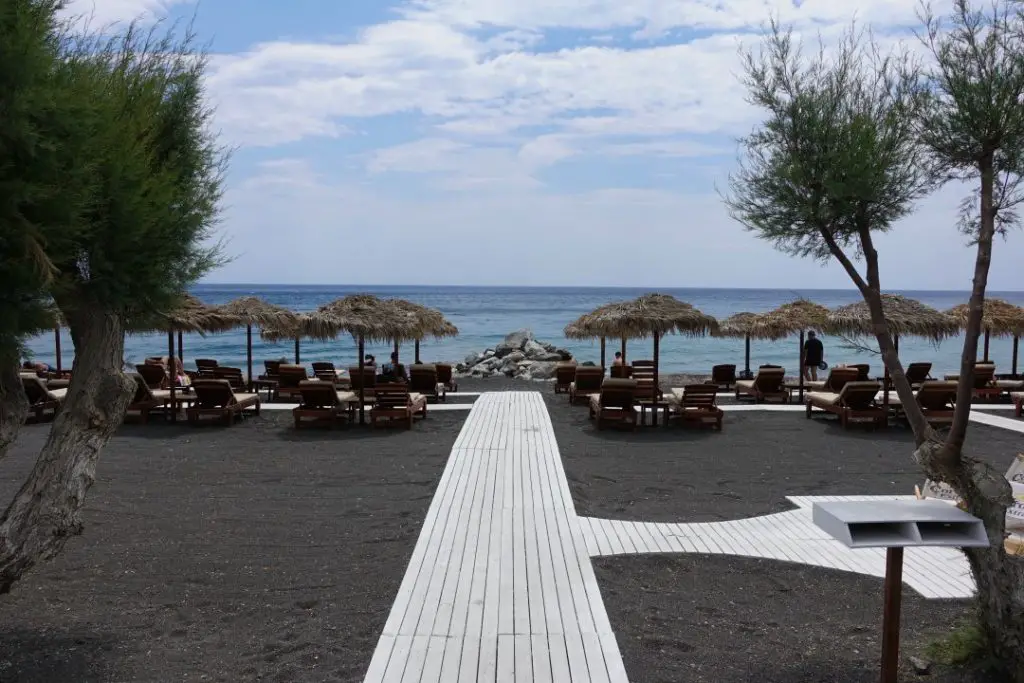 Ancient Thira, on Mesa Vouno Mountain, is the dramatic backdrop and provides serene views both day and night. One of our favorite experiences was hiking to the top of Mount Vouno.
Best Wine Lovers Tour: Santorini: Small-Group Wine Tasting Tour
There is a marked trail that easily guides you up to the top. Only people and donkeys are allowed on this trail! The climb up takes around 45 minutes to an hour depending on your pace.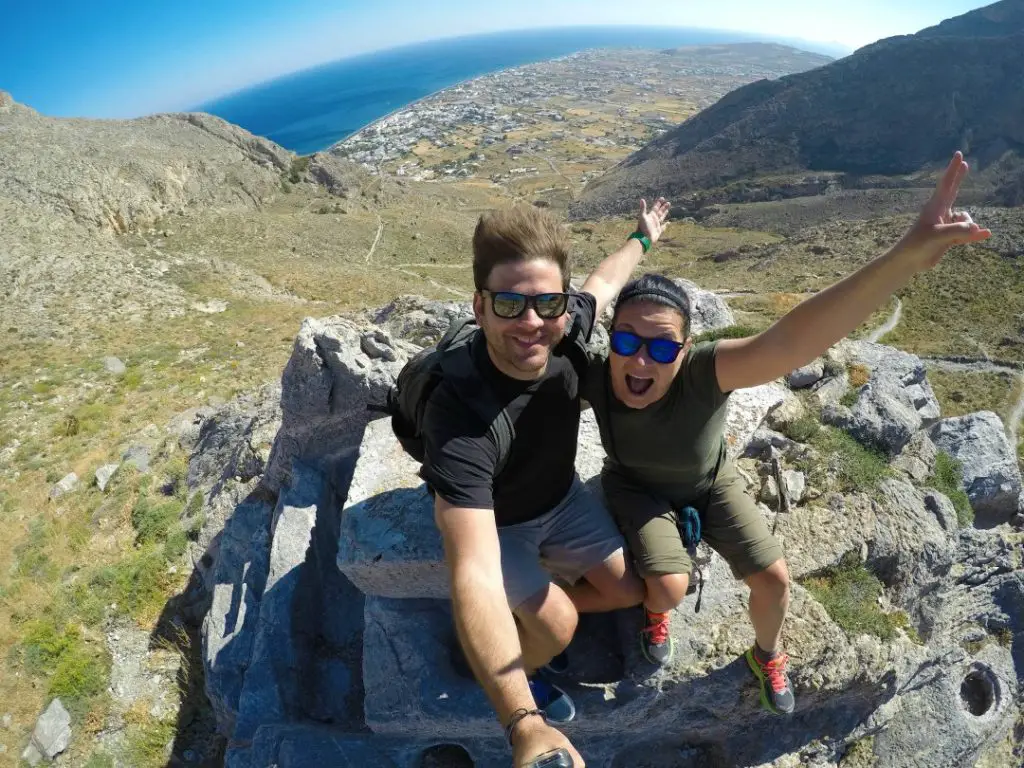 Travel Tip: If you hike to the top of the Mesa Vouno Mountain from the Kamari side, you'll have to navigate around cars and ATVs because much of the trail is a paved road.
Best Perissa Hotels
We stayed at Aretousa Villas which was one of the best budget Santorini hotels that we have ever come across. At USD 28 per night, it was a fabulous budget find in Santorini.
There is a reason why this quaint, family-run villa gets rave reviews. The staff here, especially the daughter Jessica, is so kind and welcoming. It made us sad to leave this accommodation and move to another hotel.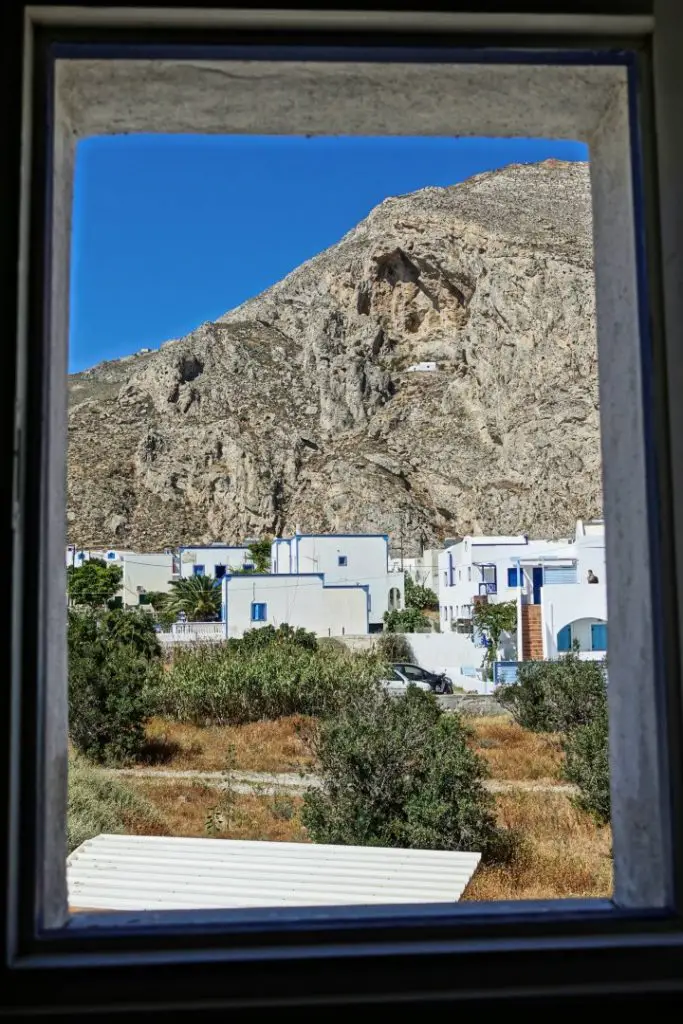 We loved the kitchenettes in the units with enough cookware and supplies to make breakfasts and light meals to enjoy on our balcony. There is a kettle in each room.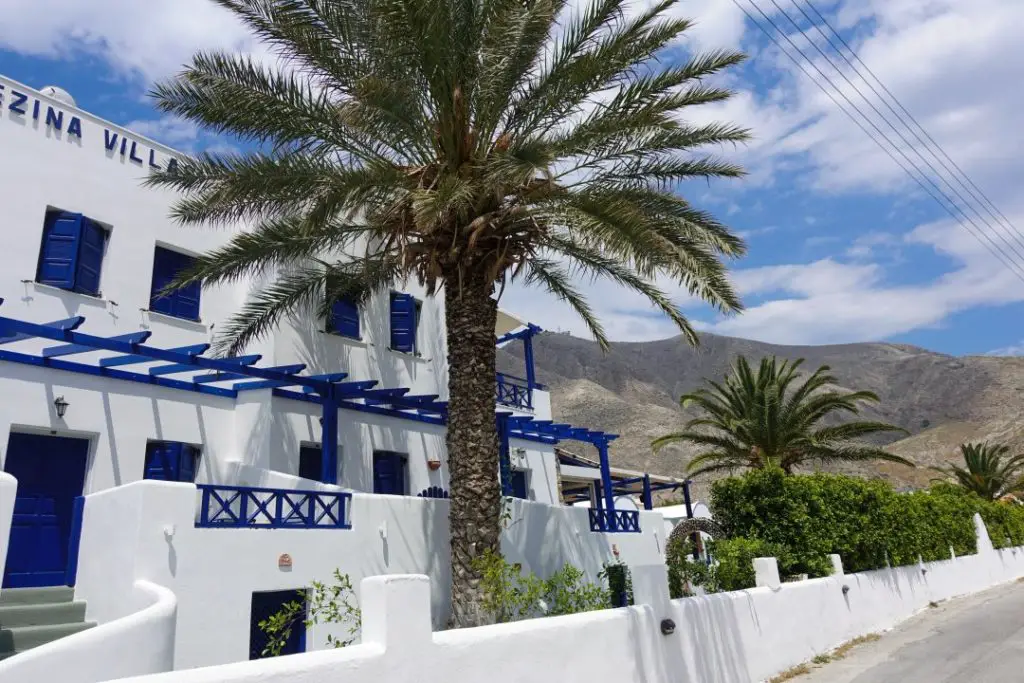 Even at an affordable rate, they generously supplied soft towels, bar soap, shampoo/body wash, kitchen soap and sponges, kitchen towels, etc. Each unit also has a laundry line on the balcony. Nice touch! The rooms get serviced daily when you are exploring.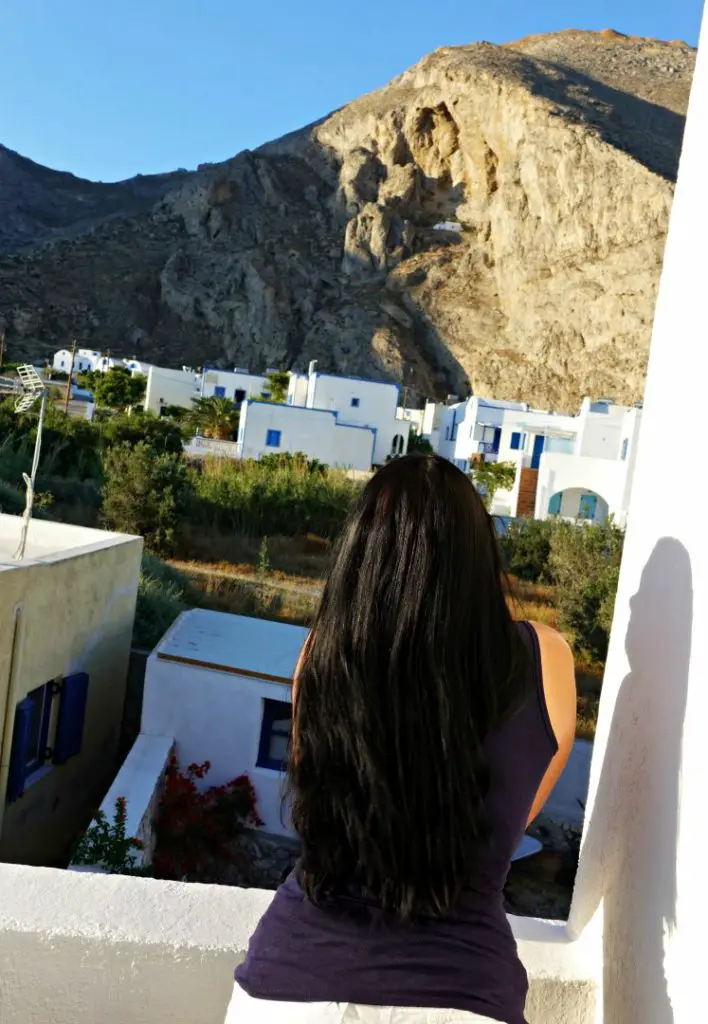 The units and surrounding property are immaculately clean! There is a pool with loungers but we didn't use it. There are four different Wi-Fi routers on the property and we found the Wi-Fi to be pretty reliable in our various rooms.
Feel Like a Greek Goddess: Santorini: Flying Dress Photo Shoot
The villa is within a five minutes walk to Perissa Beach, with nearby mini-markets for supplies, beachfront restaurants, transport rentals, and local bus stops. We found this area to be more charming, and quiet, with better beaches and nicer dining experiences than on Kamari.
Perissa's Budget Eats
Pepito – on the beach!
Gyros Place – is cheap and delicious.
Travel Tip: The best deal can be found at Pepito's. Customers are allowed to use sunbeds and umbrellas with any purchase. Their Wi-Fi also reaches the beach. Spend around USD 5.50 for two gyros and get a sunbed, umbrella, beach access, and Wi-Fi!
Perissa's Overall Vibe
Perissa had a sleepy, laid-back beach vibe with a romantic promenade and roomy, black sand beach. Shopping for groceries can be much more difficult though as there seemed to be only a few small stores within walking distance.
2. Kamari Santorini
Kamari is a small, seaside village in the southwest part of Santorini. Although Perissa and Kamari look very close together on a map, it's approximately a 20-minute drive between the two villages. This is because Mesa Vouno Mountain (the mountain with Ancient Thira at the top) stands between the two villages.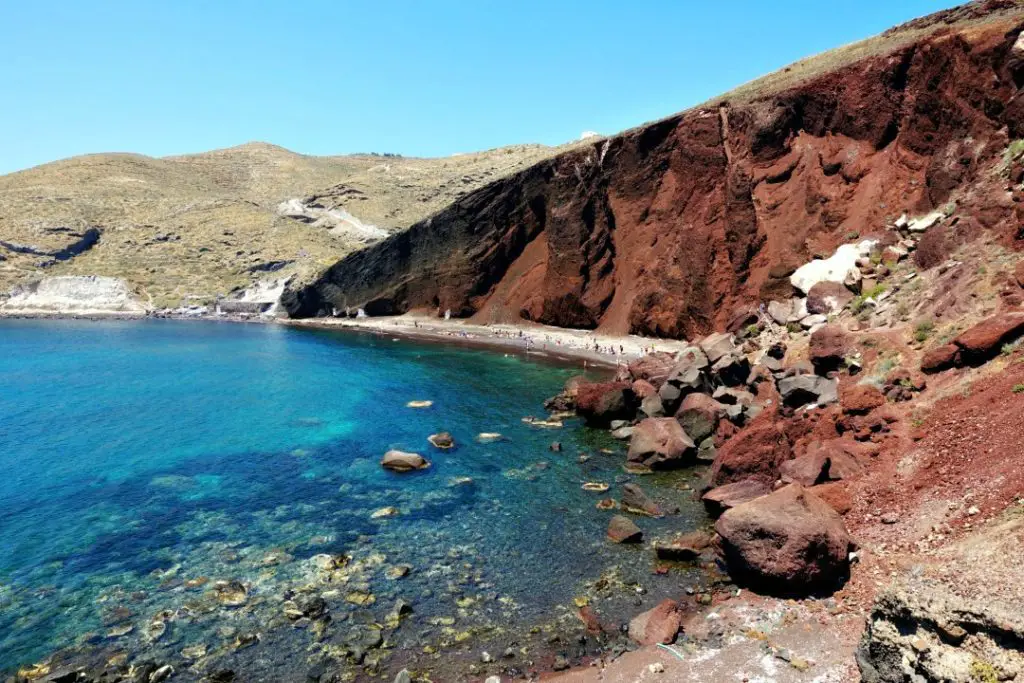 When researching the differences between Kamari and Perissa, we came to believe that Perissa was more for "backpackers" and Kamari was more for the "sophisticated." After visiting both, we felt like it was the exact opposite.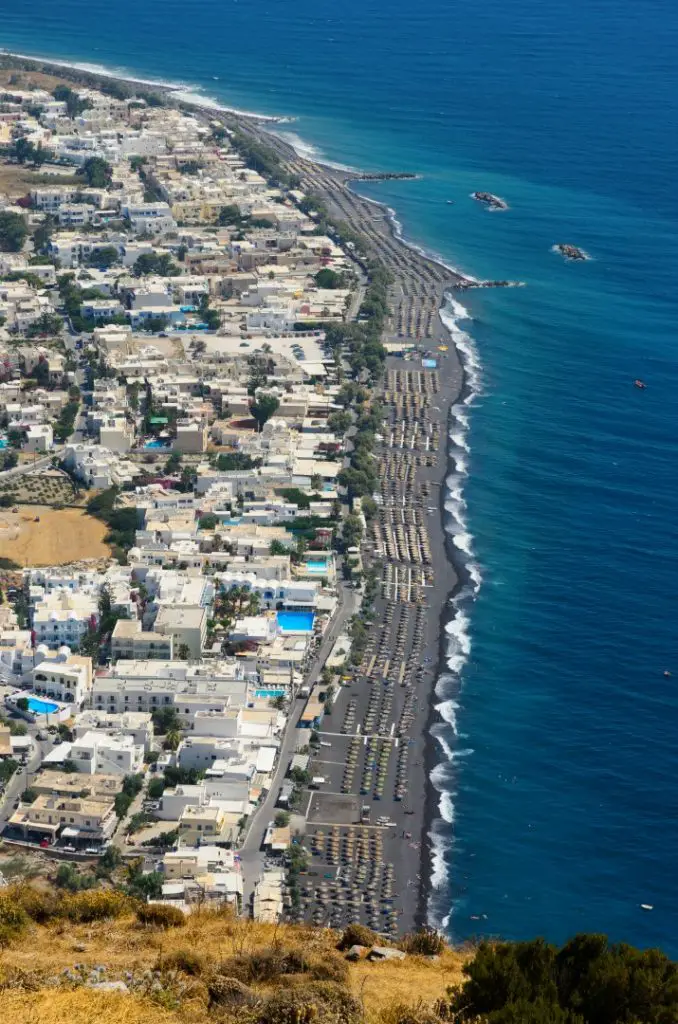 Although Perissa doesn't enjoy nearly as many luxury hotels as Kamari, it generally felt more quiet, laid-back, and natural. Kamari seemed more congested, touristy, and expensive. However, if you're looking for a bit more nightlife and action, Kamari will be more your scene.
Exciting Way to Tour Santorini: ATV-Quad Experience
Kamari Santorini Hotels
We stayed in Zacharakis Studios for four nights at approximately USD 55 per night. There were many highlights to staying here. We enjoyed having a great view, a kitchenette, and an outdoor balcony overlooking the pool.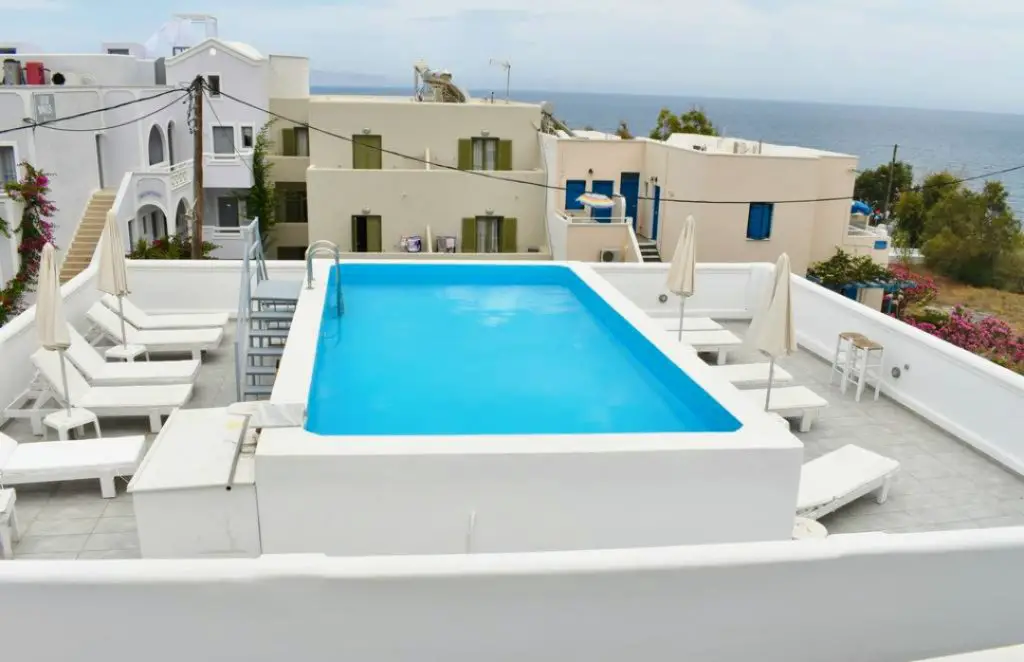 We didn't necessarily think the room was cleaned very well though. Additionally, the owner of the hotel has numerous cats and dogs roaming the property, so there is cat food and hair everywhere on the first floor. Luckily, we were located on the 2nd floor so it didn't impact our stay, but it was enough of an issue that we're bringing it up here.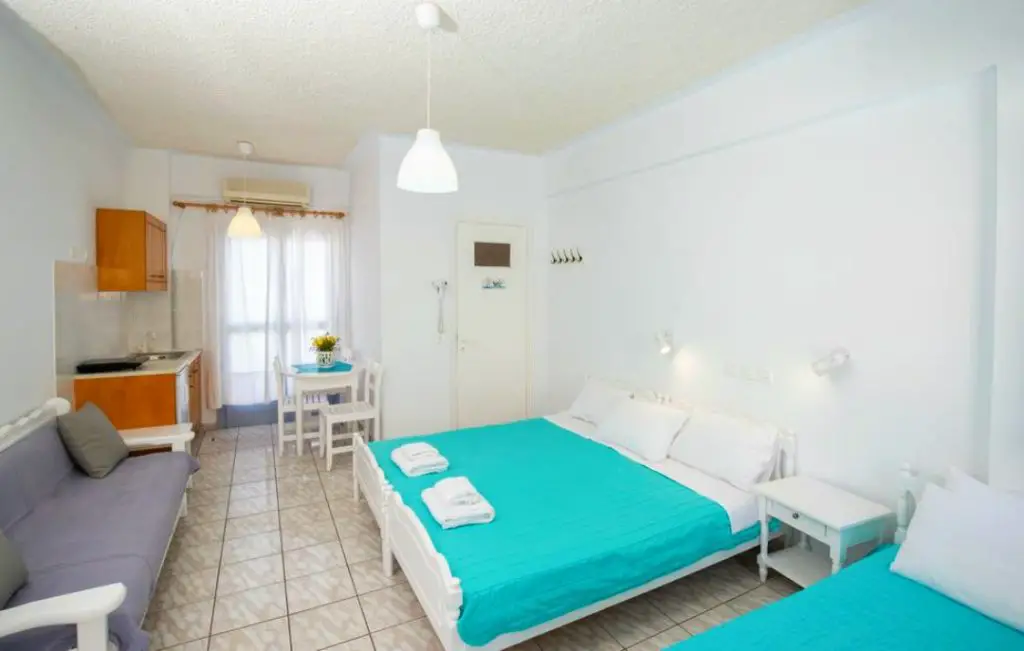 Also, we had a couple of nights when a trio of female backpackers came back late at night and began screaming in their room. Compared to our other budget accommodations, which were immaculately clean and quiet, this one felt a bit unkempt and uncomfortable.
Kamari's Budget Eats
Mythos Grill House: Traditional Greek Food
Kamari's Overall Vibe
Kamari's a good option for anyone looking to balance a family vacation with a bit of nightlife. It's quite a bit livelier than Perissa but nowhere near as crowded or busy as areas along the caldera.
3. Firostefani Santorini
Our last stop was in Firostefani. For our last two nights, we wanted to be closer to the caldera and the famous Santorini sunset viewpoint. Keep in mind, that as you move closer to Oia, the prices will rise drastically. The main villages from the south moving north are Fira, Firostefani, Imerovigli, and Oia.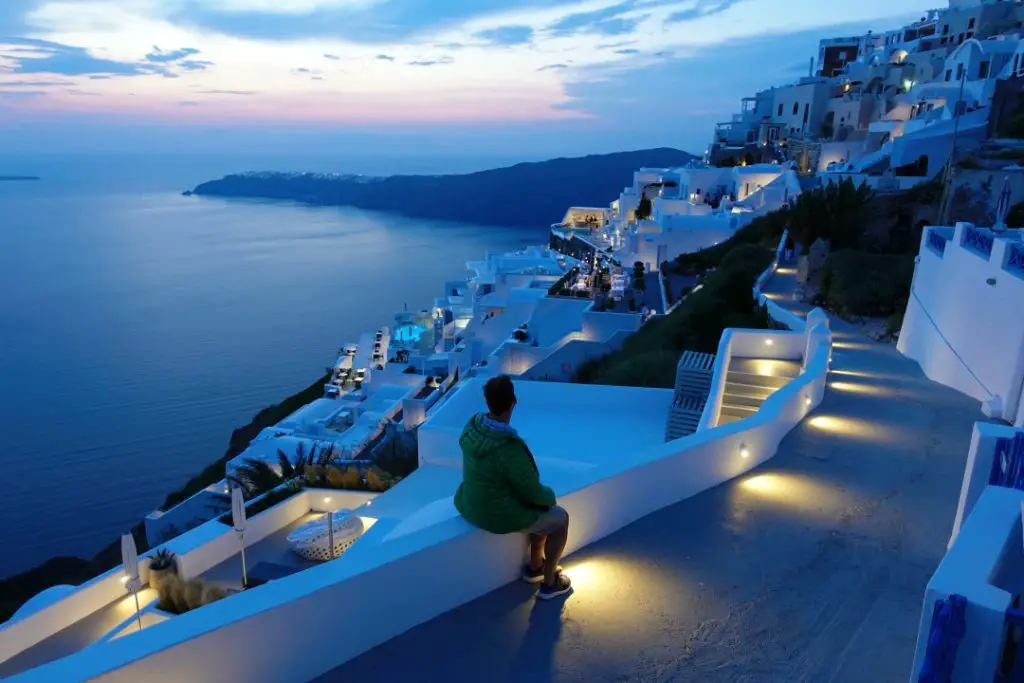 Firostefani is a 10-minute walk from Imerovigli, along the main caldera promenade. We chose Firostefani because Imerovigli is where prices begin to get much more expensive (as you move closer to Oia). Additionally, the other option is Fira, where cruise ships arrive.
Short on Time?: Best of Santorini Experience: 6-Hour Private Tour
Although it will save you money staying in Fira, it most likely will not be worth the headache. This entire village is touristy, congested, and busy. (No, thanks!)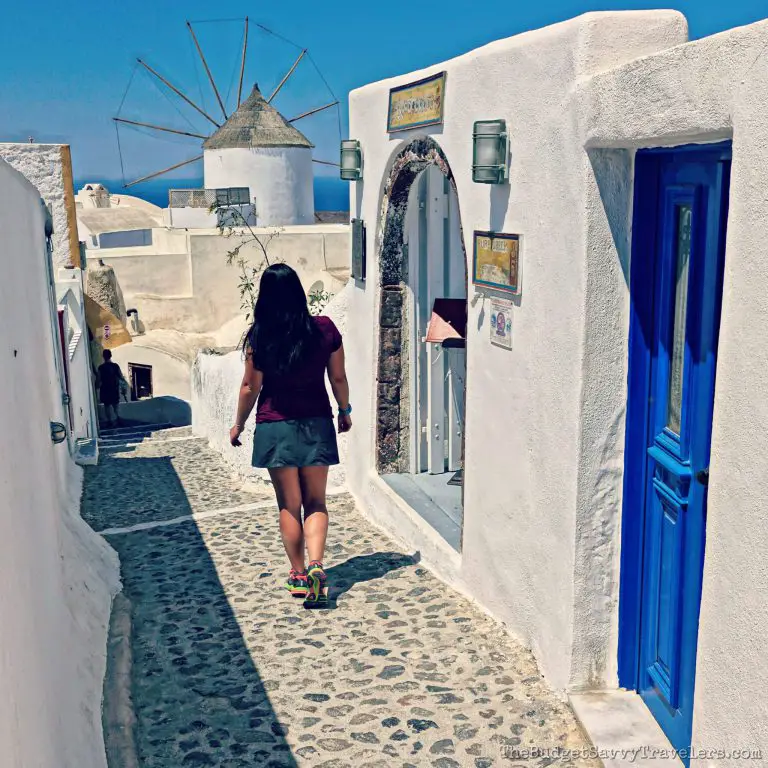 To avoid the crowds in Oia, we opted to watch the famous Santorini sunset on Skaros Rock. It's about a 30-minute walk from Firostefani.
Firostefani Santorini Best Hotels
We stayed at Villa Fotini for USD 55 per night and highly recommend a stay here. It was basic, yet very clean, with a nice outdoor patio. Units on the second floor have fabulous cave showers.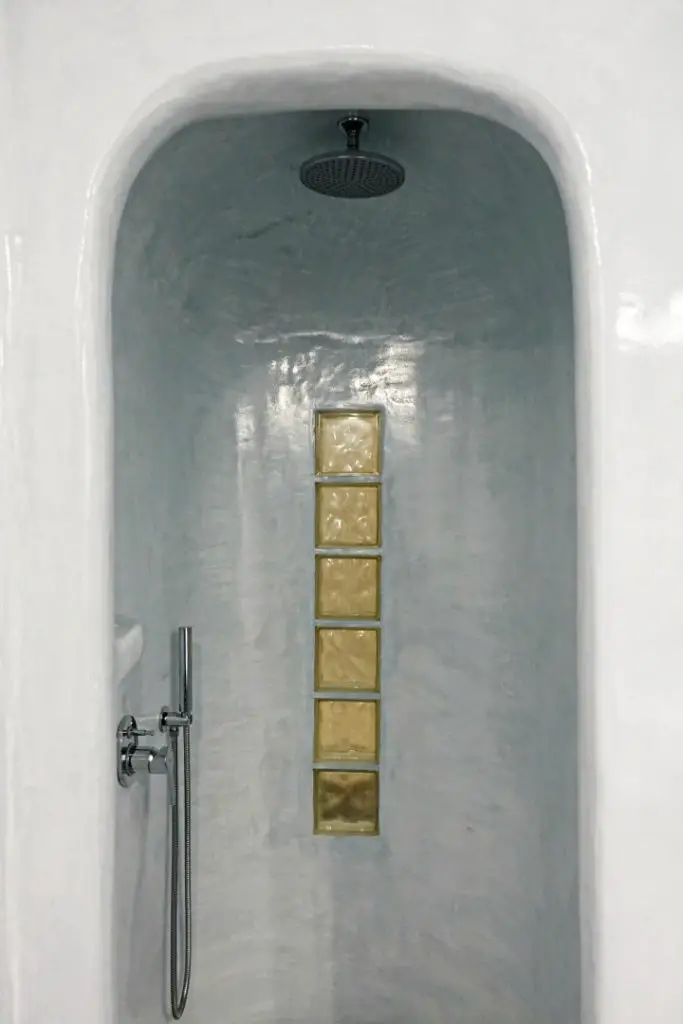 Just note that this accommodation does not have a pool or a kitchenette. The manager (Maria) was a great friendly person! As a bonus, the hotel offers free pickups from the airport.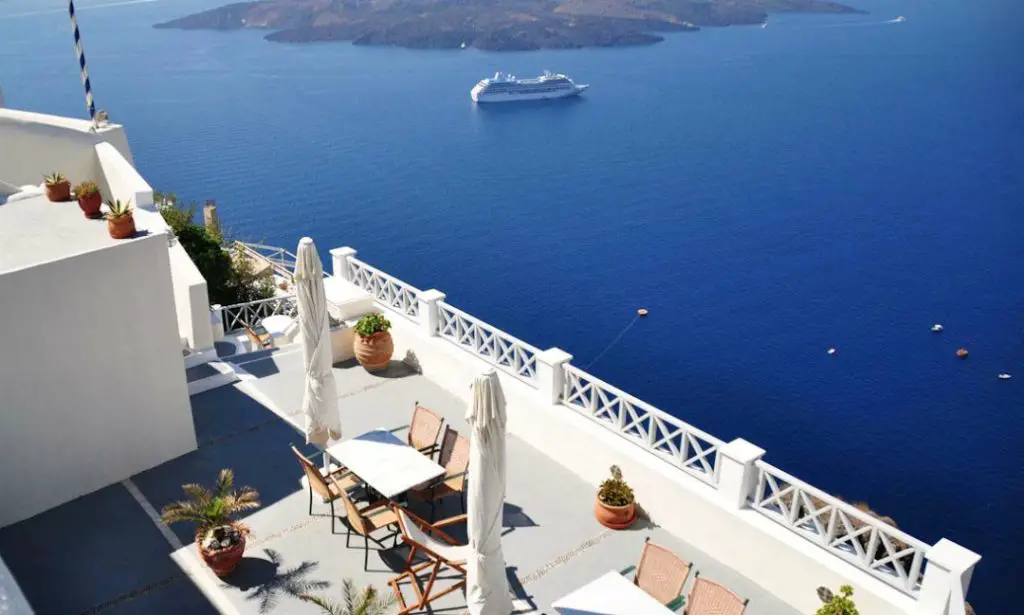 Side note, during low season, you probably could get a free ride (from Maria) from nearly anywhere on the island simply by inquiring with her.
Firostefani's Budget Eats
Let's Eat, Imerovigli: Affordable and tasty fast food.
Why Not! Souvlaki, Firostefani: This is where to get traditional gyros!
Firostefani's Overall Vibe
The caldera and cave house views are pretty spectacular! Staying in Firostefani, to get this experience on a budget, is even better. You don't need to spend hundreds or even thousands of dollars per night to enjoy the same views!
Getting Around Santorini Greece
Before departing for Santorini, we planned on simply using the network of local buses to get around the island. Fortunately, during our stay, we were able to work around using the bus system by planning our excursions around days that we were changing hotels/locations.
Tip: Avoid the hassle of public transportation by renting an affordable rental car.
We were picked up at one hotel and dropped off at the end of the day at another. The bus system is extremely affordable and based on first-hand knowledge, extremely reliable, and comfortable. Depending on the time of day and route, the price per passenger will vary from EUR 1.5 to 3.
ATV Rental and Island Transportation
Another great option to get around the island is by renting an ATV. Riding around the island in an ATV is one of the must-do activities. We were planning on renting a scooter, however, the law in Greece requires drivers to have an international driver's license for any motorized bike.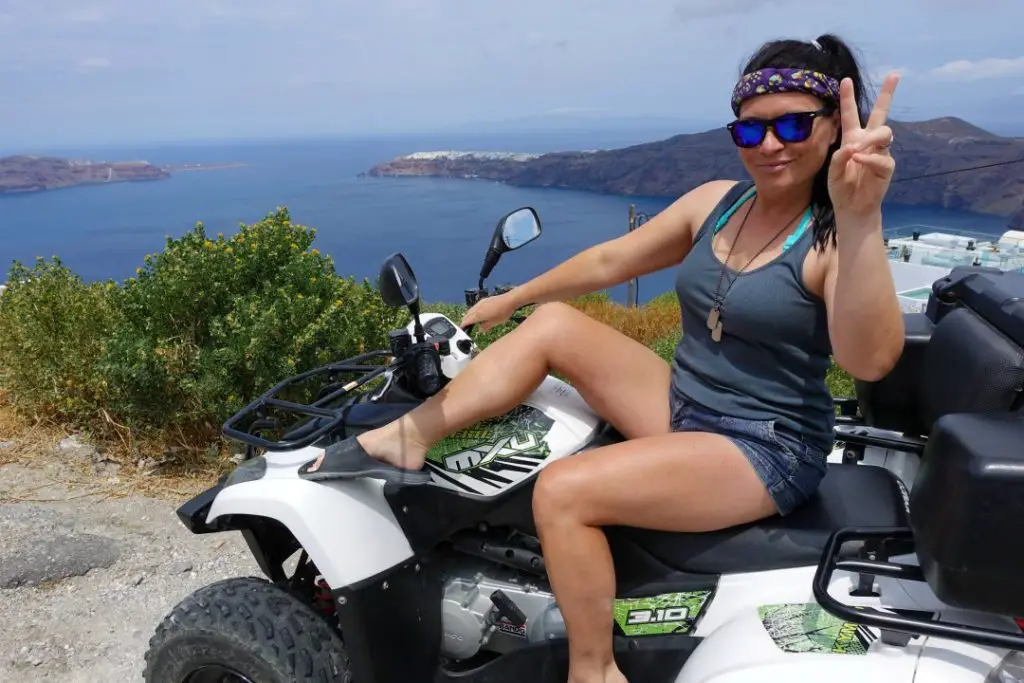 We rented with Simos at Motor Inn Rentals in Kamari. It is the oldest, most established rental company on the island and very reputable. If you're looking for a reputable ATV rental, this is a great option.
We also appreciated that we could bring back the ATV after closing time. Check out our VLOG below showcasing a typical day out touring the island via ATV.
Looking to Splurge on an Amazing Experience?
We were able to connect with a few local companies during our visit. If you're looking for some guided tours, consider contacting Santorini Unique Experience Tour or Sunset Oia Sailing.
Santorini Unique Experience Tour
We reached out to Santorini Unique Experiences Tour to receive a great overview of the entire island of Santorini from a local. It also included a stop at a local winery where we enjoyed a wine tasting. It was a great way to see the island on one organized, carefree day.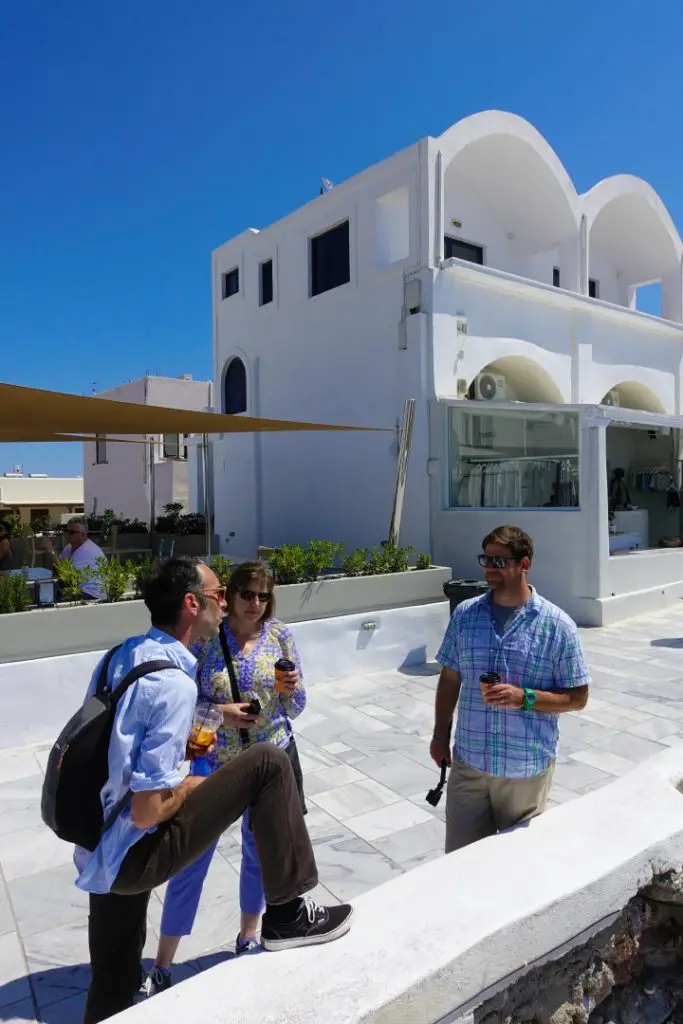 We appreciated the luxury of being transported all over the island in a luxurious and comfortable van. While the driver worried about traffic and logistics, we sat back on a wonderfully narrated and picturesque tour of beautiful Santorini.
The highlight of our experience was meeting our guide, Kevin. He was a Chicago native now living in Santorini for nearly a decade. He knew of all the ideal locations to share his island. We appreciated having someone take us to where the crowds weren't!
See the short video below of our time out with Kevin from Santorini Unique Experiences Tour!
Overall, we highly recommend this tour to those who seek out a trouble-free, all-encompassing, insightful tour of beautiful Santorini. If you're in Santorini for only a day or two or visiting on a cruise ship then this tour is an absolute must!
Sunset Oia Sailing
Sailing inside the caldera is a great way to get a unique perspective from sea level and appreciate the unique geology of the volcano. We reached out to Sunset Oía Sailing Tours to get us out on the water. If you're considering a catamaran cruise, feel free to see what our experience was like while on their day sailing tour.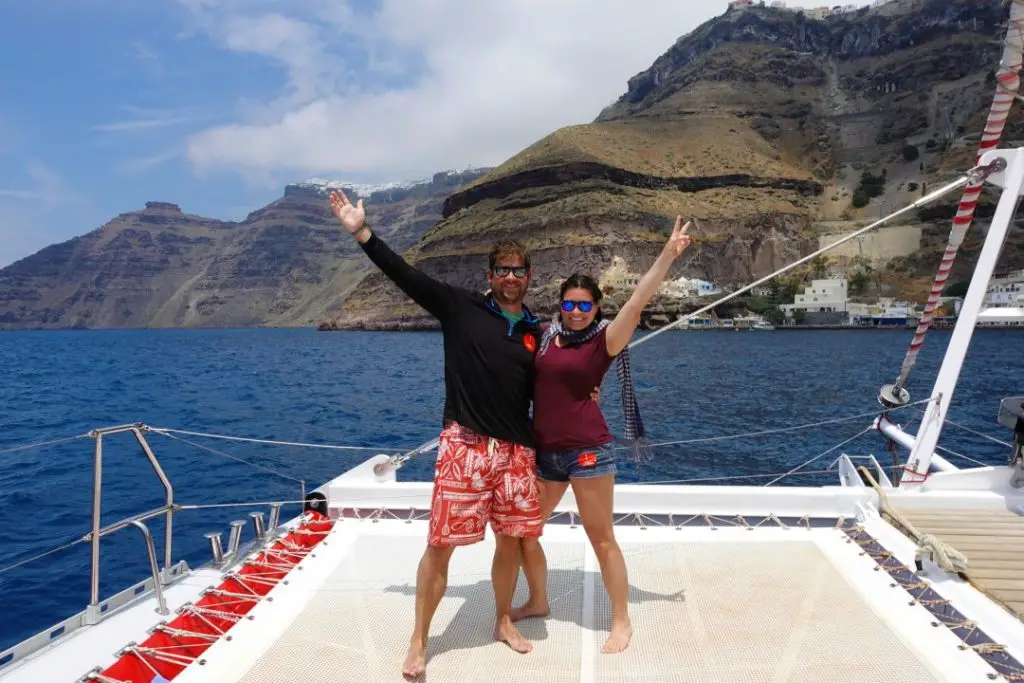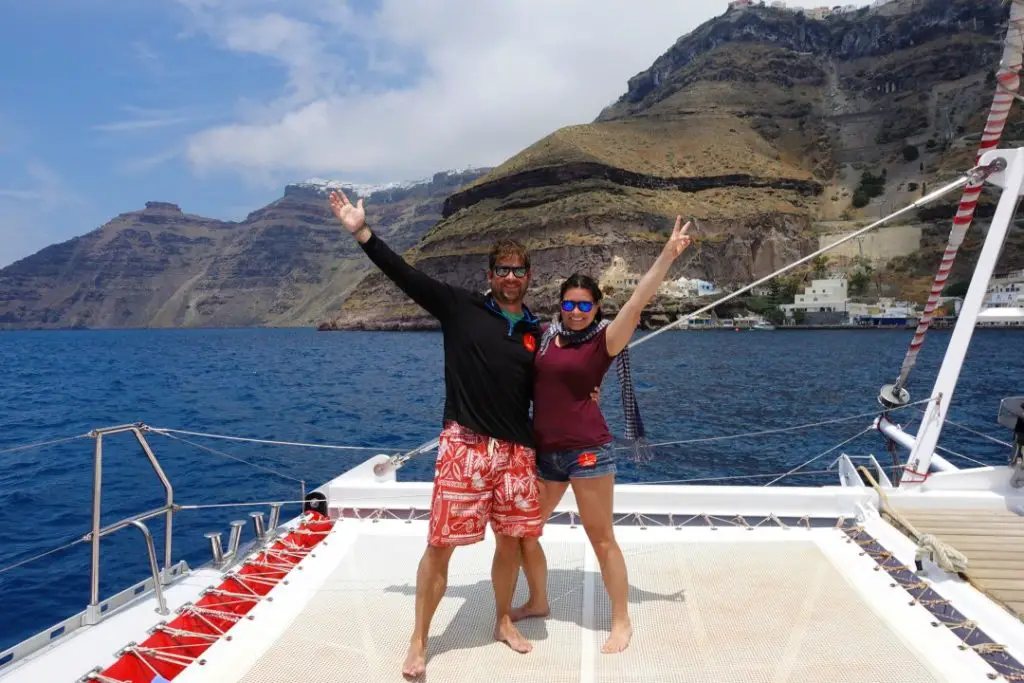 This guide shows that Santorini can be done on a budget. If you have any questions, feel free to reach out to us. We'll be happy to help make your dream to visit this unique island paradise a reality!
See the short video below of our day trip out with Sunset Oia Sailing Tours!
Santorini on a budget can be done!
We Need Your Help
Did you find this article helpful? If so, bookmark it and when you're planning your next vacation click on any of the links below before finalizing reservations. You'll get the best price, we'll earn a small commission, and you'll help support future articles.
Thank you!
BEST TRAVEL SEARCH ENGINES
🏘️ Book Your Accommodation
We use Tripadvisor and Priceline's Express Deals to compare prices and reviews in advance and check availability
✈️ Book Your Flight in Advance
To find the cheapest flight options, you can use WayAway and Skyscanner to find the most suitable choice for you
🚗 Reserve Your Rental Car
Use DiscoverCars and Skyscanner to compare prices and view the largest selection of vehicles