We're considering moving to Las Vegas. Who would've thought? We know, it sounds crazy to us too, but there's something about the energy of the city that can't be compared to anywhere else on Earth.
As we search for a destination to use as a home base, we never imagined that we would consider living in Vegas. While driving around Vegas, Audrey looked at Harry and stated, "I shouldn't like it here this much, but I do."
Why Las Vegas
As a popular hometown for content creators, the city generates an energy that people like us, need to thrive. If you stay smart and savvy, Vegas allows you to suck in all of its surrounding momentum, internalize it, and use it to churn out massive amounts of creativity.
Since we've embarked on this journey, we've now spent time in Utah, Nevada, and Arizona—and naturally, we've started to compare the states. Although we enjoyed Utah, something is missing there for us.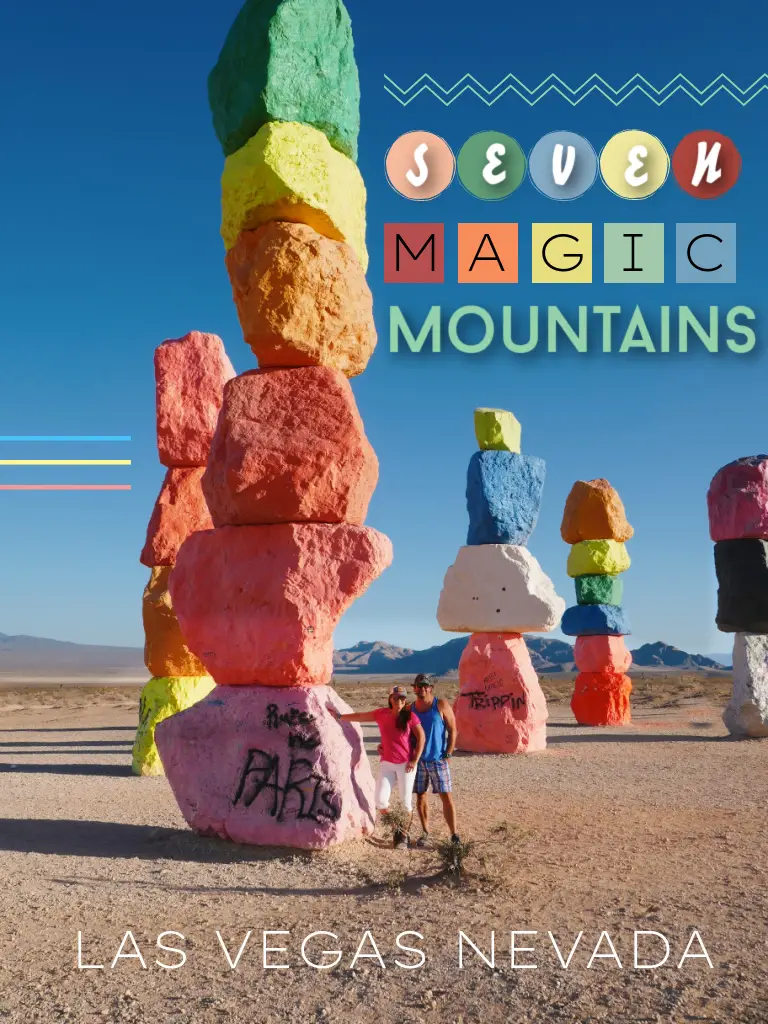 As we sipped on our nightcaps the other night, Audrey described it to Harry like this:
"Utah is like dating a woman who may be gorgeous but offers no personality, no pizzazz. While she may be nice to look at, there's no substance, no excitement, no spontaneity."
And while that may be enough for some, it is not enough for us. Life in Vegas can keep you guessing, always drawing you back for more.
Vegas is like dating a fun woman who keeps the relationship fresh, new, and exciting—leaving you always thinking, "What's this crazy girl going to do next?"
Vegas Is Constantly Changing
While New York City may officially be "The City that Doesn't Sleep," Las Vegas is for sure its closest rival. No matter the time of day or night, there's always something fun happening. Also, for people who seek out constant change, like us, there's no better city.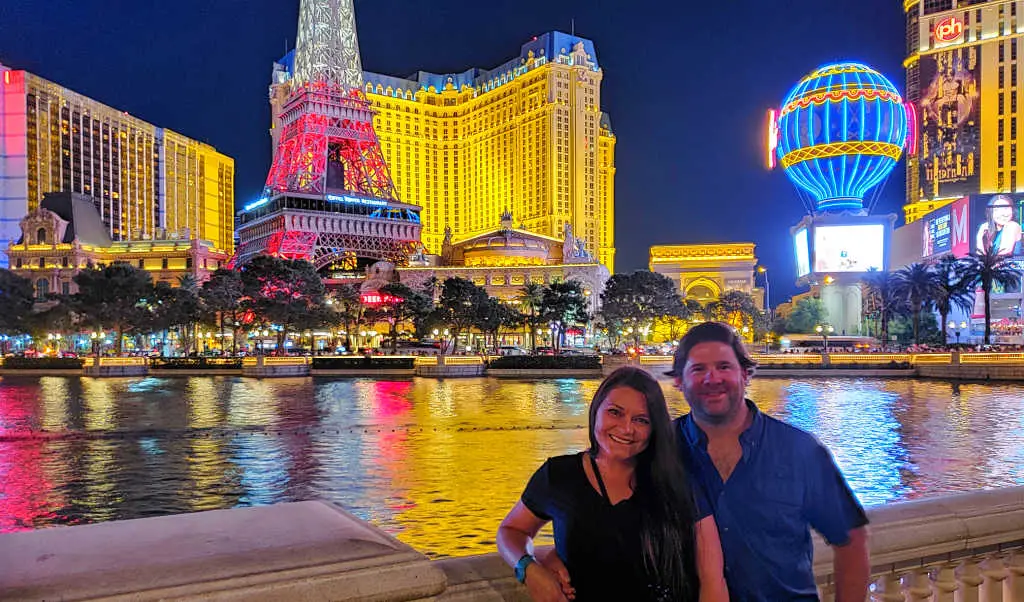 Of course, Las Vegas is always a mandatory stop for touring entertainers. There's a plethora of concerts and live entertainment to see, and there's even a little trick to make sure you're getting the best price. At the same time, while old hotels are closing, new ones are being built. The city is ever-changing. Las Vegas always offers something fresh to experience.
Must-Read Before Relocating: Strategic Relocation, North American Guide to Safe Places
And the people watching? OMG!
Travelers come from all over the world to have fun in Las Vegas. We're pretty sure that even the most lifeless people get a bit wild and let their guard down while in Sin City.
Read About How the Process Started in Utah: Our Journey to Find a Home
Our Second Stop – Nevada
After stopping to check out the Bonneville Salt Flats, we crossed into Nevada on a rainy and gloomy day, passing through West Wendover. Our short tour through Nevada would include stopovers in Ely to see Great Basin National Park, one of the least visited national parks in the country.
Great Basin National Park
Talk about some desolate, rough, and rugged terrain. Wow! The drive from West Wendover to Ely is probably not what most people think of when they envision Nevada. At an elevation from 4,500 to 6,500 feet, the wide long straight valleys are covered in a thin layer of cold desert grass, shrubs, and gravel. Pinyon pine and juniper scatter the upland slopes along the surrounding mountainsides which easily reach 10,000 feet.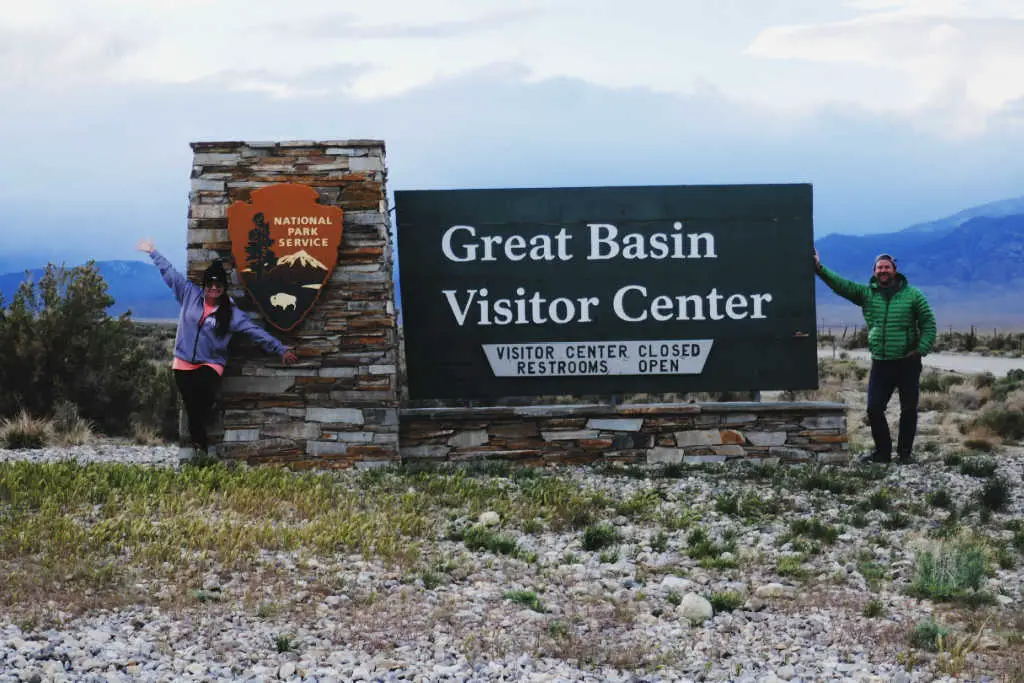 While many tourists flock to Great Basin to tour Lehman Cave National Monument, for us, the real highlight of the park is the alpine forest and the solitude—Ely, the closest major town is about a one-hour drive away.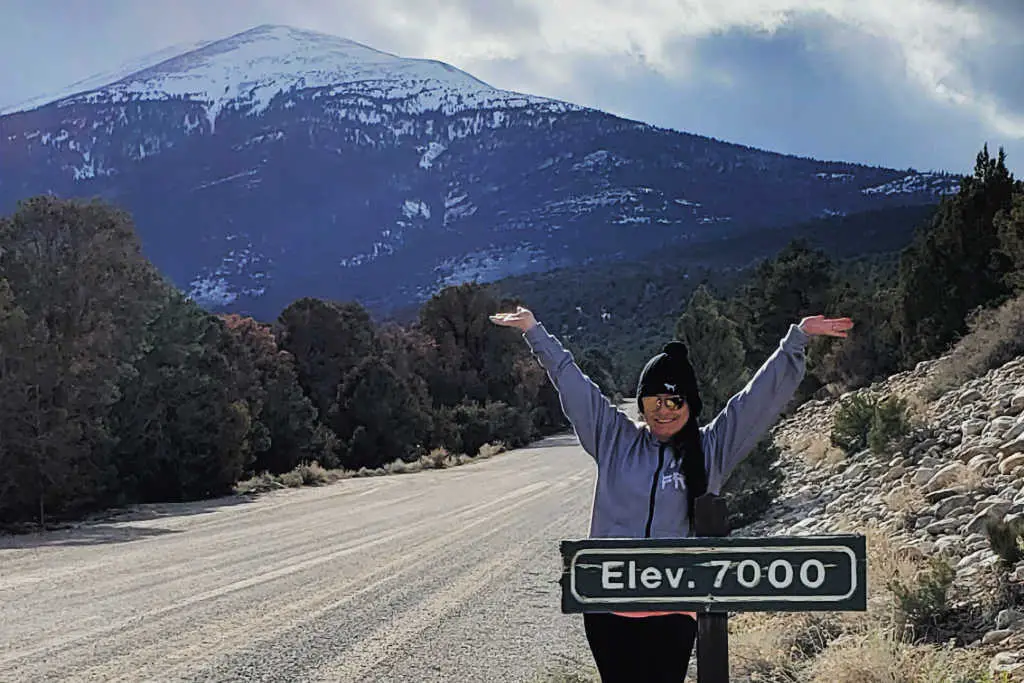 At 13,064 feet, Wheeler Peak is the highest point in the park and in the state of Nevada. In fact, the Wheeler Peak Scenic Drive takes visitors to an elevation of a wee bit over 10,000 feet where they can camp, hike, and take pictures of the alpine lakes.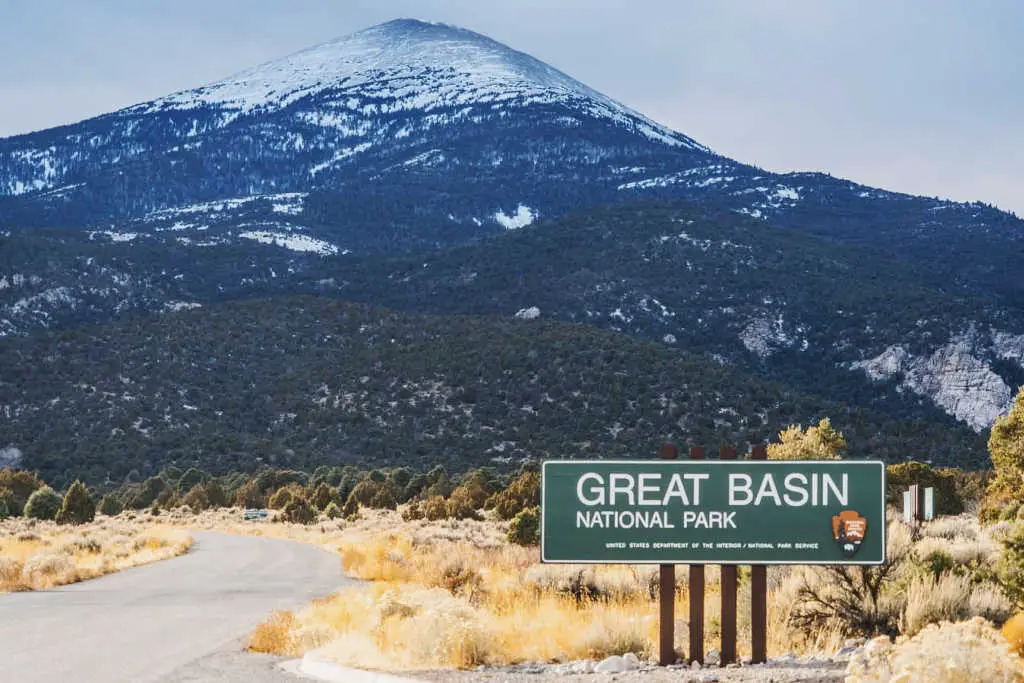 Unfortunately for us, we visited the park in May.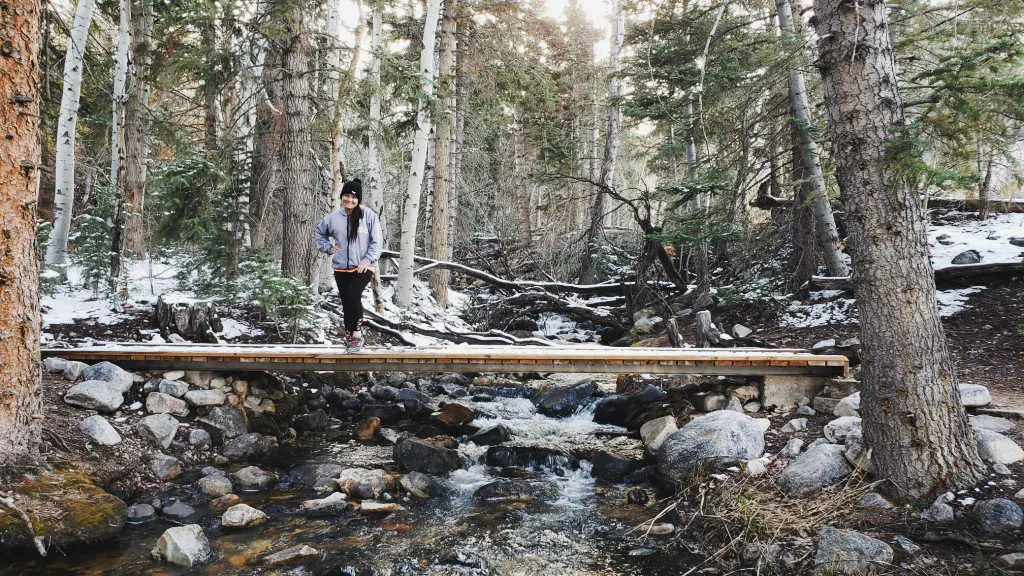 Due to weather, the scenic drive is only open from July through October so we were unable to tour the best parts of the park—but we'll be back. The scenery is stunning!
Area 51
Next, we headed south on a road trip down the Extraterrestrial Highway to see the territory surrounding Area 51. Not looking to draw any unneeded attention, we kept to the highway and didn't press our luck.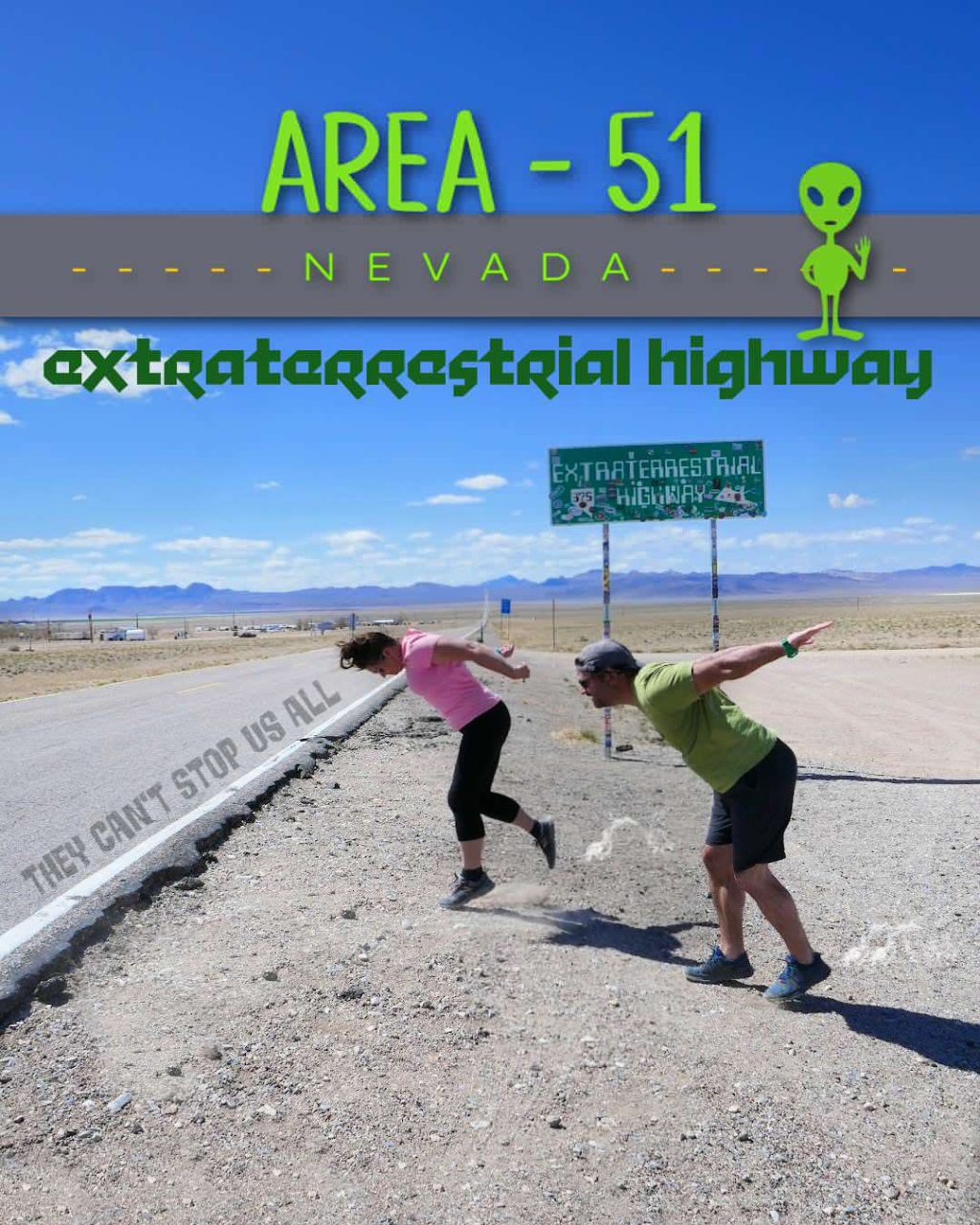 Other than dramatic landscapes, there's not that much to see along the 150-mile route from the Alien Research Center to Tonopah.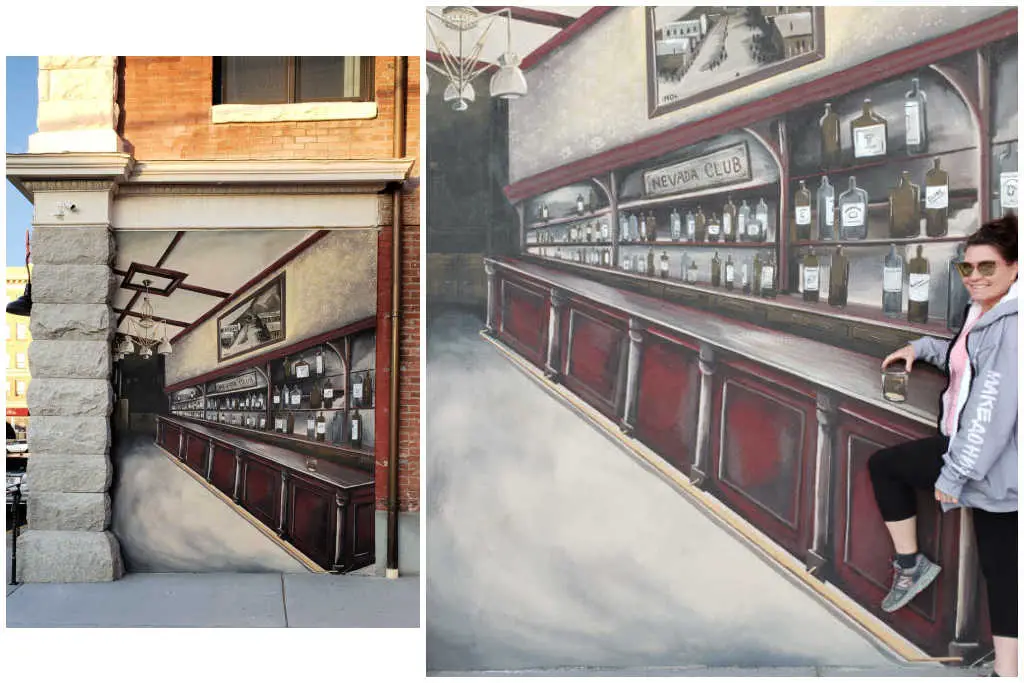 In fact, there are only really three things to see along the way:
Alien Research Center: Main attraction for tourist souvenirs and houses a museum.
Black Mailbox: People from all walks of life stop and leave random messages in the mailbox in the hope that they'll communicate with the people in charge of Area 51 or aliens—they're quite a hoot to read!
Rachel, NV: Home of the Extraterrestial Highway sign and the famous Little A'Le'Inn. Most tourists will stop and have a bite to eat, purchase some souvenirs, and look at the Area 51 memorabilia.
Although there are not many attractions along this stretch of lonely road, fellow geocachers are in luck. Along the Extraterrestial Highway, there is what is known in the geocaching world as a Power Trail.
With over 2,000 geocaches to find and log, this is a bucket list destination for many geocachers. Adventurers love the opportunity to do some freaky nighttime geocaching. Additionally, this region has a few geo-art finds, in which giant pictures are created using geocache coordinates on a map.
Read: Extraterrestial Geocaching – Head Alien Series
Goldwell Open Air Museum
From the Little A'Le'Inn, we traveled through Tonopah, past the creepy clown motel, and onto Beatty. Considered the "Gateway to Death Valley," Beatty is the closest town to the entrance of Death Valley National Park.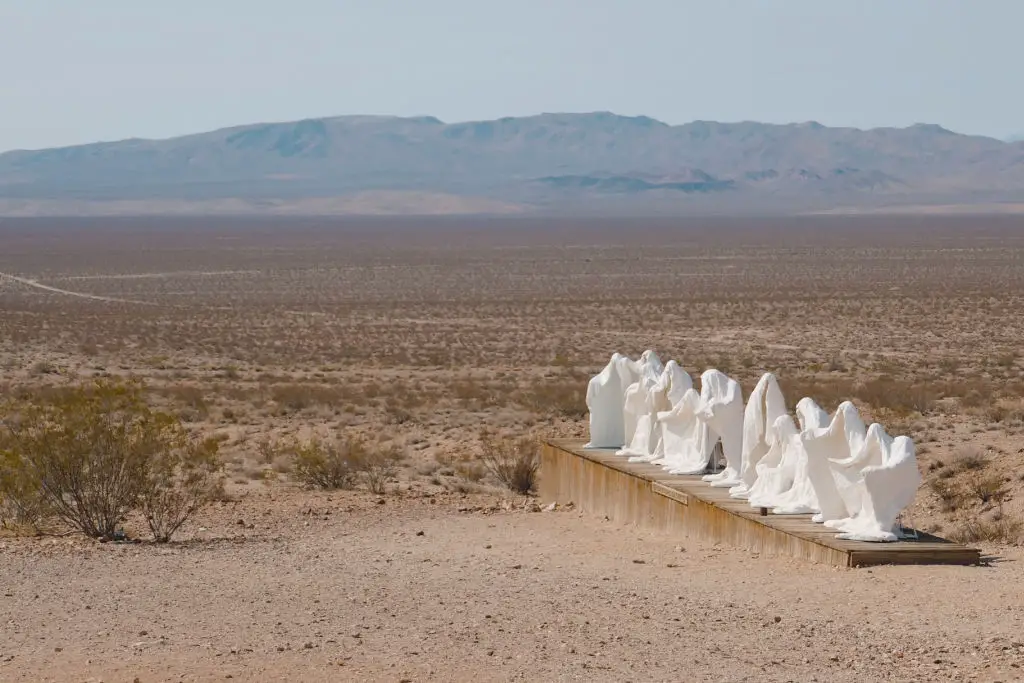 After overnighting in Beatty, we stopped at the Goldwell Open Air Museum before heading to Death Valley National Park. One of the most noteworthy pieces is "The Last Supper." This ghostly version of Leonardo Da Vinci's masterpiece just feels so eery in the vastness of the desert.
Death Valley National Park
The steep descent into Death Valley National Park makes it one of the most climatic drives of our lives—absolutely stunning to see Telescope Peak with an elevation of about 11,000 feet meeting the lowest spot in North America.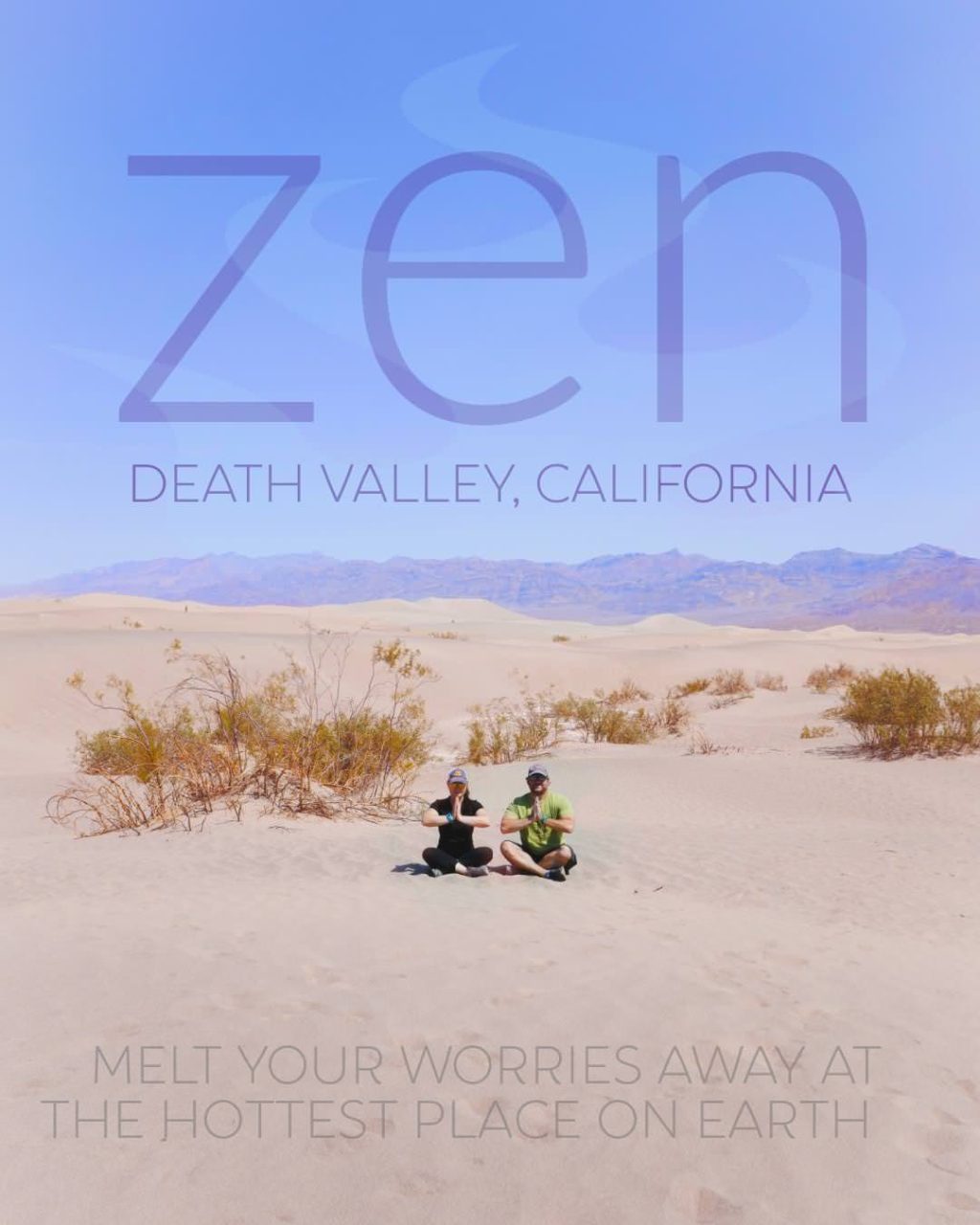 Even though it's in California, we've been wanting to visit Death Valley for quite some time. Thus, it was nice to have a full leisurely day to enjoy it. Audrey enjoyed experiencing both the technical aspects of the park—it is the lowest point in North America and the hottest in the world. Harry, on the other hand, appreciated seeing the Devil's Golf Course because it is such a peculiar place on Earth.
However, the highlight for both of us was driving along the Artists Drive Scenic Loop to see the Artist's Palette. The hilly, windy, and at times extremely narrow 9-mile one-way loop is so much fun to drive.
Ash Meadows National Wildlife Refuge
Before heading to Las Vegas, we made a quick stop at Ash Meadows National Wildlife Refuge. With the most stunning blue crystal clear springs, and an amazing ecosystem, including 24 plants and animals found nowhere else on earth, Ash Meadows is a must-see in the area.
Unfortunately during this tour, we didn't make it to the Lake Tahoe area. We would love to see it but realistically it is really, really expensive to visit and to live in.
Honestly, the only place in Nevada that would satisfy our requirements would be in the Las Vegas metropolitan area, probably no more than 45 minutes from "The Strip."
Our Experience in Las Vegas
We finally made it to Las Vegas for our third visit to the city. In a few weeks time, we'd return for the fourth time to experience Las Vegas with Audrey's brother. We ended up staying at the Desert Paradise Resort, about two miles from the strip.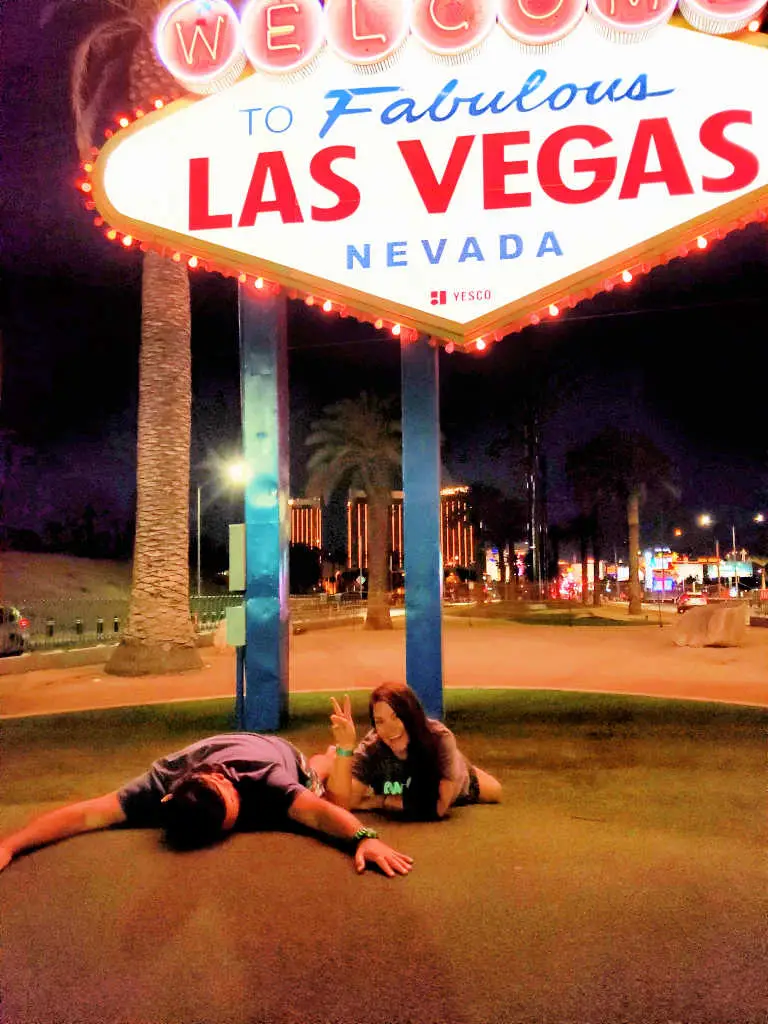 One morning, we're having breakfast and coffee on our balcony which overlooks a fairly quiet side street. Then, out of nowhere an ambulance pulls up and stops. At this point, we both thought, "Well, this is interesting."
The next thing we know, a black lady is getting thrown out of the back of the ambulance. She lays down on the sidewalk and takes a nap for about 30 minutes. When she awakens she lowers her shorts to her knees while sitting up and urinates on the sidewalk. Five minutes later, a man and dog walk by and the dog goes on to lick the urination—only in Vegas baby!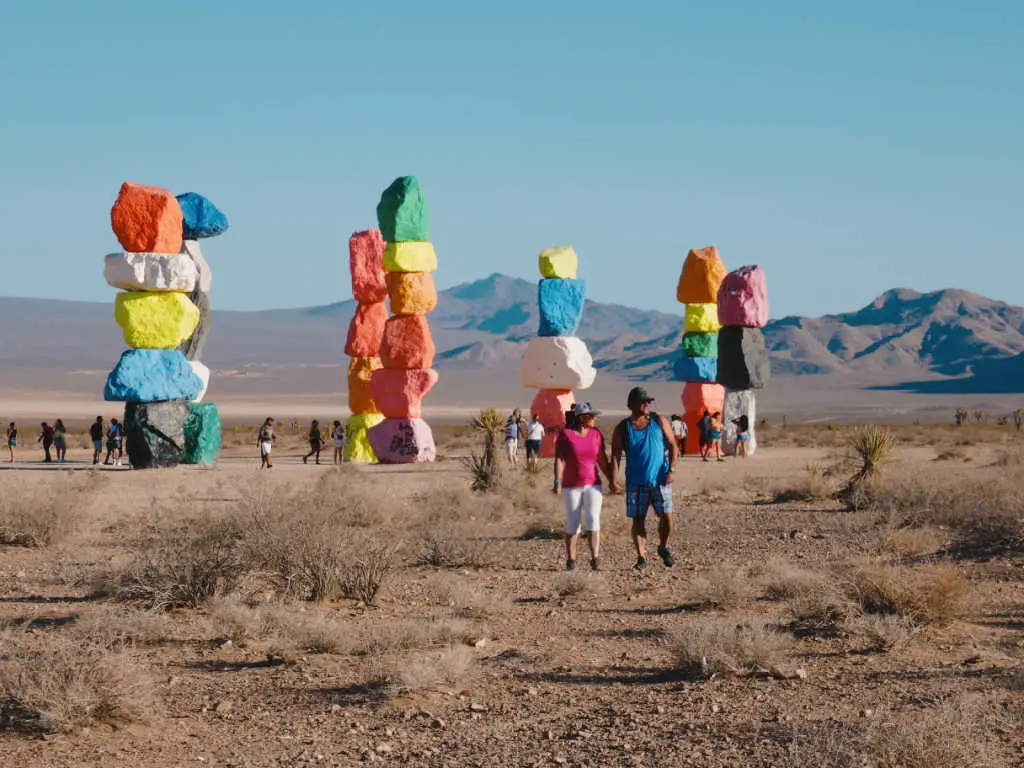 You never know what you're going to see in Vegas, and perhaps that's what attracts us to the city. Also, we enjoy:
Clear skies and a warm climate with cool nights.
Being able to easily escape the craziness of the city in about 30 minutes by driving in any direction.
The lawlessness—there's so much crazy stuff happening nonstop that minor infractions aren't even noticed or regarded.
No state income tax.
The stories…
Vegas Life
In May 2020, we visited Las Vegas at the height of the COVID shutdown madness. One night we went through a Taco Bell drive-thru at about 10:00 p.m. We were the only customers there and quickly pulled up to the menu board.
We waited for about five seconds and heard, "Hello. Welcome to Taco Bell. What can I get you?"
We gave our order and proceeded to the window.
The young employee immediately came to the window and said, "Oh, I'm so sorry about the wait. Can I get you some free drinks?" He was clearly high on meth.
We're like, "Umm, no thanks."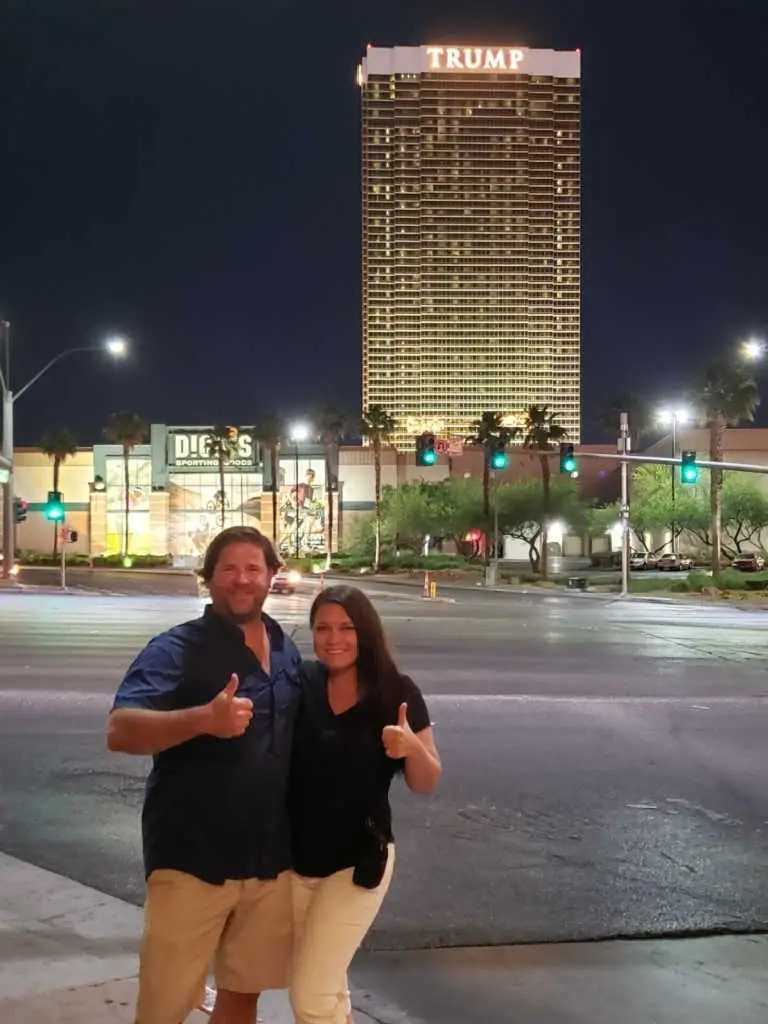 We're not really sure about the science behind how meth works, but apparently, the time it took for us to drive from the menu board to the service window must have felt like an eternity for the employee. In reality, it took less than 10 seconds.
We departed the drive-thru with our Nachos BellGrande and agreed that we were not going to be able to eat this. You can't consume food made by crackheads, right?
Assuming our order was going to look like a person who was cracked out on drugs made it, we were pleasantly surprised to see this was one of the few instances when the IRL fast food looked exactly like the restaurant's advertising pictures.
That night we dined al fresco on our balcony with our picture-perfect Taco Bell.
Cons of Moving to Las Vegas
Obviously, the biggest drawback to living in Las Vegas is the high crime rates and the temptation to vices—strong self-control is needed to make sure things are done in moderation. It's quite astonishing how easily one's entire life can be ruined in just a matter of a few hours in Vegas.
Karl Liberty Score by State
So, how does the Karl Liberty Score work? There are 10 different categories. Each one is judged on a scale of 1 to 10 with "1" being the worst, and "10" being the best. As a result, the highest possible score is 100 and should be the state that we should move to at the end of our journey.
Below are the categories along with a short description:
Cool Factor: The Cool Factor accounts for how jealous someone would be if they find out you were moving there or how mind-blowing it is when compared to other states.
Tyrannical Measures: Currently, how protected are citizens from both state and local government overreach?
Value in Cost of Living: How affordable is the state to live in?
Entrepreneurship: Is it easy to start a new business in the state?
Access to Global Market/Diversity: Are there any good international restaurants or products easily available?
Sense of Community: How easily will new residents be welcomed into the community?
Outdoor Activities: Is there a wide range of outdoor activities available year-round and do residents take advantage of it?
Economic Stability: Does the government run a surplus or deficit? Is the unemployment rate low? Is there an opportunity for career growth?
Safety: Is it safe to walk around at all times of the day and night? If out late, do you need to worry about safety or being harassed?
Woke Factor: Does the government or its citizens embrace a "woke" agenda?
Results – Are We Moving to Las Vegas?
Below are the results of our experience of living in Las Vegas, Nevada.

The overall score of 65 lines up exactly with Utah. However, between the two states, there are drastic differences between Access to Global Market/Diversity, Economic Stability, and Safety.
Upon departing Nevada, we ended up summering in Arizona—this will be the next state we consider moving to and the next state we'll feature next. Stay tuned!
---
How can I support conservative travel blogging?
Do you feel like helping conservative travel bloggers? Bookmark this article and click this link to make a hotel reservation and click this link to make a flight reservation before booking your next vacation.
You'll get the best price, we'll earn a small commission, and you'll help support future articles. This way, you're not funding and getting travel advice from a "woke" overweight, pink-haired, "Love is Love" t-shirt bearing, nose ring wearing, chunky glasses donning, rainbow tattoo displaying, modern liberal that hates everything about the USA.