Las Vegas is the perfect city to celebrate a wedding proposal. As the 'Marriage Capital of the World,' the city is already made for love, with endless options to make it a moment to remember. This article showcases various Vegas proposal ideas in a wide range of budgets. You'll be sure to find the perfect place to pop the question!
As you begin planning, the most important thing to remember is to make the engagement as personal to your relationship as possible. Naturally, your companion has been dreaming of this moment for a long time. Consider the type of couple you are and tailor the proposal to emulate your unique relationship.
Las Vegas Proposal Ideas From Simple To Extravagant
The Las Vegas proposal ideas listed below are sorted from the most expensive and extravagant to the least lavish and costly, and in some cases free!
Proposals for High Rollers > $450 and up
For those that are ready to splurge on the big moment, these options cost $450 and up. At this price point, most hotels, restaurants, and attractions have established proposal packages and event planners to help you carry out the special moment without a hitch.
Champagne Sunrise Hot Air Balloon Flight
Check off a bucket list item and a wedding engagement into one dreamy proposal! Take a hot air balloon ride over the Pahrump Valley and take in views of the Vegas Strip and Red Rock Canyon along the way. While you're cruising along drop to a knee and propose. Not only will this make for an Instaworthy moment but it will be a great story to share when you land.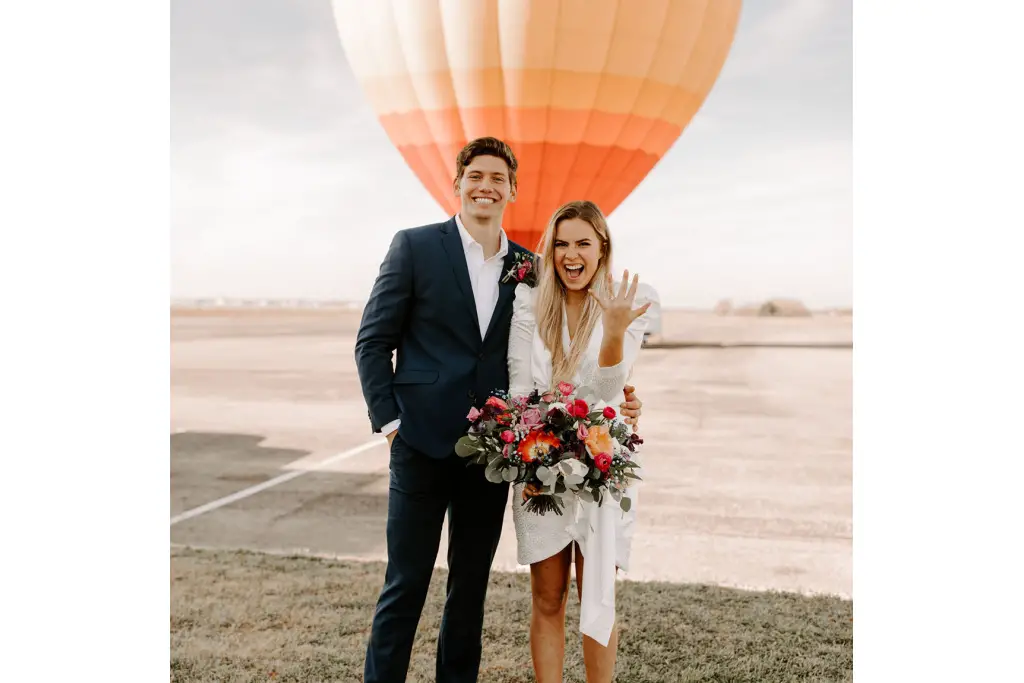 One of the nice aspects of a hot-air balloon proposal is that it takes place in the early morning hours so you'll have the rest of the day to celebrate. Rides start at $299 a person.
Hot Air Balloon Ride > Check Availability
Wine, Dine, and Take to the Air – Propose Over the Vegas Strip
Two of Vegas' best helicopter tour operators, Maverick and Papillon offer night flights over the Strip accompanied by a foodie tour or dining experience. Maverick's Savory Bites & Neon Lights Tour includes visiting three of the best restaurants on the Vegas Strip, serving 12+ dishes, and enjoying a flight over the Vegas Strip.
Papillon's Fly & Dine Luxury Night Out Tour includes a four-course tasting menu at the Venetian Resort with a flight over the Vegas Strip. Both options allow for the proposal to be done over dinner or up in the air.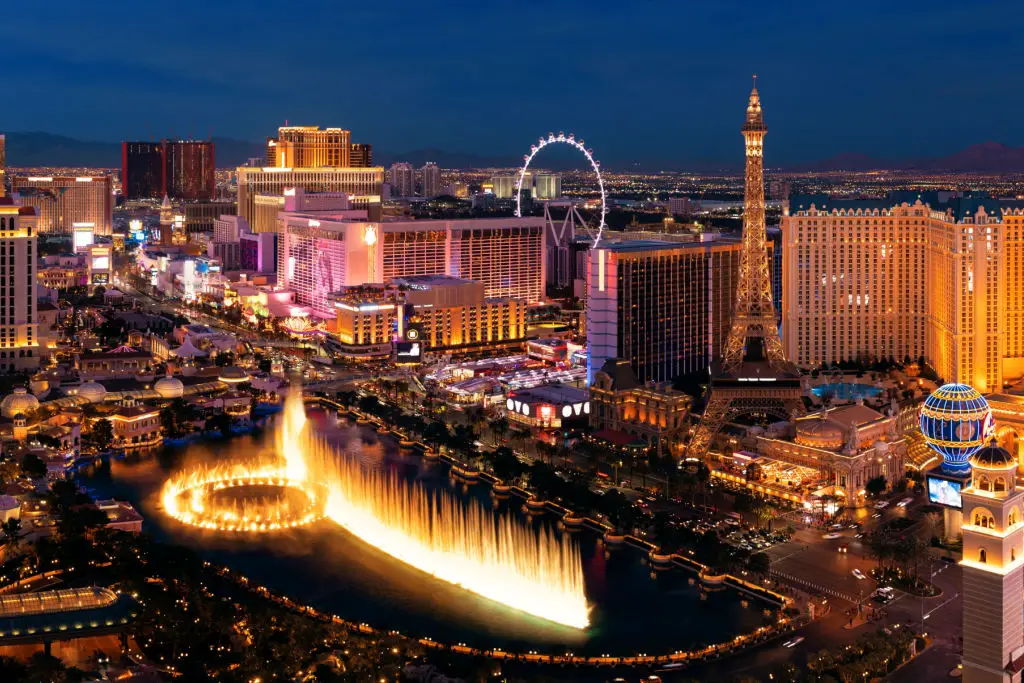 If you have other plans in mind, another fabulous option is simply reserving a nighttime helicopter flight over the Vegas Strip to celebrate or pop the question. We've written extensively on the differences between the two operators and for this occasion, we'd recommend Maverick's Vegas Views Tour. However, if they don't have availability Papillon's Strip Highlights Night Flight is a worthy alternative.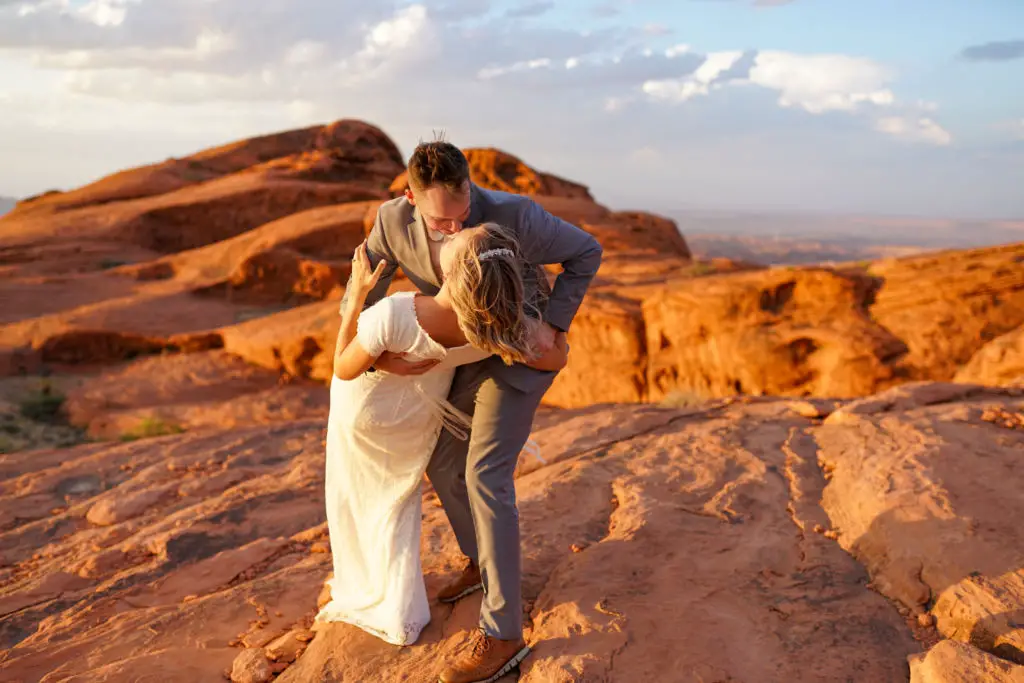 Another great option is to take a helicopter tour of the Grand Canyon. Certain tours like Maverick's Wind Dancer Sunset and Papillon's Grand Celebration Tour, land below the rim and celebrate with champagne and hors d'oeuvres—on the way back to Vegas the pilot flys over the Strip at sunset as all of the lights are illuminated!
Vegas Views Tour > Check Availability
For Adrenaline-Junkie Couples
Couples with an adventurous spirit may want to take advantage of the Las Vegas SkyJump. This controlled fall from the top of the STRAT makes you take the leap together. Typically, the man goes down first, then when she lands, your partner will find you waiting for her down on bended knee.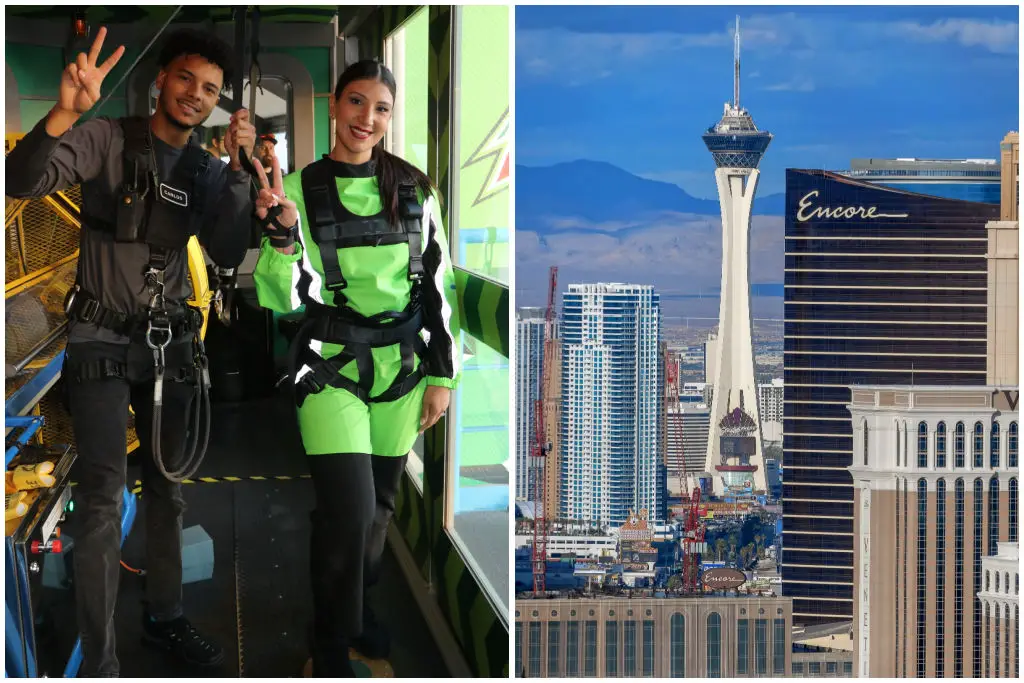 The STRAT proposal packages take much of the stress out of Vegas proposal planning. Of course, options like roses, a chocolate ring box, a photographer, and a private butler, come at a premium rate. Add-ons that include photography options start at $196 but the more complete packages start at $460.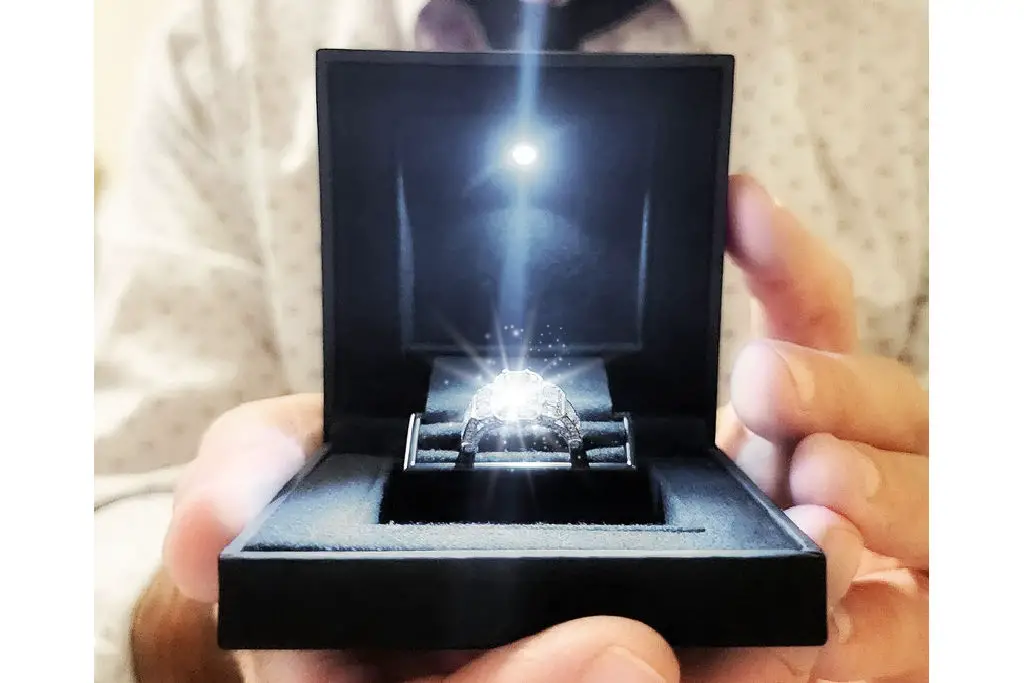 Tip: Partners tend to get snoopy when they think you're up to something. One of the best ways to keep your proposal plan secret is to invest in a slim engagement ring box and ditch the more revealing original cube box. Some slim boxes are pretty spectacular and they keep your ring safe and hidden in your pocket. Afterward, they also make for a special keepsake for your fiancée.
Written in the Clouds St. Mark's Square
The Venetian is probably one of the most beautiful hotels in Las Vegas, making it an alluring choice for a proposal. If money is no object, consider one of the resort's proposal packages. The DREAM package includes the option of projecting "Will you marry me?" onto the ceiling of Saint Mark's Square on the Grand Canal with a private indoor gondola ride. Prices start at $995.
The Venetian > Check Availability
The Underground Speakeasy at the Mob Museum
For couples that are a little more Bonnie and Clyde, the Mob Museum has a speakeasy bar located in the basement called The Underground. Upon providing the secret password, couples can enter to be transported back to the Roaring Twenties. No admission is required for the speakeasy and drinks and nibbles are reasonable by Las Vegas standards.
If you want something a little more private or organized, the Mob Museum offers some specialty packages. For example, you can rent out the VIP room and customize the screen in the room. Additionally, if you're thinking of proposing with a group of friends present, there are some great small-group options too. including:
Whiskey tasting package in the VIP Room for 10 guests – $1,170
Don't Cross the Boss Game in the VIP Room for 10 guests – $1,039
Scavenger Hunt $15.oo per person with paid admission
Other options are available and pricing reflects availability, therefore, contact the staff at The Mob Museum if you know a retro-style proposal is your scene. Moreover, a one-of-a-kind vintage engagement ring would be perfect for this style of engagement.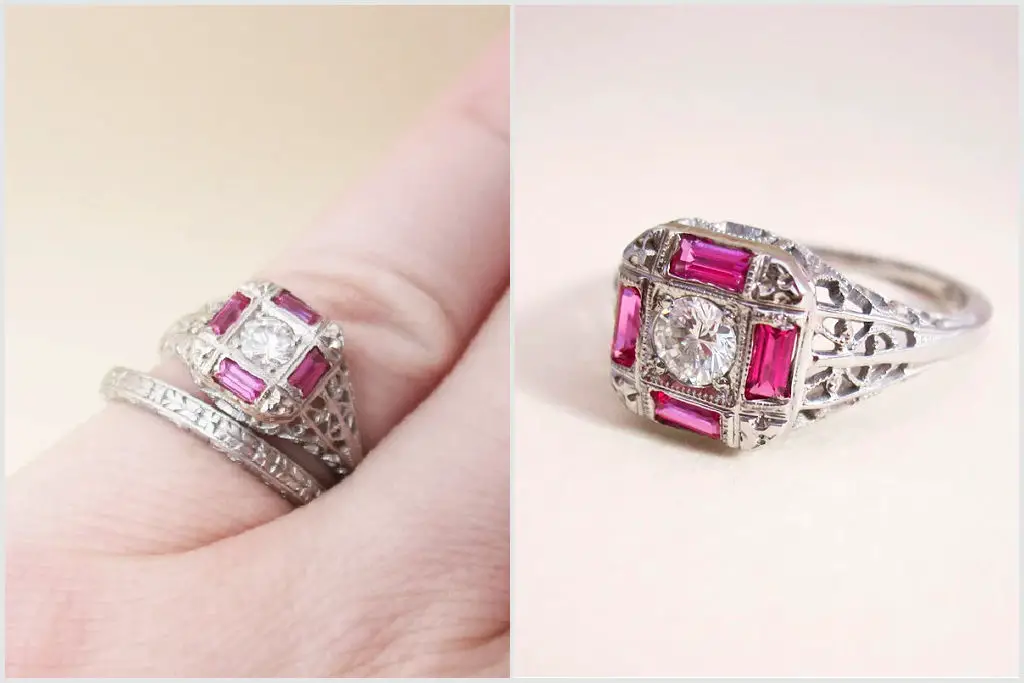 Looking for Unique Engagement Rings? > Shop Here
Freemont Street Banner
If your girl is kind of "extra," and you already know you need to go big in a very public way, consider proposing on the world's largest video screen. The Freemont Street Experience offers the option to share a love note on the Viva Vision.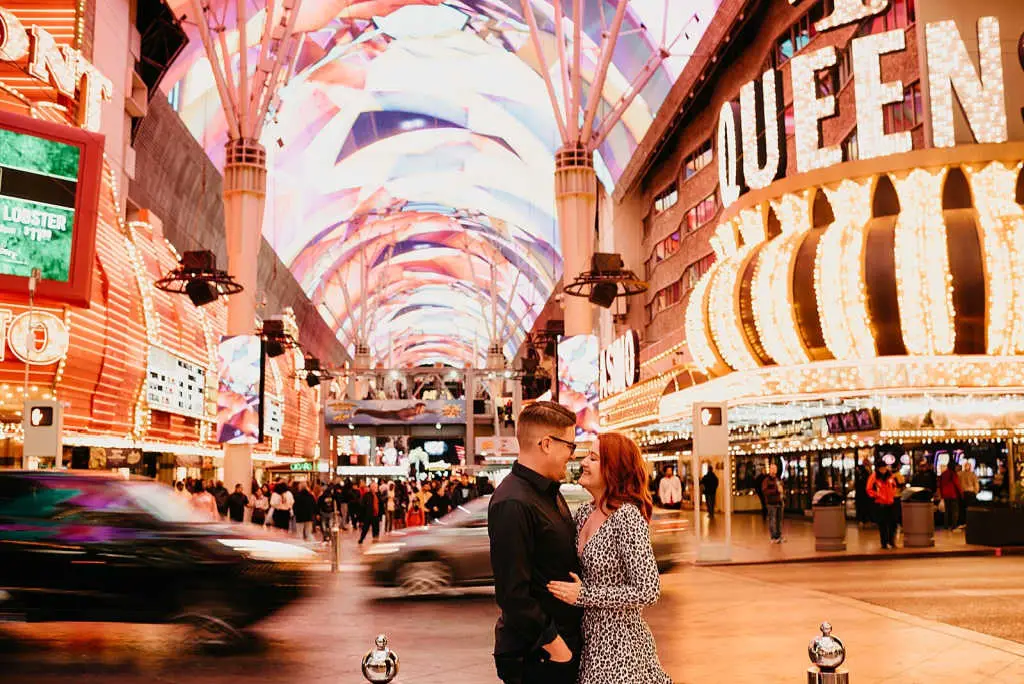 A special request form needs to be submitted at least two weeks in advance and you'll need to specify what section of the screen you'd like to propose under.
For girls who love attention, bring some cute celebratory accents like a glittery I'm Engaged sash or a "Future Mrs." personalized sweatshirt. If you call your partner "your queen," why not crown her in diamonds? Little embellishments like this only add to the special moment.
Tip: For an old-school but classy Vegas experience near Freemont Street, consider staying at the Golden Nugget. Also, we didn't notice this until we walked through the hotel, they have a lagoon-style swimming pool that surrounds a three-story shark tank with a water slide running right through it! Plus, it's fairly budget-friendly for Vegas.
Golden Nugget > Check Availability
Bellagio Elegance
Many choose to begin their commitment to one another at the Bellagio, making it "their place" on the Las Vegas Strip. Naturally, the hotel's timeless elegance makes it the most popular site in Vegas for wedding proposals. That said, there are event planners on staff ready to assist you to coordinate the proposal of your dreams.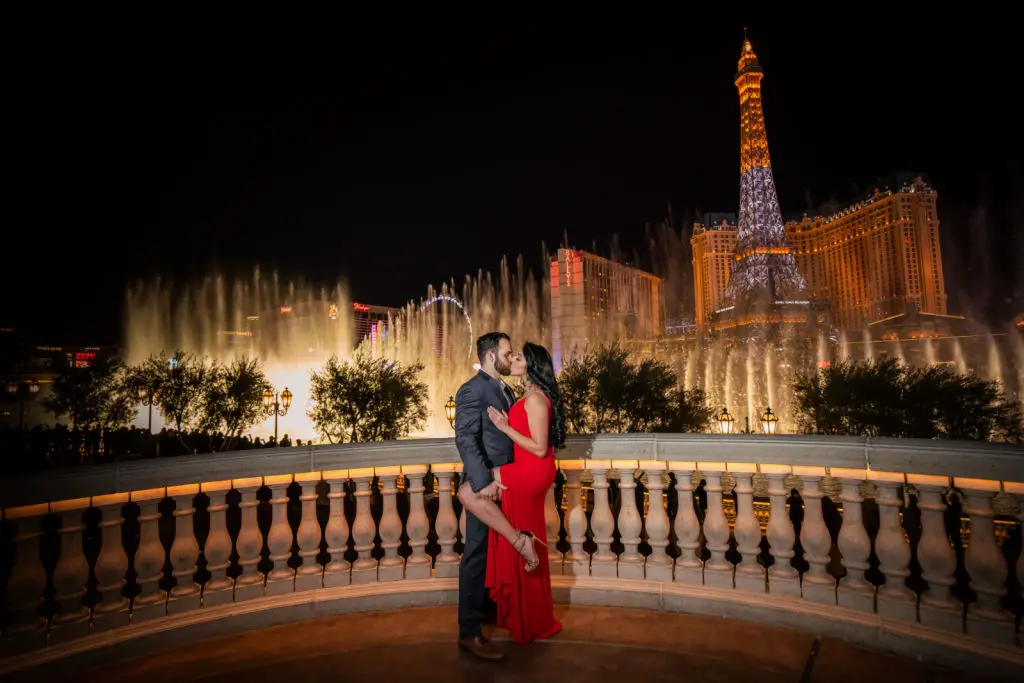 While some may choose the patio overlooking the Bellagio Fountain, others may appreciate the Bellagio Conservatory and Botanical Gardens. If the budget allows, consider one of the proposal packages that take care of details like photography, flowers, and a celebratory champagne toast. As the most popular hotel for Vegas proposals, Bellagio warmly treats their newly engaged couples like family.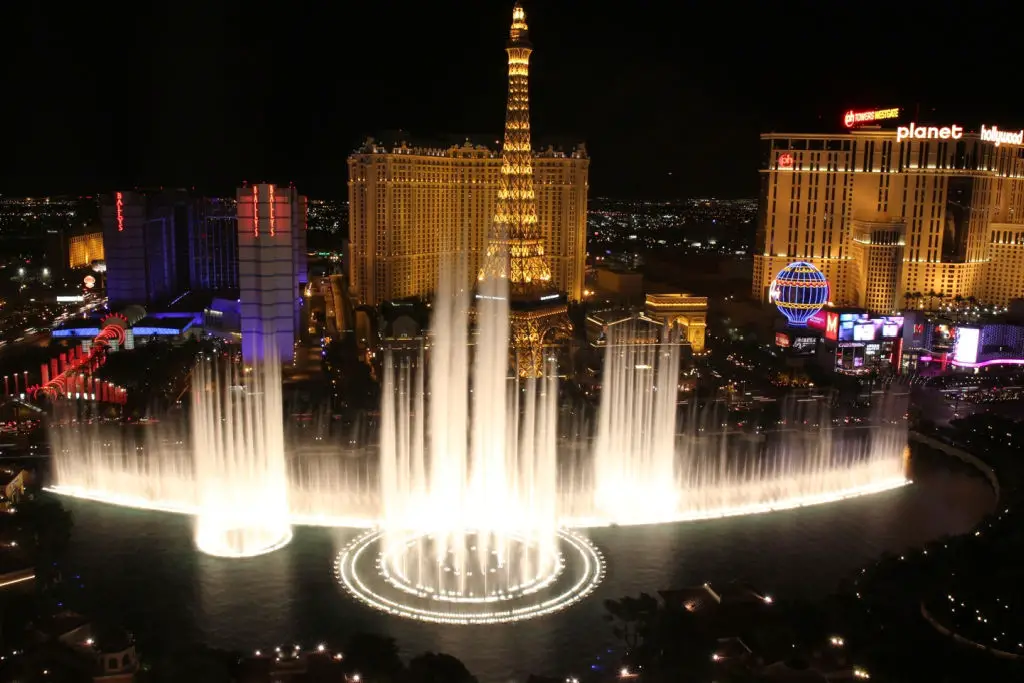 If an engagement present is a tradition for you, your girl will love this cozy taken sweatshirt or this Bellagio engagement ornament personalized with your name and engagement date.
Tip: For a private engagement, propose in your room overlooking the Fountains of Bellagio.
Hotel Bellagio > Check Availability
Best Restaurants for Vegas Proposals
There are so many amazing restaurants in Las Vegas that choosing one may be the hardest part. Some suggestions for the best restaurants in Vegas for proposals include: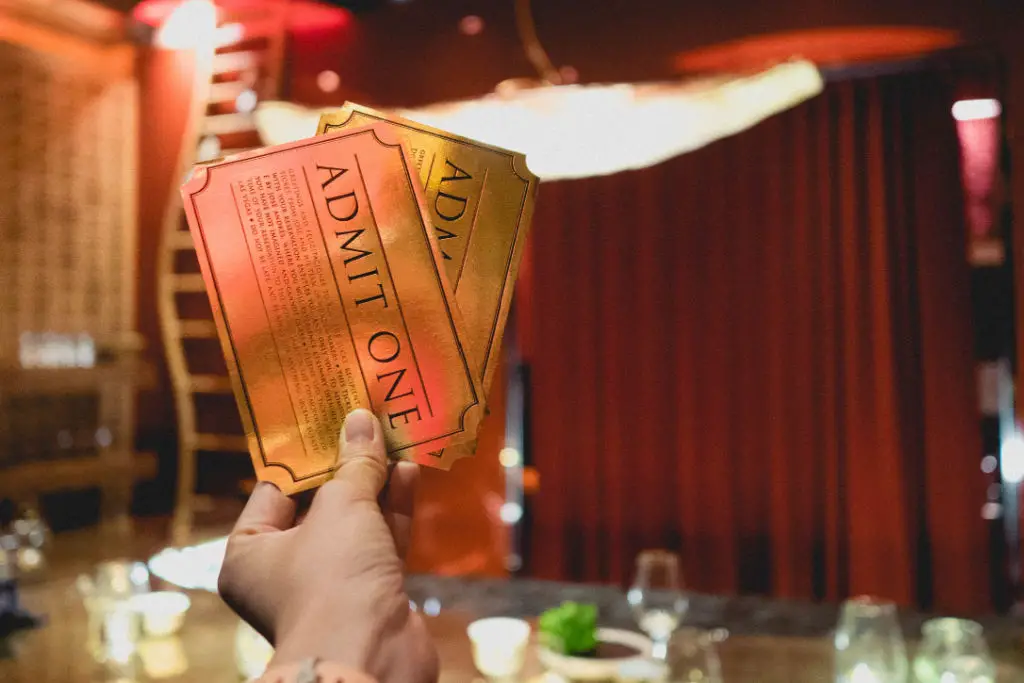 Tip: If these restaurants don't catch your eye, consider one of these 10 Unique Places to Eat on the Vegas Strip.
The STRAT Proposal Packages
As one of the most iconic attractions in the city, The STRAT makes it easy to organize proposals in their SkyPod. Options include:
Dinner at the Top of the World Restaurant voted "The Most Romantic Dinner in Las Vegas."
Private magic show at your dinner table where the magician's last trick incorporates your proposal.
SkyPod private balcony proposal with private butler and photographer.
The STRAT > Check Availability
Mid-Tier Splurge Proposals > $150 to $450
If your budget falls into the mid-tier range, don't worry, there are still fantastic ways to create the quintessential "movie magic" proposal. In a city where anything is possible, Vegas has gorgeous views, natural escapes, and fun nightlife.
Helicopter Ride Over Vegas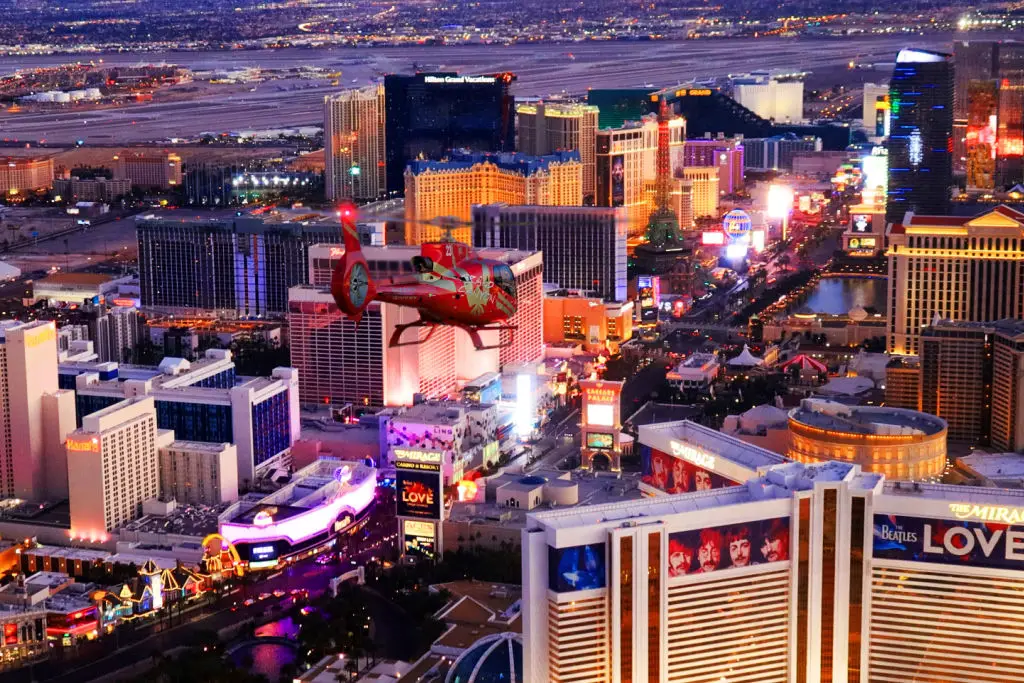 An evening helicopter ride over the Strip requires a lighted engagement ring box. She'll be wowed with neon lights from both the Vegas Strip and your illuminated engagement ring box.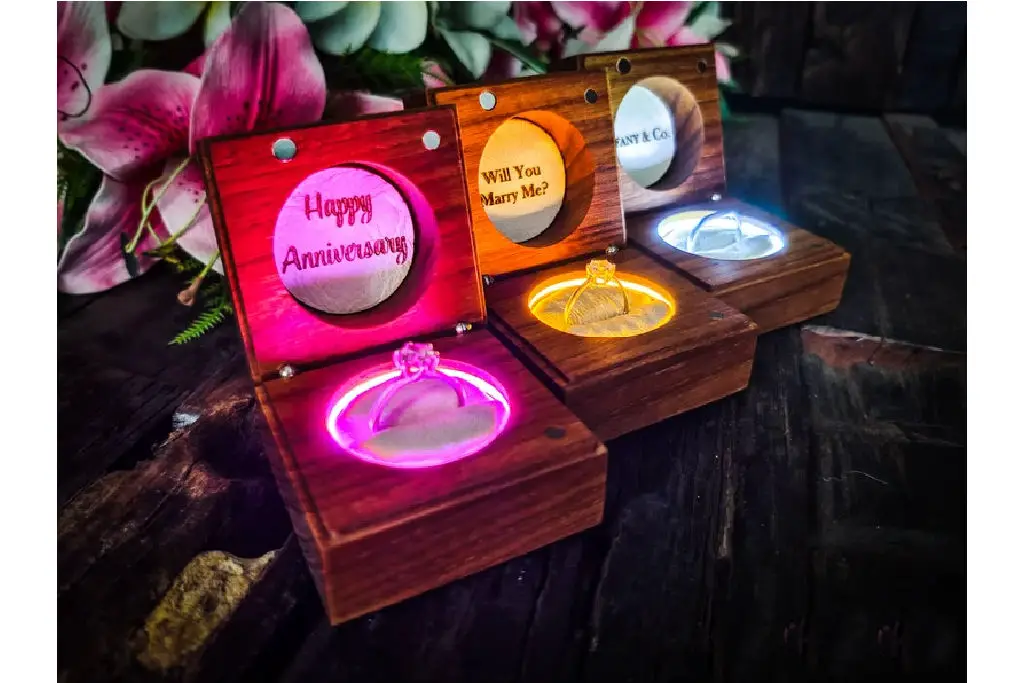 "Will You Marry Me" Illuminated Ring Box > Buy Now
All You Need Is Love
Inside the Palazzo Waterfall Atrium, the LOVE art installation makes a perfect backdrop for a more intimate proposal location. In fact, can a more perfect word be used in photos when capturing this romantic moment? Afterward, continue the LOVE theme by attending one of the most popular shows in Las Vegas, The Beatles Love by Cirque du Soleil.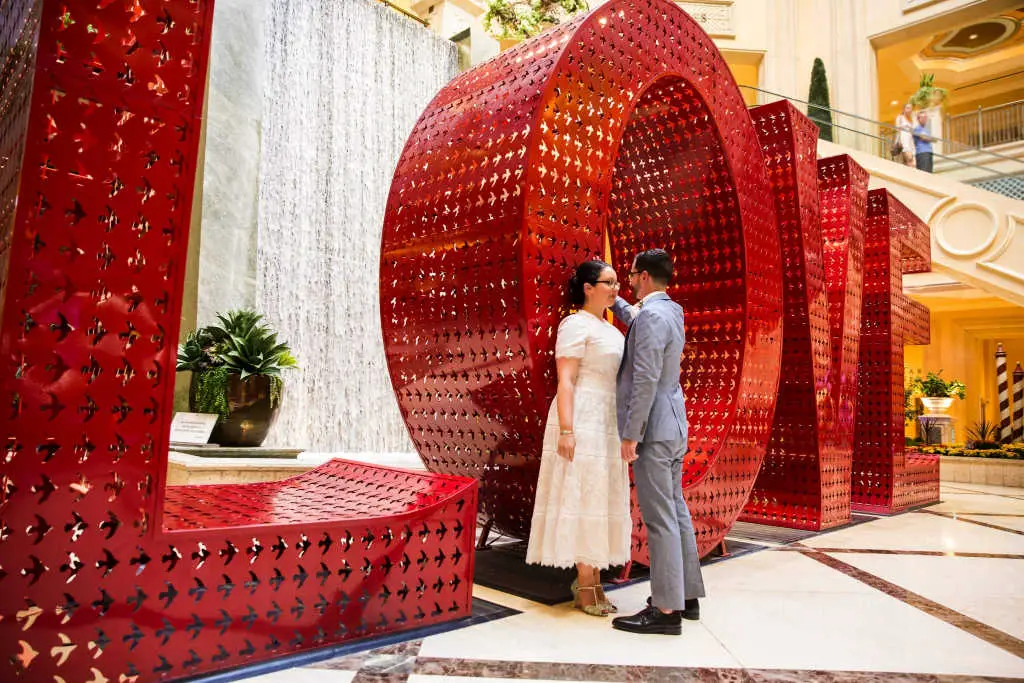 "All You Need Is Love" may end up being the theme song of your new life together. Consider bringing a Beatles-inspired gift such as an "All You Need Is Love" bracelet cuff or a ring holder with your engagement date.
The Palazzo at The Venetian > Check Availability
Stimulate the Senses at The X Pot
Looking for a unique dining experience that doesn't break the bank? We have a suggestion for you! The X Pot at the Grand Canal Shops at the Palazzo is a great alternative to the ultra-exclusive dining experiences that cost close to $1,000.
The restaurant's vibe is chic Asian, with a culinary experience aimed to stimulate all five senses. There are robots, dancing noodles, lights, and Japanese Waygu staircases. Be sure to inform the restaurant of your plans in advance and they'll most likely throw in some freebies to make the experience extra special.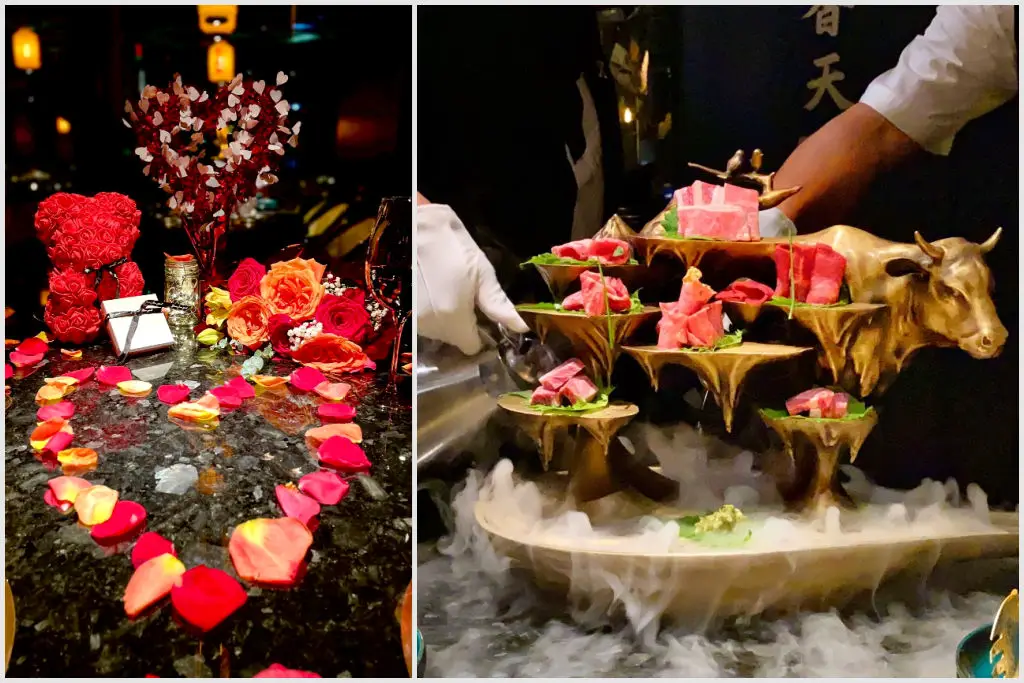 This restaurant choice would be for fun-loving foodie couples who are laid back and want something less stuffy. The tasting menu costs $159 per person, add $50 per person for wine pairing. Also, be sure to splurge for the $20 Golden Cow Upgrade—it's pretty impressive!
The X Pot sets the tone for a creative, Asian-inspired engagement, especially with their Celebrate Love packages to help personalize your evening. Alternatively, you may accentuate the moment with some artsy ways to ask, "Will you marry me?" such as:
LOVE Hikes – Valley of Fire
If getting off the Vegas Strip and proposing among Nevada's scenic beauty is more your speed, then LOVE Hikes may work for you. A local guide organizes a small group hiking tour in the Valley of Fire, taking all of the transport and trailing details.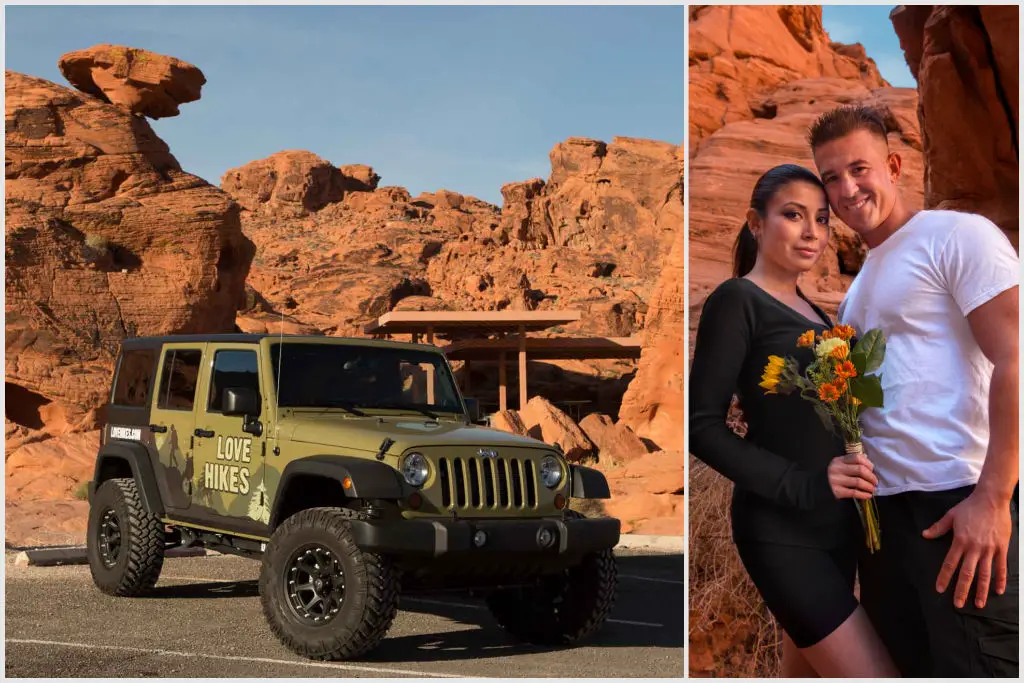 With a variety of experience levels available, this guided tour comes highly rated. A perfect Vegas proposal opportunity for outdoor lovers and adventurers. A personalized slim ring box with mountain accents helps keep the proposal secret and will be a cherished souvenir from your adventure-inspired engagement.
Love Hikes > Check Availability
Wild West Sunset Horseback Ride with Dinner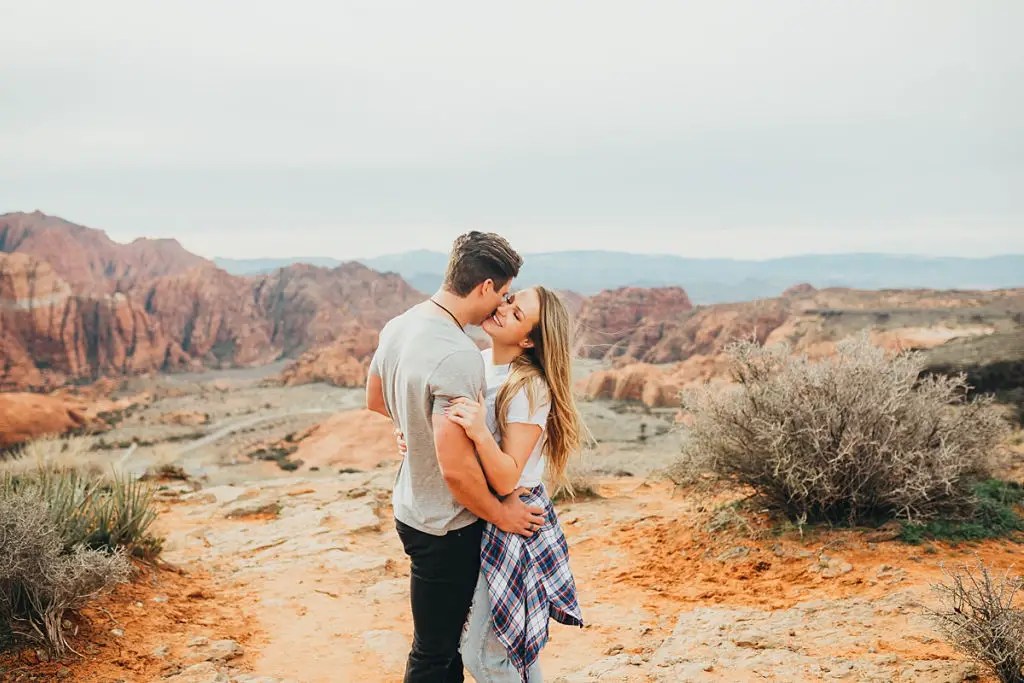 Enjoy the peace and serenity of the mountains on a wild west horseback riding tour. The adventure begins with a pick-up at your hotel where you and your soon-t0-be fiancée will arrive at the horse ranch to set off on a leisurely ride through the Moapa Valley. This is a good option if your partner loves animals.
After a 90-minute ride, you can celebrate over a celebratory meal, either a traditional cowboy breakfast or dinner. Be sure to bring fashionable cowboy hats which will look great in celebratory photos.
Wild West Sunset Horseback Ride with Dinner > Check Availability
Budget Savvy Proposals > $150 and under
High Roller at the LINQ Promenade
The best attractions in Las Vegas are those that offer a view of the Strip. While many come with a high price tag, fortunately, there's a more budget-friendly option that still feels magical. Located at the LINQ Promenade, The High Roller soars 550 feet above the Strip and takes 30 minutes to make a full rotation, and provides stunning views of Las Vegas.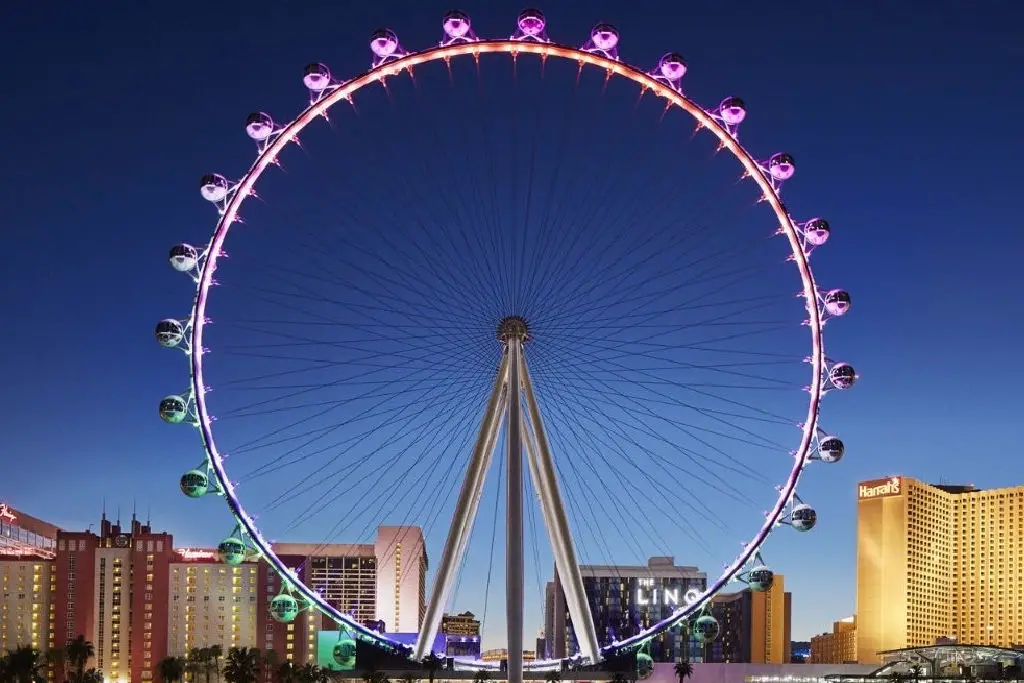 While daytime rides are cheaper and less congested, many say the best time is during the sunset hour to watch The Strip illuminate. Another option is to ride the Happy Half Hour which includes an open bar that costs about $70 per person.
It is important to note that the cars are large enough to accommodate 40 people so it won't be private. Couples do rent out cabins privately for wedding ceremonies at a cost of about $1,400 and up.
Tip: Purchase tickets in advance to quickly board and skip lines with no wait time.
Vegas Bar With a View
Dinners in Vegas can be really expensive. For those on a tight budget, a lively Vegas bar with refined cocktails and a stunning view can be a great alternative to a fancy restaurant. As a bonus, many bars now offer happy hours, making celebratory drinks a little more affordable once she says yes.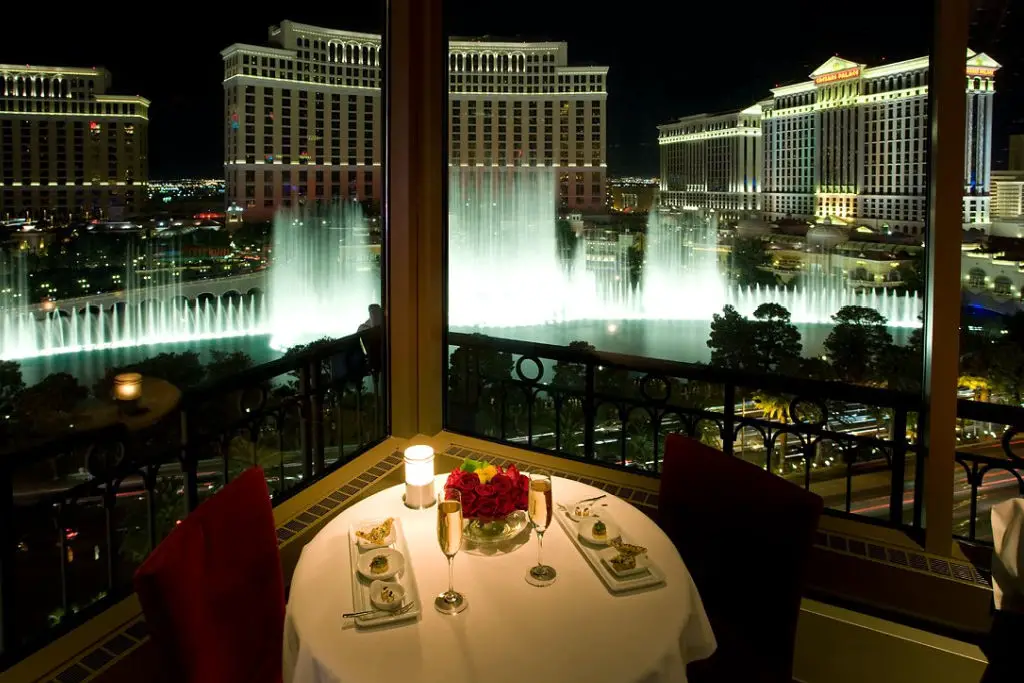 The best cocktail bars for a Vegas proposal include:
Proposing at night or in a dark restaurant? Opt for a Unique LED Engagement Ring Box to really wow her!
Gondola Ride at The Venetian
If you can't make it to Italy for your proposal, then Las Vegas offers the best thing. Riding in a gondola is a classic Vegas proposal idea.  However, due to the cost/time ratio, it probably works best for lovers of Italy or for those that have the boat ride as a bucket list activity.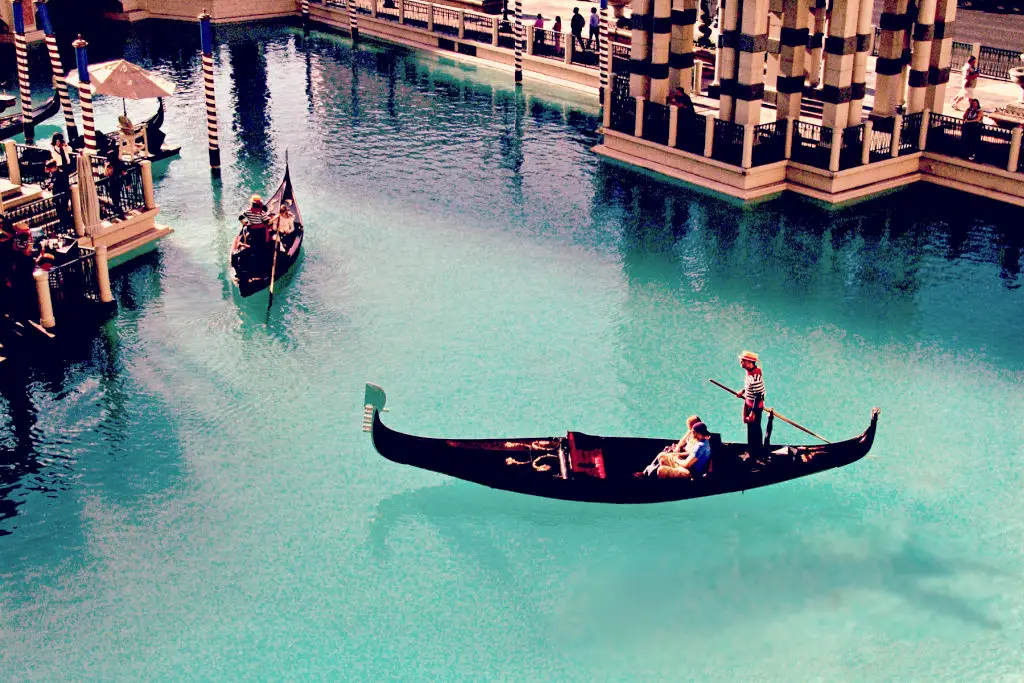 Lasting about 10 minutes, there are two different routes to choose from—one inside and one outside. The inside route is rumored to be slightly longer and offers better acoustics.
Your gondolier will sing Italian songs and photographs taken during your ride will be available for purchase. The cost for a private gondola for two people is about $150 and photos start at $32.
Eiffel Tower Viewing Deck
If your future bride has a love for Paris, then a proposal at the Eiffel Tower viewing deck may be a great option. More romantic at night, every half hour the tower twinkles and sparkles with the Eiffel Tower Light Show. The deck will provide 360-degree views of the Vegas Strip and an aerial view of the Bellagio Fountains.
Similar to Paris, there is a love-lock bridge where you can attach your lock. However, this romantic opportunity is only available with paid admission to the viewing deck. Locks are available in the gift shop but with a planned engagement, it is best to bring a lock with a personalized touch. Believe me, you'll definitely win her over with your thoughtful attention to detail.
Eiffel Tower Viewing Deck > Buy Tickets
Place a Love Lock
Around the world, couples place a love lock as a symbol of their eternal love in a place that's sacred to them. If this act of commitment is significant in your relationship, then you're in luck.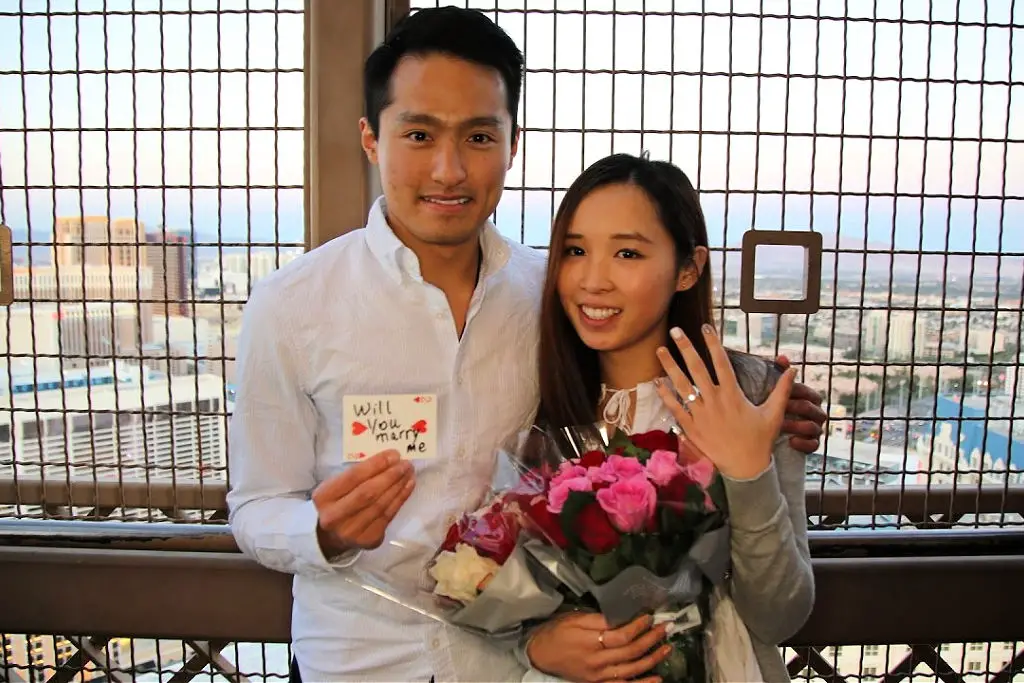 There are two love-lock locations in Vegas. The "Lock Your Love" sculpture is located just steps away from the praying mantis in the Downtown Container Park. There is no cost to visit. The second love-lock opportunity is accessed with paid admission to the Eiffel Tower Viewing Deck.
No Cost Vegas Proposals – $0
If money is tight after purchasing a ring and travel expenses, don't worry. There are still numerous options for a romantic proposal without spending more money. Thankfully, Las Vegas has numerous free attractions that are all available to use at your disposal.
Bellagio Fountain
The most classic Vegas proposal idea is asking for your hand while watching the Bellagio Fountains. Each show lasts about 3 to 5 minutes and offers a spectacular, iconic backdrop.
Tip: If this is your plan, it's important to time the moment to an appropriate song. Proposing to "The Star Spangled Banner" or Lady Gaga's "Bad Romance" is not a good idea. Alternatively, Elton John's "Your Song" or Frank Sinatra's "Fly Me to the Moon" provides a more romantic soundtrack. Click here to see the full > fountains of Bellagio Show and Song Schedule.
Bellagio Conservatory and Botantical Gardens
Surround yourselves with the beauty and elegance of the Bellagio Conservatory and Botanical Gardens. While Bellagio offers pricey engagement packages, thankfully the space is open and free to the public. Take advantage of the same gorgeous surroundings that are utilized in the proposal packages without having to break the bank.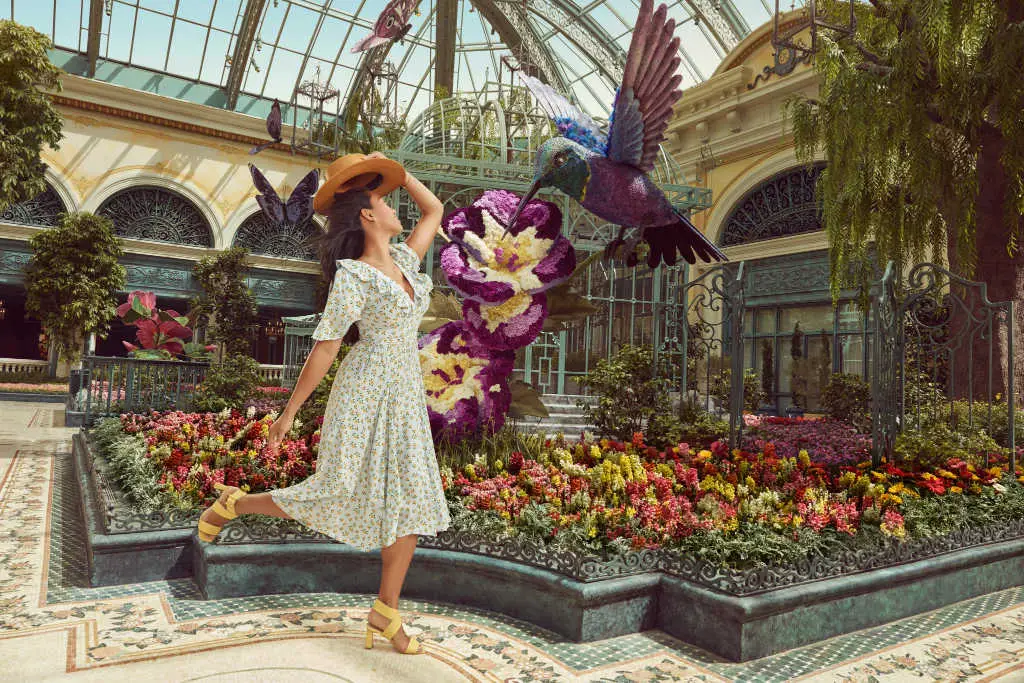 Balcony Proposal
Another option is to book a hotel room that comes with a view of the Vegas Strip or the Bellagio Fountains. This way your accommodation and proposal site are both covered in one price.
Naturally, this works for couples who prefer a more intimate, one-on-one proposal. A bottle of champagne, a balcony view, and access to your playlist can make for one perfect Vegas proposal—all right from your private hotel room.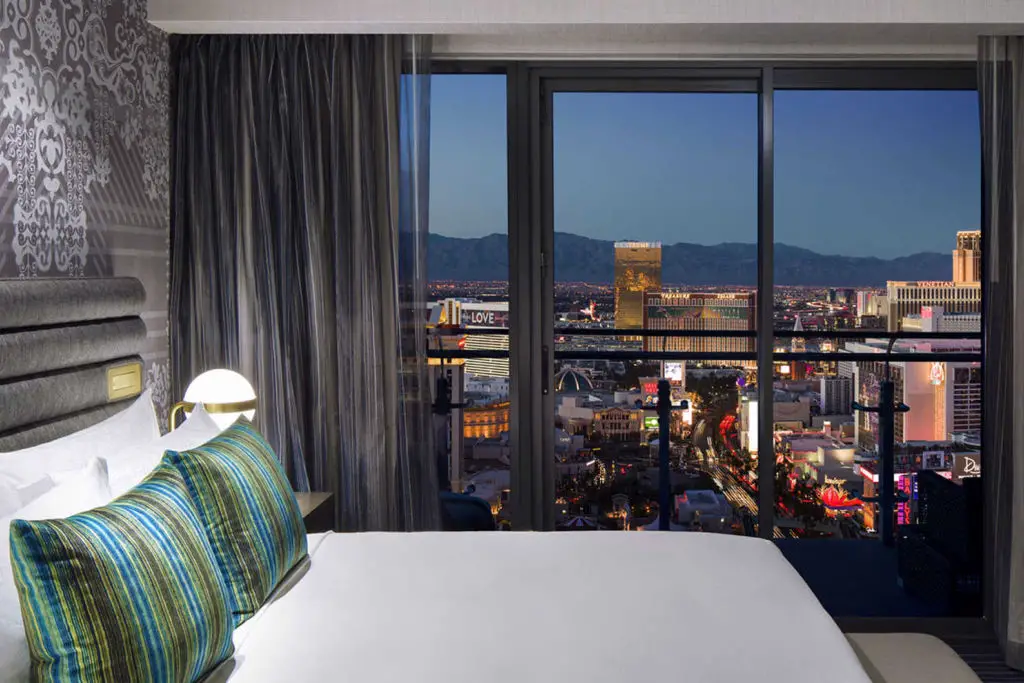 For obvious reasons very few hotels in Las Vegas have balconies. Nevertheless, below are three hotels with fantastic balcony views sorted from least expensive to most. If your budget allows, The Cosmoplitan's Bellagio Fountain View Room is epic!
Hilton Vacation Club Polo Towers – 1 Bedroom 1 King Suite
Signature at MGM Grand – Deluxe Balcony Strip View Suite
The Cosmopolitan – Studio, Terrace, Bellagio Fountain View Room
The Cosmopolitan > Check Availability
Tip: Check out some other free Las Vegas attractions that may be perfect for your Vegas proposal.
Special Momentos
No matter the scope of your budget, the best way to make your proposal ultra-memorable is to bring a special gift for your bride-to-be. Girls love sentimental gestures!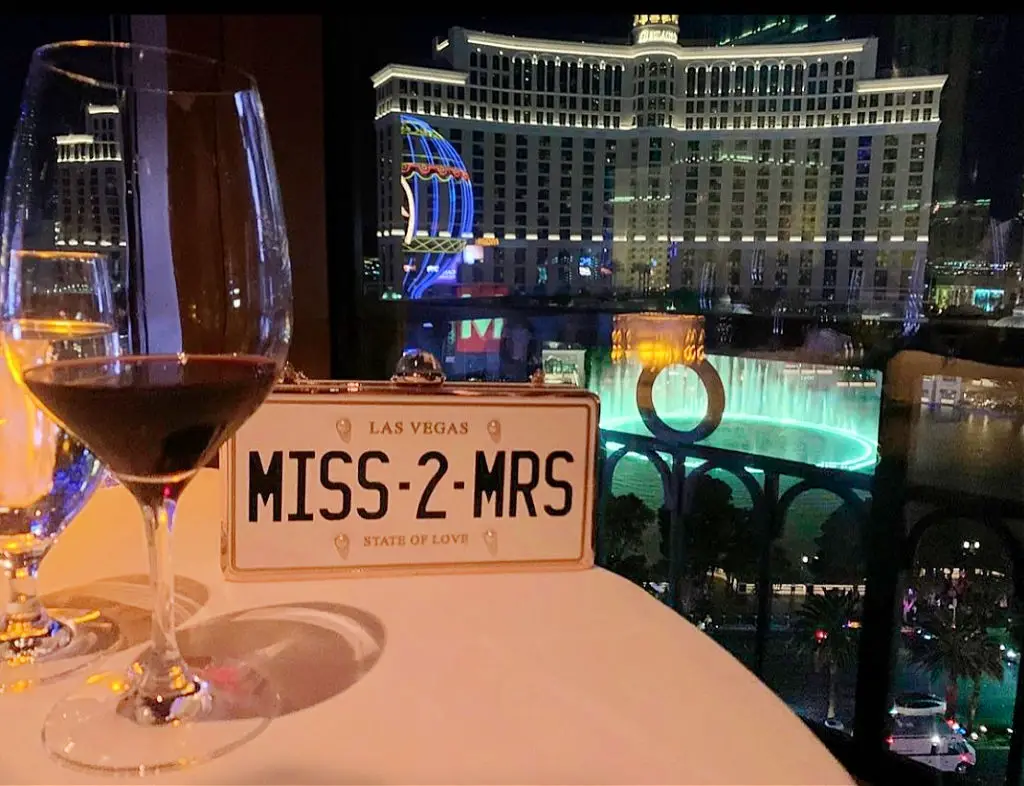 The gift is even better if it's something that can be used for social media photos or to be used later as a family heirloom. Below are some cute ideas:
We use this budget-savvy travel health insurance to protect our trips > get a quick quote.
As you can see from our Las Vegas proposal ideas, it doesn't matter how big or little your budget there's something special for everyone in Las Vegas. Moreover, we love Vegas which is why we find ourselves returning year after year. There's an energy there that is unlike anywhere else on the planet. For this reason, it's the perfect place to propose. Best of luck and lots of love to you both!
We Need Your Help
Did you find this article helpful? If so, bookmark it and when you're planning your next vacation click on any of the links below before finalizing reservations. You'll get the best price, we'll earn a small commission, and you'll help support future articles.
Thank you!
BEST TRAVEL SEARCH ENGINES
🏘️ Book Your Accommodation
We use Tripadvisor and Priceline's Express Deals to compare prices and reviews in advance and check availability
✈️ Book Your Flight in Advance
To find the cheapest flight options, you can use WayAway and Skyscanner to find the most suitable choice for you
🚗 Reserve Your Rental Car
Use DiscoverCars and Skyscanner to compare prices and view the largest selection of vehicles