The best day trips from Podstrana Croatia will take you on amazing adventures all along the Split Riveria. We lived in Croatia for two years and based ourselves in Podstrana, just a few miles outside Split. During our time living in this beautiful country, we explored all the highlights along the Split Riviera. This post will help organize your Podstrana tour by offering suggestions on the best things to do and see while based along the Split Riviera.
Exploring the Split Riviera
Travelers planning a vacation to Split Croatia may find themselves overwhelmed when organizing their itinerary. Croatia is an amazing country, with lots to see and to do, so first-time visitors often are unsure of how to go about their tour.
Top-5 Tours in Podstrana
✈️ Need a transfer to Podstrana from Split Airport? If you're not renting a car and staying in Podstrana, book a private transfer for up to 8 people to your hotel or vacation rental.
If traveling to Croatia on a 7 to 10-day tour, we recommend spending at least half the time exploring the area around Split. This region consists of Primošten to the north and continues on to the Makarska Riviera to the south. Of course, if time allows, extend your tour a bit further down to the Makarska Riveria. Generally, all the best day tours from Split fall within this region and explore the islands of Brač, Šolta, Hvar, Vis, and Biševo.
Why Podstrana?
Podstrana is a small, seaside community located about 5 miles south of Split and served as our home base. Moreover, Podstrana is popular for its beautiful turquoise beaches, which stretch along the Adriatic coastline making it an attractive location to visit.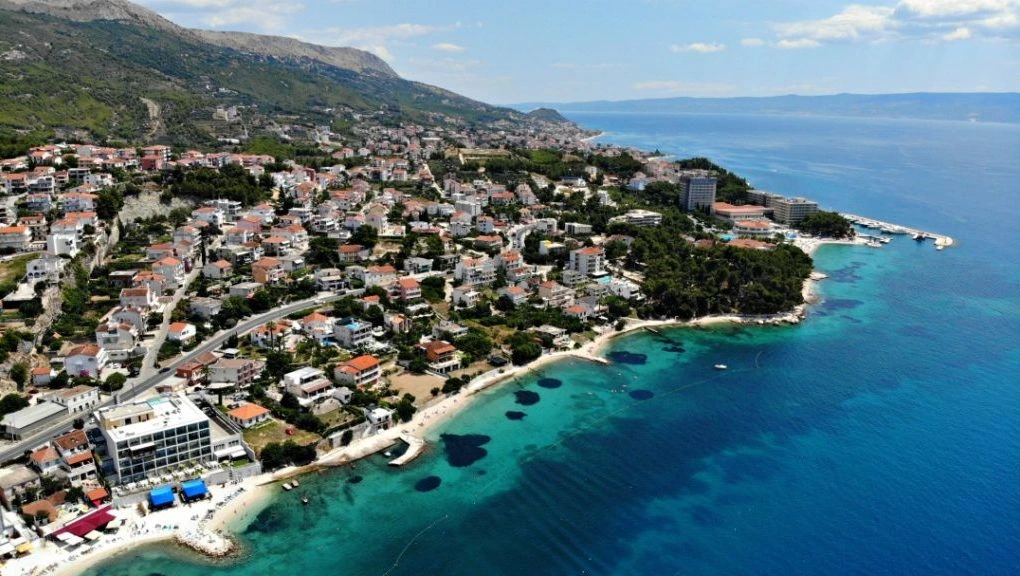 Along with its beaches, the area is famous for its olive orchards, vineyards, and peach trees. Perun Hill and Mount Mosor offer a backdrop to this majestic setting, creating a picturesque Mediterranean experience.
You could easily spend your time visiting the Podstrana local beaches and Split's Old Town and walk away completely satisfied. However, if you're looking to add a little bit more sightseeing and excitement to your life, it's possible to enjoy some amazing day trips from Podstrana.
Best Day Trips From Podstrana Croatia
No trip to Croatia is complete without seeing the Blue Cave in Biševo. Honestly, getting out on the water is the only way to see Croatia's most wonderful hidden gems and beautiful destinations. If you only take one tour, make sure it's the 6 Islands Tour that offers pickup in Podstrana.
Blue Cave, Vis, Hvar
Ask any local Croat where their favorite destination is, and they'll most likely point to the beautiful islands that lie off the coast. Also, many tour operators depart directly from the Old Town in both Split and Podstrana, making it easy to get to the Blue Cave.
When you're on holiday, dealing with ferry boats, timetables, and car rentals can be a pain. You're on vacation! Let's make it easy, organized, and carefree!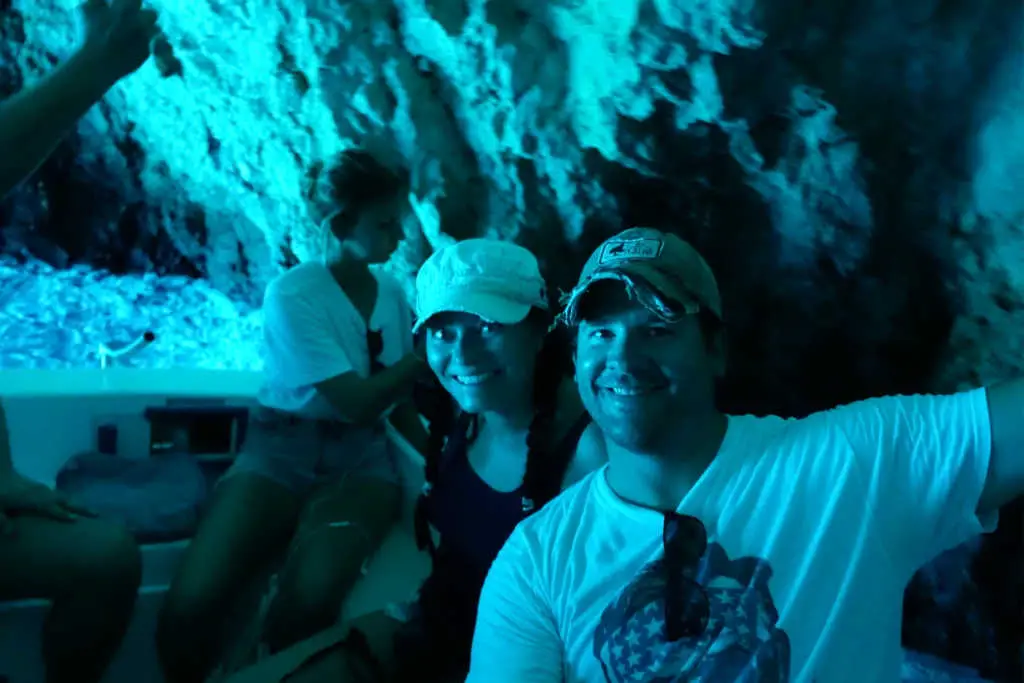 We decided the best way to get to the Blue Cave in Split, Croatia was with a group guided boat tour. This is the most popular tour from Split, Croatia for a reason, it's stunning! We decided to go on it to celebrate our wedding anniversary so we wanted to make sure that it was a tour worthy of the day, and it was!
Blue Cave and Hvar Tour – 6 Islands Tour from Podstrana > Check Availability
Hike Mount Mosor
You're doing yourself a great disservice by not exploring inner Dalmatia. Instead of hanging out at the beach all day consider taking a trip into the mountains where you can enjoy solitude and nature.
You can take a short hike up Perun Hill or a long one to the top of Mount Mosor, both will provide spectacular views of the surrounding area.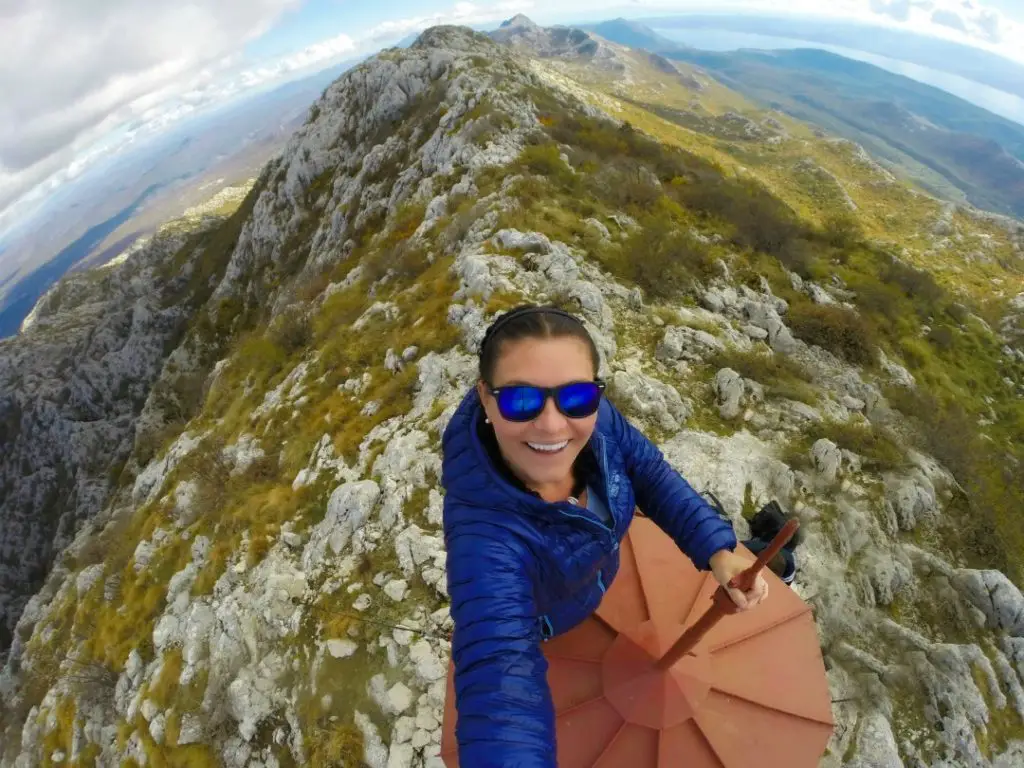 Our favorite hike up Mount Mosor begins near Gornje Sitno. There are two options for hiking Mosor: a short 45-minute hike to the Mountain Home or the longer three-hour hike to the top of Mount Mosor. Remember, those time frames are only one way. Double the time for the trip back down the mountain.
Mosor Mountain Guided Hiking Tour > Check Availability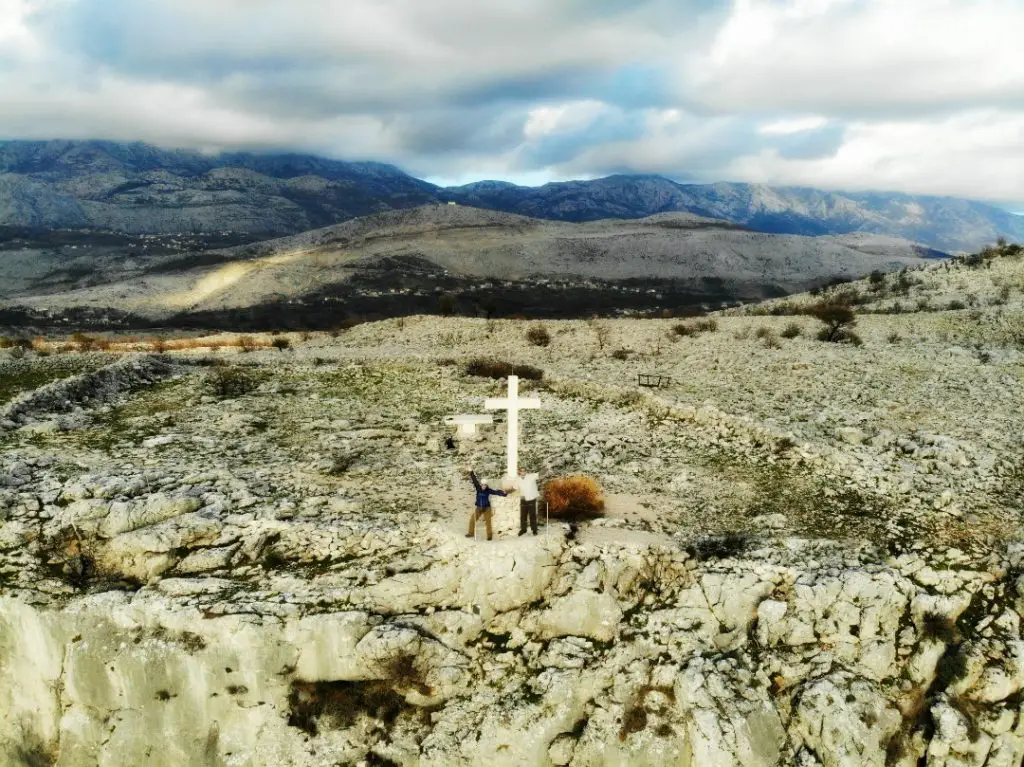 Our favorite hike up Perun Hill begins at Old Podstrana. The Stations of the Cross trail will take you to the Chapel of Saint George. This old church is dated no later than the 11th century.
We use this budget-savvy travel health insurance to protect our trips – get a quick quote.
Visit Cetina Canyon & Omiš
Our route will take you from the mountains down to Omiš. Along the ride, you'll have the opportunity to stop at the Church of the Assumption of the Blessed Virgin Mary and the Ivan Meštrović – Mila Gojsalić statue. Right next to the statue is a beautiful waterfall.
The greatest opportunities for an active vacation are provided in the Cetina Canyon, which has enjoyed the status of a protected landscape since 1963. This is where you'll find extreme activities such as zip-lining, kayaking, extreme canyoning, and rafting. This area also provides scenic walks along the river and sightseeing riverboat tours which depart directly from Omiš.
Cetina Canyon Zipline Adventure > Check Availability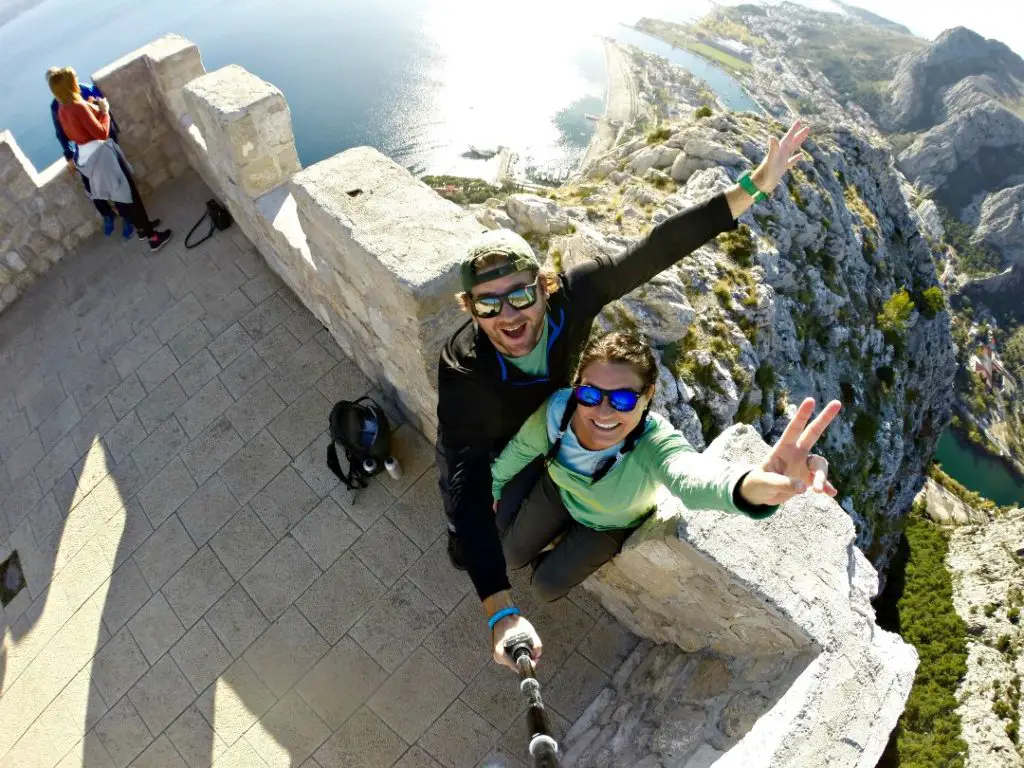 The mouth of the Cetina River hits the Adriatic Sea in Omiš. We encourage you to visit the Old Town and take a stroll up to either the much higher Starigrad Fortress or the lower Mirabella Fortress. Those looking for a coffee stop may appreciate the outdoor rooftop bar called Eol Bar which offers gorgeous views of the fortresses.
Extreme Canyoning on Cetina River > Check Availability
Swim in the Podstrana Riviera
The Podstrana Riviera was blessed with an abundance of beautiful beaches. During our stay, we rented a scooter from an agency in Podstrana which we discuss more in depth below. With a scooter, it's easy to stop and enjoy a beach that may not be very easily accessible by car.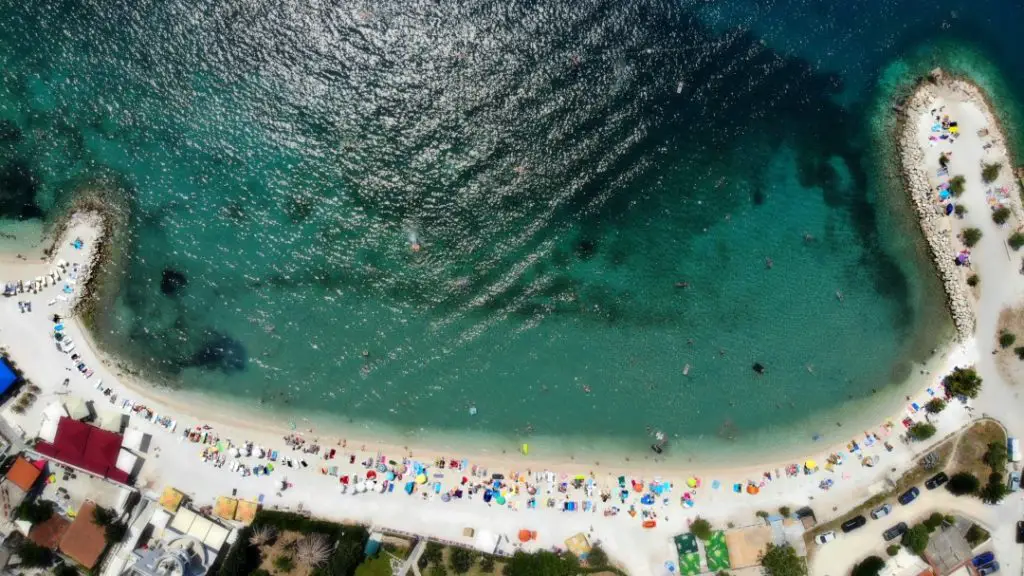 For a great photo opportunity, make sure to stop at the huge stone-made replica of the legendary King Arthur's sword sticking out of the beach near Café Porat.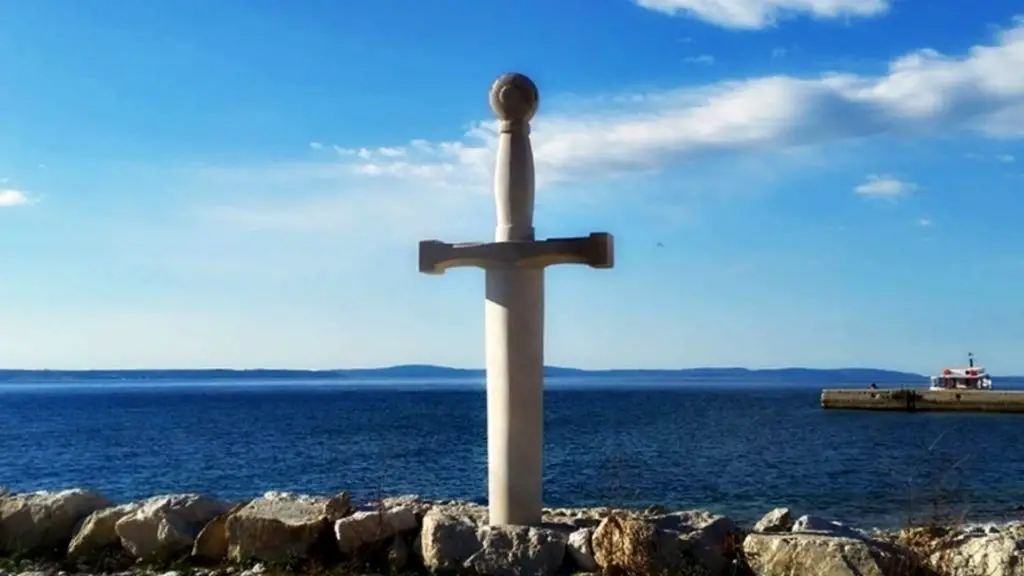 Apparently, located near a fence on the grounds of the old St. Martin church was the sarcophagus of Lucius Artorius Castus (2nd century AD) which held historical evidence of his ancient asylum and a long-time gone empire. In other words, King Arthur may have been buried in Podstrana.
Roman City of Salona
Many tourists visiting Split will often skip visiting the ruins of the Roman city of Salona. These ancient ruins are located in Solin, a city that's only about 3 miles from the Split city center. Of course, the ancient city has been overshadowed by the much more popular Diocletian's Palace.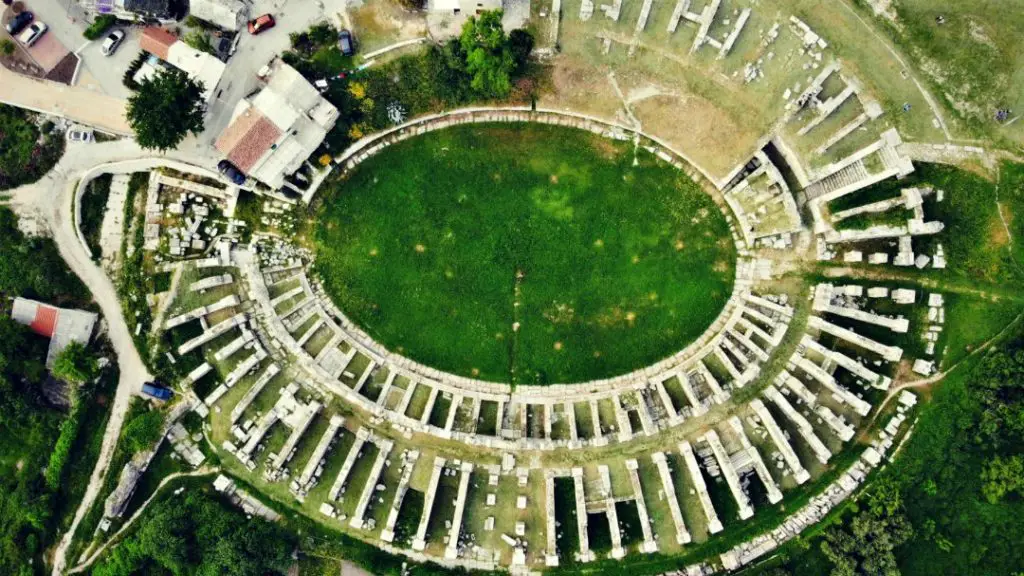 The highlight of visiting Salona is the magnificent remains of a 2nd-century amphitheater. At the height of its time, it had a capacity of holding about 20,000 spectators.
The 48-Hour Open-Top Hop-On Hop-Off Bus Pass from Split takes passengers to Salona and Klis Fortress. These are two must-see attractions located just outside the city center.
48-Hour Open-Top Bus Pass from Split > Buy Tickets
Trogir & Čiovo Island
Delightful Trogir is set on a tiny island within medieval walls. It's linked to both the mainland and the far larger Čiovo Island by two small bridges. During the summer months, the Trogir Riva is jam-packed with tourists looking to enjoy the small Old Town.
Parking a car in this area during the height of tourist season can be a real nightmare. However, on a scooter, it's a piece of cake. Speaking of cake, find a nice spot on the Riva and order a coffee and cake and savor the views of the swaying palm trees and sea breezes.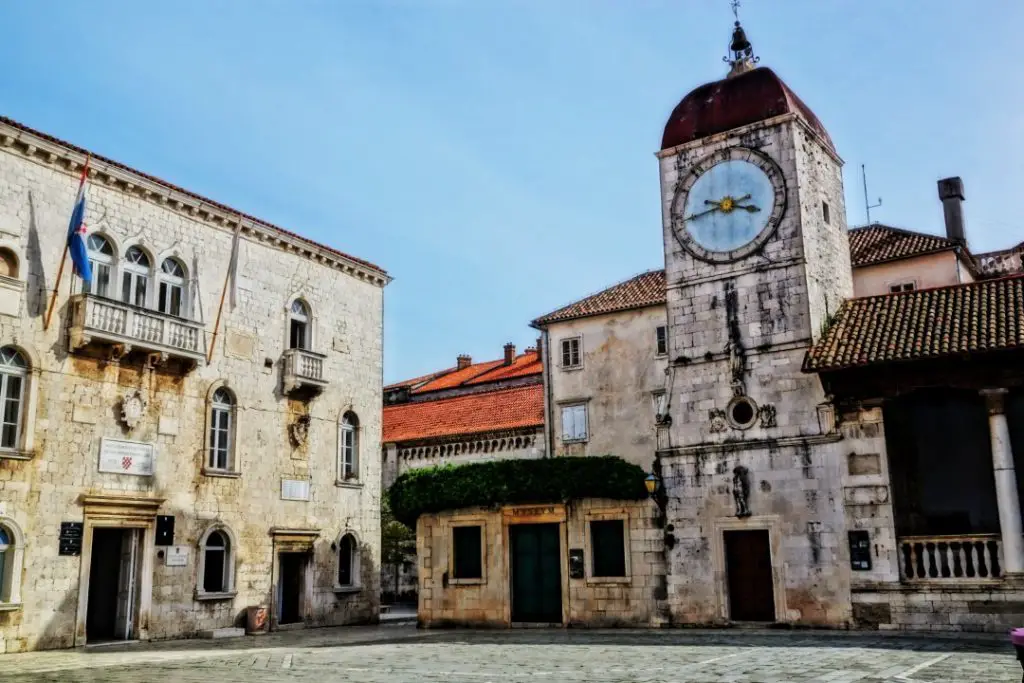 Nearby on the island of Čiovo, there is one spectacular beach that you simply must visit! Labadusa Beach is in a protected bay and provides swimmers with crystal-clear calm water. Also, this relaxed hidden beach provides views of Marjan Hill and Split.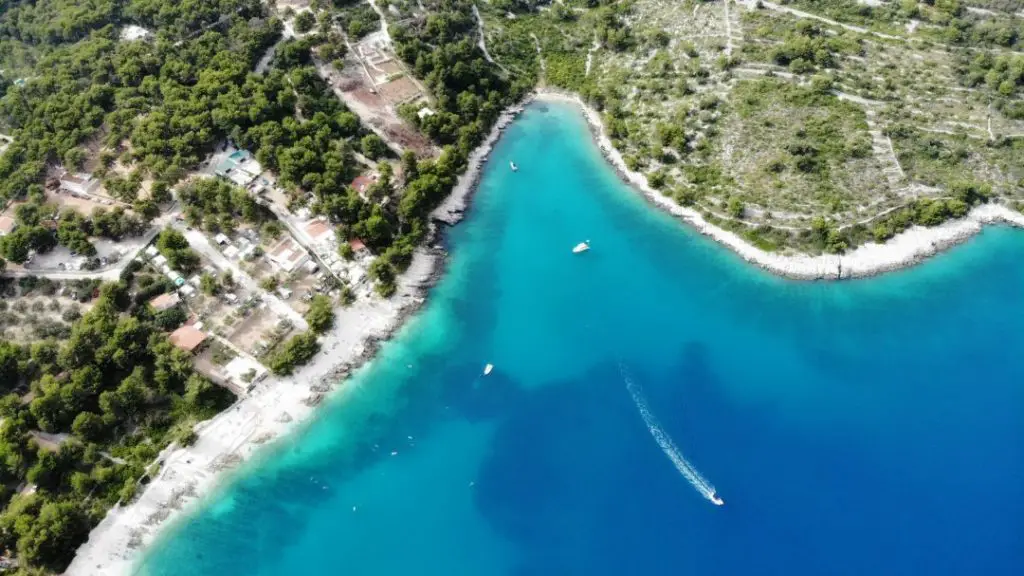 Looking for a little more excitement? Head over to Okrug Gornji Beach to add a little bit of spice to life. This beach has everything from restaurants to cafes, bars, water sports, and supermarkets.
If you don't have a rental car, you can easily visit Trogir on the Blue Lagoon & 3 Islands Half-Day Trip. From Split, you'll travel by boat to the Blue Lagoon for swimming and snorkeling, and stop in the UNESCO World Heritage-listed town of Trogir.
Blue Lagoon, Trogir, & Šolta Half-day Trip From Split > Check Availability
Šolta Island
Although it's the closest island to Split, no one seems to talk about the island of Šolta. However, Šolta is probably the best island to explore by scooter on a day trip from Podstrana.
The quiet island is only a 45-minute ferry ride from Split to the main port of Rogač. As opposed to the other nearby islands, like Brač and Hvar, the terrain on Šolta is quite manageable on a 50cc scooter. Of course, scooters are welcome to board the ferries that take visitors to all the surrounding islands.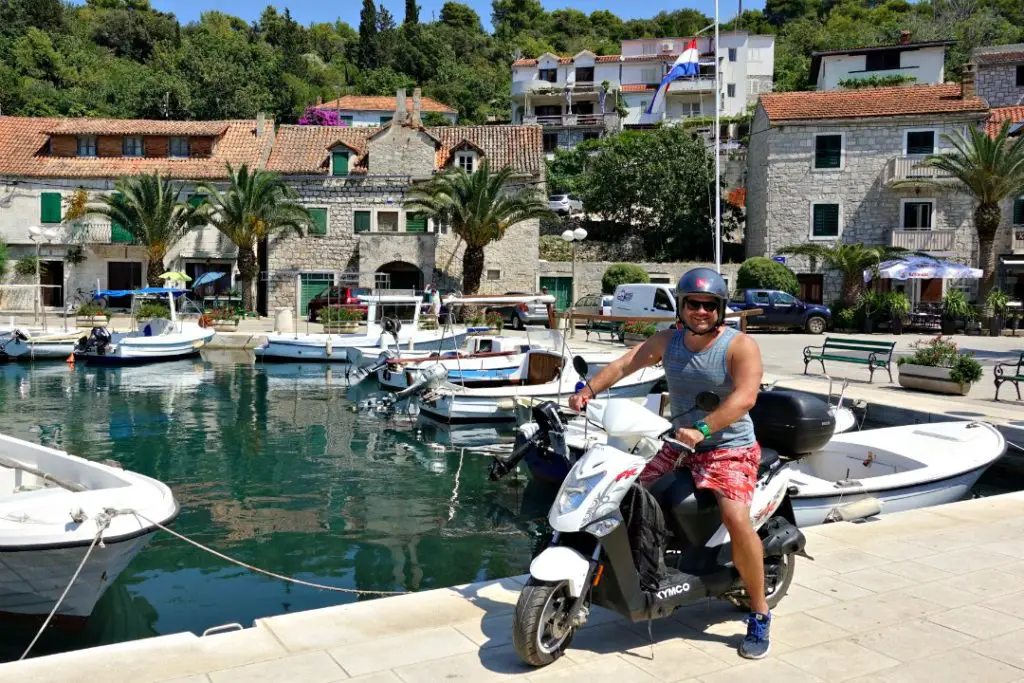 Šolta offers open roads, secluded bays, and lovely rental homes along the coast. While the hordes of summer tourists flock to Hvar, Brač, and Vis, Šolta is quiet and serene. Moreover, if you're looking to get away from the tourists, this island is likely your best bet.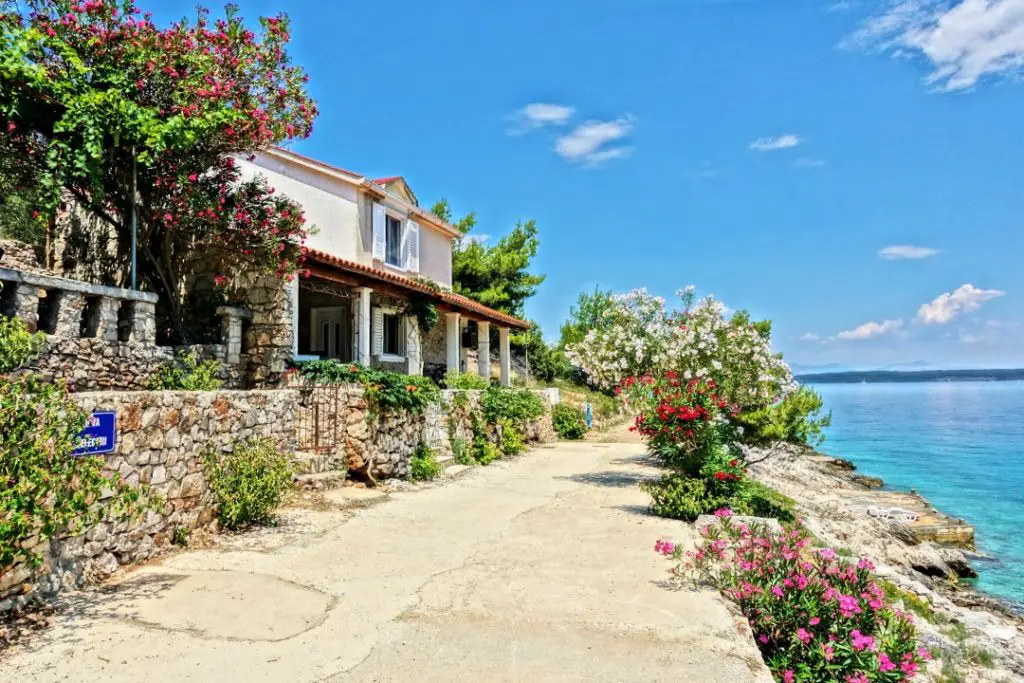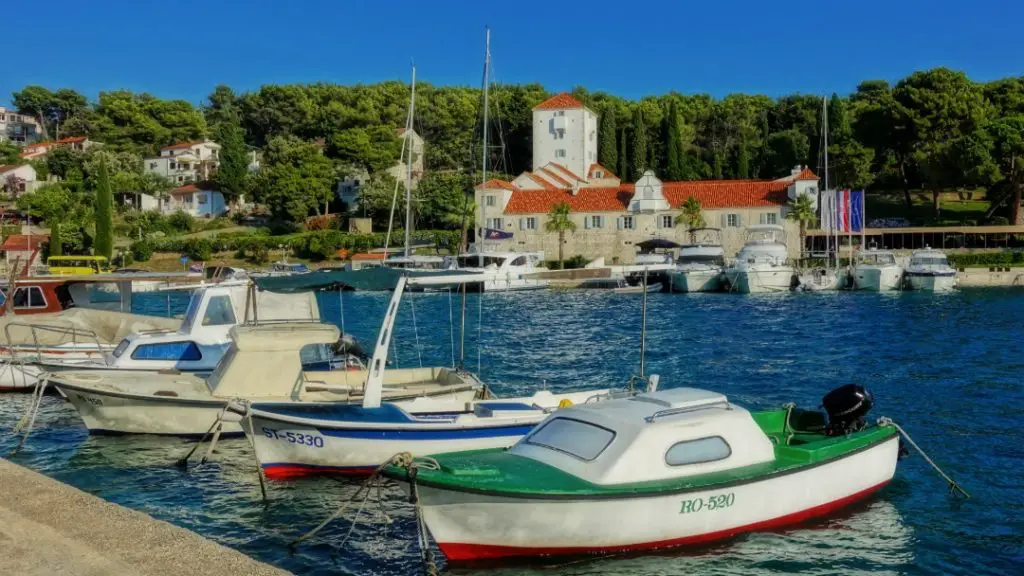 Driving around, you'll notice vineyards and olive groves. In fact, Šolta has olive trees older than 1,000 years old. Be sure to stop at the Slavića Castle and Martinis Marchi Castle, which hosts a lovely luxury hotel.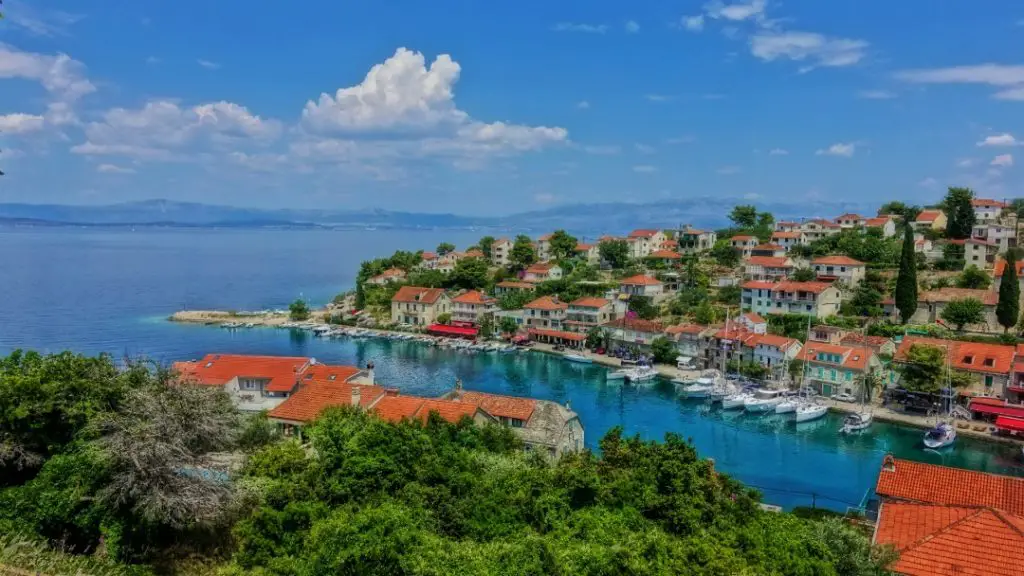 Stomorska is the largest and most developed village in Šolta. It is located on the northeastern part of the island, which is where you'll observe the most excitement and energy. The village of Stomorska has a charming promenade, cafés and restaurants, a public drinking well, and some nearby turquoise bays for easily accessible swimming.
Maslinica, on the western side of the island, offers a more laid-back, beachy vibe with seaside café bars. The main beach is opposite the marina. It sometimes has more turbulent waters as it isn't as protected as some of the other bays and beaches on the island.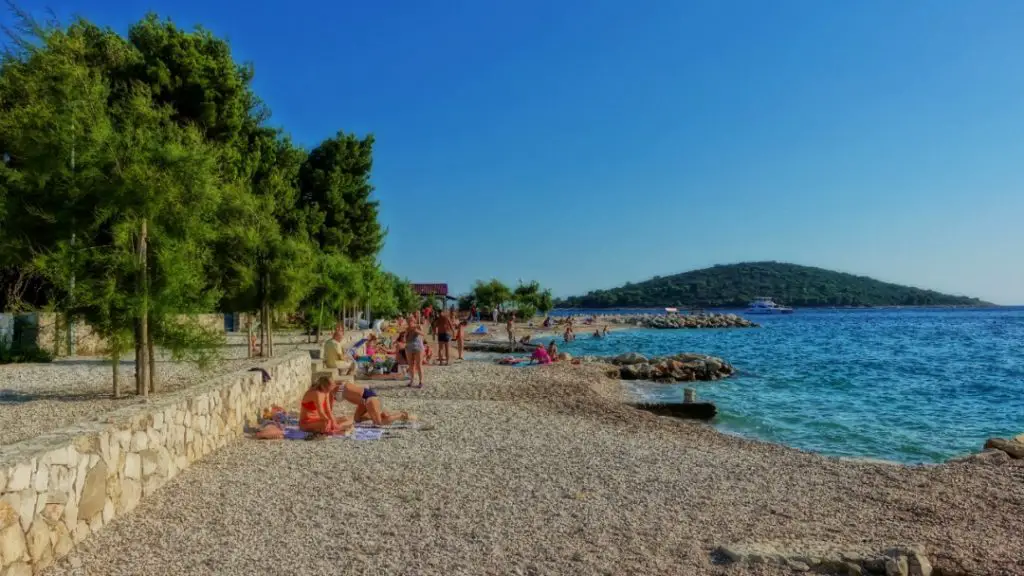 Stračinska Bay
Located on Šolta, Stračinska Bay is probably the most beautiful beach on the island. Due to its remote location, you'll likely have this dreamy destination all to yourself. Although many of Šolta's 24 bays are only accessible by boat, Stračinska Bay can be reached by scooter.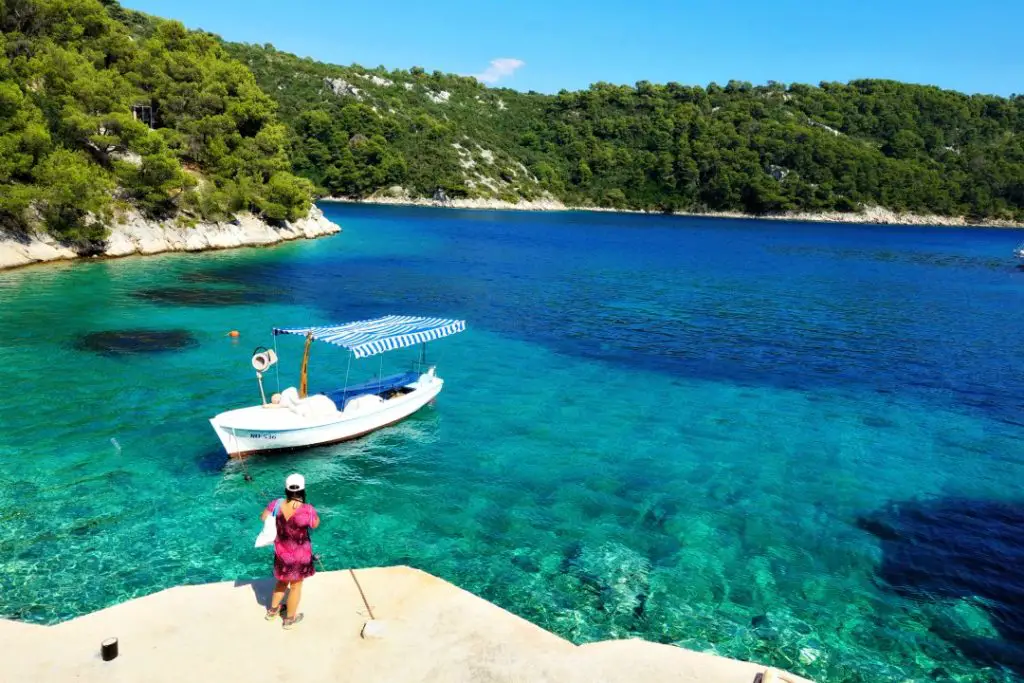 The Best Place to Rent a Scooter in Podstrana
With car rentals being costly and cumbersome, many tourists appreciate the ease and flexibility of renting a scooter. Of course, having a set of wheels offered us the freedom to explore the best Croatian beaches and backroads which went beyond our home base in Podstrana.
Are you looking to rent a scooter to explore beyond Podstrana? We rented our 50cc scooter easily through Avere Tourism. They offer scooter rentals with helmets and insurance.
The rental office is conveniently located in the village of Podstrana, next to the Visit Podstrana Tourism Board. Additionally, Avere Tourism has a support team that is available 24/7 and also offers tours to all the hotspots in the region.
TRAVEL TIPS
🏘️ Book Your Accommodation
We use Tripadvisor and Priceline's Express Deals to compare prices and reviews in advance and check availability
✈️ Book Your Flight in Advance
To find the cheapest flight options, you can use WayAway and Skyscanner to find the most suitable choice for you
🚗 Reserve Your Rental Car
Use DiscoverCars and Skyscanner to compare prices and view the largest selection of vehicles