You can visit Russia visa free for up to 72 hours on the St. Peter Line ferry. Visiting Russia will usually require a long and grueling visa application process and a $160 fee per person — but did you know you can visit Russia visa-free? It is possible to travel visa-free when traveling by ferry. In other words, it's possible to visit St. Petersburg, Russia for up to 72 hours visa-free when arriving by ferry.
Visit Russia Visa-Free on the St. Peter Line Ferry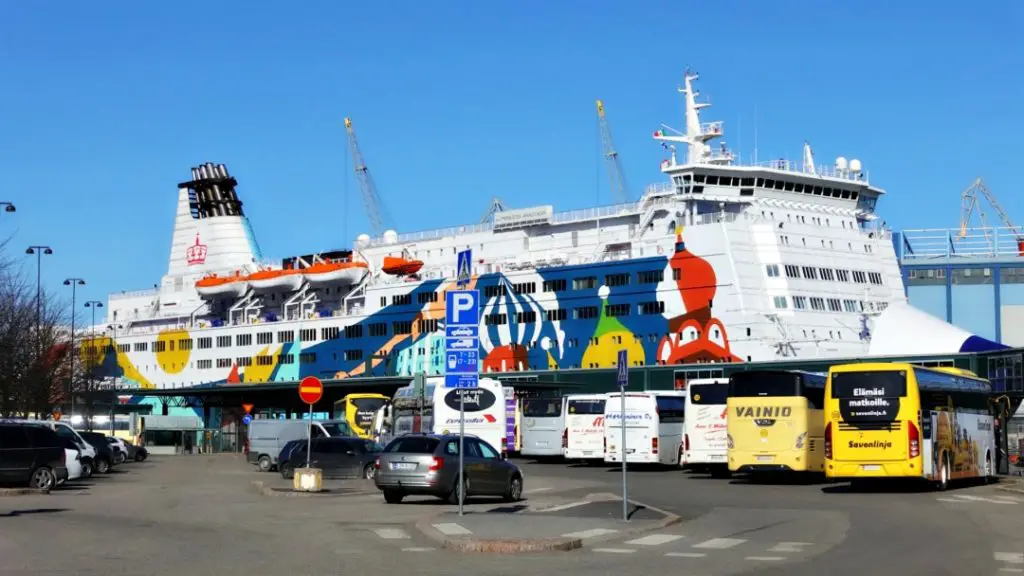 We've wanted to visit Russia for a long time, but the cost and hassle of the visa discouraged us. After all, most people who visit Russia will usually only go to Moscow and St. Petersburg. We figured we could visit St. Petersburg for a couple of days and if we enjoyed Russia, we could plan a trip to Moscow at a later date.
See in and around the ship in the video below!
The booking process is fairly simple on the Moby St. Peter Line website. However, two points may require a closer look.
The St. Peter Line Ferry Website is Confusing
First, there's an option to either book a cruise or a one-way ferry.  I booked the ferry because it's the cheapest option. Also, the website is a little confusing when trying to book a return ticket to a different city (Helsinki to St. Petersburg to Tallinn), be sure to check the schedule and it should help when booking the tickets. The only other part that you should take note of is making sure you're booking the correct nights. Although the visa is for 72 hours, you're only visiting for about 57 hours. Here's why:
Day 1: Helsinki disembarks at 19:00 (overnight on the ship)
Day 2: Arrive in St. Petersburg at 9:00 (overnight in St. Petersburg)
Day 3: Overnight in St. Petersburg
Day 4: St. Petersburg disembark (18:30)
Even after purchasing the tickets, what surprised us was how little information was available about this ferry. All we received was this booking confirmation:
After paying for the cabin, all we received was this booking confirmation.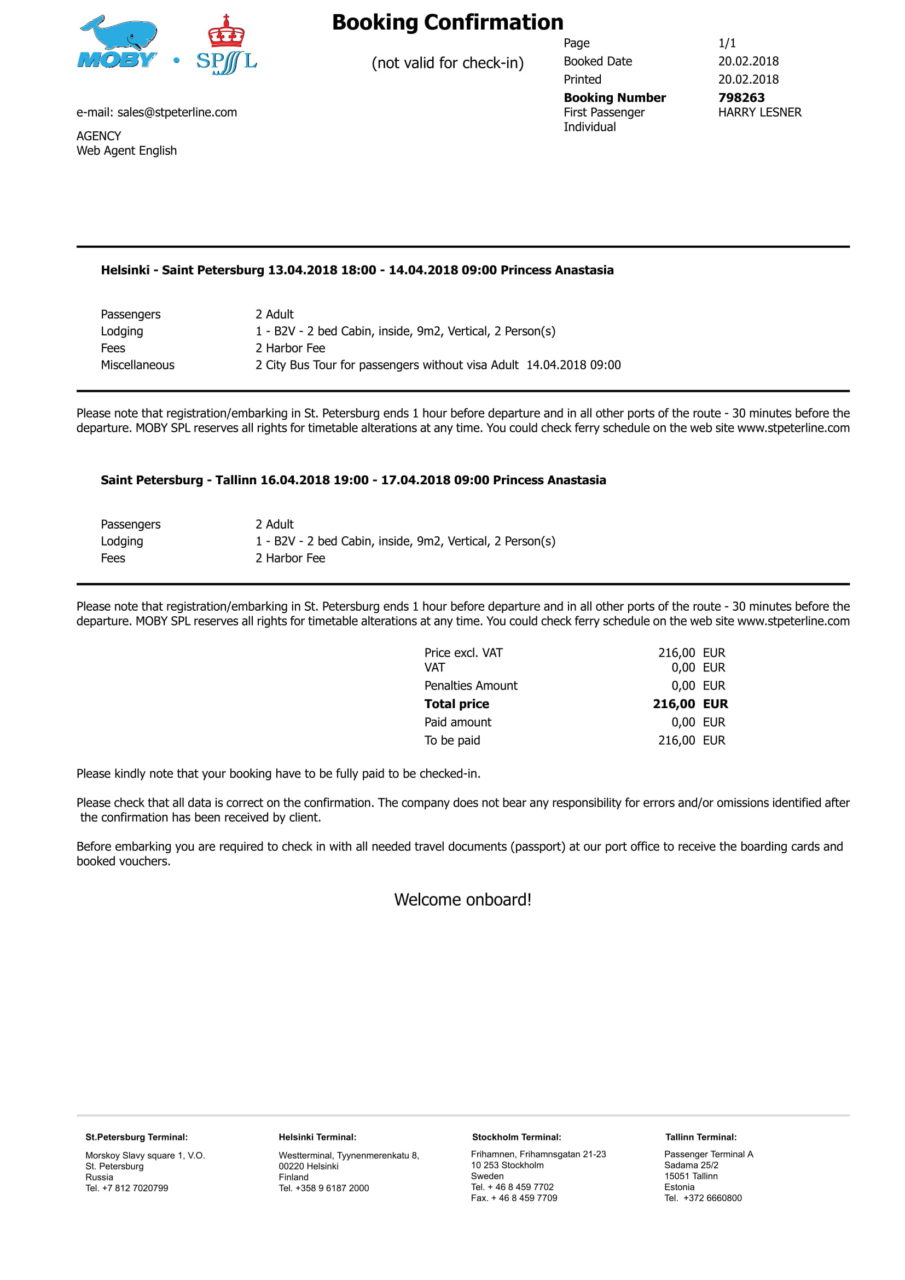 All you receive is a booking confirmation and virtually nothing else. We didn't know about what food or drinks we could bring on board, whether we were supposed to stay in a hotel in St. Petersburg or stay on the boat, or if we had to book a place to stay through the St. Peter Line website, etc. Many questions were left unanswered. Hopefully, we can answer your questions here.
Check-In Process
When checking in at the Helsinki port/terminal (with the St. Peter Line staff), we had to verify proof of where we were going to stay for the two nights while in St. Petersburg. On the St. Peter Line website, it states that you may book either a hotel or an apartment. Therefore, we booked an apartment through Airbnb.
However, this is the point at which we encountered an issue checking in. Although we had proof of an apartment booking, a screenshot of the website saying that an apartment stay was permitted, and an online letter from our Russian Airbnb host stating that he was hosting us with his contact information, the Saint Peter Line staff was hesitant to let us aboard.
Booking.com Reservations
The Saint Peter Line staff will not accept an Airbnb reservation, they will only accept reservations through Booking.com. The staff was concerned that the immigration officers at the port of St. Petersburg wouldn't allow us entry into the country with an Airbnb reservation. Apparently, Russian immigration believes that apartment stays are more difficult to monitor for foreigners and want proof of stay through a more "official" website.
To avoid any issues upon arrival, the Helsinki staff recommended that we book another reservation through booking.com in case we were questioned by immigration. The port in Helsinki has free Wi-Fi so we immediately booked the cheapest hostel we could find, it was about USD 15 for two nights, and we ended up staying at the Airbnb apartment. When we reached our apartment we quickly canceled the reservation at the hostel and were never charged for the stay.
After all the worry, the immigration officers never even asked for proof of our accommodations. Overall, we wanted to cover our bases to ensure our entry into Russia was hassle-free.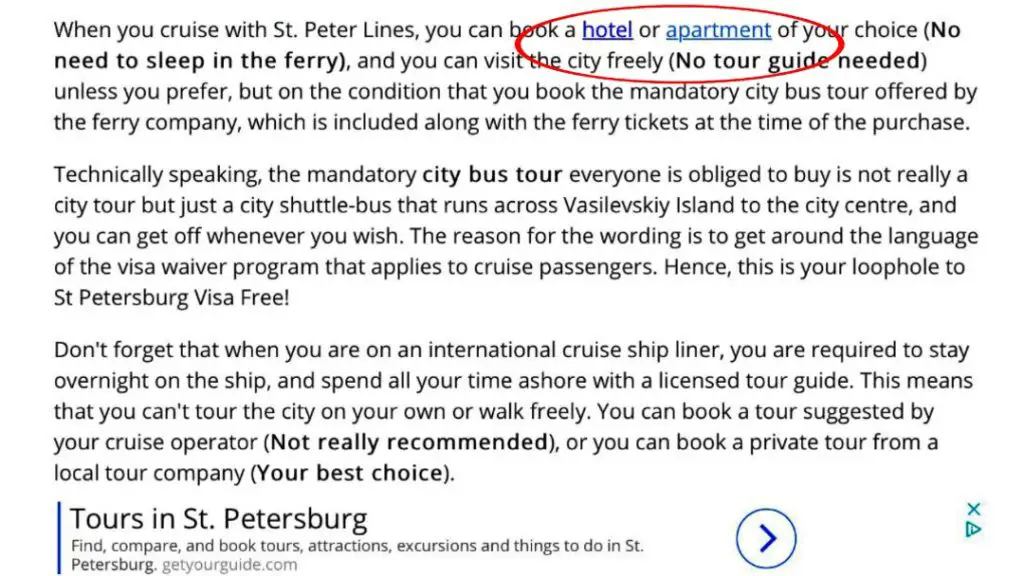 Budget Tip: Even though the St. Peter Line website states that you must book accommodations through their website, you don't have to.  You just need to prove that you've booked accommodation within the city on Booking.com.
Where to Stay in St Petersburg
In terms of figuring out where to stay, make sure you book something relatively close to a metro stop—it will make getting around the city that much easier. Our favorite location is accommodations near Admiralteyskaya Metro Station, in the heart of the city. However, prices will decrease the farther you locate yourself away from the city center, just stay near a metro stop.
Here are a few recommended lodging options, all within the best location in St Petersburg:
Budget: Renome Hotel (excellent location, great for couples), Apart-Hotel Victoria Bolshaya Morskaya (modern, super clean, best location in the city), NETIZEN Saint Petersburg Center (cheap but chic dorm rooms, breakfast, private rooms, common social areas)
Mid Range: Bronza Hotel (stylish boutique hotel, large rooms), Kaleidoscope Central (highly ranked, clean, nice views)
Luxury: Lotte Hotel (One of the Leading Hotels in the World, 5 stars), The Angleterre Hotel (breakfast, great amenities, grand historic hotel)
Budget Tip: The port in St. Petersburg doesn't have Wi-Fi. Therefore, if you need to use it for any Russian immigration issues that may arise, your only option is to go back to the ship and pay the hefty Wi-Fi fees. Packages start at USD 5 for one hour.
Boarding the St. Peter Line Ferry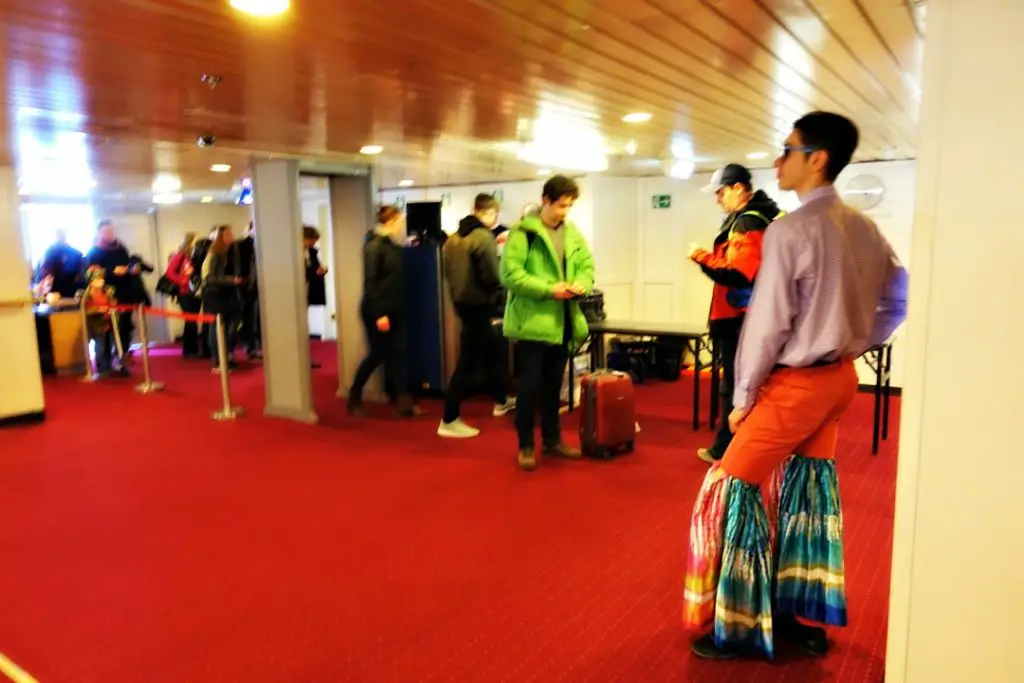 We boarded in Helsinki, and the boarding time is from 15-18:30. We spent one night on the ship arriving in St. Petersburg at 9:00 the following morning.
Also, we purchased a B2V cabin (deck 6), which is the cheapest one available. Our room was directly below the Show Bar Columbus (deck 7), so even at 17:00, the cabin was vibrating from the bass of the loud music.
View this short clip to see our journey continuing in Russia!
We quickly realized that this wasn't going to work. The bar was going to be open until 2 a.m. and we wanted a good night's rest. Therefore, we went to the information desk (deck 6) and requested to have our cabin changed. They simply asked if we could wait until after the ship disembarked to make the change. We agreed.
Budget Tip: Go to the information desk and get a daily itinerary. It will provide details about entertainment, services onboard, restaurants, and other important information.
Onboard the St. Peter Line Ferry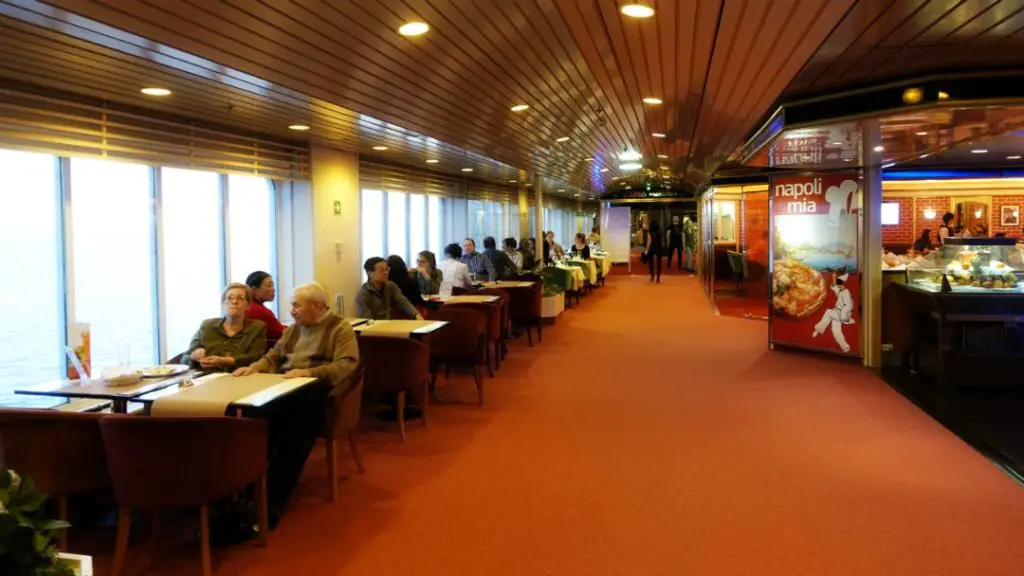 Once the ship disembarked, the information desk (which was very friendly by the way) kindly moved us to deck 5 where it was a peaceful, quiet oasis.
After disembarking, guests may wander the ship enjoying the views from the top deck or claiming their seats for the rest of the evening. The restaurants open at about 18:00, so they're accessible before the ship even departs.
Budget Tip: Unless you're eating at a restaurant, there are only about 20 seats available to relax outside the cabin.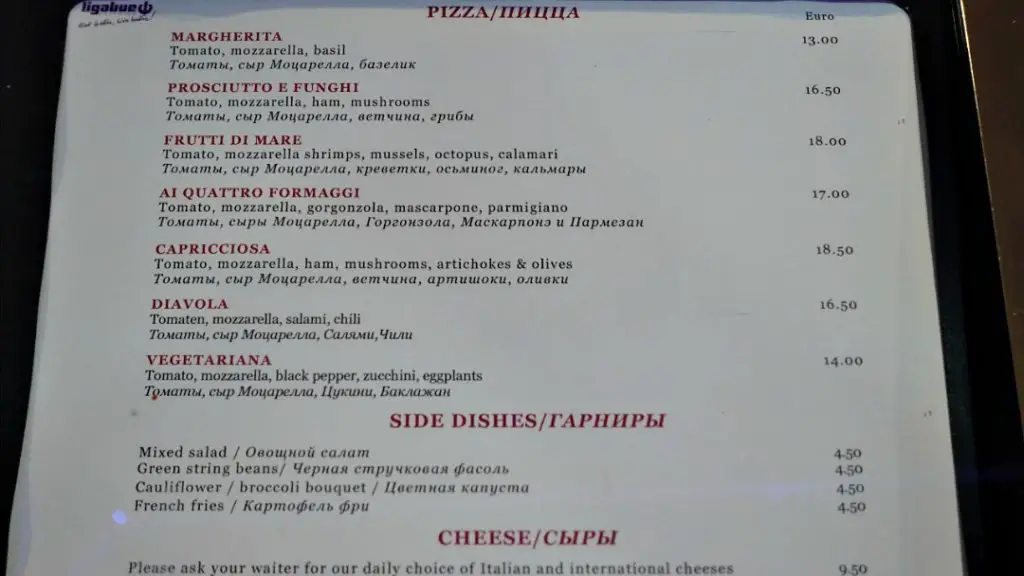 We brought about three liters of water aboard and food for dinner and breakfast. The prices at the restaurants were too expensive for us and we were aware of this.  For example, a small pizza for one person was about 15 euros.
Budget Tip: In terms of food and drink, the only thing you may not bring onboard is alcohol.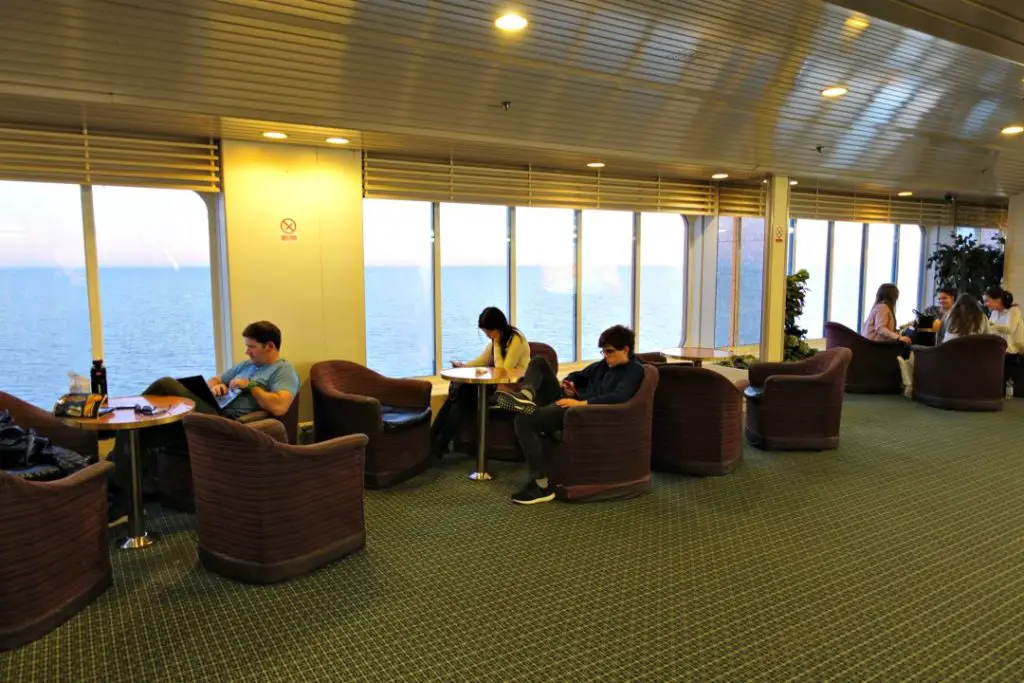 Many guests spend the rest of the evening at Show Bar Columbus where they had entertainment from 20:30-1:00.
Disembarking > St. Petersburg, Russia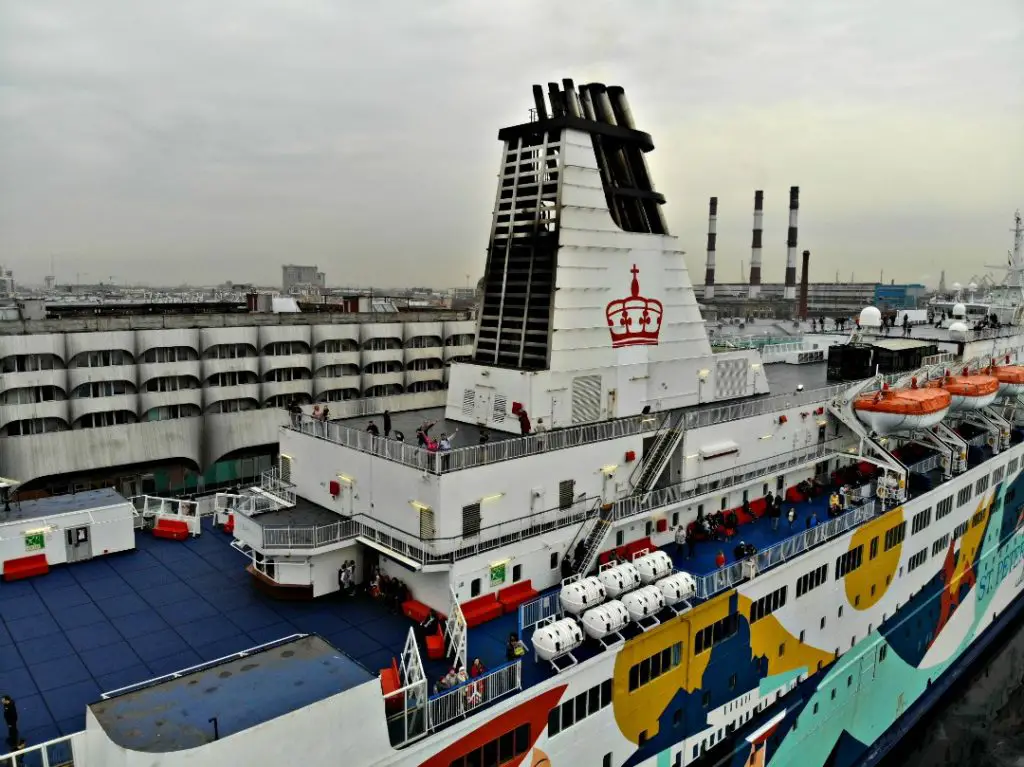 The ship arrives in St. Petersburg at 9:00 and disembarkation typically starts at 9:30. The latest that guests may leave the ship is 11:00.
We left the ship at 10:00, hoping that most guests would be done with immigration and we could quickly pass through. Wrong! After disembarking, it seemed like the entire ship was still waiting in immigration and none of the lines were moving.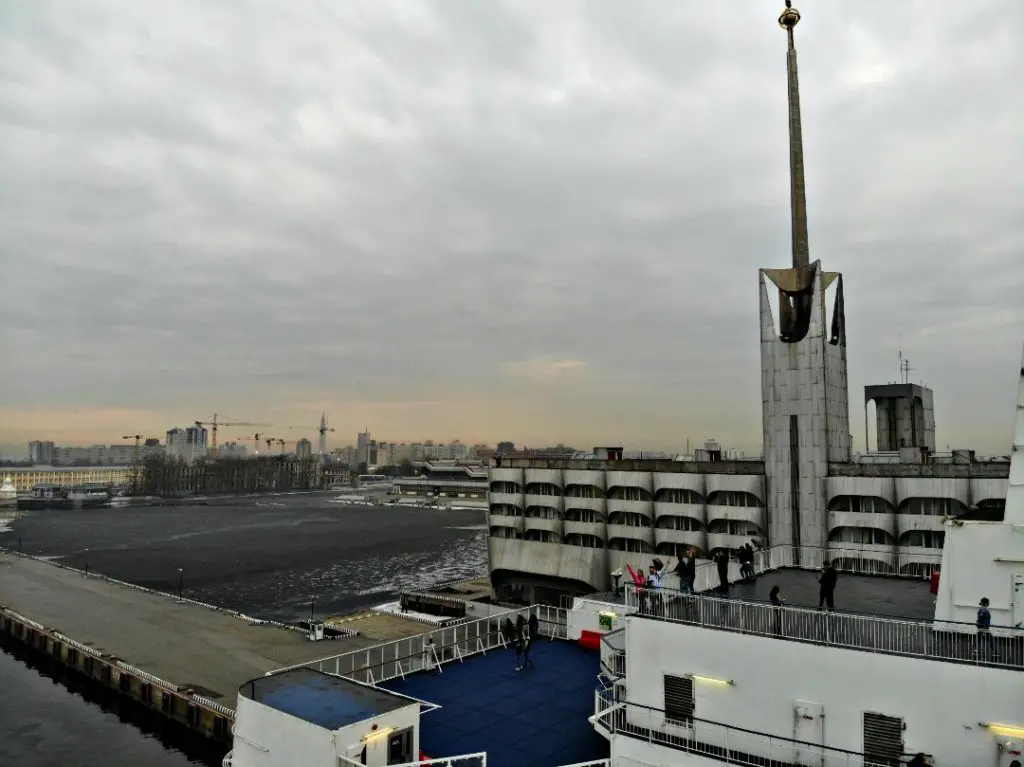 Overall, it took 1:15 minutes to get through immigration and that was only for a couple of hundred people. (The ship was nowhere near capacity). We found out that the reason it takes so long is that the immigration officers have to scan every page in each passport!
Budget Tip: Unless you're able to get off before everyone else, consider waiting until closer to 11:00 to disembark. There's no reason to stand in line if you can enjoy the comfort of the ship.
Getting From the Port to the City Center
Upon leaving the terminal, there were shuttle buses available to take passengers from the port directly to St. Isaac's Square. We sat in the shuttle for about 15 minutes before it left the terminal. The driver was having a bad day and drove like a maniac. He just had a bad attitude. He was the only nasty person we had to deal with while in Russia. The drive takes about 10 minutes.
When purchasing the ferry tickets, you'll notice that you have to purchase a "City Bus Tour" for €25. The transfer from the port to the city center is considered the city bus tour. The "tour" is simply a way for the St. Peter line to fulfill the guidelines of the visa-free rule:
"In accordance with the legislation of the Russian Federation (RF Government Resolution №397), foreign tourists and persons without citizenship or relevant visa and/or proper permission traveling on ferries may arrive in the Russian Federation without a Russian visa for 72 hours being part of an organized excursion group. A visa-free journey can last up to 3 days."
Getting From the City Center Back to the Port
Due to a miscommunication between the St. Peter line staff and us, we thought the latest we could take the shuttle back to the ship from St. Isaac's Square was 17:30. Unbeknownst to us, the shuttle service stops at 17:00. After waiting for about 15 minutes, we gave up and went to the Angleterre Hotel across the street from the pick-up point and asked them to call us a taxi. The taxi cost about USD 7 to get us back to the port.
We almost didn't make it back to the ship because we were eating donuts and drinking vodka!
St. Petersburg > Checking In
We got to the port at about 18:00. The ship departs at 18:30. The St. Peter Line staff were waiting for us and knew our names immediately. After getting into a minor argument with the St. Peter Line staff about the missing shuttle, they gave us the following city bus tour map and schedule.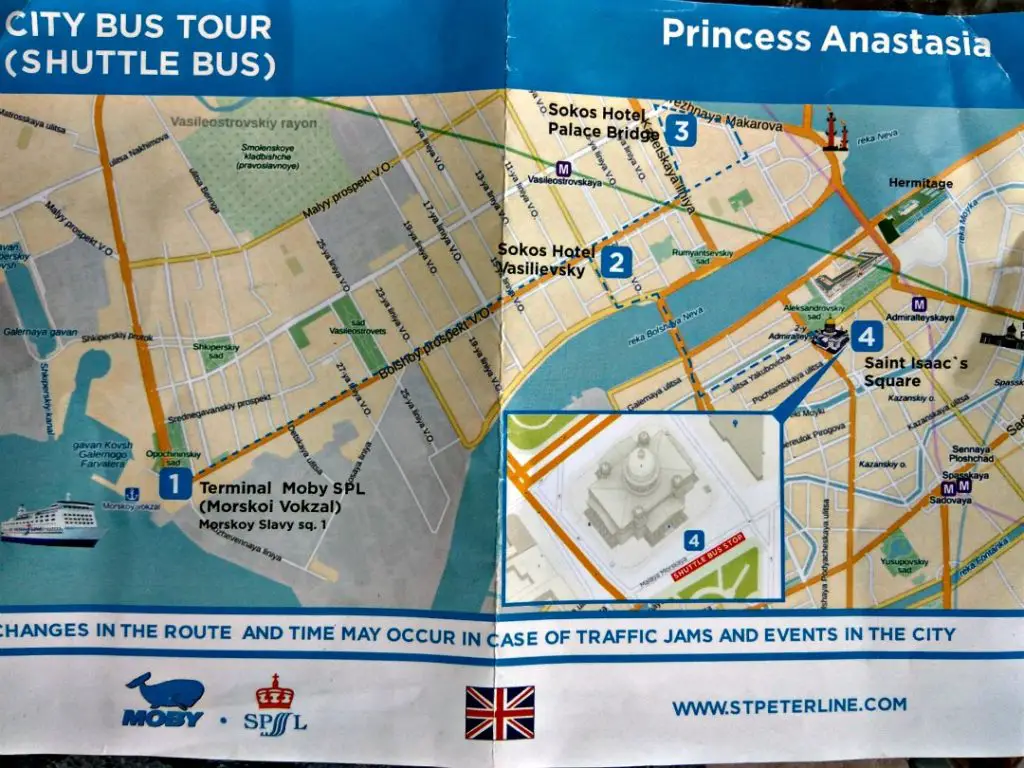 We stated that it would have been nice to have been provided this upon disembarkation, not embarkation. The immigration line was nonexistent and we were quickly processed and boarded the ship.
Disembarking > Tallinn Estonia
You can take your sweet time disembarking the ship in Tallinn. The ship arrives at 9:00 and you'll have until 12:30 before the exits close. The port of Tallinn has free Wi-Fi, places to relax, clean bathrooms, and cafes for snacks and drinks if you have time to fill before your check-in time at your Tallinn accommodation.
Q & A > Visiting Russia Visa-Free
How was the cabin on the ferry?
The cabin seemed clean and quite comfortable for the limited amount of space. We were recently on a 50-foot sailboat so almost anything is going to feel spacious compared to that experience. Since we were only on the ship one night each way, we appreciated taking a digital detox and a little break from civilization.
There is only hand-pump soap in the bathroom. You must supply your toiletries.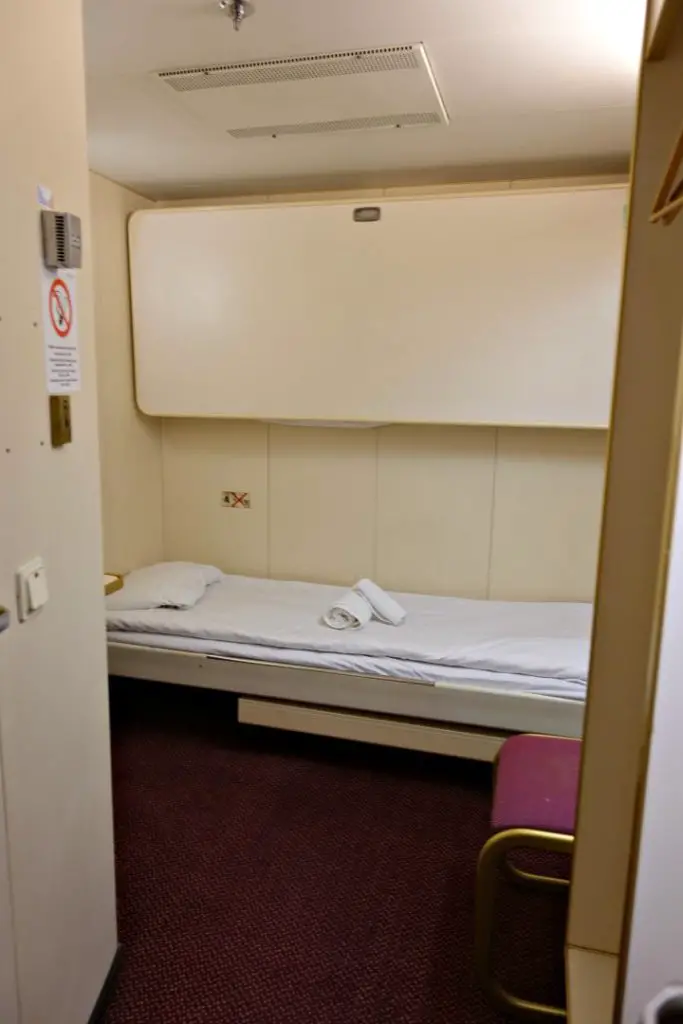 The Wi-Fi onboard is expensive and spotty, so we took it as an opportunity to disconnect, even if it was for only 15 hours each way.  Again, one hour of Wi-Fi costs about USD 5. At night, we read and watched movies on our PC.
Overall, this was so much better than traveling by plane. I'd say we actually kind of liked it. At least for a day or two.
What was the food like on the St. Peter Line ferry?
As previously mentioned, we brought all of the food and water that we were going to eat onboard. After walking around, checking out what people were eating and the prices they were paying, I think we made the right choice. Food and drinks were expensive and the quality seemed pretty average. For meals, we brought: homemade burritos, bananas, breakfast muffins, Snickers, Subway sandwiches, etc.
Budget Tip: If you bring tea or coffee packets, you can get hot water at the Café Bake & Coffee Bar for free. We simply asked the bartender at the Show Bar Columbus for a couple of paper cups and supplied our hot beverages.
How were the crossings in the Bay of Finland?
Extremely smooth. We never felt a wave. No need for motion sickness tablets.
Can you stay overnight on the ship while it's docked in St. Petersburg?
No. Immigration is only open for specific times during the day. You must book somewhere else to stay.
Can you leave personal items or luggage in your cabin?
No, you cannot leave personal belongings behind. Passengers are assigned a new cabin upon boarding again in St. Petersburg. Also, the cabins are cleaned between routes. Therefore, everything we brought with us onto the ship also had to leave with us.
Do you have a hotel that you can recommend in St. Petersburg?
The metro system is safe and cheap so look for a place near a metro station. We booked an apartment through Airbnb because we prefer to have access to a washing machine and a kitchen to prepare some meals. Those that want to avoid any visa issues may prefer to simply book at a hotel or hostel. We booked a two-bedroom apartment for about USD 44 per night. Be advised that water in Saint Petersburg is not safe to drink from the faucet.
What did the daily itineraries look like?
You can receive a daily itinerary by visiting the information desk on deck 6.
Helsinki to St. Petersburg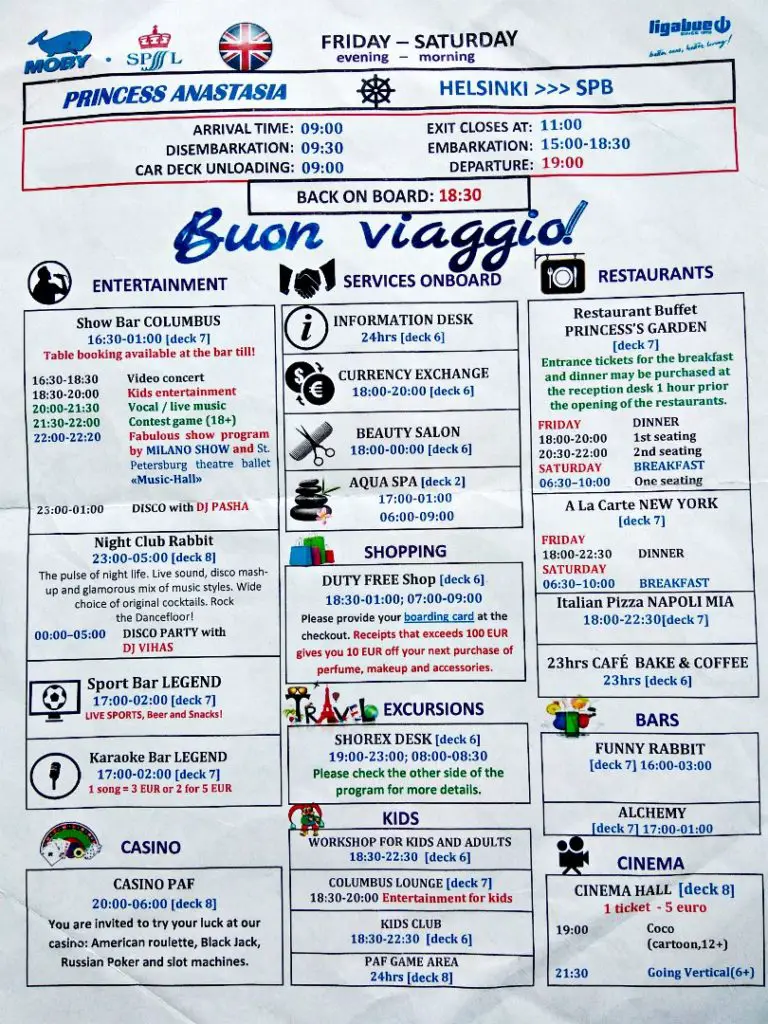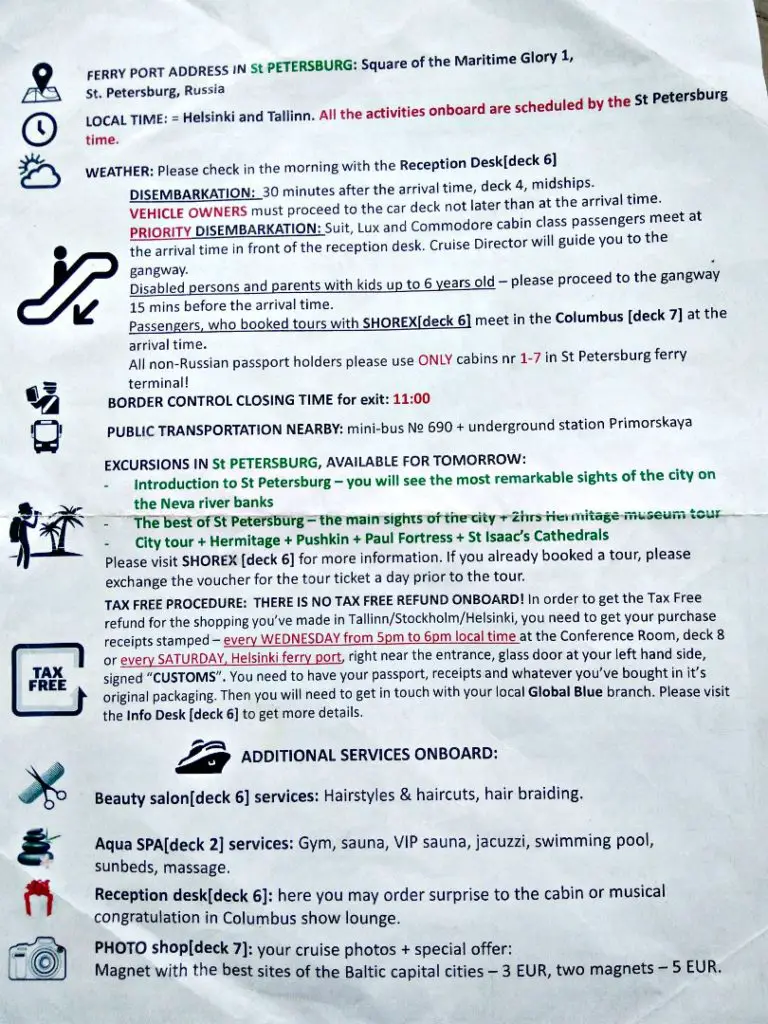 St. Petersburg to Tallinn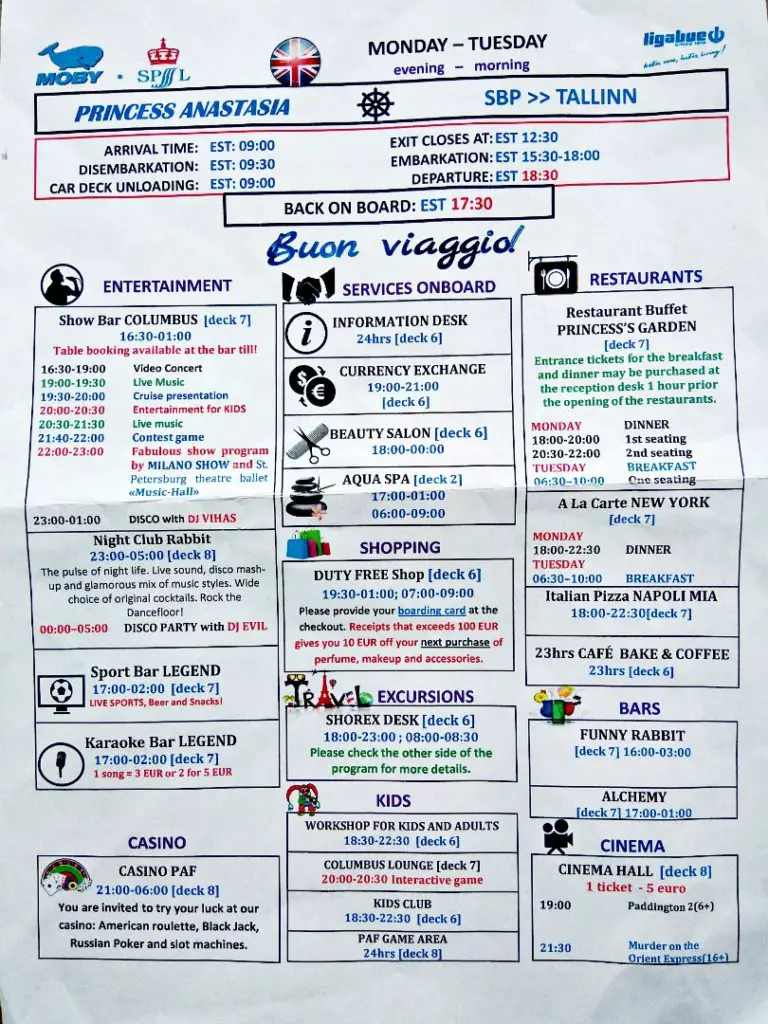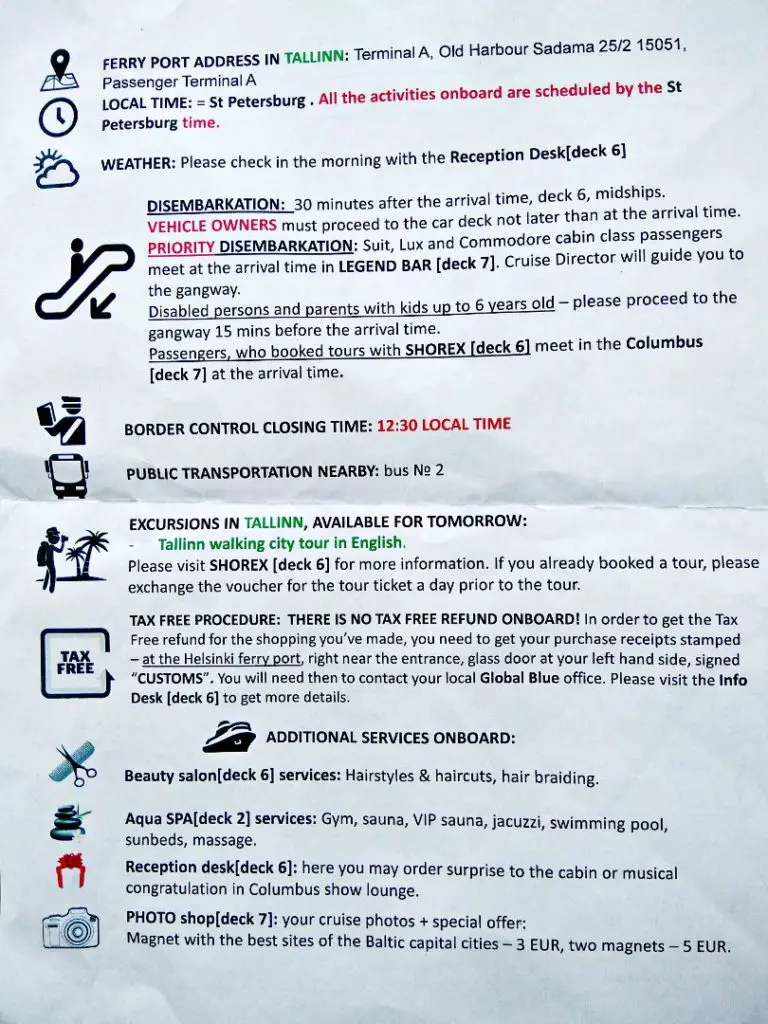 We hope that this guide helped plan your visa free trip to Saint Petersburg, Russia. If you have any questions, please feel free to write them in the comments section below and we'd be happy to help.