Learning how to make crepes is easy. We recently became absolutely obsessed with them and decided to share an easy and quick recipe. We're going to focus on making traditional five-star Slavic crepes, which means, you're going to decide how to create them based on your preference.
How to Make Crepes | Traditional 5-Star Slavic Recipe
Crepes made in Slavic countries are basically very thin American pancakes and are similar to the French crêpe. The main difference between the French and Slavic versions of the dish is in the mixture. In Slavic countries, the batter can be used immediately, unlike French crêpes which must rest for several hours. The French have much more patient stomachs than us Slavs!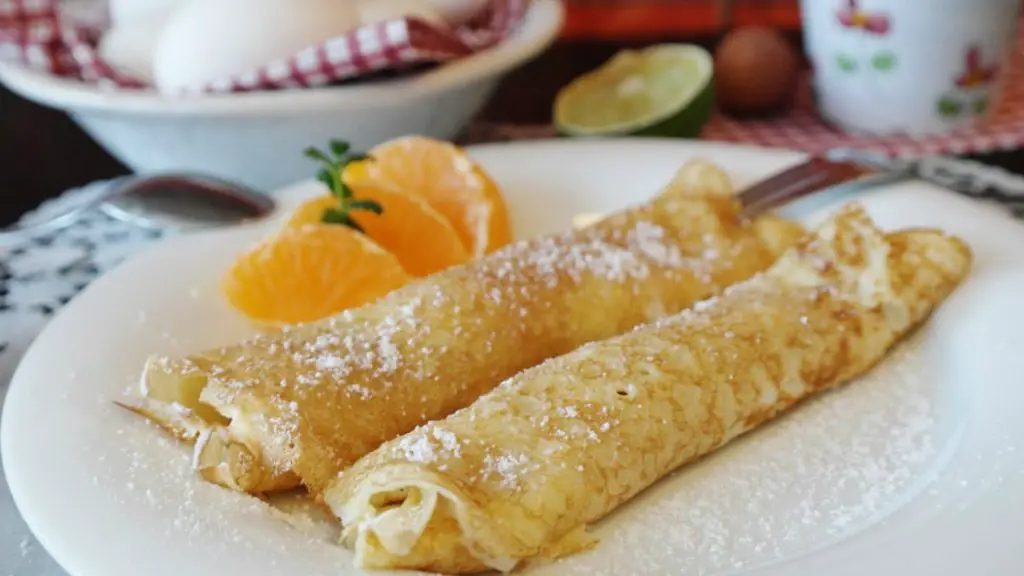 Every Slavic country will add its own little twist to the dish, but the batter will basically consist of the same ingredients. For example, they may be enjoyed with either sweet or savory fillings. Also, once filled and rolled, they may be pan-fried or baked.
Crepes can also get much more complex like in the neighboring non-Slavic country of Hungary, where they have the Gundel "crepe." It's made with ground walnuts, raisins, candied orange peel, cinnamon, and rum filling served flambéed in a dark chocolate sauce that's made with egg yolks, heavy cream, and cocoa.
Don't worry! We're going to stick to the easy and traditional five-star Slavic recipe.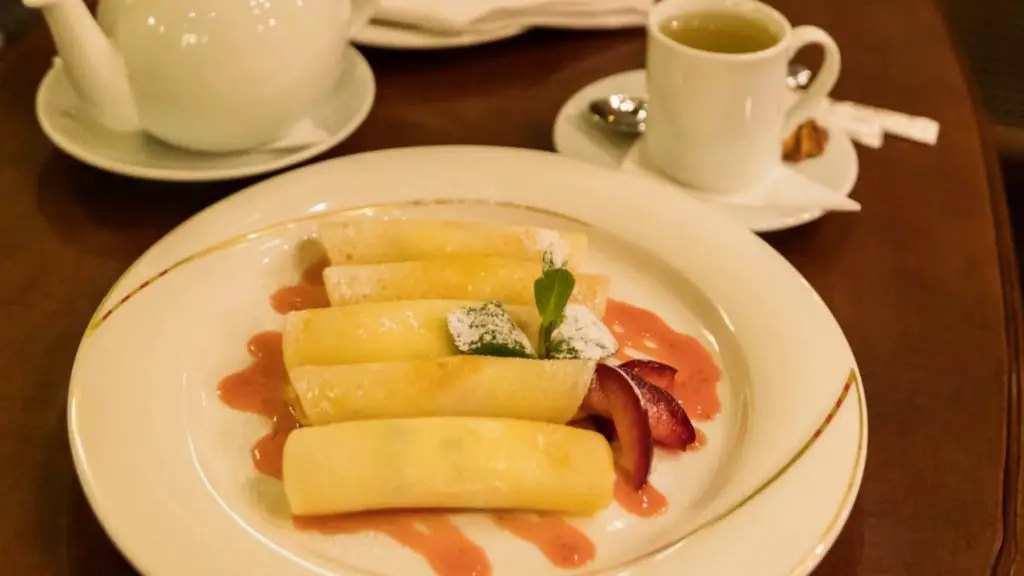 What Are Crepes Called in Slavic Countries
At this point, we now must address the elephant in the room. In Slavic countries, this dish is technically not referred to as "crepes." This is what each country actually calls them:
Bulgaria/Croatia/Czechia/Macedonia/Serbia/Slovenia: Palacinke (pah-lah-CHEEN-keh)
Poland: Naleśniki
Russia/Belarus: Blinchiki/Blini
Ukrainians: Nalysnyky
When you're ready to book your flight, follow these three easy steps to get the best price.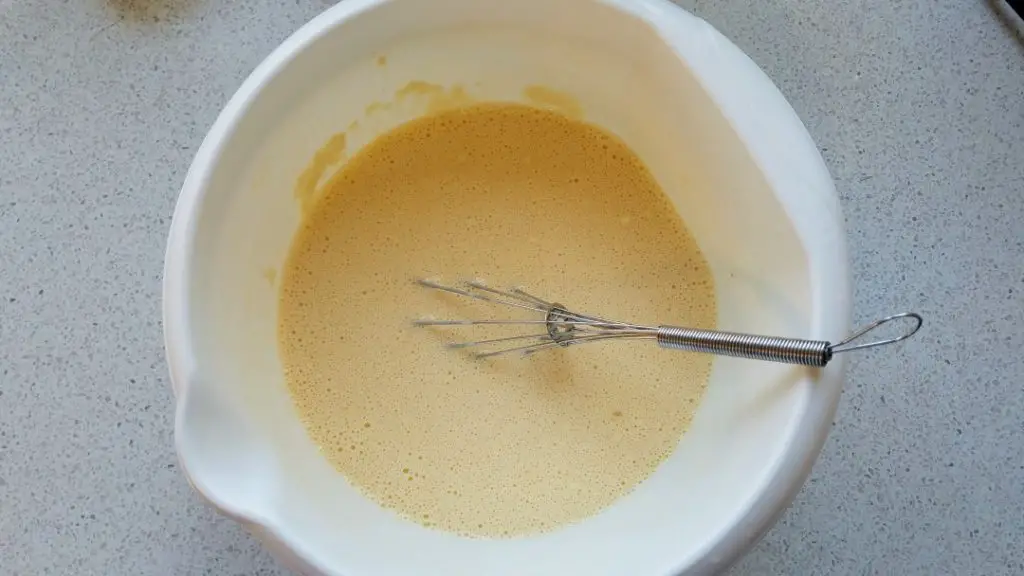 Traditional 5-Star Slavic Crepe Recipe
The most important thing to do when making crepes is to make sure you include all of the ingredients. Don't rush the process and accidentally forget to add something. Also, make sure you're cooking the crepe on a proper crepe pan.
Prep Time: 5 minutes
Cook Time: 15 minutes
Resting Time: 1 hour or longer
Total Amount of Effort: 20 minutes
Servings:  6 to 8 crepes
Calories: Who cares?
Ingredients
4 – large eggs
2 – cups of milk
½ – teaspoon salt
3 – tablespoon sugar
½ – cup water (or club soda like in the traditional Croatian style)
2 – cups flour
6 – tablespoons melted butter
2 – teaspoon vanilla
Oil/butter – Try to use an oil that would be used in the region you're trying to replicate. However, an oil that burns at a higher temperature will most likely be preferred.
How to Make Crepes | Traditional 5-Star Slavic Crepe Recipe
In a blender or with a whisk, mix in eggs, milk, vanilla, sugar, salt, water, flour, and butter.
You may let the batter rest for about an hour or more in the refrigerator or overnight. (We'll give it one hour.)
Heat a skillet over medium-high heat, then lightly coat the hot pan with olive oil, cooking spray, or clarified butter.
Pour about ⅓ cup of batter, depending on your fry pan or skillet. Tilt the pan and swirl it so the batter spreads across the bottom. Cook the crepe for about 1½ minutes or until the bottom is light brown.
If holes in the batter develop, simply use a spoon to quickly fill them with drops of extra batter. Then cook for about 1.5 minutes more until the top part doesn't look glossy anymore.
Use a spatula to pick up the edge of the crepe and then use your fingers to lift it or remove it from the heat. Do not use the spatula to flip the crepes.
Remember, the goal is to create a very thin crepe. Although, some people like them a bit thicker, like us!
Finally, make sure to stack the crepes on top of each other and keep them under a lid. The lid will provide steam and condensation and will make those crispy edges nice and soft. Oh yeah!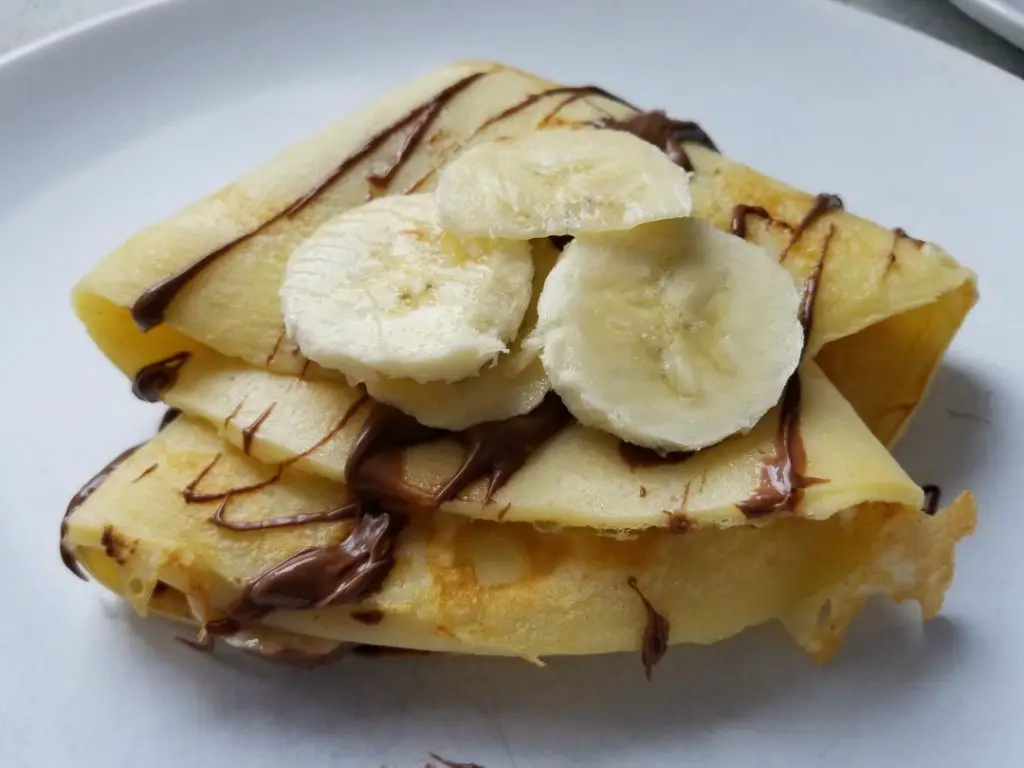 For Those That Like to Live Dangerously
For sweet crepes, you may add 3 tablespoons of sugar and 1 teaspoon of vanilla to the batter.  You may also fill it with fresh fruit, and jams, and top it with whipped cream or powdered sugar. We like to add organic hazelnut spread, bananas, and crushed walnuts to the filling and spread just a bit more on the folded crepe.
For savory crepes, you may fill them with ham, cream cheese, bacon, egg, spinach, onions, herbs, or whatever suits your liking.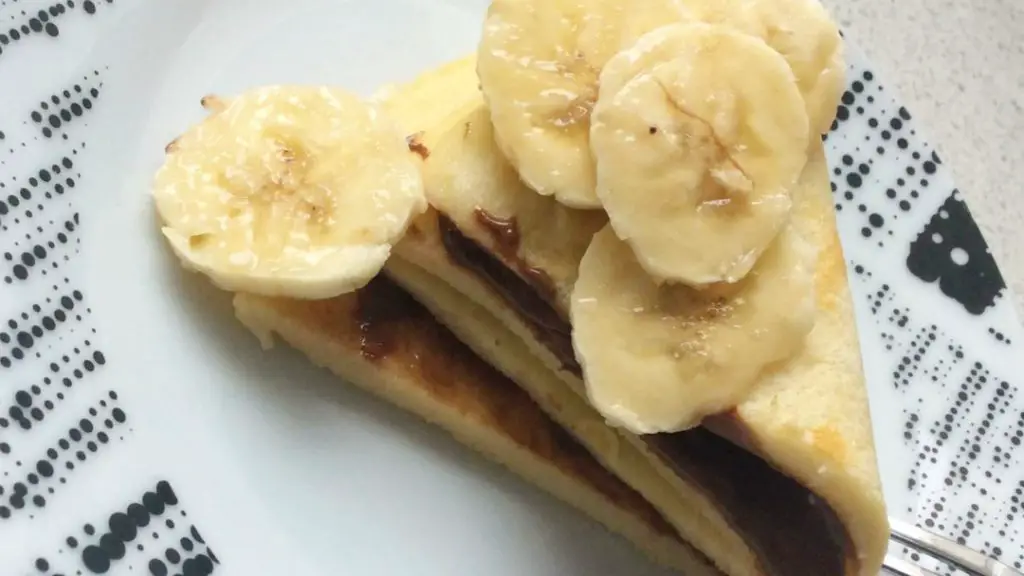 How to Roll a Crepe
If you want to roll up your crepe, start by spreading your filling in a thin, even layer to the edges of the crepe. Use a spatula to smooth it out, and make sure that the filling reaches the very tip of the crepe.
Fold the left and right sides towards the middle. Let the folds overlap slightly to make sure the filling stays inside.
Roll up the crepe from the bottom. When you're finished, the crepe should look like a small rolled taco.
How to Fold a Crepe
Place your crepe on a plate and cover it with filling. To start folding your crepe, lift it from the pan with a spatula and spread the filling over the crepe. Make sure to leave about 2 inches of space around the edges.
Follow the helpful tips below:
Fold the crepe in half. Try to make the edges match up as evenly as possible. The goal is to end up with a semicircle on one side of the plate.
Scoop up the top edge of the crepe and fold it over to make a triangle. Once again, adjust the edges to make them line up neatly.
Continue folding it to make thicker triangles stacked on top of each other, creating a neat stack of triangle folds.
When you get to the end, fold over whatever is left—it might be slightly smaller than the rest of your triangles. Don't worry! This is the bottom of your crepe, and you won't be able to see it.
How do you like to eat traditional 5-star Slavic crepes? Let us know in the comments section below!