Learn how to get to and visit Wolf's Lair in Poland. Take a self-guided tour of Hitler's former headquarters with this guide. Wolf's Lair (Polish: Wilczy Szaniec; German: Wolfsschanze) was constructed in anticipation of the beginning of Operation Barbarossa in June 1941. The massive compound was fabricated deep within the Masurian Lakes region of what is today northeastern Poland.
Considered to be one of several secret Führerhauptquartiere (Führer Headquarters), it represents the precise location where Operation Valkyrie nearly killed Hitler with a suitcase bomb on July 20, 1944.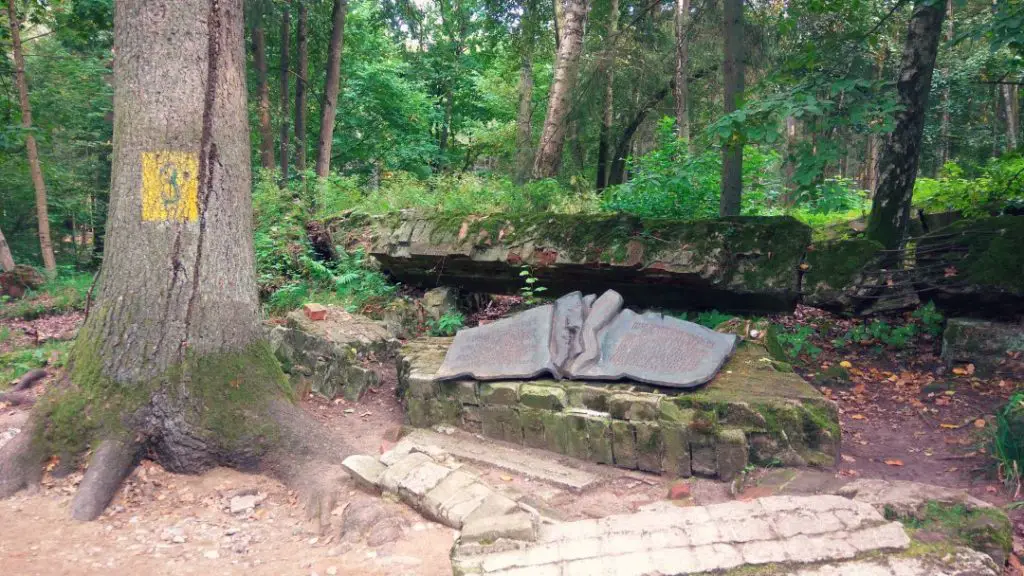 Visiting the Wolf's Lair
Up until November 20, 1944, Hitler spent about 800 days at the Wolf's Lair over a 3½-year period. There's a reason why Hitler felt so safe here. It's in the middle of nowhere.
Therefore, planning a trip here can feel overwhelming. After all, the location was carefully chosen to be away from all important transportation routes and towns. As you begin researching your visit, you'll probably discover the same difficulties that we did in figuring out how to get to the lair and where to stay.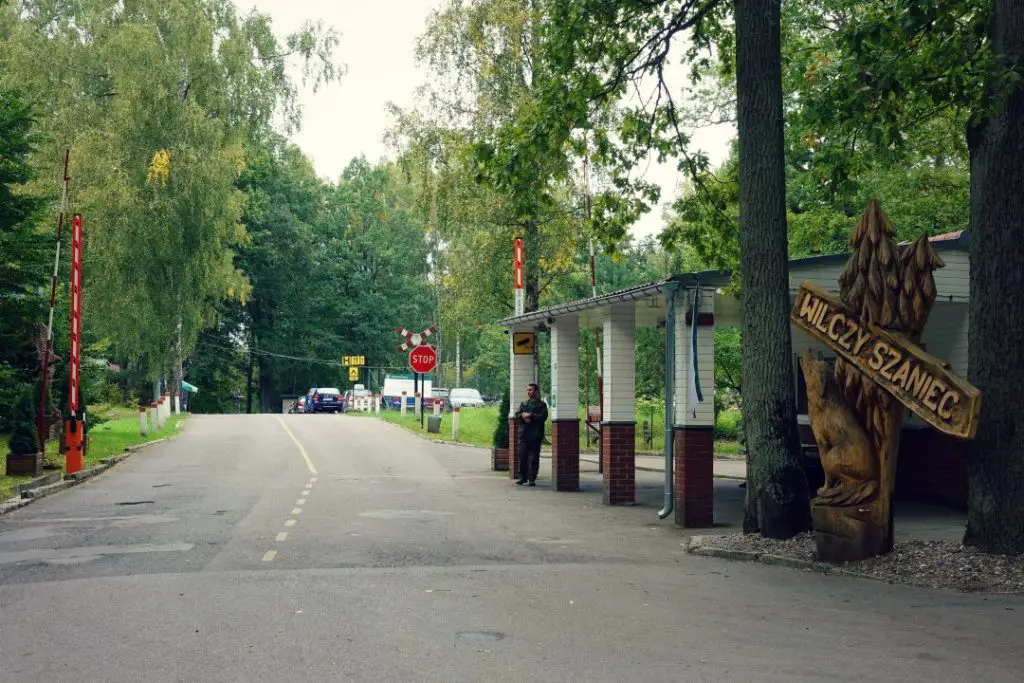 After coming all this way to visit the Wolf's Lair, you'll quickly realize that there's much more here to see then maybe you thought. The last thing you want to feel here is rushed so plan accordingly.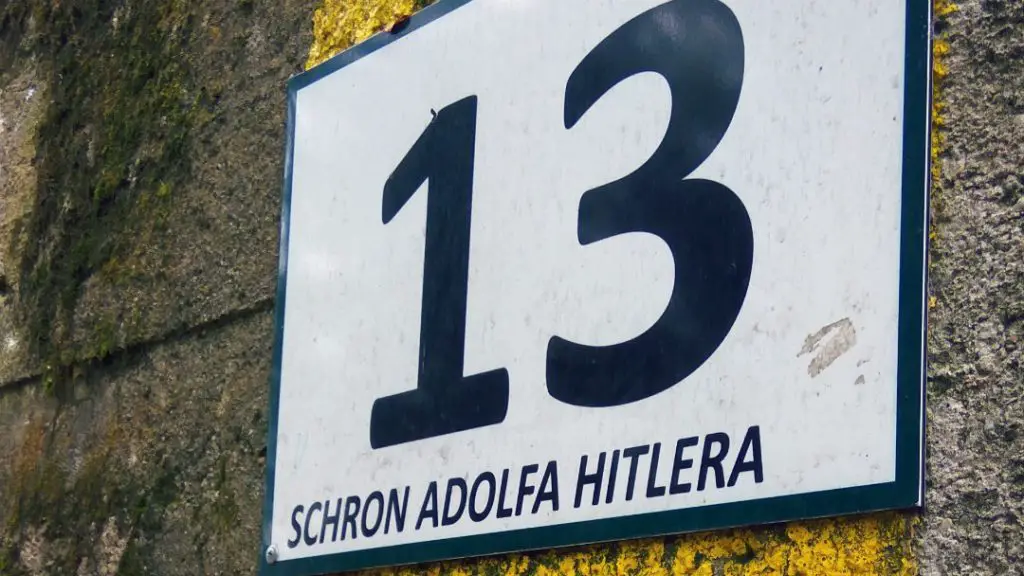 The second you see Hitler's bunker in person and begin to walk closer to it you feel like you're walking in the devil's footsteps. Unfortunately, with most travelers' short holiday schedules, the majority of visitors may only be able to explore Wolf's Lair on a day trip.
💰 Budget Tip
: 
Check out WayAway
—a new flight aggregator platform that provides travelers with the best rates on airline tickets. Users can also purchase the WayAway Plus membership plan, which 
gives cashback
 on flights, accommodation, car rentals, tours, and more. We saved a ton of money using WayAway!
This is usually done by hiring a tour agency to drive directly to the lair or by taking the express trains from Gdansk or Warsaw to Kętrzyn, which will usually take about four hours from both cities. Just the idea of sitting in a car for eight hours made us nauseous (not to mention the expensive price) so we decided to make visiting the historic location a priority during our "slow-travel" tour of Poland.
Our Itinerary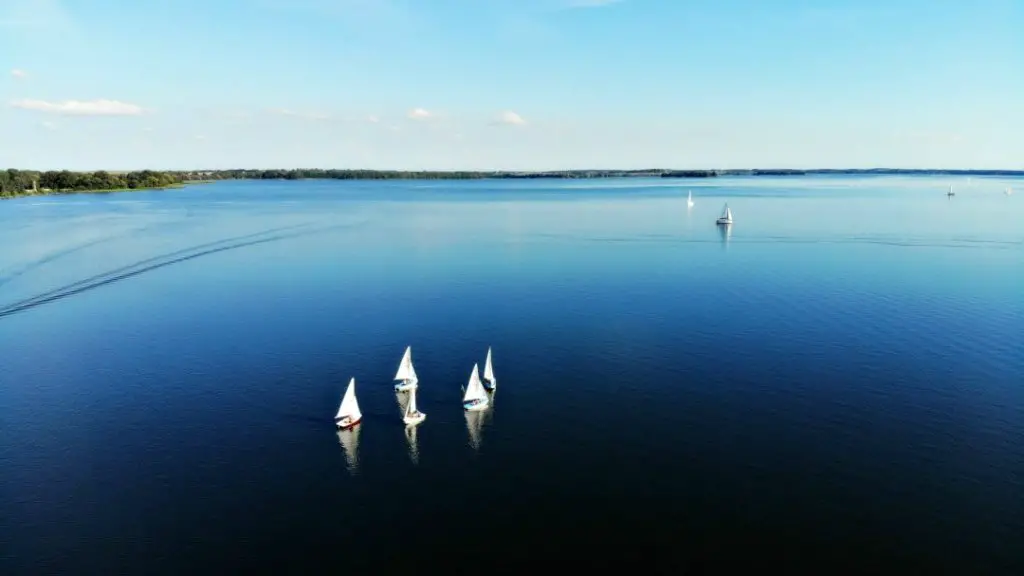 Our itinerary started in Warsaw and then led us to Białowieża→Ełk→Giżycko. We used Giżycko as our home base for visiting the Wolf's Lair. Giżycko is a beautiful, lakeside city with wonderful canals, the Boyen Fortress, and a large selection of nice Airbnb apartments.
Where to Stay When Visiting the Wolf's Lair
We stayed three nights in an apartment in Giżycko with a wonderful terrace and decided to dedicate one full day to visiting Wolf's Lair, which is a short 25-minute train ride away. We were contemplating staying in Kętrzyn, but we couldn't find a decent place to stay at a reasonable price. Also, Wolf's Lair is about 5 minutes from the Kętrzyn train station by taxi.
Apartment Eve in Giżycko > Check Availability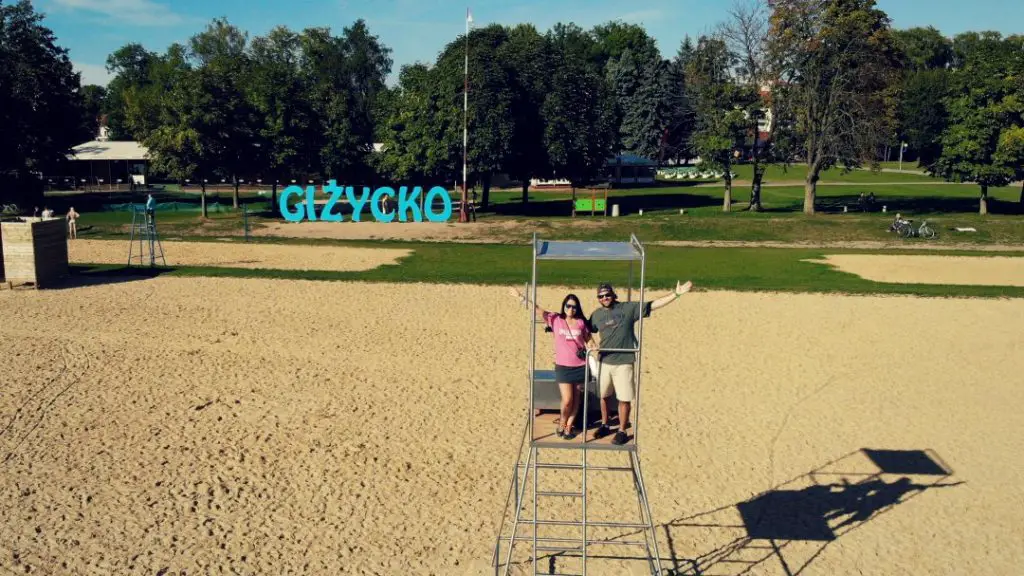 Both towns have their charm, however, if we're going to recommend only one place to stay it would be Giżycko, because of the wonderful Lake Niegocin. Another option is to visit the two towns separately—this will depend on how much time you have built into your schedule.
If you're able to find somewhere to stay in Kętrzyn it will make visiting the Wolf's Lair much easier because it's only a 5-minute taxi ride from the city center (and the train station). We'll get into this a little later, but there's a small and reasonably priced hotel at the Wolf's Lair where guests may stay.
Best Places to Stay
Regardless, below are the best places to stay in both Giżycko and Kętrzyn.
Giżycko
Budget: Apartment Studio (washing machine) or Apartamenty Turystyczne WillkasSen (numerous options)
Mid-Range: Hotel Giżycko (spacious rooms) or Hotel Masovia (great food)
Luxury: Hotel St. Bruno (onsite spa, indoor pool with hot tubs)
Kętrzyn
Budget: Apartament "Nad Jeziorkiem"
Mid-Range: Hotelik Corner
How to Get to the Wolf's Lair
We decided to take the train from Giżycko to Kętrzyn as there are numerous departures every day. There are also buses available too, directly next door to the Giżycko train station. Upon arriving in Kętrzyn, we departed the train station and took the bus to the Wolf's Lair in Gierłoż.
You're going to need to read this book before visiting.
Departing the train station we turned left and walked about 100 feet to the #8 bus stop. This is where you can catch the #1 bus (Kętrzyn – Węgorzewo) to the Wolf's Lair. It will drop you off directly in front of the lair in Gierłoż. The ride will cost about USD 1.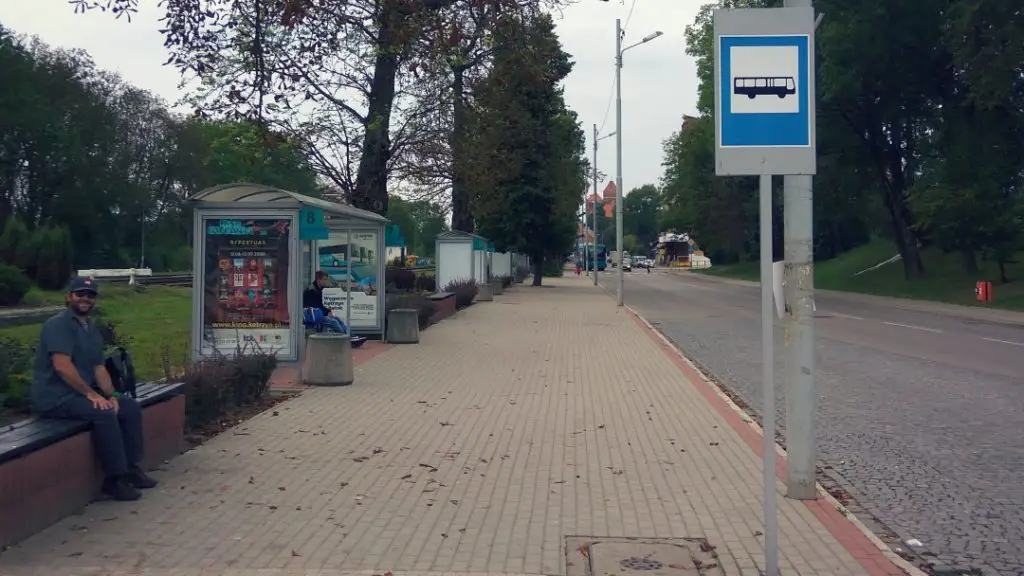 There are only two #1 buses during the day that will take you to Gierłoż, they depart the train station at 14:15 and 16:15, and take about 20 minutes to arrive just outside the lair (54.078835, 21.493664).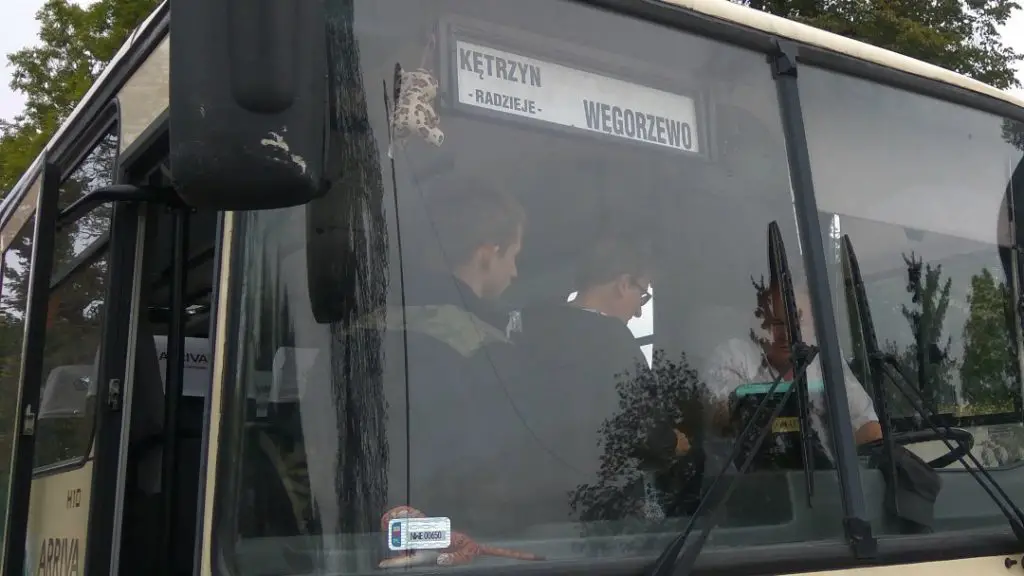 Across the street from the Kętrzyn train station is a taxi stand. When we got off the train there were no taxis in the stand. At the time of our visit, there were billboards showing the telephone numbers of local taxi services. With the help of some locals, I would imagine it would be pretty easy to arrange a taxi directly from the train station to Gierłoż.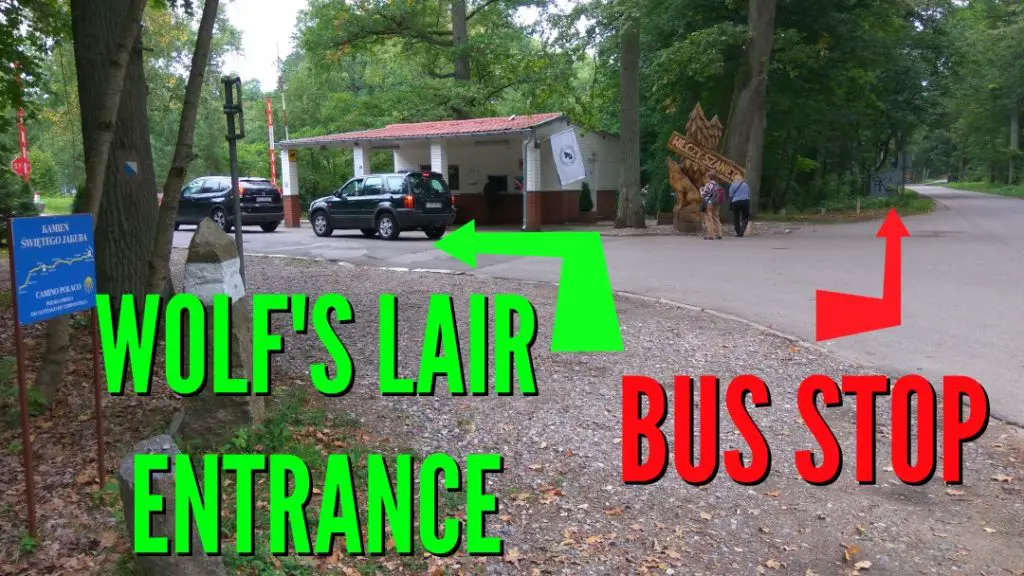 Simply tell the bus driver you're going to Gierłoż, pronounced "gear-wersh," or Wilczy Szaniec, pronounced "vilcha sha-knee-yets."
We asked 10 people what their most memorable tour of Poland was. This is what they said.
Should You Hire a Guide?
From our experience, it's not necessary to hire a guide to thoroughly tour the Wolf's Lair. Guides will cost about USD 15 per person and are extremely hard to get a hold of through email. For example, we contacted four guides and only heard back from just one. At the end of the day, we couldn't get our schedules to align with any of the guides, and therefore we were forced to tour the complex alone.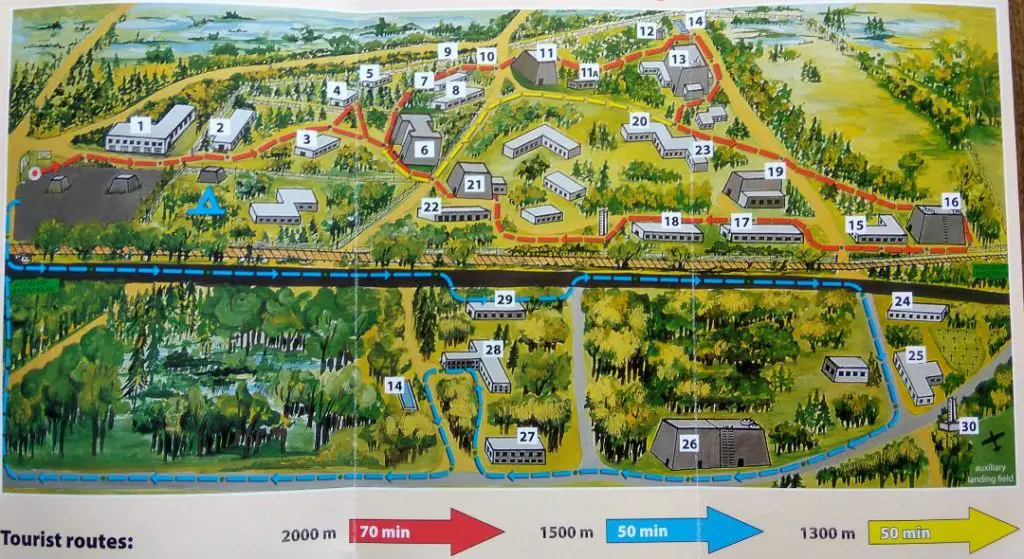 After much research, we found out that there's a gift shop near the entrance of the complex that sells amazing guidebooks for about USD 3. The guided tour is only about one hour long. The guidebook is pretty detailed (64 pages), so I'd imagine that you'd get a lot more information solely from the book.
However, if you do feel like you want to receive as much information as possible, and if you have the time and the ability to set up a guided tour, I would suggest going on the tour and purchasing the book. It makes for a great souvenir too!
How to Hire a Guide?
From our personal experience, it was difficult to organize a guided tour of the Wolf's Lair. But remember, there are two ways to hire a guide:
Arrive at the lair and hope that there's a guide available at the entrance.
Contact one of the local guides below and see if you can schedule a tour.
Reserve a day-trip tour from the following cities: Warsaw Tour or Gdansk Tour.
A list of all tour guides is here. As previously stated, we contacted the four English-speaking guides below and only Korowaj Jadwiga responded to our inquiry:
Korowaj Jadwiga – a guide with a license
tel. 601 677 202, email jagoda10@poczta.onet.pl
foreign language: English
work area: Warmia and Mazury
– in particular: Wilczy Szaniec Accommodation in Gierłoż,
other permissions: tour guide, instructor
Michałowski Waldemar – a guide with a license
tel. 604 878 825, email
michwal5@wp.pl
foreign language: English
work area: Warmia and Mazury,
in particular: Wilczy Szaniec Accommodation in Gierłoż

Puciato Czesław – a guide with a license
tel 666 288 261, email cpuciato1@wp.pl
foreign language: English, Russian, German
area: Warmian-Masurian Voivodeship
Puciato Marcin – a guide with a license
tel. 500 799 154, email mpuciato@wp.pl
foreign language: English
work area: Warmia and Mazury
Best Guided Excursions From Gdansk and Warsaw to Wolf's Lair
The tours below are some of the best excursions to Wolf's Lair from both Gdansk and Warsaw. All of the tours visit the Wolf's Lair.
How Long Does it Take to Tour Wolf's Lair?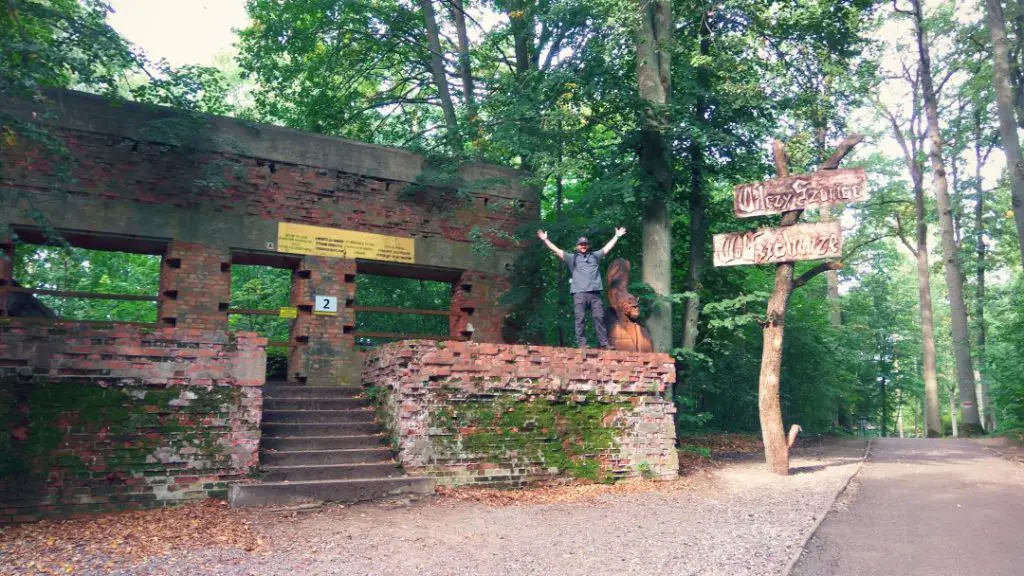 The entire complex consists of about 80 buildings. About 50 of the buildings are well-camouflaged bunkers. Some of the more significant bunkers have walls that are up to 20 feet thick!
Please keep in mind that most of the buildings and bunkers were blown up by the Nazis before they departed the area. However, most likely in a hurry and also needing to save their explosives, they did a poor job blowing up the structures. Therefore much of the site has been preserved.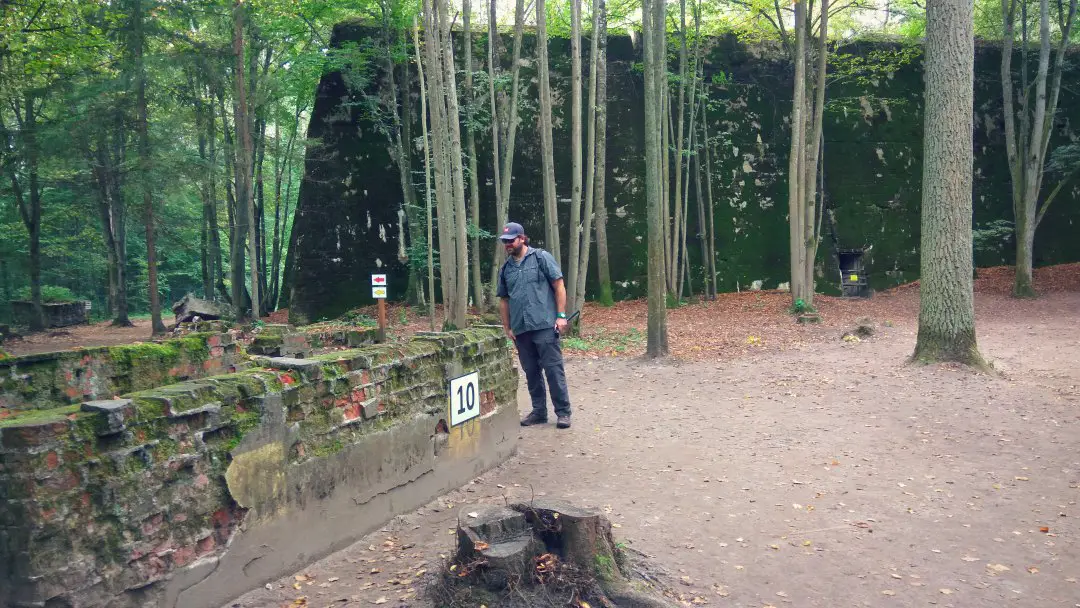 The entire lair is split between the north and south sectors. The old railroad tracks divide the complex in two.
Most people will only tour the north section of the lair, mainly because the most interesting sites are located there: Hitler's Bunker (#13), Göring's Bunker (#16), Bormann's Bunker (#16), Conference Barracks (the site of the assassination attempt #3), and the Guests' Bunker (#6). Also, please keep in mind that the guided tours only visit the north section too.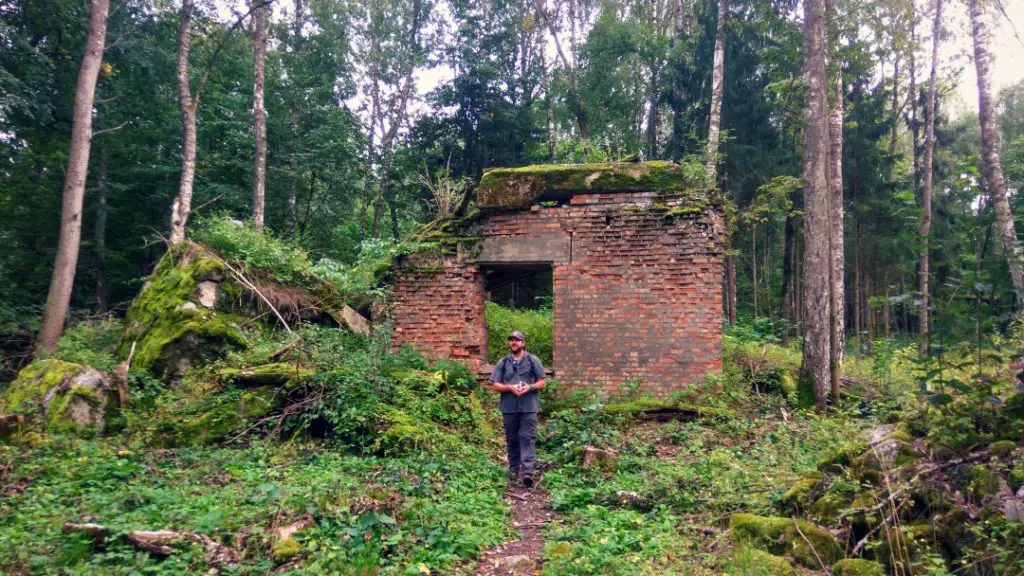 Touring the lair is a remarkable experience. It will go down for us as one of the most significant historical experiences of our lives.
With that in mind, it took us about 2½ hours to tour just the north section. The guidebook recommends about 70 minutes for the north section and another 50 minutes for the south section. In our opinion, visitors looking to take their time should allocate about four hours for both the north and south sections.
Must-See Bunkers
When visiting Wolf's Lair, the most important thing to remember is that the large bunkers were built as protection from a significant air raid or bombarding. Therefore, the Nazi leaders had a residence bunker next to their air raid bunker, and this is where they spent most of their time.
The must-see bunkers include the conference barracks #3, guests' bunker #6, Hitler's bunker #13, Göring's Bunker #16, and the officers' casino #18.
Operation Valkyrie (#3)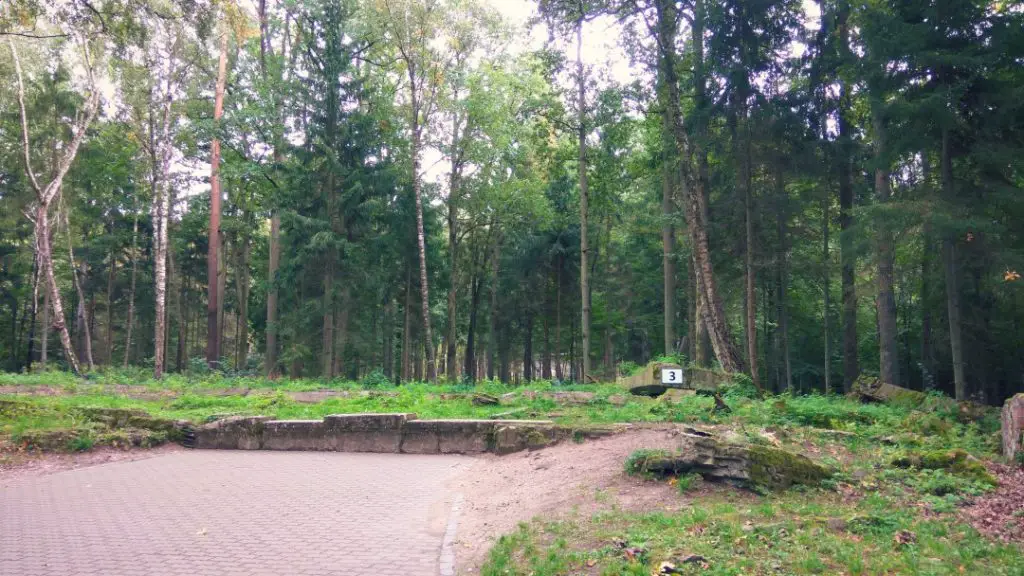 Building number three is the conference barracks and it was here on July 20, 1944, that Colonel Claus von Stauffenberg unsuccessfully attempted to assassinate Adolf Hitler. A small commemorative plaque now acknowledges the actions and sacrifice of Colonel Stauffenberg.
Guests' Bunker (#6)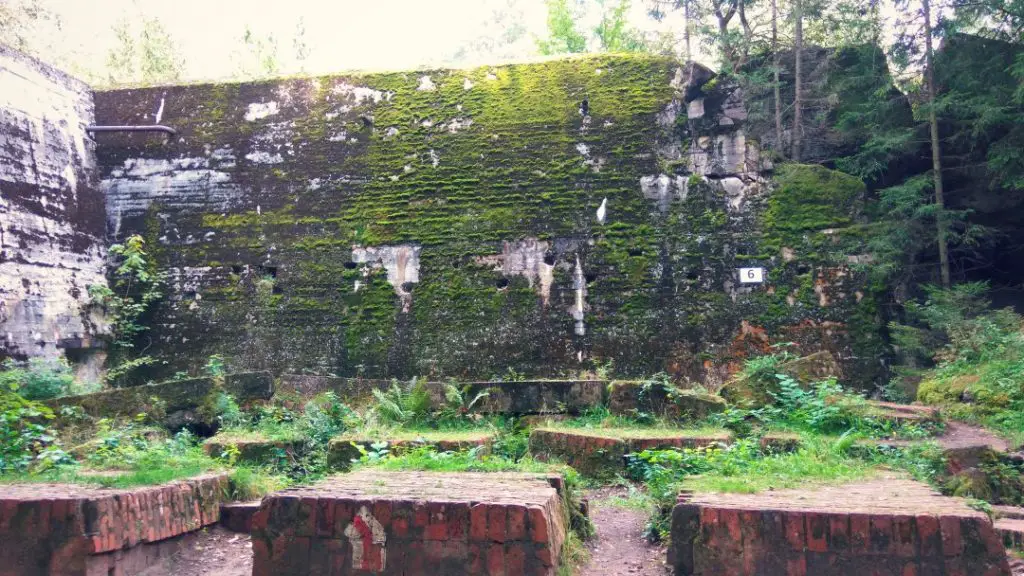 The bunker was supposed to be used primarily to host foreign guests. However, from July 16 to October 1, 1944, Hitler lived here while his bunker was being rebuilt.
Hitler's Bunker (#13)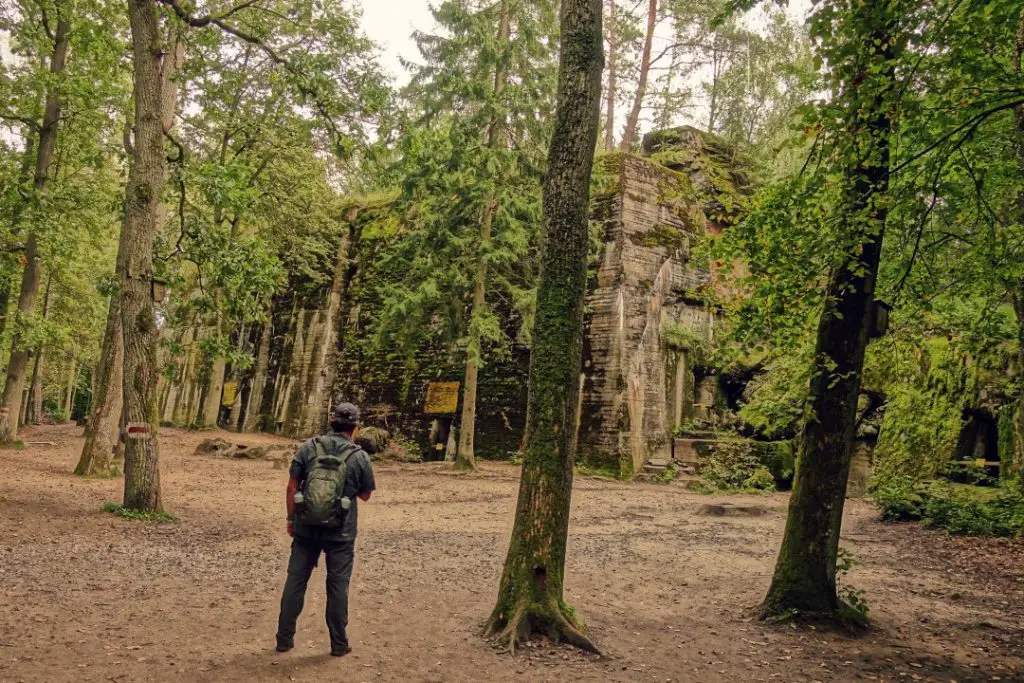 The largest bunker in the complex, of course, belonged to Adolf Hitler. He spent very little time in this specific bunker. Instead, he spent most of his time in his residence bunker, which is located directly behind the massive structure. Please note there is no sign anywhere indicating the building is his residence structure.
Göring's Bunker (#16)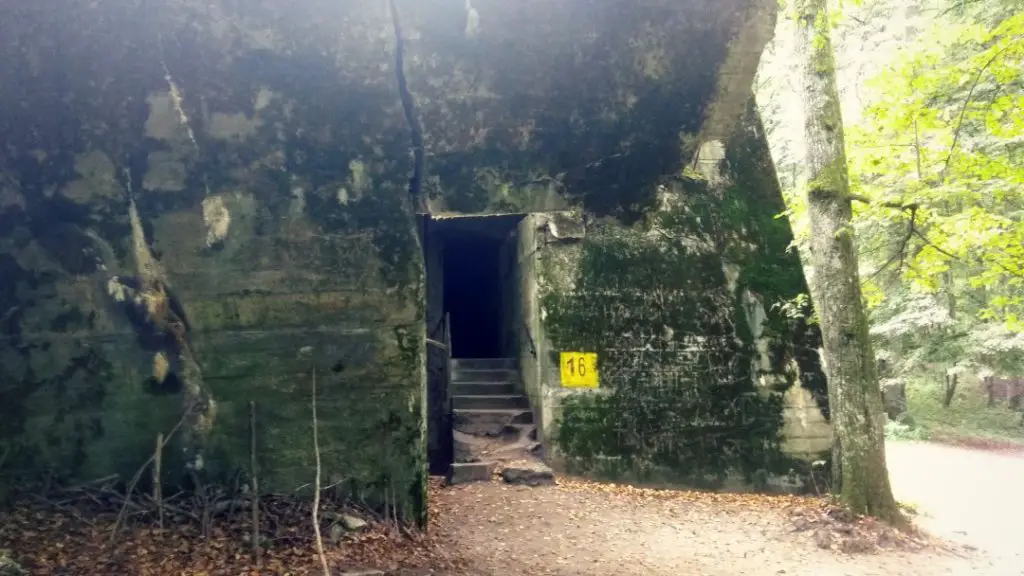 It's easy to find many hiding spots within the remains of Göring's massive bunker. It's probably one of the most interesting bunkers to walk around based on how the bunker was blown up.
Many visitors will climb a rusty iron ladder to get views from the top. Once there make sure to take note of the flak towers that once housed anti-aircraft machine guns.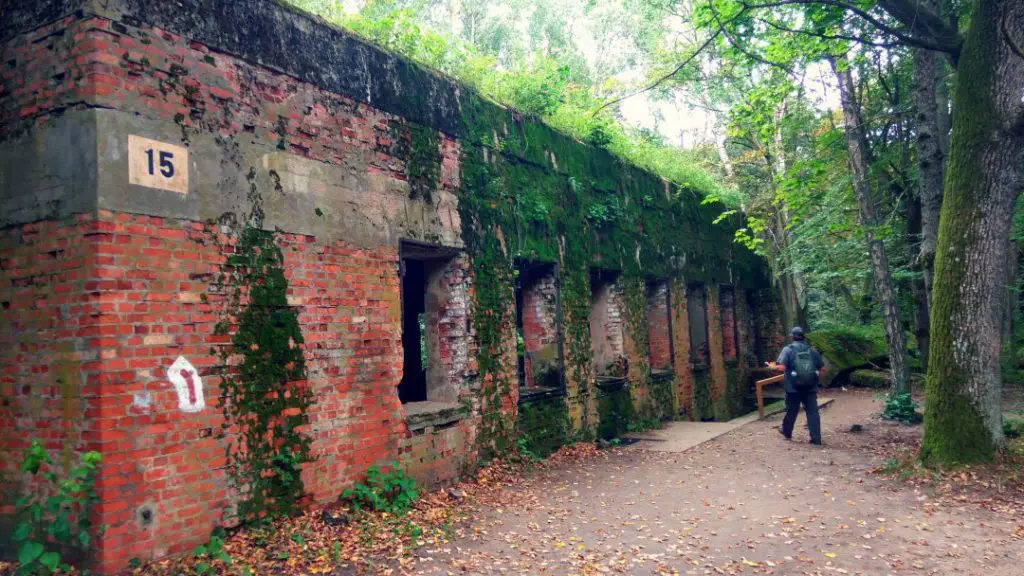 Officers' Casino (#18)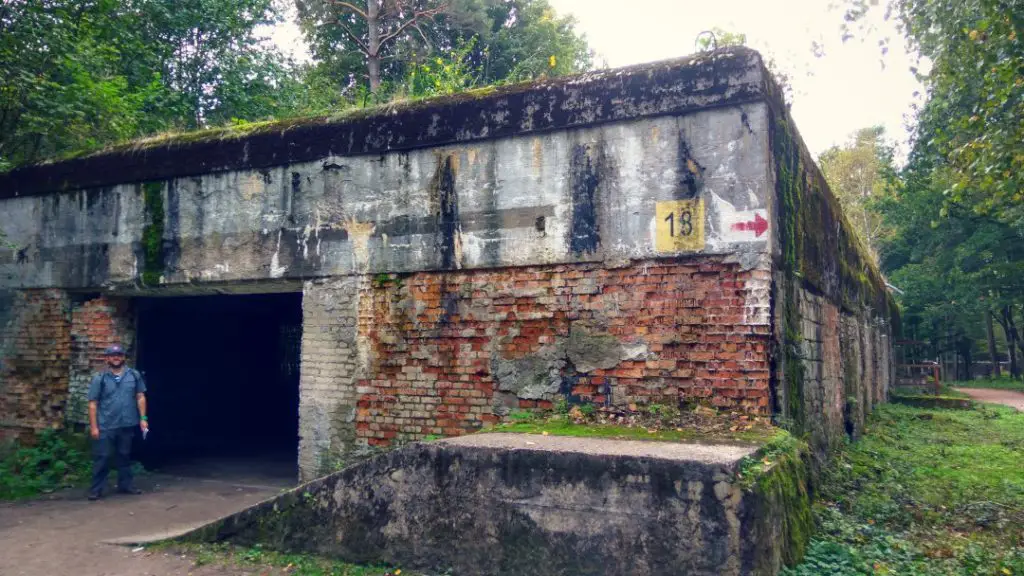 Now, just an old decrepit brick building, the officer's kasino (building #18) would have been a place for Nazi officers to dine, imagine a lively cafeteria. As the main mess hall, the officers' kasino is an eerie place to walk through because you know the Nazi officers were mainly eating, drinking, and swapping stories in this now empty space.
This is one of the few buildings visitors are allowed to walk through. To think that the genocide of millions of people was occurring, and people were starving to death across Europe while these Nazis were effortlessly dining in this building makes this site one of the most disgusting and abhorrent stops along the tour.
Accommodations at Wolf's Lair
The old officers' hotel (building #1) is now a small modern-day hotel and restaurant where visitors can stay and dine. Had we known about this hotel, we most likely would have stayed here based on its convenience. Rates run about USD 32 per night for a double room and include sightseeing and parking.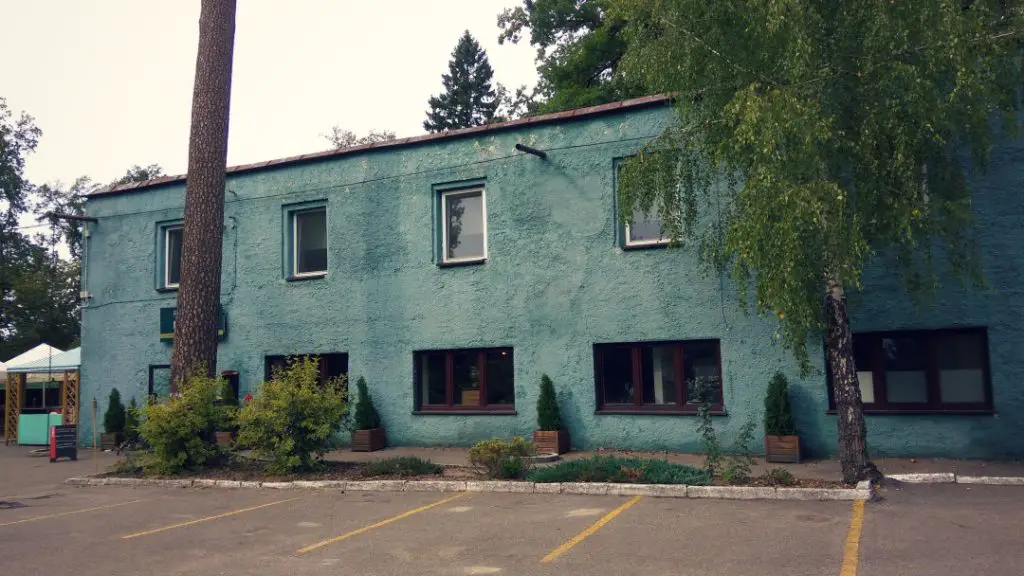 In terms of making a reservation, I'd attempt to contact the Lair directly here. There's also an on-site campsite. Rates currently run about (in USD):
Camper/caravan $5
Passenger car/bus $1
Motorcycle $0.50
Adult $4
Children/students $2.50
How Do You Depart Wolf's Lair?
To save as much money as possible, we arrived at Wolf's Lair by taking the 13:13-13:43/train from Giżycko to Kętrzyn. From the train station, we took the #1 bus from Kętrzyn to Gierłoż at 14:15-14:35. When we departed the lair we stopped at the front gate and asked the security guards to call us a taxi. We then took the 17:54-18:23/train from Kętrzyn back to Giżycko.
General Information
General admission is about USD 4 per person, all others here.
Parking is about $7 per vehicle.
Hours:

April through September (daily 8 a.m. to 8 p.m.)
October through March (daily 8 a.m. to 8 p.m.)

The official website for the Lair is here.
Bring a flashlight.
The Wolf's Lair guidebook is currently only available at the gift shop and n[checklist_in_post][/checklist_in_post]ot online.
They recovered 55,000 land mines in the area surrounding the lair, so don't plan on straying too far from the marked paths.
Bus/Train Schedule, Local Taxi Phone Numbers:

Conclusion
If we were to do it all over again, we would have taken the 14:15 (#1) bus from Kętrzyn to Gierłoż and stayed overnight in the onsite hotel. That way we could have explored the site until 8 p.m. and not rushed through our tour of the lair.
Remember, the entire complex is an immense 32 acres. Depending on your passion for the subject at hand, spending 6-8 hours exploring the area is not unreasonable. The following morning we would have had some additional time for some early morning photography. Then we would have departed on the 10:21 a.m. bus back to Kętrzyn.
If considering a tour to the Wolf's Lair, we hope this guide helps make your visit easy and enjoyable. Although the logistics may seem daunting at first, independently exploring the historic site is completely possible. Additionally, we were glad we took on the adventure because the Wolf's Lair was one of the eeriest and most fascinating experiences during our tour of Poland.