With its rich history, stunning architecture, and intimate ambiance, Verona stands out as a perfect destination for couples looking to experience a romantic evening. Immortalized as the setting in Shakespeare's "Romeo and Juliet," Verona naturally holds a romantic allure.
Beyond its literary connections, Verona is a place of real-life romance. Its enchanting streets, picturesque piazzas, and the gentle flow of the Adige River make it feel like a fairy tale.
Whether celebrating years together or new love, Verona offers a variety of experiences to make your evening genuinely unforgettable.
Indulge in the Arts: A Night at the Opera
There's something incredibly romantic about attending an opera in a centuries-old arena. As the sun sets, the Arena di Verona comes alive with the transformative power of music. The atmosphere of attending an opera at Verona is charged with excitement, passion, and anticipation as world-class performances unfold under the stars.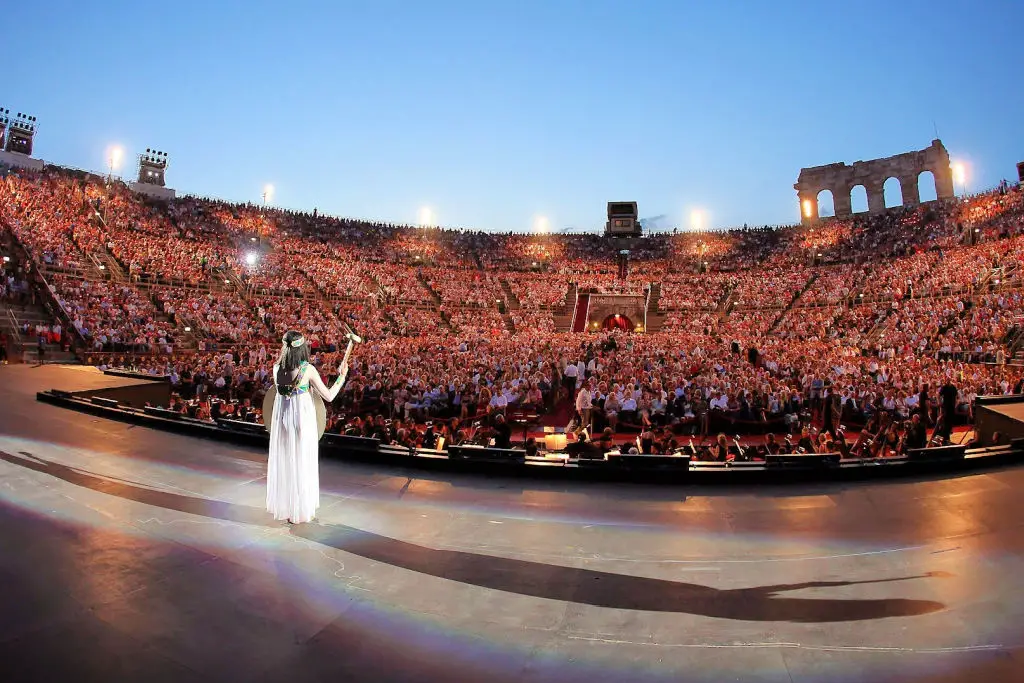 The experience is made even more enchanting with the arena's unique candlelit tradition. As a result, a soft, dreamlike environment is created that feels almost out of time.
Sharing this experience with a loved one not only adds a touch of sophistication to your evening but also creates a magical setting where romantic memories are forged.
Romantic Dinner for Two
Verona's culinary scene is a delight of its own. Offering a blend of traditional Italian and innovative cuisine, the result is the centerpiece of a romantic evening. For an added element of romance, opt for a restaurant with an outdoor terrace. Preferably, one that offers views of Verona's historic streets or the Adige River.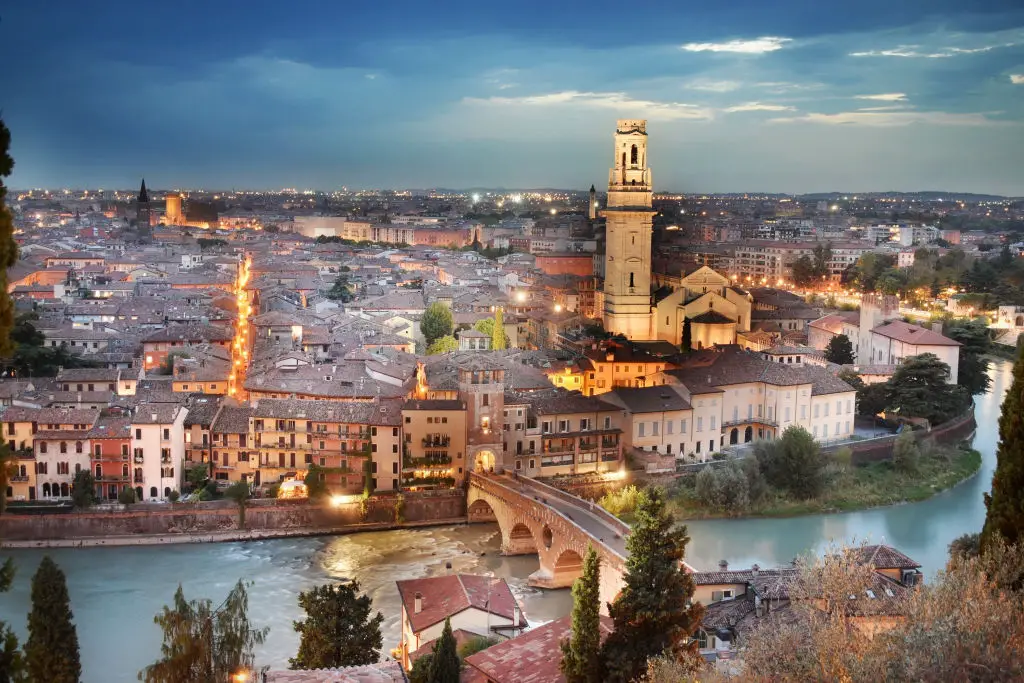 Set the stage for an intimate evening with a candlelit dinner. Be sure to order local specialties such as risotto all'amarone or pasta e fagioli. In addition, accompany the meal with a glass of rich Valpolicella, one of Italy's best wines. The delectable food, combined with the serene Italian night, creates a perfect opportunity for deep conversation and quiet moments of connection.
Stroll Through History
After dinner, a walk through the city's ancient, narrow lanes or along the river offers a chance to appreciate Verona's timeless beauty. Head towards the iconic Castelvecchio Bridge, with its distinctive red bricks and crenelated walls.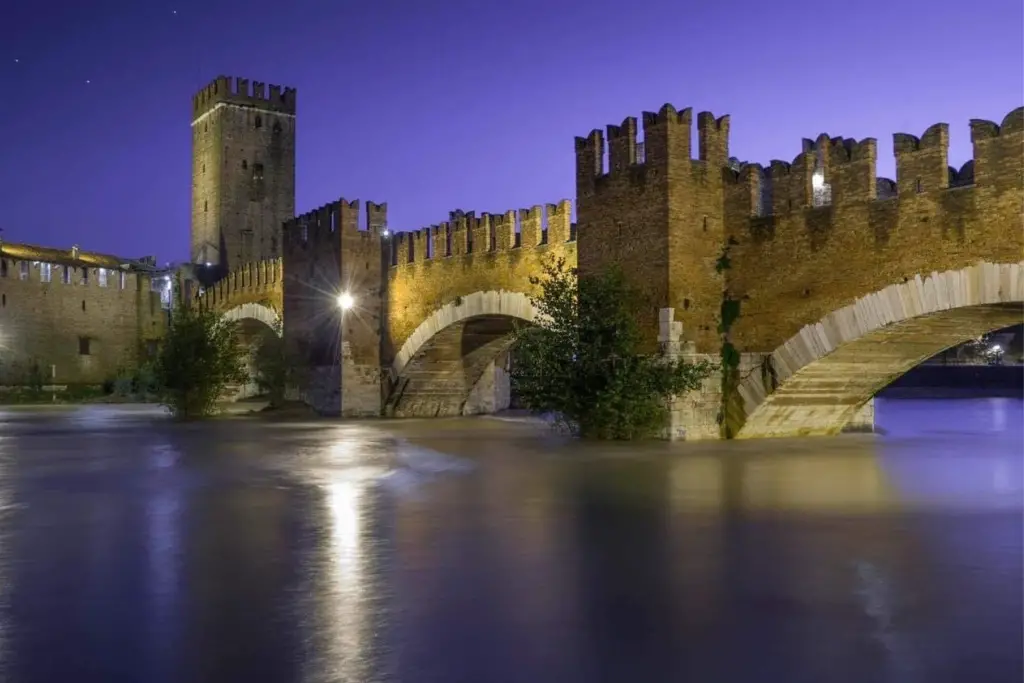 The bridge, especially when lit up at night, is a popular spot for couples. It provides panoramic views of the Adige River and surrounding architecture. These quiet, shared moments, amidst the backdrop of medieval history, contribute immensely to a romantic evening.
The Magic of Piazza Bra
No evening in Verona would be complete without visiting Piazza Bra, one of Italy's largest squares. Lined with numerous cafés and gelaterias, it's the perfect place for a late-night dessert or aperitif.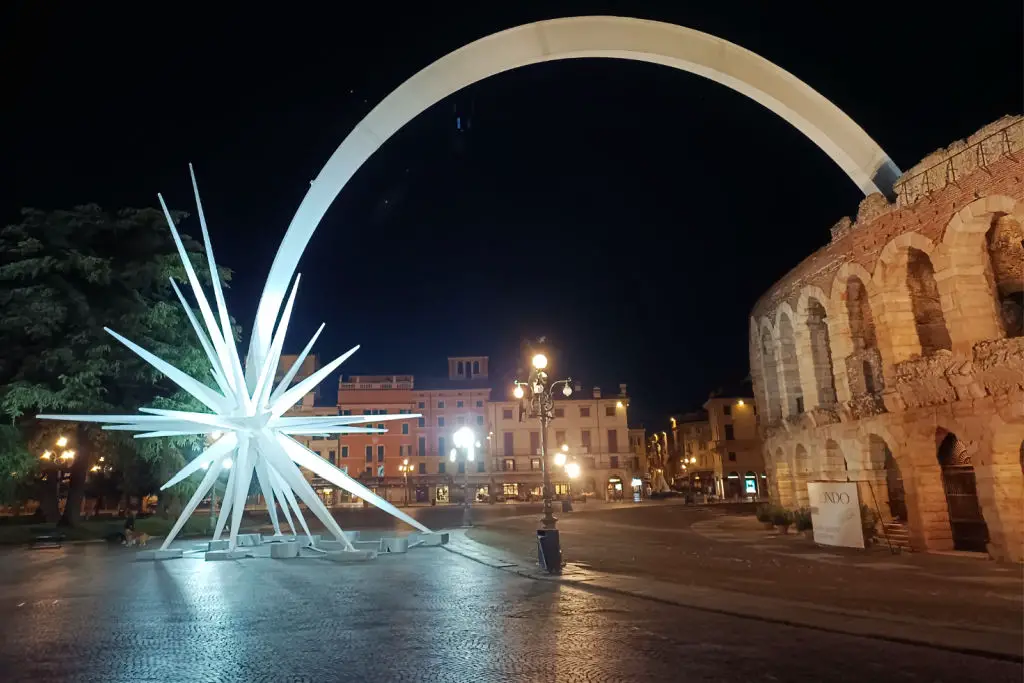 The illuminated Roman Arena adds to the square's charm, and the vibrant atmosphere, imbued with soft chatter and laughter, makes it a delightful place to relax and people-watch. Enjoying a creamy gelato or sipping on a refreshing 'Spritz' as you both take in the night's liveliness can be the cherry on top of your evening.
Concluding the Night
As the night winds down, find a quiet spot to simply appreciate each other's company. It might be a secluded bench near Juliet's balcony, lending a literary romance to your whispers, or perhaps the softly lit courtyard of a local church, offering tranquillity and a sense of timeless grace. These moments of peace are when connections deepen, encapsulating the essence of a romantic escapade.
We Need Your Help
Did you find this article useful? If so, bookmark it and when you're planning your next vacation click on any of the links below before finalizing reservations. You'll get the best price, we'll earn a small commission, and you'll help support future articles.
Thank you!
TRAVEL TIPS
🏘️ Book Your Accommodation
We use Tripadvisor and Priceline's Express Deals to compare prices and reviews in advance and check availability
✈️ Book Your Flight in Advance
To find the cheapest flight options, you can use WayAway and Skyscanner to find the most suitable choice for you
🚗 Reserve Your Rental Car
Use DiscoverCars and Skyscanner to compare prices and view the largest selection of vehicles