There's little doubt that admission to the Sphere, Las Vegas's newest and most mesmerizing venue is the hottest ticket in Sin City. Whether it's attending an immersive Sphere Experience show like "Postcard From Earth" or a U2 concert, audience members are raving about their experience.
All of this excitement, however, is generating huge demand for tickets. As a result, prices to attend concerts have skyrocketed. In fact, some of the cheapest seats to see U2:UV Achtung Baby (Achtung translates from German to attention or watch out) easily cost several hundred dollars.
Of course, this expensive price tag is out of the average tourist's budget. This leaves many to wonder how they can get cheap Sphere tickets, or at least discounted.
The Scoop on Discounted Sphere Tickets
The Sphere is so new that there are no discounted tickets available, and there probably won't be for many years. However, that doesn't mean that there's not a deal to be had.
Our go-to online ticket resellers are SeatGeek and Vivid Seats, and many times, you will find cheaper Sphere experience and concert tickets through these two ticket platforms rather than the box office (aka Ticketmaster). Keep reading to find out more tips and tricks for getting cheap tickets or check out prices on SeatGeek below.
🎫🌐 Cheap Sphere Tickets > SeatGeek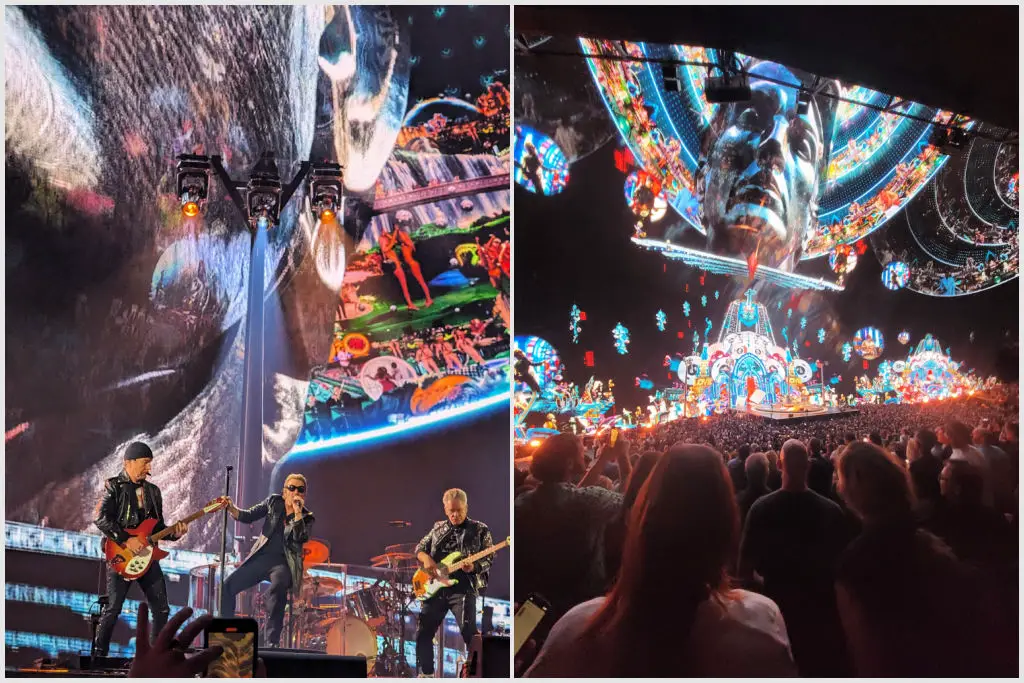 Luckily, when purchasing cheap Sphere tickets there are some tips and tricks to follow to make sure you're not overspending. We'll get into those next but first here are some interesting facts about the Sphere.
Sphere at The Venetian Resort
Originally named MSG Sphere, after the Madison Square Garden Entertainment Corp., the primary contractor, the Sphere as it's casually referred to is officially named the Sphere at The Venetian Resort, and is owned by the Sphere Entertainment Company. At 366 feet tall and 516 feet wide, the Sphere is the world's largest spherical structure.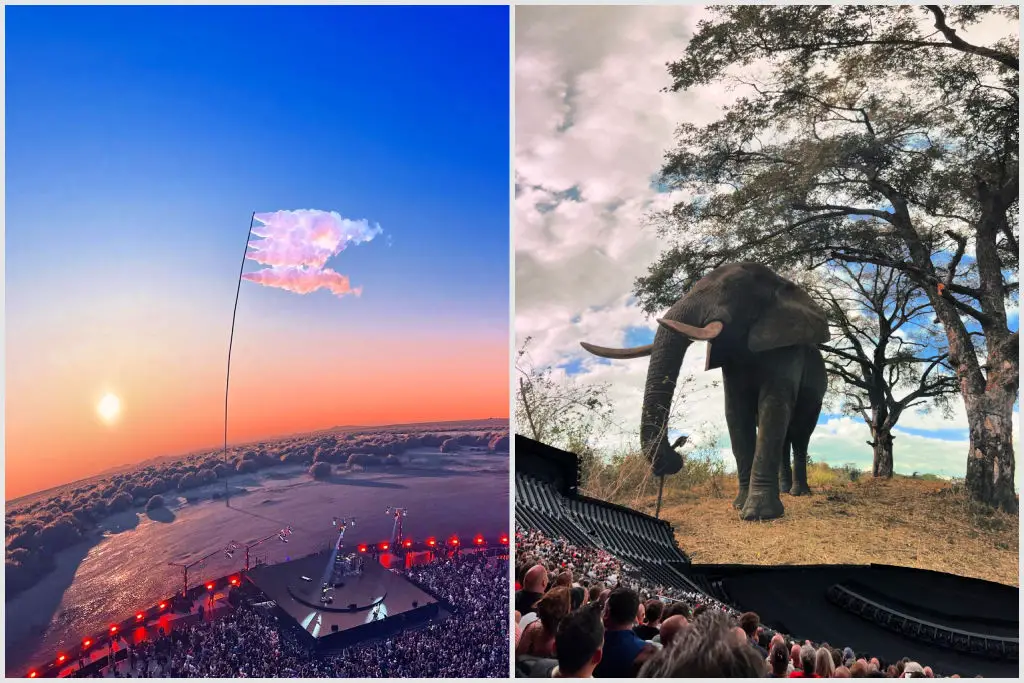 Today's modern-day Roman Colosseum will host a wide variety of entertainment events including Sphere Experience shows, concerts, sporting events, business seminars, and corporate events, just to name a few. Furthermore, the Sphere has a total capacity of 20,000 with 17,500 seated and 10,000 haptic 5D seats. These make audience members feel the environment through vibration, scent, wind, fog, etc.
Sound System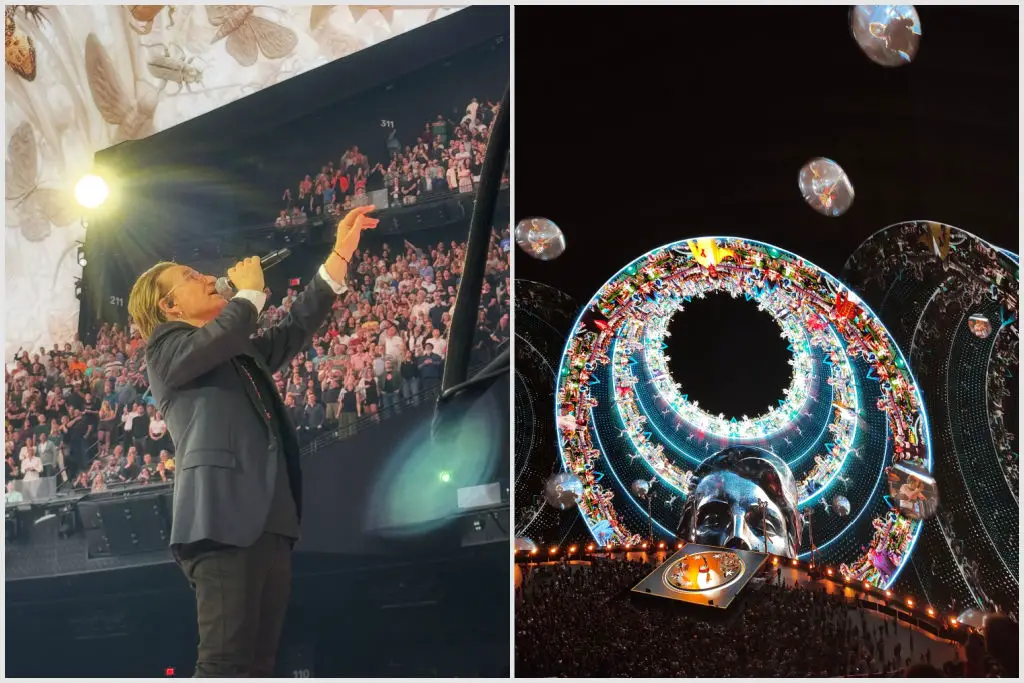 When it comes to sound, there is no better audio system in the world. Sphere's beamforming technology ensures that every audience member, no matter where they're seated, is treated to an exceptional experience. In fact, initially, U2's Bono was offended by the offer to host a "residency" in Las Vegas. He thought the generous offer was beneath him and his group. It wasn't until he fully understood the state-of-the-art audio and visual technology involved that he changed his tune.
LED Screens
Built for immersive experiences with a wraparound 16K LED screen, audience members are transported to exotic spots and out-of-this-world locations—the entrancing adventure can feel so intense at times that onlookers may sense the Sphere collapsing down upon them. In other words, if you're looking for a trippy time in Las Vegas, this may be just the thing for you.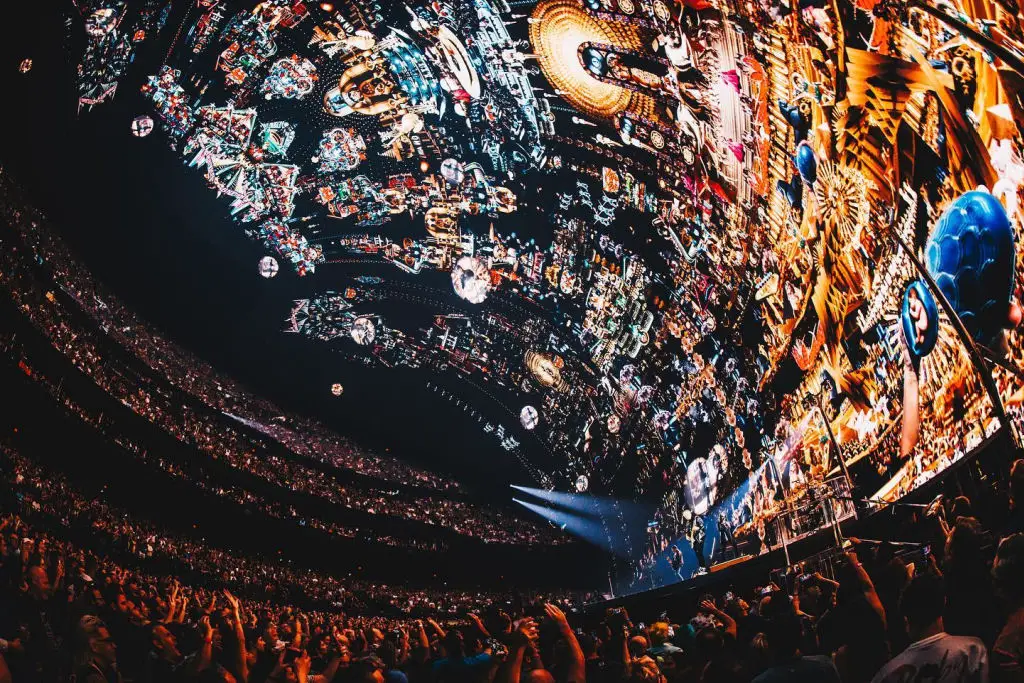 Let's put it this way, the largest IMAX screen in the world is about 100 feet high. The Sphere's screen, on the other hand, goes from ground level to 250 feet, and it wraps around!
Hotels With the Best View of the Sphere
Before the Sphere, pretty much every visitor to Vegas desired a room with a view of the Strip. Nowadays, however, many would prefer a view of the Sphere—there's just something about the giant hypnotic snow globe that's so entertaining.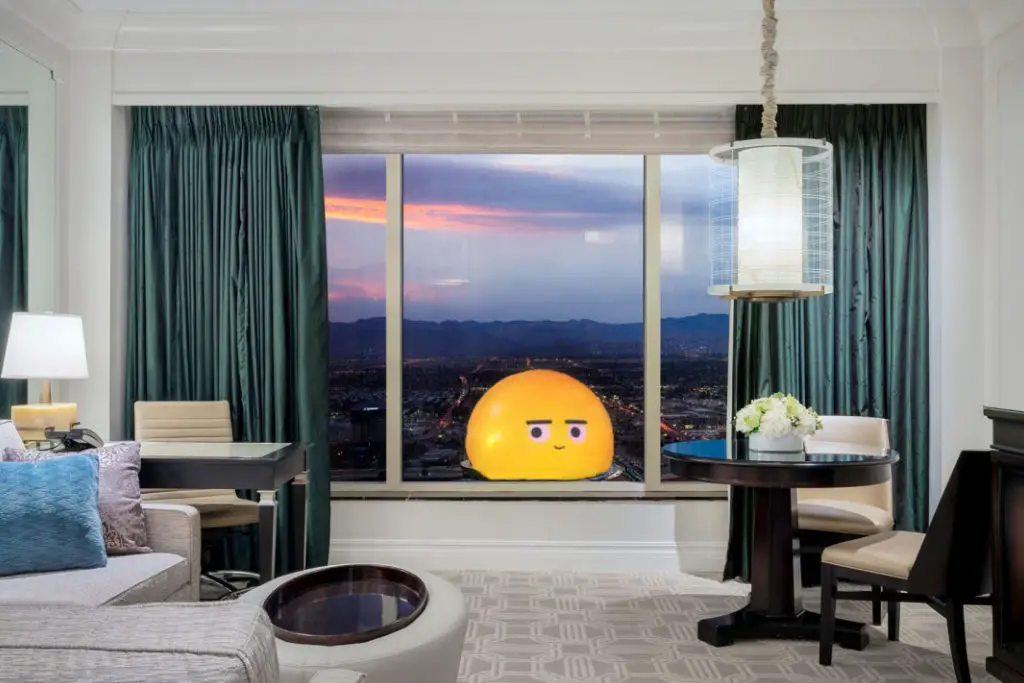 Nevertheless, there are Nine Hotels With Amazing Views of the Sphere. However, one of the best, if not the best is of course at the Venetian Resort. After all, this big wild ball is formally called the Sphere at the Venetian Resort.
🔮🏨 The Venetian Resort > Check Availability
Now, let's make sure you're not overpaying when looking for cheap Sphere tickets.
How To Get Cheap Sphere Tickets
As the most state-of-the-art entertainment venue in the world, attendees may feel overwhelmed on the hunt for cheap Sphere tickets. Nevertheless, there are a few things you can do to make sure you're not overspending.
Here's how to get cheap(ish) Sphere tickets:
1. Find the Best Source For Cheap Sphere Tickets
Typically, Las Vegas visitors can find good deals on Vegas.com, the city's #1 wholesaler for cheap shows, tours, rooms, attractions, etc. However, with the Sphere being so new and popular, the cheapest Sphere tickets are typically through the primary ticket seller, which in this case is, unfortunately, Ticketmaster.
Cheap Sphere Concert Tickets
Nevertheless, just because there aren't any discounted tickets available doesn't mean that there's not a deal to be had. Our go-to online ticket resellers are SeatGeek and Vivid Seats—you should be able to find cheaper Sphere concert tickets through these two ticket platforms.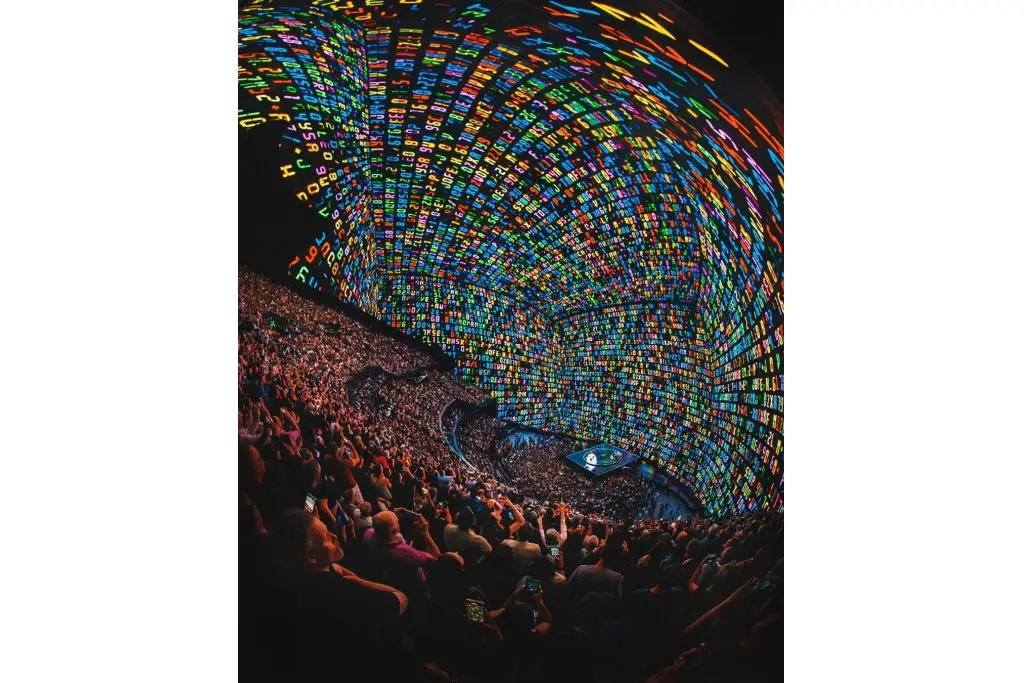 For example, I just looked up tickets for a forthcoming U2 concert and found cheaper Sphere tickets on SeatGeek than on Ticketmaster—SeatGeek was $396 while Ticketmaster was $501, a $105 savings per ticket!
🎫🌐 Cheap Sphere Tickets > SeatGeek
Cheap Sphere Experience Tickets
When it comes to finding cheap Sphere Experience tickets for shows, like "Postcard From Earth," purchasing tickets at least one month in advance from Ticketmaster is a must—you will save a lot of money.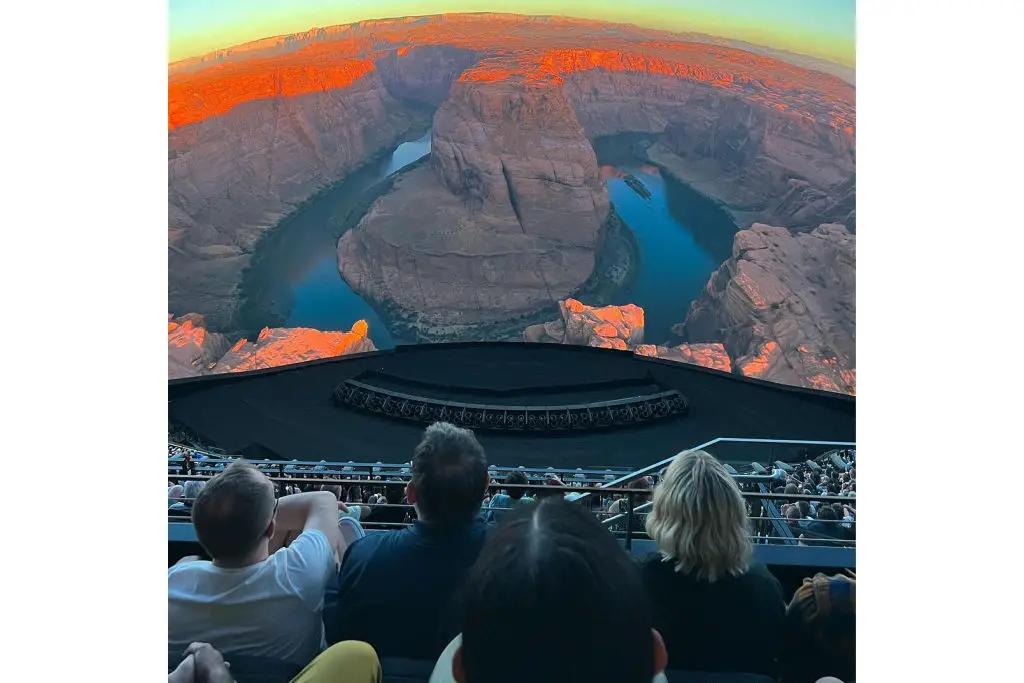 For example, if you were to purchase tickets for "Postcard From Earth" to shows within the next few days prices can easily exceed $150 per ticket. This is nearly three times the cost of regularly priced tickets which if purchased way in advance are only $49.
2. Purchase Tickets in Advance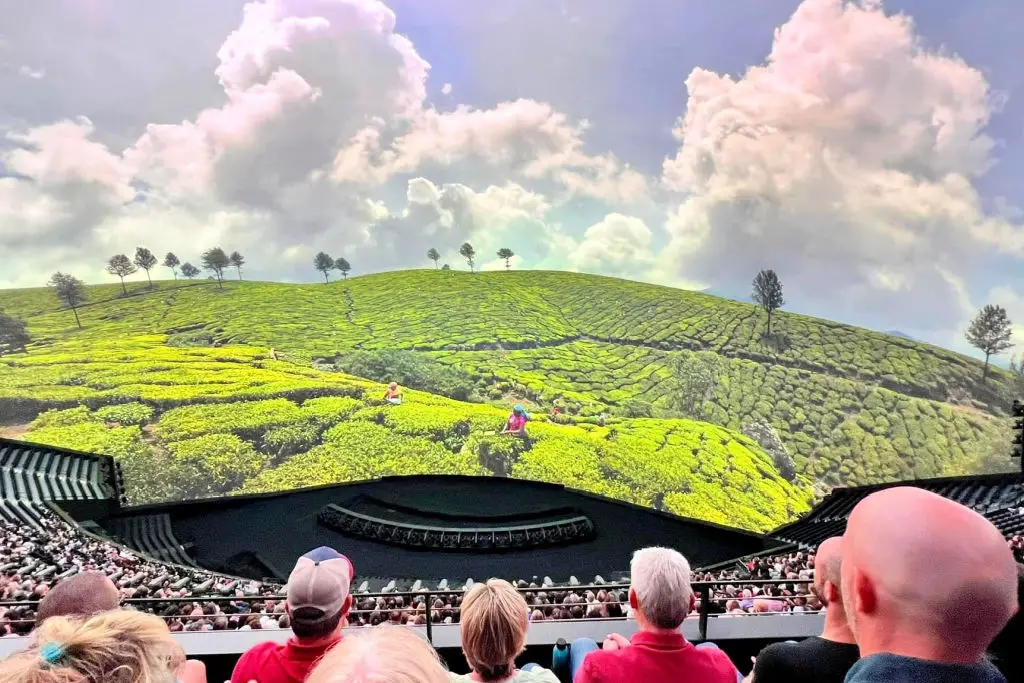 Generally, you'll always get cheaper tickets through Ticketmaster if you purchase them weeks or months in advance. In situations where you're looking for last-minute tickets, for concerts or Sphere experience shows taking place in the next couple of weeks, you may be able to find cheap Sphere tickets on SeatGeek or Vivid Seats.
3. Find Deals in Sections 300 and 400
Typically, the first balcony (Section 300) and second balcony (Section 400, also known as nosebleed) seats are cheaper because they're farther from the stage. However, when it comes to the Sphere, these tickets are (in our opinion) equal to or better than the closer seats—especially when it comes to the Sphere Experience shows where there is no act on stage.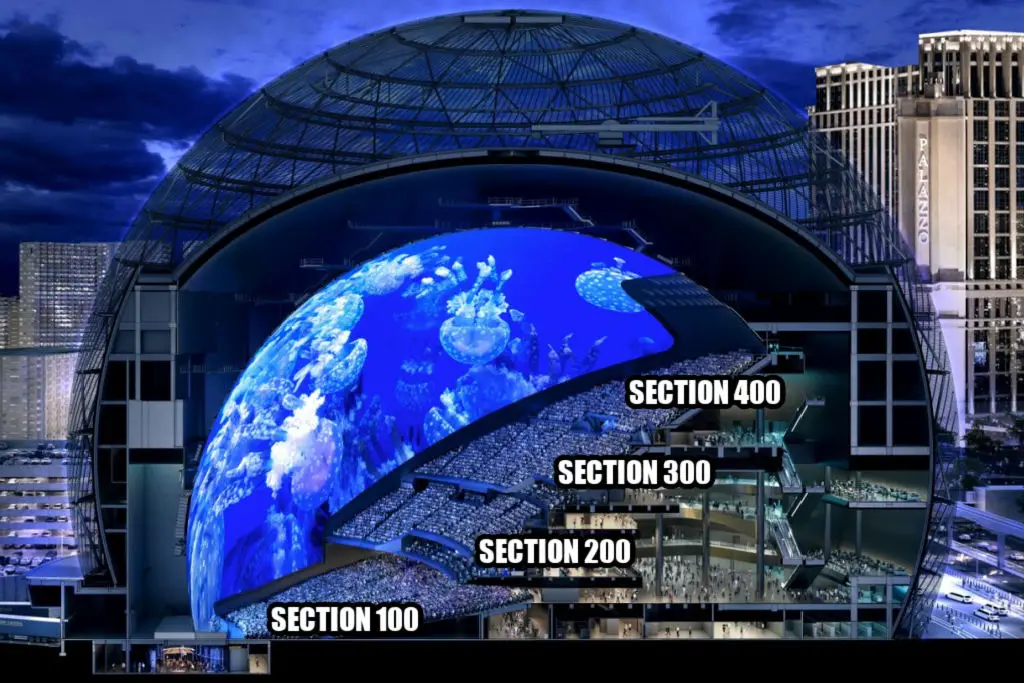 For instance, Section 100 (ground-level standing/seating) and Section 200 (mezzanine level) are typically more expensive tickets because they're closer to the stage. However, attendees need to tilt their heads farther back to appreciate the enormous screen which can become uncomfortable. The higher seats, on the other hand, are closer to the visual entertainment, and attendees tend to turn their heads sideways (less up and down) making the experience feel more intense and natural.
Regardless of where you end up in the arena, you're sure to have an incredible time. Attending a concert or experience at the Sphere is a once-in-a-lifetime experience and something you won't regret doing on your next Vegas getaway.
We Need Your Help
Did you find this article useful? If so, bookmark it and when you're planning your next vacation click on any of the links below before finalizing reservations. You'll get the best price, we'll earn a small commission, and you'll help support future articles.
Thank you!
TRAVEL TIPS
🏘️ Book Your Accommodation
We use Tripadvisor and Priceline's Express Deals to compare prices and reviews in advance and check availability
✈️ Book Your Flight in Advance
To find the cheapest flight options, you can use WayAway and Skyscanner to find the most suitable choice for you
🚗 Reserve Your Rental Car
Use DiscoverCars and Skyscanner to compare prices and view the largest selection of vehicles