Are you looking for a southern Indiana cabin rental with a ton of fun things to do? Perhaps, you're thinking about holding a family reunion or large family gathering in the Midwest? One of the reasons we were back in the U.S. was to help celebrate my mom's milestone birthday.  With family coming from all over the Midwest, it ended up feeling more like a family reunion.
We were looking for a place to hold a large number of people and it had to be centrally located in the Midwest. In our research, we stumbled upon
Elk Ridge Ranch.
With limited options available for the busy New Years Eve weekend, on a whim, it was booked.
Southern Indiana Cabin Rental | Golf, Guns, and Axe Throwing | Elk Ridge Ranch
There is some good information about the lodge online, however, we weren't 100 percent quite sure what to expect. Therefore, we decided to put together a handy insider guide to holding a large family gathering at Elk Ridge Ranch.
Elk Ridge Ranch is located about 9 miles from French, Lick Indiana in a rural community in Hoosier National Forest. The Elk Ridge Ranch offers two very different experiences for guests: The Grand Lodge which offers more of a luxury experience and
the Big Barn Main Lodge
which is more rustic and trafficked. We rented out the Big Barn Main Lodge and the Blanche House as a private event so our experience features this part of the property.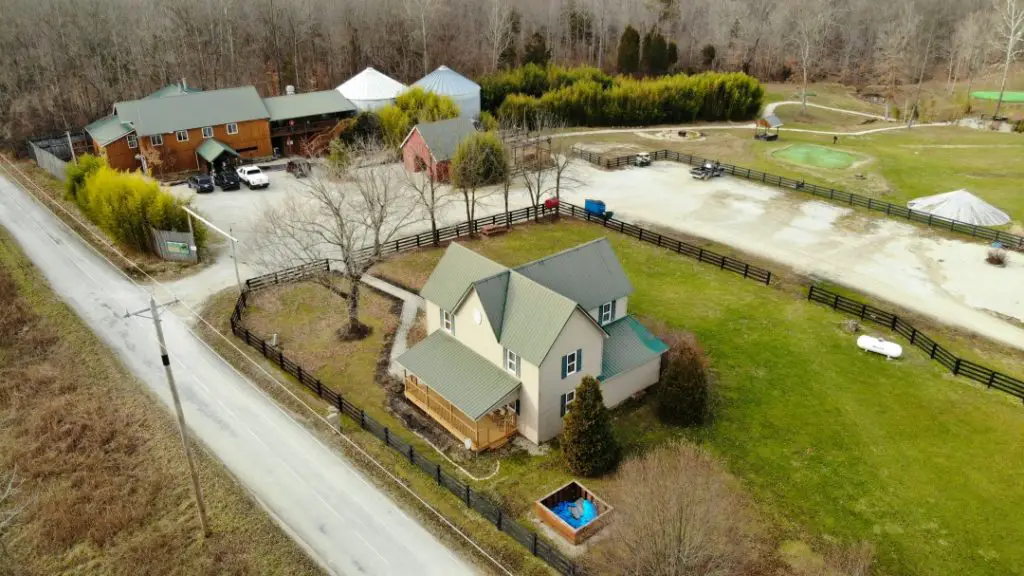 Our Reflections of Elk Ridge Ranch
As mentioned, we rented out this property to celebrate a milestone birthday and New Year's Eve. With family and friends coming from all over the Midwest, it also served as a family reunion of sorts. The property also hosts rustic weddings and other large events. We had about 20 guests stay on the property. In our opinion, this was just the right amount of people before it started feeling too cramped.
During our four-night stay, we enjoyed cooking in the commercial kitchen, hanging out in the main foyer with the bar and fireplace, and roaming around the grounds. On New Year's Eve, we brought in 2019 dancing and drinking at the bar.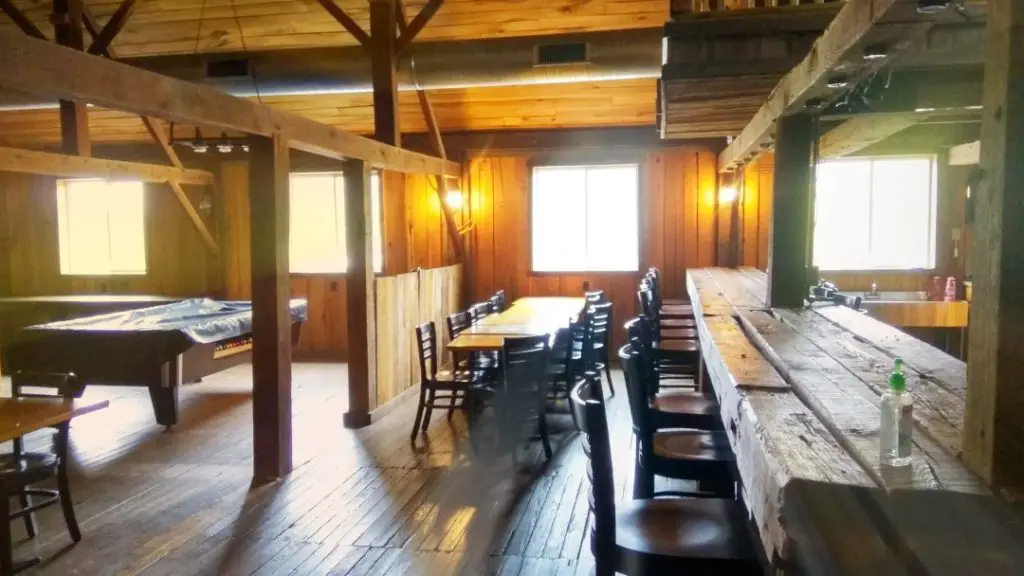 Our favorite night was when we gathered around the fire pit drinking red wine, listening to music, and doing what BS Travelers love to do – BS. As it got later and colder, we headed to the warmth of the axe throwing barn.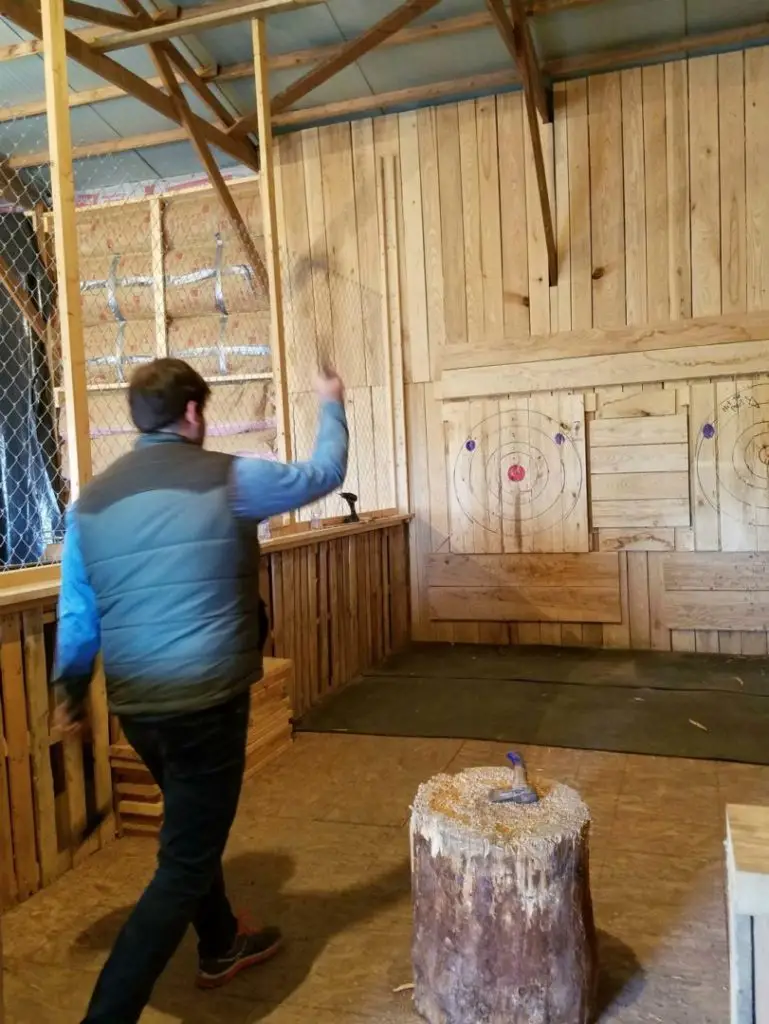 Sleeping Arrangements
The main barn has three bedrooms upstairs and one large room with several bunk beds that all share one upstairs full bathroom. There is a downstairs bedroom off the kitchen that holds the sauna and laundry machines that are directly next to the bed. There is only a partition to separate the bedroom from the main hallway.
The main barn also has two other spacious bathrooms downstairs with showers in each (one for men and one for women). Generally, sleeping in the main barn feels similar to a hostel.
The vintage farmhouse, called the Blanche House, offers more of a private experience. There are five bedrooms in the house and four bedrooms that have their own en-suite toilet and shower. There is one downstairs bedroom that has a double bed and twin bed with no en-suite bathroom. The occupants in this bedroom would have to use another room's bathroom facilities.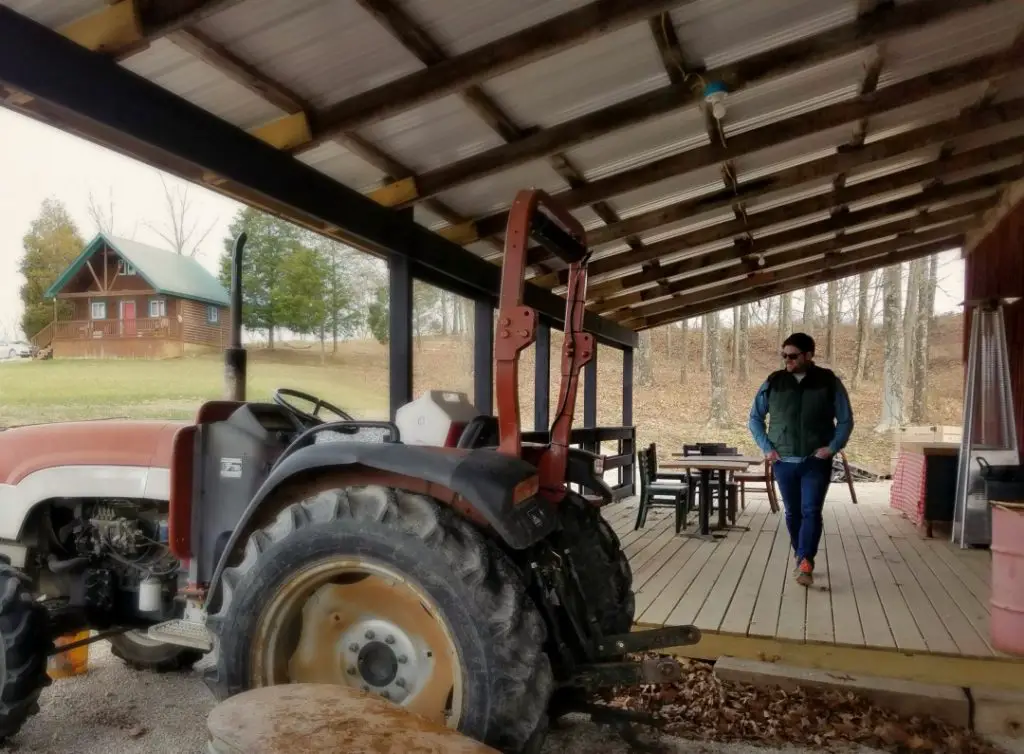 Generally, folks that want a little more privacy and seclusion may prefer to stay in the Blanche House. In our opinion, the most comfortable rooms on this entire Elk Ridge property are the three bedrooms on the upstairs level of the Blanche House. The Big Barn Main Lodge is definitely more communal. There are no cooking facilities in the Blanche House.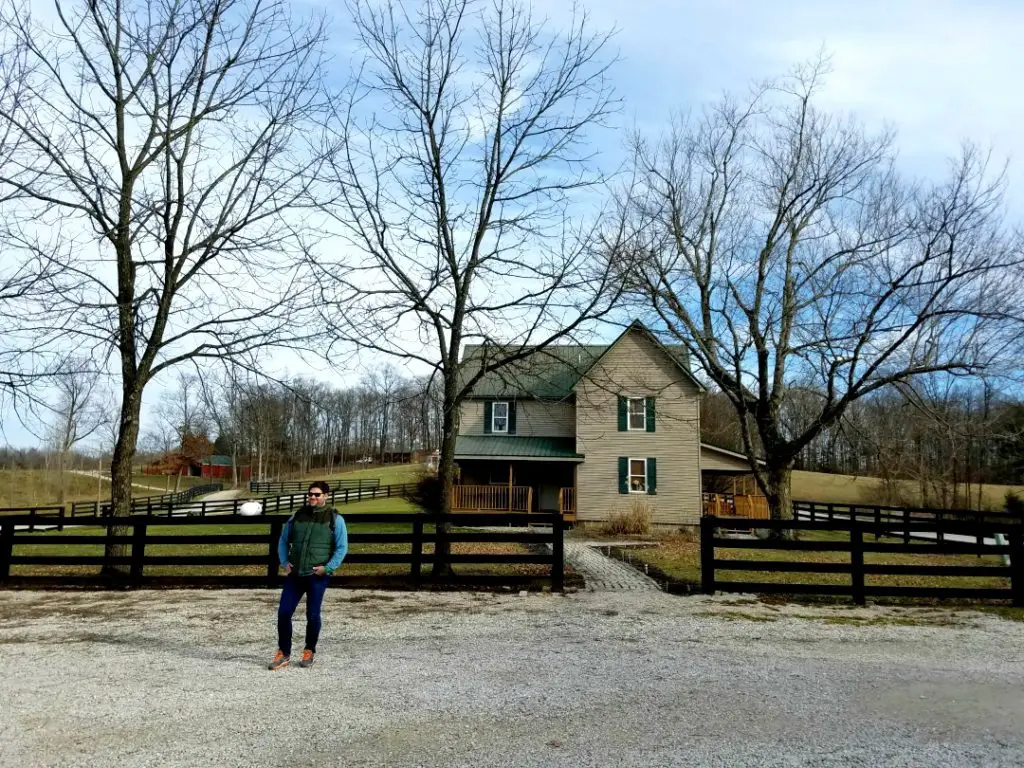 Things to Do at Elk Ridge Ranch
Other than the ability to self-cater at the lodge, one of the best aspects is how much there is to do on the property.
Activities include a nine-hole par-3 golf course, Bourbon Barn, pool table with a large bar and sound system, gym and yoga studio, axe throwing and brick oven pizza barn, cornhole, skeet shooting, fire pit, fishing pond, four satellite TVs and scenic wildlife walks. There is also an outdoor labyrinth (garden maze), gazebo, vineyard, and a tee-pee.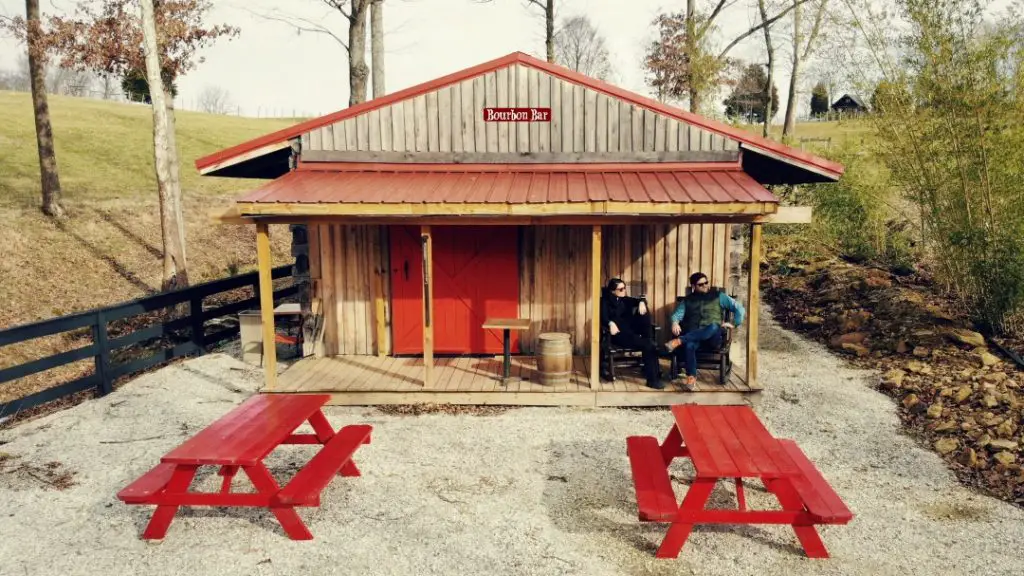 Outside the main entrance are two large grills. There is also a huge outdoor grill located on a covered deck on the upper level of the barn. A sauna is located in one of the bedrooms in the main barn.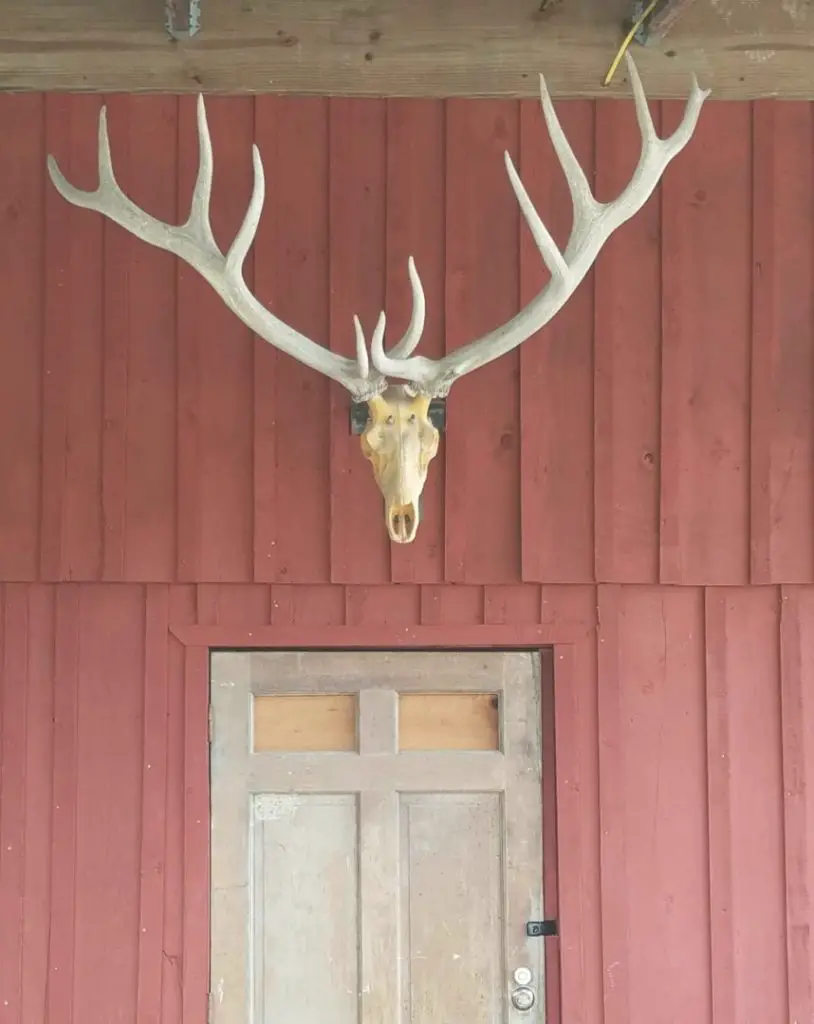 General Tips for Elk Ridge Ranch
The following are a few important tips to be aware of before your stay at Elk Ridge Ranch. Knowing these pointers in advance would have helped us plan our stay a little better.
The wood-fire oven brick pizza maker is in the ax-throwing barn located away from the Big Barn Main Lodge. It would be hard to carry supplies there and/or quickly run pizzas back to the main lodge. The best way to use the brick oven is to plan on driving supplies to the axe-throwing barn and hanging out there to eat, drink, and throw axes. Most likely, you'll need assistance from the staff to get everything started.
Upon arrival, you will be started off with a supply of consumables like paper towels and toilet paper.  They typically provide approximately two rolls of toilet paper in each bathroom, three rolls of paper towels in the kitchen, and two in the lobby baths. We did not have to leave to purchase more paper products during our stay. However, we only had about two days where all 20 people were present. If you have more people and a longer stay, you probably will need to bring extra paper products.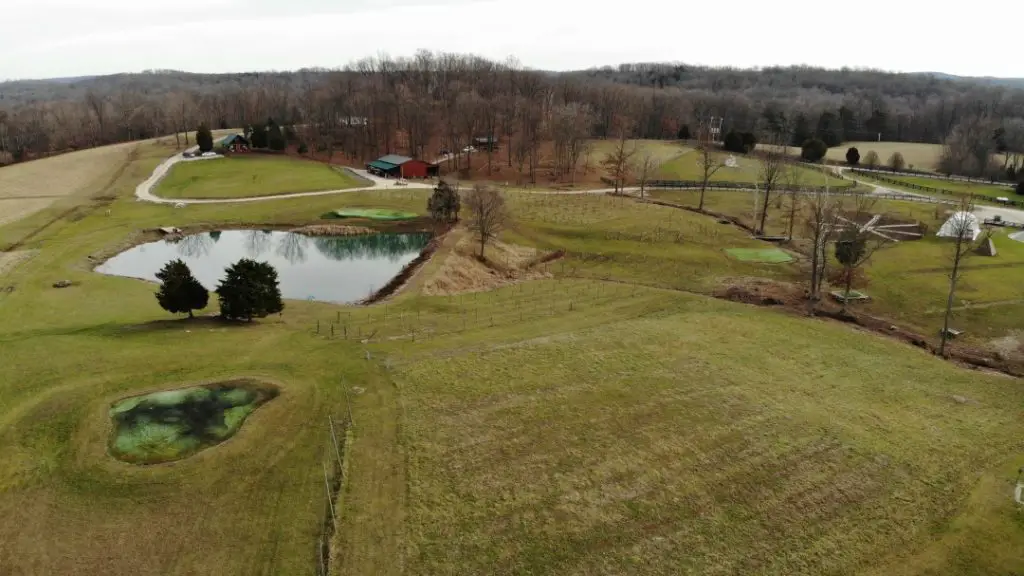 There is an abundance of towels in all sizes located in the bedroom with the washing machine and dryer. Towels are provided and it is not necessary to bring any if you don't want to pack any.
Consumables such as dish soap, dishwasher pods, liquid hand soap, and laundry detergent are supplied on a limited basis. We did not need to purchase any additional during our four-night stay. Some super-sized garbage bags were provided, but we did bring some of our own and used them.
Body wash, body soap, and shampoo and conditioner are not provided. It is necessary for you to supply your own.
There is one hair dryer that is available in the main lodge.
There is a commercial ice maker in the kitchen so no need to bring or buy ice.
The kitchen truly has everything needed for folks to self-cater meals. Do you need it? It's most likely there. We brought supplies to prepare all of our meals and didn't feel like anything was missing.
There is a microwave, dishwasher, two fridges, oven, stovetop, coffee machines, pizza pans, pots and pans, and even spices and cooking oils. There is also a popcorn machine located on the bar.
Dave or another staff member will instruct you on how to use all the appliances and turn on the gas stove upon your arrival.

Dave and Wendy live on the back of the 40-acreage of the property with a separate entrance. If you need anything during your stay, they are available. In fact, the hosts are very much present and do stop in often to check to see how things are going or if there are any questions.

Wi-Fi is available and is fast enough to do everyday browsing. Cell phone service is very spotty here and we often did not have a signal.
Exploring Beyond Elk Ridge Ranch
If you're looking to explore outside the rural ranch setting, French Lick is your best bet. Due to the winding country roads, it takes about 20 to 25 minutes to get there. In French Lick, you'll find fast food, bars and restaurants, grocery stores and shops, and the
French Lick Resorts
. This is the best place to go if you want to go out to eat or pick up supplies during your stay. French Lick is also the hometown of basketball legend Larry Bird. Those interested in his life can take a
Larry Bird self-guided tour
around town.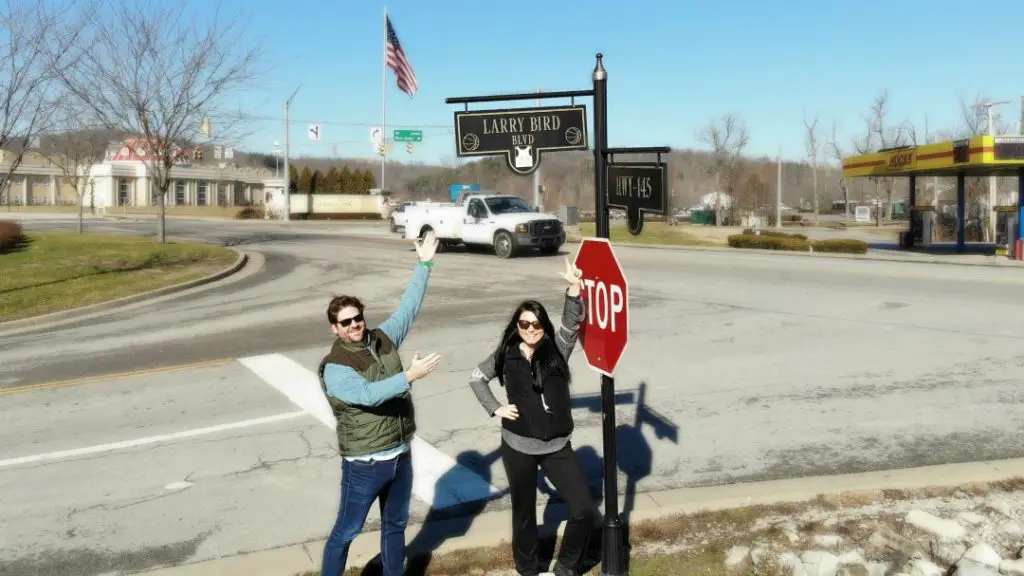 If you are considering booking a stay at Elk Ridge Ranch and have questions about the area or our experience, feel free to ask any questions in the comments section below. We'd be happy to help!