Looking for some cool and unusual things to do on the Baja California Peninsula? The Tijuana peninsula is best known for having the busiest border crossing in all of Mexico, a stunning shoreline, adrenaline-inducing sport fishing, and many fabulous resorts located on the southern tip.
Most tourists who visit will be completely surprised when they find out how much there is to see and do. After all, the peninsula is about 800 miles long and features 1,900 miles of coastline and 65 islands.
Baja California Peninsula – 7 Cool and Unusual Things to See and Do
After you've downed a few margaritas and relaxed on the beach, you may be ready to explore. Trust us, it can be extremely fun hitting up some of the more cool and unusual places around Baja.
For the most part, these are places that you may not necessarily find on a typical tourist map. However, they are definitely worth exploring if they pique your curiosity. Below are a few of our favorite cool and unusual things to do on the Baja California Peninsula.
1. La Mona – Tijuana
Starting from the most northern part of the Baja California Peninsula and heading south we begin in the city of Tijuana. Back in 1987, Armando Muñoz Garcia contacted the Tijuana city officials about building an enormous statue of a naked woman to celebrate the 1989 centennial. Believe it or not, the city refused.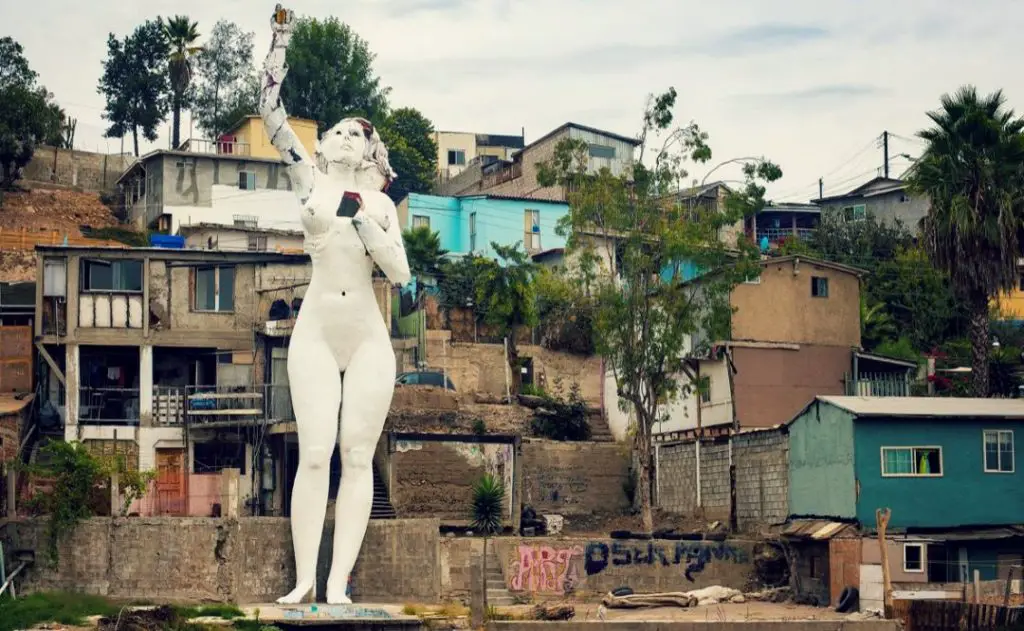 Ignoring the "suggestion," Armando began building his statue in one of the ghettos of Tijuana in a place where not even city officials would bother him. Eventually, in 1991 it was completed. It rises about five stories tall and weighs over 18 tons! Armando named the statue "Tijuana III Millennium." The locals refer to it as "La Mona" meaning "the doll."
The most fascinating part about this story is that not only is this a statue, but it was also Armando's home. He and his wife lived inside the statue for many years. The entrance is in the rear (literally located in her bottom), along with the house's bathrooms. The library is in the brain. The kitchen is in the stomach and the bedroom is in the woman's chest.
Tour Tijuana From the USA: Crossing Borders: Tijuana Day Trip from San Diego
Where to Stay: Tijuana Marriott Hotel (great pool area!)
2. El Foro Antiguo Palacio Jai Alai – Tijuana
Like us, you're probably thinking what the heck is jai alai? Jai alai is a ball game that's played on a three-walled court with a hard rubber ball that is caught and thrown with a cesta, which is a long, curved wicker scoop strapped to one player's arm.
You may have seen this before when it was featured on the hit TV show Jackass. In not so bright fashion, Steve-O and Johnny stand in front of a wall as human Jai Alai targets. It's actually quite dangerous as the ball will typically fly about 150 mph!
Around the 1950s, the Foro Antiguo Palacio was the best spot in all of the southwest to watch professionals excel at this high-speed sport. Today, the forum is now a musical venue. However, in honor of the building's past, renovations preserved the giant "jai alai" sign above the entrance.
It's a great and unexpected spot for a picture so don't forget to snap a selfie near the entrance to the building; preferably next to the statue of a jai alai player sitting atop a massive globe.
Fun Tijuana Excursion: Motorcycle Ride in the Mountains & Puerto Nuevo Langosta
Closest Budget Hotel: Aqua Rio Hotel
3. Film Studios – Rosarito
Have you ever heard of a little movie called Titanic?  (Yes, we thought so.) Of course, everybody knows about the blockbuster film Titanic, but there were also many other movies and television shows filmed here too. What about Tomorrow Never Dies, Pearl Harbor, or Master and Commander?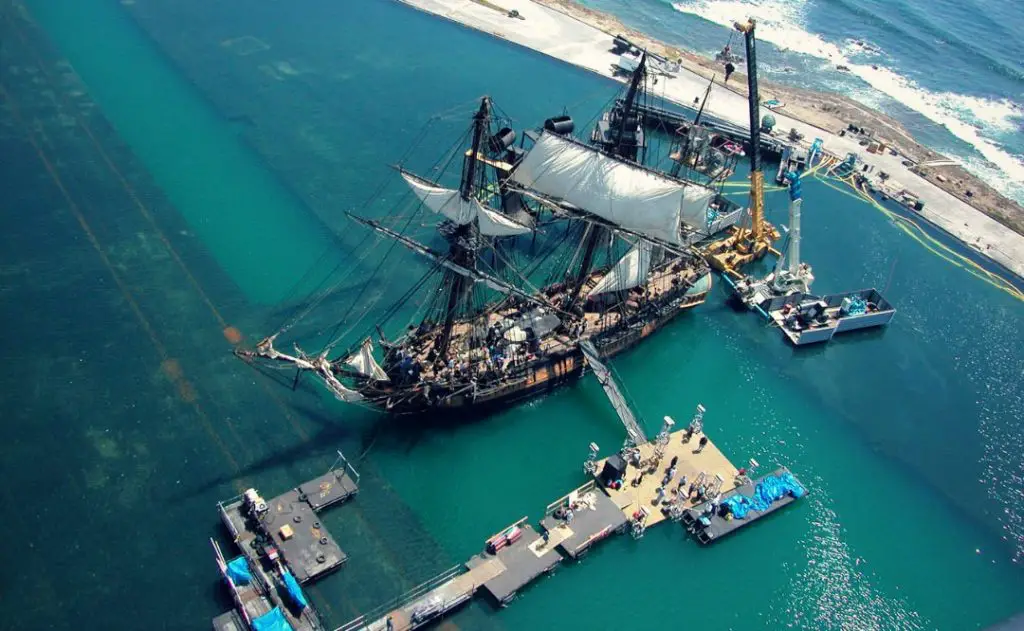 Located near Rosarito, this 46-acre production facility has been the site for a number of Hollywood movies. Although it hasn't seen much activity lately, you may get lucky and see something blowing up or a staged machine gunfight when Hollywood decides to make its next big screen, water-based hit.
Wine Lovers Tour: Wine and Dine Tours of Valle de Guadalupe
Where to Stay: Vista Hermosa Resort and Spa
4. Hussong's Cantina – Ensenada
Like us, you're probably always looking for a great excuse to enjoy a drink. If so, head over to Hussong's Cantina in Ensenada, which claims to be the birthplace of the margarita. This place is so legendary that both Ronald Reagan and James Garner have stopped in for a little taste of Old Mexico.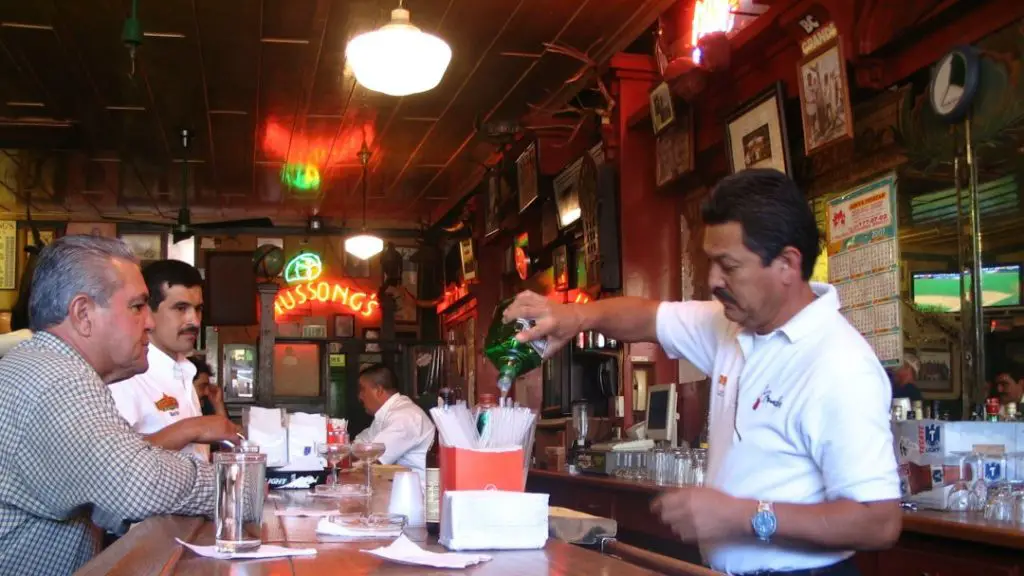 Legend has it that back in 1941 the daughter of a German ambassador, named Margarita Henkel, was visiting the cantina and was served an experimental drink created by a bartender named Don Carlos Orozco. The combination of lime juice, tequila, and citrus-flavored liqueur apparently blew her mind. Therefore, Don Carlos decided to name the classic drink after her.
Best Thing To Do in Ensenada: Las Cañadas Canopy Tour in Ensenada
Where to Stay: Holiday Inn Express & Suites (Fantastic Pool!)
5. La Lobera – El Rosario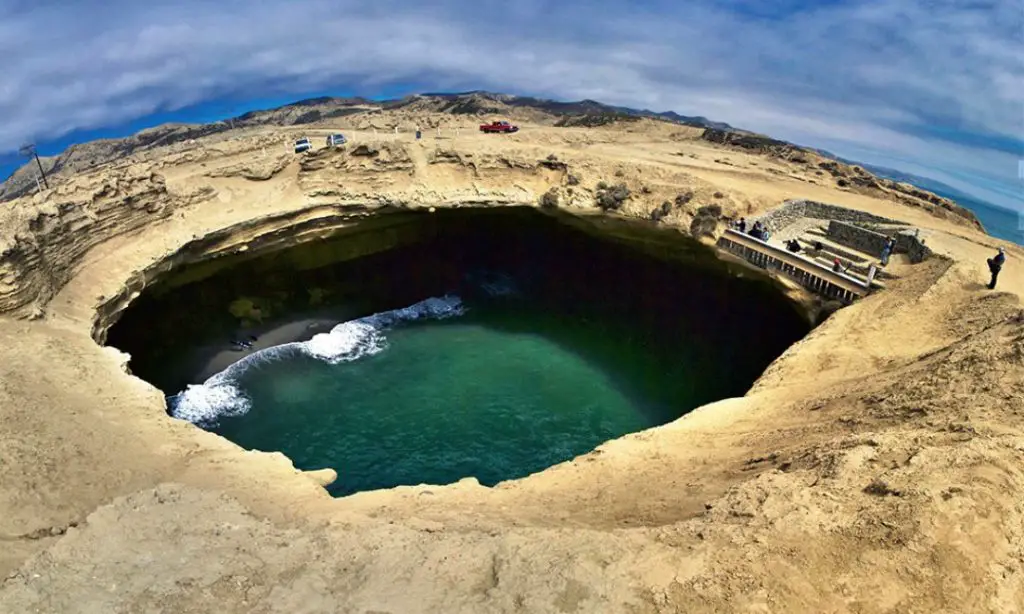 Located about five hours from Tijuana, and about six miles north of El Rosario, La Lobera is quite the majestic sight. From the air, it looks like a giant crater or a beautiful blue eye surrounded by sand. The current diameter of the hole is about 200 feet wide, however, keep in mind that it's constantly expanding.
What you'll actually see when you finally arrive is a naturally formed crater, surrounded by a rope fence, to prevent people from falling down the 80-foot hole.  From here, you're able to view sea lions and seals gathering on the covered beach.
Great Budget Place to Stay Nearby: Don Eddie's Landing Hotel
6. Tropic of Cancer Monument – Santiago
At 23.5 degrees north latitude lies the Tropic of Cancer. On June 21, the beginning of summer in the northern hemisphere begins when the sun is directly overhead at noon. When the lines were labeled 2,000 years ago, the Sun was in the constellation of Cancer during the summer solstice and Capricorn during the winter solstice (hence the names).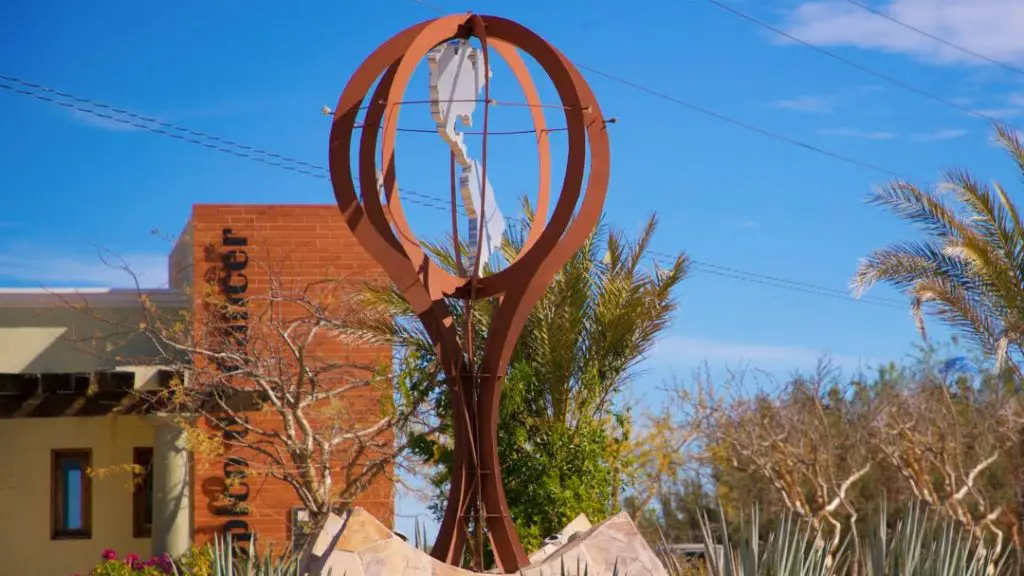 Located near Cabo San Lucas, just outside the city of Santiago, the Tropic of Cancer monument pays tribute to the imaginary line that covers the globe. This Tropic of Cancer site contains a small chapel, two sculptures,  a massive globe, and information about the marker, completed in 2013.
Looking For Some Adventure?: Hiking at the Fox Canyon Near Los Cabos
A Delightful Place to Stay: Hacienda de Palmas
7. Arch of Cabo San Lucas
The Arch of Cabo San Lucas is probably the most famous natural landmark on the peninsula. It is located on the most southern tip of the peninsula in the city of Cabo San Lucas. This distinctive limestone rock formation is not only visually striking, but it's probably the most Insta-worthy place in Los Cabos.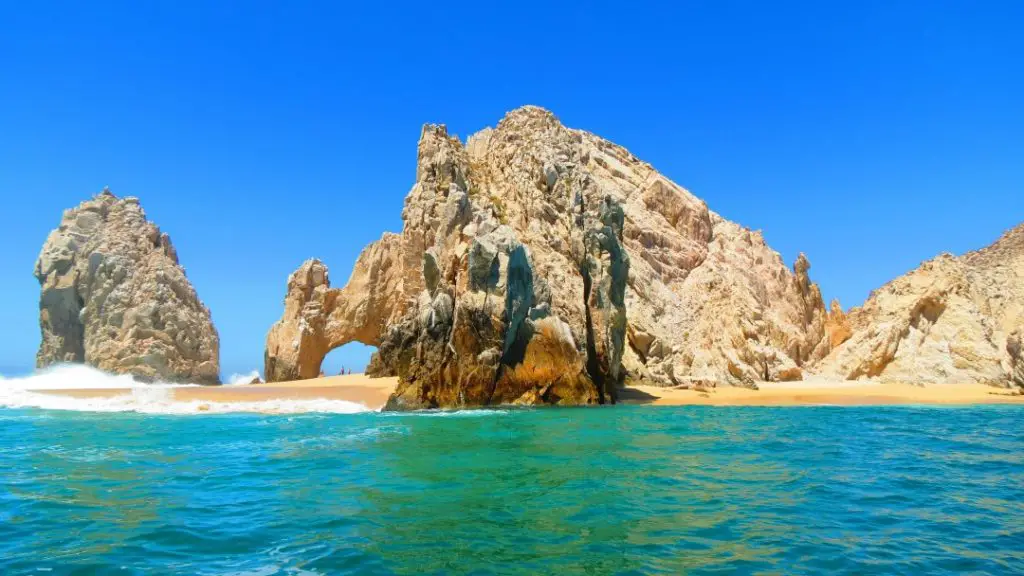 Remember, it is possible to walk to the beaches near the arch. However, many people will pay to take a boat depending on the location of their accommodations. There are boats near the marina that will take tourists to the small beach sitting next to the arch. Just tell them you'd like to go to El Arco or Land's End.
One-of-a-Kind Experience: Camel Outback Adventure and Eco Farm from Los Cabos
Where to Stay
Below are five of the best options for accommodation by budget.
Budget: Marina View Villas (Will Surprise You)
Mid-Range: Playa Grande Resort & Grand Spa (Very Nice On the Beach)
Luxury: Nobu Hotel Los Cabos (Amazing property – Excellent Service)
Ultra-Luxury: Waldorf Astoria Los Cabos Pedregal (Wow!)
Apartment: Departamento MarAzul (Very Clean)
With the California Baja Peninsula having so much to offer, there is no reason to be bored or to feel as though you are not using your time effectively. Anyone looking for an amazing time should consider some of these cool and unusual things to see and do around the peninsula.
---
Do you know of any cool and unusual things to do on the Baja California Peninsula? Please share your insight in the comments section below.