Larry Bird's hometown is French Lick, Indiana. French Lick? You may be thinking, "What an interesting and unusual name!" It comes from the time when French traders came to the area and discovered all the mineral springs bubbling from the ground. Hence, French Lick got its name from early French settlers and the local "mineral licks."
Larry Bird's Hometown – Self-Guided Tour
French Lick is famous for its two big luxurious and beautiful hotels: the French Lick Springs Hotel & the West Baden Springs Hotel. Most travelers that visit French Lick will stay in one of these historic hotels. There are many things to do around town to stay busy such as hiking, horseback riding, spa treatments, or trying your luck in the French Lick Casino.
As folks begin to explore French Lick, they may begin to recognize that local legend Larry Bird is celebrated all over town. Known fondly as the "Hick from French Lick," this MVP is considered by many to be one of the greatest NBA players of all time. Those interested in his story may appreciate taking a self-guided tour of his hometown.
French Lick Springs Resort > Check Availability
Larry Bird's Hometown – French Lick, Indiana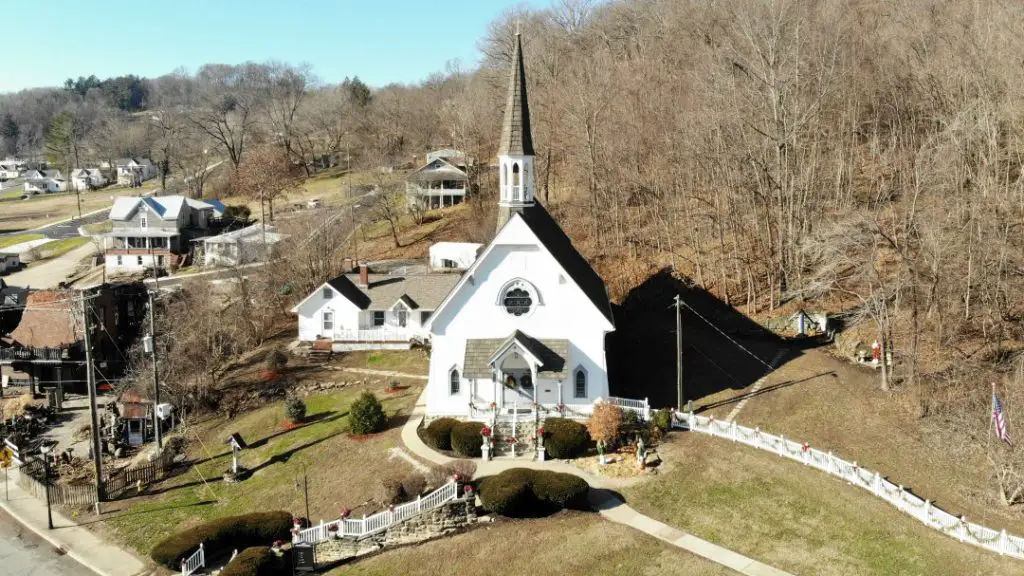 There will be two types of tourists that visit French Lick and find themselves searching for all things Larry Bird:
The type of person who did everything else they wanted to do in French Lick and decides to visit the Larry Bird sights, mainly from a historical perspective.
The type of person (like me) who is truly fascinated with Larry Bird and wouldn't mind retracing his footsteps and shooting a couple of hoops in his old stomping grounds.
Larry Bird's French Lick Boyhood Home With Address
Larry Bird's boyhood home in French Lick Indiana is located in the southeast section of the town, near Route 145. Also, it's located at the intersection of  S Washington Street and S Jefferson Street. The exact address is 983 S Washington Street.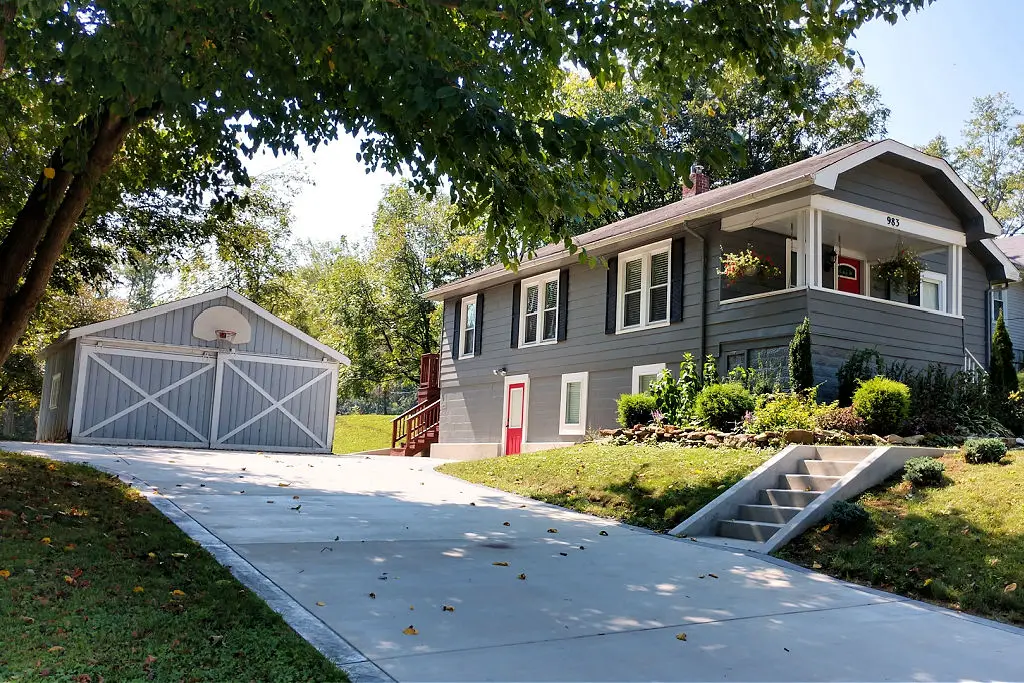 Is there a more appropriate place to start the tour? Located on the corner of S. Jefferson St. & Washington St., Larry Bird's boyhood home is about a 5-minute drive from the French Lick Springs Hotel. The home and garage were recently renovated, so they do look fairly different from earlier photos.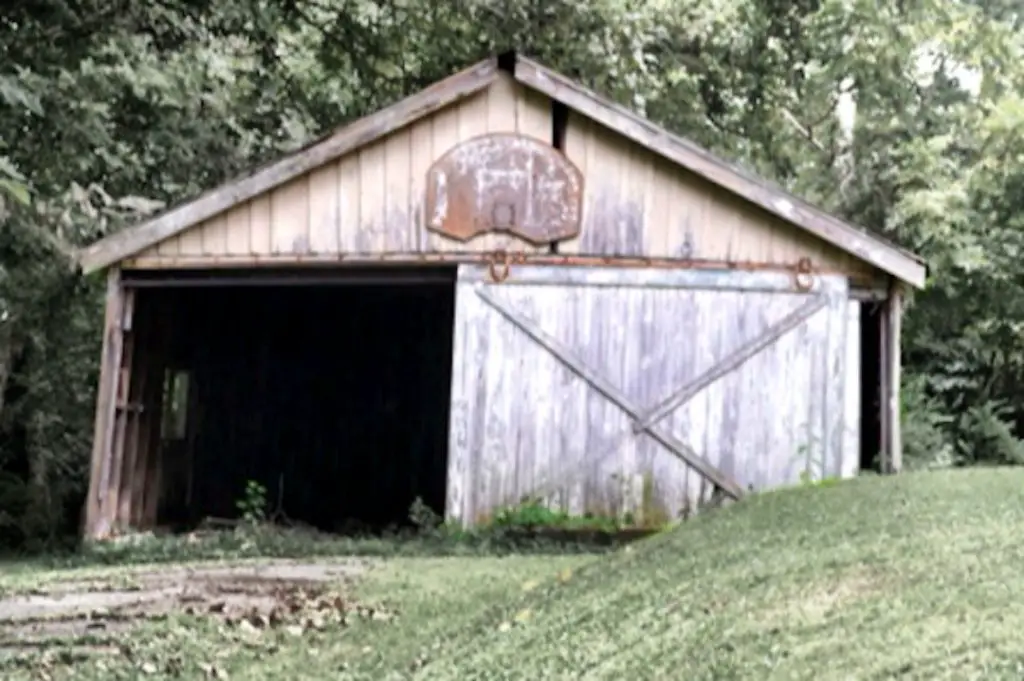 The original basketball hoop has been removed and is now officially considered missing in action. Luckily, the new owners put up an old basketball hoop to provide the space with some sense of the basketball greatness that once used to live here.
Springs Valley High School (and Bust)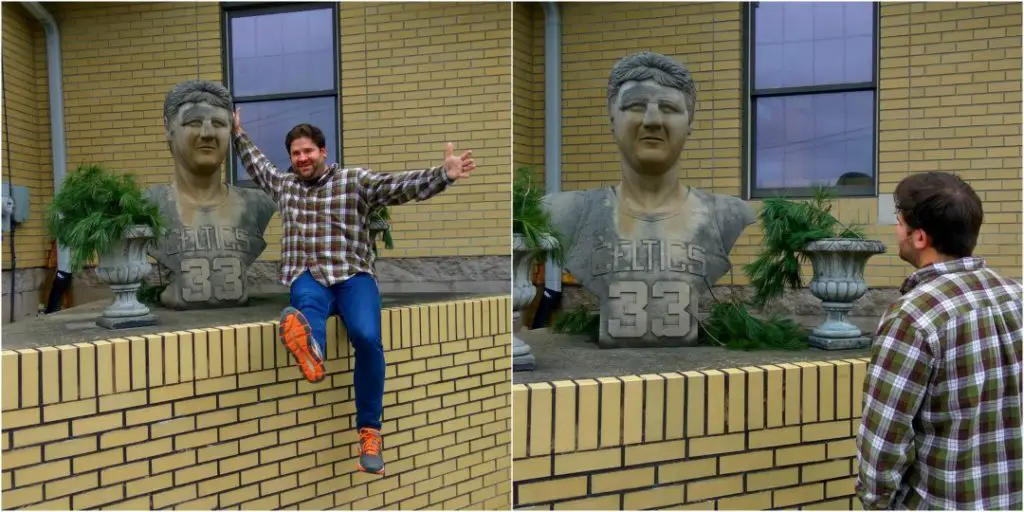 Springs Valley High School is about a two-minute drive or a 10-minute walk from Larry's boyhood home. Along the way try to imagine a young Larry Bird dribbling his basketball on his way to school each morning.
Larry was notorious for shooting 200 free throws before school started, every morning. Next to the high school is the Springs Valley Teen Center which houses a couple of outdoor basketball hoops and a massive bust of Larry Bird.
Larry Bird Boulevard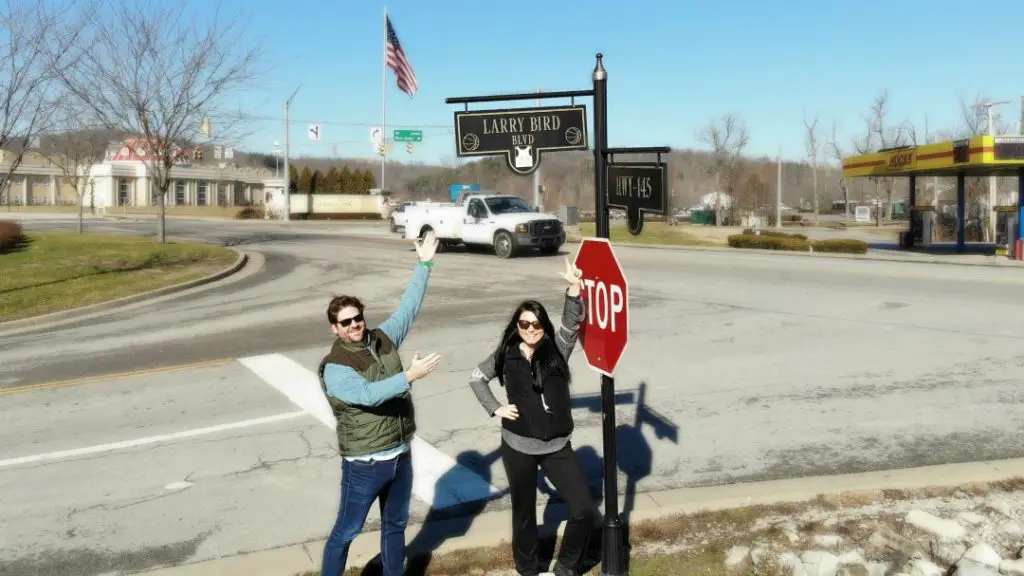 Springs Valley High School is located on Larry Bird Boulevard. Find your favorite-looking sign and make sure to take an epic shot!
The Legend of French Lick – Larry Bird's Home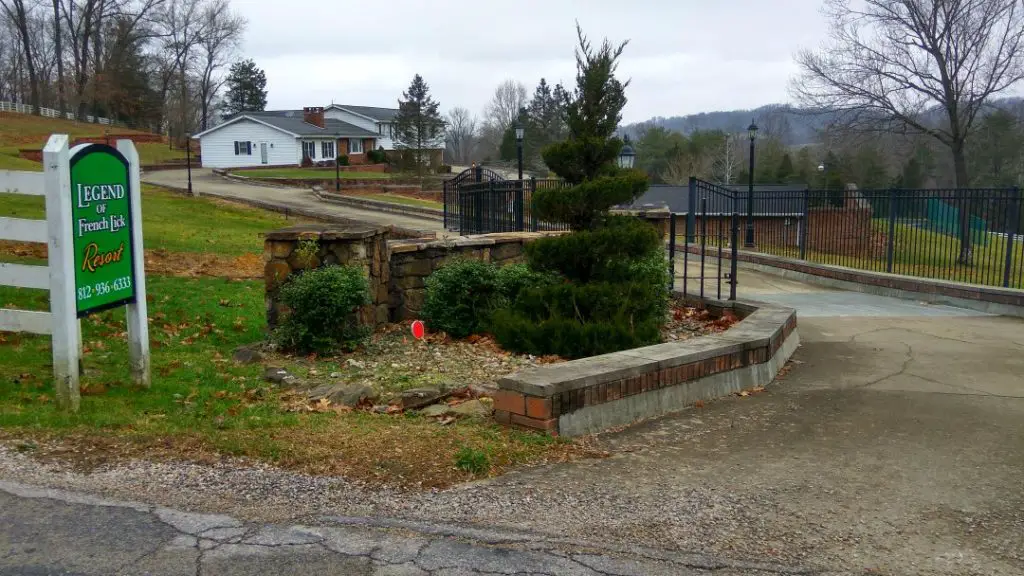 This is probably my favorite stop along the tour. Larry Bird used some of his newly earned NBA money to build this 20-acre estate. In 2007, the owners of the Comfort Suites Hotel purchased the home and transformed it into a mini-resort, the Legend of French Lick Resort.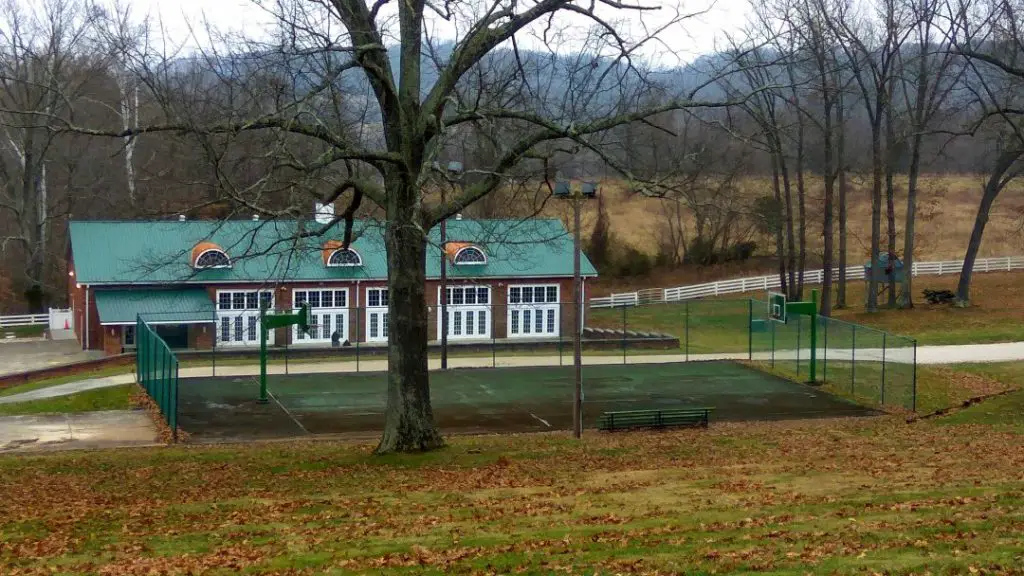 Based on the lack of attention given to the basketball court, I'm not sure I would enjoy staying here. This basketball court was used in the movie "Blue Chips" and the famous 1980s Converse commercial featuring Magic Johnson.
Address: 7328 W Co Rd 100 N, West Baden Springs, IN 47469
33 Brick Street – Larry Bird Memorabilia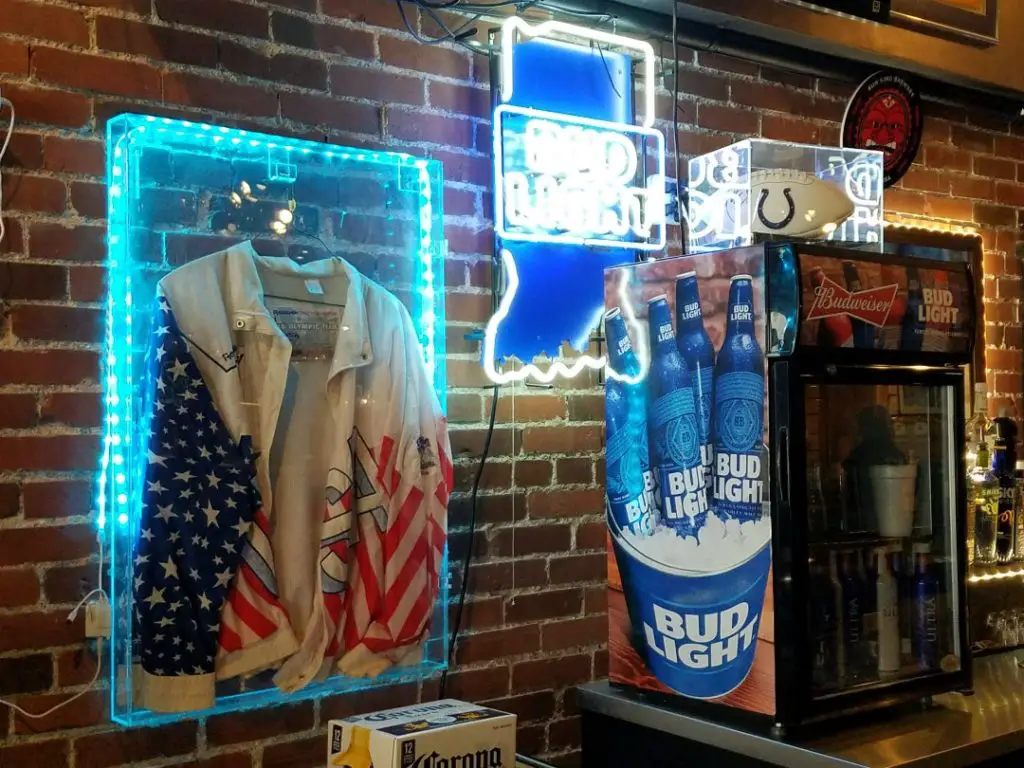 33 Brick Street is located in downtown French Lick. It is considered by many to be "half sports bar-half Larry Bird Museum."
The proprietors of the establishment went to high school with Larry Bird. Due to the connection, Larry Bird gracefully donated sports memorabilia, including personal awards and trophies that were owned by the renowned player.
The owners of 33 Brick Street allow visitors to try on Larry's warm-up jacket, the one he wore as part of the Dream Team in the 1992 Olympic Games. Simply ask the wait staff if you can try it on. They'll pull it down from behind the bar and allow you to wear it! By the way, the hamburgers look delicious too so it may be worth stopping here for a bite to eat.
Bear Hollow Wood Carvers
Located in downtown French Lick, Bear Hollow Wood Carvers features custom chainsaw carvings and sculptures. Look around, you may find one of Larry Bird's!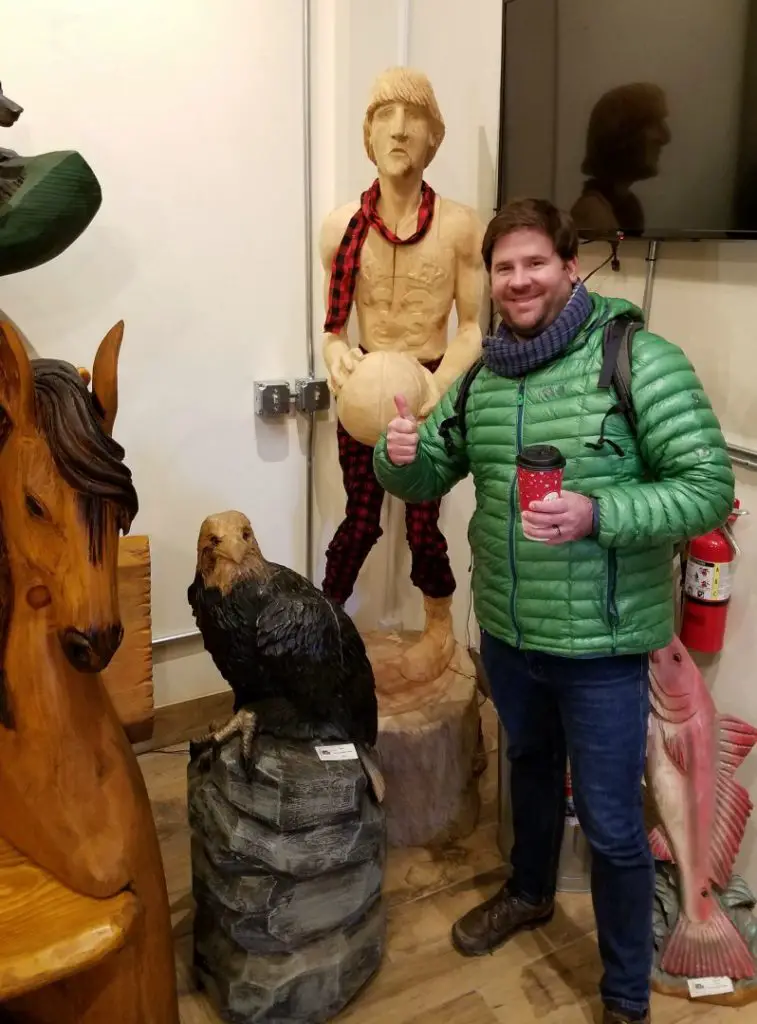 Best Accommodations in French Lick
Those looking for a splurge will love the town's signature properties, especially West Baden Springs Hotel. However, those looking for something a little bit more budget-friendly will enjoy staying at one of the two accommodations below.
Best Western Plus > Check Availability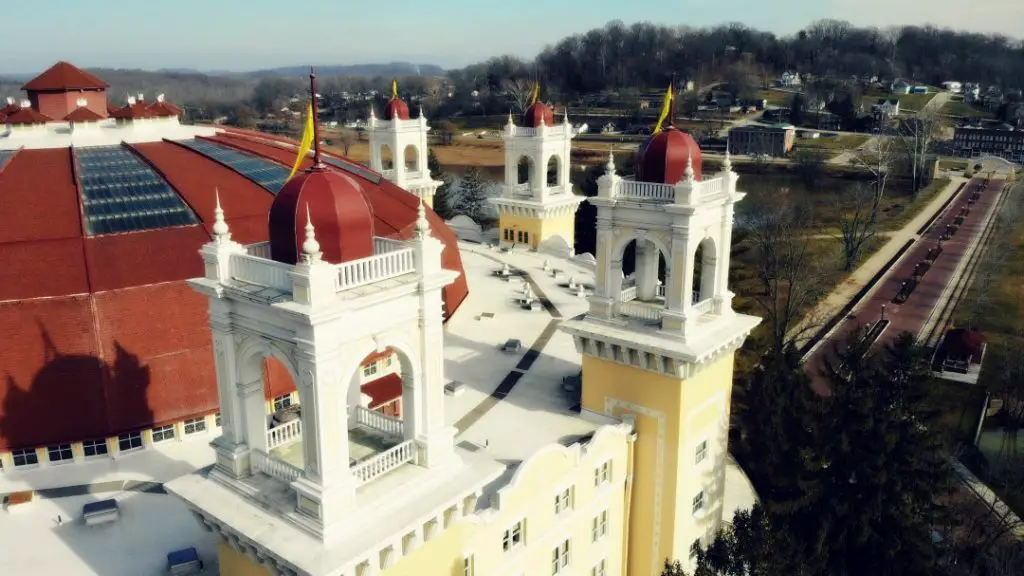 Where'd we stay? West Baden Springs Hotel of course! It's arguably one of the best hotels in the state and easily one of the most visually striking in the world. We recommend booking a premium atrium view guest room. It's a little bit more expensive than the standard room, but the views from the balcony are simply stunning.
West Baden Springs Hotel > Check Availability
Do you know any other great locations in the area that relate to Larry Bird? If so, comment below or send us a picture and we'll add your information to this post!
---
Cover photo of Larry Bird courtesy of Wikimedia