When travelers envision Cancun, they typically associate it as a destination where the party begins the moment you arrive. Ironically, it's the commute from the airport to the hotel that causes the most anxiety for many visitors. No worries! We'll break down all your options from the cheapest ways to get from Cancun Airport to the Hotel Zone to the most luxurious—providing you with all the best options.
If you don't have your transportation option planned out ahead of time be prepared to encounter a horde of overly eager taxi drivers, potentially scheming you into paying overpriced fares. Fortunately, strategies exist to sidestep the chaos—being informed about your choices before your arrival can save you serious dough.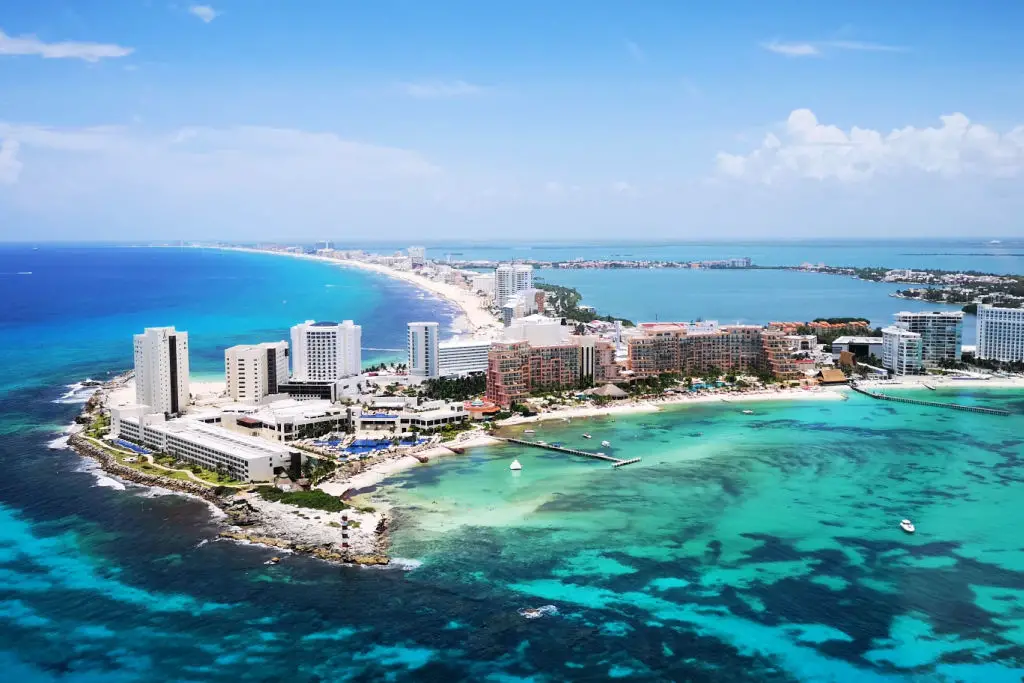 For a seamless and stress-free commencement to your Cancun adventure, read on. We'll outline the most optimal ways and the cheapest ways to get from Cancun Airport to the Hotel Zone and go through the most frequently asked questions.
Cheapest Way to Get From Cancun Airport to Hotel Zone
There are several methods to get from the Cancun Airport to the Hotel Zone. However, most people prefer a quick private transfer from the airport so that they can get to their all-inclusive resort as soon as possible. Nevertheless, there are people who would rather take public transportation to save as much money as possible. We'll go through all of the options below from the most popular approaches to the least used.
Semi-Private and Private Transfers
The cheapest option for getting from Cancun Airport to the Hotel Zone is to reserve a taxi or shuttle online on the airport's official website. To protect tourists, the Mexican government regulates the cost of taxis. For example, two adults will pay about USD 30 each way, or USD 60 for a roundtrip—simply make your reservation online.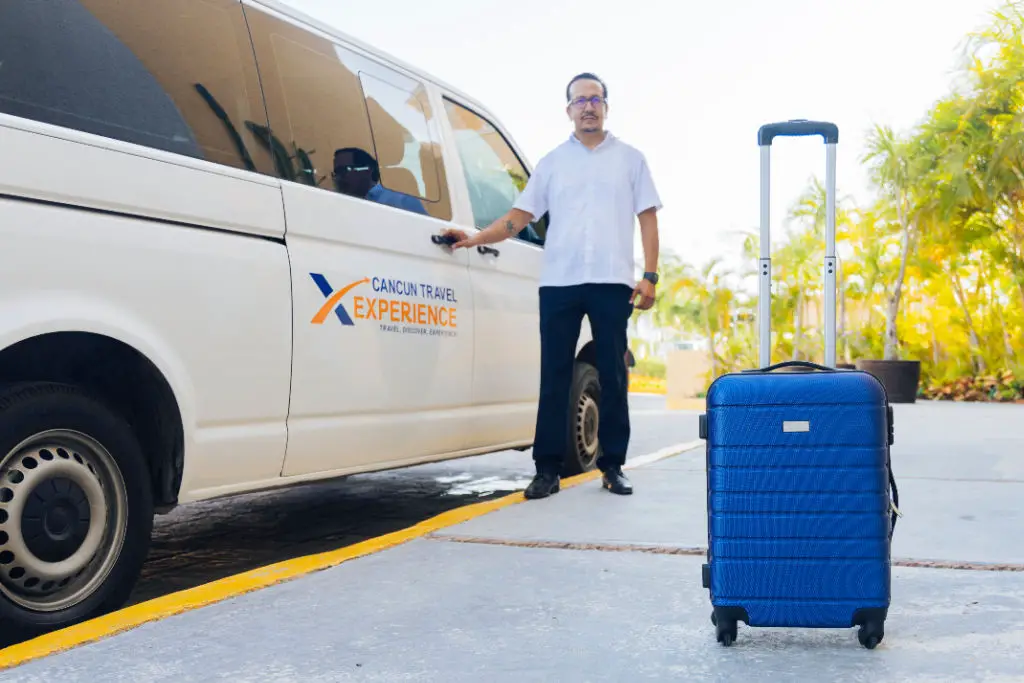 Passengers of semi-private transfers may have to wait up to an hour before departing the airport. While private transfers (through the official airport website) will be much quicker, however, you may still have to wait a little bit.
If you want to get to the resort to sip on margaritas as quickly as possible or prefer to have a driver waiting for you with a sign with your name on it, then go with an independent private transfer operator like Cancun Travel Experience. They're only about USD 8 more per person, and you'll have a contact you communicate with before your trip to ensure that they're waiting for you.
🚐 Cancun Travel Experience Transfer – Check Availability
Celebrating a Special Occasion?
If you're celebrating a special occasion or you're traveling with a fun group, it may be worth splurging on a luxury SUV transfer, which includes free beer and Wi-Fi for up to six passengers! Not only will a driver be waiting in arrivals with a sign with your name on it but passengers may also make special requests.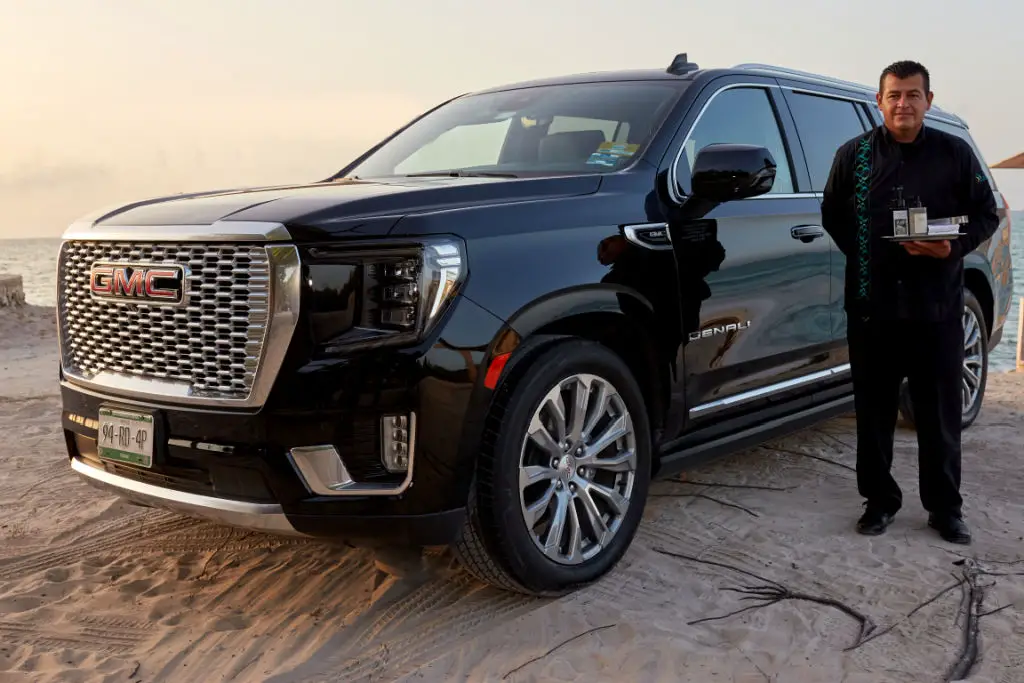 For example, if it's your wife's birthday, after you make your reservation you can communicate with the operator to bring flowers, chocolates, or tequila as a surprise for that special someone.
🚙 Luxury SUV Transfer – Check Availability
Public Transportation
The ADO bus provides the most economical means of traveling from Cancun Airport to the Hotel Zone, although it may not be the most convenient option based on our experience. Buses depart every 15 to 40 minutes from 8 am to midnight, and you can pre-book your seat through the ADO website.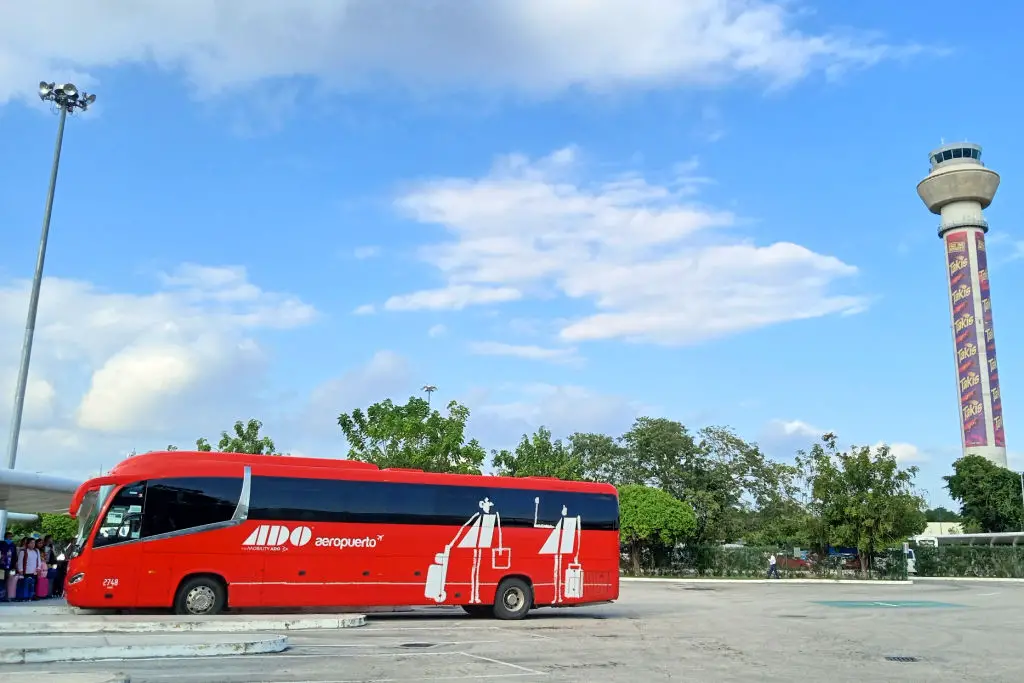 However, a delayed flight may force you to miss the bus entirely. Also, it's important to note that the ADO bus doesn't go directly to the Hotel Zone but takes passengers to the downtown terminal. From there, riders need to switch to the R1 or R2 bus to reach the Hotel Zone, costing an additional USD 0.60¢.
While the ADO bus is a budget-friendly way to navigate Cancun, it may not be the optimal choice for getting from the Cancun Airport to the Hotel Zone. For example, a shared transfer through the official airport website will cost about USD 13 per person which is only a few dollars more and you won't have to deal with changing buses and extended wait times.
🤑 Save up to 50% on Cancun Attractions
💰 Budget-Savvy Tip: When you're ready to explore the fun things to do around your all-inclusive be sure to check out the Go City Cancun All-Inclusive Pass to save some serious dough. It includes all the best attractions, tours, and activities at one affordable rate. If you plan on hitting up just a couple of the major tourist attractions, it's an absolute no-brainer.
For example, going on the dolphin encounter with lunch is one of the best things to do in Cancun. Luckily, it's included in Go City's 1-Day All-Inclusive Pass, making it more affordable than most think! If you want to see a ton of stuff and save a lot of money, we highly recommend the pass. Be sure to check out the 40+ attractions by clicking here.
Frequently Asked Questions
How Far Is Cancun Airport From the Hotel Zone?
The distance from Cancun Airport to the Hotel Zone is approximately 12.5 miles. Of course, the precise distance will vary based on the specific resort you've chosen. Nevertheless, typically, the journey from the airport to the Hotel Zone takes about 20-30 minutes.
Do Complimentary Shuttles Operate From Cancun Airport to the Hotel Zone?
Complimentary shuttles do not run from the Hotel Zone to the Airport. Cancun has leveraged the airport as a revenue source from tourists, implementing stringent regulations to ensure a substantial profit. While this might seem disadvantageous, it has improved the safety of transportation from the airport to the Hotel Zone.
What's the Best Way to Rent a Car?
Renting a car in Cancun proves to be an excellent choice, especially if you plan to explore the country. We recommend using Discover Cars which compares prices and provides quotes for only the best rental car agencies in Cancun.
For a seamless experience, it's advisable to book your rental car in advance. Also, read this article to make sure you don't get ripped off. This way, upon landing at the airport, you can quickly receive your vehicle and embark on your journey.
Which Transportation Option is the Safest and Which is the Most Risky?
Without a doubt, the safest option for transportation from Cancun Airport to the Hotel Zone is a luxury SUV. Followed by either a private or semi-private taxi/shuttle transfer.
These taxis/shuttles are managed by authorized and reputable tour companies, ensuring compliance with strict Cancun airport regulations. The entire operation is closely monitored, providing an additional layer of safety. Moreover, the fixed price paid in advance eliminates the risk of being taken advantage of.
The riskiest option is to arrive at the airport and hop in the cab of an unauthorized taxi driver. Never attempt to negotiate prices with an unregulated/unauthorized taxi driver at the airport. While you could potentially save money you could also get robbed, or worse.
Should I Tip My Driver?
For the most part, tips are customary. For this reason, it's advisable to have small bills in either MXD, USD or even CAD on hand. Generally, a 10% tip is acceptable.
We Need Your Help
Did you find this article helpful? If so, bookmark it and when you're planning your next vacation click on any of the links below before finalizing reservations. You'll get the best price, we'll earn a small commission, and you'll help support future articles.
Thank you!
BEST TRAVEL SEARCH ENGINES
🏘️ Book Your Accommodation
We use Tripadvisor and Priceline's Express Deals to compare prices and reviews in advance and check availability
✈️ Book Your Flight in Advance
To find the cheapest flight options, you can use WayAway and Skyscanner to find the most suitable choice for you
🚗 Reserve Your Rental Car
Use DiscoverCars and Skyscanner to compare prices and view the largest selection of vehicles