Camping or glamping in Big Sur will change your life, it's that spectacular. Big Sur is located along the Pacific Ocean, in-between San Francisco and Los Angeles. The area is frequently referred to as one of the most amazing places in the world, where water meets land. Also, the 90 miles of coastline feature breathtaking rugged wilderness, towering cliffs, stunning beaches, and phenomenal sunsets.
Big Sur Region Overview
There are 10 state parks and two reserves within the Big Sur region. If you're thinking about visiting this little slice of paradise then you better know these 14 things below before glamping or camping in Big Sur.
The popular drive, by way of the twisty Highway 1 is how most visitors will greet Big Sur. A countless number of car commercials and movie scenes have been filmed along this illustrious road.
Many visitors enjoy pulling over along the way and taking in the sites. Apart from the views, highlights include crossing the Bixby Creek Bridge, viewing North America's largest bird the endangered California condor, and spotting migrating whales in the ocean.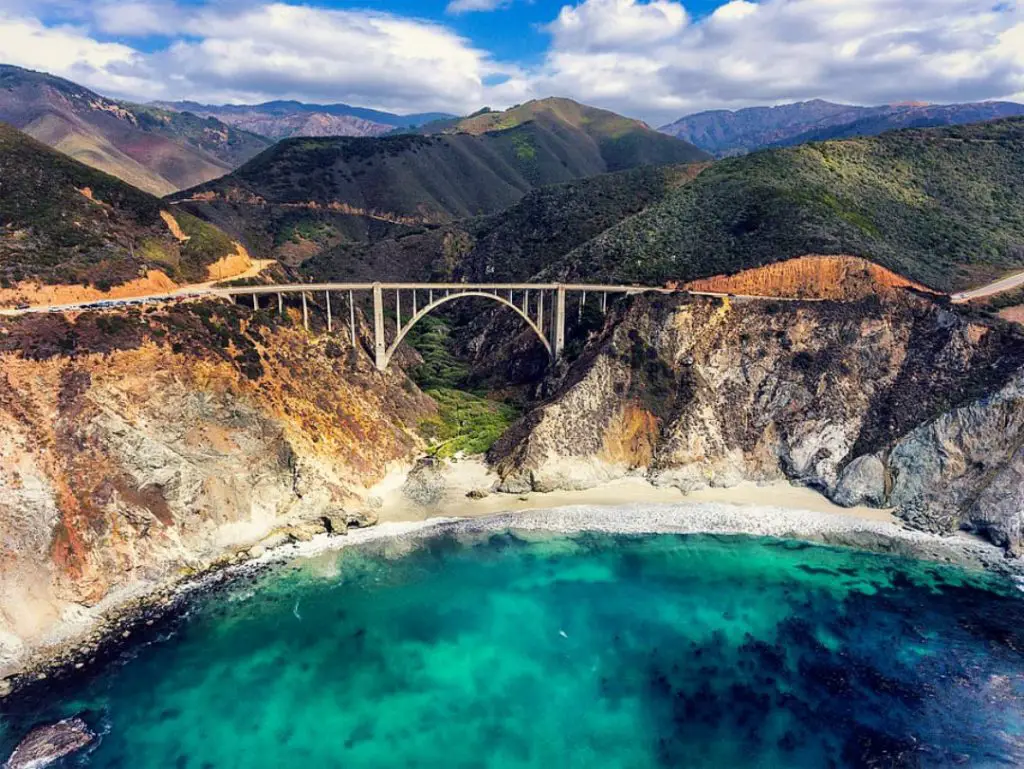 Visitors love all of the great outdoor activities in the region including hiking, backpacking, mountain biking, horseback riding, fishing, swimming, surfing, sunbathing, SCUBA, and visiting the hot springs. Nevertheless, the best way to experience the region is by camping or glamping in Big Sur.
We love searching the globe and finding the best places to go glamping. The information below will assist the first-time camper or glamper to Big Sur in planning for their big trip.
14 Things to Know Before Camping or Glamping in Big Sur
Camping or glamping in Big Sur will surely be an amazing experience. Many campers and glampers enjoy it so much the first time that they end up returning to Big Sur time and time again. However, before embarking on your first trip to Big Sur, there are 14 things to know before clamping or glamping Big Sur.
Big Sur is extremely popular and overcrowded.
Understand fire restrictions.
Flying drones is prohibited in many areas.
Rocks, animals, and plants are protected.
Poison oak is prevalent.
Roadside camping is prohibited.
Point Sur Lighthouse is open for tours.
Free camping in Big Sur.
Pets must be on a leash.
California condor is flying around.
Coffee at the Henry Miller Memorial Library.
Spotting migrating gray whales.
No access to McWay Falls.
Drinking fountain scavenger hunt.
1. Big Sur is Extremely Popular and Overcrowded
The entire Big Sure region is extremely popular, especially from May to September. The recent influx of traffic has created such overcrowding that tourists are beginning to get under the skin of many of the locals that live in the area.
This is one reason why it's so extremely important to be extra cautious regarding your impact on the environment around you. The best time to visit is October through April when crowds have subsided and prices have decreased.
If you have a specific campground in mind to visit it's a good idea to reserve the spot in advance. Reservations can be made at most campgrounds so it's important to plan accordingly.
Many are booked six months in advance so make your reservations as soon as possible at ReserveCalifornia.com. Also, many of the good first-come, first-served campsites are either extremely competitive to reserve or many have been closed indefinitely.
2. Understand Fire Restrictions
Within campgrounds, campfires may be allowed in fire rings and other approved fire receptacles, depending on seasonal restrictions. Make sure to ask campground managers or contact park rangers if in doubt.
Camp stoves and campfires in the backcountry will most likely require a permit. Make sure to extinguish fires and cigarettes responsibly.
3. Flying Drones are Prohibited in Many Areas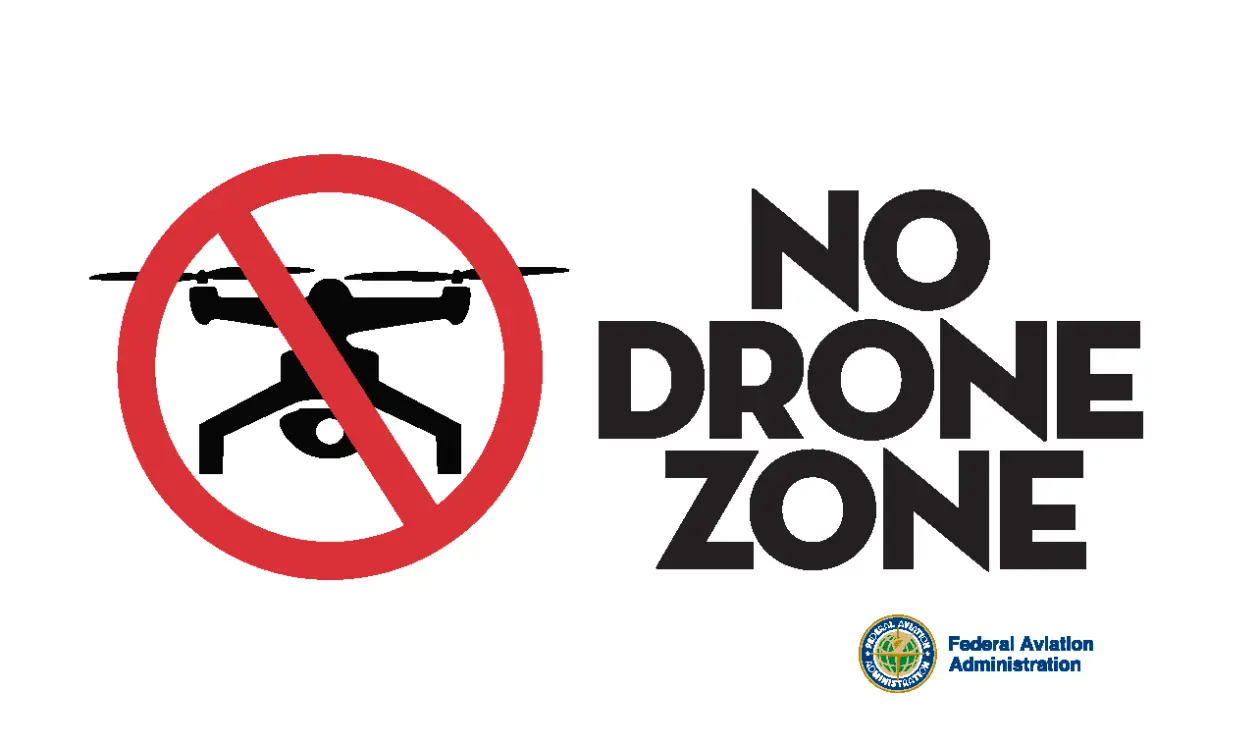 The entire Big Sur area along the coast is a protected area, known as the Monterey Bay National Marine Sanctuary. Drones and other unmanned aerial vehicles are discouraged in Big Sur. If you're in doubt about whether you should be flying it, seek out permission from local landowners.
4. Rocks, Animals, and Plants are Protected
Rocks, animals, plants, and artifacts of Big Sur's natural and cultural history are protected by law and shouldn't be disturbed. The collection of driftwood and rockhounding may be allowed in certain designated areas. However, collectors should contact a park ranger to determine specific information.
5. Poison Oak is Prevalent
Poison oak is found in abundance throughout Big Sur. It has a shiny surface with prominent veins spread out in a triple-leaf pattern.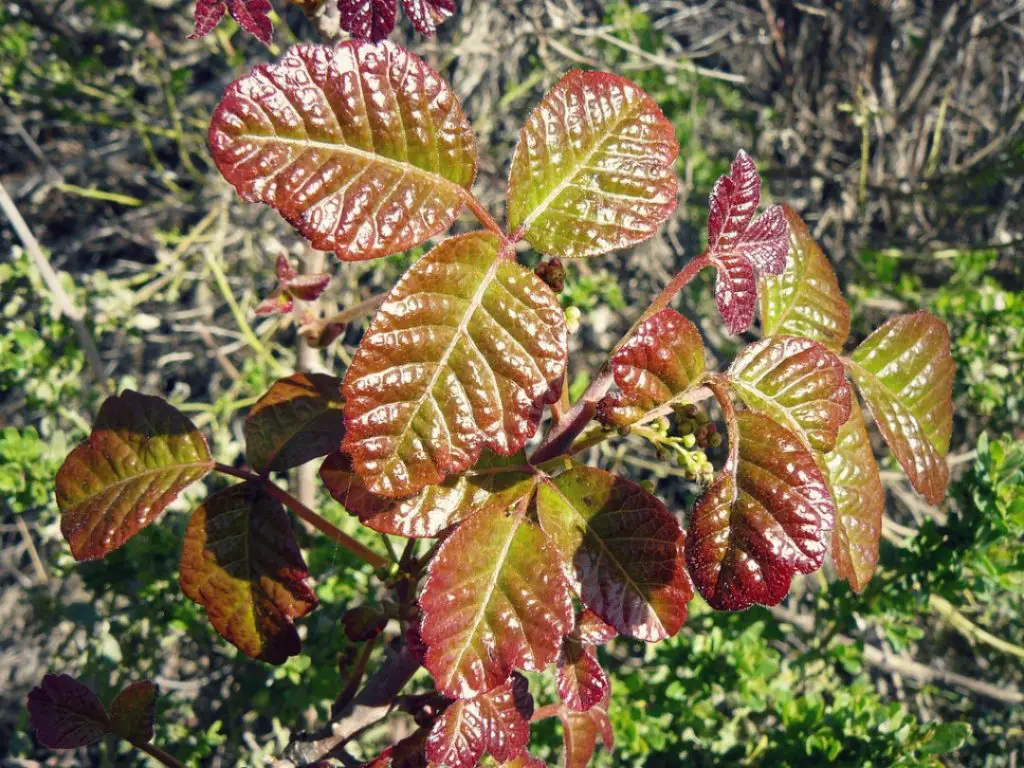 During summer and fall, the leaves will generally take on reddish hues. If you come in contact, the reaction may be subdued by immediately washing the infected area with soap and water. Visitors also should be cautious of mountain lions, rattlesnakes, and ticks.
6. Roadside Camping is Prohibited
It is against the law to camp along the roadside on Highway 1 from the Carmel River to the Monterey-San Luis Obispo County line. Of course, temporary stops do not apply.
7. Point Sur Lighthouse is Open for Tours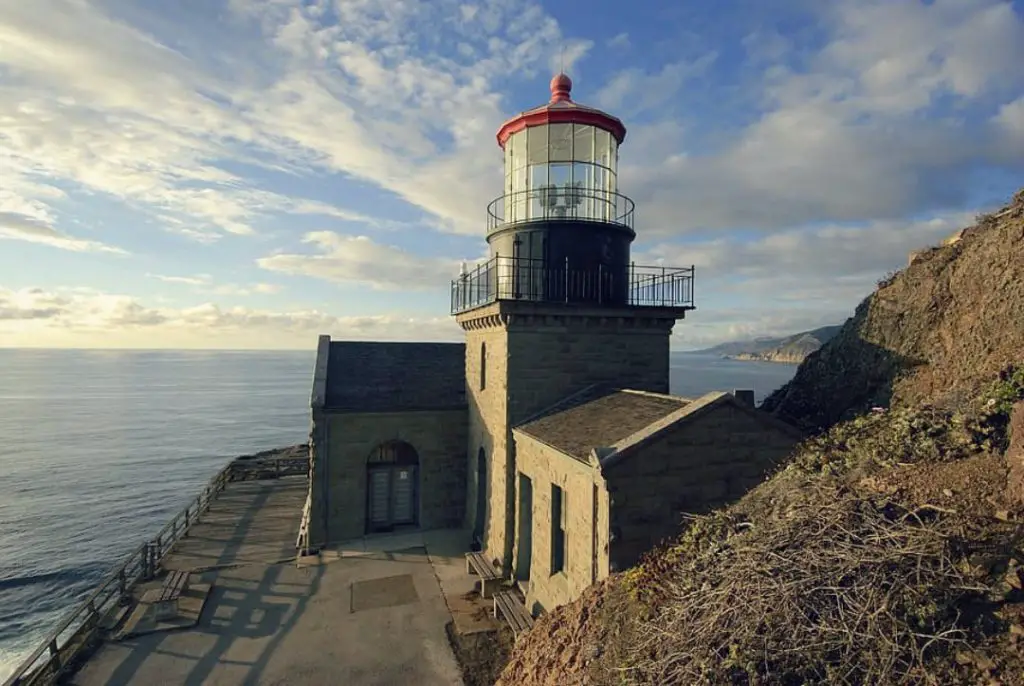 Guided tours of the Point Sur Lighthouse take place all year round. Tours take about three hours and involve a half-mile walk each way with a change in elevation of about 300 feet. Check the Point Sur website for tour times and costs.
8. Free Camping in Big Sur
You used to be able to park your vehicle along pretty much any road and set up camp. Unfortunately, the process became overcrowded and abusive to nature when campers began leaving their garbage. For this reason, the days of free camping are pretty much over, especially in the nicest areas of Big Sur.
However, you can still find free camping if you're willing to backpack into the remote areas of the wilderness or you can find a quiet service road. In conclusion, unless you're Bear Grylls, plan on making a proper reservation with a campground.
9. Pets Must Be On a Leash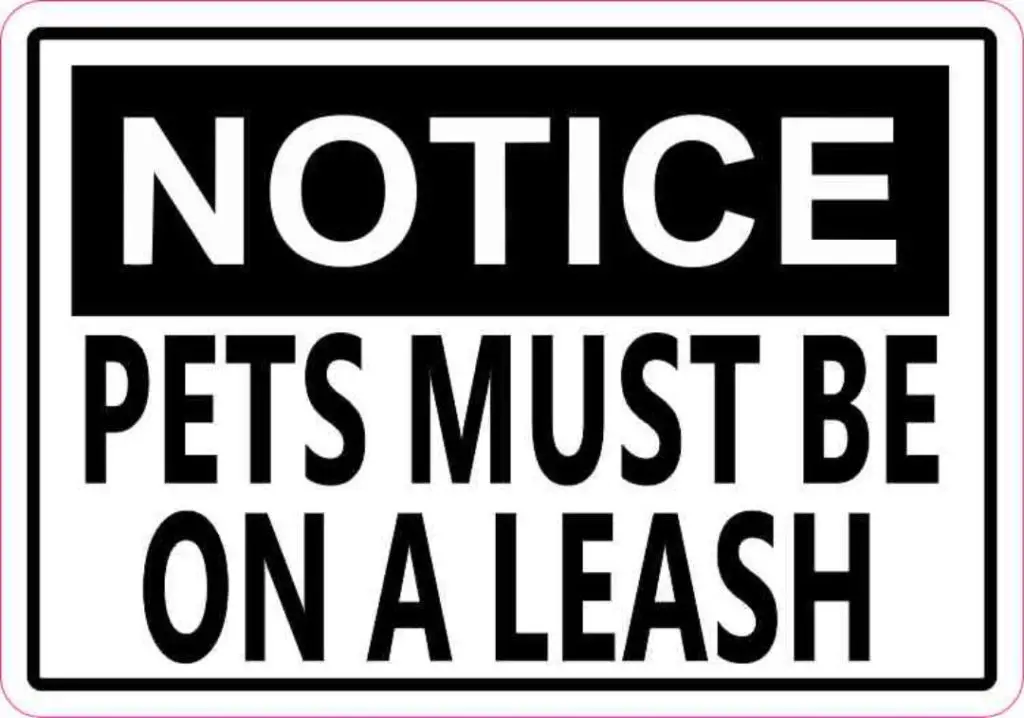 In the state parks, developed campgrounds, and picnic areas, all dogs (and other pets) are not allowed on the trails and must be on a leash at all times.
10. California Condor Is Flying Around
With a wingspan of about 10 feet, the California condor is North America's largest land bird. Recently, there were only 22 birds left on earth and they almost became extinct.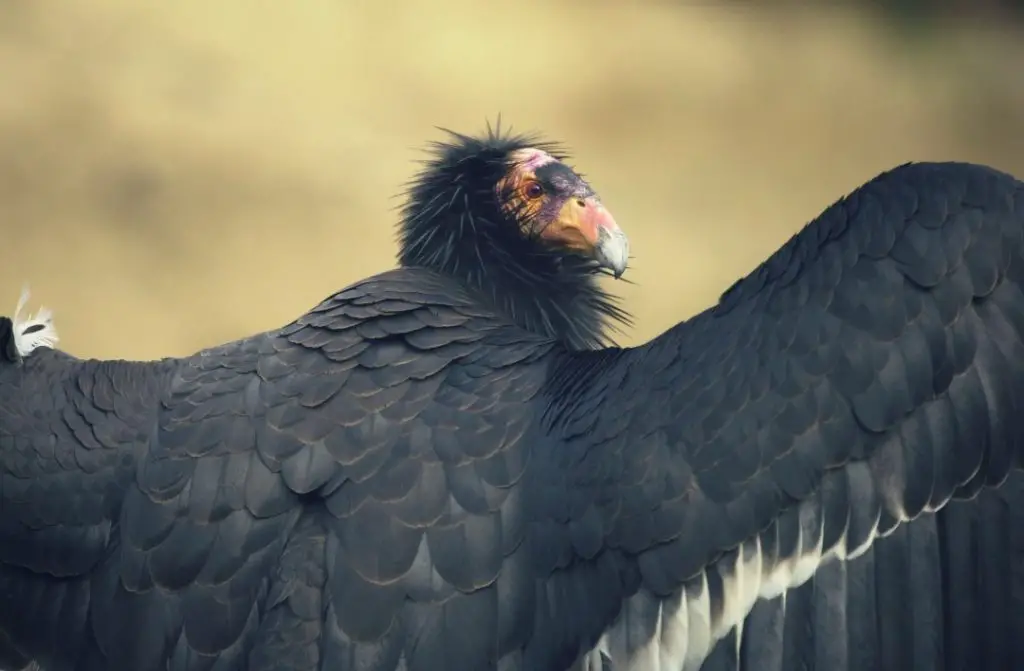 Today, they can be seen in Big Sur quite frequently even though they're still endangered. Visit the Discovery Center at Andrew Molera State Park to learn the detailed story of how condors are being saved. One of the best places to spot the condor is Mile Marker 41.
11. Coffee at the Henry Miller Memorial Library
The Henry Miller Memorial Library is famous for being the place "where nothing happens." The library sells artwork and books by Henry Miller—it also displays his first editions. It's a great place to buy or read a book, enjoy some tea or coffee, relax, talk with locals, or appreciate the laid-back atmosphere.
They sometimes host concerts, readings, film nights, and cultural exhibitions. Also, the library pays homage to other Big Sur authors. Admission is free.
12. Spotting Migrating Gray Whales
The months between December and May are the ideal time to spot migrating Gray whales along the coast of Big Sur. Also, Gray whales are known to have the longest migration of any mammal. For example, they travel from the warm winter calving waters in Baja California to their summer feeding grounds in the chilly Arctic seas every year.
13. No Access to McWay Falls
McWay Falls is so spectacular. We've all seen the iconic photos of the falls and most people assume (before visiting) that they'll be able to walk right up to it and stand near it and take photos.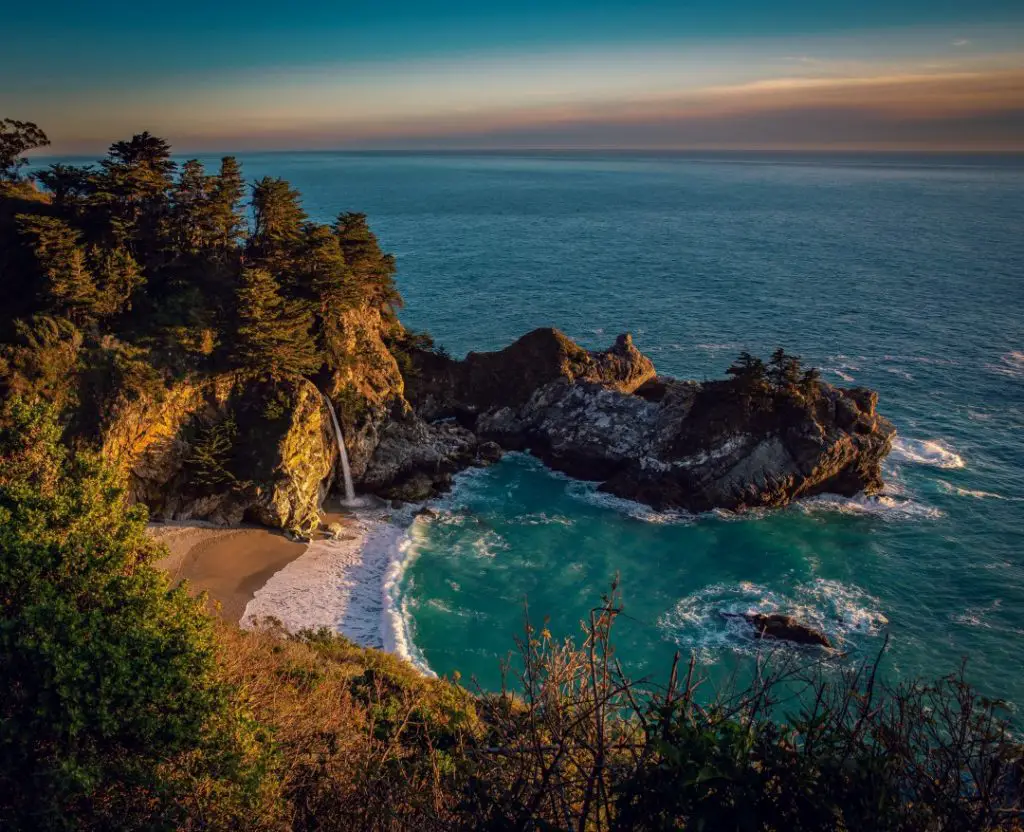 Unfortunately, there's no beach or ocean access allowed at McWay Falls. Fences have been erected to prevent trespassing and violators will be issued a citation and/or arrested. It's a huge bummer, but you must stay on the trails.
14. Drinking Fountain Scavenger Hunt
During the 1920s, stonemasons and excavators who were working for the Civilian Conservation Corps around natural springs hand-built six stone fountains. Each fountain sits in a somewhat conspicuous spot on the eastern side of the highway. Many locals and almost all tourists drive by these fountains without a clue of their existence.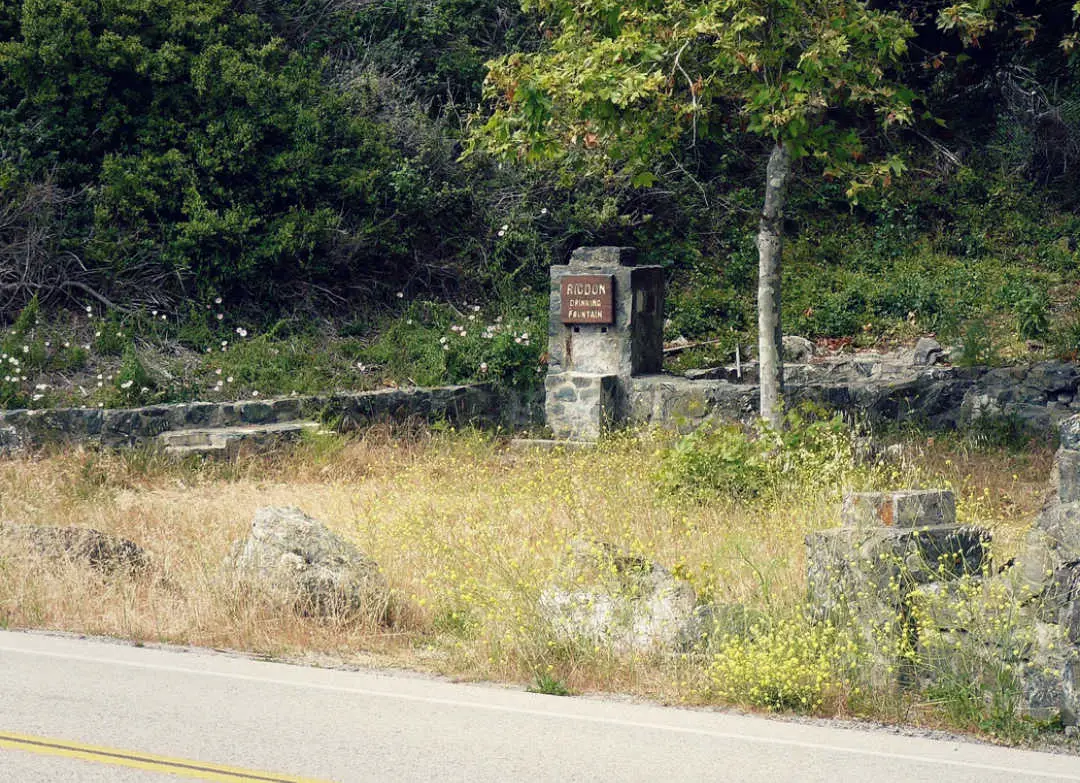 The five fountains are within a 26-mile stretch of highway beginning at the Monterey County line (mileage zero). From north to south, Rigdon (Monterey County mile-marker 26), Big Redwood (23), Lucia (19), Willow Creek (11.7), and Soda Springs (3.8).
Best Locations for Glamping in Big Sur
So that none of the best locations for glamping in Big Sur are missed, included in the list below are luxury tents, rustic cabins, yurts, and other posh glamping accommodations.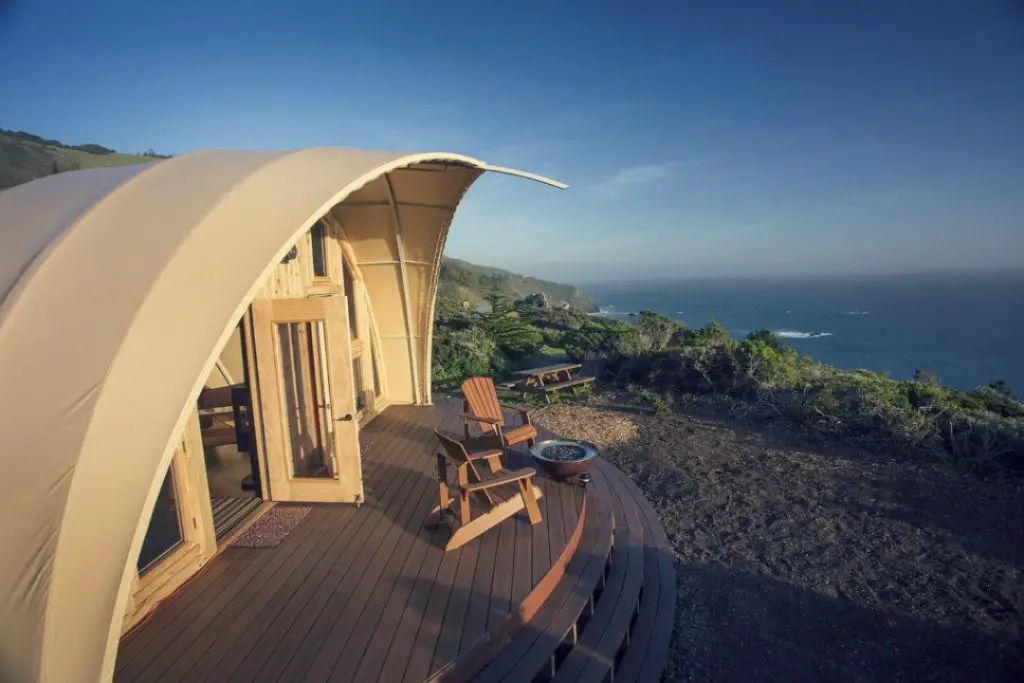 We've ranked them from most budget-savvy to least budget-savvy. Remember, we define budget as—a plan to spend money for a particular purpose—not simply the cheapest.
Treebones Resort $$$
Pfeiffer Big Sur Campground and Cabins $$$
Riverside Campground & Cabins $$
Glen Oaks Big Sur $$$$
Ripplewood Resort $$
Ventana Big Sur $$$$$
Fernwood Resort $$$
Please note, that if the accommodation is not listed you'll need to contact the location directly.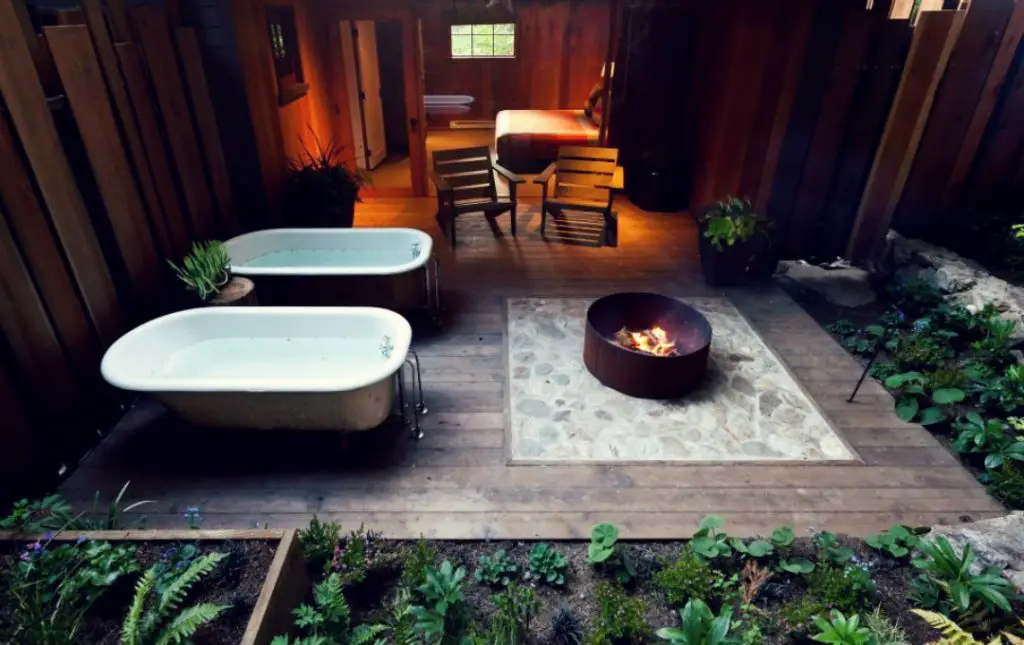 Other great options can be found on Glampinghub.com such as 'Inviting Cabins in the Trees Surrounded by Redwoods.'
Best Campgrounds for Laundry
The campgrounds below have laundry facilities available for campers. Be sure to contact the campground directly to inquire about current rates.
Riverside Campground & Cabins
Pfeiffer Big Sur Campground & Cabins
Best Campgrounds for Cleanest Restrooms
If you're concerned about having access to clean restrooms and showers, all of the campgrounds below are highly rated.
Treebones Resort
Pfeiffer Big Sur Campground & Cabins
Fernwood Resort
Best Big Sur Beaches to Visit
The best beaches to visit are Sand Dollar Beach, Pfeiffer Beach, and Andrew Molera State Park. These are the best beaches to visit because much of the coastline is inaccessible to tourists and these three offer spectacular scenery and are easily accessible.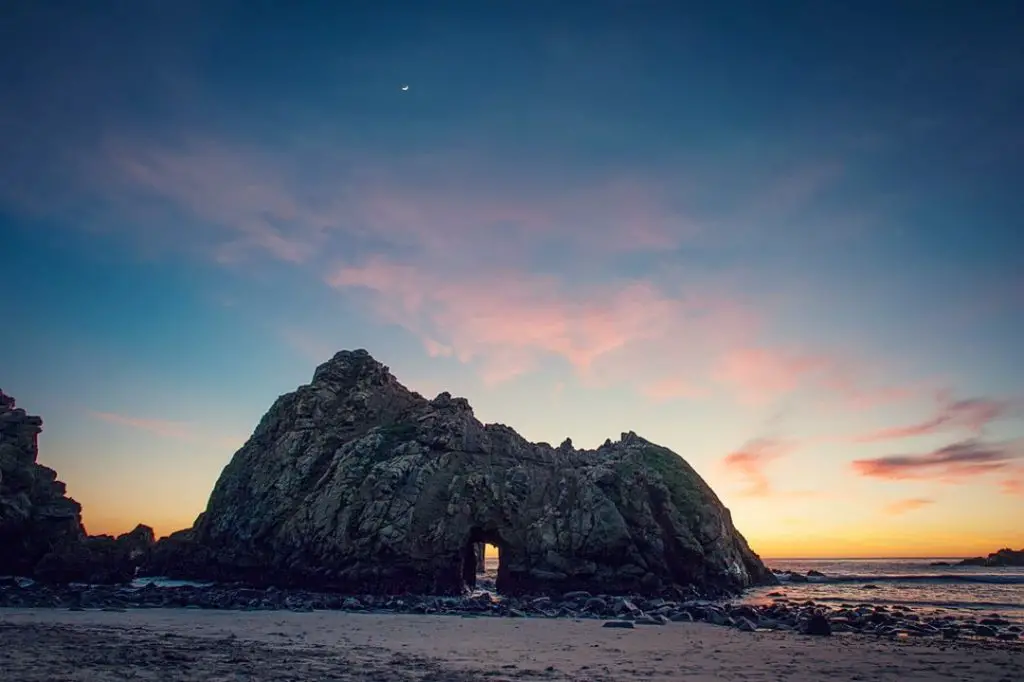 Our personal favorite is Pfeiffer Beach because of the Keyhole Arch rock formation sitting just off the coast.
Best Day Hikes in Big Sur
About two miles north of McWay Falls, along Highway 1 is the Partington Cove trailhead. The trail begins with an immediate 300-foot descent and makes for a great start to a hike—but keep in mind that what goes down must go back up.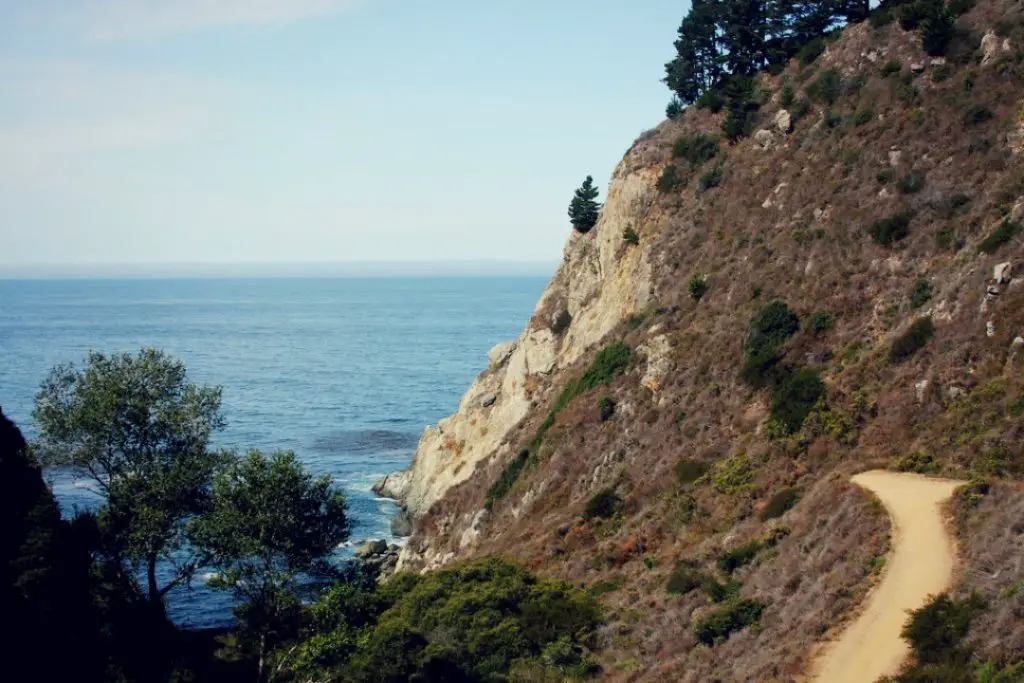 The one-mile roundtrip hike winds its way down a slope and through a long tunnel that was carved by the pioneer John Partington before emerging along Partington Cove.
Some other nice day hikes include:
McWay Waterfall Trail – 0.6 miles
Sand Dollar Beach – 0.7 miles
Pfeiffer Falls and Valley View – 2 miles
Ewoldsen Trail – 4.5 miles
Andrew Molera State Park Bobcat Trail and Coyote Flat Trail – 5.5 miles roundtrip
Cruickshank Trail – From 5 to 10 miles
While traveling through the area you must visit the 10 state parks listed below.
10 State Parks to Visit in Big Sur
There are 10 state parks in Big Sur. They are ranked below based on their geographic position from north to south. To assist you in where to allocate your time a brief overview of each park is provided. There is a fee of $10 per day per car, which allows you access to all of California's State Parks.
1. Carmel River State Beach
This mile-long beach at Carmel Bay provides visitors with a great opportunity to enjoy bird-watching. However, walking, wading, or swimming near Monastery Beach can be dangerous as many people have been swept away.
2. Point Lobos State Reserve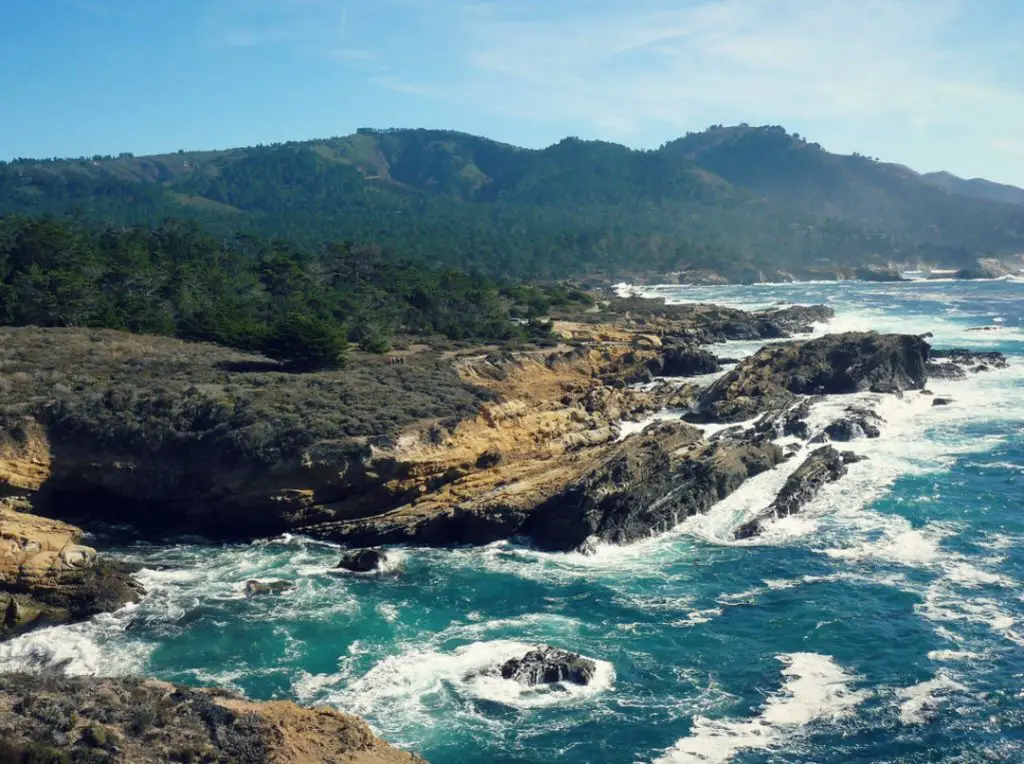 This is a great place to sightsee, take photos, paint, relax in nature, picnic, SCUBA dive, or jog.
3. Garrapata State Park
Garrapata State Park features two miles of beachfront, coastal hiking, and panoramic views. This is an ideal location for trail running or spotting sea life such as gray whales, sea otters, harbor seals, and sea lions.
4. Point Sur Lightstation State Historic Park
On the National Register of Historic Places, the Point Sur Lightstation sits on a large volcanic rock 361 feet above the surf⁠—it's a must-see!
5. Andrew Molera State Park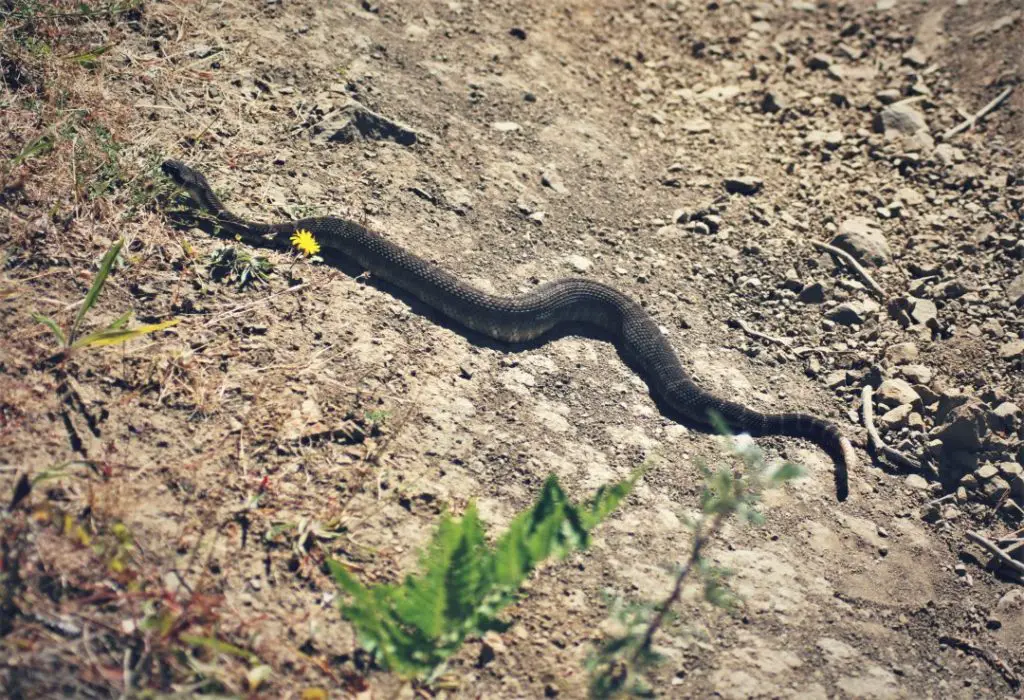 One of the more undeveloped areas of Big Sur, Andrew Molera State Park is a spectacular place to hike and beach comb.
6. Julia Pfeiffer Burns State Park
This state park features panoramic views, a rugged coastline, and McWay Falls—one of the most iconic locations in Big Sur.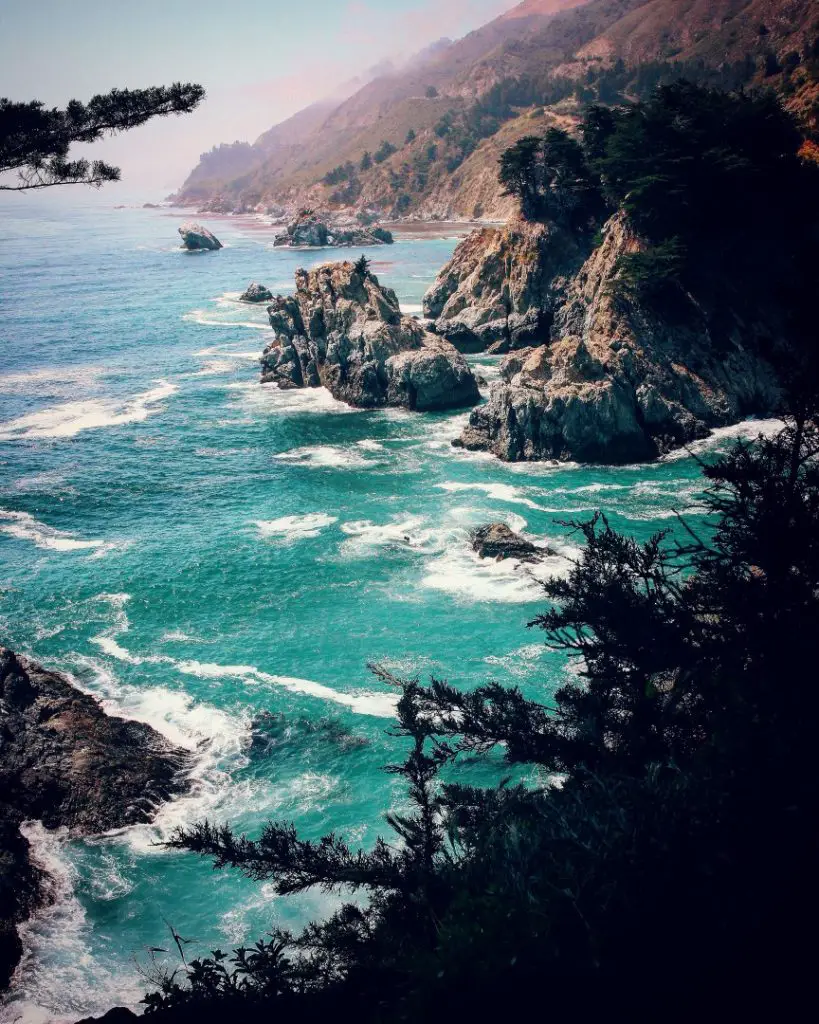 However, the beach and the surrounding area around the falls are closed and the waterfall can only be viewed from an observation deck.
7. Pfeiffer Big Sur State Park
In this state park, visitors can enjoy walking along the Big Sur River Gorge. Many campsites are located here, including the largest campground in Big Sur which accommodates bikers, hikers, RVers, and car campers—the Pfeiffer Big Sur Campground. Sites 171-189 are closest to the river, while sites 1-21 are the shadiest.
Also, Big Sur Lodge is located here. This is a great spot for spotting belted kingfishers, skunks, raccoons, gray squirrels, black-tail deer, and bobcats.
8. Limekiln State Park
Highlights of the park include the cultural history of limekilns (native people), rugged coastline, dense redwood forests, Limekiln Falls—a 100-foot waterfall, and magnificent views of the Big Sur Coast.
9. Hearst San Simeon State Park (Hearst Castle)
Hearst Castle is commonly referred to as 'America's Castle.' Visitors may tour the 115-room home, guesthouses, pools, and eight acres of gardens. A great way to visit it is on the Hearst Castle Tour with pickup from Paso Robles, CA.
10. William Randolph Hearst Memorial State Beach
Located near San Simeon, visitors revel in hiking, swimming, fishing, picnicking, sunbathing, kayaking, and beachcombing. Fishing from the pier does not require a fishing license.
Best Big Sur Campgrounds
The 15 campgrounds below are the most popular in Big Sur. They are ranked from the most serviceable and impressive to least. In other words, they're ranked by which ones we would recommend to other travelers to visit as a first-timer's guide.
1. Treebones Resort
With an autonomous tent and giant yurts, this is the ideal place to go glamping in Big Sur. The tent features a kingsized bed, leather lounging chairs, a gas fireplace, a shower, and a toilet. You're pretty much guaranteed to wake up to the best views in all of Big Sur here.
2. Kirk Creek Campground
An oceanside paradise and probably the best campground in Big Sur.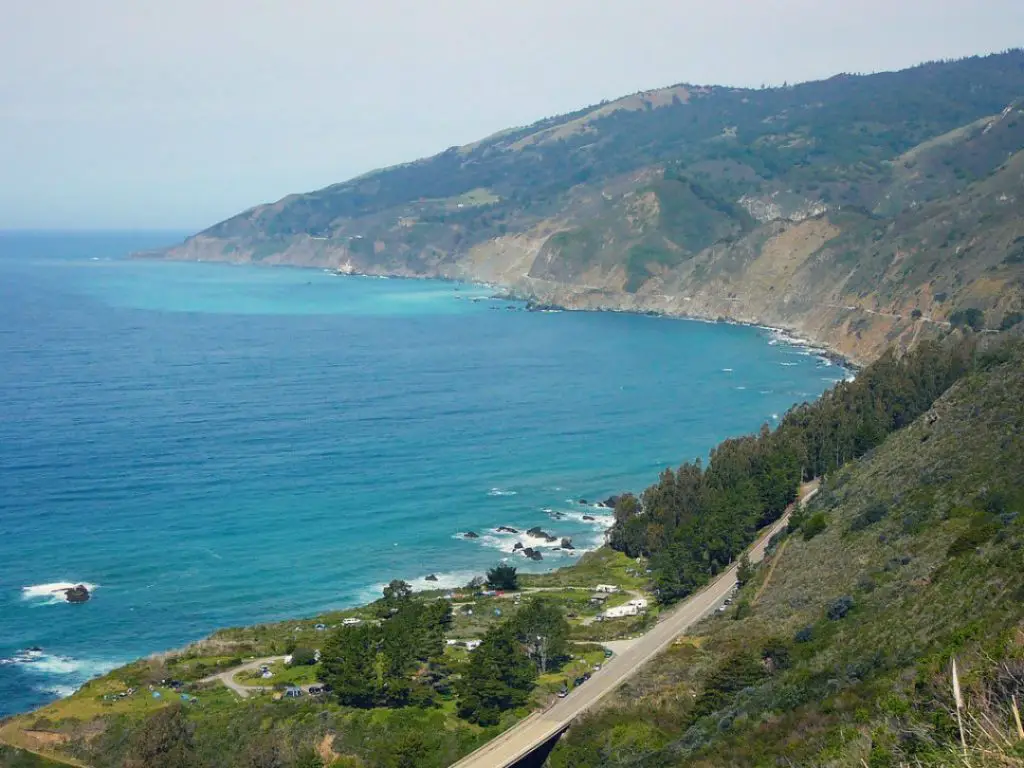 It features 40 sites for tent and RV camping and each one is equipped with a campfire ring with a grill and a table—vault toilets are scattered throughout the grounds.
3. Pfeiffer Big Sur Campground & Cabins
This campground is located along the Big Sur River with 189 RV and tent sites that include parking for at least one car, a fire pit with a half-grill, and a picnic table. Toilets, hot showers, freshwater, playground, convenience store, and laundry facilities are onsite.
4. Ventana Campground
Ventana Campground is a tent-only campground that features three modern bathhouses. Each campsite features a picnic table and a fire ring. Freshwater, showers, and two restaurants are a short walk away.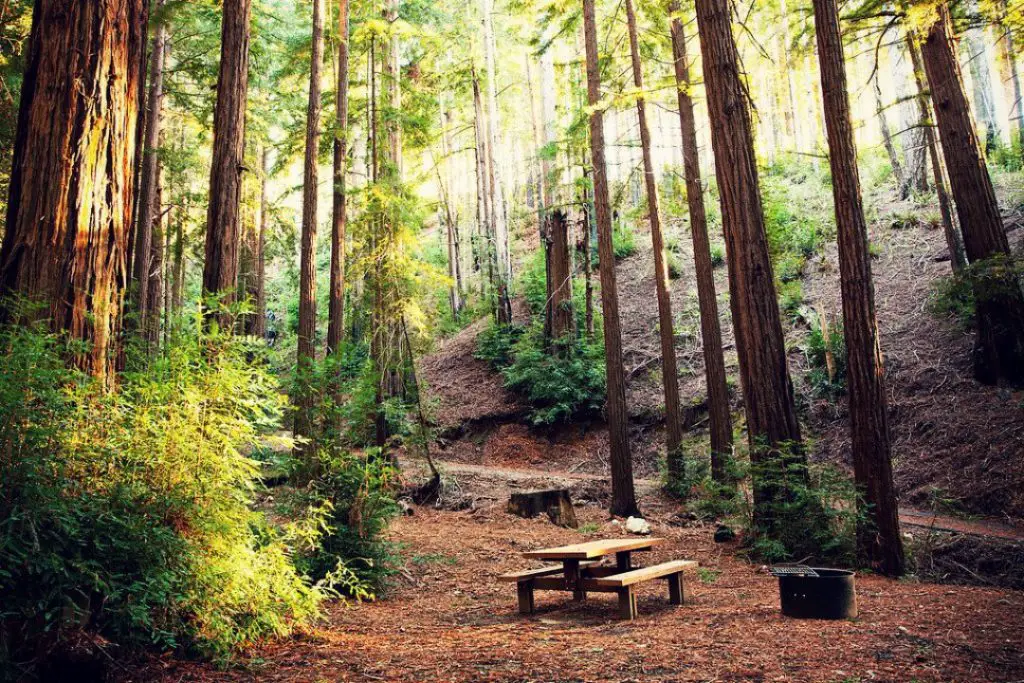 Ventana's Redwood and Canyon Glampsites provide guests with one of the few opportunities to go glamping in Big Sur. The safari-style canvas tents are set under a canopy of redwoods and feature world-class amenities including full access to the Ventana Big Sur Resort.
5. Fernwood Resort
With a motel, cabins, tent cabins, adventure tents, and traditional campsites, it's fair to say that Fernwood Resort has all its bases covered. Each campsite has a fire pit and picnic table. There are two bathhouses onsite and campers have access to a laundry facility and a dishwashing area.
6. Julia Pfeiffer Burns State Park Environmental Camping
This walk-in campsite features only two spots and is the closest you can get to McWay Falls. Toilets are available.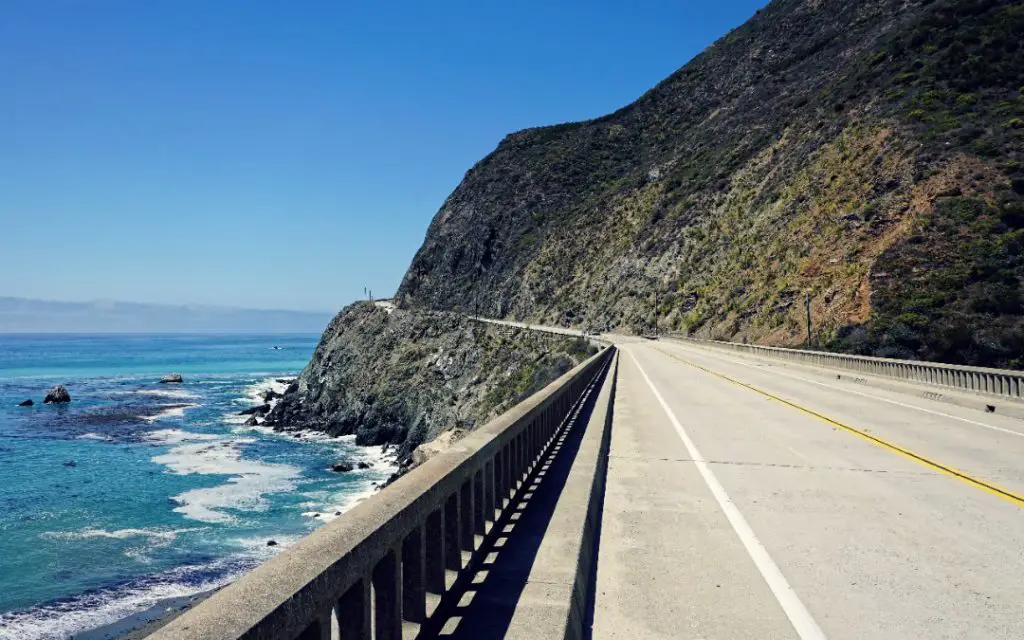 7. Riverside Campground and Cabins
Sitting on the Big Sur River, Riverside Campground features 45 sites for tent and RV camping and 12 cabins. Each site is equipped with a fire pit and picnic table. Also, restrooms, laundry facilities, and showers are available.
8. Plaskett Creek Campground
This is a beautiful spot near one of the larger and most celebrated beaches in central California, Sand Dollar Beach. There are 44 campsites for tent and RV camping positioned against large Monterey Pines. Also, facilities include fresh water, toilets, and picnic tables.
9. Washburn Primitive and San Simeon Creek Campgrounds
Washburn Primitive campsites are about one mile from the William Randolf Hearst Memorial State Beach. Plots are quiet with little shade and have chemical toilets, with no showers. On the other hand, the San Simeon Creek campsites are a bit nosier with more shade and have coin-operated showers, flush toilets, and are located much closer to the beach.
10. Limekiln State Park Campground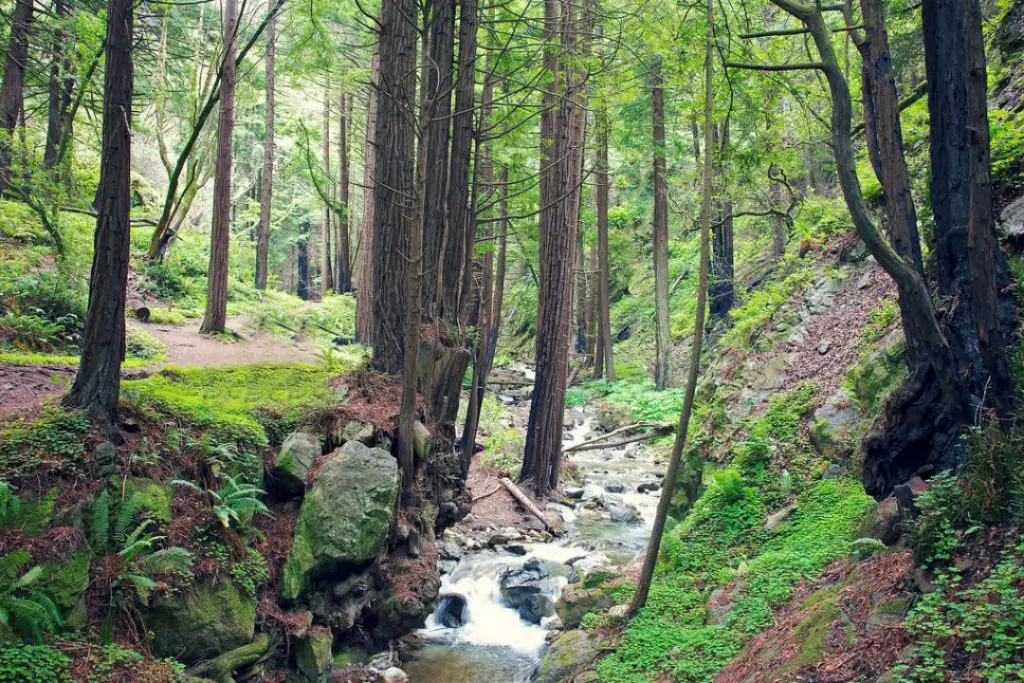 Features 29 campsites for tents and RVs on both ocean and creekside plots each coming with a parking spot, fire ring, and picnic table. Showers and toilets are also onsite.
11. Alder Creek Campground
Alder Creek is a lesser-known and primitive-style campground. You'll need a permit to light up a campfire here. However, the rustic campsites will allow you easy access to Buckeye Trail for spectacular ocean views. Afterward, relax your weary feet in the cool waters of Alder Creek.
12. Ponderosa and Nacimiento Campgrounds
Located just off Nacimiento-Fergusson Road, these two campgrounds have been positioned on the eastern slope of the Santa Lucia Mountains. Furthermore, Ponderosa features 23 campsites and Nacimiento has nine. Lastly, the nearest food, gas, and supplies are 16 miles away.
13. Sykes Hot Springs Campground (Closed)
The trail to reach the springs and the springs themselves have been closed indefinitely. When open, it's about a 10-mile hike oneway along the Pine Ridge Trail.
14. Nacimiento-Fergusson Roadside Camping (Closed)
Los Padres National Forest authorities have prohibited camping along the Nacimiento-Fergusson Road until August 19, 2020.
15. Bottchers Gap Campground (Closed)
Closed indefinitely since July 2016 due to Palo Colorado Road closure.
16. Andrew Molera State Park Campground (Closed)
Closed indefinitely due to flooding.
Big Sur RV Camping
Maximum Trailer/Motorhome Length at Big Sur Campgrounds
There are no campsites for RVs exceeding 45 feet. For this reason, most of the sites can only handle an RV or trailer up to about 35 feet in length. Below is a list of available campgrounds and maximum lengths. Check out RVshare to rent your next recreational vehicle on the cheap!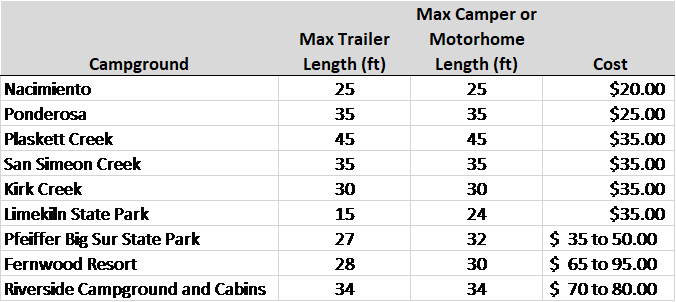 Best Restaurants in Big Sur
From casual to fine dining, the restaurants below are the best ones to eat in Big Sur.
Big Sur Bakery and Restaurant $
Big Sur Deli $
Ragged Point Inn $$
Nepenthe $$
Big Sur Roadhouse $$$
Deetjen's Big Sur Inn Restaurant $$$
Ventana Big Sur $$$$
Sierra Mar $$$$
Proactively Check for Alerts
Always check for alerts, trail closings, campground closings, and road closings by visiting parks.ca.gov and clicking on the 'Alerts in Effect' section.
Have you visited the area or have you gone camping or glamping in Big Sur? If so, please share your tips, tricks, or questions in the comments section below.
Have you gone glamping before? If so, where's your favorite spot?
Cover Photo Courtesy of Treebones.com