Before visiting Blue Lagoon, Malta there are 16 things you need to know. After all, you will most likely only have a few hours to enjoy this slice of island paradise. Knowing just a few things will make sure that your visit goes off without a hitch.
Finally, everyone wants to know about the best swimming spots, and bathrooms, how much it costs to visit, food options, and if you can stay on the island. No worries! We'll address that too.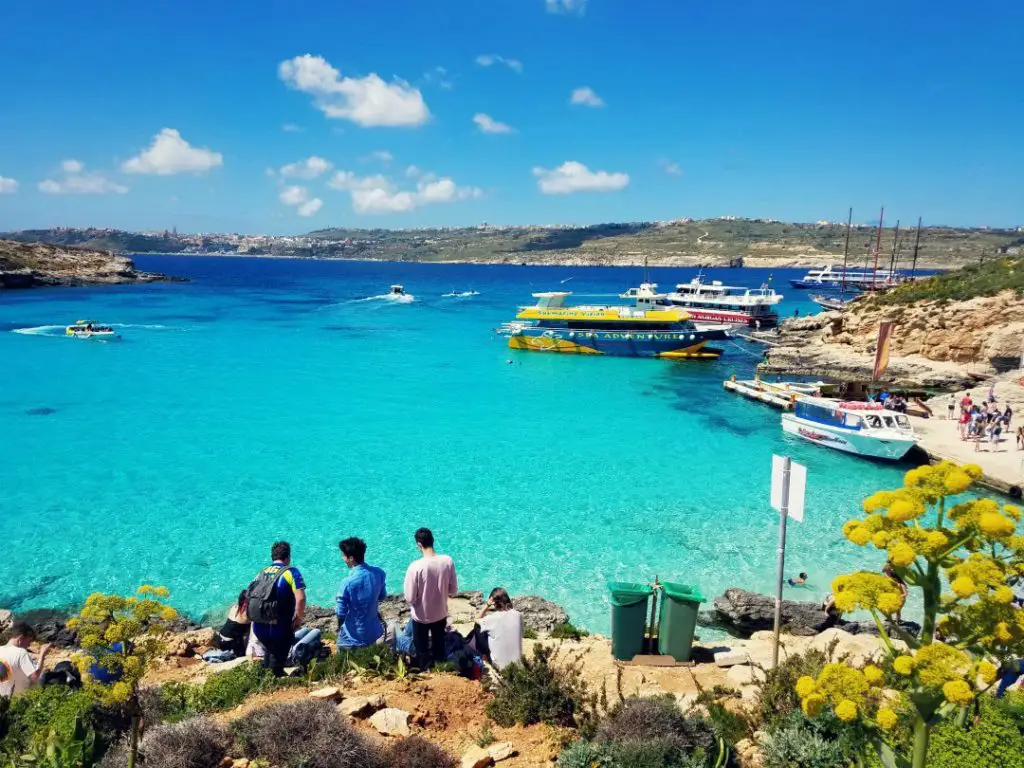 16 Things to Know Before Visiting Paradise Blue Lagoon Malta
Blue Lagoon Malta is wedged between the islet of Cominotto and the much larger, but still small, island of Comino—which has magnificent clifftop landscapes, two of the best swimming spots on Malta, and spectacular diving and snorkeling options.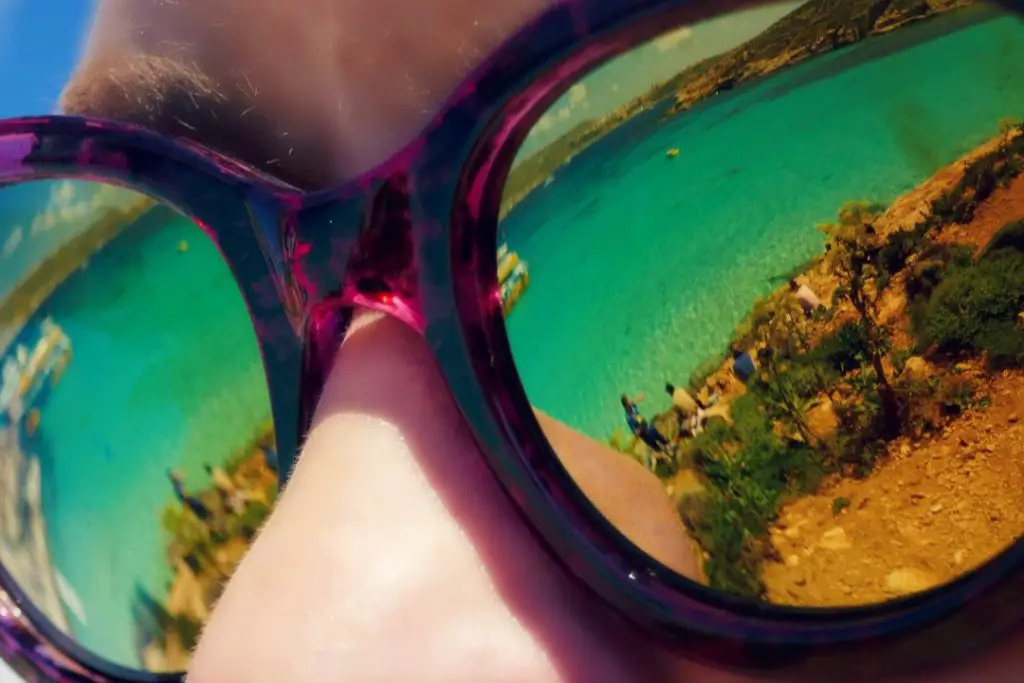 There is only one hotel that operates during the summer on Comino and the entire island is car-free. Malta is known for getting ridiculously hot in the summer which is one reason why Blue Lagoon is so popular among locals and tourists.
The color of the lagoon is so intense that it may feel as if you've wandered into a strikingly-intense postcard.
The blue lagoon is located on the island of Comino, a short 10-15 minute boat ride from the island of Malta or the island of Gozo.
Most Popular Way to Tour Blue Lagoon: Discover GOZO, Comino, Blue Lagoon & Caves
The shimmering turquoise waters of the Blue Lagoon is the picture-postcard shot that most people associate with Malta and it's filled with soft white sand and crystal clear water.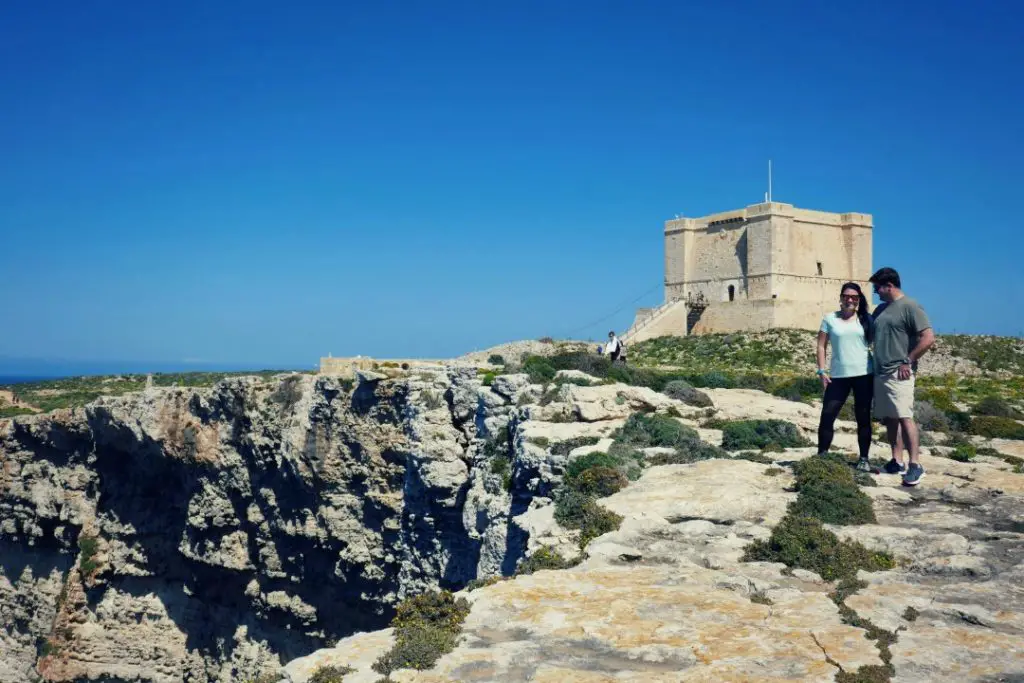 Also, one of our favorite movies, "The Count of Monte Cristo" was filmed on the island. Despite the inescapable crowds, it is a wonderful day trip and perhaps even an overnight stay.
Below are 16 things to know before visiting Blue Lagoon Malta.
1. You Don't Have to Take a Tour to Reach Blue Lagoon Malta
The Blue Lagoon can be reached by taking a ferry from either the port town of Cirkewwa, on the island of Malta, or Mgarr, on the island of Gozo. This is the cheapest way to reach the island.
At either port, there are usually quite a few small boats looking to transfer tourists to the island. The standard ticket price is €10 for a round-trip ticket. We visited in April and were able to quickly negotiate the price down to €7 per person.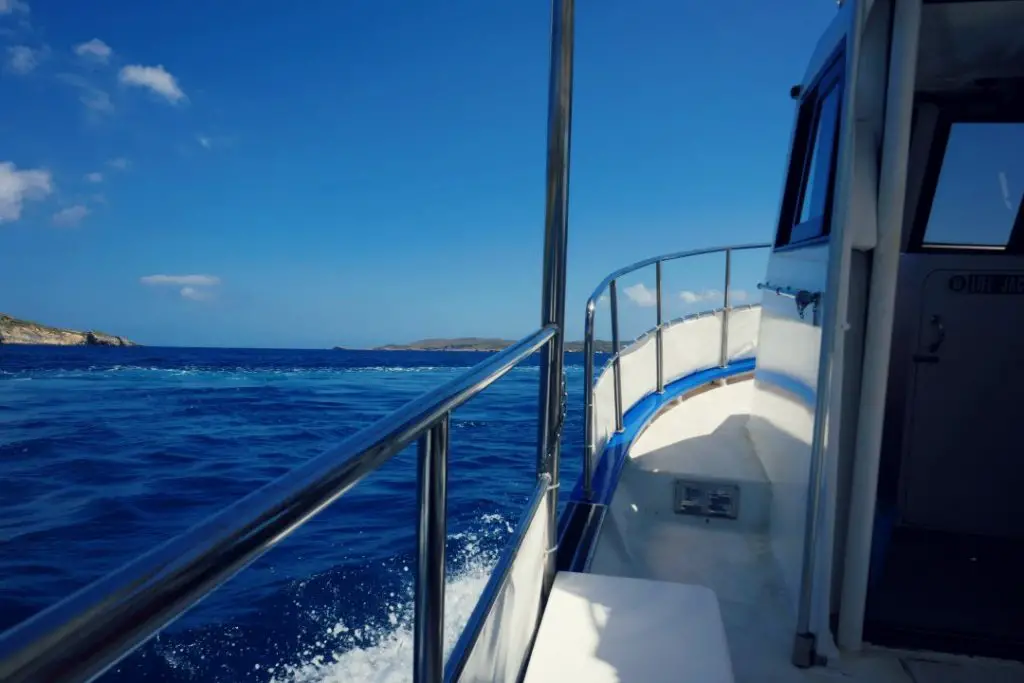 From Cirkewwa, other options include Comino Ferries and Comino Ferry Service. These are two of the bigger operators. They charge about €13 for a round-trip ticket per person. If you're not sure who to go with don't be afraid to ask these questions:
What time are you leaving?
What's the last departure boat from Comino?
How much?
Tourists will need to either take a taxi or bus to reach the port(s). If these options don't sound attractive, there are three other great options:
2. How to Reach the Port Towns of Cirkewwa or Mgarr?
The cheapest way to reach the ports on the island of Malta or Gozo is by taking a public bus. The cost during the high season is €2 per person and includes transfers for up to two hours. During the low season, the cost is about €2 per person. Expect the trip from Valetta to Cirkewwa to take between 45 minutes to one hour.
Make sure to keep your tickets handy as bus drivers will request to see them while transferring between buses. Also, buses fill up quickly here so if you're able to get on the first bus that arrives consider yourself lucky. Finally, make sure to take express buses as much as possible as standard routes can be unbelievably slow.
3. Are Blue Lagoon Malta Tours Worth the Cost?
Typically, group tours will cost between €25 and €40, with private tours costing substantially more. When you consider that food and drinks may be included in the group tour price, the cost is not too shabby. As backpackers, the expenditure of a Blue Lagoon Malta tour was just a bit too expensive to justify.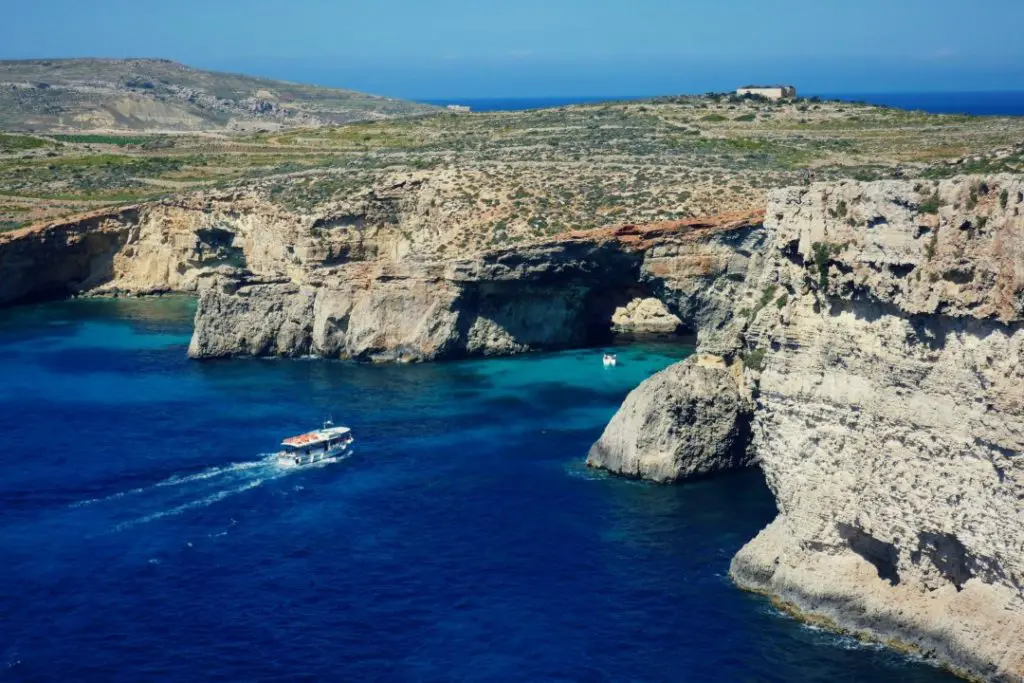 Most travelers on vacation will find the convenience of a short commute to the boat, having food and drinks included, the opportunity to meet fellow travelers, and the calmness of not having to worry about logistics extremely persuasive.
These are the best three options:
Also, passengers can enjoy the shade of the boat if the sun becomes too overwhelming. Additionally, many operators will include a scenic cruise around the entire island of Comino with stopovers in spectacular bays.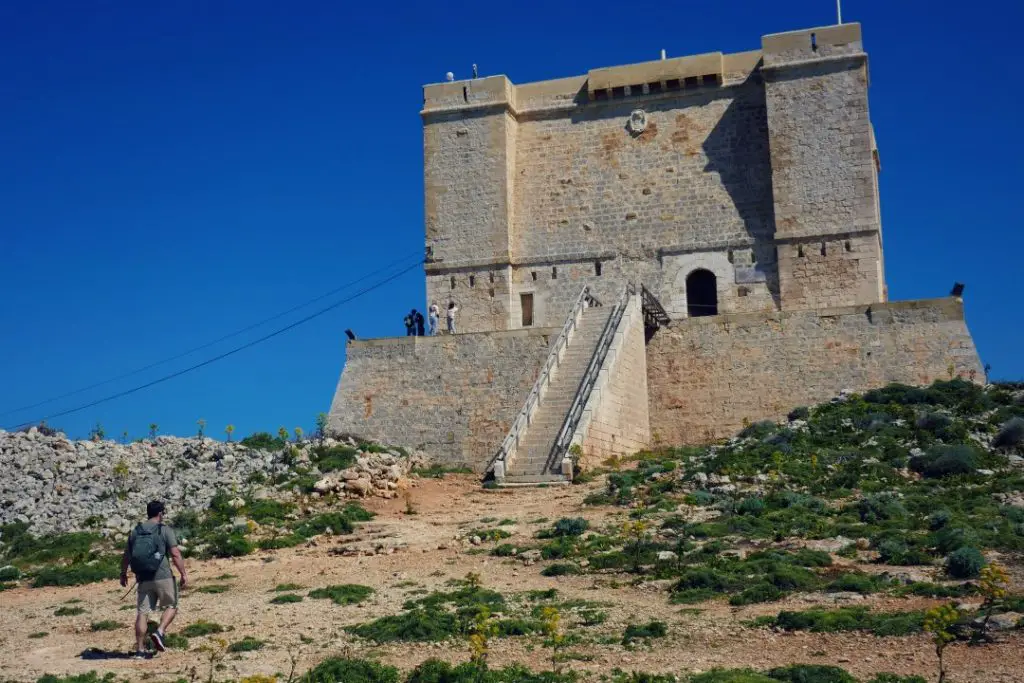 Operators mainly advertise and depart in the seaside neighborhood of Sliema. A good way to negotiate a better price is to create competition between the various operators to make sure you're getting the best deal or simply book on TripAdvisor.
4. Get There Before 9 A.M. or After 4 P.M.
Go to Blue Lagoon between 9 a.m. and after 4 p.m. if you're looking to take photos without a ton of people in them or just to enjoy the tranquility.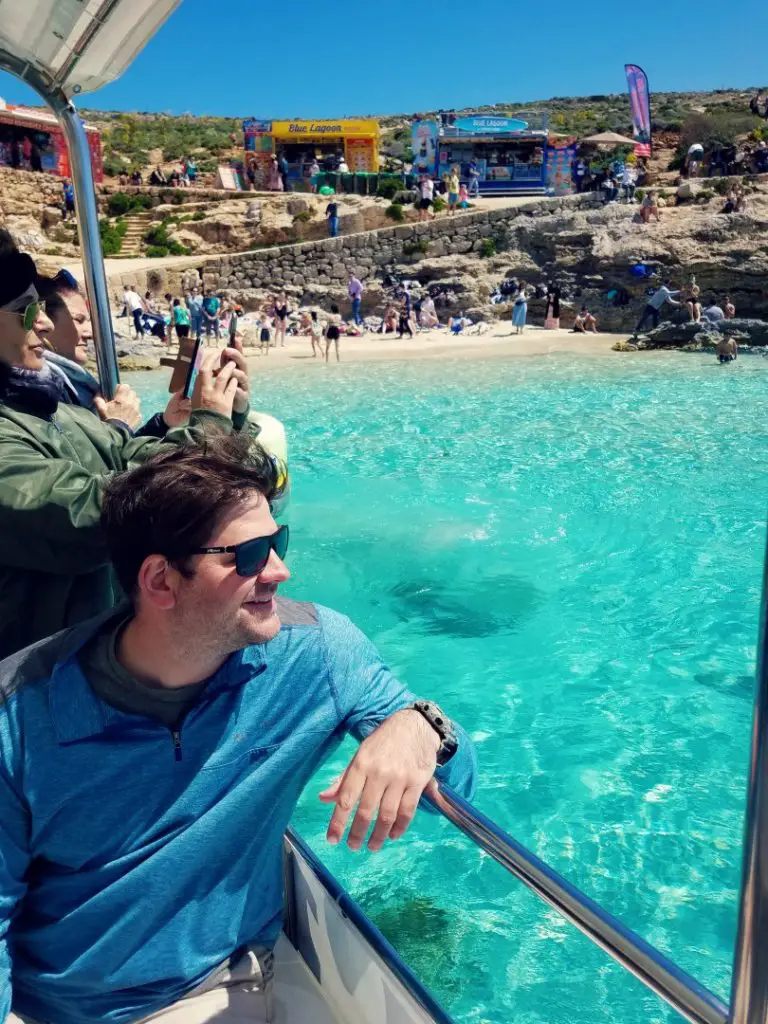 Even in early April, we were quite surprised to see how busy the lagoon was—it was kind of crazy.
5. The Beach Is Miniscule
Blue Lagoon's main beach is small, ridiculously small. It's only about 30 feet long and 20 feet wide. If you're planning on laying on the beach all day you better get there insanely early.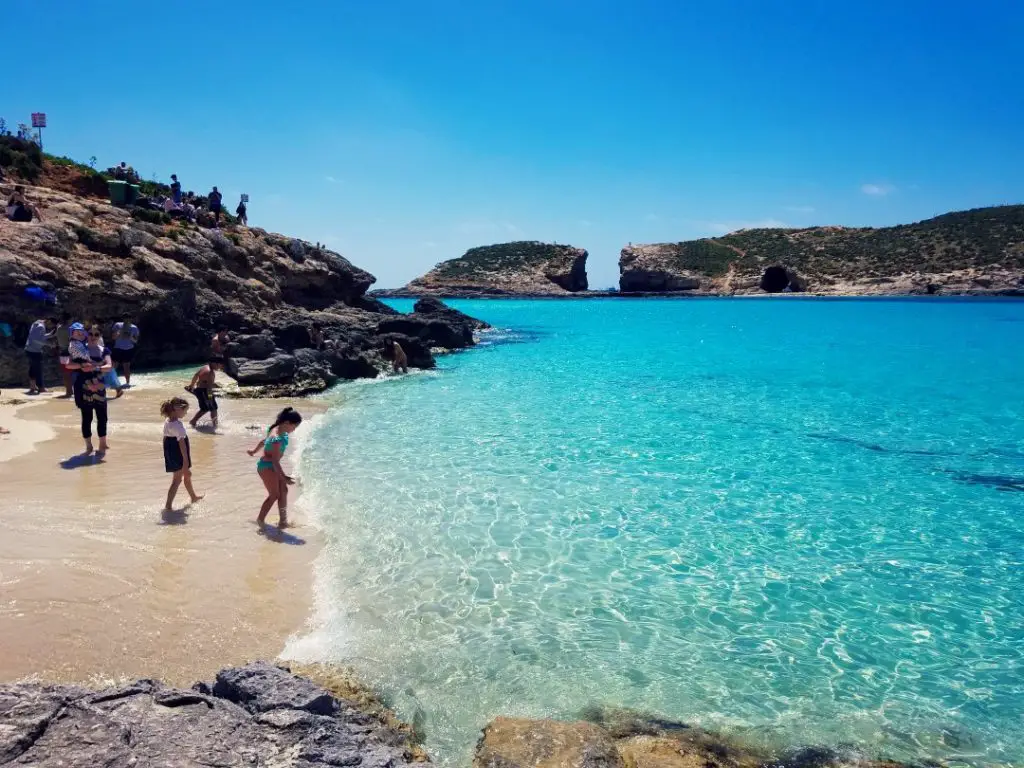 Most people will end up laying their stuff down on the surrounding rocks and cliffs, not exactly comfortable but it's the only option.
6. Are Sunbeds and Umbrellas Available?
There are a handful of beach chairs and umbrellas available at the Blue Lagoon beach during the busier months.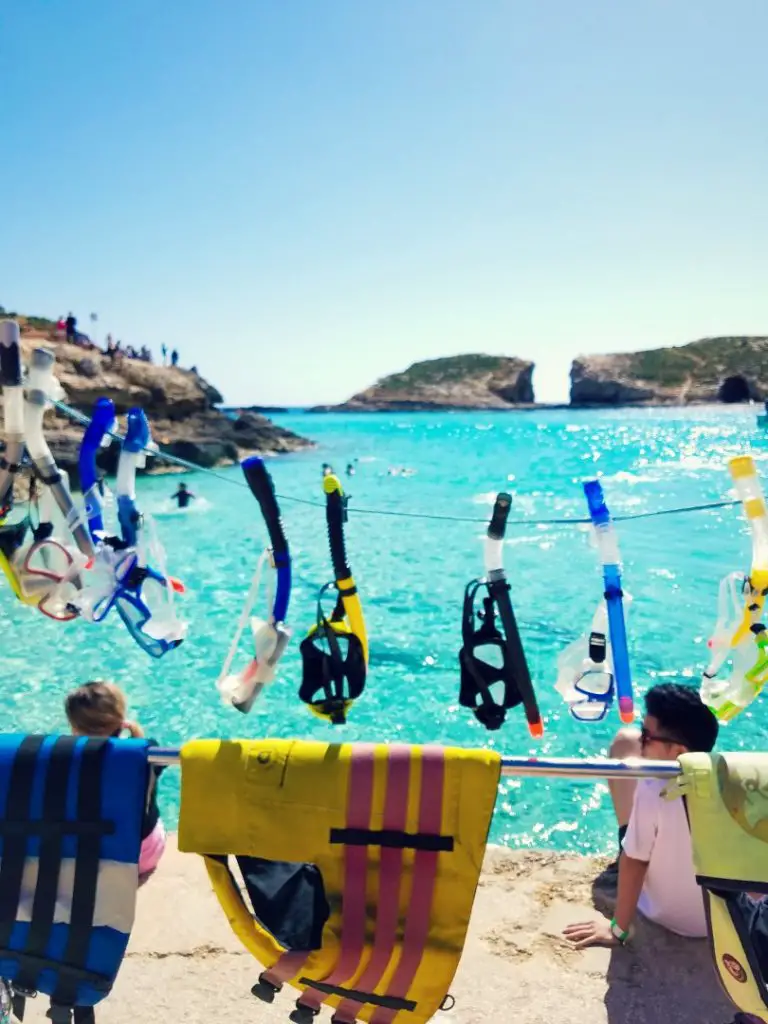 However, each one will cost €20 and you'll probably need to arrive before 9 a.m. to secure it. Also, be prepared to be cramped as the beach is tiny.
7. There Are Limited Areas to Find Shade
Comino is a desert island, and therefore resembles that of a dry arid region. The landscape is full of small bushes with trees being a rarity.
Locating a tree here is an anomaly so if you come across one in a good location, and are looking for shade, make sure to set up shop as quickly as possible.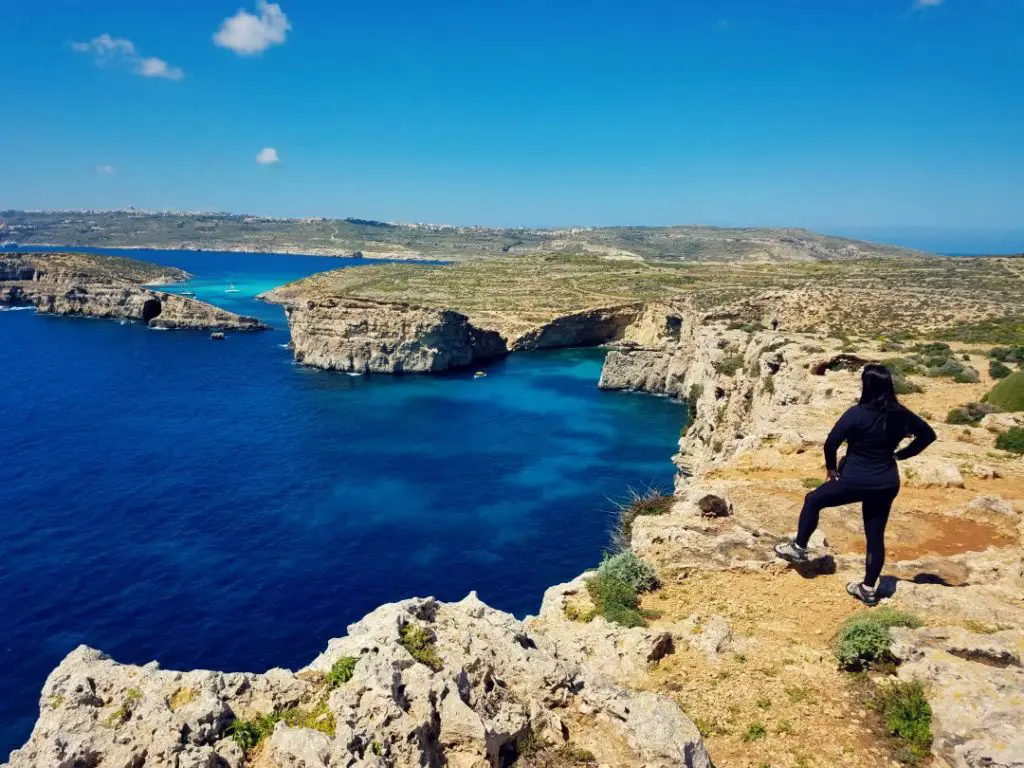 The sun is so preposterously hot here that if you don't have shade, we guarantee you that after about 10 minutes you'll be paying someone €20 to rent a sunbed and umbrella—and that's only if any are still available.
8. Bring a Hat, Coverup, and Sunscreen
See #6. The sun can be so bright that it may end up ruining your day or vacation if you're not prepared. Women should bring a fashionable hat and a coverup. Men should bring a light-colored long-sleeve cool dry t-shirt with UPF 50+, it will keep them cool.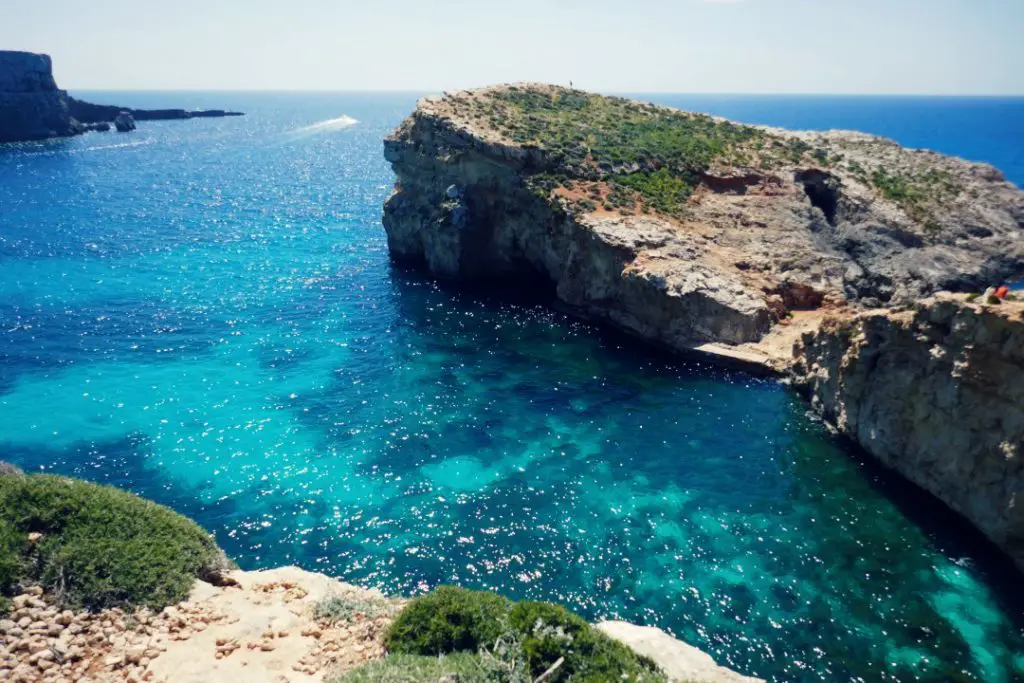 It may sound extreme but you don't want to suffer from heat exhaustion or get a sunburn. Finally, don't forget the sunscreen and mosquito repellant.
9. Avoid Swimming Over to Cominotto
If you notice that the water is rough during the ferry crossing you should probably avoid swimming over to the islet of Cominotto.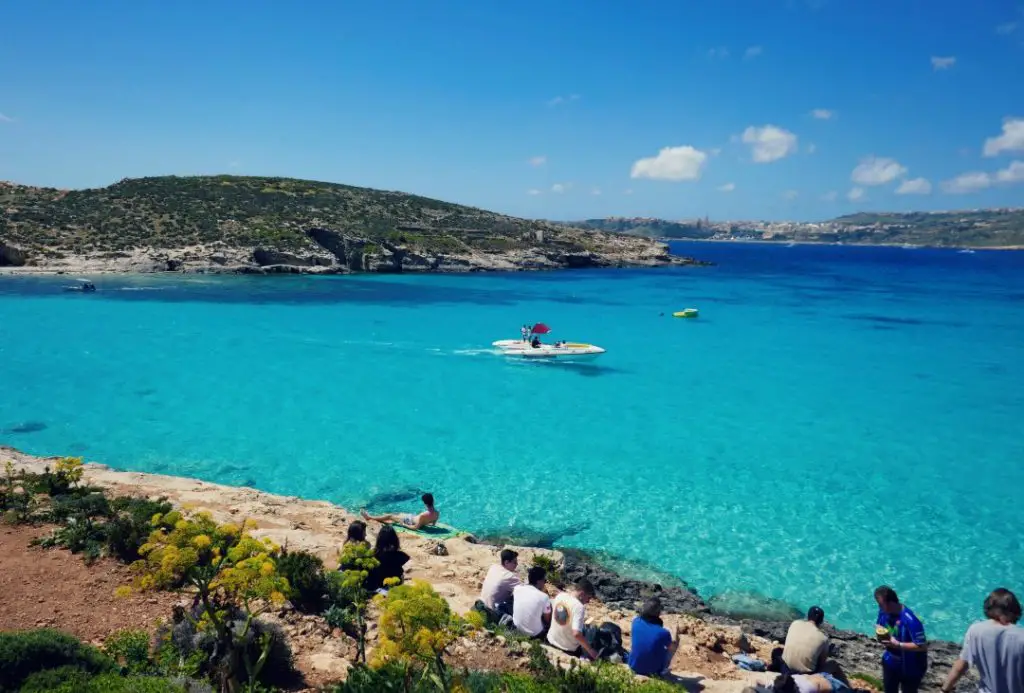 While the lagoon is protected, there is the possibility that strong undercurrents may form in the straight between the two islands. In any case, it's always better to be safe than sorry and understand that this possibility does exist.
10. Crystal Lagoon Can Be Reached On Foot
It is possible to reach the Crystal Lagoon without going on a group tour. It's located only about a 10-minute walk south of Blue Lagoon. The path will lead you down a small hill that will take you to the water level.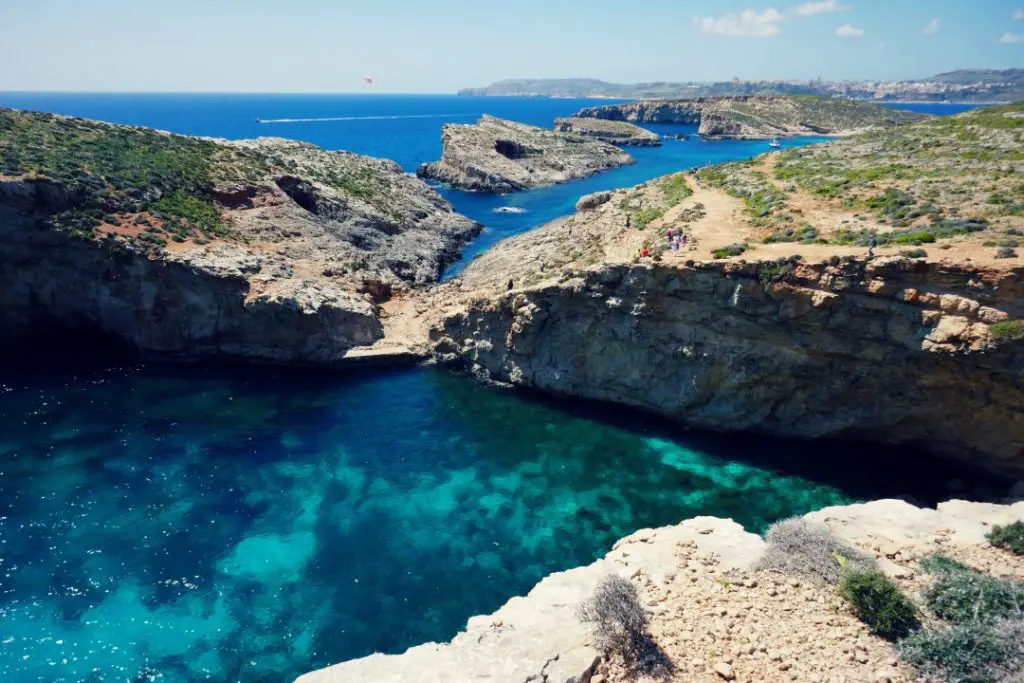 There is no beach here, only rocks, so it's probably a good idea to bring some water shoes to protect your feet. With that in mind, the Crystal Lagoon is one of the most unique swimming locations in all of the Mediterranean and shouldn't be missed. Moreover, Google Maps identifies the exact location to walk to, making it an easy excursion and escape from the crowds at Blue Lagoon.
11. Best Time to Visit Blue Lagoon Malta
The best time to visit Blue Lagoon Malta is during May, June, September, and October. This is when there will be fewer crowds and the water should be warm enough to enjoy.
12. Can You Overnight on the Island of Comino?
Comino Hotel & Bungalows is located on San Niklaw Bay and is only open from May through October. The hotel is only a 10-minute walk from Blue Lagoon and consistently receives atrocious reviews as most people expect a lot more out of this idyllic location.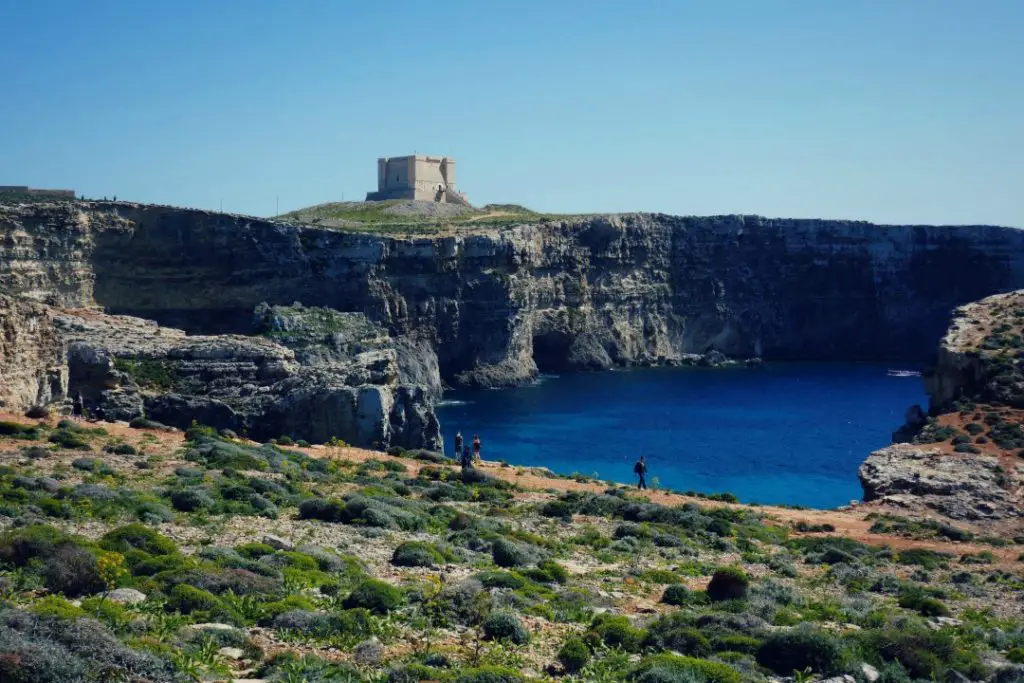 Unfortunately, the entire hotel is in dire need of a renovation and to make things worse, the food is disappointing. As a result, if you'd like to stay on the island, it's probably best to not expect much and simply take in the location.
Finally, there's also a camping site on the island. You can view the site here. Campers will need to receive a permit from the Environment and Resources Authority (ERA).
13. Are Food Drinks and Bathrooms Available on Comino?
There are a couple of kiosks selling snacks and cold drinks, and nearby are some bathrooms. Also, the Comino Hotel & Bungalows has a restaurant. However, options are limited and most guests will be disappointed if they're looking for a gourmet meal. A good option is to bring you're favorite food and drinks with you or book a tour cruise that includes these essentials.
14. Are There Alternative Beach Locations
San Niklaw Bay and Santa Marija Bay near the Comino Hotel & Bungalows have two nice beaches.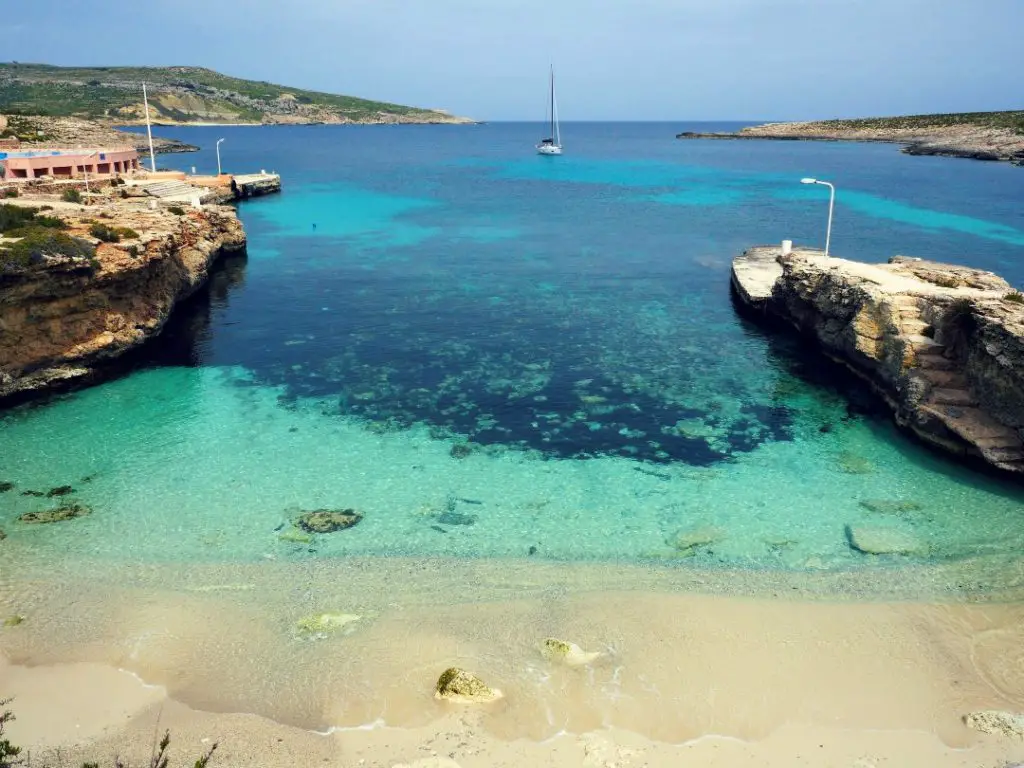 When compared to Blue Lagoon, you're much more likely to find a place in the sand in either one of these locations.
15. What Films Were Filmed on Comino Malta
Three Hollywood movies were filmed on the island of Comino. They include "Troy," "The Count of Monte Cristo," and "Swept Away."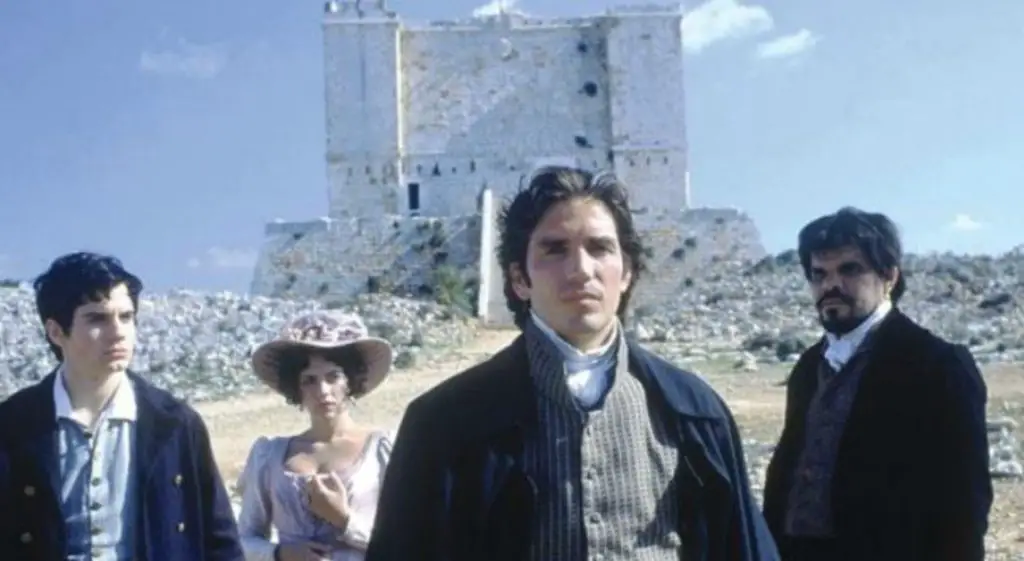 The "Count of Monte Cristo" is one of our favorite movies. We were so excited to see Santa Mary's Tower which represented the prison Château d'If.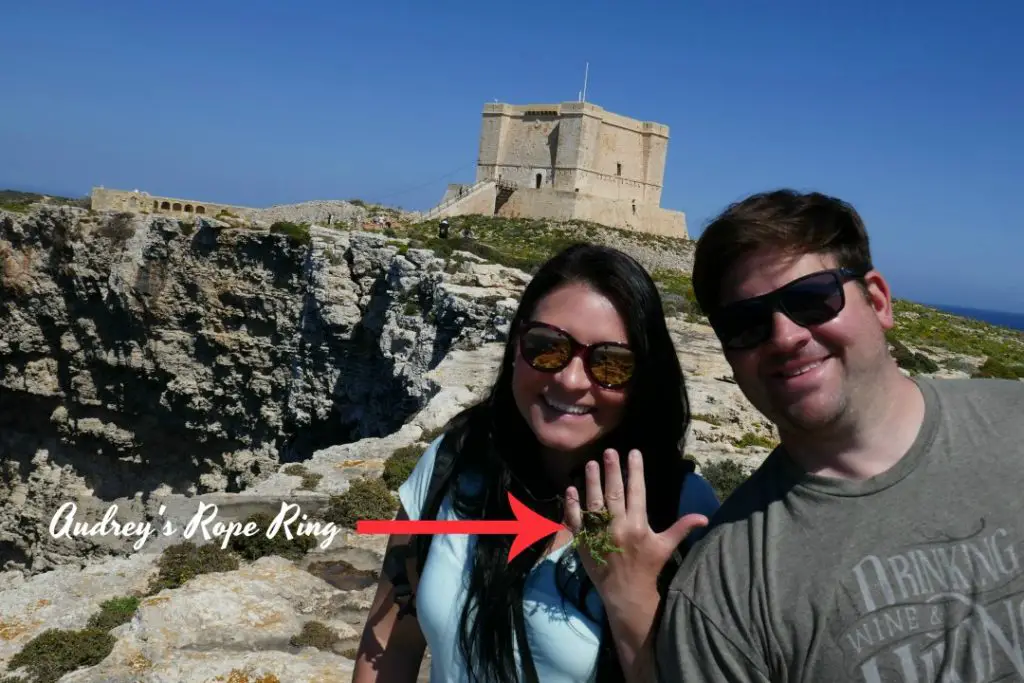 Also, if you love this movie as much as we do you'll be interested in viewing all of the other movie locations in Malta.
16. How to Get Around the Island of Comino
Anybody who enjoys walking will enjoy touring the small island of Comino. There are numerous trails throughout the island and it's impossible to get lost. You can walk around the entire island in about 1.5 to 2 hours. However, keep in mind, even in the low season the island can be extremely hot so plan accordingly.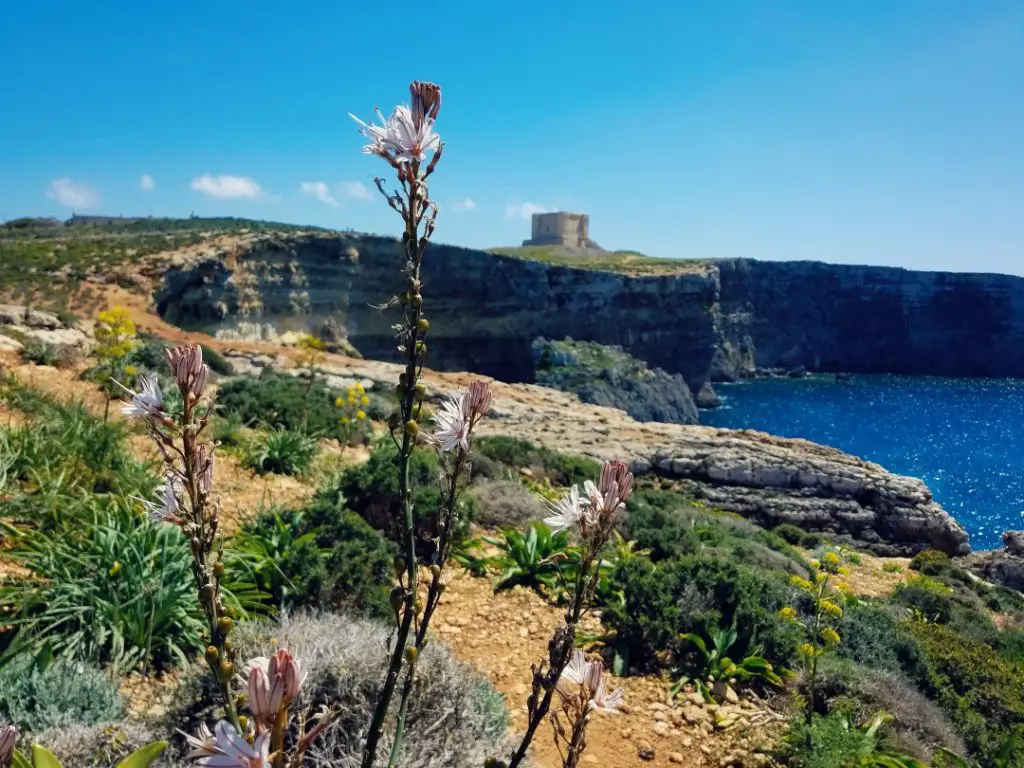 Wildlife you may spot along the circular route includes Mediterranean chameleons (not found on the island of Malta or Gozo), wild rabbits, and Maltese wall lizards. Sites around the island include St Mary's Tower, Crystal Lagoon, Roofless Cave, il-Palazz (the Palace—an old isolation hospital used for cholera and plague victims), St. Mary's Battery, and Wied l-Ahmar (The Red Valley—near the campground), a pig farm, and the Chapel of Our Lady's Return from Egypt.
Other Tips
Bring a bit of extra cash for drinks and snacks
Jellyfish love the water surrounding Comino and Malta. Therefore, ask a local to verify the current risks.
Be careful when jumping off any cliffs into the water or maybe just avoid it entirely.
There are fascinating caves around the island that divers enjoy visiting, including the Santa Marija Cave.
Have you visited the Blue Lagoon? Share your tips and questions in the comments below.