What are the best ways to stay cool on hot summer days in Warsaw, Poland? Many landlocked Europeans flock to the sea during the warm months of summer. However, when the temperatures rise in the city, where does everyone go?
8 Great Activities for Hot Summer Days in Warsaw Poland
Summertime in Warsaw is just divine. Life seems to move outdoors, with Poles taking advantage of warmer weather and sunny days. There are music festivals, parades, and lots of outside dining to enjoy. But what is there to do when the days become unbearably hot? This guide will offer some great ways to chill on days when it's hard to beat the heat in Warsaw.
1. Po Wiśle River Cruise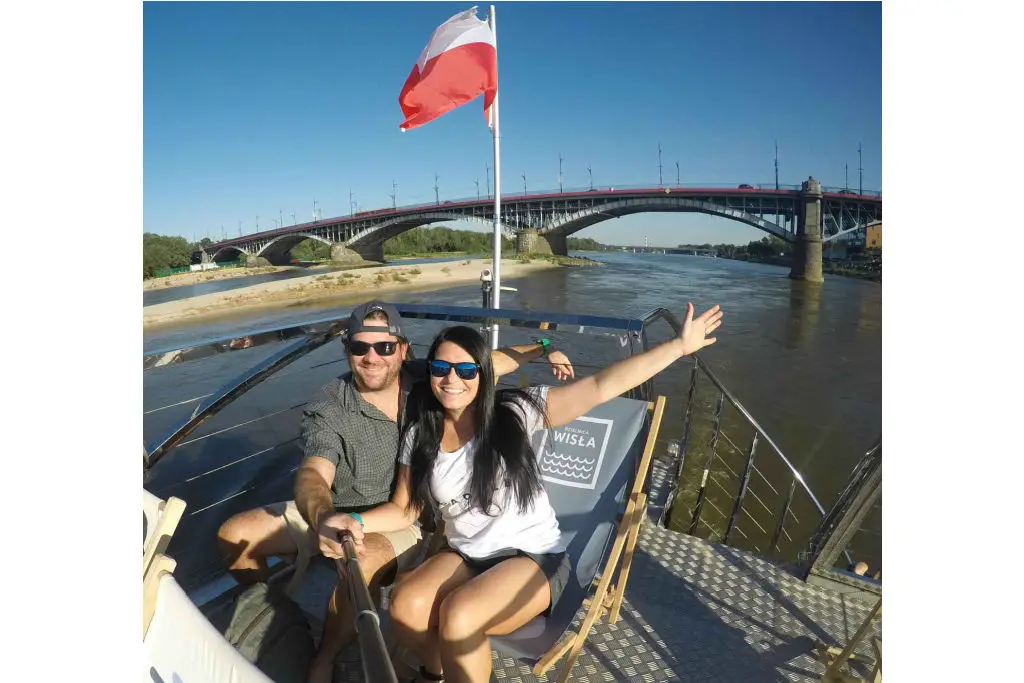 Sightseeing on the Vistula River is one of the top activities in Warsaw and for good reason. Grab a seat on the upper deck and enjoy an hour-long cruise aboard the Po Wiśle. While cruising, savor the river breezes while enjoying views of Warsaw's most famous attractions.
You'll also get to see the unique riverside forest, local wildlife, and all the bustling riverfront activity. The price of the cruise even comes with free coffee, tea, and snacks. We don't know about you, but anytime we can sight-see and comfortably relax at the same time, it's the #1 attraction in our book! Tours are offered several times throughout the day and they even offer a sunset cruise.
🚢 🌅 Sunset Cruise on the Vistula River > Check Availability
5 Popular Tours in Warsaw Poland
2. Royal Łazienki Park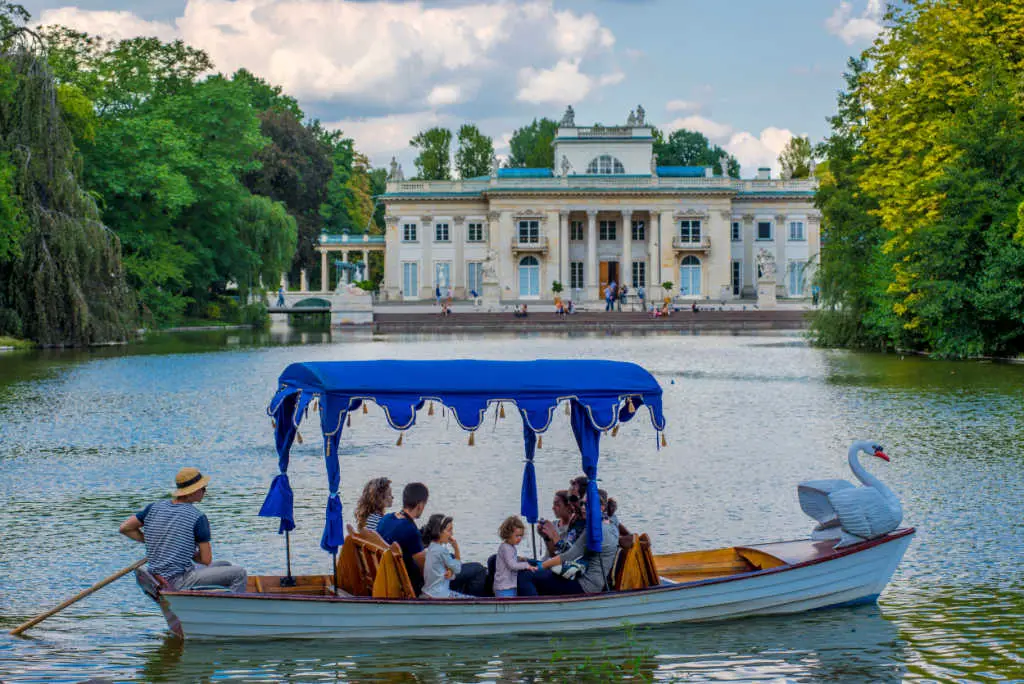 Even on the busiest of days, you'll always be able to find a quiet, shady corner in Royal Łazienki Park. When it's hot, consider giving your legs a break by taking a leisurely boat cruise. Tours of the manmade lake begin at the sundial in front of the Palace on the Island.
The wooden row boats are beautifully-made and offer a shady break from the sun. Consider visiting the park on Fridays when you can get free admission to the museums and palaces. It's a great way to kick off the weekend in Warsaw.
🏰⛵ Lazienki Park & Palace Tour and Cruise > Check Availability
3. Palace of Culture and Science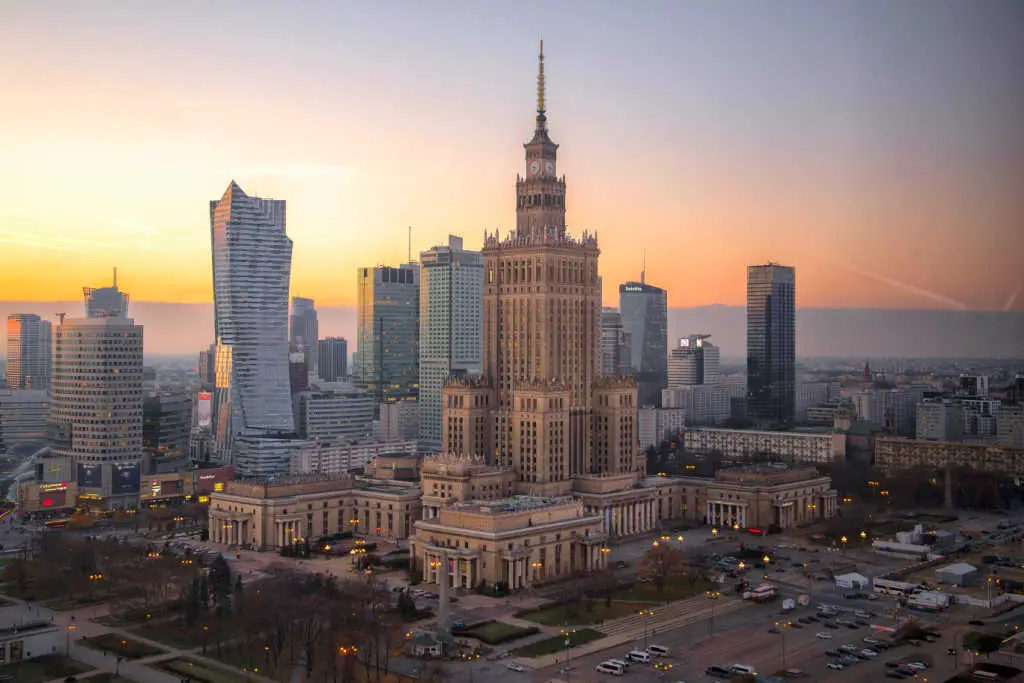 Head to the open-air viewing terrace on the 30th floor of the Palace of Culture and Science Building. From the ground floor, the terrace can be reached in only 19 seconds by a very fast elevator. The terrace offers spectacular 360-degree views of Warsaw, Poland. There's also a cafe to enjoy a cool drink while savoring the breezes while at the top.
🏙️ Palace of Culture and Science Tour with Terrace > Check Availability
4. Public Pool in Warsaw – Park Wodny Moczydło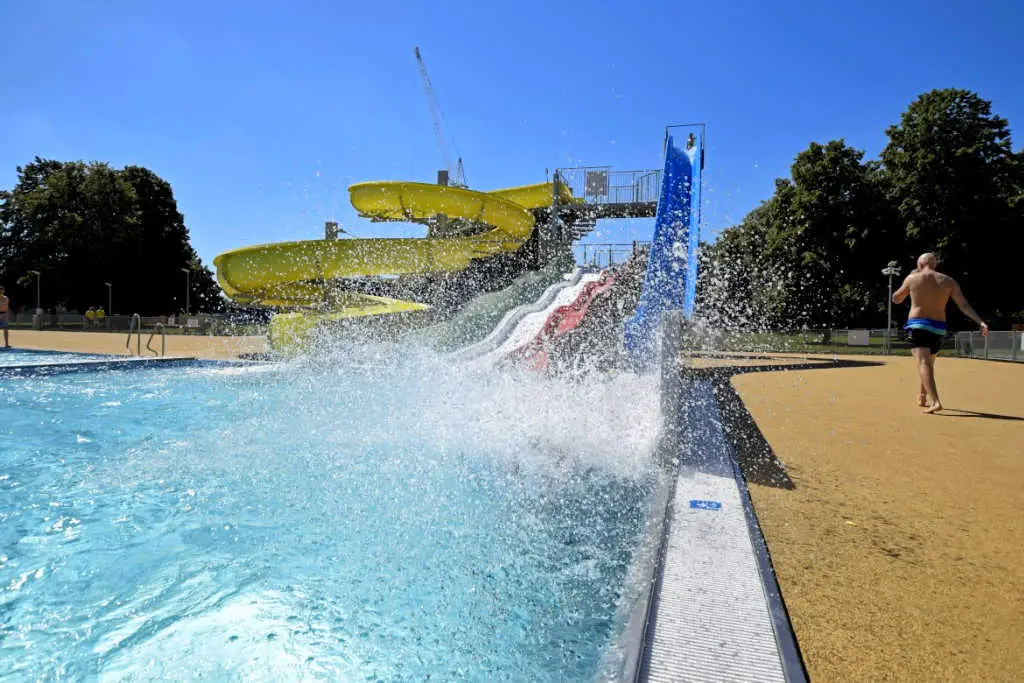 Constructed in 2019, Warsaw's newest water park attraction is Park Wodny Moczydło. After a significant renovation, the park offers an outdoor swimming pool, playground, volleyball, and basketball courts. The Warsaw Active Sports Center is located at ul. Górczewska 69/73. The price is 40 PLN for adults, 25 PLN for youth, and under 4 years of age is free.
Website: https://aktywnawarszawa.waw.pl/pl/osrodki-sportowe/park-wodny-moczydlo
5. Vistula Beaches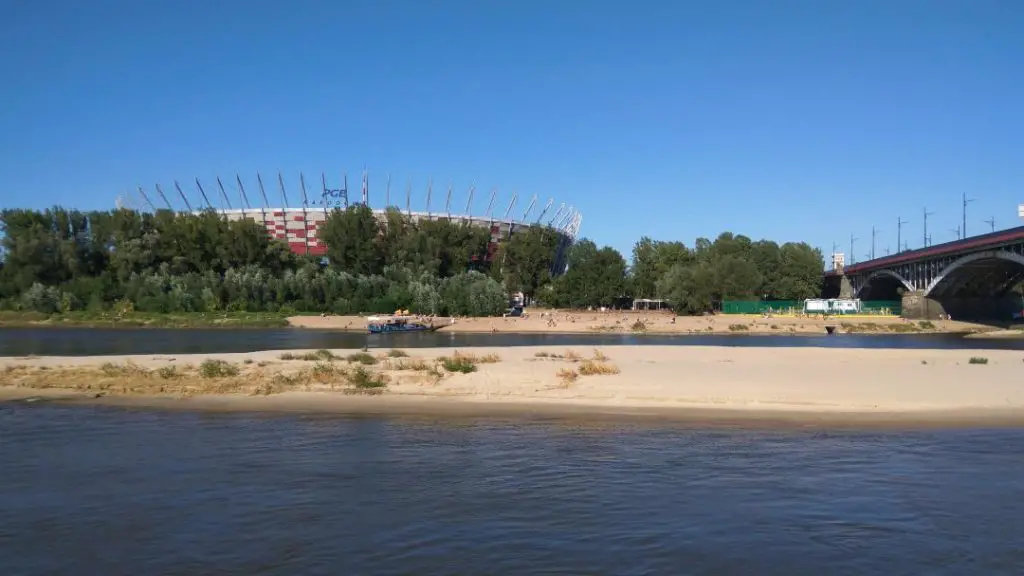 In recent years, the city of Warsaw has really developed the Vistula riverfront making it a popular place for people to spend their time. On hot days, many flocks to the Vistula, the largest and longest river in Poland. Along the river, you can find sandy beaches, shady forests, and cafes to enjoy a cold drink.
Many locals also come to the river to crack open a beer after work or during the weekend. Renting bikes through Warsaw's free bicycle rental system is also a great way to get around on hot summer days. 
6. Vistula Riverfront and City Splash Pads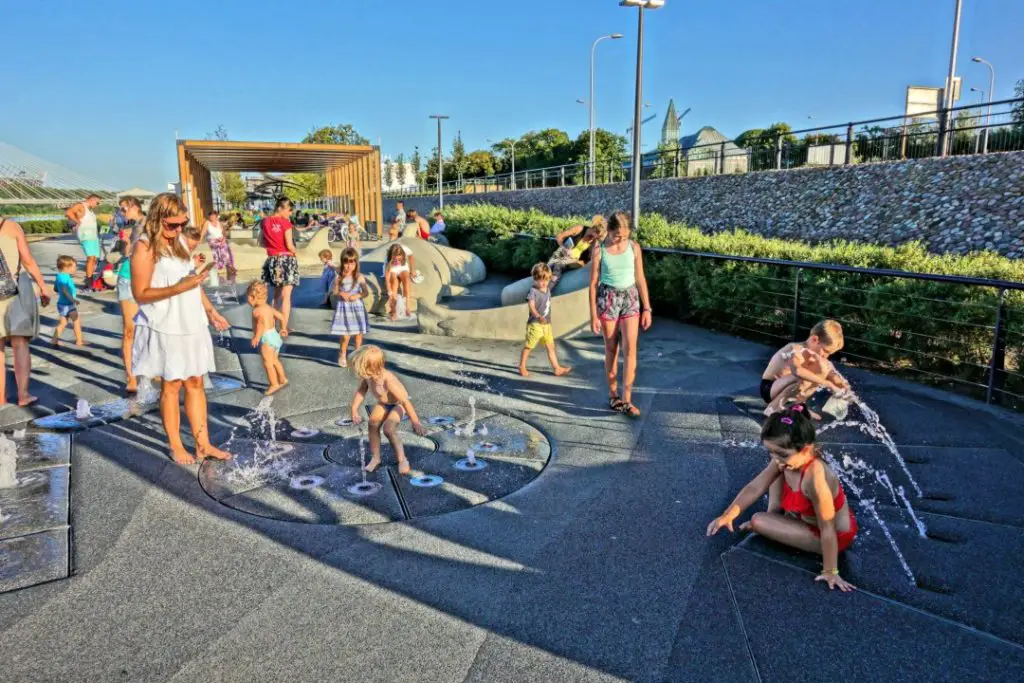 Along the Vistula River Boulevard, there's a great public splash pad where families come to jump and play in the water.  There are also water-play parks in these locations:
The Arkadia Mall

European Square Plaza, Wola district
The Royal Wilanow Mall, Wilanow
Across the street from the Temple of Divine Providence, Wilanow
 All splash pads are free of charge.
7. Outdoor Public Swimming Pools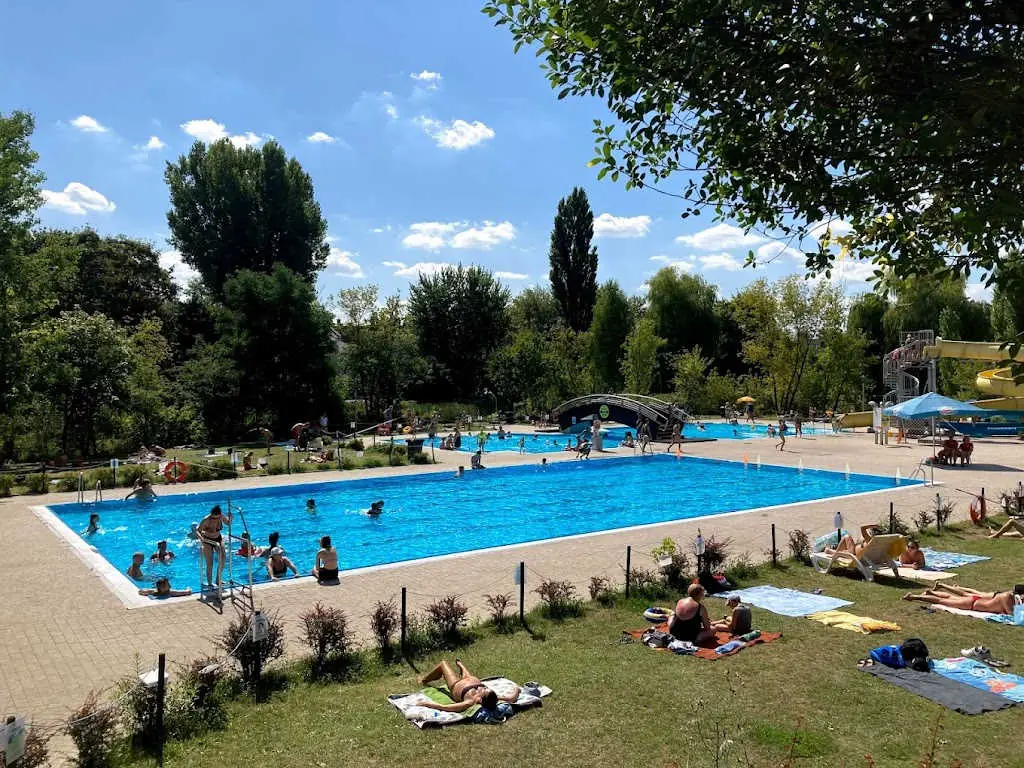 One of the best ways to survive a heat wave in Warsaw is to enjoy the city's outdoor swimming pools. Three of the best community pools include:
Szczęśliwicki Park
Culture Park in Powsin
Inflancka Center
Baseny Kora Swimming Pool
Website: https://www.oddurbanthings.com/open-air-swimming-pools-warsaw/
8. Kayaking at Wilanów Palace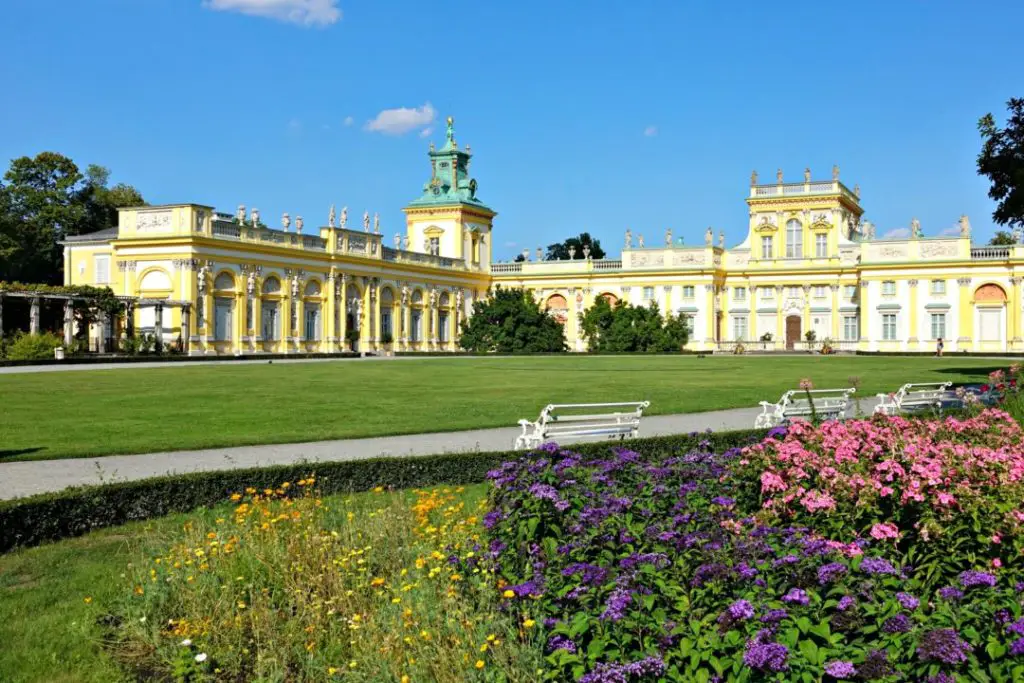 Behind the gardens of the Wilanów Palace, visitors can find Wilanowskie Lake. Located on a pier next to the Pump House, there is a rental agency to hire canoes to enjoy a canoe trip on the lake. Rentals are available from 10 a.m. to dusk and cost 30 PLN for 60 minutes, or 20 PLN for 30 minutes. Consider visiting on a Thursday when the palace and gardens are free of charge.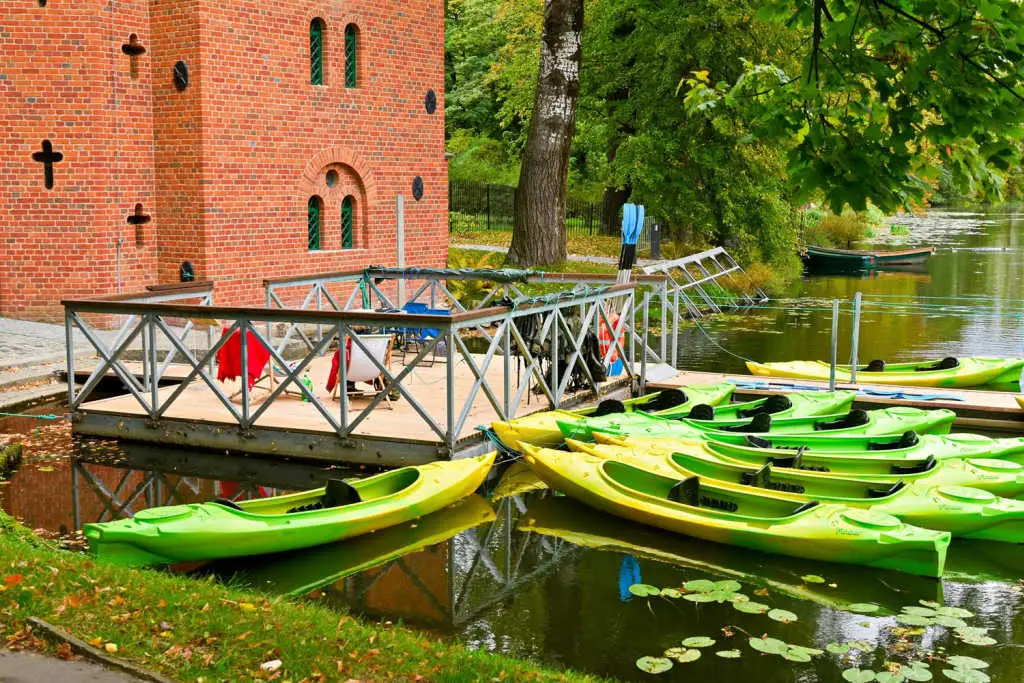 If touring with young kids, there are many free splash pads around the Wilanów neighborhood to cool off. One is located across from the Temple of Divine Providence and another in the public playground and free trampoline park next to the mall on ul. Klimczaka 1, near the Dunkin' Donuts.
Website: https://www.wilanow-palac.pl/kayaking_on_lake_wilanowskie_until_september_30.html
We Need Your Help
Did you find this article useful? If so, bookmark it and when you're planning your next vacation click on any of the links below before finalizing reservations. You'll get the best price, we'll earn a small commission, and you'll help support future articles.
Thank you!
BEST TRAVEL SEARCH ENGINES
🏘️ Book Your Accommodation
We use Tripadvisor and Priceline's Express Deals to compare prices and reviews in advance and check availability
✈️ Book Your Flight in Advance
To find the cheapest flight options, you can use WayAway and Skyscanner to find the most suitable choice for you
🚗 Reserve Your Rental Car
Use DiscoverCars and Skyscanner to compare prices and view the largest selection of vehicles