Touring one of the 25 best historical places to visit in Virginia will bring you closer to the days of old, and allow you to put the past into context. Also, walking in the footsteps of our predecessors can help stimulate more interest in the topic, make it feel more alive and palpable, and inspire learning.
Just about every spot on the itinerary below encourages guests to touch history—a few even include jaw-dropping 4-D movies that will make you feel like you've been teleported to another century. Whether it's yearning to understand past cultural, political, or economic perspectives, visiting 25 historical sites is all about learning from the decisions of our ancestors—it can be a quite fascinating and fun trip.
Let the Roadrip Commence
Setting out from Chicagoland, we planned on spending about two weeks exploring the 25 best historical places to visit in Virginia. Along the way, we overnighted in Cleveland and Gettysburg.
It's important to note that during our trip, for every single stay, we made hotel reservations using Priceline's Express Deals. Typically, we saved about $10-$25 per night off the best available rate—over two weeks, we save hundreds of dollars! Also, you can easily compare prices of hotels using TripAdvisor, try it.
We're going to first share some fun details of our journey to Virginia (from Illinois). However, if you'd like to jump ahead and go directly to the 25 Virginia historical sites, click here.
Ohio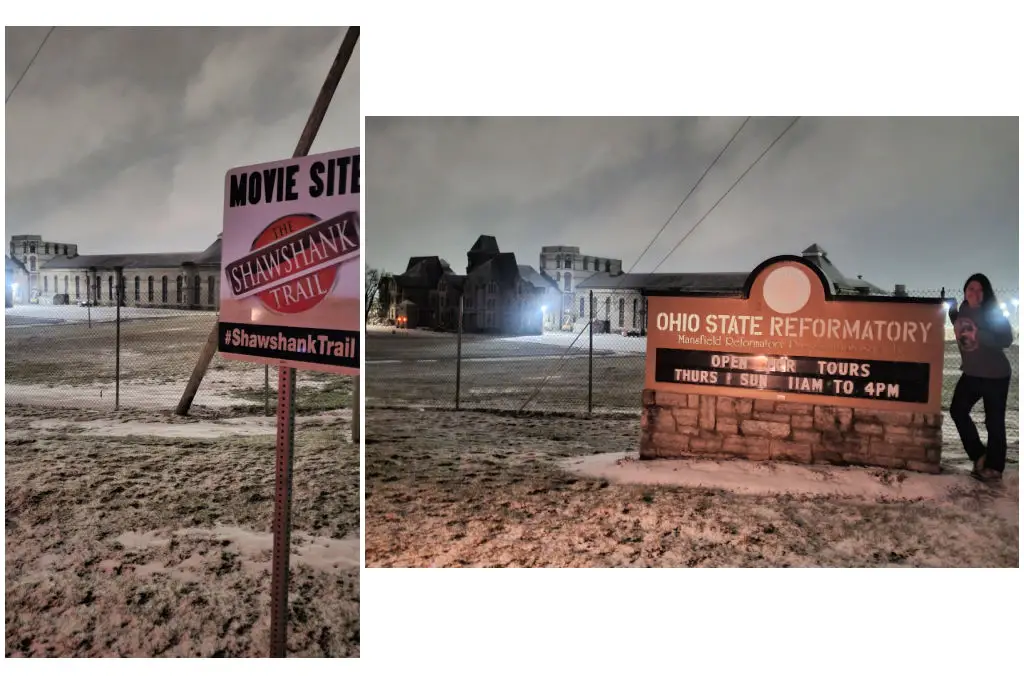 In brief, on the way to Cleveland, we stopped at the Ohio State Reformatory, which was the prison featured in "Shawshank Redemption."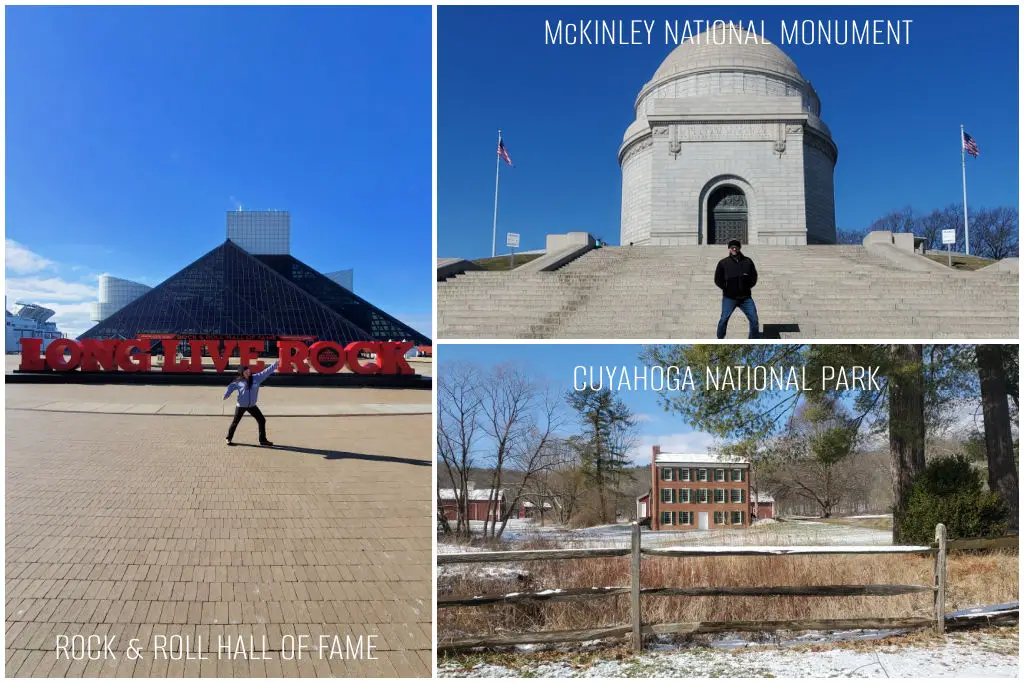 During our short two nights in Cleveland, we visited the Cuyahoga National Park, the Rock and Roll Hall of Fame (the museum requires tickets to be purchased ahead of time), the "A Christmas Story" house, and McKinley National Memorial.
Pennsylvania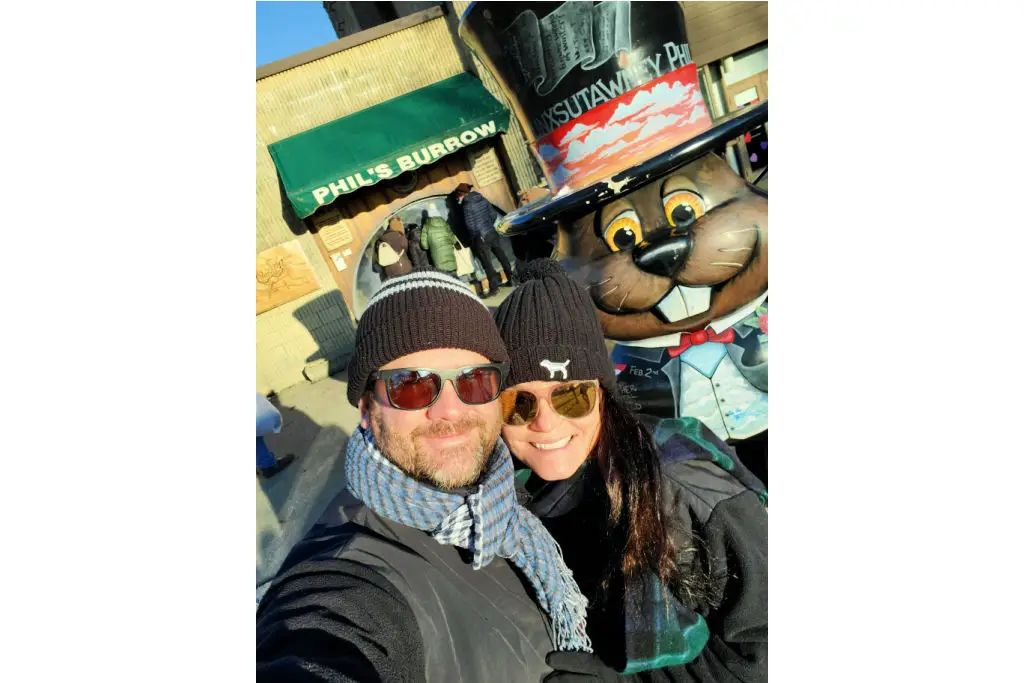 Realizing (sort of last-minute) that the following day was Groundhog Day, we made a quick detour to Punxsutawney. Being avid lovers of the movie, and having visited the filming location in Woodstock, IL, we couldn't resist stopping in the day before to get a sense of the craziness.
Gobbler's Knob
Making a beeline for Gobbler's Knob, the site of the festivities, and where Phil, "the Seer of Seers, the Prognosticator of all Prognosticators," a groundhog makes his annual weather prediction. With great fortune, we were able to witness the preparations, walk through the makeshift souvenir shop, and meet and greet with Thomas Dunkel, aka Shingle Shaker, the President of the Punxsutawney Groundhog Club—conversing with Dunkel made the detour worthwhile.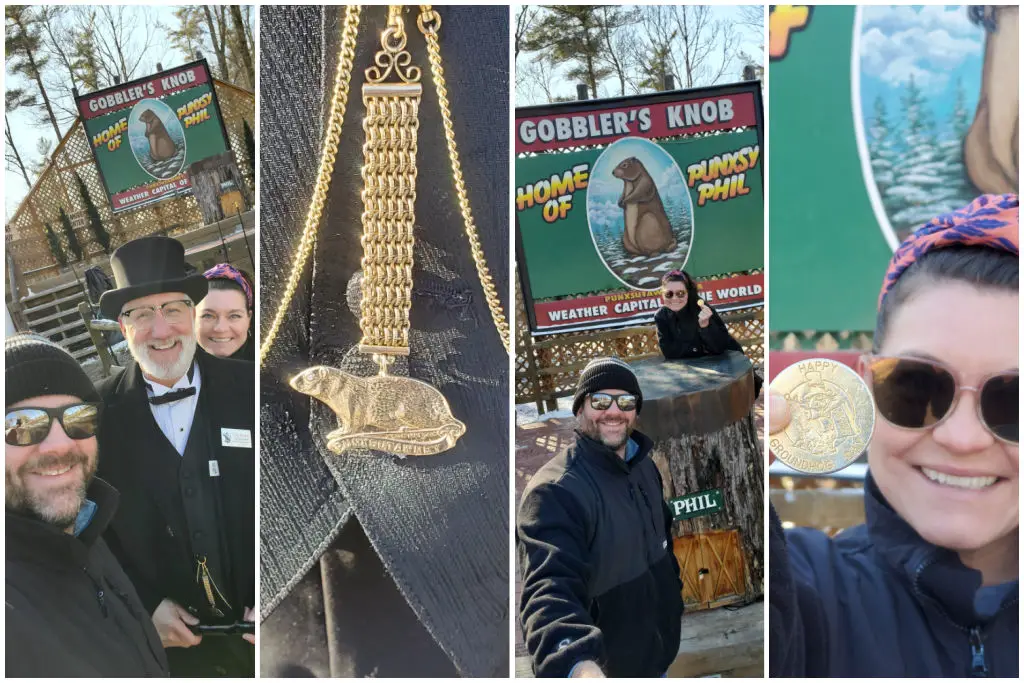 Afterward, we swung by downtown and went to Barclay Square for the "Groundhog Day in the Park" festivities which include local vendors, food trucks, a live band, and free s'mores. While short and sweet, our visit to Punxsutawney allowed us to check that destination off our bucket list and get a good sense of what was to come the following day—we even saw Phil in his burrow!
Gettysburg
Arriving quite late at night in Gettysburg, we were surprised to be greeted by a massive Christmas tree in Lincoln Square. It turns out, that "A Gettysburg Christmas" starring Lee Majors recently began filming in the charming town. We're looking forward to the release, sometime in December 2023.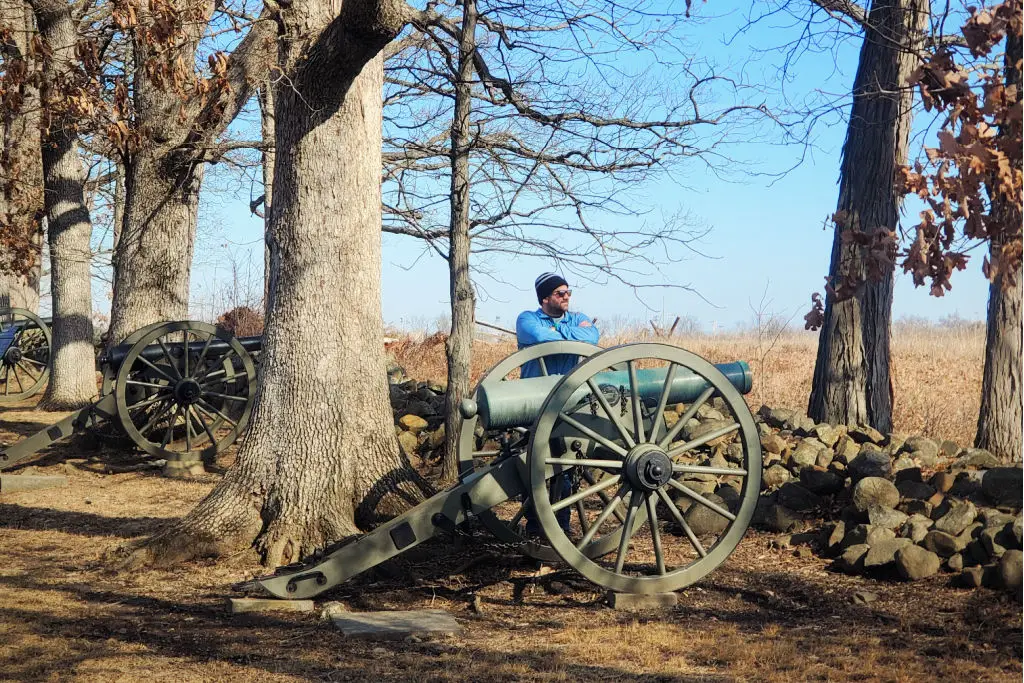 With it being February, traffic was light, and we were easily able to tour the town and battlefield in one busy day. Moreover, Gettysburg is such a lovely town and there's so much more to see and do. It would be easy to make this destination a long weekend just by itself.
We were able to enjoy a guided tour of the battlefield by watching this video. Produced by Garry Adelman, the Chief Historian at American Battlefield Trust (ABT), he provides a play-by-play of the battle, and it's the same tour that most visitors pay $38 per person to go on.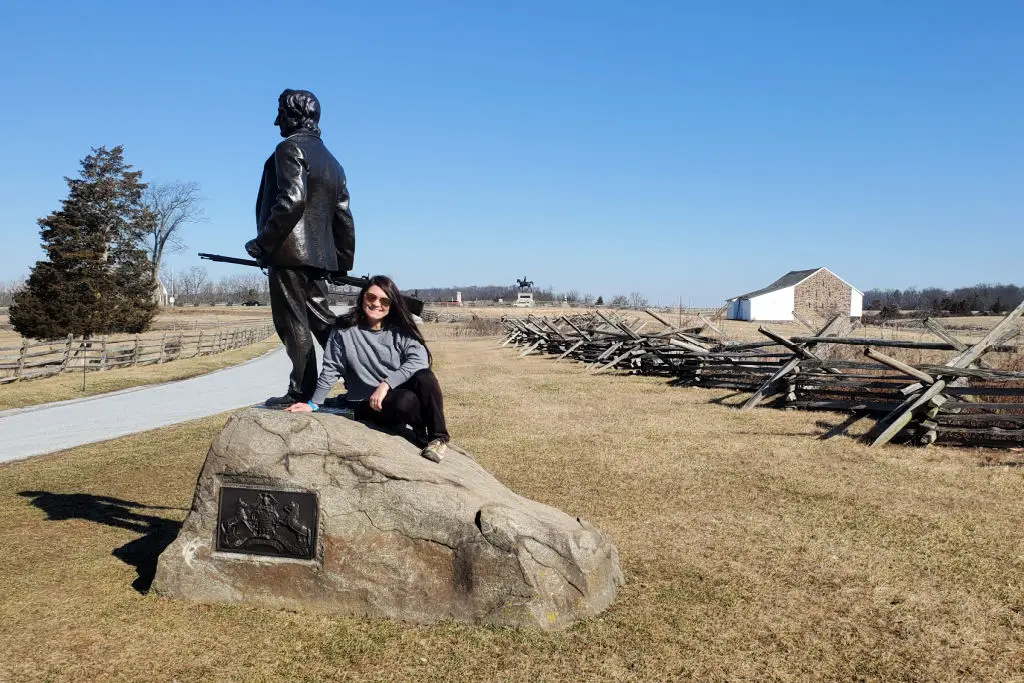 If you're going to visit a battlefield make sure to see if the ABT has an app for that specific campaign—they provide tons of free information. Finally, we hope to come back to Gettysburg and enjoy a longer stay. There are so many cute inns, good restaurants, and a fun Civil War Ghosts of Gettysburg tour to explore.
In the center of town, on Lincoln Square are two fantastic options for historic lodging: (1) The Brafferton Inn, and (2) The Inn at Lincoln Square. Also, the location for both is amazing. Guests can leave the inn(s) and walk to the best restaurants or go for an evening stroll through town.
Maryland and West Virginia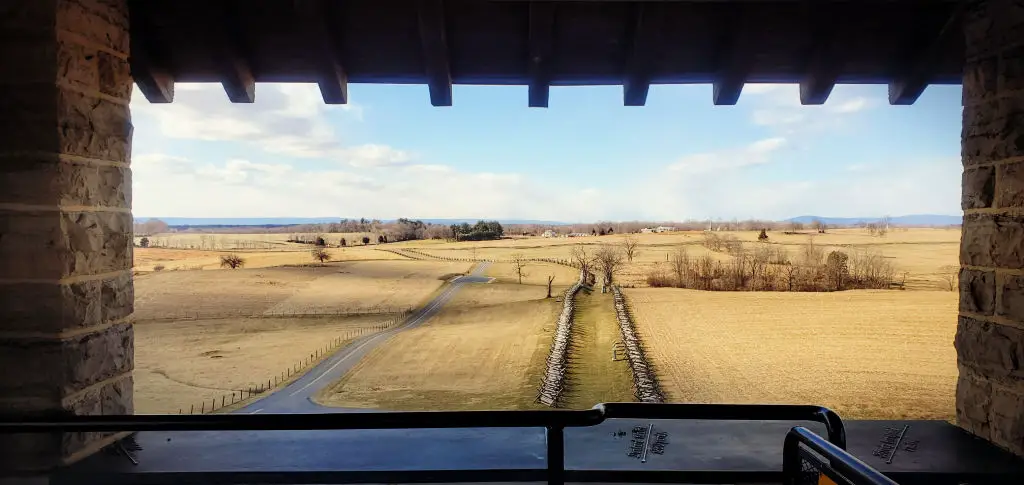 From Gettysburg, we headed to Antietam National Battlefield and Harper's Ferry. Unless you're thinking about walking parts of the battlefield, plan about 2 to 3 hours to get a full understanding of the conflict at Antietam.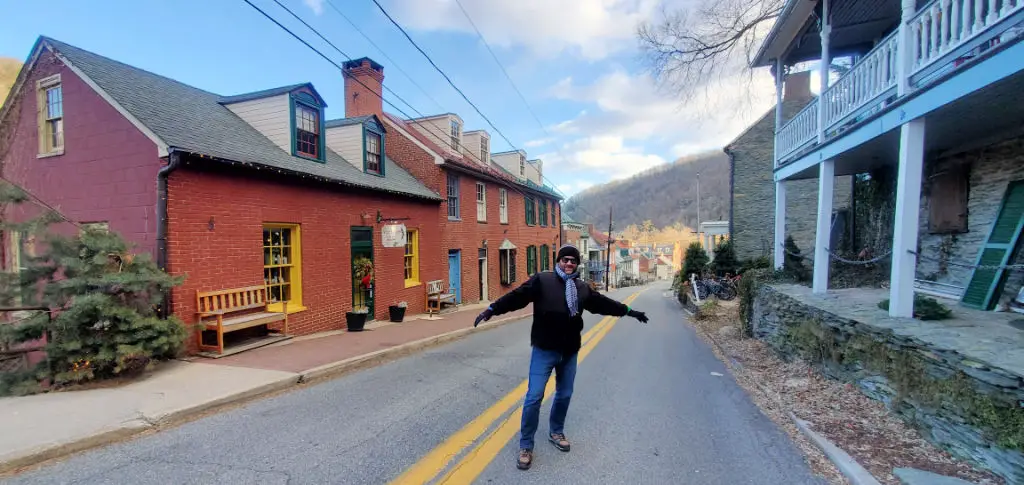 It was actually quite nice to visit the historic town of Harper's Ferry in February. While it was cold, we were able to park at the train station and easily walk to the living history museums. Once again, with the adjoining national park, this when paired up with Antietam could be slow-traveled over four or five days, we did it one.
25 Best Historical Places to Visit in Virginia
Yay, we made it to Virginia! From Harper's Ferry, we traveled southeast toward Norfolk and then proceeded west, where we end the tour in Shenandoah Valley National Park.
To assist in making your itinerary, we'll highlight where we visited and stayed. Also, we'll provide alternatives in case you have extra time or something else piques your interest.
Our first overnight was at Fairfield by Marriott Inn & Suites Herndon Reston, just outside Dulles Airport (IAD). Thanks to one of Priceline's Express Deals, we received an amazing deal at a really nice hotel for $55 per night, thanks to a $20 off coupon (which Priceline sent us after our initial booking).
When you're ready to book your next flight, follow these three easy steps to get the best price.
Budget Tip: If you arriving by air and are looking to rent a car, we always compare prices between Discover Cars and Skyscanner to make sure we're getting the best price.
Advice for Your Virginia Itinerary
Never visit anywhere thinking you have to see everything. It's impossible and you'll most likely leave feeling disappointed.
Instead, select the sites that seem the most interesting, and make time for them. If you end up having extra space in your itinerary, that's okay, you can fill it with whatever you feel like at the time. This will grant you the opportunity to slow down or freestyle site-see.
Typically, for many tourists, it's the other way around and people try to jam far too much into their itinerary and end up feeling rushed. Slow down. Take time to breathe, enjoy a cup of coffee, take a stroll, and savor the ambiance.
Below are the best historical places to visit in Virginia.
1. Ball's Bluff Battlefield Regional Park – Leesburg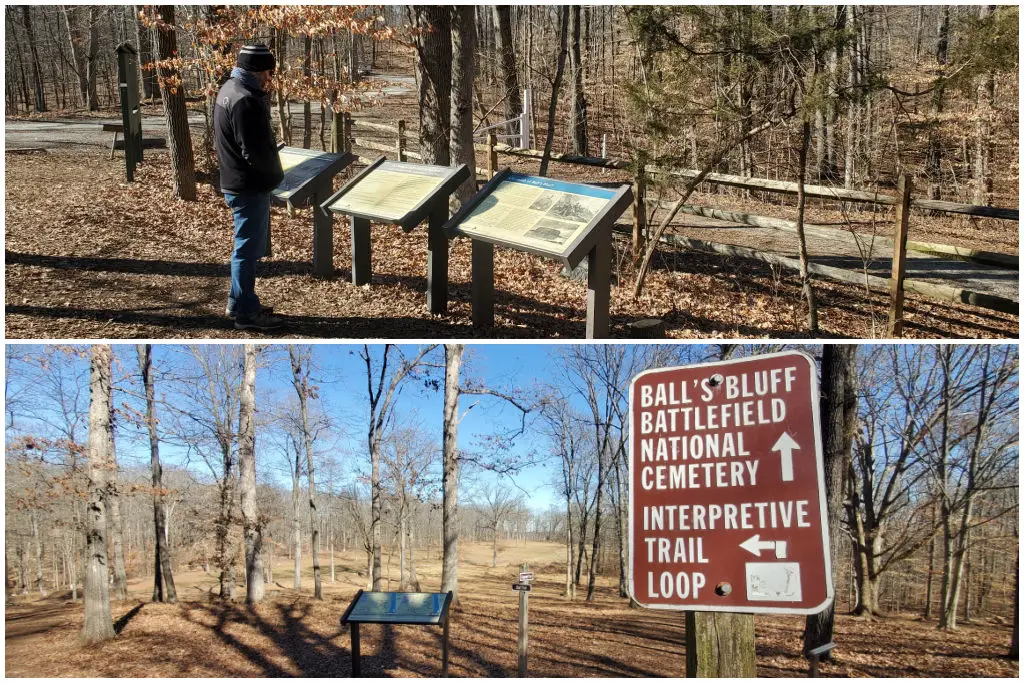 Occurring in 1961, the first year of the Civil War, the Battle of Ball's Bluff was not a planned attack. Instead, it materialized accidentally from a faulty intelligence report that Union Brig. General Charles Stone received.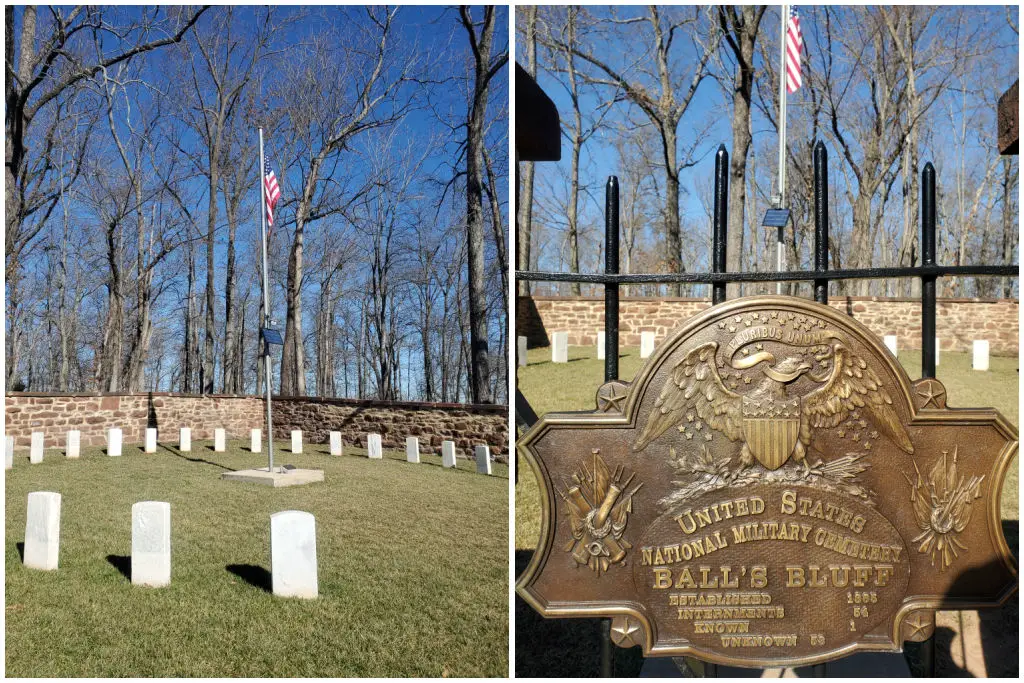 Although it's categorized as a regional park, it's well maintained as many locals use the area to hike. Also, while there are over 7 miles of trails available, there's one interpretive trail that's only 0.8 miles long that covers the main features including the National Cemetery which is the third smallest in the country.
Plan on spending 1 to 2 hours touring the grounds.
Winchester
Settlement in Winchester began as early as 1729 and George Washington first visited here in 1748 at the age of 16 as a surveyor. At the age of 24, he was responsible for the construction of Fort Loudoun (which has since been demolished).
Nevertheless, Winchester is one of Virginia's most charming towns and is worthy of at least spending at least a night or two. One of the best accommodations in a great location is The George Washington, a Wyndham Grand Hotel.
2. George Washington's Office
Now a small museum, George Washington's Office is a quaint stop in Winchester that allows visitors to learn more about the soon-to-be-first President of the United States.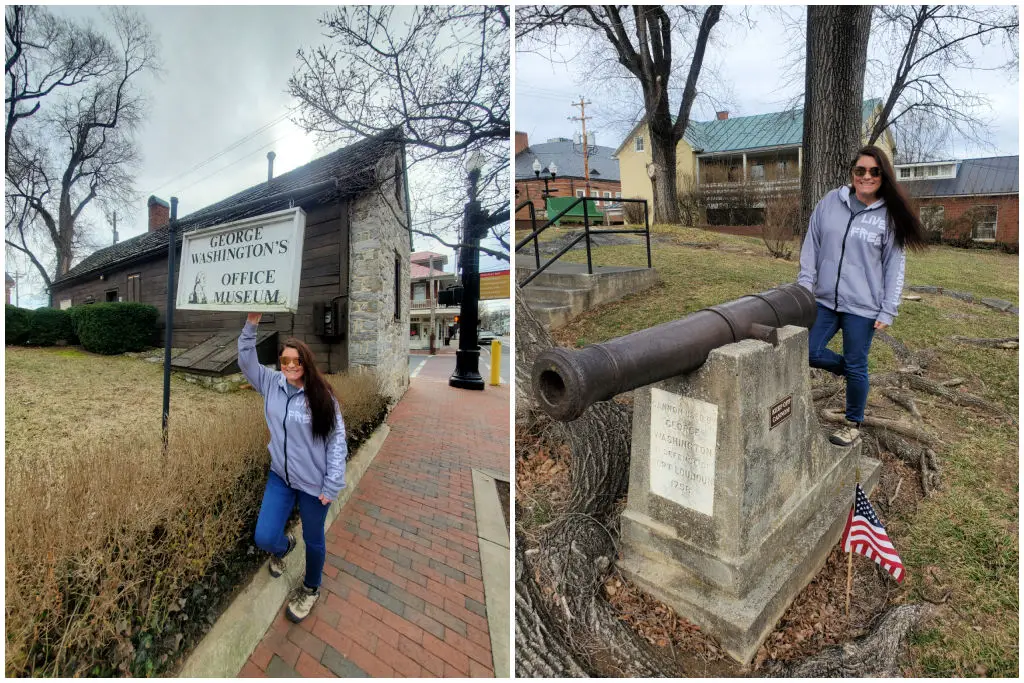 If you don't make it inside, at least see and touch the cannon outside—it was fired by Washington during the defense of Fort Loudoun.
3. Stonewall Jackson's Headquarters
Just a few blocks down the street from Washington's office is the headquarters of Stonewall Jackson. He used it during the winter of 1861-1862.
There was a catch, of course. He shared the home with the owner, Lt. Col. Lewis T. Moore, and was granted access to a private bedroom and office.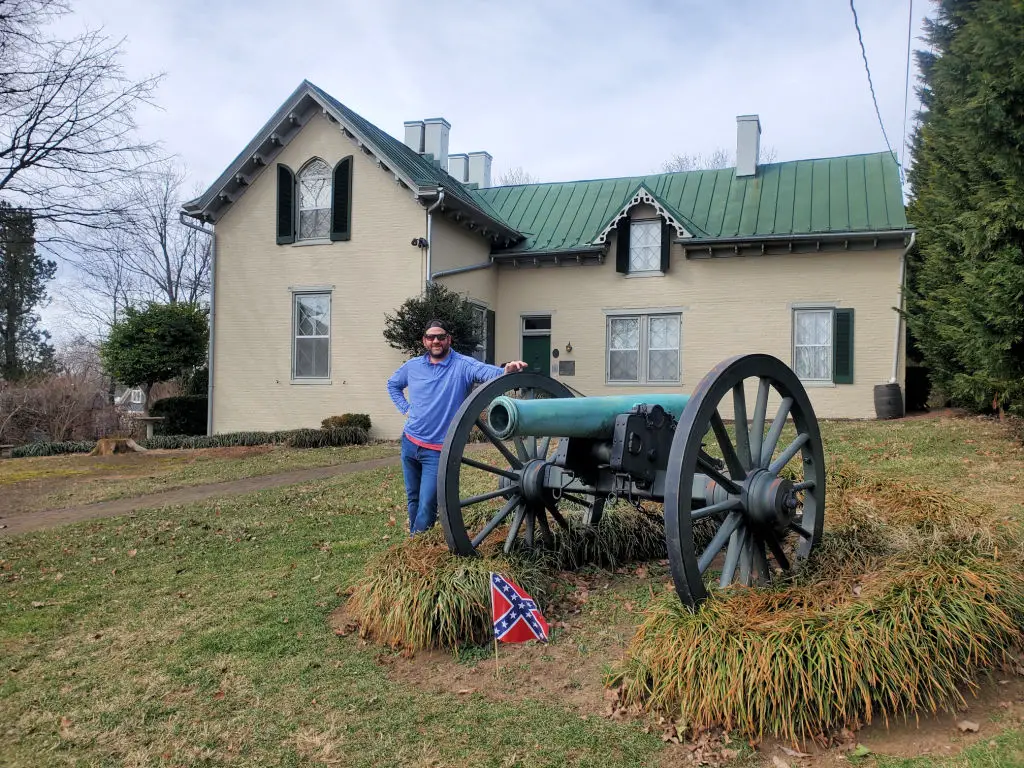 Sitting on the top of a hill, the simple cottage home, by today's standards, had spectacular views of the area (before everything built up all around it). Nevertheless, Moore's home was quite posh at the time and Jackson was impressed by the gilded wallpaper.
Budget Tip: Save a little money by purchasing a combo ticket that grants access to both George Washington's Office and Stonewall Jackson's Headquarters.
4. Cedar Creek and Belle Grove National Historical Park
The Belle Grove plantation is located in the Shenandoah Valley near Cedar Creek in the small town of Middleton. While the area boasts some of the most lovely vistas in Virginia, it also hosted one of the most chaotic and intense battles of the civil war. Moreover, the Battle of Cedar Creek led to the Union having complete control of the Shenandoah Valley.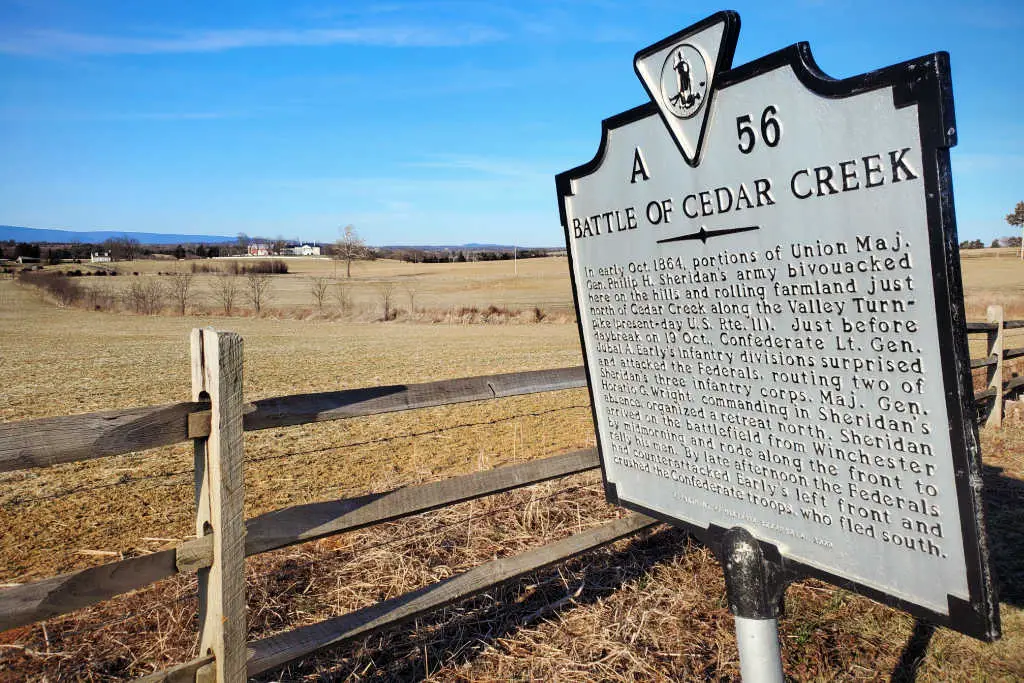 The self-guided driving tour of Cedar Creek and Belle Grove NHP takes about 2 hours to complete. Conversely, there are seasonal tours of the Belle Grove plantation house from April to December.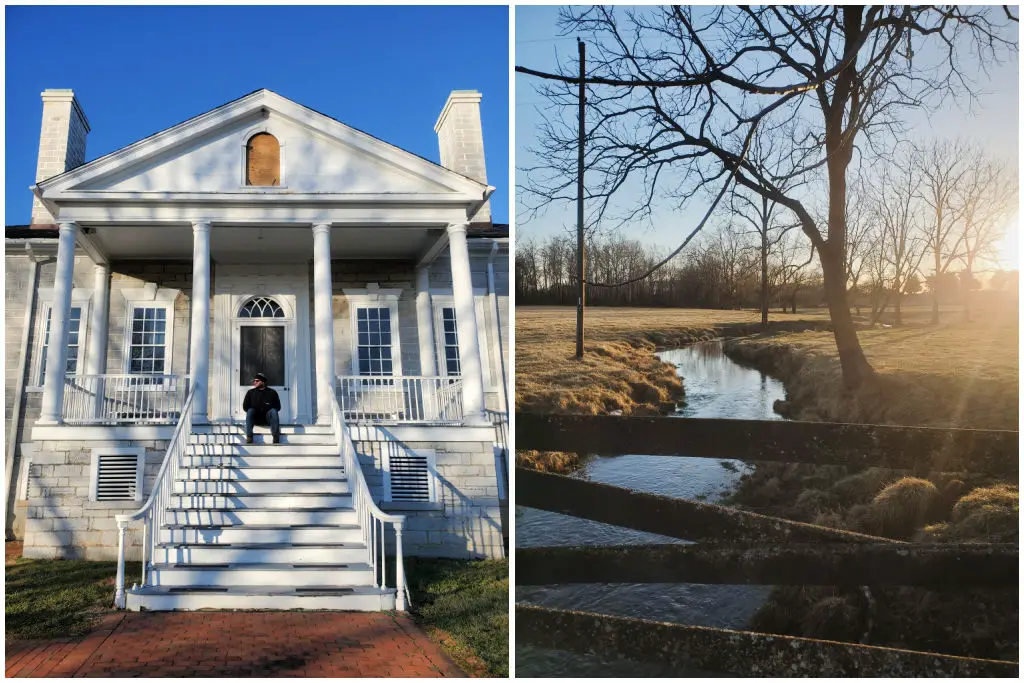 The self-guided driving map is not on display at the visitor center, therefore, you have to ask for one. The lady at the visitor center told us that the National Park Service only supplies them with a limited amount. If you can't get one, we took a picture of ours here.
5. Mannassas National Battlefield Park
The Union loss at the First Battle of Bull Run (First Manassas) shocked the North. Furthermore, it was at this point that many people realized that this war wasn't going to end as quickly as some assumed. Also, this is the location where the first civilian, 85-year-old Judith Carter Henry, was killed.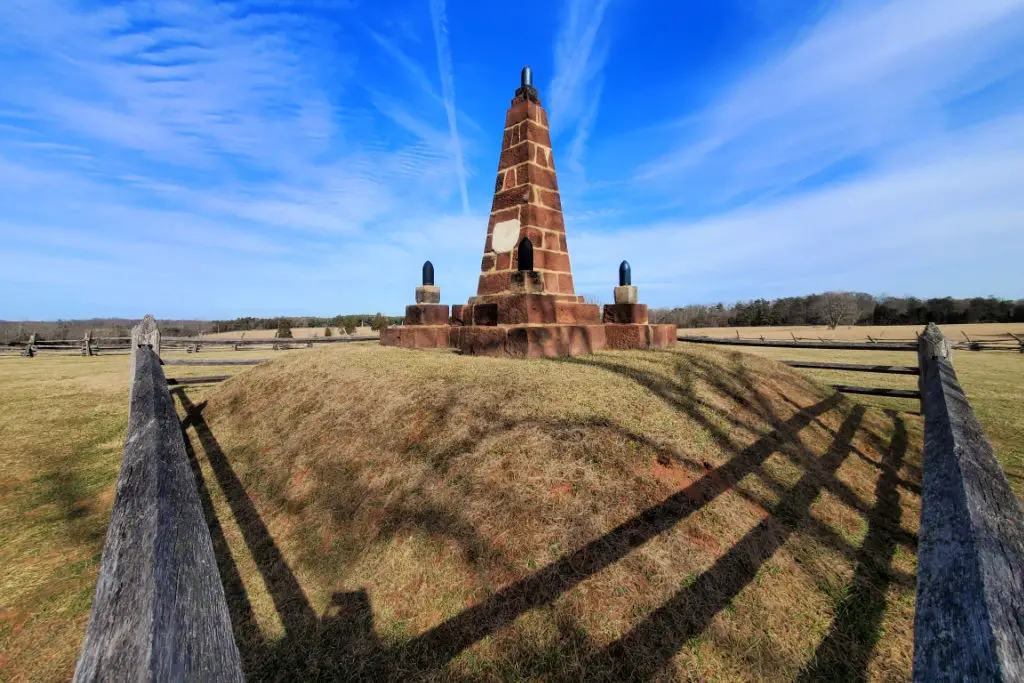 With larger forces, more casualties, and Gen. Robert E. Lee's presence, the Second Battle of Bull Run (Second Manassas) tends to receive more focus. Occurring a little over a year after the first battle, the second was more strategic and covered significantly more ground.
Plan on spending a few hours touring First Manassas and at least 3 hours traveling the 18-mile driving tour. However, there are 40+ miles of hiking trails so visitors could easily spend multiple days here. Finally, the Holiday Inn Express & Suites Manassas is located right next to the battlefield and is the ideal accommodation.
Arlington and Alexandria Counties
Located just across the Potomac River from Washington D.C., is Arlington County. The best historical places to visit in Virginia here include Arlington National Cemetery and Arlington House (residence of Gen. Robert E. Lee).
Alexandria County, on the other hand, is located just south of Arlington County, also along the Potomac. Alexandria's Old Town is the highlight here and is considered to be one of the most beautiful in the state. While a bit expensive, Alexandria is worthy of an overnight.
Mount Vernon, Gunston Hall, and Pope-Leighey House
6. Mount Vernon
Moving south away from the hustle and bustle of Washington D.C. is Mount Vernon, the home of George Washington. Of all of the best historical places to visit in Virginia, this is our favorite.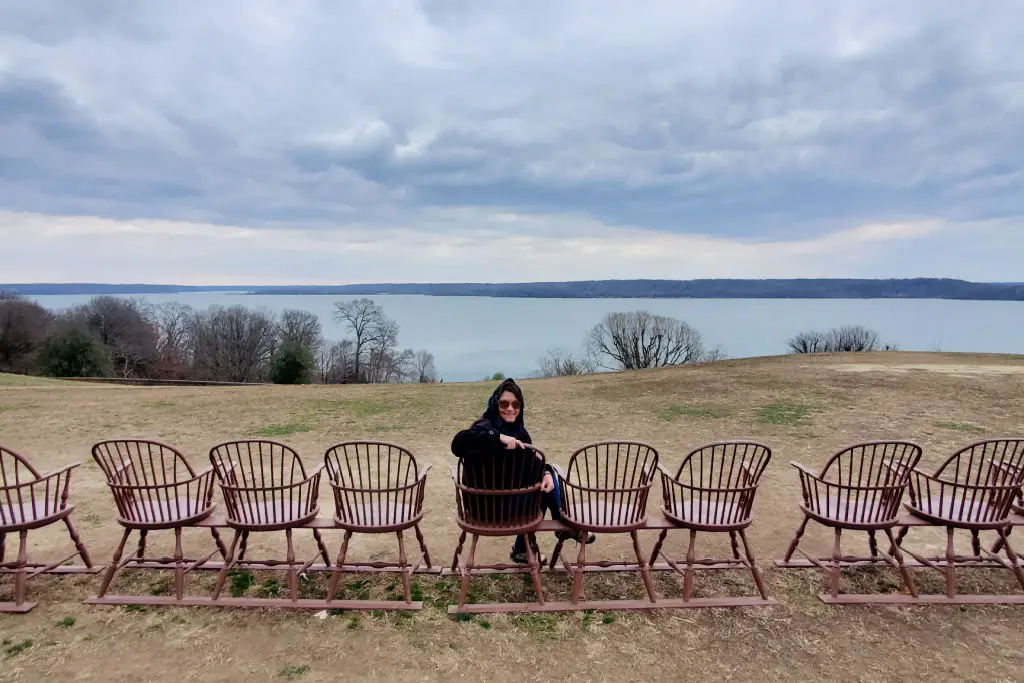 Personally, there's nothing like standing in Washington's backyard looking out over the Potomac River and just letting your imagination go wild.
Allow at least 4 hours to tour the home, grounds, and museum.
7. George Mason's Gunston Hall
One of the best historical places to visit in Virginia that are much less frequented than Mount Vernon is George Mason's, Gunston Hall. Mason is known for writing the Virginia Constitution and Declaration of Rights.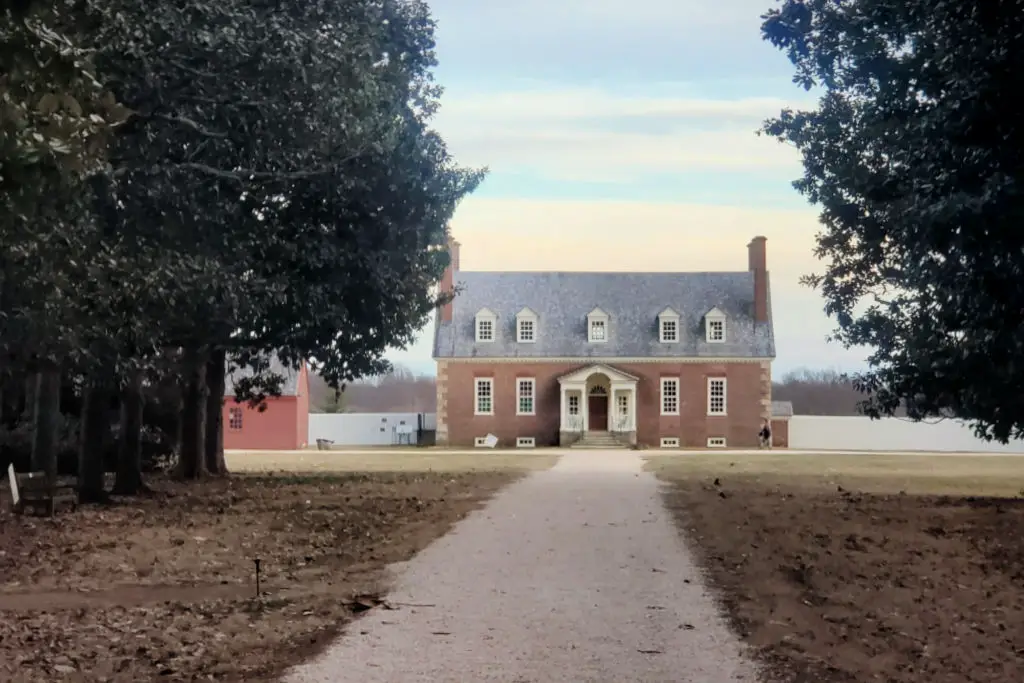 More important, however, is how those documents influenced the U.S. Declaration of Independence, the Constitution, and the Bill of Rights. Also, the mid-18th century home is a great example of Georgian architecture.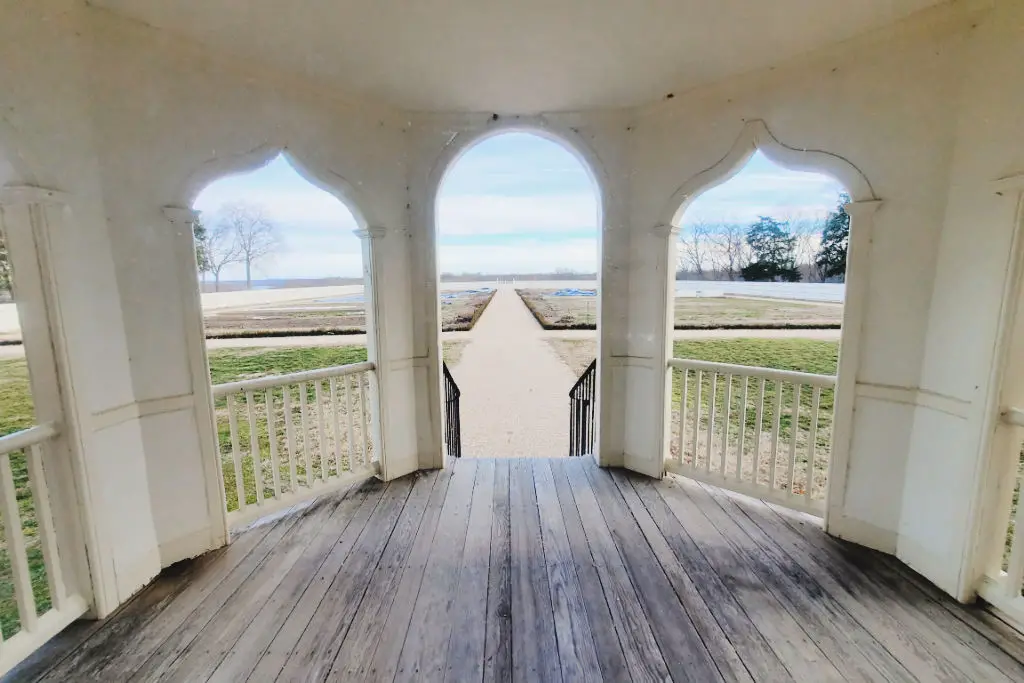 When we visited Gunston Hall, there were no other guests so we received a private tour, and felt like VIPs! With dinner guests such as James Madison, Thomas Jefferson, and George Washington Gunston Hall is one of Virginia's most treasured and best historical places to visit.
Allow 1 to 2 hours to tour the small museum and home.
8 Frank Lloyd Wright's Pope-Leighey House
Designed in 1940, Frank Lloyd Wright's Pope-Leighey House is only one of three in Virginia, and the only one open to the public. As a "Usonian" home, it was intended to be quite modest in size. Nevertheless, once inside, it feels far bigger than 1,200 square feet.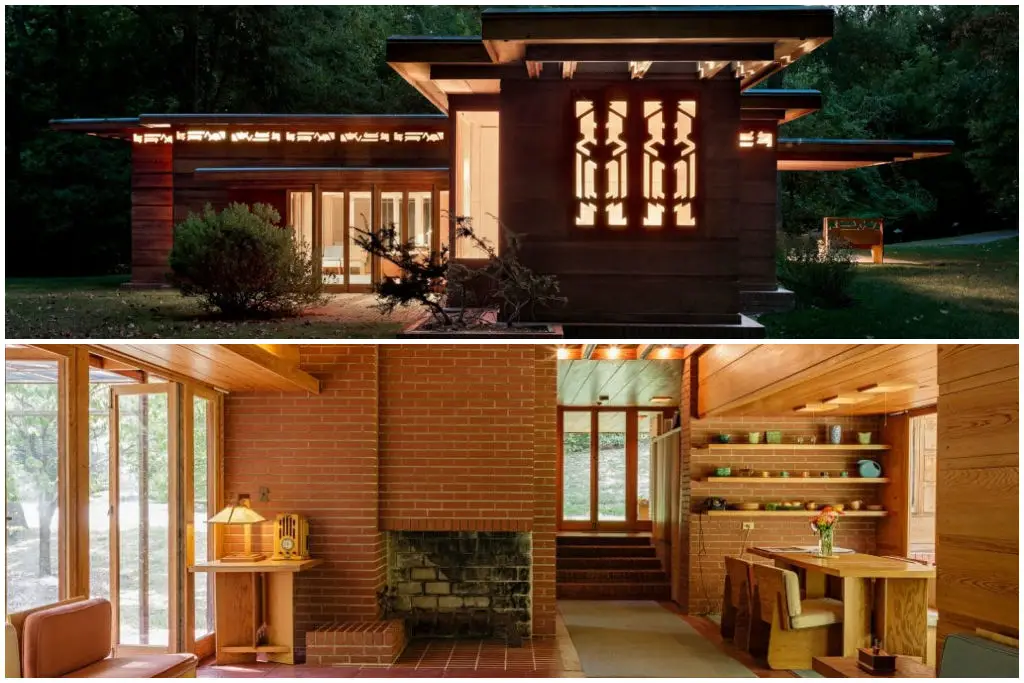 Right across the street from the Pope-Leighey House is the Woodlawn Plantation, a 126-acre estate that was once part of Mount Vernon. Visitors can tour both homes in about 1½ hours.
A comfortable accommodation near Mount Vernon, Gunston Hall, and the Pope-Leighey House is Hampton Inn & Suites Fort Belvoir Alexandria South.
9. Fredericksburg, Chancellorsville, Wilderness, and Spotsylvania
At Fredericksburg and Spotsylvania County Battlefields, four major battles took place within a 17-mile radius. By far, the most interesting to tour for most visitors is Fredericksburg, then Chancellorsville, Wilderness, and finally Spotsylvania Court House.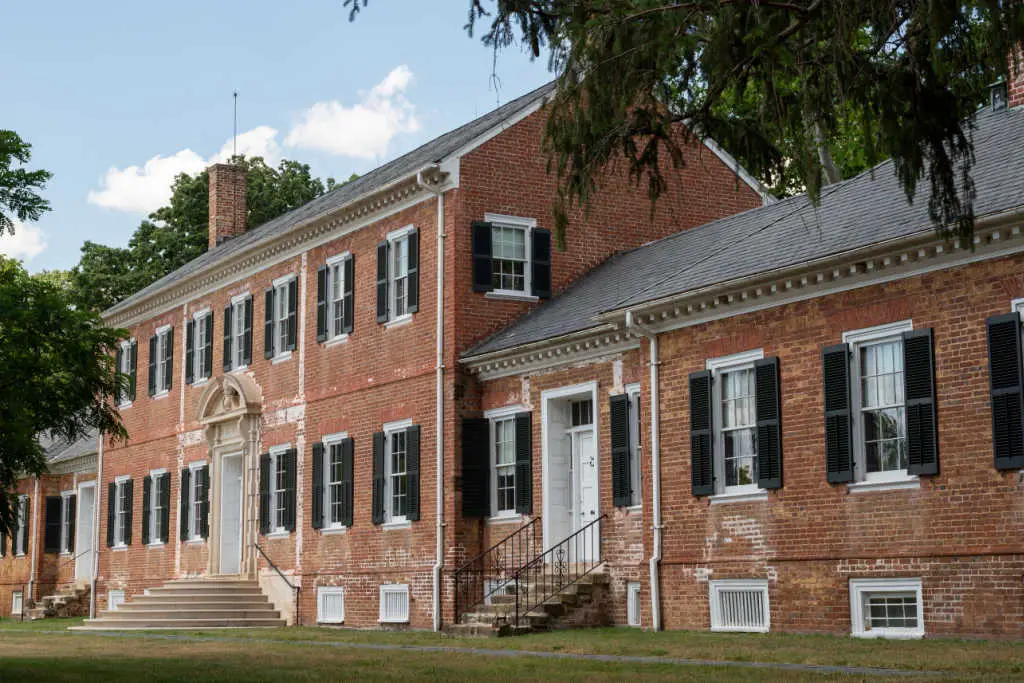 Two nearby sites that are worth visiting include Chatham (part of the driving Fredericksburg Battlefield driving tour), which served as the headquarters for the Union, and the Stonewall Jackson Shrine. To prevent rushing through the area, overnighting in the charming town of Fredericksburg is a good option.
Plan on spending a full day exploring all four battlefields. Overnight at the charming The Richard Johnston Inn & 1890 Caroline House or Courtyard Fredericksburg Historic District, both located in Fredericksburg Old Town.
Richmond and Petersburg
As the South's second-largest city and the most industrial, Richmond was chosen as the capital of the Confederacy. For this reason, there are several interesting Virginia historical sites to see. Plan on spending one or two nights in Richmond, Courtyard by Marriott Richmond Downtown, is the perfect location.
10. White House of the Confederacy
If you've ever wondered if the South had a White House like the North, they did. Built in 1818, the White House of the Confederacy served as the Executive Mansion during the Civil War. Guided tours last about 45 minutes, visit two floors and see many original-piece period items.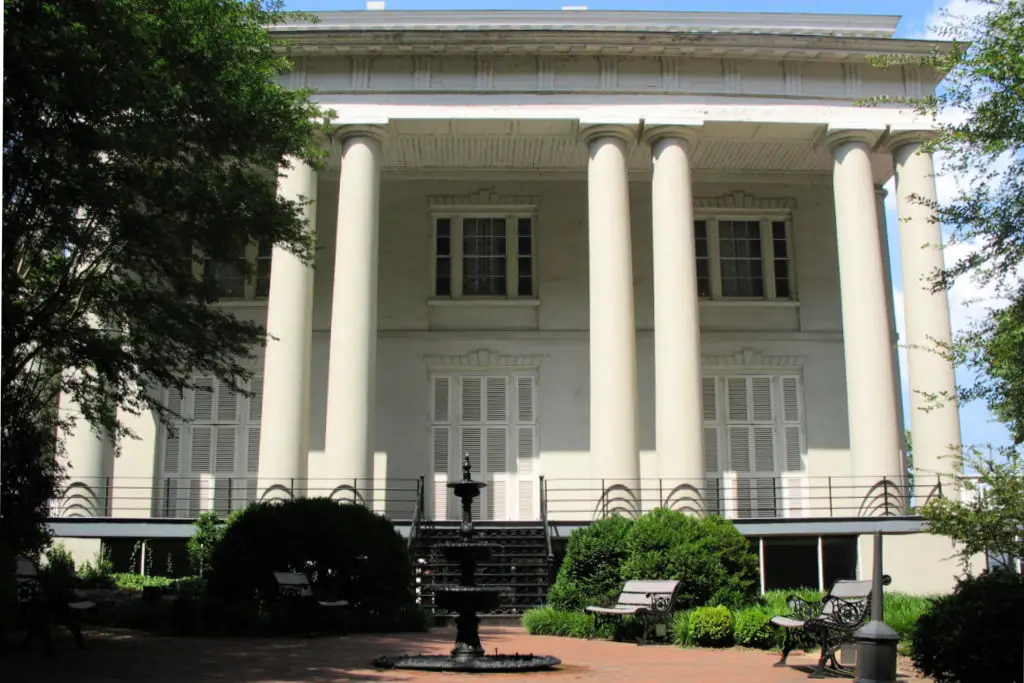 Also, it's quite interesting to note that Abraham Lincoln toured the house a few days before the surrender at Appomattox and 10 days before the shooting at Ford's Theatre.
Tours last 45 minutes.
11. Virginia State Capitol
Today's Virginia State Capitol designed by Thomas Jefferson also served as the Capitol of the Confederacy during the Civil War. Visitors can pair up a visit to the Capitol with the Executive Mansion.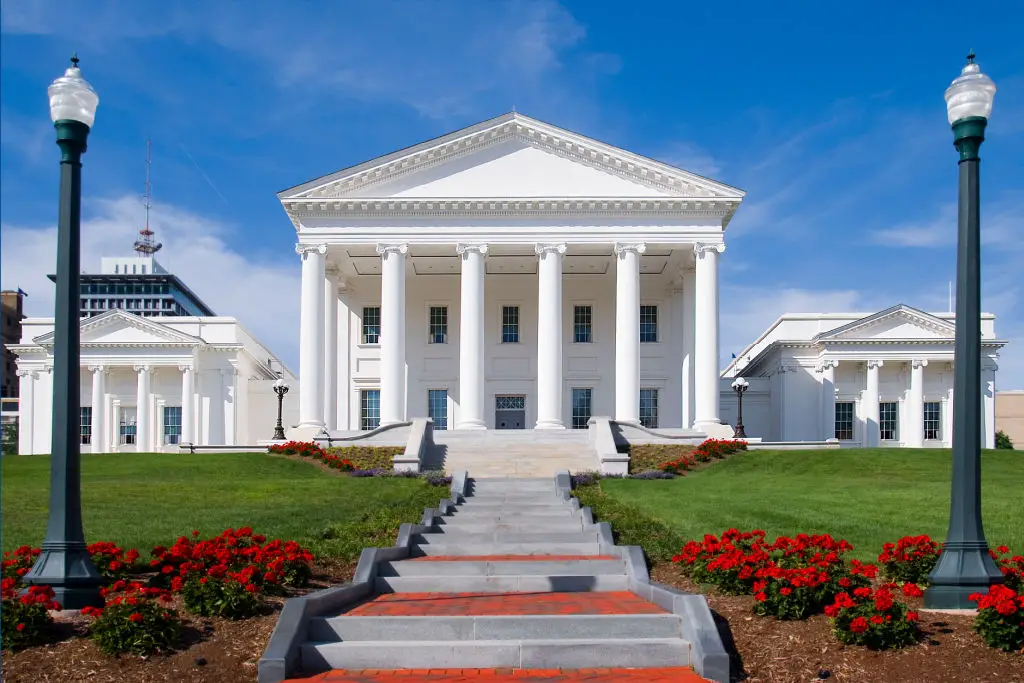 Interestingly, the mansion is the oldest continuously occupied governor's residence in the country, since 1813.
Guided tours last about 1 hour.
12. The John Marshall House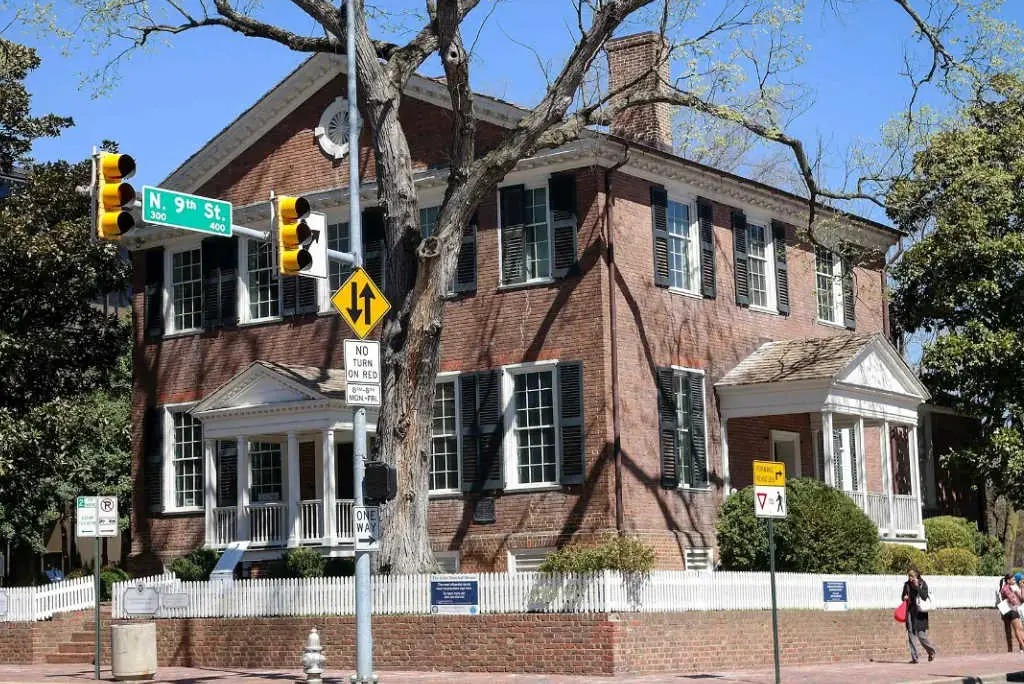 John Marshall, the fourth Supreme Court Chief Justice had this home built in 1790 and lived here until he died in 1835. Not only is the John Marshall House well-preserved but tour guides present an informative summary of Marshall's life and his impact on the evolution of the American government.
Allow 2 to 3 hours.
13. Wilton House Museum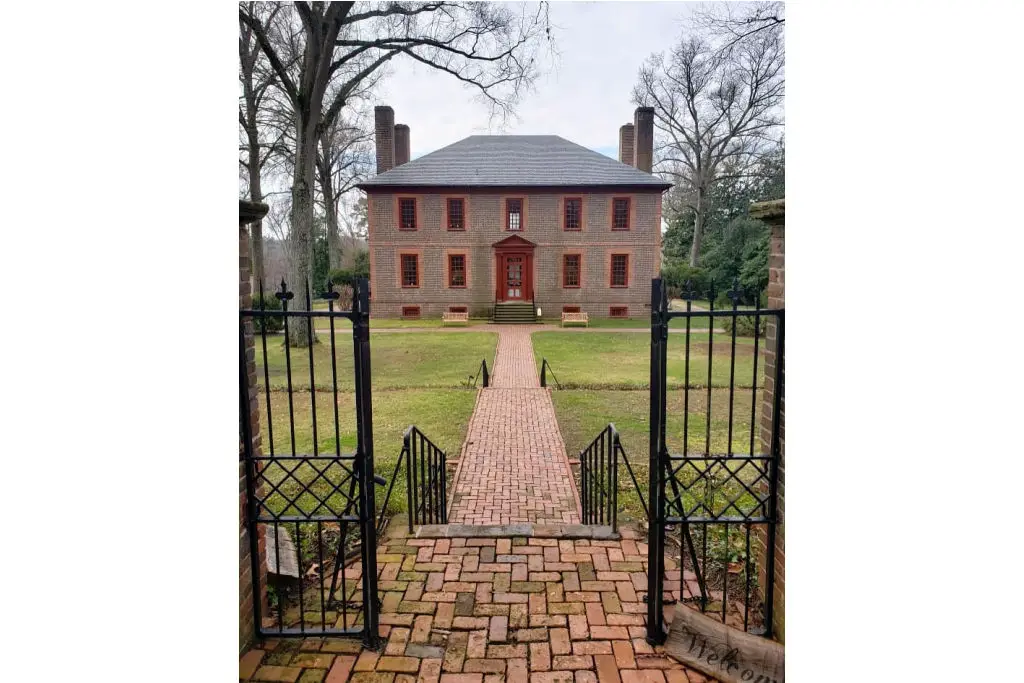 If the John Marshall House piques your interest you may want to consider a visit to the Wilton House Museum. It's here that the Marquis de Lafayette, George Washington, and other influential people met to discuss the battle strategy during the Yorktown campaign.
Allow 2-3 hours.
14. Richmond National Battlefield Park
Sitting along the James River, in the center of Richmond, the Richmond National Battlefield Tredegar Visitor Center is a good place to kick off the 80-mile driving tour. Along the way, guests will visit 13 significant sites, and have access to eight miles of hiking trails.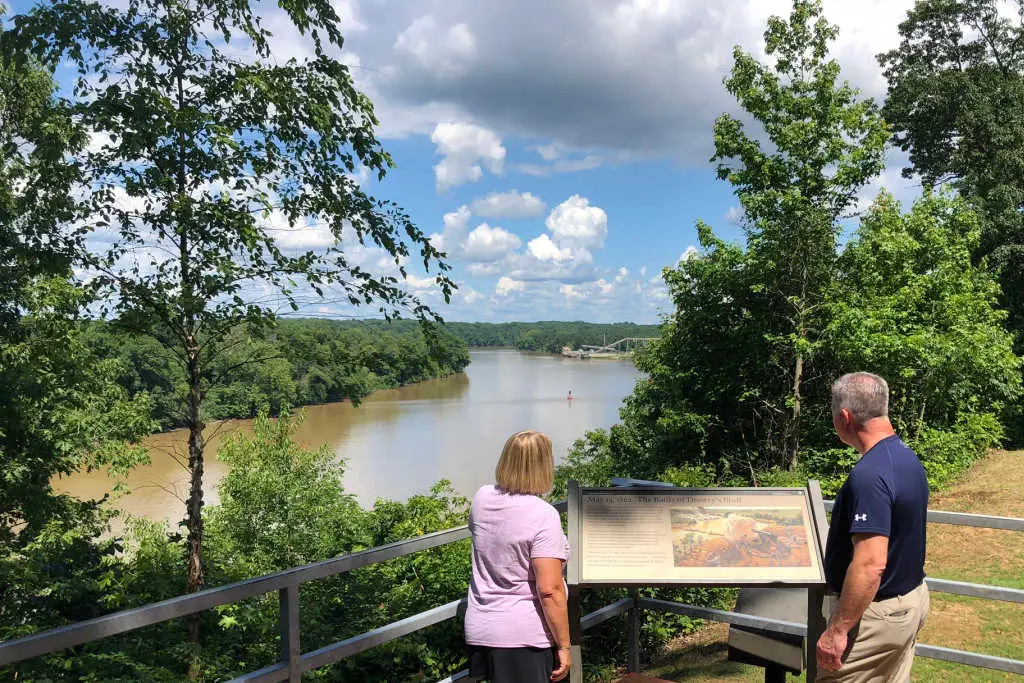 Key battlefields include:
Beaver Dam Creek
Gaines' Mill
Cold Harbor
Fort Harrison
Malvern Hill
Plan for a full day of touring to see all 13 sites.
15. Petersburg National Battlefield and Pamplin Historical Park
About 25 miles south of Richmond is Petersburg National Battlefield, the site of the longest siege (292 days) in American warfare. Furthermore, Petersburg National Battlefield is the site of the Battle of the Crater, where 8,000 pounds of black powder was ignited under a fort (Elliot's Salient).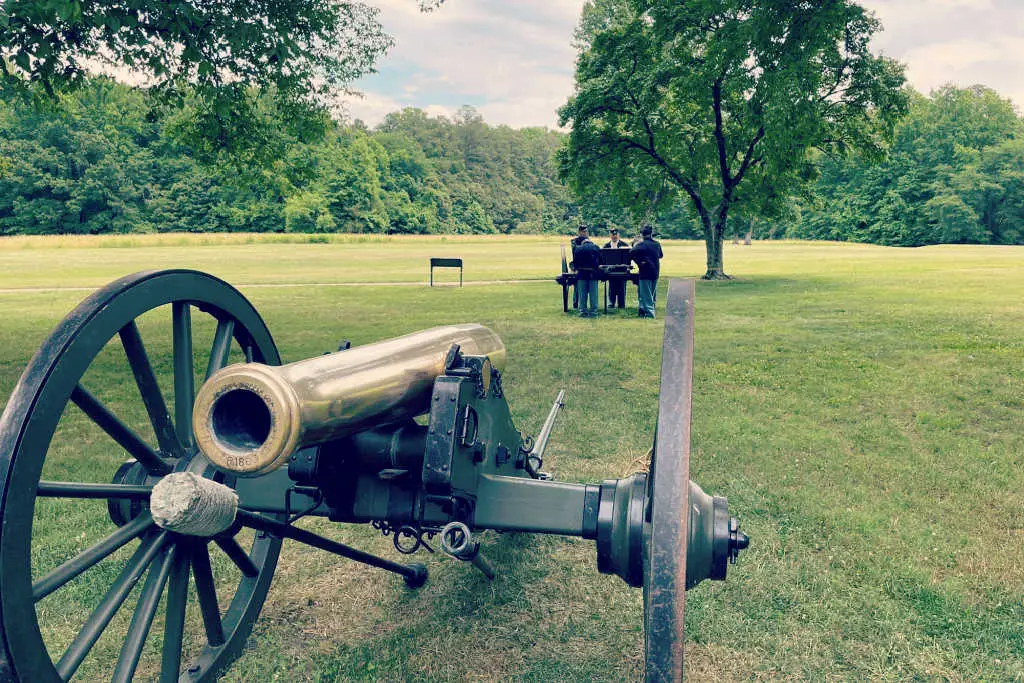 The self-guided driving tour covers 33 miles and includes 13 sites and three visitor centers. Start at the Eastern Front Visitor Center and plan on spending a full day touring the battlefield.
Pamplin Historical Park
The siege would eventually come to an end on April 2, 1865, at the "Breakthrough Battle," named after the Union troops that broke through Lee's line beyond repair. To put it in perspective, this attack was larger than "Pickett's Charge" at Gettysburg.
Visitors can tour the "breakthrough" site at Pamplin Historical Park & The National Museum of the Civil War Soldier. In addition to having some of the best-preserved earthworks, there are also award-winning museums, miles of hiking trails, historic homes, and costumed living history characters. Plan on spending at least 4 hours touring the park.
Finally, be sure to stay at this historic home in Petersburg.
16. Colonial Williamsburg
Not only does the 301 acres of Colonial Williamsburg look like it did back in the 1770s but with costumed interpreters and horse-drawn carriage rides it feels like it too. Occupying a public space, visitors have the option of paying to tour the historic homes and buildings. Be sure to check out this historic B&B before making hotel reservations—it's the ideal basecamp for exploring Williamsburg, Jamestown, and Yorktown.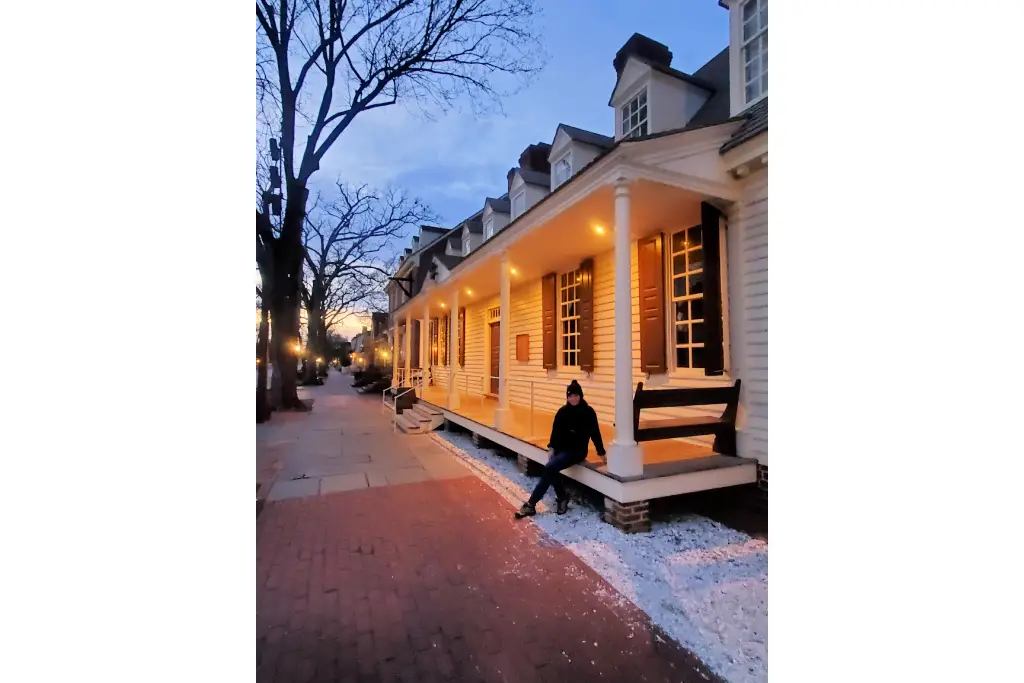 Alternatively, you can park nearby, as we did, and simply walk around to enjoy the atmosphere—it's especially nice at sunset. Allow a full day if paying, and 1 to 2 hours if only walking the grounds.
17. Colonial National Historical Park – Jamestown & Yorktown Battlefield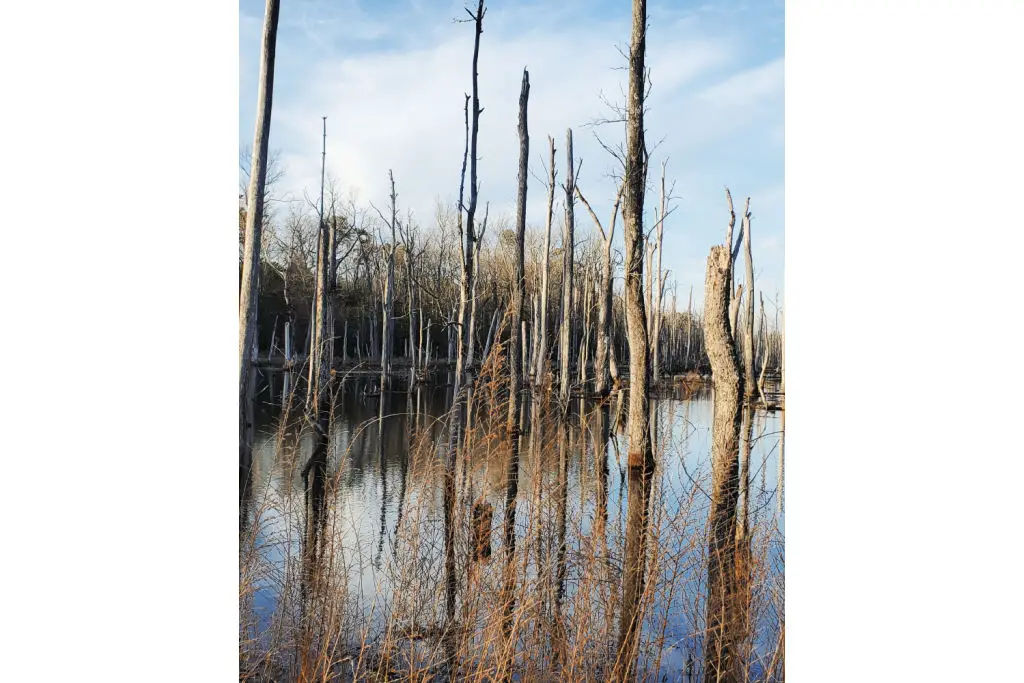 Mainly consisting of a 23-mile scenic drive from Jamestown Island to Yorktown Battlefield, the Colonial National Historical Park makes for quite the joyride. Also, it's a great way to see the terrain and surrounding bodies of water that America's first permanent settlers would have encountered.
18. Jamestown
When it comes to what's included in the national park versus what's not, things can get a bit confusing.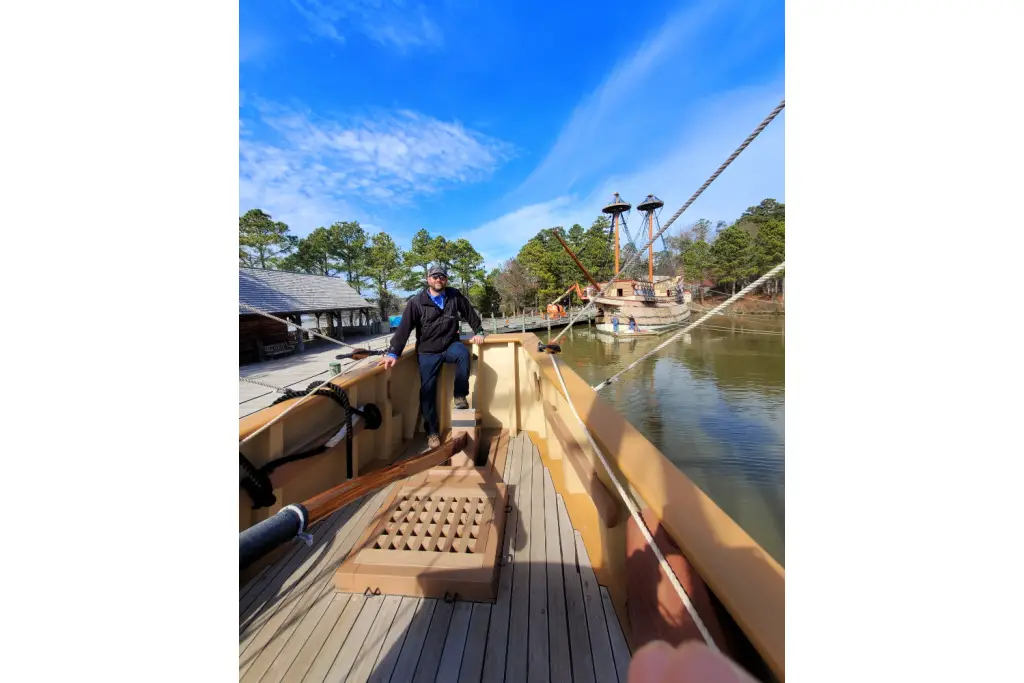 There are three separate sites for Jamestown. They are:
Jamestown Island: Consists of a scenic drive on national park grounds (there is no fee).
Jamestown Rediscovery: This is the actual site of the settlement, "Historic Jamestown." Access is gained through an additional fee at the Jamestown Island Visitor Center.
Jamestown Settlement: A living history museum that features a world-class museum, and costumed interpreters guiding guests through a lifelike recreated settlement. It's important to note that The Jamestown-Yorktown Foundation operates both Jamestown Settlement and the American Revolution Museum at Yorktown. Allow about 3-4 hours to tour the settlement.
19. Yorktown
Touring the Yorktown Battlefield is free but a fee is required to tour the visitor center. Of course, this site is included in the America the Beautiful national park pass.
While in Yorktown, make time to tour the small town. There are several historic buildings and the Yorktown Victory Monument is stunning.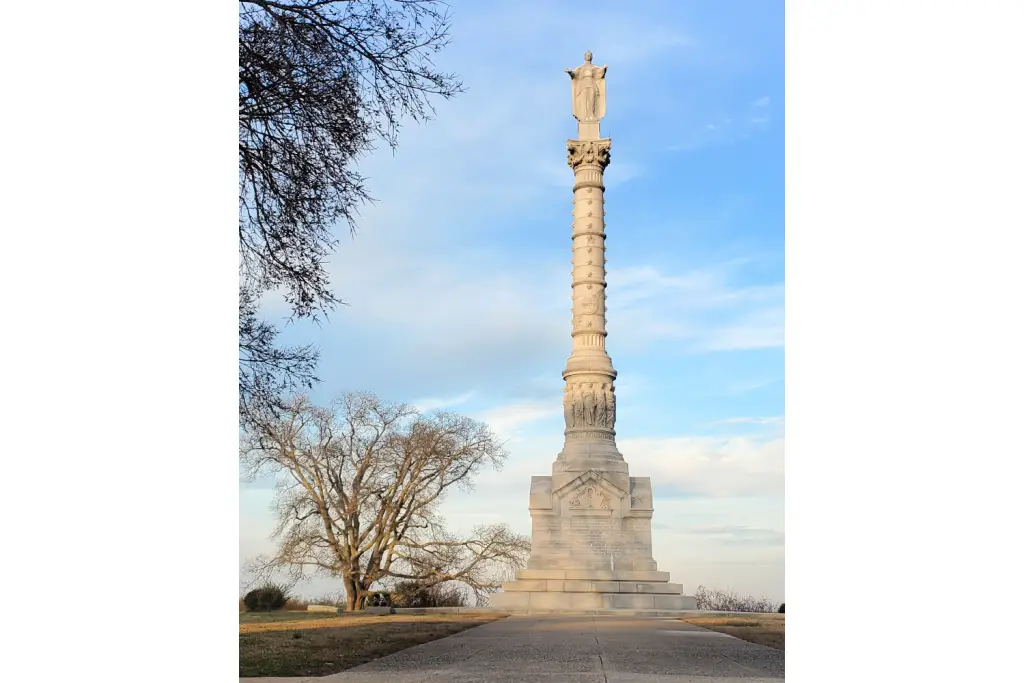 The American Revolution Museum at Yorktown is the sister museum of the Jamestown Settlement, and therefore, a fee is required. With passionate costumed interpreters and a well-laid-out museum with a 4D movie, history buffs will think the cost is worthwhile. Allow about 3-4 hours to tour the museum.
20. Battleship USS Wisconsin (BB-64)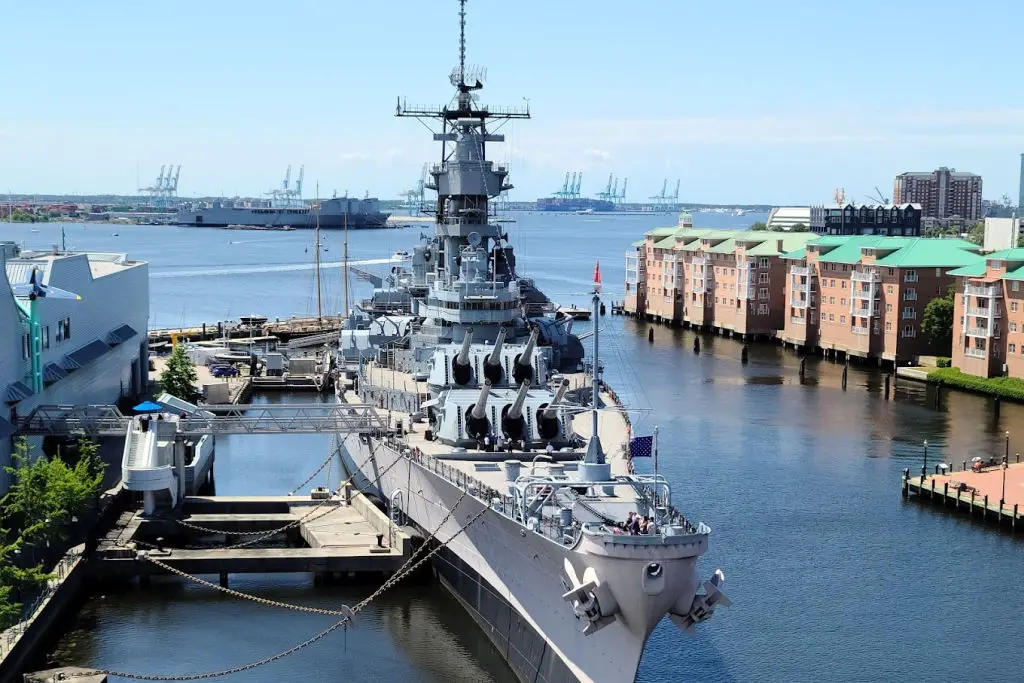 As the largest and last battleship ever constructed, the USS Wisconsin was active between 1944 and 1991. If in the area, a self-guided or guided tour of the ship and adjoining museum are worth a visit. Also, you can walk to the USS Wisconsin from this hotel.
Allow for about 2-3 hours.
21. Homes of Founding Fathers
Western Virginia has several exciting spots for those interested in former presidents of the United States.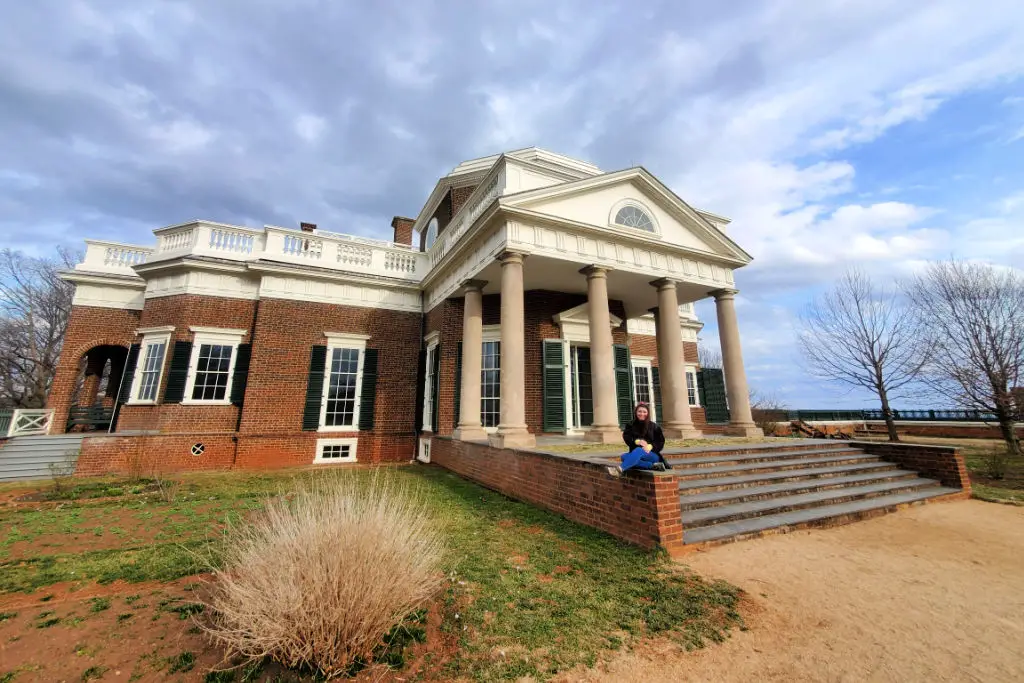 Below are some of the best Virginia historical sites related to past presidents:
James Madison's Montpelier: Visitors can tour the home of the "Father of the Constitution" and the fourth president.
Thomas Jefferson's Monticello: The author of the Declaration of Independence and the third president of the United States spared no expense in the design/redesign of his home over 40 years.
James Monroe's Highland: During Monroe's term as the fifth president of the United States, Florida was acquired. Plan on learning much more about Monroe while exploring the simple home and grounds.
Looking for a place to stay near Monticello? Be sure to check out this historic B&B, 200 South Street Inn.
22. Appomattox Court House National Historical Park
It must have been quite a shock to inhabitants of the small town of Appomattox to have both the Union and Confederate armies show up at the doorstep, on the morning of April 9, 1865. It was at this site that Robert E. Lee, surrendered the Army of Northern Virginia to Gen. Ulysses S. Grant, general-in-chief of all United States forces.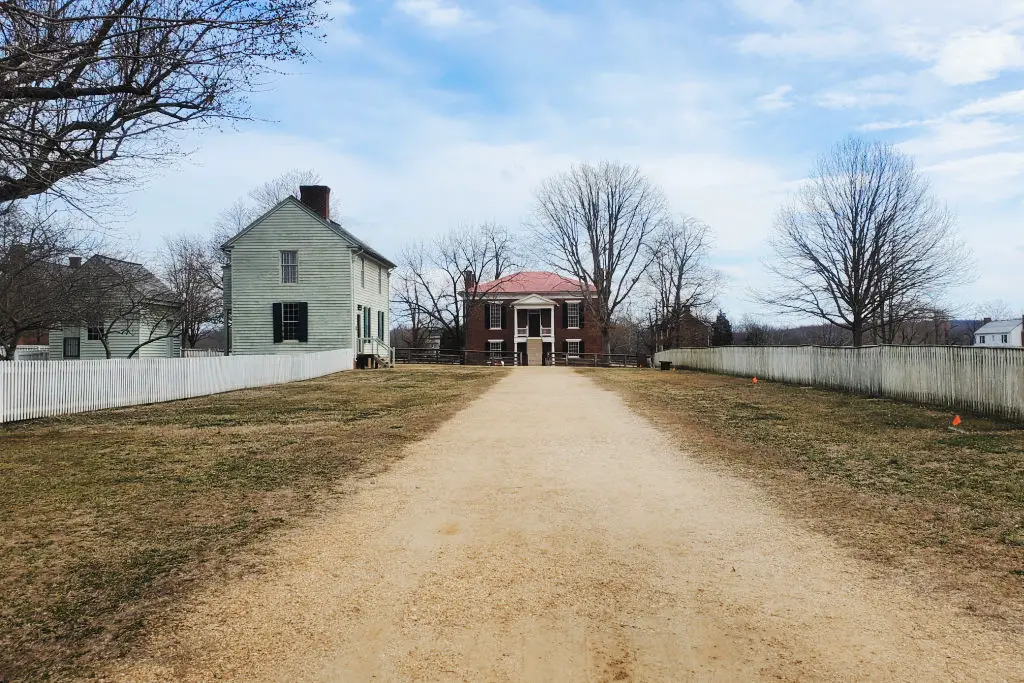 The McLean House, the site of the meeting between Grant and Lee has been reconstructed, along with Appomattox Court House. Nevertheless, there are several original buildings to tour at Appomattox Court House National Historical Park, and walking through the town is overall quite interesting.
Also, having the ability to walk down the original Richmond-Lynchburg Stage Road, where Lee's infantry stacked their flags and weapons brings the experience to life. Be sure to stay in Appomattox at the Babcock House and walk to the location of the Battle of Appomattox Station.
Allow about 2 hours.
23. Woodrow Wilson Presidential Library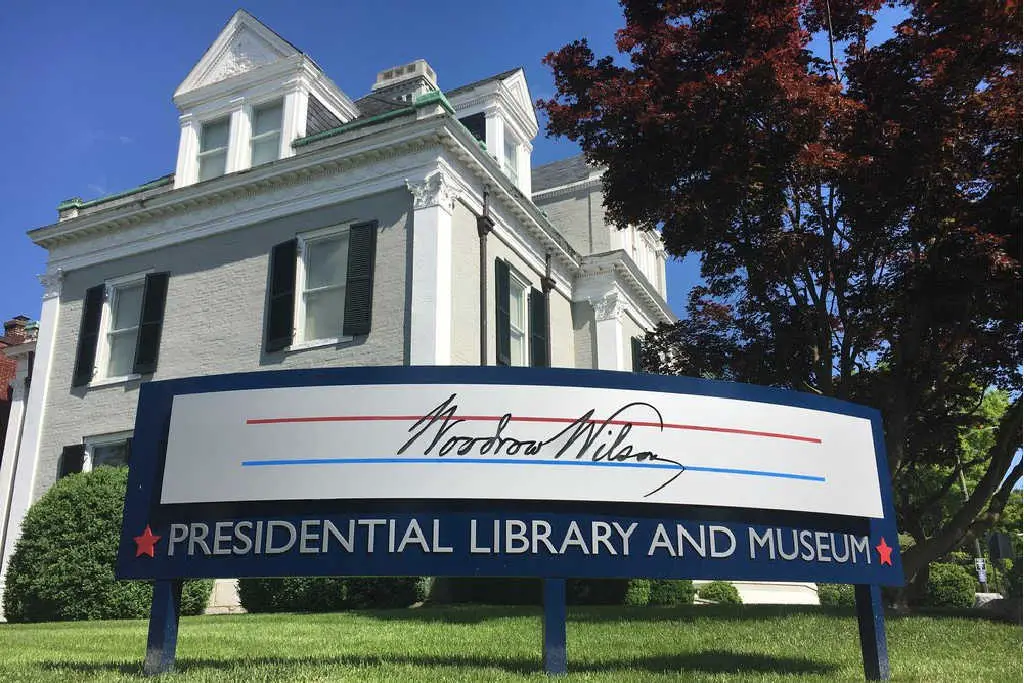 Woodrow Wilson, the 28th U.S. president was born in this National Historic Landmark. Highlights include Wilson's original baby crib, his presidential limousine, and an impressive museum. Guided tours last 40 minutes.
24. Jackson House Museum
Along with being a cadet at West Point, Thomas "Stonewall" Jackson was also a Professor of Natural and Experimental Philosophy at Virginia Military Institute and a deacon at Lexington Presbyterian. Located in the Shenandoah Valley, the Jackson House Museum is the former home of Jackson.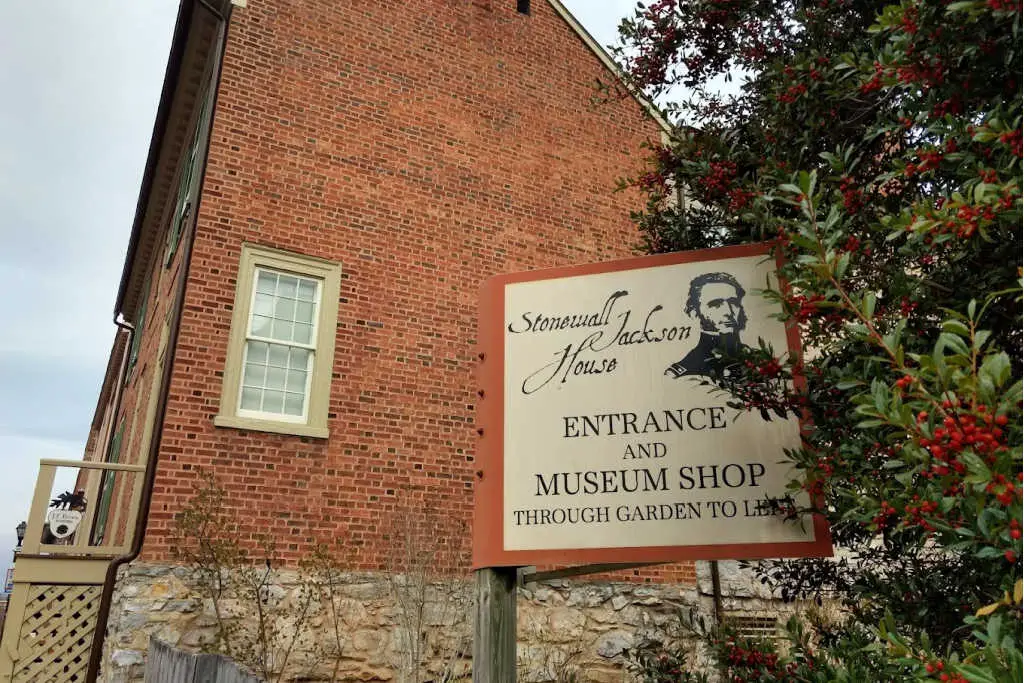 Furthermore, the museum looks to assist guests in interpreting his life, character, and the Civil War through a Confederate general's eyes. Allocate about 2 hours for your visit.
25. Shenandoah National Park
No visit to Virginia is complete without touring Shenandoah National Park. Not only is the 105 miles of Skyline Drive stunning but it also served as a major thoroughfare for the Confederacy.
Whether it was concealing their movements or quickly passing through gaps to retreat or surprise federal troops, the Blue Ridge Mountains served as an asset to the South. In fact, it was such a significant resource that six major battles took place during the valley's 1862 campaign.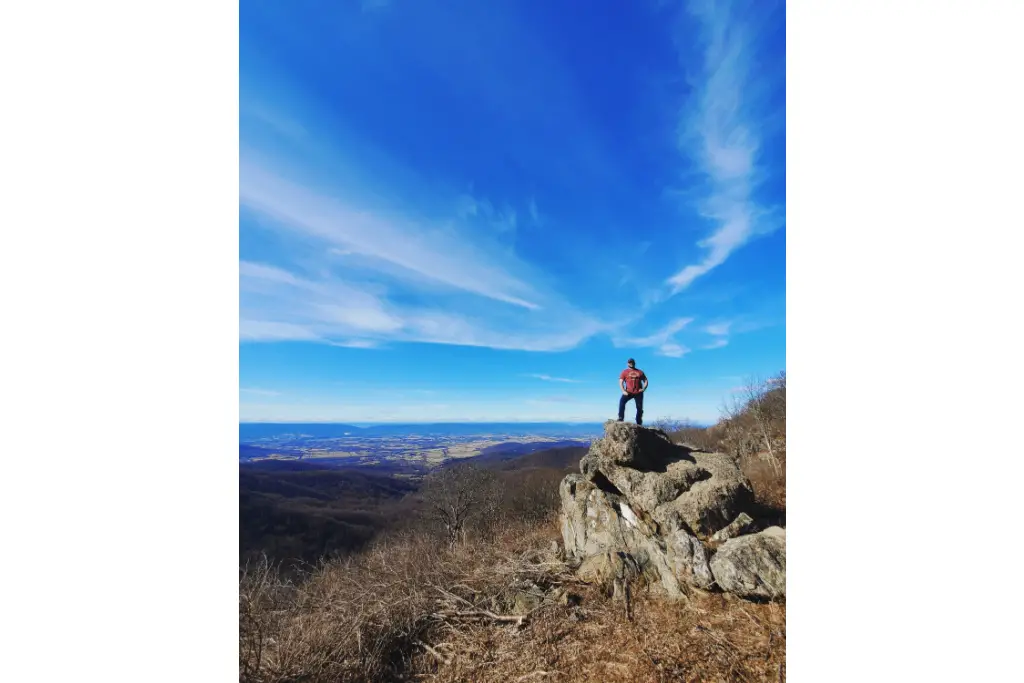 The Harry F. Byrd, Sr. Visitor Center in the center of the park (mile 51) features an interesting museum explaining the construction of the roads as part of a relief project under the New Deal. About 4 hours will be required to drive the entire Skyline Drive with short stops.
If you're exiting the park from the north a good lodging option is the Hampton Inn Front Royal. Conversely, if you're exiting the park from the south, the Grey Pine Lodge is a comfortable choice.
Below is an overview map of the sites listed above.
The locations listed above are some of the best historical places to visit in Virginia. Unless you have months to explore all of them, only select the few that pique your interest and will reasonably fit within your itinerary. When we get overwhelmed because of an abundance of attractions, one thing we tell ourselves is that we can always come back—it makes us feel better.
We Need Your Help
Did you find this article helpful? If so, bookmark it and when you're planning your next vacation click on any of the links below before finalizing reservations. You'll get the best price, we'll earn a small commission, and you'll help support future articles.
Thank you!
BEST TRAVEL SEARCH ENGINES
🏘️ Book Your Accommodation
We use Tripadvisor and Priceline's Express Deals to compare prices and reviews in advance and check availability
✈️ Book Your Flight in Advance
To find the cheapest flight options, you can use WayAway and Skyscanner to find the most suitable choice for you
🚗 Reserve Your Rental Car
Use DiscoverCars and Skyscanner to compare prices and view the largest selection of vehicles