Just about everyone thinking about going on an affordable African safari is left in sticker shock—especially after getting quoted a ridiculous price from an online travel agency. For most of us, going on safari in Africa is not possible, and grossly exceeds the notion of a budget vacation.
No worries. Below are some tips and tricks to keep expenses down to make your dream a reality.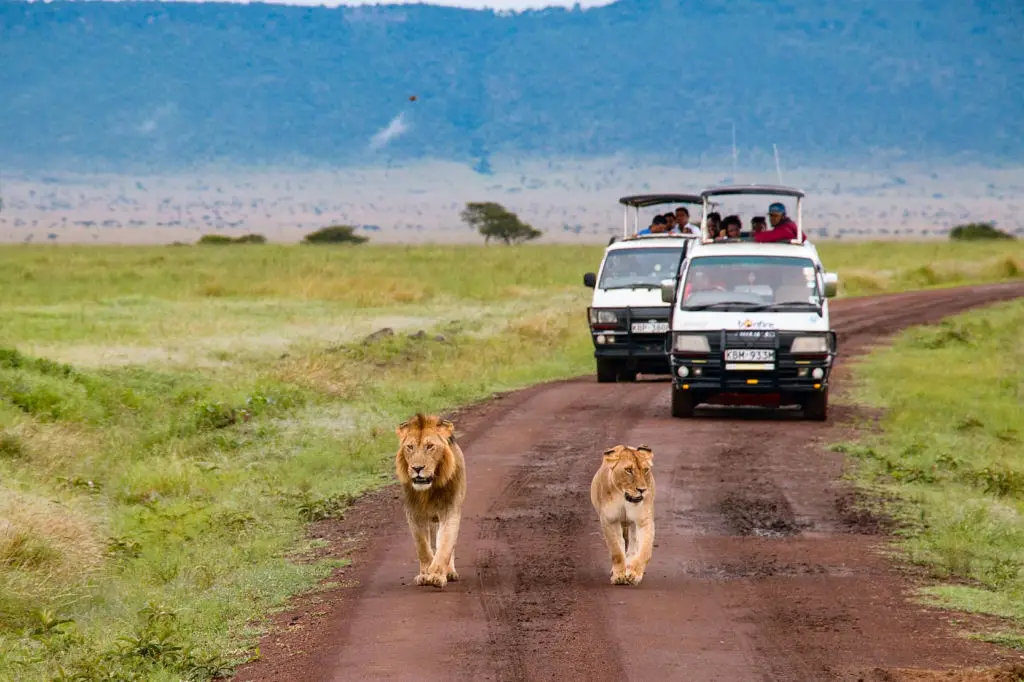 Generally, with just about every destination on the planet, there are always ways to do it cheaply. Unfortunately, going "cheap" in Southern and Eastern Africa may lead to your entire trip being left in ruin.
Use this automated quiz tool to get a quick quote on an African safari.
Beyond simply being disappointed and uncomfortable, being frugal can lead to becoming ill and exposing yourself to personal security risks. Simply put, in Africa, you get exactly what you pay for—no more and no less.
FIVE AFFORDABLE AFRICAN SAFARIS IN 2023
Select a lodge or scroll down to view all.
Bucket List Destination
Going on an affordable African safari is on so many travelers' bucket lists, and it's easy to see why. There is no other experience like it on the planet. Moreover, while expensive, we've never heard of anyone regretting their trip.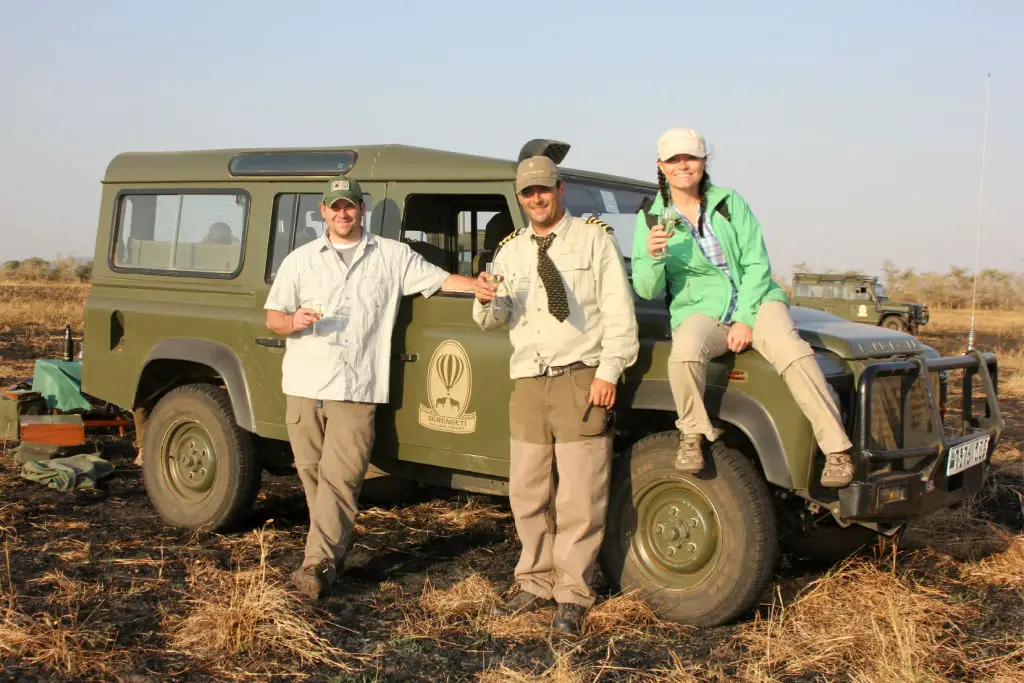 Typically, travelers come back from Africa with a different perspective of the world and their place in it. Whether it's witnessing extreme poverty, the kindness of the people, or a leopard killing the most darling steenbok, there is no way to avoid feeling more appreciative of everything you have in life—and that is what travel is all about, cultivating priceless experiences.
When you're ready to book your flight, follow these three easy steps to get the best price.
Of course, this spiritual journey doesn't come cheap—but dream destinations tend to be this way. When it comes to cost, going on an affordable African safari is up there with exploring the Poles or cruising the Galapagos Islands. For example, many are surprised to find out that the French-speaking country of the Republic of the Congo has recently been ranked as the most expensive travel destination on the planet.
Why is visiting the Republic of the Congo so expensive? It's because it's one of the few places in the world to go gorilla trekking.
We use this budget-savvy travel health insurance to protect our trips – get a quick quote.
For example, the daily permit to seek out the gorillas is about USD 500 per person. Of course, the Congo rainforest offers extremely limited accommodation options, along with costly transportation and food expenses. Taxes and fees paid to the government and regional entities also add significant overhead.
Reducing the Cost of a Safari in 2023
We've written extensively on the best safari we've ever taken in South Africa and how it's not worth cutting corners financially when planning the expedition. Nevertheless, there are several ways to decrease the overall cost of the trip to make it a more affordable African safari.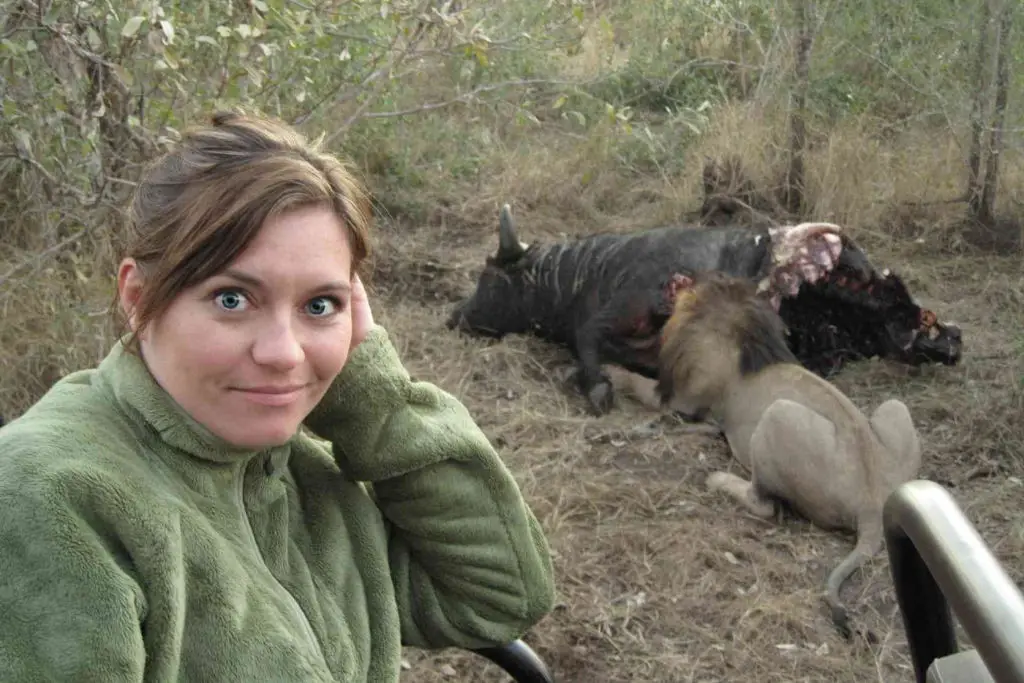 Booking Yourself vs. Using Go2Africa
For our vacations to Africa, we've used Go2Africa to assist in the planning and arrangements. After tons of research, we concluded that even if we booked everything on our own it would cost more than having someone else do it. Also, beyond the cost, it was extremely beneficial to have someone on the ground to assist while visiting Africa.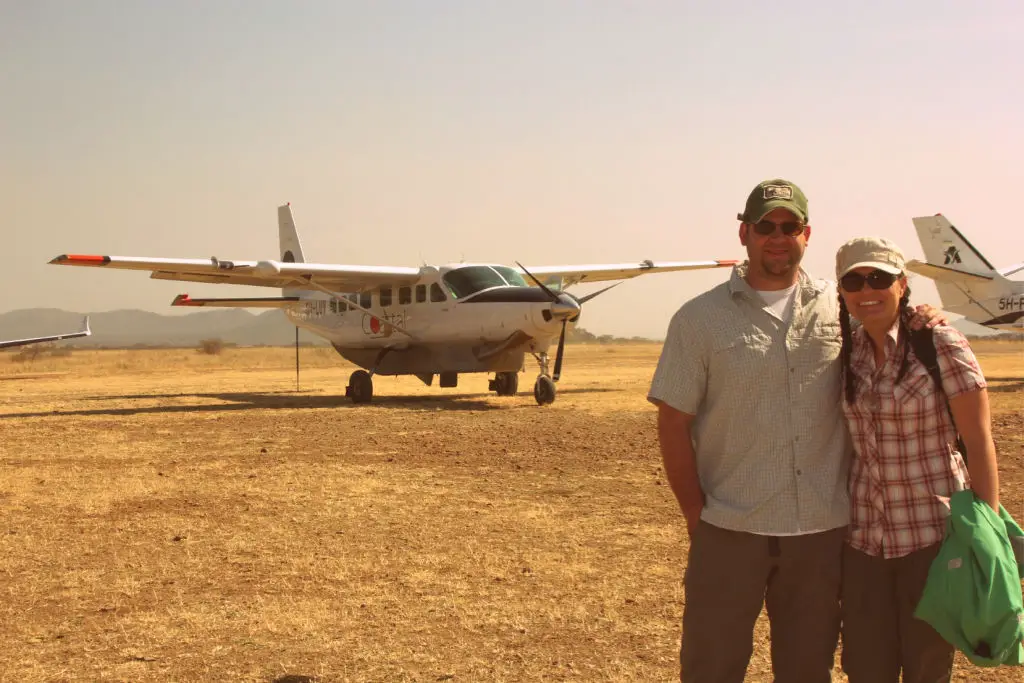 Here are three good reasons why we book with outfitters like Go2Africa:
Customization: Instead of getting stuck with a one-click fixed itinerary, Go2Africa can customize the trip to fit your budget and interests.
Expertise: Go2Africa will make the vacation as private and exclusive as you desire.
Affordability: Most of the time, it's cheaper to go through outfitters like Go2Africa than to book everything individually yourself. For example, it's pretty much impossible to book transfers, small aircraft, lodging, and game drives yourself without paying through the roof, let alone making a logistical error. For instance, if you make reservations yourself, and one aspect of the trip gets delayed it may put your entire vacation in jeopardy, whereas Go2Africa can make immediate corrections to keep your vacation on schedule.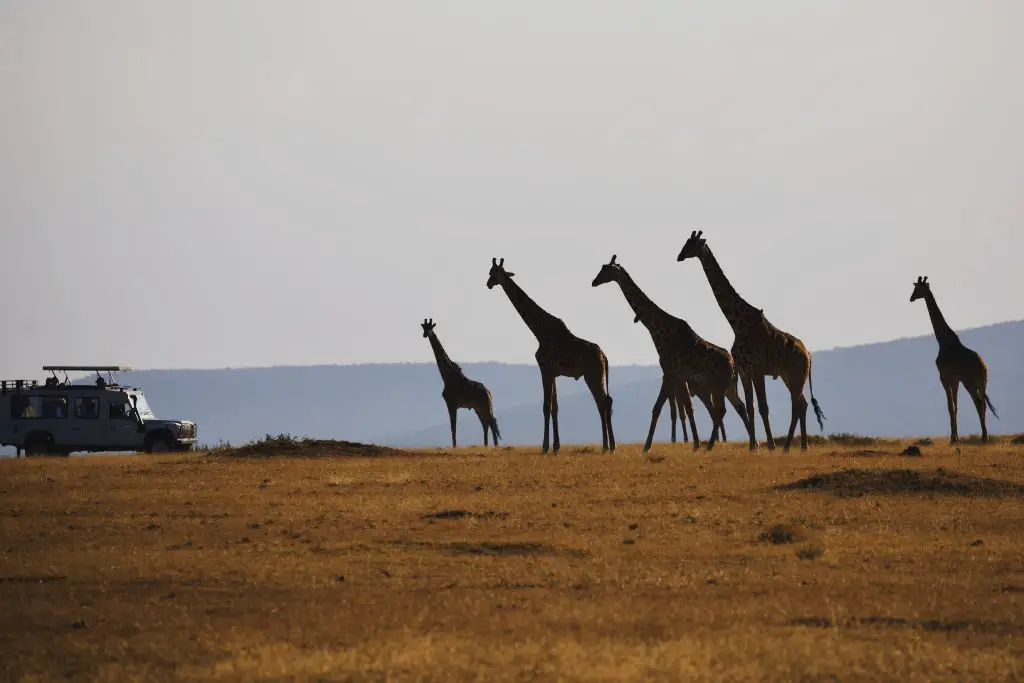 Two Terrible Options for an Affordable African Safari
Not spending enough money on a proper safari lodge is the greatest mistake visitors to Africa will make. Previously, we've written about the obstacles other bloggers faced when trying to go cheap in Africa.
Don't Do This ⇓
Typically, to save money, safari-goers will choose one of these two inexpensive options, none of which we would recommend:
African overland tour: Travel through Africa on a modified truck/bus with a group over many weeks. Passengers assist with cooking, cleaning, and setting up tents each evening. Unfortunately, this is one of the cheapest and most uncomfortable ways to go on an affordable African safari.
Self-driving game drive: Essentially, visitors rent a vehicle and drive through the national parks and do game drives themselves.
Why are these two options so bad?
While cheap, the African overland tour takes place on a big slow loud bumpy truck/bus. Its size, speed, and comfort level greatly limit the experience for the safari-goer. For example, many people complain that they're motion sick for days or even weeks on end because of the bumpy roads.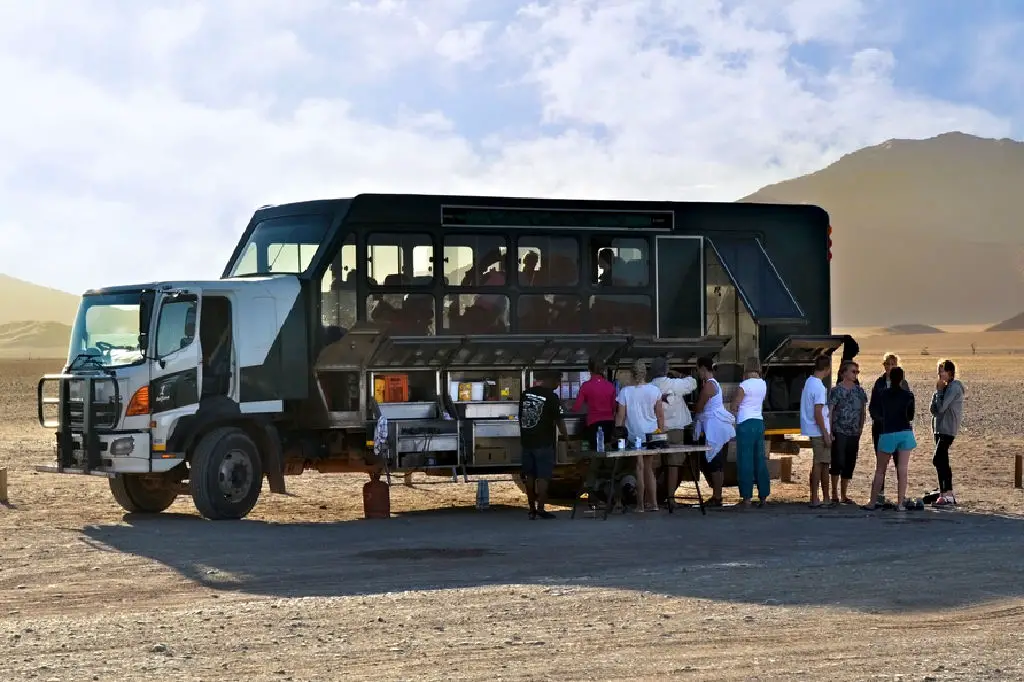 The self-driving game drive option, on the other hand, has many more negatives than positives. While visitors may have more freedom to explore as they deem fit, there are also many considerable disadvantages, including:
Missing out on an expert guide to spot animals
Staying on the designated roads with no ability to explore the bush
Keeping the vehicle and passengers safe (e.g., flat tire)
Never experiencing the safari experience
Also, in certain situations, it may cost more to self-drive than to hire a guide or stay at a safari lodge. For instance, self-driving visitors will still have to pay transit fees, park fees, accommodation fees, car rental fees, and fuel fees.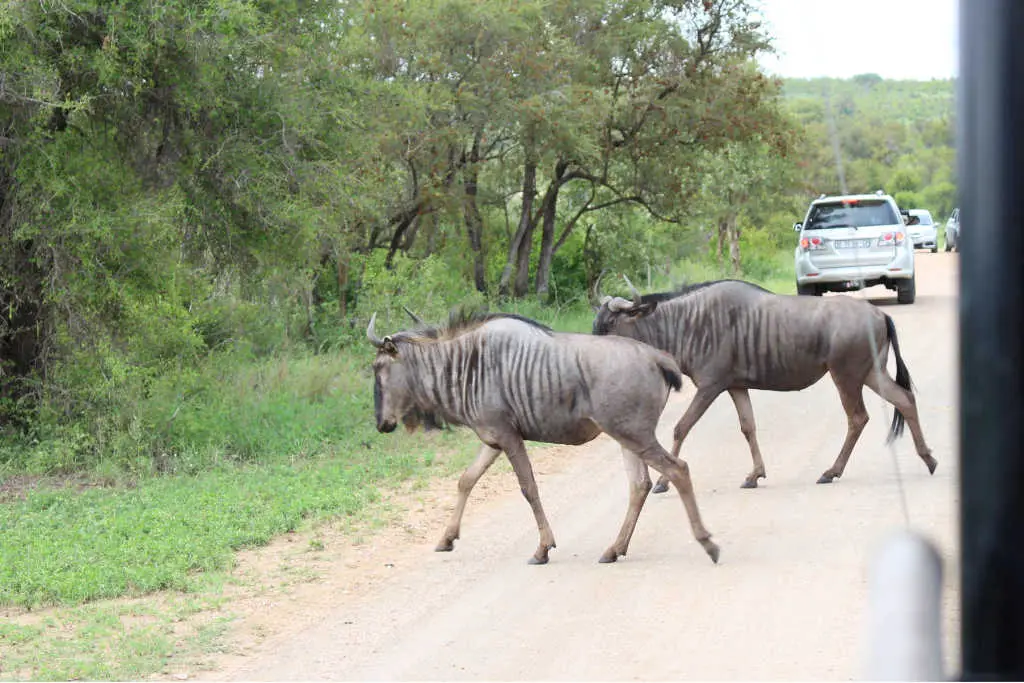 Probably, the best way to envision a self-driving game drive in Africa is to compare it to driving through Yellowstone National Park. However, a significant difference is that in Africa, passengers are not allowed to exit their vehicles, except at specifically identified camps.
Don't confuse terminology. The term safari is not synonymous with the notion of a game drive. A safari is considered one's overall journey with the entire experience summed up in one word. On the other hand, a game drive describes the time one spends tracking, spotting, and viewing wildlife, typically in an open safari vehicle such as a modified Land Rover or Land Cruiser. – Harry
When you compare both an overland tour and a self-driving tour to the five affordable African safari options below, you'll see how lame the more affordable options are.
National Park vs. Private Game Reserve vs. Conservancy
Generally, a safari in Africa will be held in one of three parks, each with its own set of safari rules. They include:
National parks
Private game reserves
Conservancies
It's important to know the difference between the three types of parks because it determines how the best affordable African safari options are chosen. The most significant differences are described below.
National Parks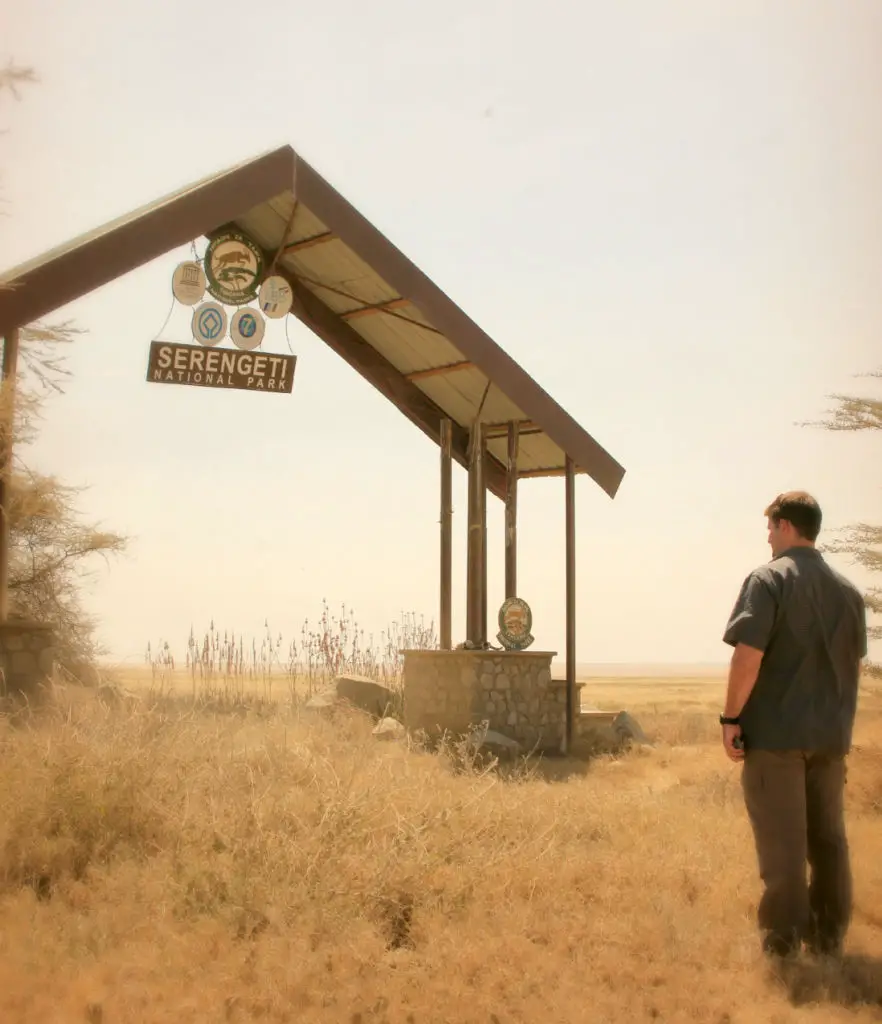 National parks and national game reserves like Serengeti, Kruger, and Masai Mara are famous for their abundant wildlife. They're also renowned for their strict rules, generally forbidding:
Guided walks
Getting out of vehicles (except in designated areas)
Night game drives
Off-roading
Limits on the number of vehicles at animal sightings
If any of the above restrictions impair your vision of a great safari then you'll want to stay on a private game reserve or conservancy. For example, for us, off-roading and night game drives are the highlights of a great safari—nocturnal animals like lions and hyenas are most active at night.
Private Game Reserves
Unlike national parks, private game reserves have the fewest rules because the property is owned privately. In other words, it's not open to the public including self-driving tourists or tour buses. Also, private game reserves are typically adjoined to a nearby national park and wildlife is free to roam between the two properties.
With landowners being the official adjudicators, guides are given more freedom to track wildlife. For example, most lodges will feature guided walks, night game drives, and off-roading.
Finally, private game reserves will have significantly less traffic than national parks. As a result, guests can enjoy animals in a less crowded and more natural environment.
Concessions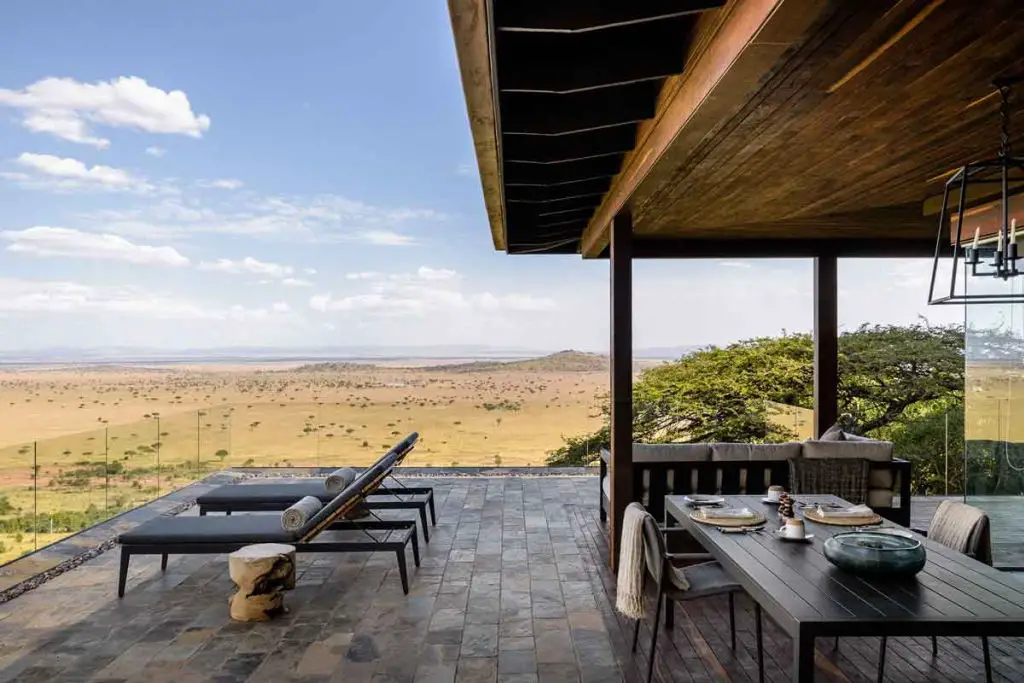 Similar to private game reserves, concessions are areas of land either in a national park or nearby that have been leased for private use. As a result, they benefit from operating under less strict rules than the national park.
Conservancies
Like private game reserves, conservancies are private. However, the main difference is that conservancies typically have local tribes that live on the property. Moreover, conservancy fees help to improve locals' lives by reinvesting funds in the community.
Five Affordable African Safari Options
The five affordable African safari options below offer great value, and are by no means "cheap." However, they offer everything one would want out of an African safari but at a much lower price (when compared to the typical luxurious African lodge).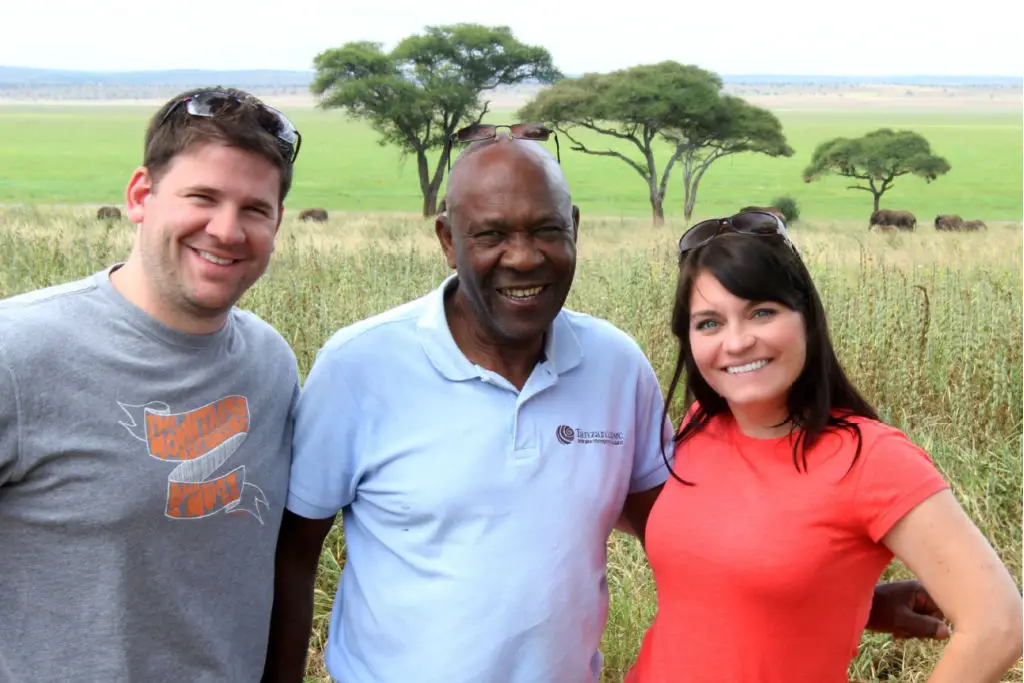 The resorts listed below all provide guests with a five-star experience at a three-star rate. At first glance, prices may seem high but they include accommodation, full board with great food and drinks, up to three safaris per day, and excursions like guided walks with armed field guides.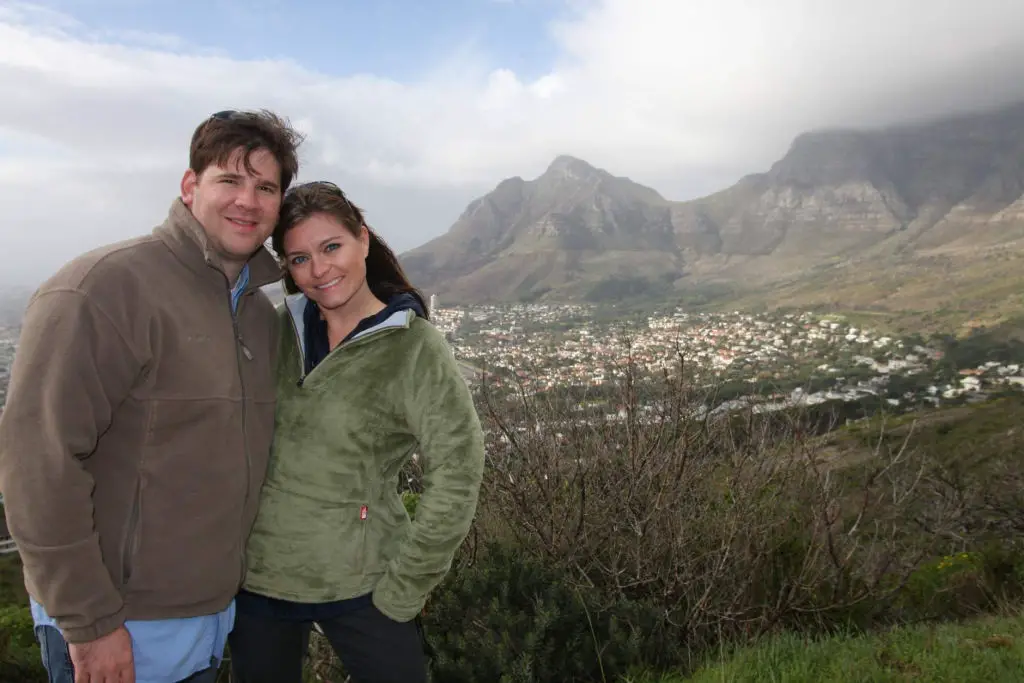 Finally, it's worth mentioning that a vacation to Africa will usually include other sights and attractions such as Cape Town and Victoria Falls. Therefore, when considering the price of a safari lodge, many times two or three nights is sufficient.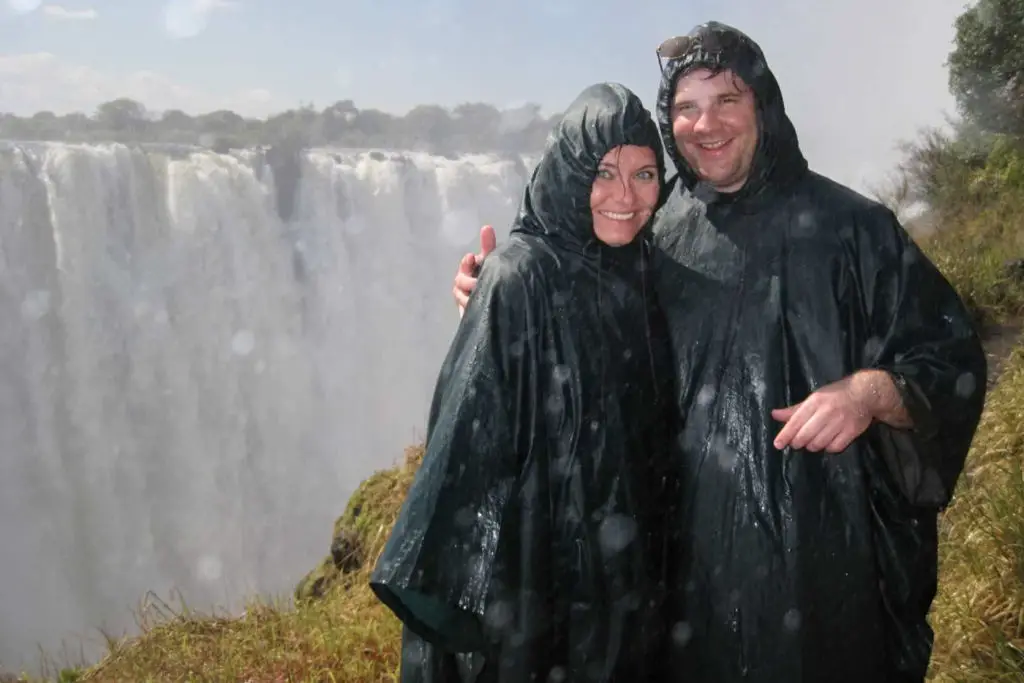 In fact, many people we've met at various lodges quite frequently stayed only one night. However, we encourage travelers to stay at least two nights to increase the odds of catching a rare sighting. Below are five affordable African safaris in 2023:
1. Arathusa Safari Lodge – Sabi Sands Private Game Reserve
Properties of the same caliber as Arathusa Safari Lodge will typically cost two or even three times as much. Located in Sabi Sand, one of Africa's premier private game reserves, Arathusa is one of the best affordable safari lodges for anyone looking for a Big 5 experience—90% of guests see all five animals in one day.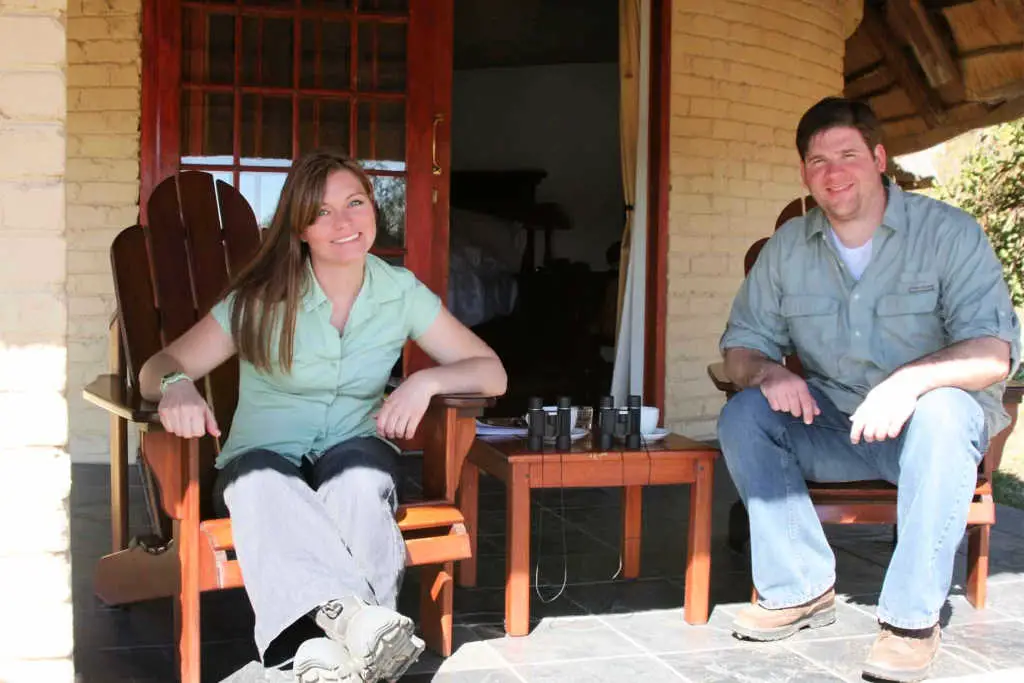 During our visit, we enjoyed afternoon tea from our suite overlooking the nearby watering hole, guided walks, and morning and afternoon game drives that led into the evening. In total, we spent about eight hours per day out on the massive reserve searching for wildlife.
We were 100% absolutely wowed by our experience here and wrote extensively about how it was the best safari in South Africa and the best value for the money.
Arathusa Safari Lodge – From $465 per person sharing
2. Ewanjan Tented Camp – Serengeti National Park
With views over an endless plain in Tanzania's Seronera Valley, guests of the Ewanjan Tented Camp rave about the abundance of wildlife spotted right from camp. During our stay, a large herd of elephants walked down a path about 100 feet from our ensuite tent.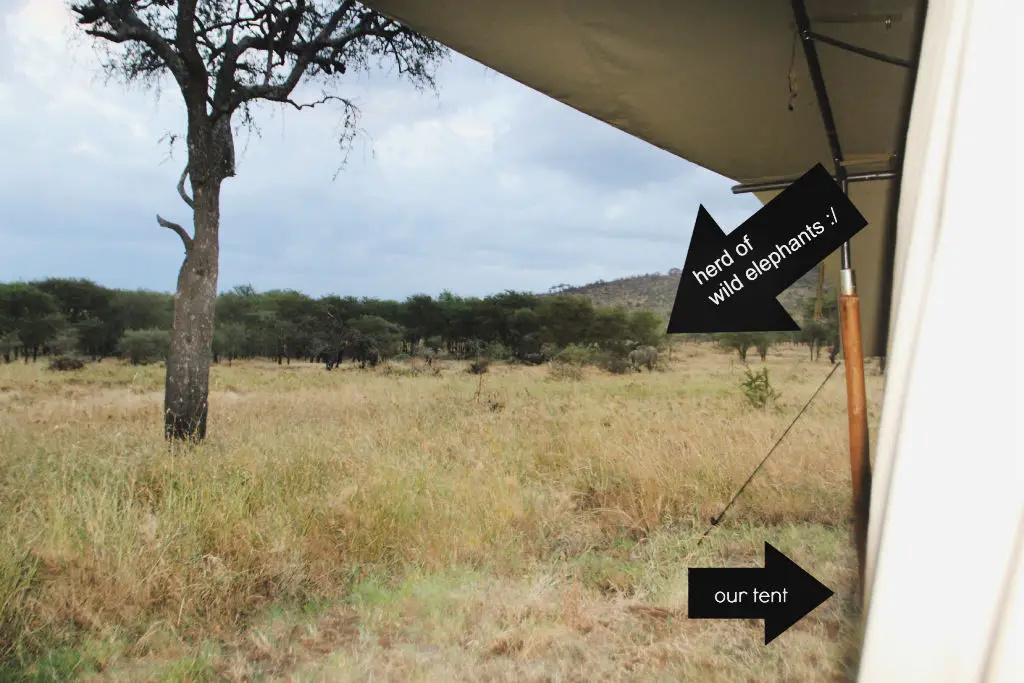 In Serengeti National Park, visitors are not allowed to leave their vehicles or the roads. Nevertheless, one way to get around this limitation is with a hot air balloon ride.
During our hot air balloon ride we spotted an epic sight, a lion eating a crocodile! There's no feeling like watching the sunset come up over the Serengeti while silently gliding over the wildlife, trees, and rivers. If there's any place in the world to go on a hot air balloon ride, it's here. Make sure you book online early to secure your spot or with your agent at Go2Africa.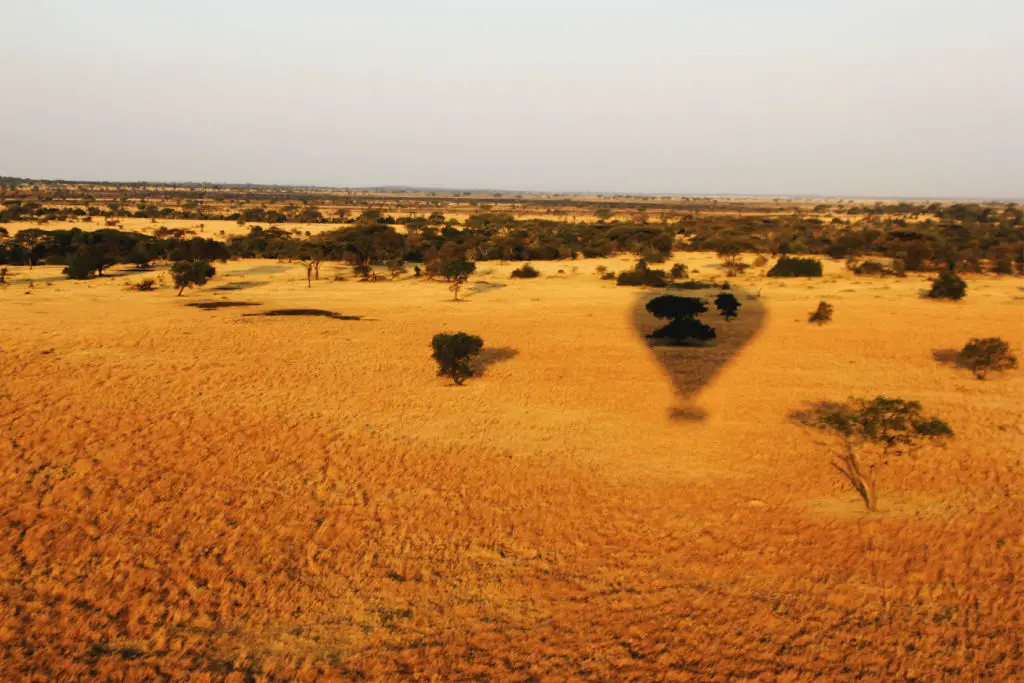 Additionally, between April and June and November and January, the area around Ewanjan is visited by the wildebeest migration. For this reason, if seeing the Great Migration is on your bucket list then Ewanjan is the ideal affordable African safari accommodation to book.
Ewanjan Tented Camp – From $330 per person sharing
3. Mara Intrepids Tented Camp – Masai Mara National Reserve
Kenya's must-see Masai Mara National Reserve is home to the Mara Intrepids Tented Camp, one of the most affordable African safari options on our list. Whereas Ewanjan in the Serengeti has endless views of the plains, Mara Intrepids is set amidst a heavily wooded area along the Talek River, only minutes from the Ol Kiombo airstrip.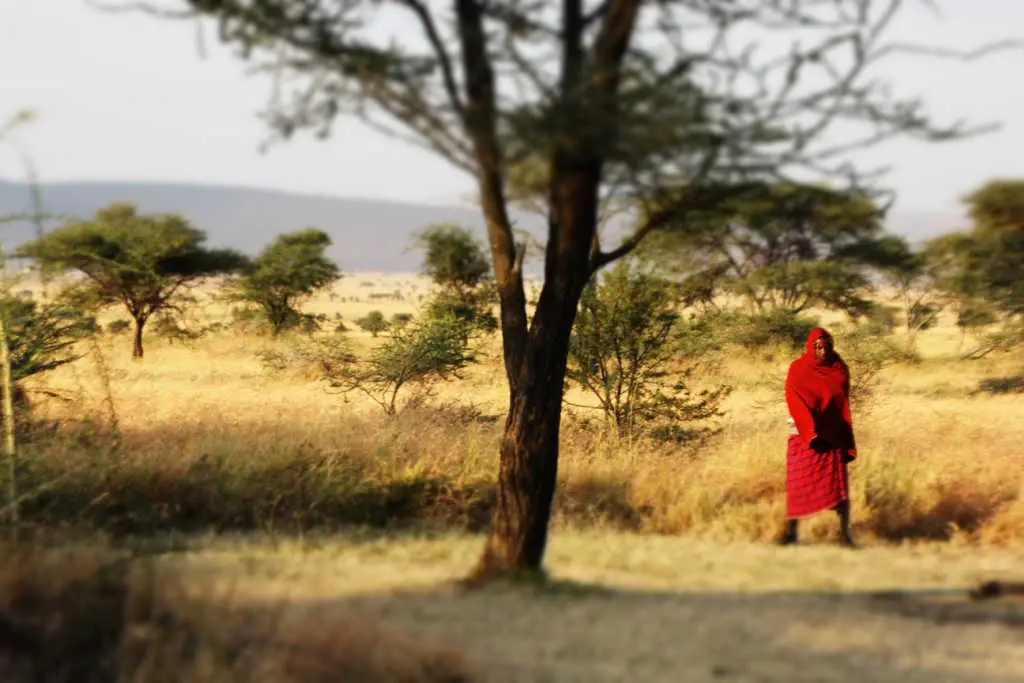 With an abundance of big cats in the area just about every game drive includes sightings of the King of the Jungle, the lion. Also, Mara Intrepids is in a prime location for the annual wildebeest migration, which takes place between August and October.
Finally, not only is the wildlife viewing amazing but families seek out this lodge for its kid's clubs which focus on animal education and local Masai culture.
Mara Intrepids Tented Camp – From $175 per person sharing
4. Camp Moremi – Moremi Game Reserve
The Okavango Delta, located in Botswana, is one of the most biodiverse places in Africa and is the main source of water for about a million people. Furthermore, the delta supports the world's largest surviving elephant population, numbering around 130,000. Of course, there are plenty of hippos, lions, wild dogs, leopards, crocodiles, cheetahs, and countless waterfowl too.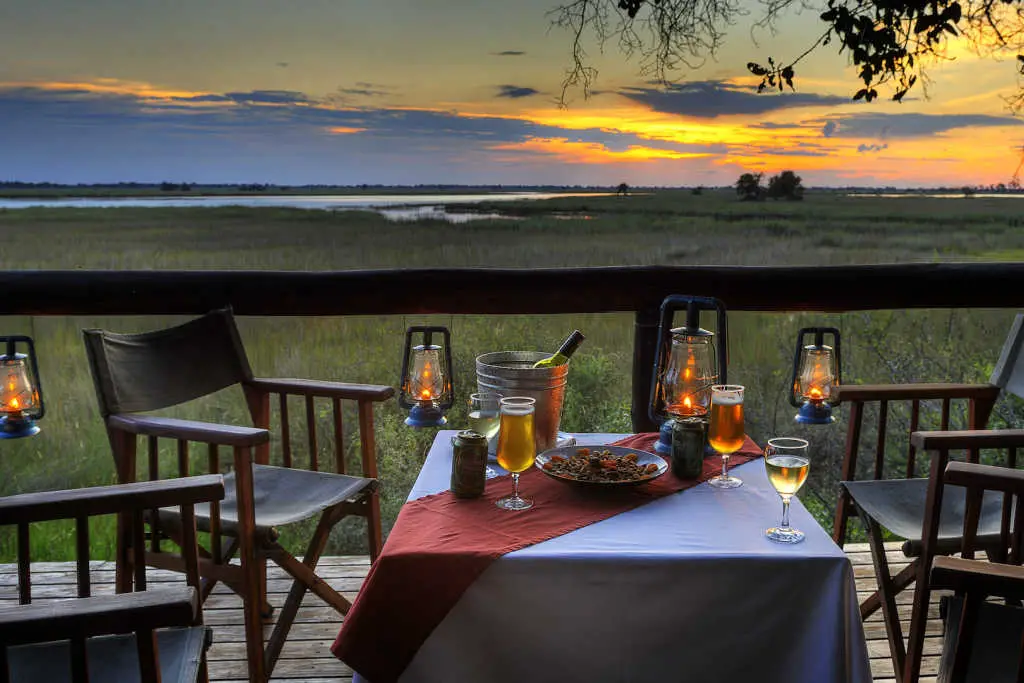 Situated on the stunning Xakanaxa lagoon, and offering water-based safaris, Camp Moremi is an unforgettable and affordable African safari. While it may be a bit expensive and luxurious to be considered low-cost, Camp Moremi does provide tons of value. In fact, what makes it unique is that it provides both 4×4 game drives and water safaris.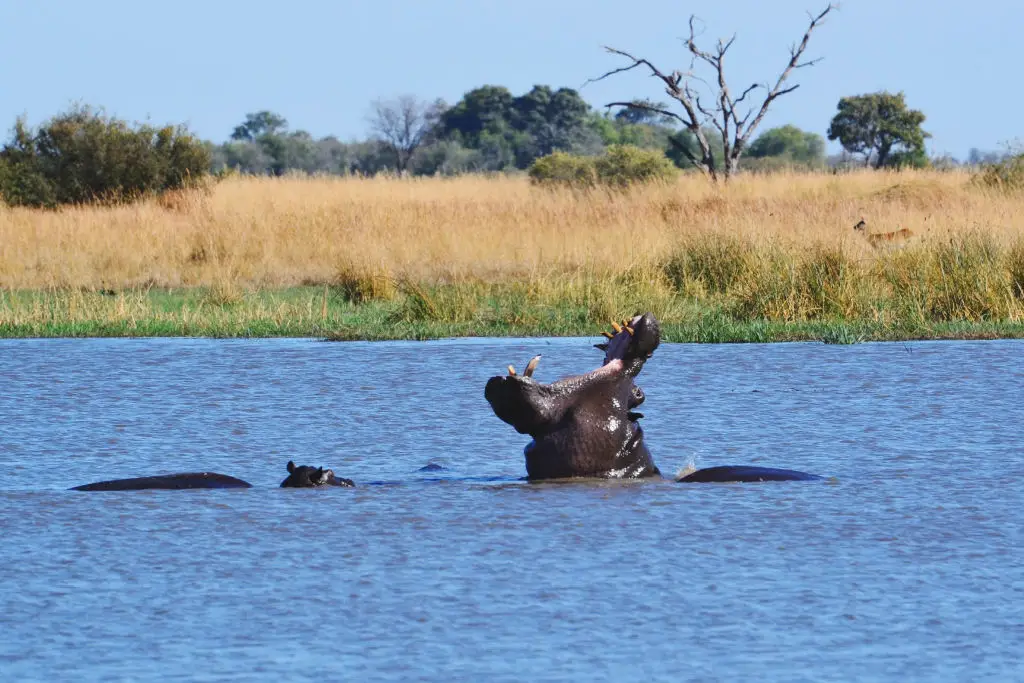 Botswana is the second most expensive destination on the planet, only behind the Republic of the Congo. Guests should find comfort in knowing that they're paying the "going rate," when just about every safari lodge in the area costs at least USD 1000 per night—and, similar lodges cost well over USD 2000 per night.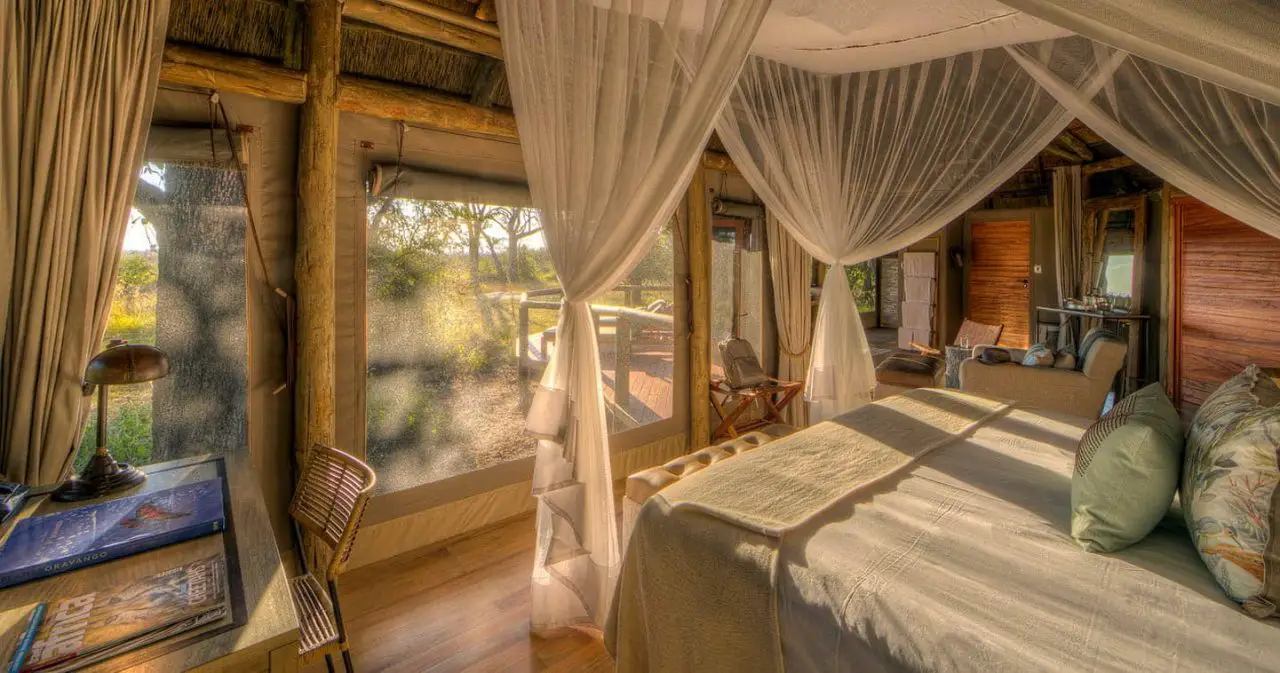 It's worth noting that the Moremi Game Reserve does not allow night game drives or off-roading.
Camp Moremi – From $597 per person sharing
5. Chameleon Hill Forest Lodge – Bwindi Impenetrable National Park
Situated in the southwest corner of Uganda on Lake Mutanda, bordering DR Congo and Rwanda, Chameleon Hill Forest Lodge is the mecca for gorilla lovers. Tourists come from all over the world to spend one hour in the company of wild gorillas.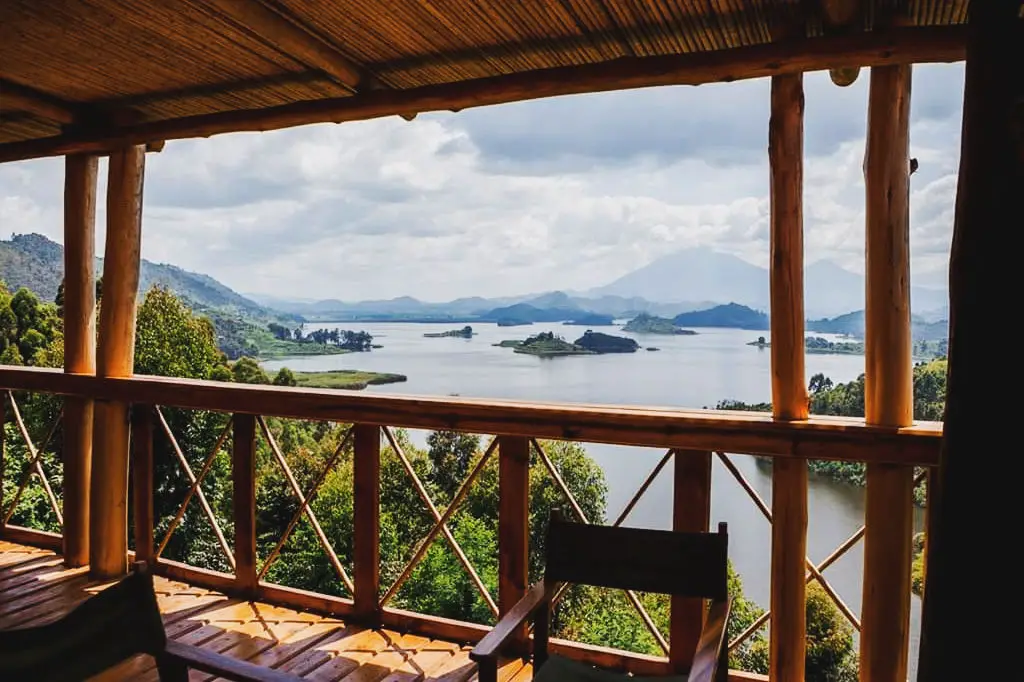 Along with vibrant colors, guests of Chameleon Hill are treated to the most jaw-dropping view of the Virunga volcanoes. Nevertheless, the highlight here is, of course, the gorilla tracking.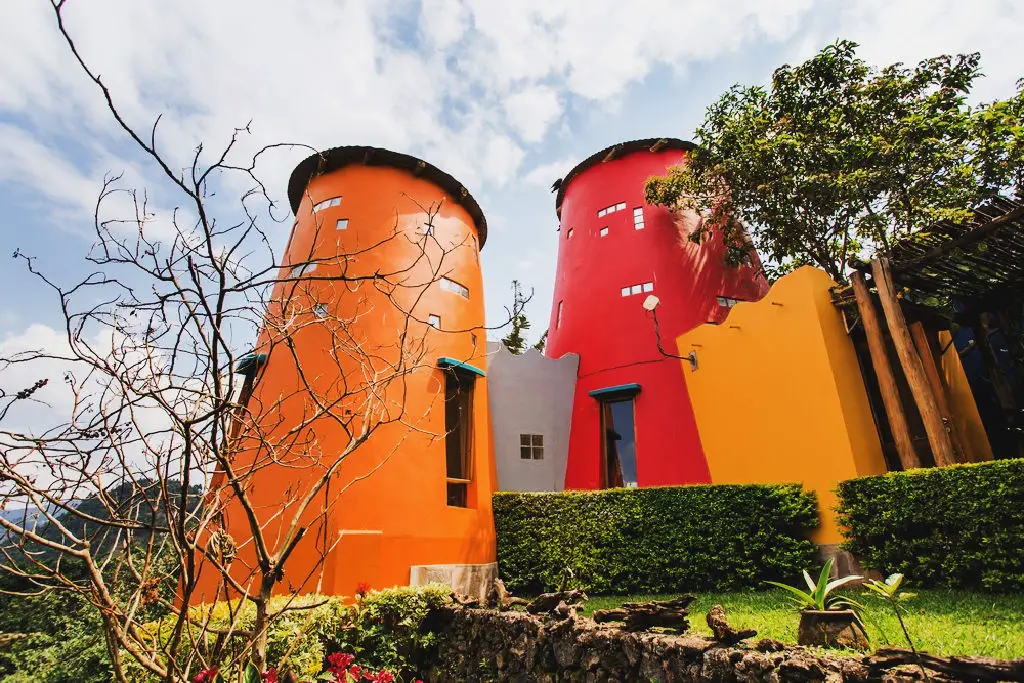 Perfectly positioned between Mgahinga Gorilla and Bwindi Impenetrable National Parks, Chameleon Hill is the ideal base for tracking wild gorillas. Also, gorilla permits cost about half the cost in neighboring Rwanda. Furthermore, Chameleon Hill has the option of research-based treks which allocate four hours with the gorillas, instead of just one.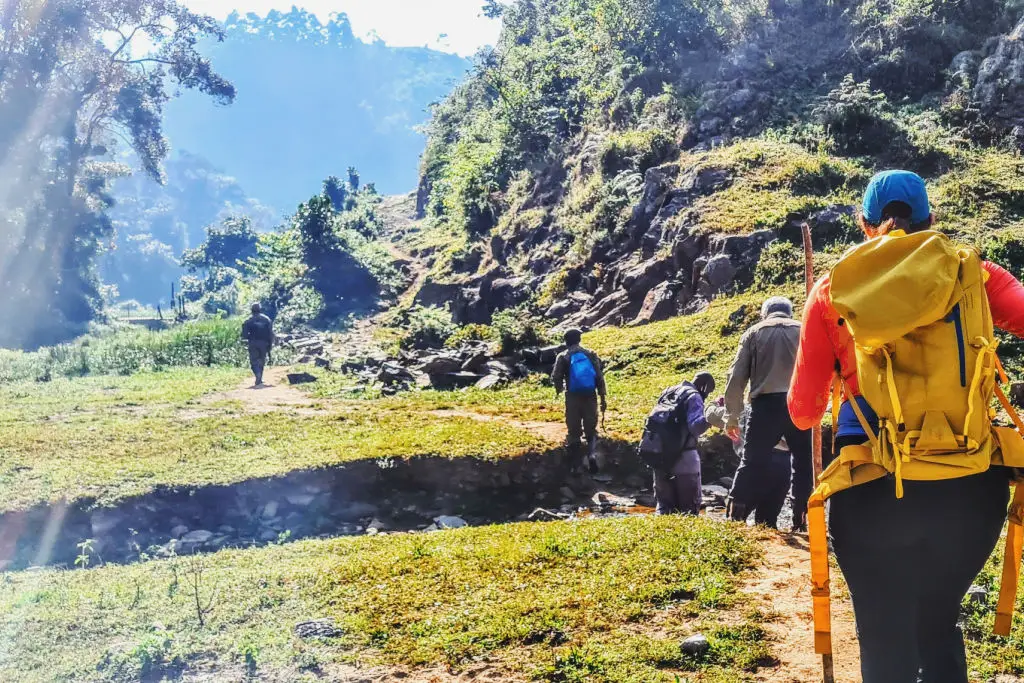 Gorilla permits are far and few. Therefore, if you're serious about doing this then plan on booking at least three months in advance. Also, along with gorilla trekking, Chameleon Hill offers walking and canoe-based safaris for bird watching and spotting the golden monkey.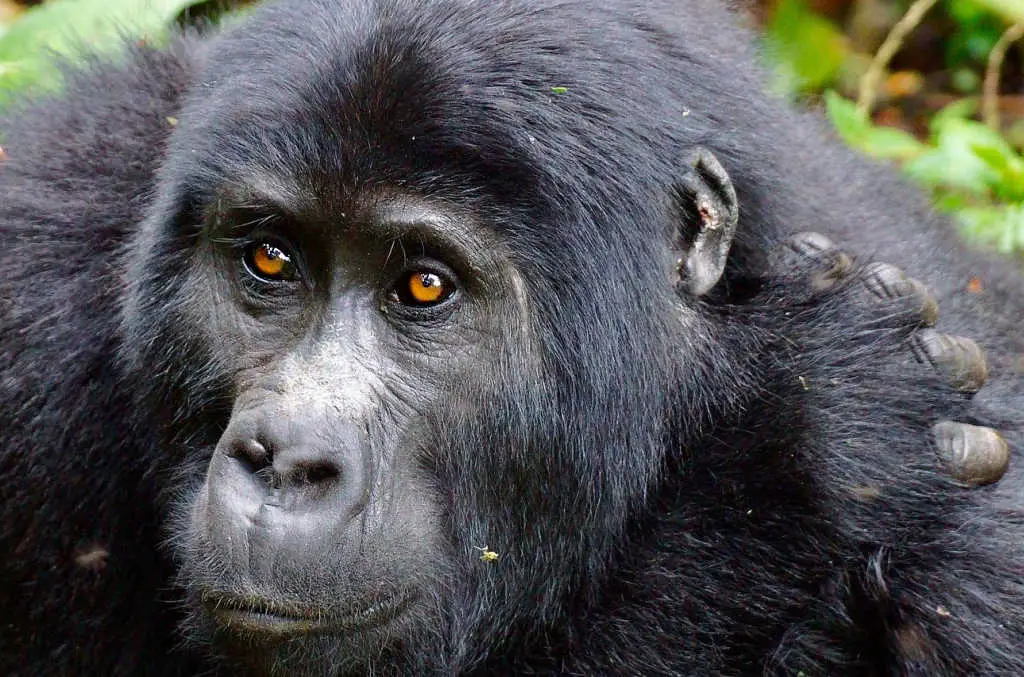 Chameleon Hill Forest Lodge – From $250 per person sharing
These Lodges Provide Great Value
Whether you're looking to spot the Big Five in South Africa or go gorilla trekking in Uganda, the above lodges are the best affordable African safari options out there. While the nightly prices are by no means "cheap," they do provide great value especially, when comparing similar lodges that cost two or three times as much.
Preparing an African itinerary is an overwhelming process, and it only gets more complicated each time you visit. The easiest way to start planning is to use Go2Africa's inquiry tool which helps design the perfect safari that aligns with your budget.
We Need Your Help
Did you find this article helpful? If so, bookmark it and when you're planning your next vacation click on any of the links below before finalizing reservations. You'll get the best price, we'll earn a small commission, and you'll help support future articles.
Thank you!
BEST TRAVEL SEARCH ENGINES
🏘️ Book Your Accommodation
We use Tripadvisor and Priceline's Express Deals to compare prices and reviews in advance and check availability
✈️ Book Your Flight in Advance
To find the cheapest flight options, you can use WayAway and Skyscanner to find the most suitable choice for you
🚗 Reserve Your Rental Car
Use DiscoverCars and Skyscanner to compare prices and view the largest selection of vehicles