After stumbling through Mendoza and its surrounding wine regions, we were excited to explore the best Chilean wine tours. From our home base in Santiago, we visited the Maipo Valley—we then headed west to Casablanca Valley, followed further south to the Colchagua Valley to taste some of the best wines in the country.
It's an understatement to say that we were excited to visit the Colchagua Valley. As Chile's most stunning wine region, the Colchagua Valley is known for its Mediterranean climate and production of Cabernet Sauvignon, Carménère, Syrah, and Malbec.
Moreover, the steep slopes of the Andes Mountains in the valley provide both a scenic and an ideal location to grow the various varietals. Simply put, the Colchagua Valley is one of the most magnificent places to taste locally-produced wine. Nevertheless, we enjoyed visiting all three regions, as each is unique in its own way.
Best Chilean Wine Tours on a Budget
Our goal for the next week was to find the best Chilean wine tours on a budget for wine lovers. Below are the wineries that we visited, along with options for tours.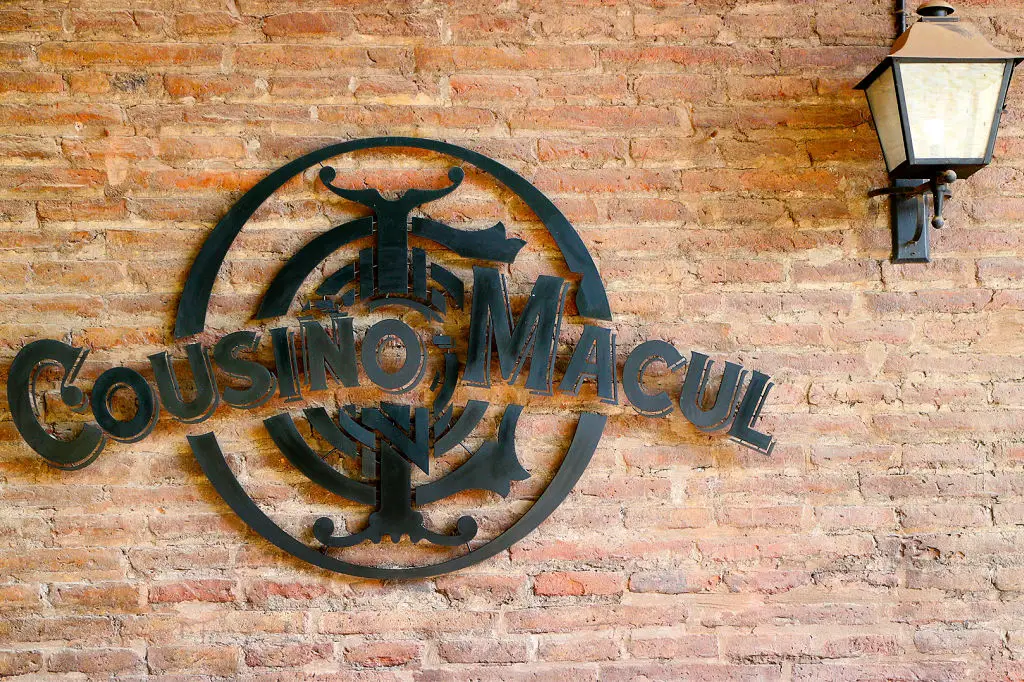 Maipo Valley > "Bordeaux of South America"
Maipo Valley is the closest wine region to the city of Santiago, and is commonly referred to as the "Bordeaux of South America." Vineyards stretch eastward from Santiago to the Andes and westward to the coast. Furthermore, the region is best known for its production of Cabernet Sauvignon.
We were excited to learn that we could use public transportation to reach Cousiño Macul Winery, one of the most celebrated wineries in Maipo Valley. Visitors can take a traditional tour or a Premium Wine Tour which includes tasting three of their best wines. However, for those travelers looking for a private transfer and tour, there is a Private Tour of Cousiño Macul Winery available too.
Cousiño Macul Winery
Founded in 1856, this winery is one of the oldest in Chile boasting some of the oldest vines. Remarkably, the winery is still in the hands of the original founding family. Using Santiago's subway system, take the Tobalaba line and get off at the Quilín stop.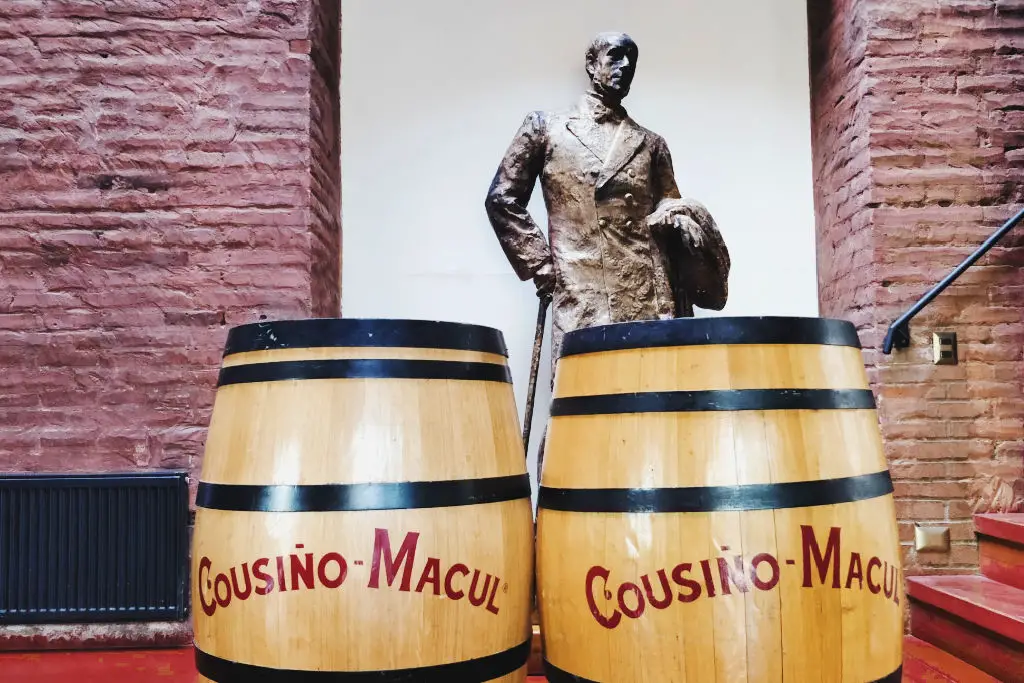 Although many reviews said the walk from the Quilín subway stop to the entrance takes 25 minutes, it took us closer to 40-45 minutes. Also, the traditional tasting and tour cost about USD 25 per person.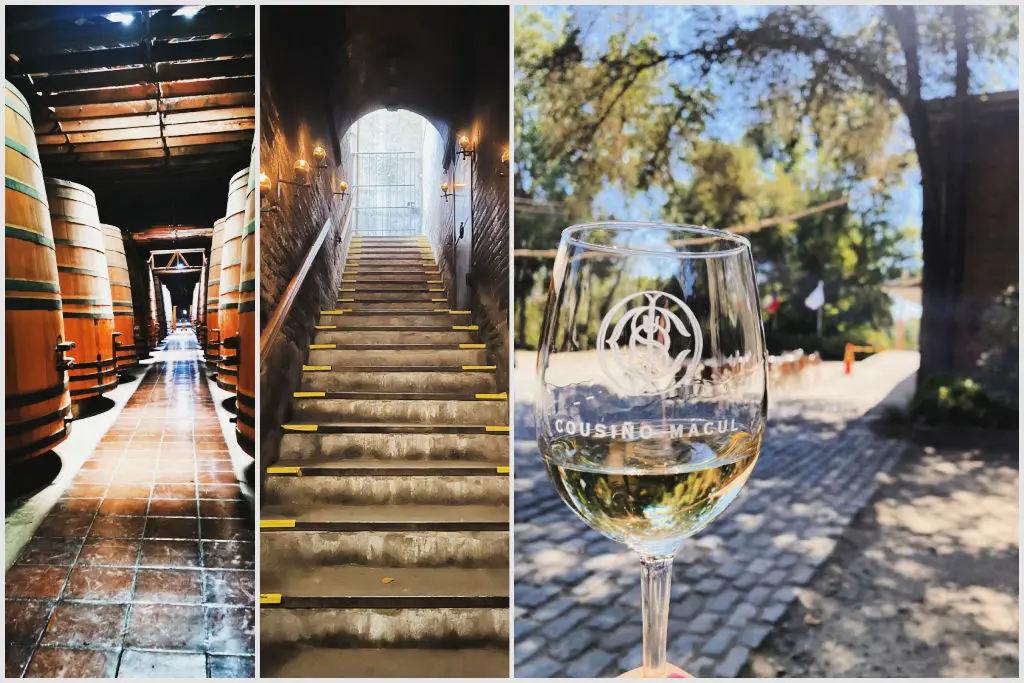 At the end of the tour, we didn't feel much like walking from the winery to the metro. For this reason, we called a taxi/uber which cost about USD 15 to take us back to our lodging by the Manuel Montt metro stop.
Concha y Toro
Concha y Toro is one of the most popular South American wines in the United States and around the world. In fact, there's a good chance that you've already tasted a glass, considering that the wine is even sold at Walmart.
Located in Pirque, a suburb of Santiago, the winery is about a 50-minute drive from the city center. During the traditional tour, visitors are given access to the winery and gardens, then offered a tasting of three to four wines.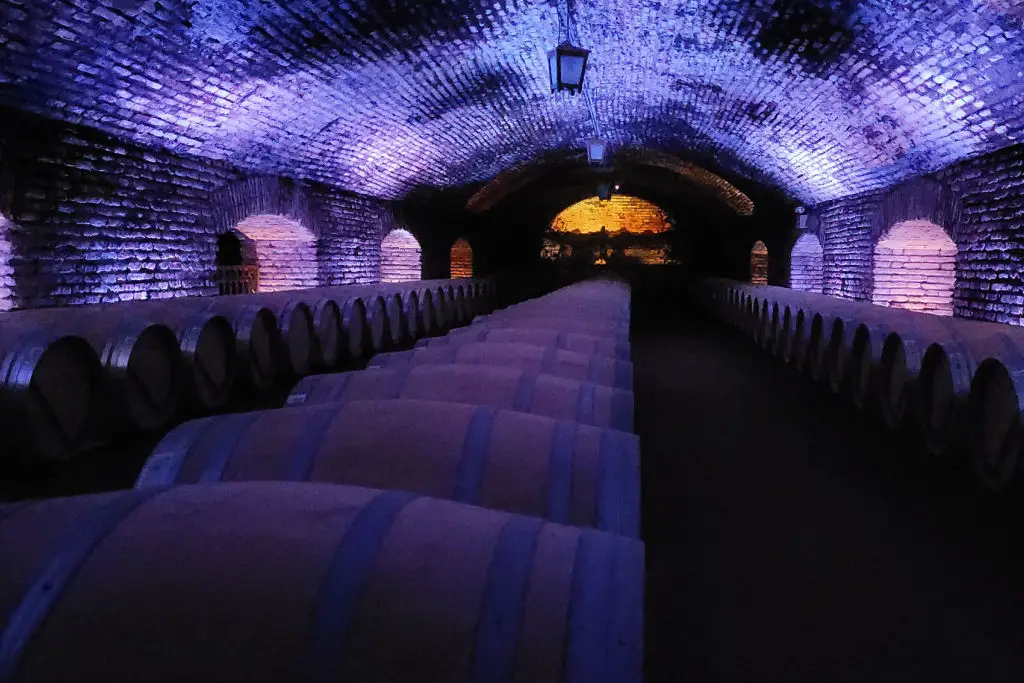 Half-day group tours led by an expert sommelier are available from Santiago. There are many benefits to taking a group tour, including transport, a tour of the mansion, and tasting seven wines accompanied by an assortment of cheeses.
Where to Stay in Santiago Chile
Below are some of the best places to stay in Santiago, Chile categorized by budget.
Budget: Eco-Hostal Tambo Verde (hostel) or Providencia Bed & Breakfast (buffet breakfast) or Sweet Stay Chile (apartment)
Mid-Range: Hotel Eco Boutique Bidasoa (great value) or DoubleTree – Vitacura (modern and clean)
Luxury: Hotel Casa Real (inside Santa Rita vineyard) or Hotel Magnolia (vintage-inspired boutique)
Casablanca Valley > Sauvignon Blanc, Chardonnay, Pinot Noir
The town of Casablanca is located about a 1-hour drive west of Santiago. Wine lovers should stop here on their way to visit the artistic city of Valparaíso.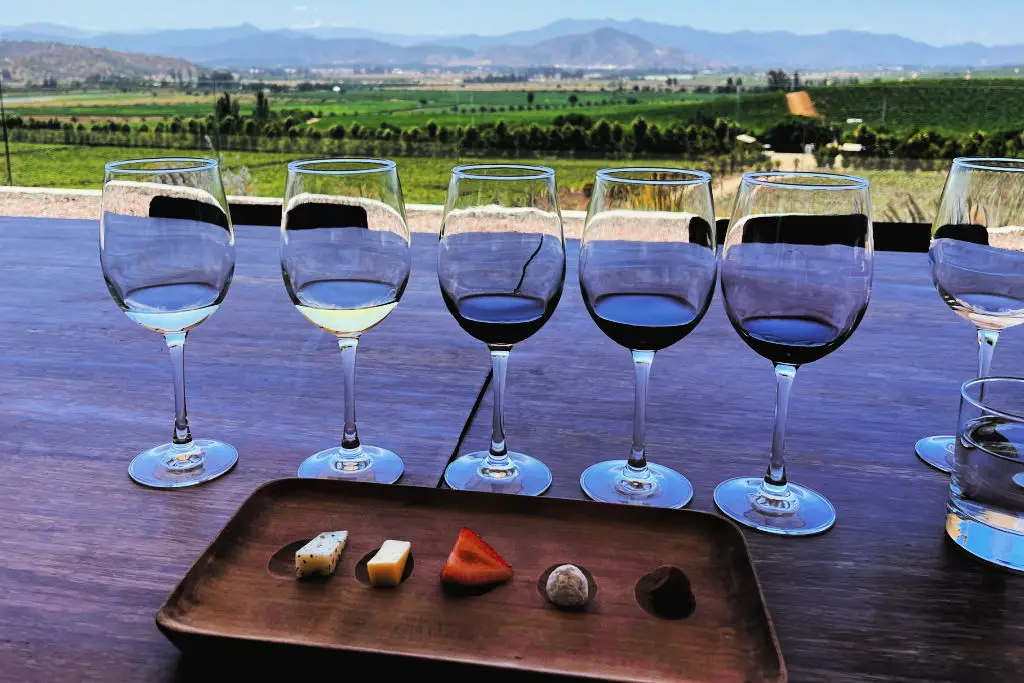 There are two great wineries within a short distance of the city center to tour, they are:
Visiting the Casablanca Valley makes for the perfect day trip from Santiago. This small-group wine tour from Santiago visits four wineries and includes a lunch stop at one of them.
If you're going to stay overnight in Casablanca Valley make sure it's at Hotel Boutique BC Wine Casablanca.
Colchagua Valley > Chile's Napa Valley
Carménère is to Chile as Malbec is to Argentina, and the Colchagua Valley is probably one of the best places in the world to taste this varietal. Located about a 2-hour drive south of Santiago is the Colchagua Valley. This destination is one of the few places in South America, outside of Mendoza, that also offers organized wine tourism.
For those unfamiliar with Carménère, Wine Folly recommends this varietal for beer drinkers who enjoy an IPA, stating,
The flavors and aftertaste of Carménère resemble the complexity of an IPA, making it the ideal wine for someone more loyal to beer, but looking to branch out into wine.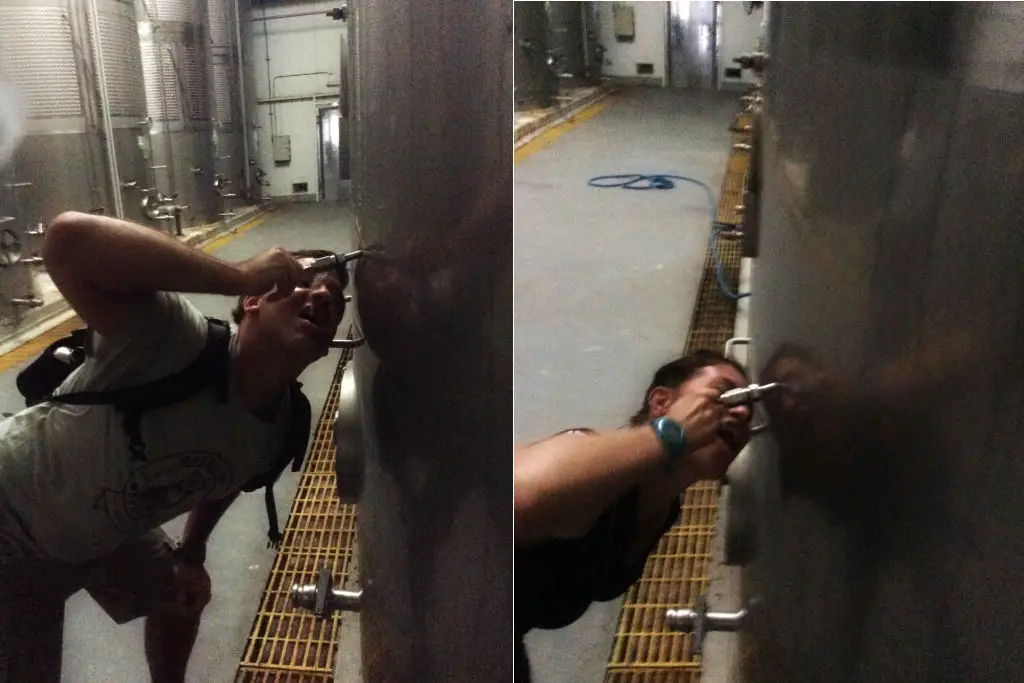 Reservations for wine tours and tastings are pretty much mandatory in Colchagua Valley. We will not go through and rate each winery, because there are extensive reviews online. Nevertheless, much of your experience will depend on how well wineries reply to reservation requests if you proceed with non-group tours.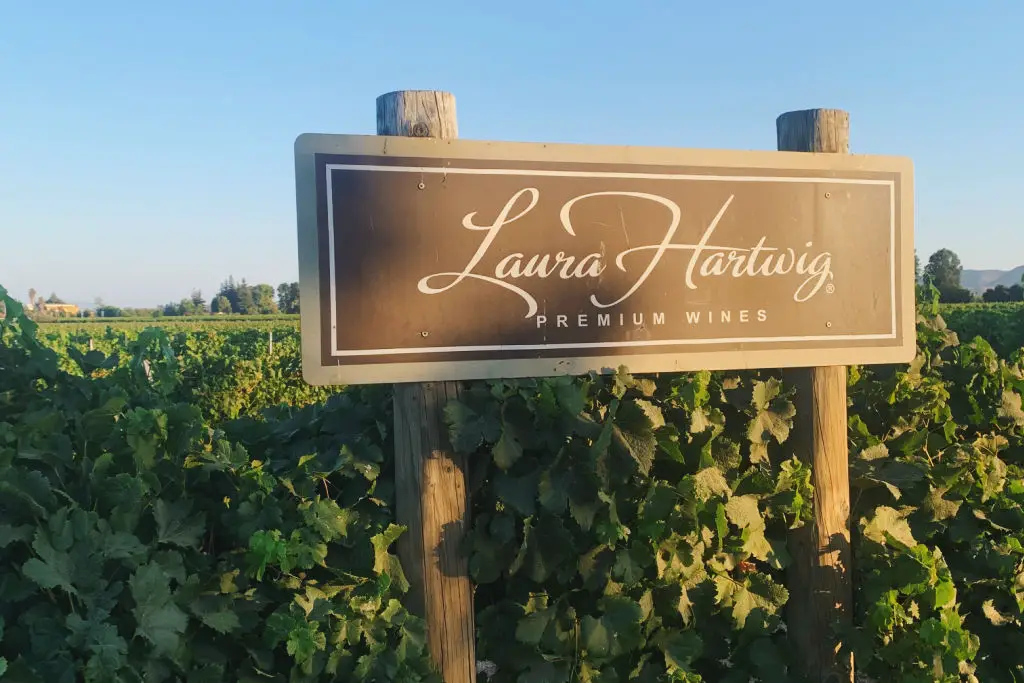 As mentioned in previous South American wine country posts, return email correspondence was poor and it was disappointing to see how many of our email inquiries went unanswered. Honestly, if you're short on patience or time it may be worth booking a group or private tour of the vineyards.
No worries. We'll walk you through the best tours below.
MontGras Winery
On our first day in Colchagua Valley, we splurged on a tour and tasting with food pairing at Mont Gras. Our private tour of the vineyard came with an in-depth lesson on the vines, leaves, and grapes.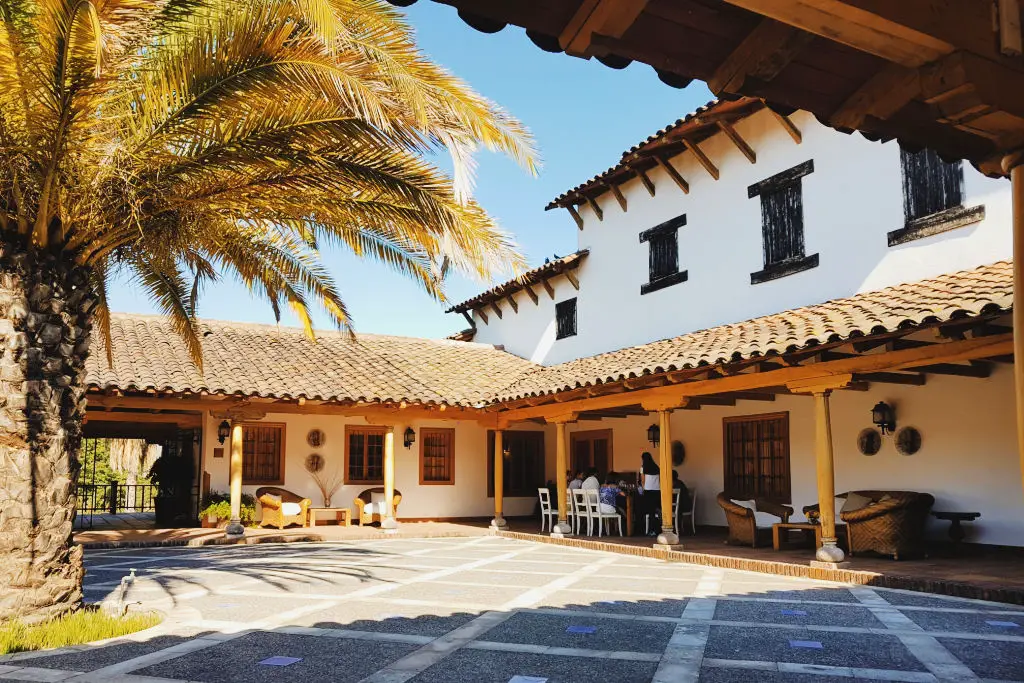 We toured the distillery being able to taste Sauvignon Blanc right from the stainless steel vast. From Santa Cruz, a taxi/uber costs about USD 20 roundtrip.
Afterward, our hostel owner let us borrow his rental bikes for free to taste wine by the glass at Laura Hartwig. Tasting costs range from USD 1.50 to 3.50 with reserve wines on the more expensive side.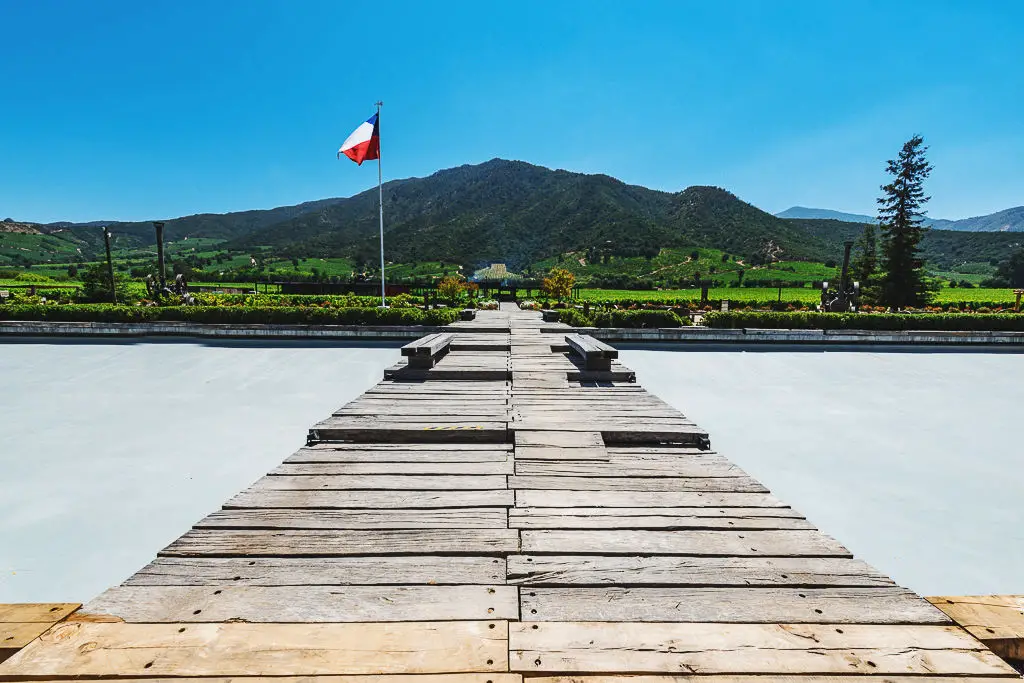 Viña Montes and Viu Manent
On day two, we rented two bikes from our hostel and explored the Ruta del Vino (Wine Route). Our first reservation took us to Viña Montes, where we opted to sit on the lovely outdoor patio and order wine by the glass.

Also, Montes has an outdoor restaurant on site, but we had a lunch reservation later that afternoon at Viña Viu Manent. Afterward, we attempted to visit Clos Apalta Winery but were turned away at the gate due to not having a reservation. Many say this is one of the most beautiful wineries in the area so it may be worth a visit if you can make reservations.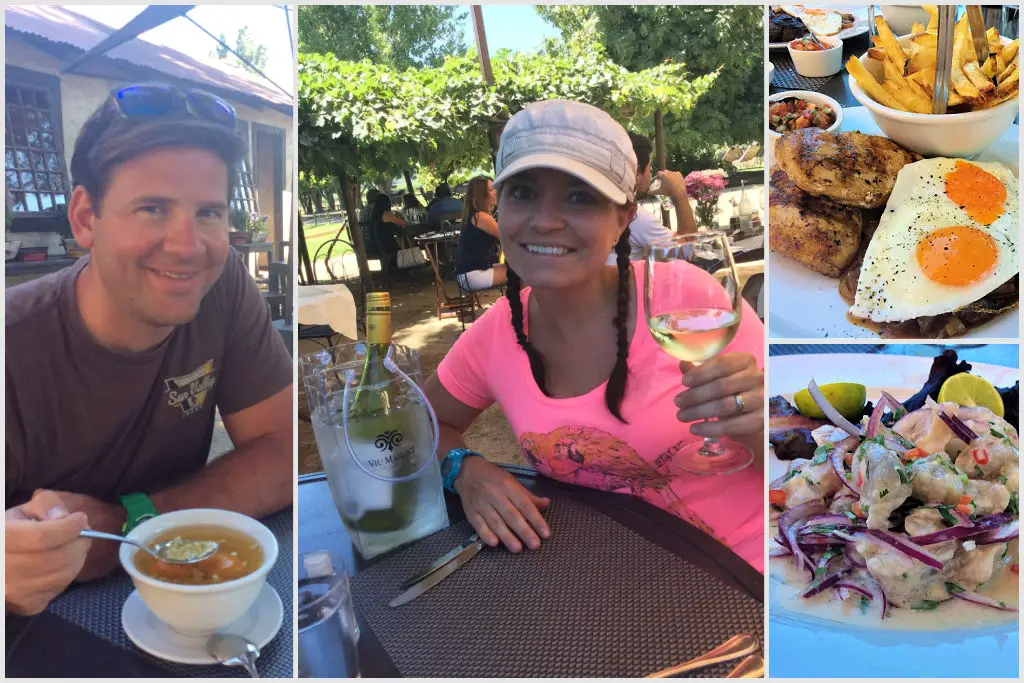 We finished up our tour by biking to Viu Manent for lunch. We also made a reservation for a tour here as it includes a charming horse-drawn carriage tour through the vineyards. However, at the last minute, we decided to skip this tour too and use the money toward a great lunch, as we were starving and hot.
Getting Burnt Out
On a side note, at this point in our travels through South America, we had visited probably close to 30 wineries. For this reason, we decided to pass on the tastings and tours and instead put the money through bottles of wine and food.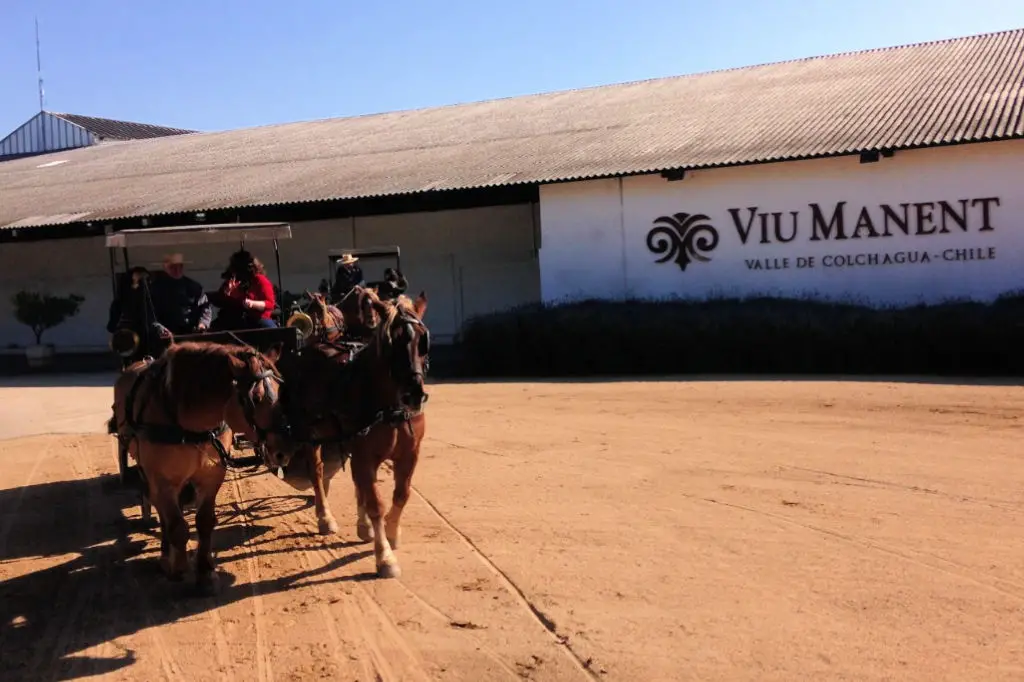 In conclusion, we saved money in this expensive region by skipping the tours, opting to order wine by the glass (or bottle), then enjoying each winery and its beautiful surroundings. Although, many of the top wineries offer something special to make their tours unique (e.g., horse carriage ride, drinking from the vast, hiking opportunity on the grounds, skylift, etc.), after a while the tours do start getting repetitive.
Where to Stay in Colchagua Valley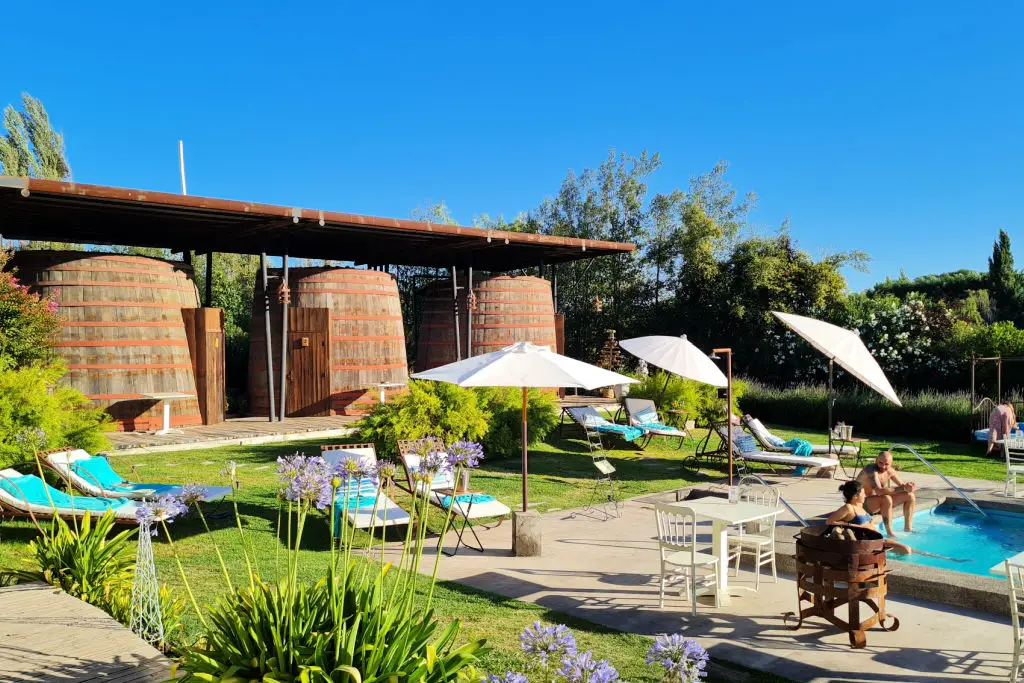 We had a hard time finding budget accommodations in this area during peak season. Therefore, if you intend on making reservations, be sure to do it sooner rather than later. We ended up booking Casa Suiza which was a budget-savvy accommodation and was within walking distance of the bus terminal in Santa Cruz.
Budget: Casa Suiza (hostel with continental breakfast)
Mid-Range: Hotel y Cabañas Tierra & Vino (wine-tasting) or Casa Calfu B&B (amazing pool area)
Luxury: Hotel Boutique Vendimia Premium (love the vibes) or Colchagua Tiny Lodge (sleep in a vineyard)
Willing to choose the best places to stay by yourself or are you interested in getting off the beaten path? Try Trivago: a service comparing the best prices.
How to Get to the Colchagua Valley
We took the subway to Santiago's bus terminal to purchase tickets to Santa Cruz/Colchagua Valley. When we arrived at the bus terminal, we scouted out which bus company was the cheapest. Ask around because there was a variance in quoted prices. We paid about USD 8 per person.
Getting to Chilean Wine Country
We took AndesMar from Mendoza to Santiago costing about USD 55 per person for two cama-suites on the bus. Equally important, be prepared for a very long, frustrating border crossing! It took approximately 3.5 hours to clear customs from Argentina into Chile.

The total time on the road was approximately 9 hours, including the time at the border crossing. Also, we were happy we purchased the suite that came with a light lunch, movies (in English), and comfortable seats.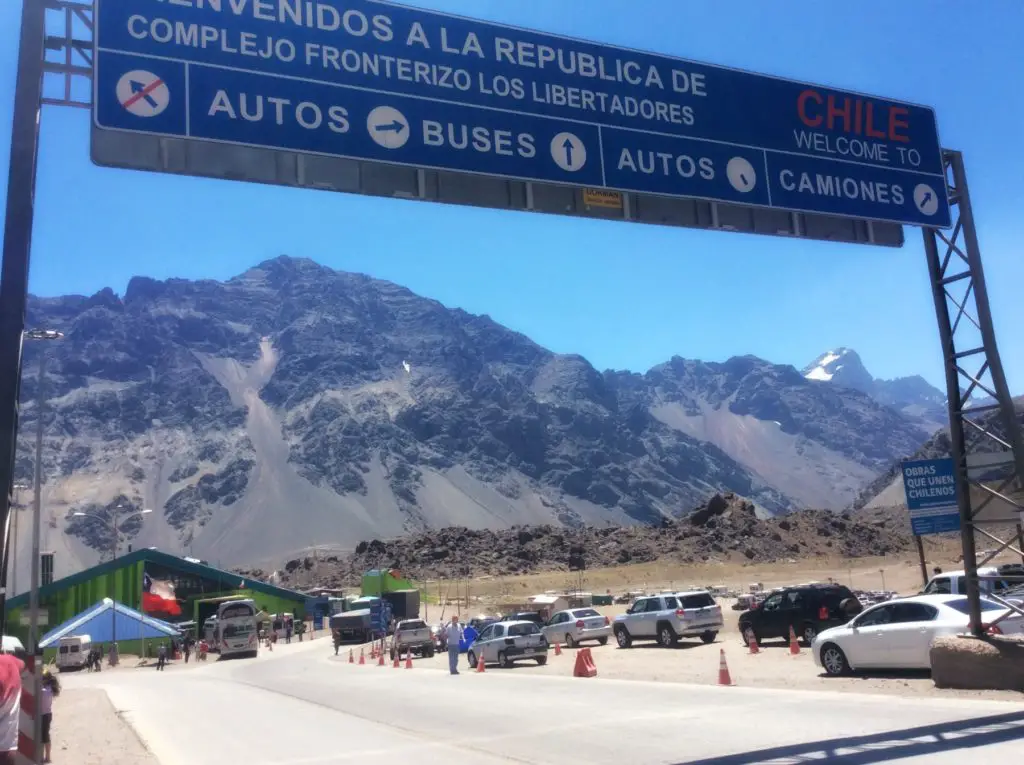 Even with the windy roads and extensive border crossing, the opportunity to explore the best Chilean wine tours made it all worthwhile. With dramatic landscapes, genuinely nice locals, and professionals passionate about the art of winemaking, no trip to Chile is complete without a visit to wine country.