Our love for wine was the reason behind creating this Best Patagonia Wine Tour for Wine Lovers Guide. We've always found ourselves in wine country during our travels. Sure, it's not whitewater rafting or sky diving, but wine exploration is one of our favorite types of adventure. Things can get a bit complicated down in this region so it's important to come prepared and have tours proactively setup!
Best Patagonia Wine Tour for Wine Lovers
Something is amazing about sitting among beautiful vineyards while enjoying a nice glass of wine. While Malbec will always play an important role in Patagonian wine, it is the production of Pinot Noir that got us interested in exploring the region. If you ever come across a Pinot Noir from Neuquén or the Río Negro we encourage you to give it a try.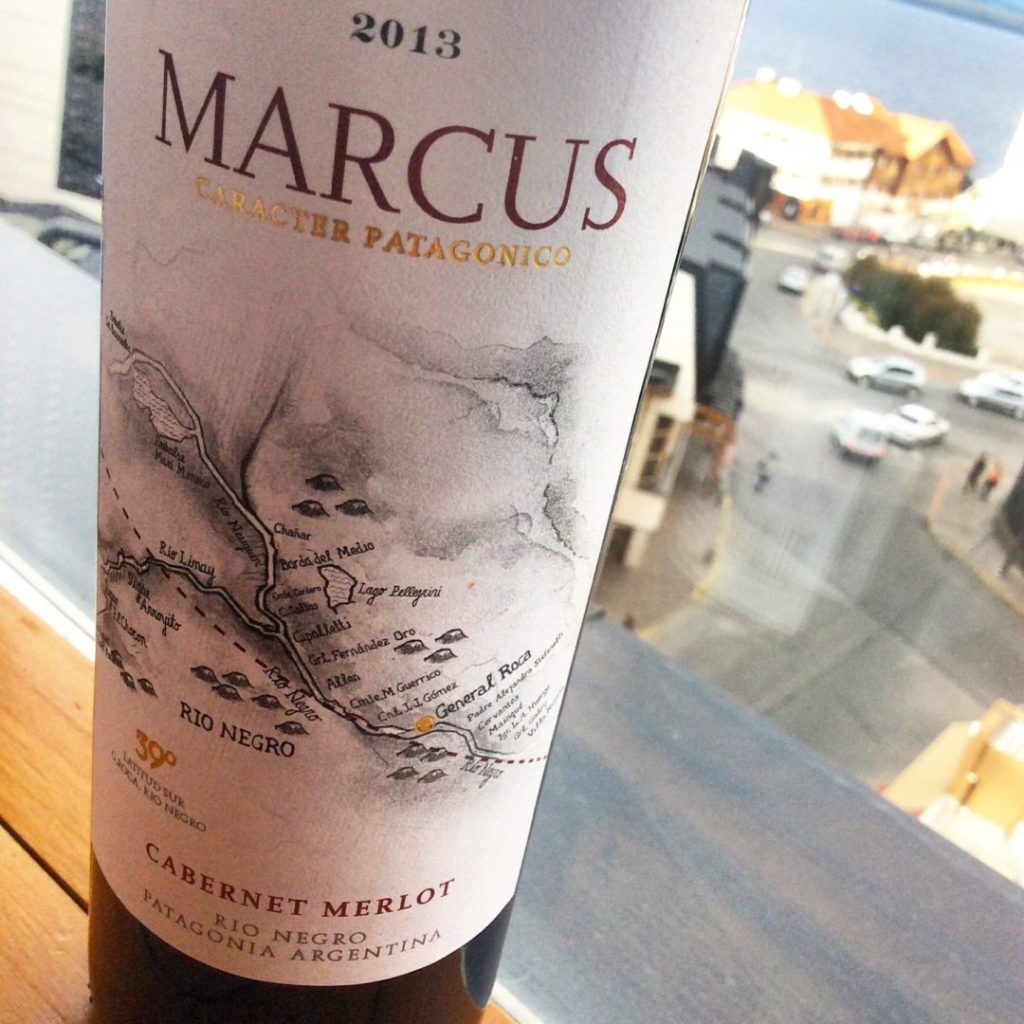 Learning about the new, up-and-coming wine region of Patagonia Wine Country, we took it upon ourselves to be the pioneers of this region and conquer this very much unexplored route. Also, it was a great opportunity to break up the 18-hour bus ride from Bariloche to Mendoza.
Where We Stayed
We made reservations for the new year at Nando Hotel Apartments in Cipolletti. Below are a few other great options for staying in the area.
Budget: Edificio Nikemen (well-equipped apt.) or Patagonia Suites (clean with river views)
Mid-Range: Limay Bed&Breakfast (kitchenette) or Howard Johnson (amazing pool!)
Luxury: Hotel Casino Magic (spa, casino, pool, best in the area)
Below are the pictures of the pool area at Nando Hotel Apartments. 
Researching Options
To prepare, we emailed, Tweeted, Facebook messaged almost every single bodega in the area. We had two negatives going against us. First, we don't own cell phones to call to make reservations. Second, it was the New Year holiday.
The results? Not good. We only received one email back from an owner stating that they will be out of the area on holiday. Gee, thanks. It started to make sense why most travelers head straight to Mendoza and ignore this part of Argentina.
Travelers who focus on budget travel often suggest, "Hire a taxi and do it yourself." Here's why that is just plain bad advice in this particular area:
Unless you are fluent in Spanish, you will not get much out of the tour as the majority of them, especially the boutique wineries will not be in English. Unfortunately, the bodegas are not very good at securing reservations. Considering that our local guide knew these people personally, had a cell phone, and made reservations, and STILL had difficulty with someone consistently being present upon our arrival.
During the busy harvest time, from mid-February through March, it may be difficult to secure a tour and tasting at a family-run boutique bodega.
There's often a great distance between wineries. There are no bike tours in this area. You'll probably spend a lot on taxi fare by hiring one for the whole day. In this area, you are better off going with a guide that can easily transport you from one bodega to another, taking care of all the logistics, especially when you arrive at a closed gated entrance!
Best Guided Wine Tours in Patagonia
Harry luckily connected with a local guide that helped us make our time here more productive. She specialized in wine tours and also offered a paleontology tour. Many private guided tours will combine wine and the paleontological circuit. Below are some of the best-guided tours in the area.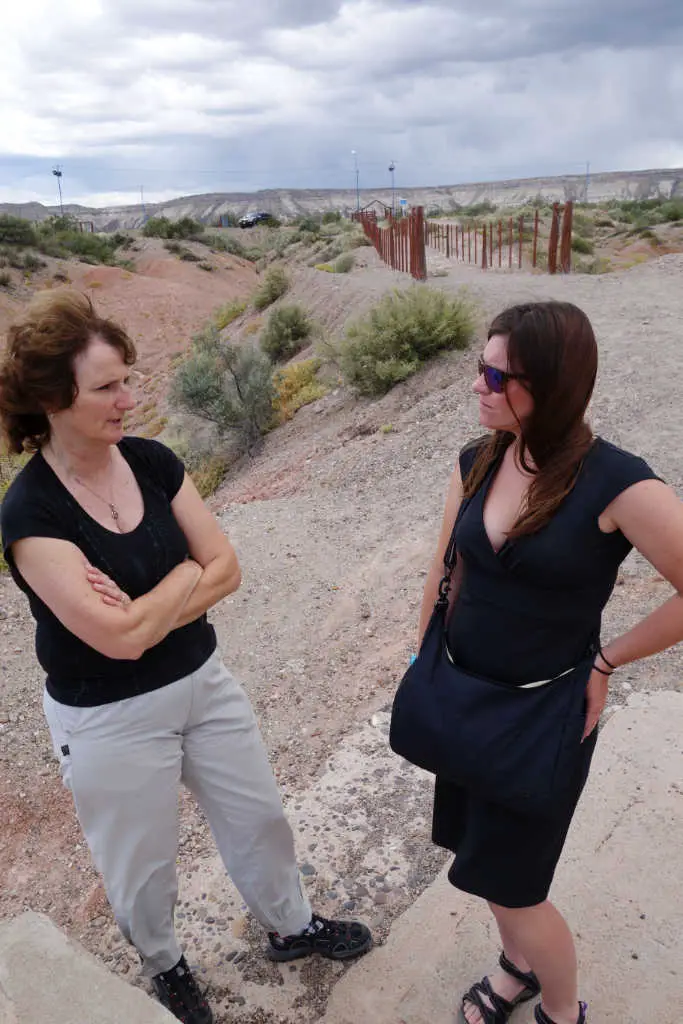 Our Guided Tours
How Much?: We went on two outings with María José. The first day focused on the Río Negro area and the second day we ventured to the San Patricio del Chañar region.
The first day's tour was private and cost 900 pesos ($~106 USD), the second day's tour was with two other people (a group of four) and cost 600 pesos (~ USD 70). Considering that private tours in Mendoza run about 170-200 USD per person per day, we felt that this was a good value for a whole day tour.
Río Negro
Unfortunately, our first day out was New Year's Eve, so we only made it to two wineries. The larger Humberto Canale and then the smaller, family-run Agrestis.
For an extra 60 pesos (~ USD 7) we received an in-depth tour of Humberto Canale with a tasting of three wines and a plate of cheese to accompany it. The grounds were lovely and the tasting area was outside and right next to the vines!
At Agrestis, the owner came out to greet us and we chatted about his wines and snapped a few photos near the vines, after purchasing a bottle for our New Year's celebration. There was no additional cost.
We also had a tour of the Río Negro area and a stop at a local fruit orchard, which creates fruit-inspired chocolates.
Neuquén/San Patricio Del Chañar
Along with another couple, we ventured to three bodegas; Bodega Secreto Patagónico, Familia Schroeder, and NQN. Bodega Secreto Patagónico was a newer, up and coming bodega, while Familia Schroeder and NQN are larger and more established.
The only additional fee was at Familia Schroeder where we were charged 60 pesos for the tasting, but we were allowed to use the tasting fee as a credit to purchase a bottle, which we did of course! The SAURUS Malbec was the same price.
We continued onto lunch at NQN's Malma Resto Bar, where we were slightly disappointed that they did not receive our guide's reservation email. These things tend to happen in this part of the world and you just need to be extra patient.
Although the food was great, service was greatly lacking as we waited at a dirty table for over 30 minutes to even place an order. It was slow even by Argentine standards. The Argentine couple we were touring with was even getting frustrated!
How fantastic to have visited a bodega in Patagonian Wine country that had discovered a new species of dinosaurs while constructing the building. Hence, the name…"SAURUS." There's a mini-museum on the site at Familia Schroeder Bodega.
Budget Tips
The larger wineries are more established and commercial. Even though they have some perks, (e.g., English tours, restaurants with vineyard views on site, promotions, etc.), there are so many tourists that you start feeling like you're just another number.
Don't be afraid to request more outings to the smaller, boutique bodegas to get a more personal, unique experience. Our favorite bodega was at Secreto Patagónico, in which the tour host was not to be found despite our reservation. So Josè, the Agricultural Technician, graciously led our tour. We ended up with a lovely, intimate tasting and we left with the leftover wine…all for no cost!
Although much of this area is very "flighty" (pun intended!), and at times unorganized, overall we enjoyed exploring the Patagonia wine region. It feels fresh, unvisited, and is a more intimate wine experience than touring with the masses in the more costly Mendoza.
Wine has always played a big role in our travels both near and far. Our favorite wine regions to visit? Hands down…the Franschhoek Valley in South Africa and Patagonia!