The Beloved Playa Mujeres Cancun all-inclusive resort is a serene haven where every little detail is considered. Created for romance, the couples-only boutique-style retreat is known to stimulate the mind and body, evoking wellness and love.
Located on a secluded soft powdery white sand beach, the intimate resort overlooks the small island of Isla Mujeres. Equally important, Beloved Playa Mujeres Cancun guests will find extravagant suites, a soothing design, and thatched-roof beach huts waiting for them, all at affordable and reasonable prices. The small-scale design encourages peacefulness and intimacy without ever feeling overcrowded.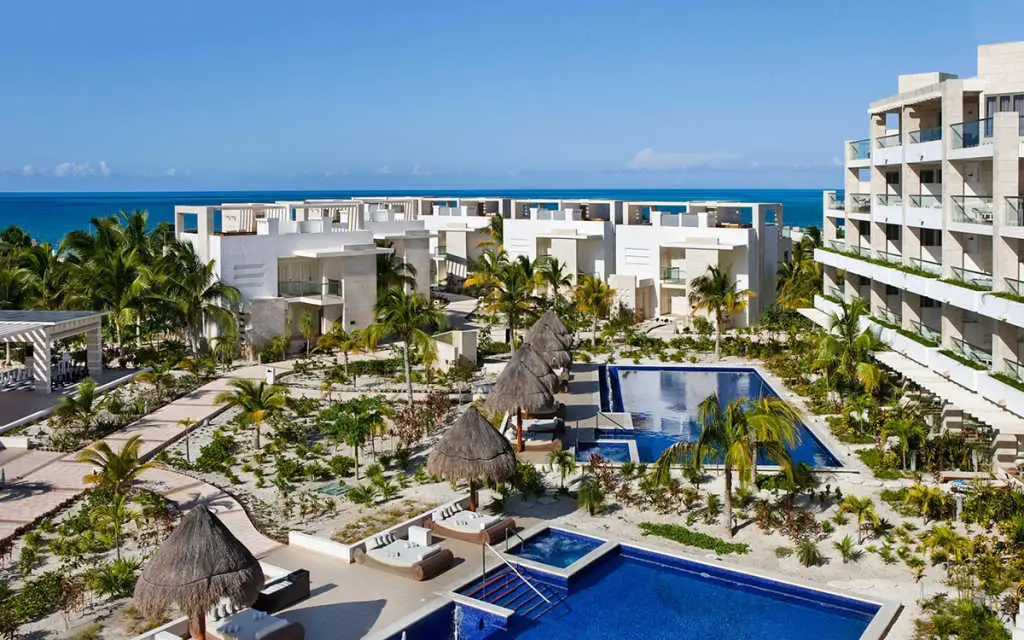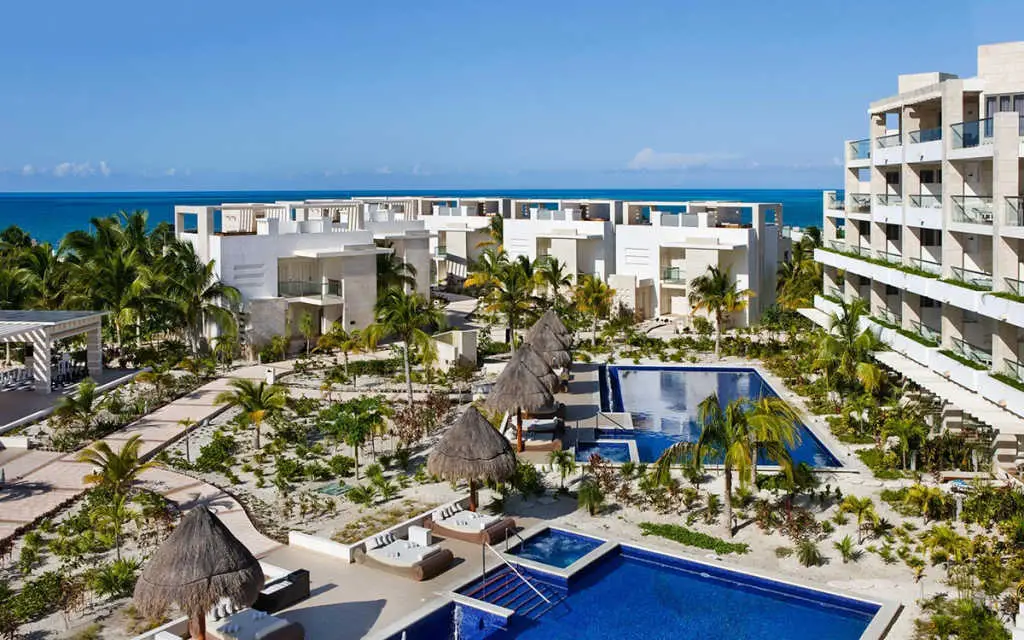 Spacious suites feature private terraces, hot tubs, showers for two, a walk-in closet, bathrobes, a pillow menu, 24-hour room service, premium liquors, a Nespresso machine, and twice-daily maid service.
Beloved Playa Mujeres Cancun
Emerald bliss, natural wonders, and captivating contrasts make the Beloved Playa Mujeres Cancun one of the best hotels in Mexico for couples. Wellness surrounds guests with amazing coastal seascapes in an immaculate natural paradise.
Guests enjoy taking in the gentle and clean Caribbean Sea breezes alongside their loved ones while enjoying the resort's many amenities. The Beloved Playa Mujeres Cancun sublime amenities include:
5 restaurants
6 bars
3 swimming pools
4 outdoor jacuzzis
Spa
Fitness center
Greg Norman designed fairways at the Playa Mujeres Golf Club.
Past guests rave about the level of service they receive during their stay at Beloved Playa Mujeres Cancun. Furthermore, they're known for going above and beyond, making sure to be proactive instead of reactive, making sure guests have the vacation of a lifetime.
Book Now: Beloved Playa Mujeres Cancun (from $349)
7 Lovely & Romantic Beaches Nearby
Tourists flock to Beloved Playa Mujeres Cancun to take a dreamy Caribbean fun-in-the-sun vacation, taste traditional Mexican cuisine, explore ancient Mayan ruins, take a jungle night adenture ATV tour, visit the number one attraction in the Riviera Maya, swim with whale sharks, take a sunset boat cruise, go wildlife viewing, and of course, party in the city.
However, generally speaking, most visitors come to this dream destination for the lovely beaches. In fact, there are so many white-sand beaches that it may be difficult to keep track of all of them.
No worries! We're going to identify the best ones to visit below.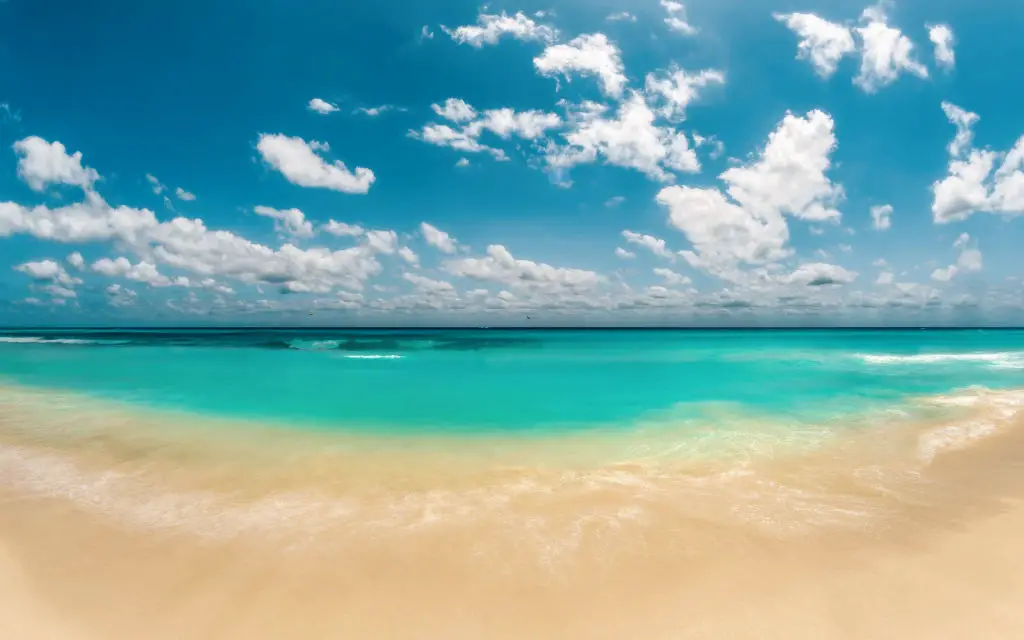 It's important to note, that not all beaches are the same, they're as diverse as the tourists who visit them. For example, some have beach club atmospheres while others may feel more desolate with palm trees quietly blowing in the warm Caribbean breeze. No matter what you're looking for, there's something for everyone—below are the seven best beaches to visit in Cancun.
1. Cabanas "Isla Blanca" – Isolated Beach
Isla Blanca is a gorgeous untouched peninsula, only 15 minutes north of the Beloved Playa Mujeres Cancun. It's a narrow strip of land with sandy roads, a saltwater lagoon on one side, and white sand beaches on the other. If you're interested in seeing what the Zona Hotelera once looked like, or just want to get away from the chaos of the city, this is the place to get off the beaten track.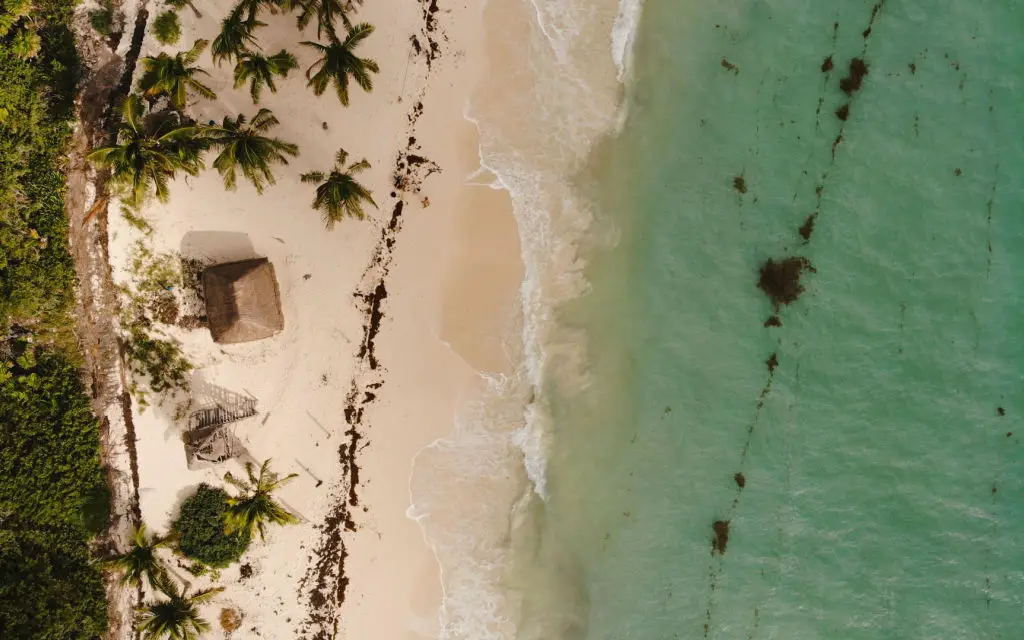 At this beach, there are basically no amenities or lifeguards, just a few rustic beach bars. However, an occasional fruit vendor may walk by. If you're looking for a simple lunch, consider the Cabanas Isla Blanca beach club. It offers cold beer, grilled fish, beach chairs, and thatched-roof huts. The lovely setting is known for its shallow waters and steady winds and attracts the kiteboarding crowd—which, is fun to watch from the beach.
2. Playa Norte – Quintessential Caribbean Beach
One of the most quintessential Caribbean beaches is located on Isla Mujeres. Guests of Beloved Playa Mujeres Cancun may travel across the narrow channel to Isla Mujeres via the nearby ferry or on a luxurious, yet affordable private yacht. Once on the small island, head to the most northern beach: Playa Norte.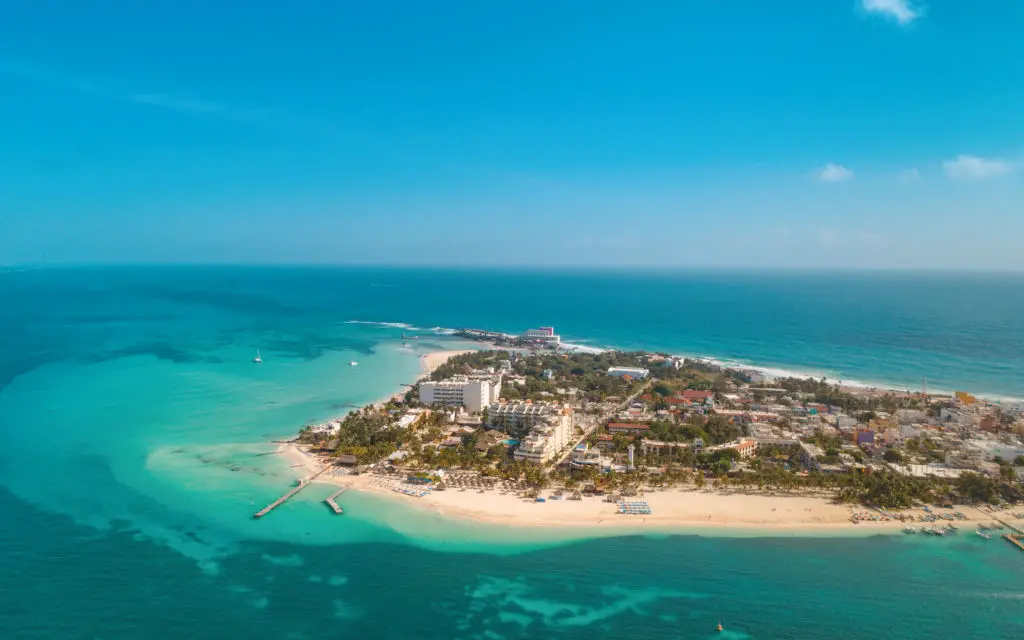 This wide and dreamy beach has the most amazing turquoise blue water—everything you imagine from a classic Caribbean beach. The soft white sand is cooled by tall palm trees, many joined with hammocks. Also, the shallow waters are ideal for water play and swimming.
3. Playa Langosta – Kid-Friendly Beach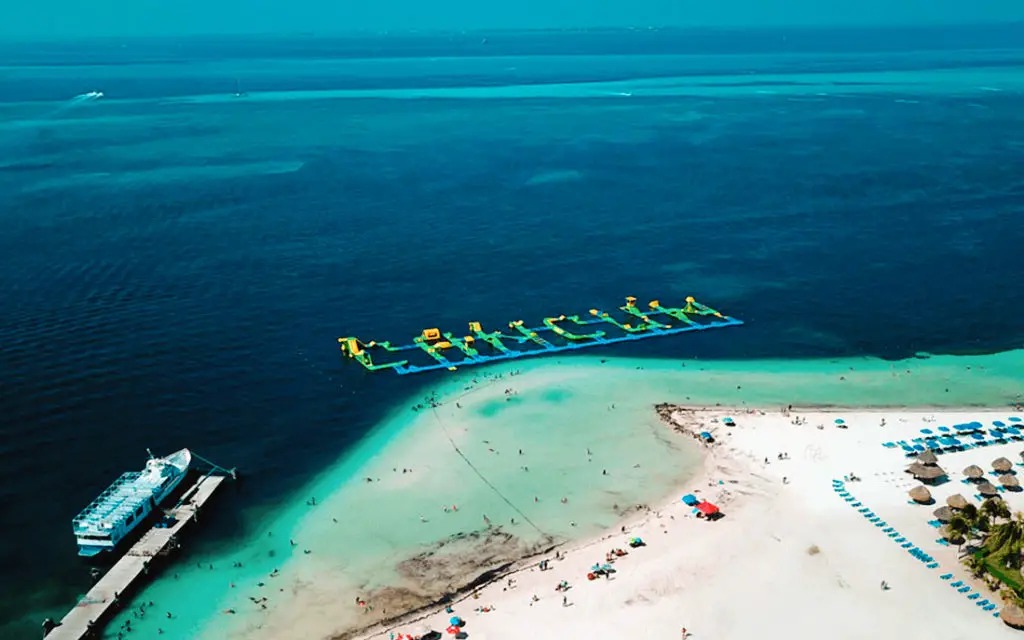 Located just east of Cancun, in Zona Hotelera is Playa Langosta. With shallow water, a roped-off swimming area, and an inflatable water park, this kid-friendly beach is a great option for families. Also, beach chairs are available to rent. There's even an onshore playground and plenty of restaurant options. All in all, this the perfect place to enjoy a family beach day!
4. Playa Gaviota Azul – Party Beach
Playa Gaviota Azul is located in the center of Zona Hotelera, along a curvaceously stunning stretch of white sandy beach. Visitors come from all over the world to party here. In fact, pretty much all of Cancun's best nightclubs are near or on this beach.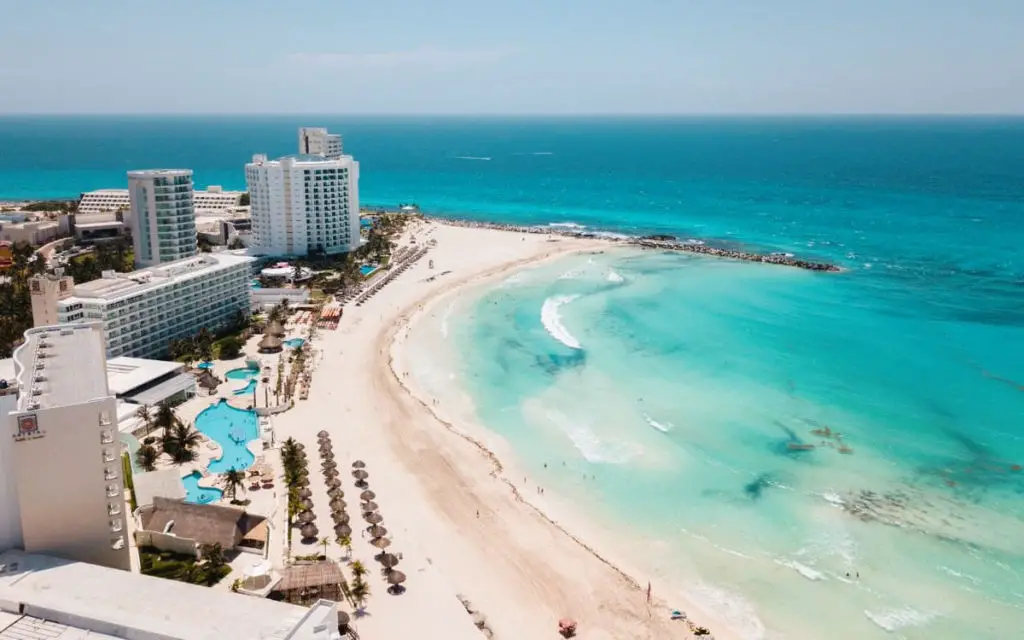 During the day, the clubs are not much different than at night—DJs pump music and beautiful people party hard. If you're looking for the best hotspot, head to Mandala Beach Club. It's here, that they have VIP beach access, beach beds, Jacuzzi mixers, and hold wild pool parties.
Budget Tip: A great way to enjoy the party vibe without forking over club prices is to head over to Playa Gaviota Azul just south of the club.
5. Playa Marlin – Watersports Beach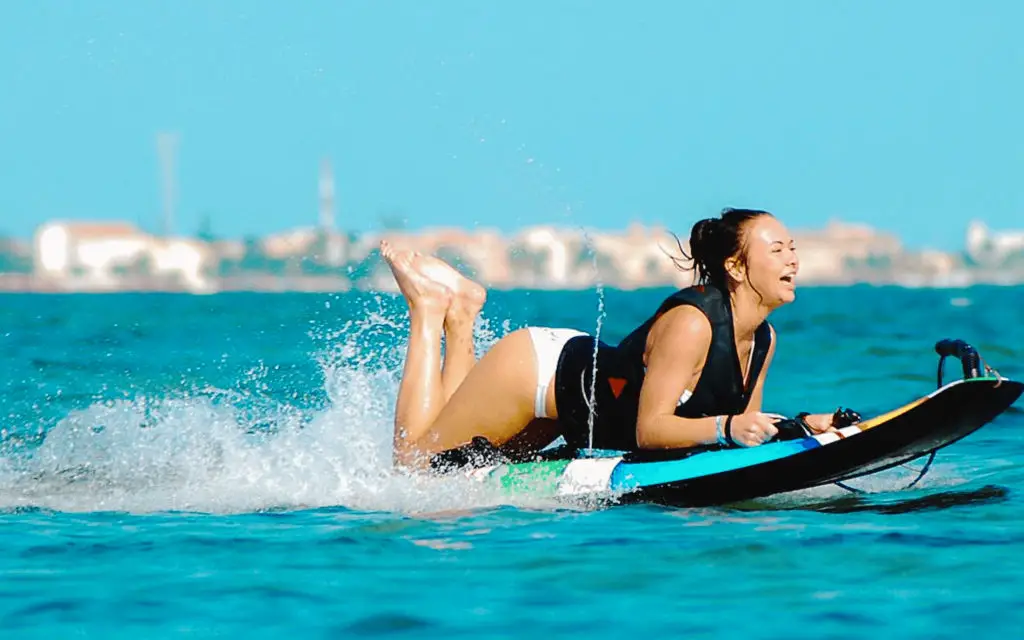 Visitors looking to enjoy adventurous watersports should head to Playa Marlin. Numerous outfitters have set up shop here offering such activities as boogie boarding, jet skiing, parasailing, and surfing. Also, umbrellas are beach chairs are available for rent. Finally, if you're you're looking for a sit-down restaurant head to the mall at Plaza Kukulkan.
6. Playa Delfines – All Around Beach
One of the few beaches in Cancun that isn't surrounded by towering hotels is Playa Delfines. Furthermore, the expansive gently sloping beach, located at the southern segment of Zona Hotelera is the ideal place for boogie boarding and frolicking in the waves. However, the undertow may be dangerous here, so be alert.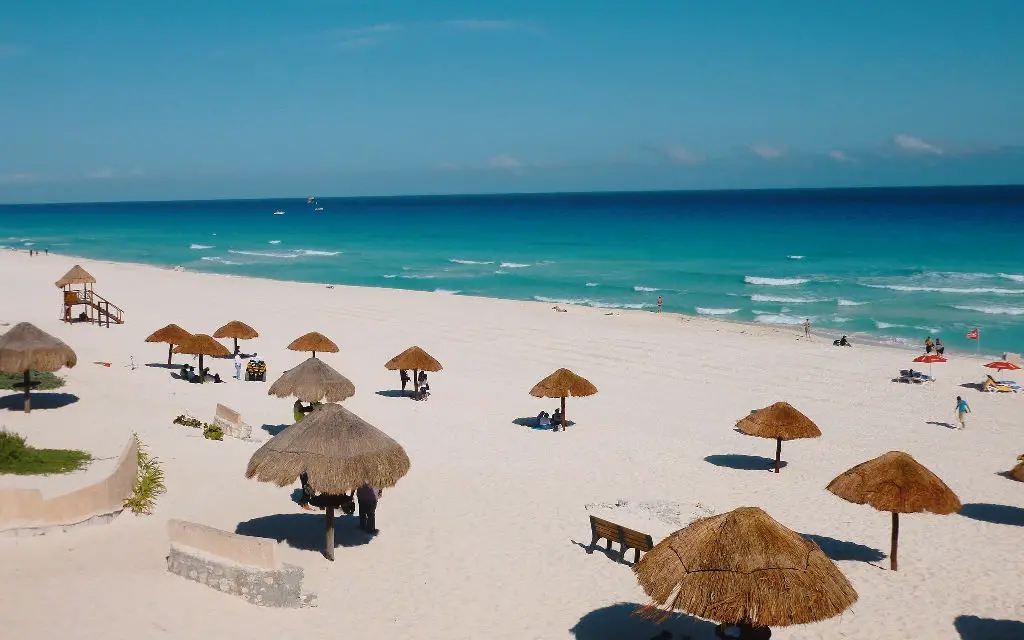 One of the main highlights of Playa Delfines is the whole host of amenities. For example, the beach features public restrooms, lifeguards, a playground, and free thatched-roof huts. Also, with a bus stop, it's one of the best beaches to visit on public transportation. Alternatively, it has a parking lot for tourists with a rental car. Finally, one of the area's most popular archaeological sites El Rey is located nearby.
7. Playa Pez Volador – Quiet Beach
It may come as a surprise to some visitors to find out that there's a quiet hidden beach in Zona Hotelera called Playa Pez Volador. In fact, it's only 0.4 miles east of Playa Langosta, next to Hotel Riu Caribe. Yet very few tourists end up there.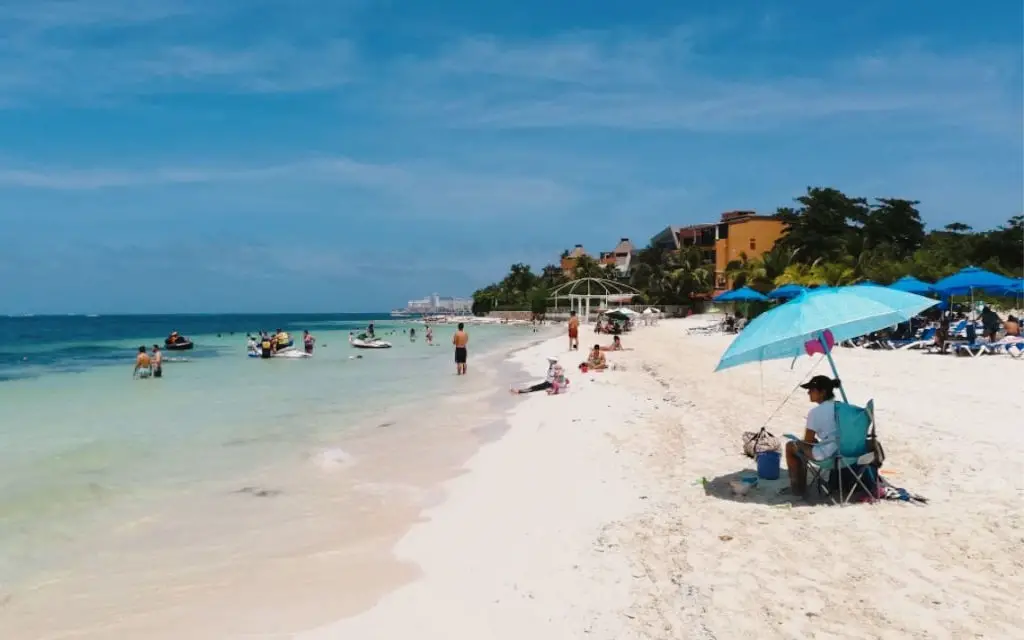 Playa Pez Volador mainly attracts locals looking for laidback vibes and turquoise waters. As a result, there are virtually no amenities here. Therefore, visitors should be prepared to bring everything they need, including water, snacks, an umbrella, and towels or blankets. Finally, the location flies completely under the radar so it may be a bit challenging to reach—access it by taking the public access path located on 17Pez Volador and walk through the strange white door.
Have you visited Cancun? If so, what's your favorite beach—let us know in the comments?