It is a known fact that eight of the ten highest mountains in the world lie in Nepal, making it one of the best mountaineering and trekking destinations in the world. Nepal's not just about the mountains, there are glacial lakes, deep valleys, biodiverse forests, deep canyons, and culturally rich villages.
Below is a complete guide to trekking in Nepal to prepare yourself for the adventure of a lifetime.
But before departing, don't forget to get the best Nepal Travel Insurance.
4 Best Routes for Trekking in Nepal
There is almost an endless number of treks to take in Nepal. Below are the best four routes for trekking in Nepal.
1. Everest Base Camp Trek
The Everest Base Camp Trek takes you to the lap of the world's highest peak Mt. Everest.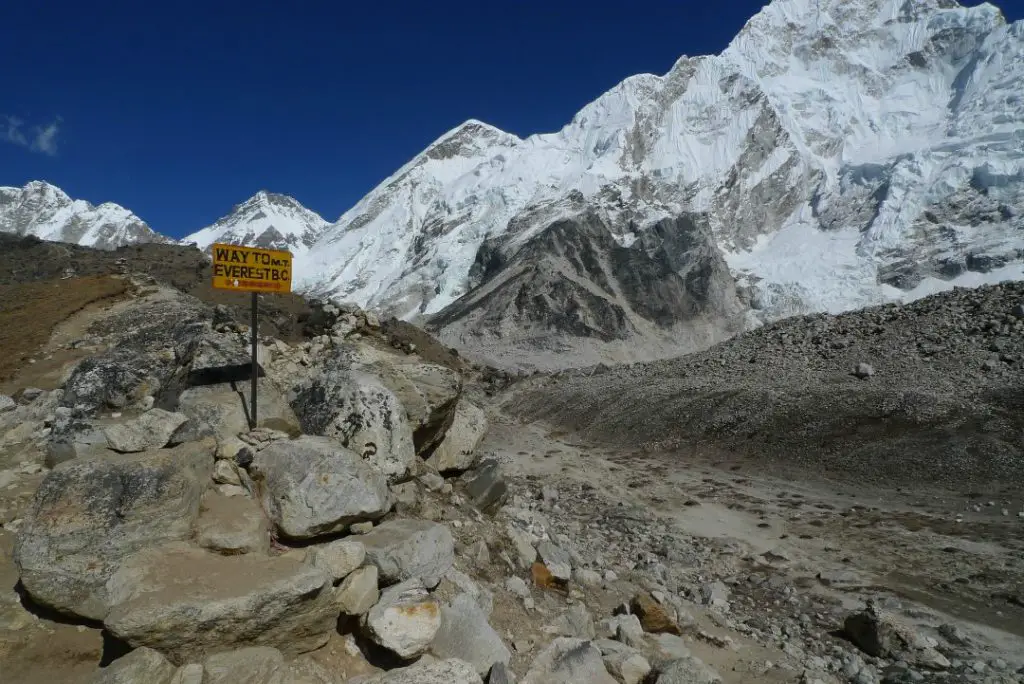 The trek begins from Lukla (2,860 meters) and takes you up to Kala Patthar (5,545 meters). This is the highest viewpoint in the trek that offers the best views of Mt. Everest along with other surrounding mountains like Lhotse, Cho-Oyu, Nuptse, and Makalu.
Numerous tea houses, hotels, and lodges facilitate the entire trekking trail of the EBC trek. These provide basic accommodations like twin beds, local food, hot showers, and squat toilets. However, don't forget to bring your favorite hiking poles.
However, if you prefer the highest quality services en route to the trek, you can go with the Everest Luxury Lodge Trek. In this luxury package, you get to spend the nights at the best available hotels, a menu with a variety of cuisines, WiFi services, massages, and a scenic helicopter ride back from Kala Patthar to Kathmandu.
2. Annapurna Circuit Trek
The Annapurna Circuit Trek is a world-famous trekking route that takes you around Mt. Annapurna. In this trekking route, you walk through continually changing landscapes, high Himalayan passes, secluded villages, and beautiful scenes of Mt. Annapurna, Mt. Manaslu, and Mt. Dhaulagiri.
Thorong La is a high pass at an elevation of 5,416 meters. From this viewpoint, you can get some of the best views of the Manaslu, Dhaulagiri, and Annapurna ranges.
The Kali Gandaki Gorge that you walk past during this trek sits in between two mountains above 8,000 meters, namely Dhaulagiri and Annapurna. This makes it the deepest gorge in the world. You also reach Muktinath, a temple where Hindu and Buddhist devotees from all over the country pay their visit. 
3. Nar Phu Valley Trek
The Nar Phu Valley Trek explores the rain shadow regions of the Annapurna Massifs.
Kang La is a high Himalayan pass standing at an altitude of 5,240 meters that you cross in this trek. You get amazing views of mountains including Annapurna, Dhaulagiri, Manaslu, and Himlung Himal from the top of this pass.
The secluded villages of Nar and Phu and the locals inhabiting these villages are highlights on their own. They still practice ancient Tibetan cultures and traditions untouched by modern societies.
4. Upper Dolpo Trek
The Upper Dolpo Trek takes you to the remote regions close to the Tibetan border of Nepal.
En route the trek, you traverse through Shey-Phoksundo National Park and its biodiverse forests. Phoksundo Lake is a tranquil lake with deep blue and emerald colors that attract travelers from all over the world.
Kang La is a high Himalayan pass that you have to cross during this trek. This pass sits at an elevation of 5,350 meters and you can get mesmerizing views of the mighty mountains from atop this pass. 
You also get to explore Shey Gompa, an ancient Buddhist monastery. The ancient Buddhist cultures and lifestyles of the locals inhabiting the villages are profoundly influenced by Tibetan culture.
Best Time for Trekking in Nepal
Autumn (September-November) and spring (March-May) are the best seasons for trekking in Nepal.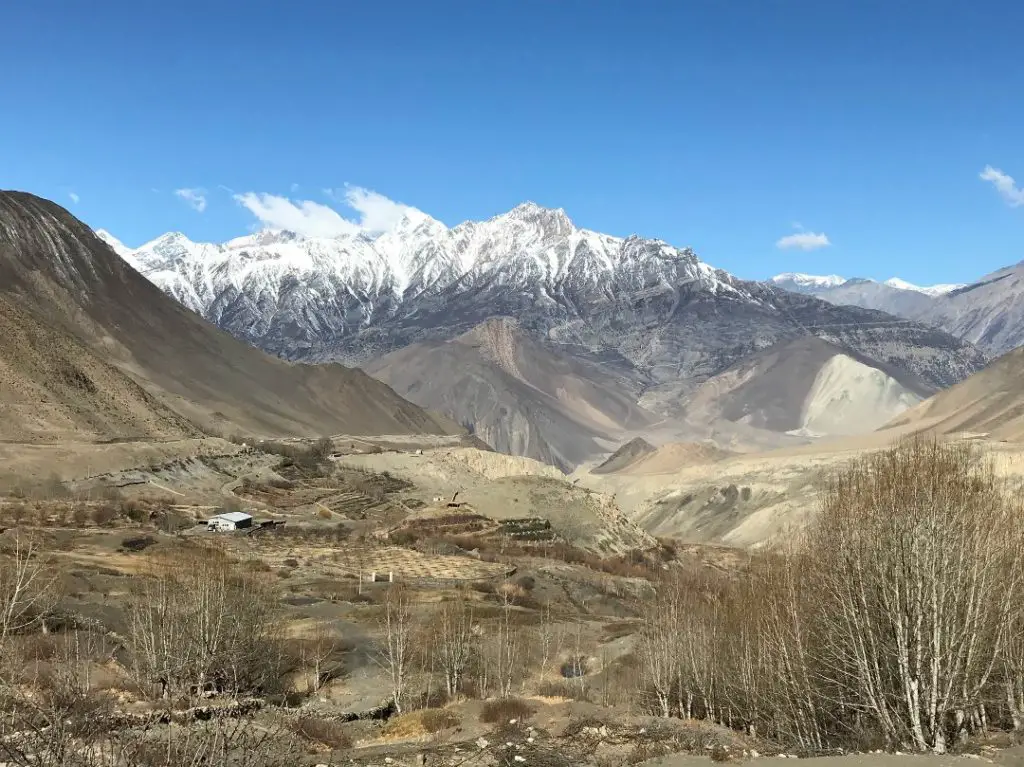 In these seasons, the temperature ranges from 15 degrees Celsius at night to 25 degrees Celsius in the day. There is very little chance of rain and the skies are free from rainy clouds. The days are sunny and the views are unobstructed.
While trekking is still doable in other seasons, you might come across a few difficulties. During winter, the temperatures drop below -10 degrees Celsius at high altitudes. Heavy snowfalls might block the pathways of your trekking route.
During monsoons, it may rain almost every day. The trekking trails get wet and slippery. You may be bugged by leeches and mosquitoes while in dense forests. Cloudy skies may block the views from vantage points during your trek.
Therefore autumn and spring are the best time if you want to trek in Nepal. 
Training for Trekking in Nepal
Some treks might be short and easy, while others may also be long and strenuous. You have to train yourself depending upon the difficulty of the trek to ensure that you can comfortably accomplish the whole journey and return home safely.
Perform a few weeks of exercises that include strength and cardiovascular training. Strength training helps to build your body for carrying your backpacks and walking for long hours.
Cardiovascular training helps to improve the performance of the lungs and heart to utilize oxygen more efficiently. Climbing and descending hills, running, cycling, and swimming are the best cardiovascular exercises.
Also, know that having prior experiences helps a lot. So, go on a few short hikes to nearby hills. Several benefits of hiking help to prepare your body for long strenuous treks. It also helps build confidence for the actual trek.
Anxiety and mental pressure is the greatest challenge during long trekking journeys. Mental exercises are vital to overcoming this challenge. Gather all the information that you may need for the trek you're about to go on. Learn a few techniques to stay calm under pressure. Build up confidence and believe in yourself.
Trekking Permits and Other Essential Documents
First of all, you'll need a tourist visa to enter Nepal. Next, you'll need to obtain a TIMS (Trekkers' Information Management System) card. To apply for a TIMS card, you need a photocopy of your passport, proof of travel insurance, and two pp-sized photographs.
Here are the fees for the TIMS card:
| | | | |
| --- | --- | --- | --- |
| TIMS (Trekkers Information Management System) Card | Nepali Trekker (NPR) | SAARC Trekker (NPR) | Non-SAARC Trekker (NPR) |
| For Free Individual Trekker | 0 | 600 (6 USD) | 2,000 (20 USD) |
| For Group Trekker | 0 | 300 (3 USD) | 1,000 (10 USD) |
Other types of permits that you may need depending upon the location that you trek in are as follows:
National Park Permits

– for trekking in 12 different national parks in Nepal

Conservation Area Permits

– for trekking in 6 different conservation areas in Nepal

Restricted Area Permits (RAP)

– for trekking in restricted areas including Mustang, Dolpo, and Manaslu. In these areas, it is mandatory to have a Nepali guide and trek as a team of two or more people.
5 Tips for Trekking in Nepal
Nepal can be a dangerous place if the proper precautions are not followed. Below are five tips for trekking in Nepal.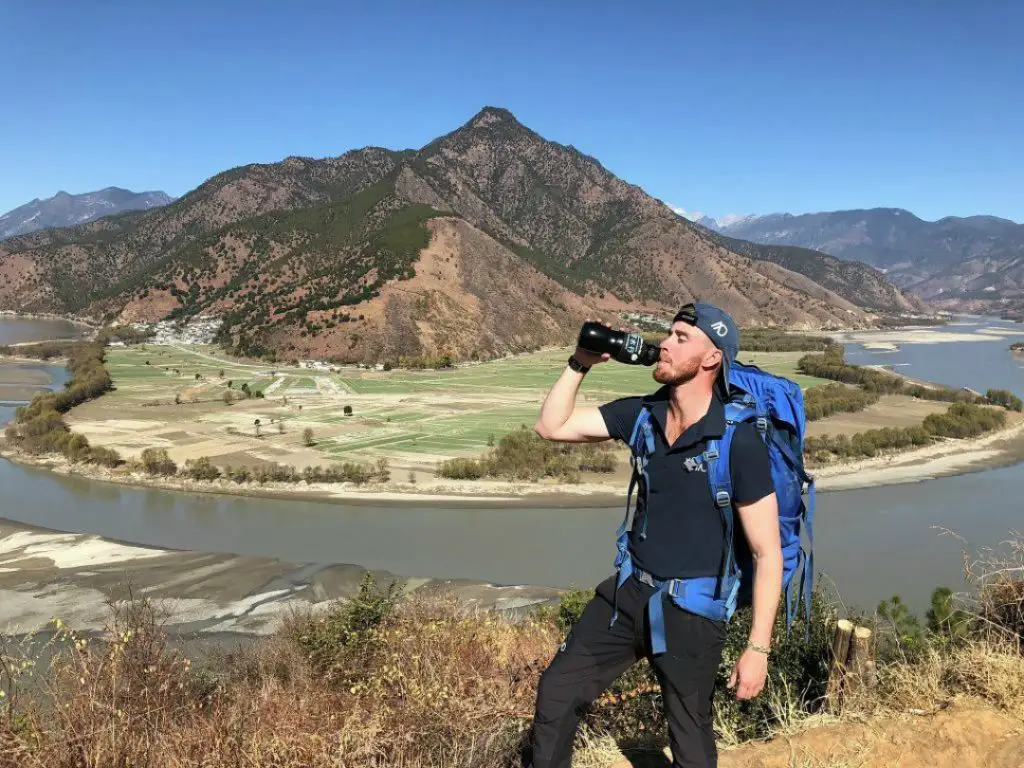 1. Stay Hydrated
It is a basic tip to drink enough water while trekking. Your body loses a lot of water while doing extensive activities. Therefore you need to drink plenty of water to compensate for the lost water.
It is advised that you do not buy bottled water, instead carry your water bottle. You can fill it at the teahouses you stay in. And if you don't know how to purify water, you can just carry a few purification tablets and put them into the water before you drink.
2. Carry a Four-Season Sleeping Bag
The temperature at high altitudes may drop below zero degrees Celsius at night even in summer. So, carry a warm sleeping bag that you can use when it gets chilly at night.
3. Avoid Fabrics Like Cotton and Jeans
Fabrics like cotton and jeans have bad wicking properties, meaning they trap moisture inside the clothes and dry very slowly. This keeps the body cold and invites common colds and hypothermia.
Opt for clothes made out of merino wool or polyester. These clothes dry quickly and keep your body warm.
4. Cover Up
The UV rays concentration at high altitudes is very high. Make sure to apply sunscreen to exposed parts of your body like your face, arms, and legs to protect yourself from these harmful rays.
5. Beware of Altitude Sickness
The risks of altitude sickness tend to rise above the elevation of 3,500 meters. Therefore, you need to stay alert for symptoms like headaches, difficulty in breathing, or paleness of the face. Apply a few preventive measures if such symptoms appear. 
In any case, the best preventive measure for altitude sickness is ascending at a slow and steady pace. Carry Diamox tablets just in case the symptoms start getting worse. This drug helps to prevent altitude-related illnesses.
Final Say
Starting from 60 meters at Jhapa to 8,848 meters at the top of Everest, Nepal holds an enormous altitude range within a relatively small area. This variation has offered Nepal some of the best trekking routes in the world.
Click here to see the best places to stay in Nepal!
I hope this complete guide to trekking in Nepal contains all the essentials for planning your next adventure. 
Happy Trekking!