The best trekking poles will provide support and stability on all types of terrain. The goal of trekking poles is to reduce wear and tear on your body and prevent injuries. Making sure you find the right poles for you, that have the best features is the objective.
How I Learned the Importance of Using Trekking Poles
I didn't realize the importance of trekking poles until I was about 18 miles into the Milford Track, crossing over the Mackinnon Pass. The temperature was about 33 degrees Fahrenheit and hailing—it felt like we were hiking in the clouds. We climbed up the pass for about four hours and it was on my first step down that I felt a small "pop" in my knee. There were no warning signs.
I initially thought, "Oh, that's weird." It didn't hurt right away but I also had at least another five hours of hiking that day, to reach the next shelter. To make a long and painful story short, by the next morning, I couldn't bend either of my knees. Trying to get over the one-inch high shower barrier was extremely painful, and I had to walk 13 miles that day!
The guides from Ultimate Hikes in New Zealand were great. They taped me up and allowed me to use their walking poles. After popping some ibuprofen and painkillers I made it to the finish line. It was so bad that other hikers were cheering me on. Audrey said that I looked like I had polio. It took about two weeks for my knees to feel normal, although they never fully recovered.
This is how I learned about the importance of trekking poles.  Please allow me to save you the pain and agony of what I went through. Finally, if you only have access to one pole, use it. Although two poles are significantly better, there's still a benefit to using only one, some hikers even prefer it.
Disclaimer: This is an honest review and our opinion. We receive no compensation for recommending the poles listed below.
10 Best Trekking Poles Review
This review of the best hiking poles offers up my top trekking pole picks and tips, advice for first-time users, key features in high-quality trekking poles, best budget poles, best travel poles, and more!
1. Black Diamond Distance Carbon Z Trekking/Running Poles
At about USD 135 and only 9 oz., these premium poles are for people who want to move fast. Simply put, these are the best of the best. Features include a three-section foldable design that makes for fast deployment, an EVA foam grip with breathable, moisture-wicking straps, and 100% carbon fiber construction. If you can afford these, you can't go wrong. They're constructed so well that they may be the only trekking poles you ever need to purchase.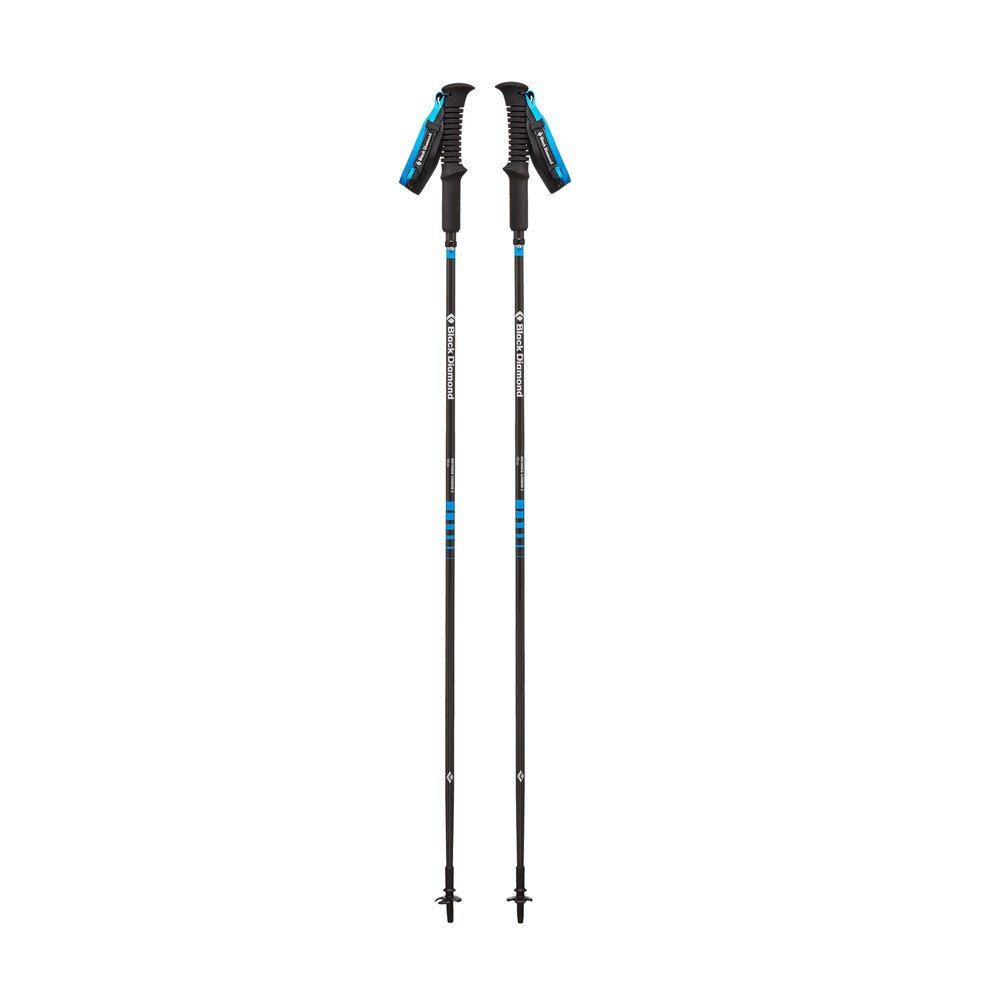 2. MSR DynaLock Explore BackcountryPoles
These poles are just about as solid as it gets for USD 100. The locking mechanisms are strong, with metal clasps, and easy to adjust tensioning (small turn wheels on the clasp).  At 1lbs 3 oz, these poles are made of 7075-T6 aluminum. They're a bit heavier but with weight comes durability.  With both trekking and powder baskets, these poles are primed for all-season, all-mountain exploration.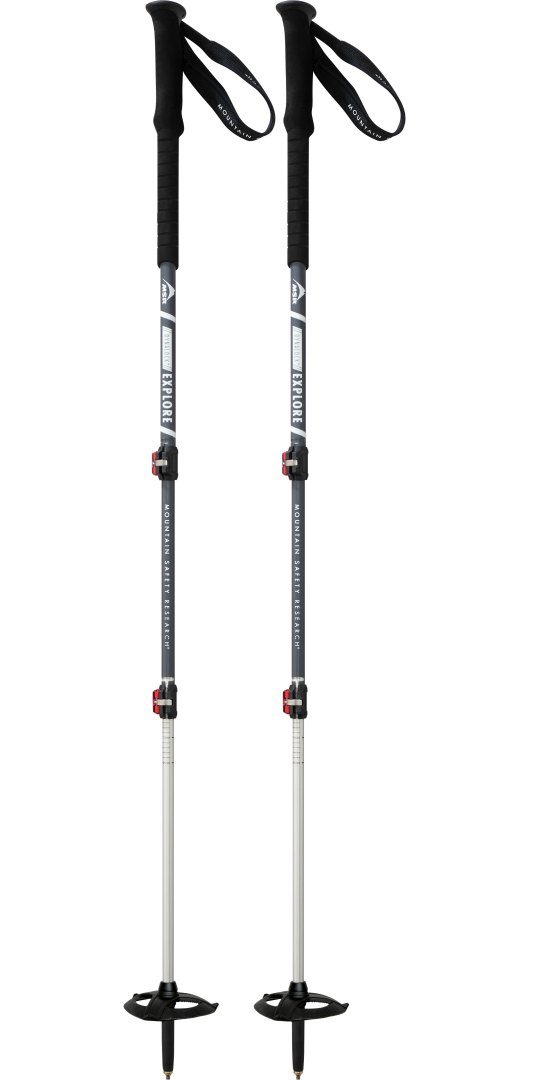 3. REI Co-op Flash Carbon Trekking Poles
REI Co-op designed these poles for fast-moving trips along challenging trails. Coming in at about USD 100, these poles are not cheap but offer some value for the money. The 100% carbon fiber poles are extremely lightweight. Also, they do a solid job of providing shock absorption and the power locks are known to be secure. Finally, there's no risk with REI's 100% satisfaction return policy. They provide a refund or replacement within one year of purchase

4. SWIX Nordic Walking Poles of Norway
Nordic pole walking is known to exercise about 80%  of your muscles. Anyone looking for poles to handle daily hikes will enjoy these SWIZ Nordic walking poles by the American Nordic Walking System.  They only come in one length though, so they're not going to be your travel poles. Finally, they come with a lifetime warranty. They're very popular with senior citizens, so you know they're good! Priced at about USD 80.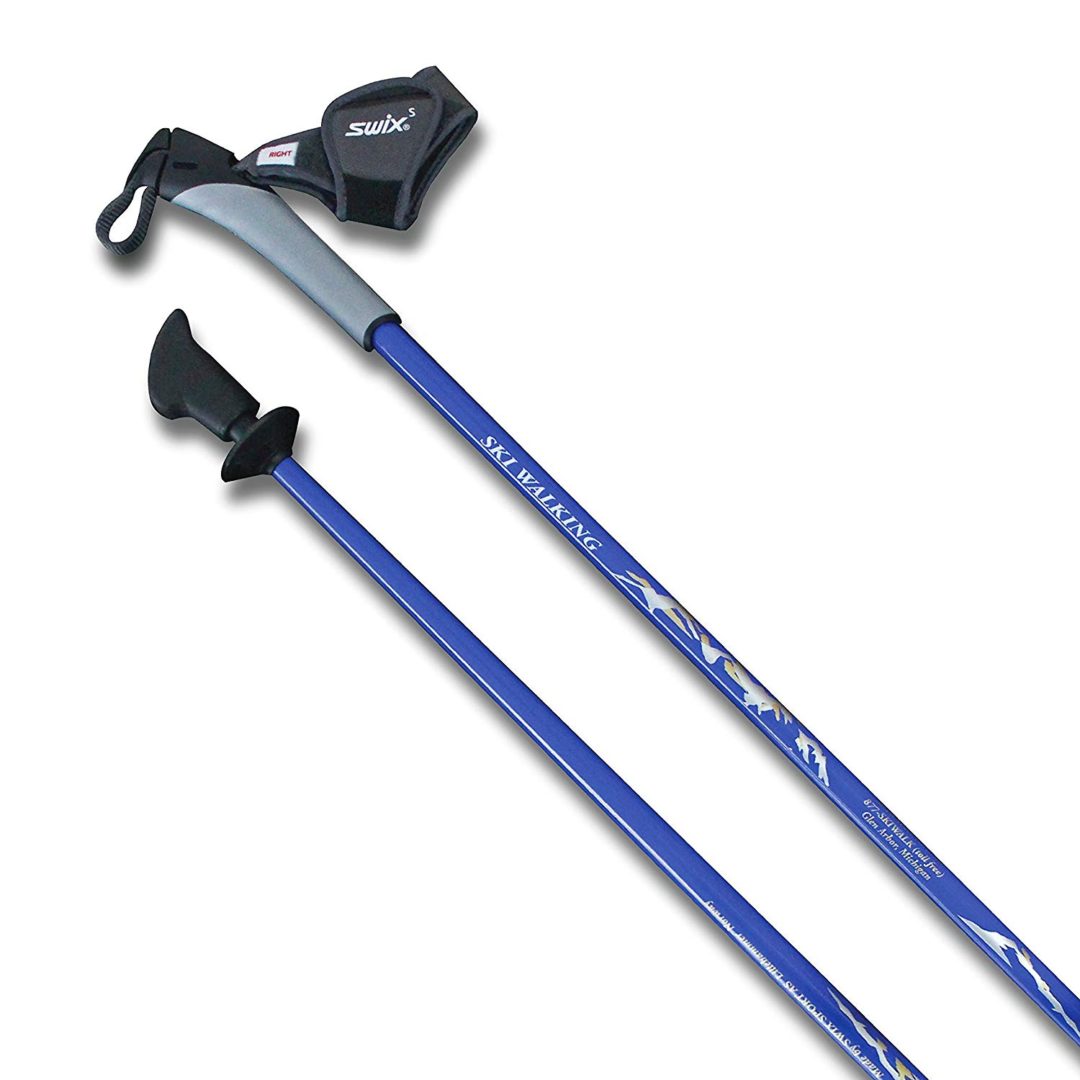 5. Foxelli Trekking Poles
At USD 60, these medium-priced poles have a bunch of great features for the price. The 100% carbon body weighs only 7 ounces. The anti-slip cork grips are comfortable and help to prevent sweaty hands.  These are all-terrain and are great in all conditions.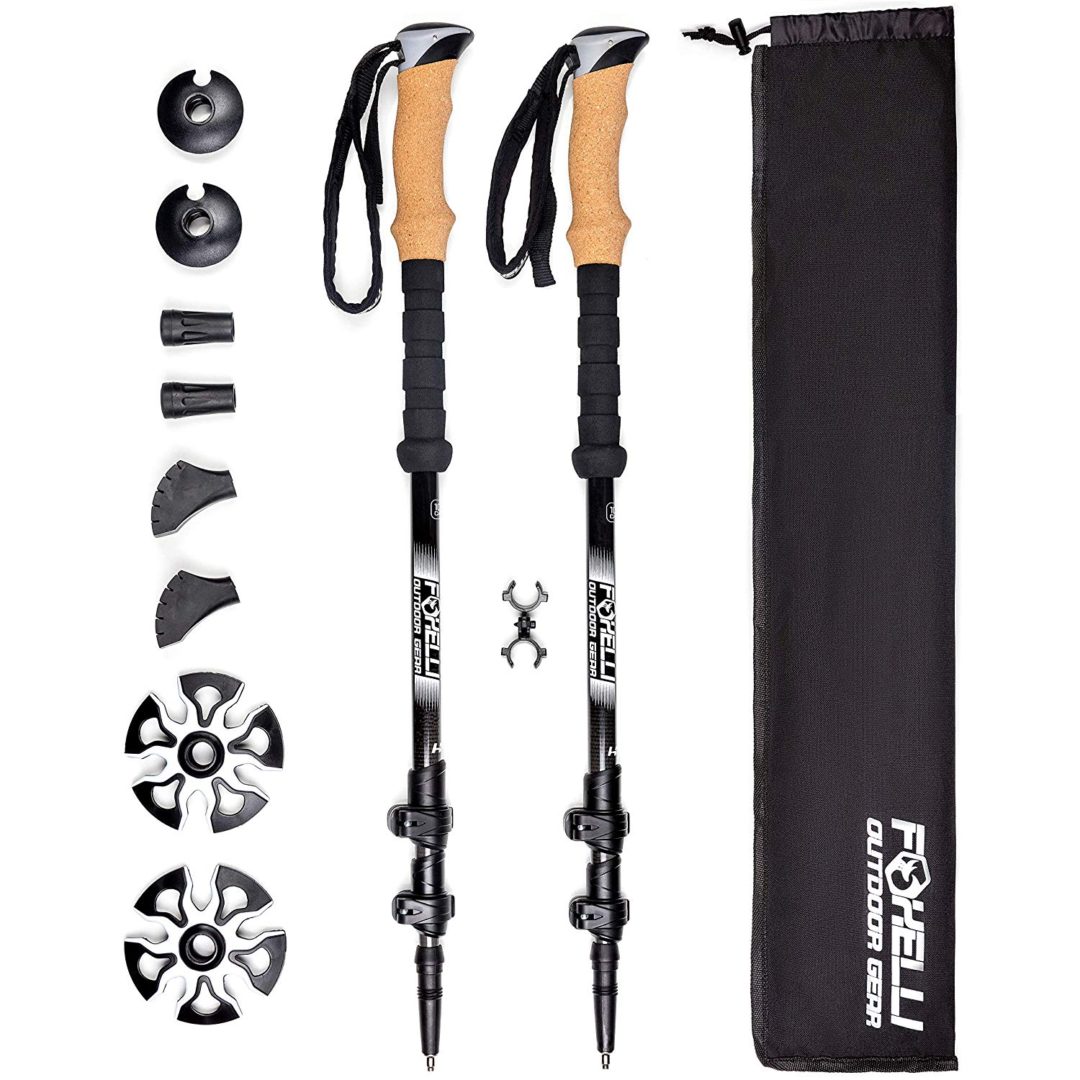 6. Sterling Endurance Short Person's Trekking Poles
The Sterling Endurance trekking poles are specifically designed for anyone from 4′ 6″ up to 5′ 3″ tall.  These aluminum alloy poles weigh 8.9 ounces and can be used for all conditions. They're priced at about USD 45 and come with a one-year warranty.
7. Trekology Trek-Z Trekking Hiking Poles for the Heavier Hiker
These poles are made from aircraft-grade 7075 aluminum and are suitable for heavier hikers. At 9.5 ounces, these poles were built to take a beating. Priced at about USD 40 these poles are versatile and compact. Finally, the cork-texture grip is a nice touch.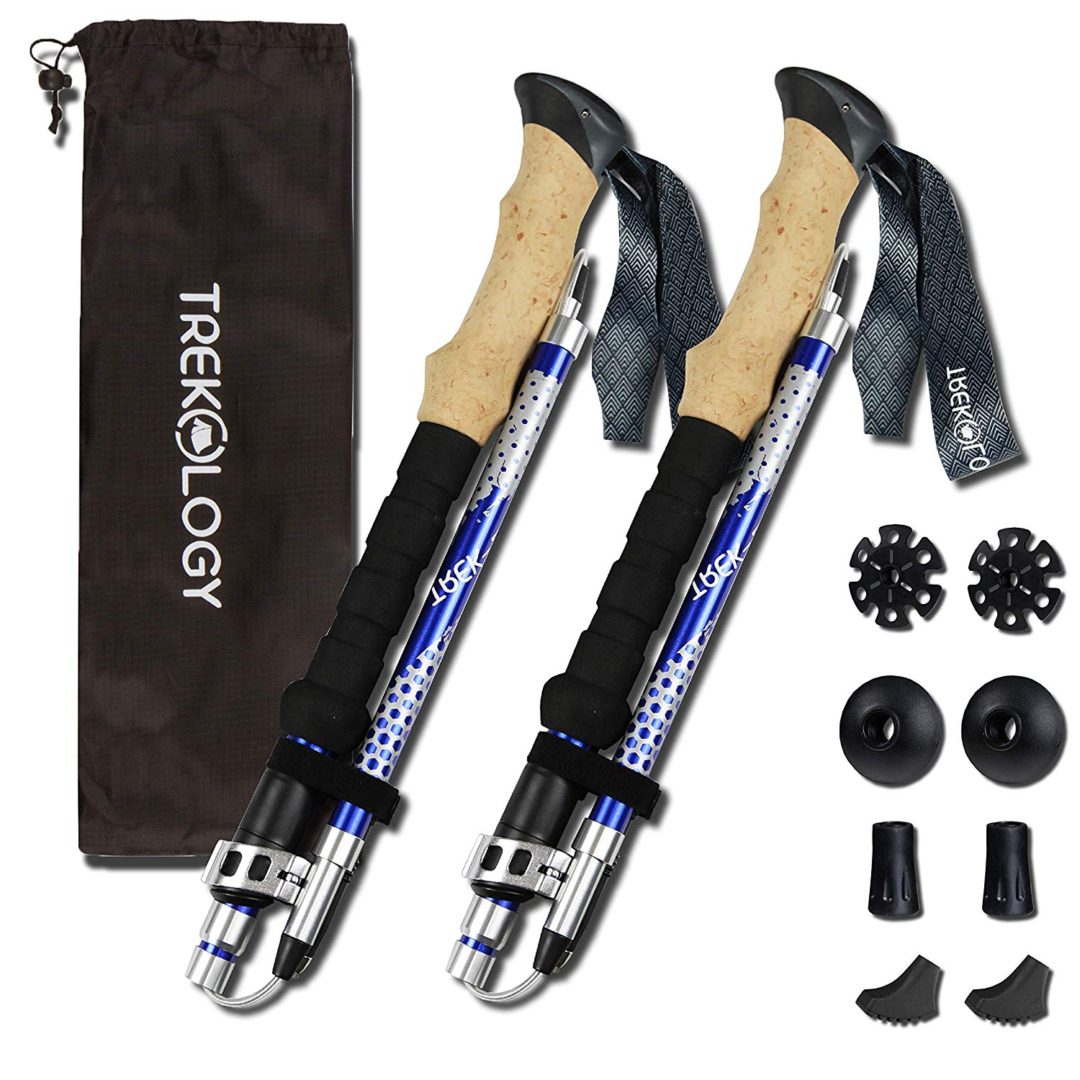 8. TrailBuddy Trekking Poles
The TrailBuddy trekking poles are made of aircraft-grade 7075 aluminum and come in eight colors. These poles have flip locks instead of twist locks which many users find appealing. At USD 37 these are some of the best-selling poles around.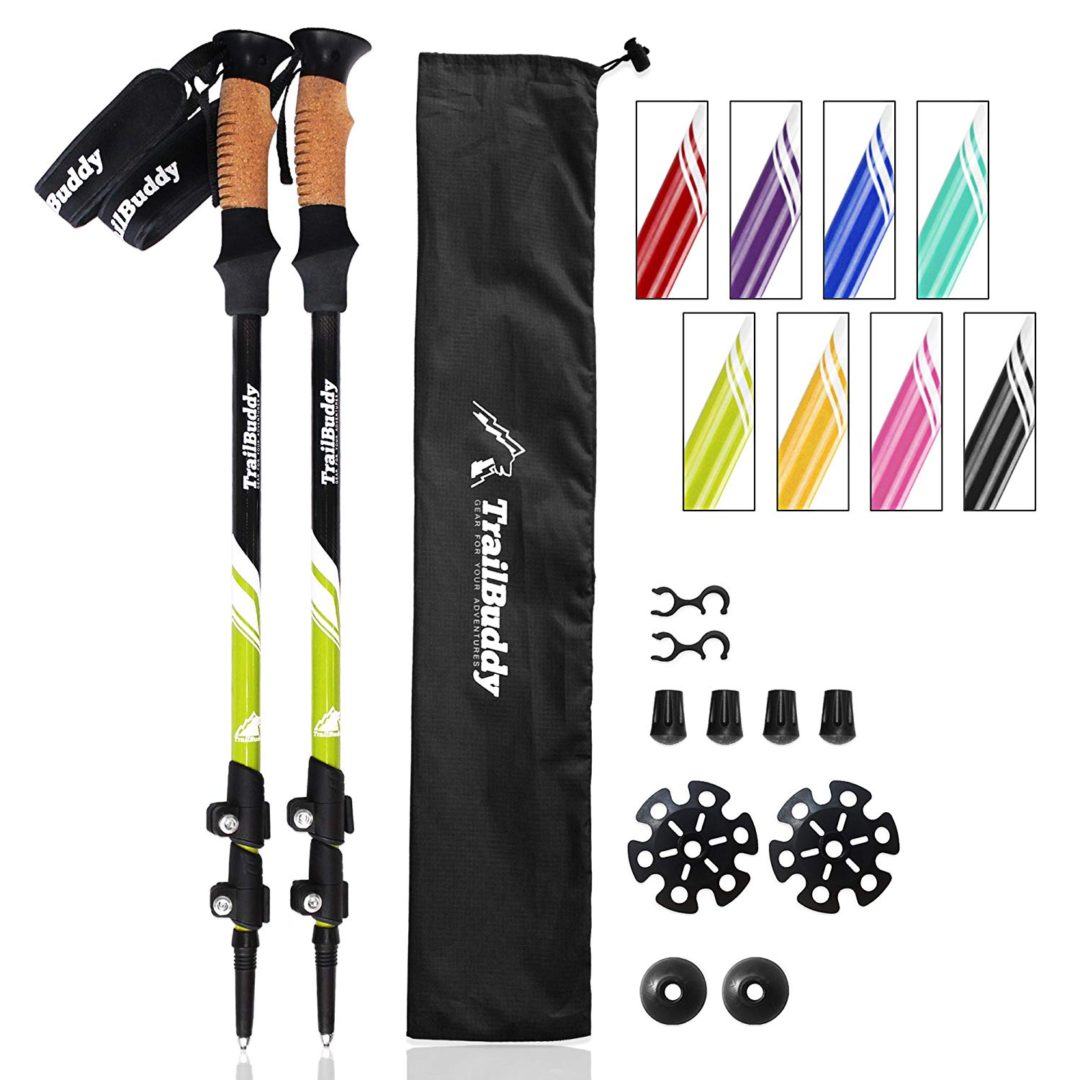 9. REDCAMP Aluminium Walking Poles
Listed on Amazon for about USD 16, these affordable walking poles are great for someone who wants to try out a set to see if they like them. They're also great to use on less challenging hikes, or for daily use.  They're made from 6061 aluminum, a heavier lower-quality aluminum. However, they'll probably be sufficient for the occasional hiker who isn't looking for something super heavy-duty, especially at this price point!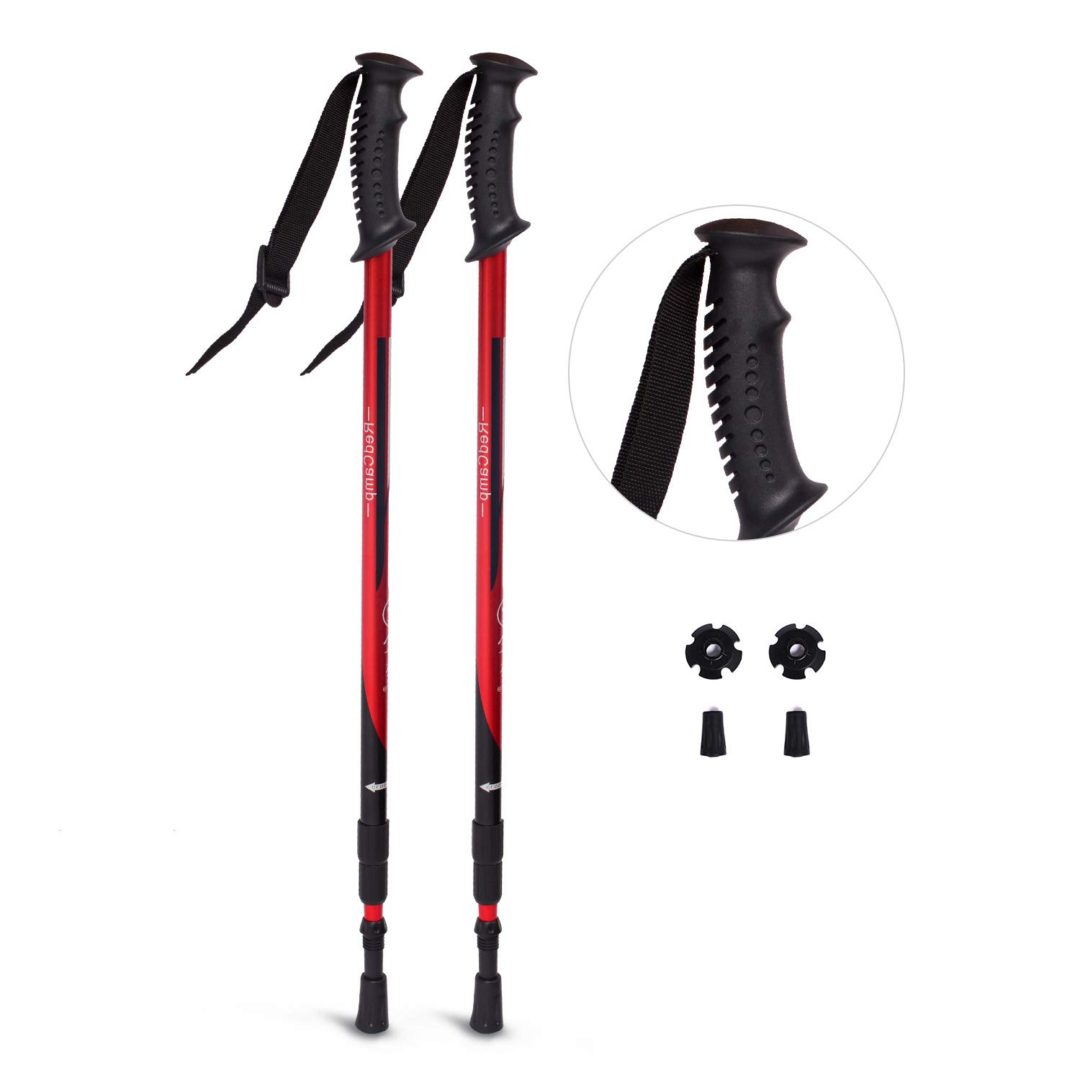 10. Black Diamond First Strike Youth Trekking Poles
Trekking poles are great for kids because they will help them from slipping and falling, reducing the likelihood of injury. These poles are designed for kids or short adults. They're light and collapsible so they can easily be packed.  With double FlickLock adjustability and comfortable rubber grips, these poles are a great value.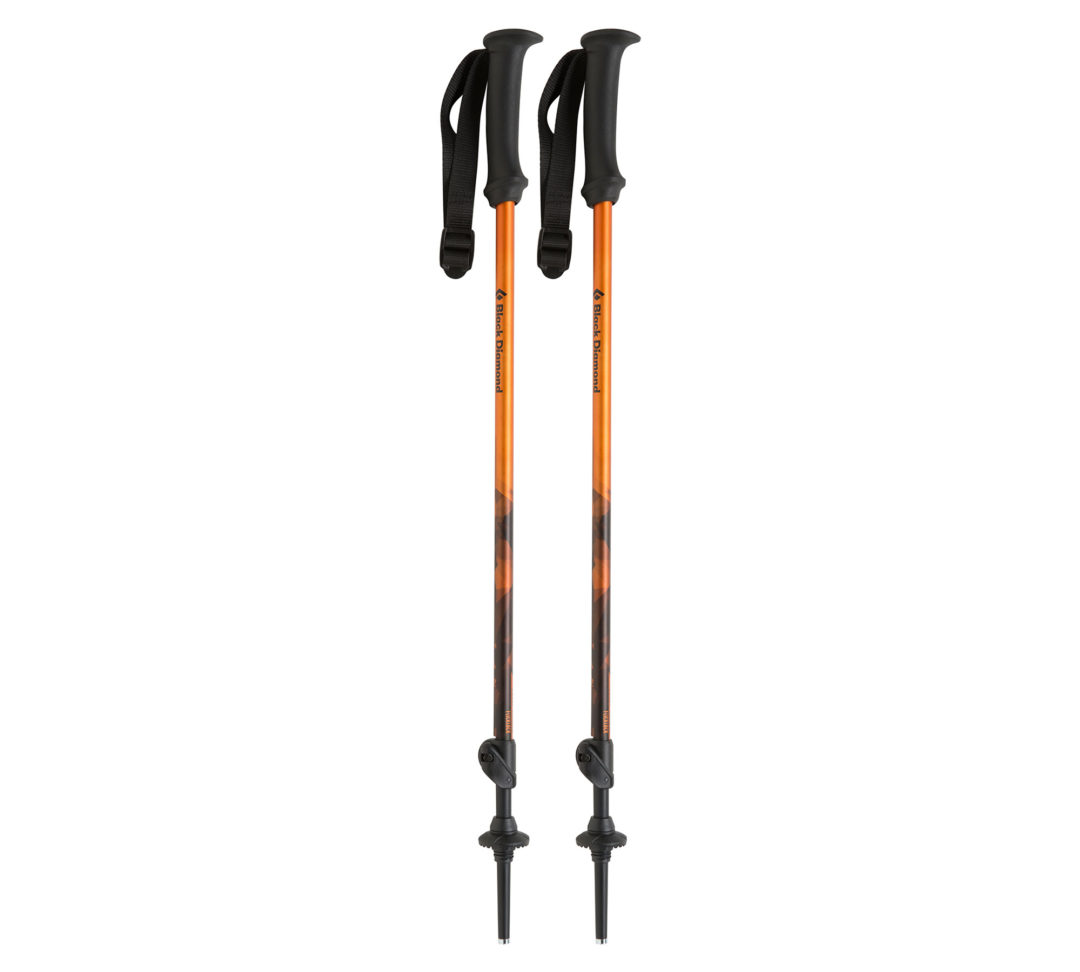 Finding the Right Poles for You!
There are three main elements of trekking poles to consider, they are the grips, material, and type of collapsibility.
Grips: Trekking pole grips are either rubber, foam, or cork. Rubber is durable and insulates hands from the cold, making it best suited for winter. Foam is light, soft, and comfortable to hold, but not as durable. It's good at absorbing shock but generally not as comfortable. Cork conforms to your hands and is great for hot weather. It wicks moisture away and dampens vibrations. More than the material, choosing grips should come down to what feels best in your hands. A good fit will help to avoid blisters and hot spots.
Material: Trekking poles are generally made from aluminum or carbon fiber. Occasionally, they're a combination of both. Aluminum poles are known to hold up well and are more durable. They are a little heavier and have a little more flexibility. Carbon is very light but has less flexibility. Under extreme conditions, the carbon fiber poles may shatter if they're bent too much.
Collapsibility: There are three types of trekking poles, they are one-piece (or fixed-length), folding, and telescoping. One-piece poles usually provide better support and stability and are lighter.  Folding trekking poles are tent pole-like and usually fixed-length. They have three sections connected by an inner cable that joins them with a quick pull and folds down quite a bit smaller than telescoping poles. They usually lock with push-button locks or slide locks. Telescoping poles consist of two or three sections that slide into one another and offer a wide range of adjustability. They usually lock with external lever locks or twist locks. Telescoping poles tend to be more durable and adjustable while folding poles are lighter and made for moving quickly.
Helping to Prevent Soreness and Injury
Finding the best trekking poles can be challenging and time-consuming, so hopefully, this honest review will help you. But it's all worth it, as trekking poles help to prevent soreness and injuries. If you've never tried using trekking poles, I'm going to go ahead and encourage you to give it a try. Your knees, hips, and joints will thank you for using trekking poles.
We Need Your Help
Did you find this article helpful? If so, bookmark it and when you're planning your next vacation click on any of the links below before finalizing reservations. You'll get the best price, we'll earn a small commission, and you'll help support future articles.
Thank you!
BEST TRAVEL SEARCH ENGINES
🏘️ Book Your Accommodation
We use Tripadvisor and Priceline's Express Deals to compare prices and reviews in advance and check availability
✈️ Book Your Flight in Advance
To find the cheapest flight options, you can use WayAway and Skyscanner to find the most suitable choice for you
🚗 Reserve Your Rental Car
Use DiscoverCars and Skyscanner to compare prices and view the largest selection of vehicles