Like us, you're probably looking for the best Christmas market in Europe. Last year, was the year that I decided I was in search of answering the question, "Where are you, Christmas?"
So with December 13th marking our ability to re-enter the European Union, we decided we would experience the holiday season in Budapest, home to one of Europe's most famous Christmas markets. Budapest is known for having one of the best, most traditional, most fun, and safest Christmas markets in all of Europe.
Best Christmas Market in Europe
In terms of holiday celebrations, Budapest did not disappoint. In fact, we agreed that we may have never seen so many sparkling lights blanket a city. What sets Budapest apart from many other European cities is that everything isn't concentrated in one central Old Town Square.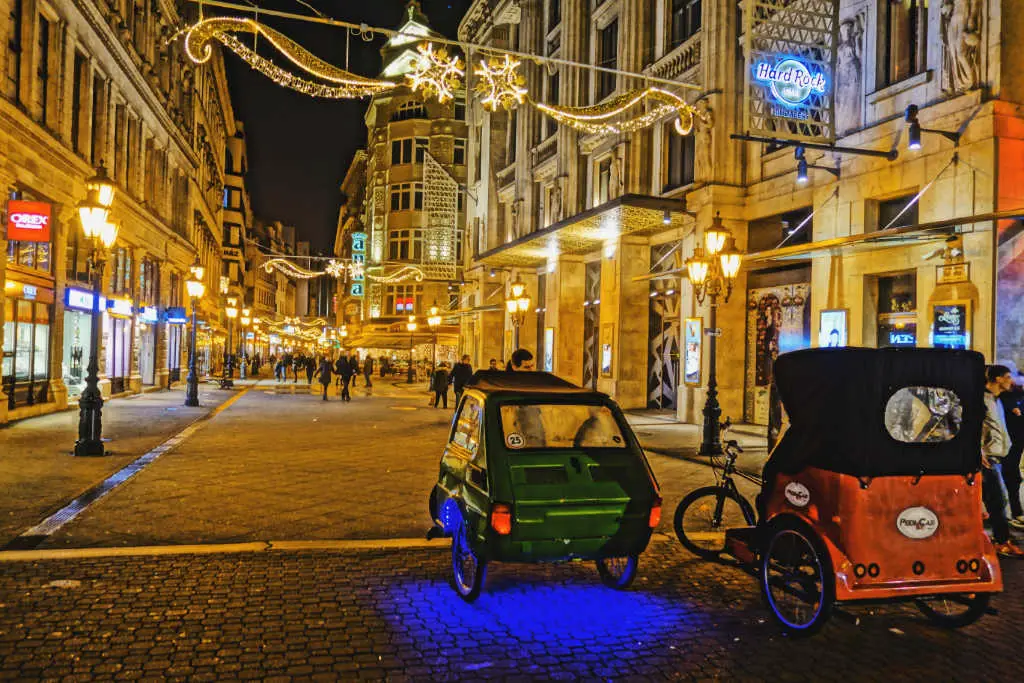 Therefore, it provides visitors with lots of little nooks and crannies throughout the city to explore. Take note travelers! If you are planning on experiencing Budapest for the Christmas markets, earlier is better! The city is shut down December 24-26, and again on January 1st. Although advertisements around the city stated the festival ran until January 6, by the time January 3 rolled around, much of the magic had already disappeared.
Here are the Top 10 best holiday photos to convince you that Budapest may be the best city in Europe to find the magic of Christmas.
1. Christmas Market
Wander the markets and take in the colors that bring a dull winter day to life. There are stands everywhere with a variety of goods for sale. Items range from handmade souvenirs, ornaments, and fashionable winter hats to edibles like marzipan chocolates and fine cheeses.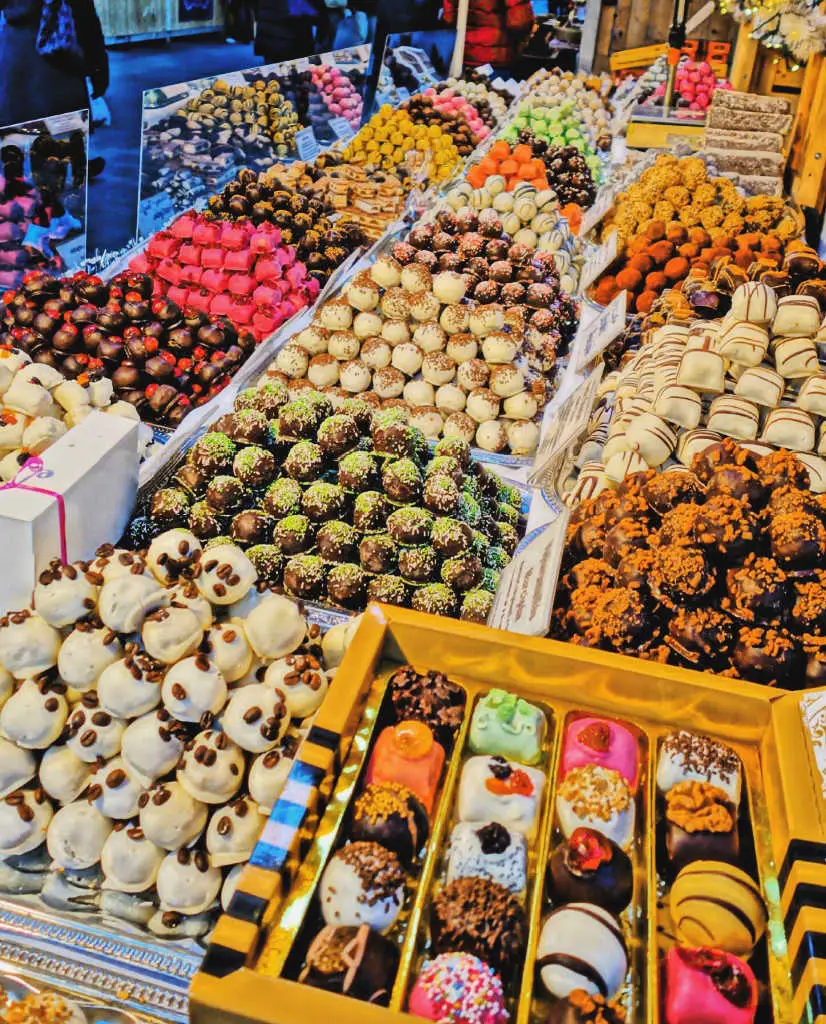 2. Fashion Street
Grab a hot, steaming cup of mulled wine and walk the brick-lined promenade of one of Budapest's high-end shopping districts. Gowns, high heel shoes, and enormous-sized presents hang above covered in white, twinkling lights. This is where visitors can (window?) shop as they dine on Hungarian street food like stuffed cabbage rolls, a bowl of goulash, or a pork sausage sandwich.
3.  Olympia Park
Along the Danube River, is a small park dedicated to the Olympians of Hungary. One of our favorite photos was Harry pretending to be a part of the Men's Hungarian Ice Skating Team. What a unique photo opportunity and a great way to promote the Winter Games!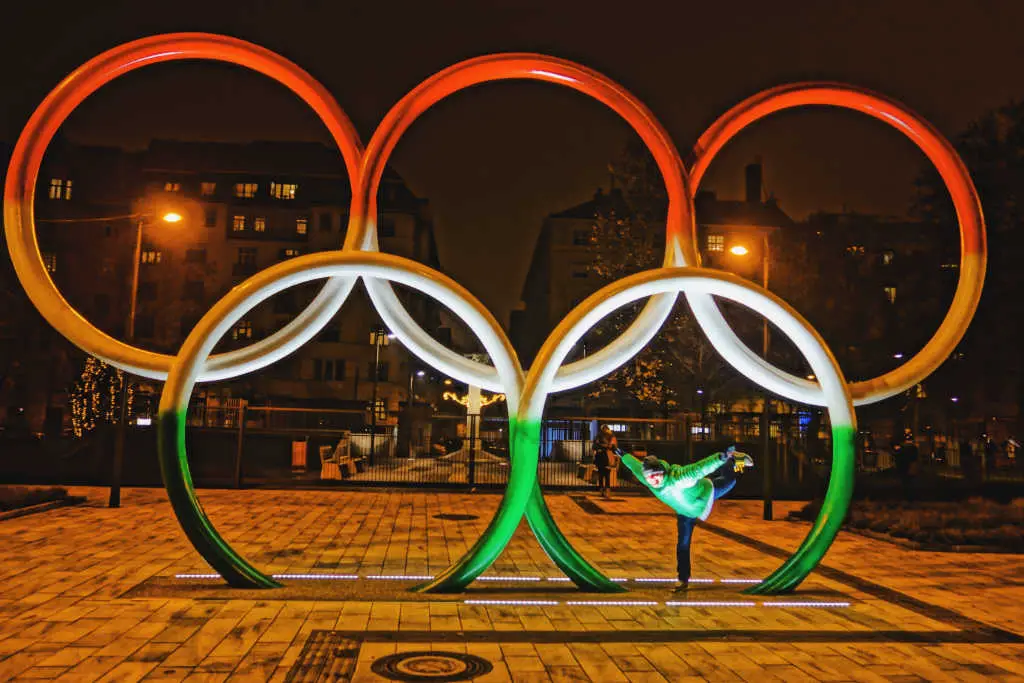 4.  St. Stephen's Basilica Square
We had a surprise when the lights dimmed in St. Stephen's Square and the musical story of The Nutcracker was projected on the facade of the basilica. Every 30 minutes onlookers can enjoy being surrounded by the beautiful sounds and lights of the famous ballet in vivid, colorful animation on the largest church in Budapest.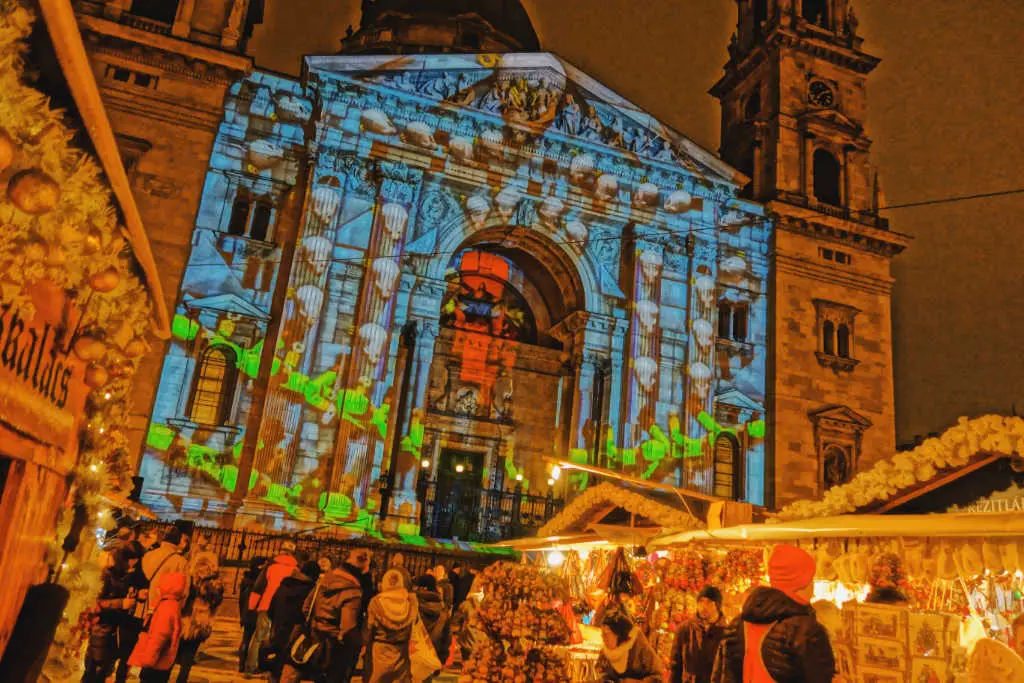 5.  Budapest Eye Ferris Wheel
With its neon blue hue, the Budapest Eye lights up the night and it's illuminating, the spinning wheel can be seen from all over the city. If a ride is a must, make sure you visit before the new year begins. The iconic wheel has been dim after the New Year celebrations ended.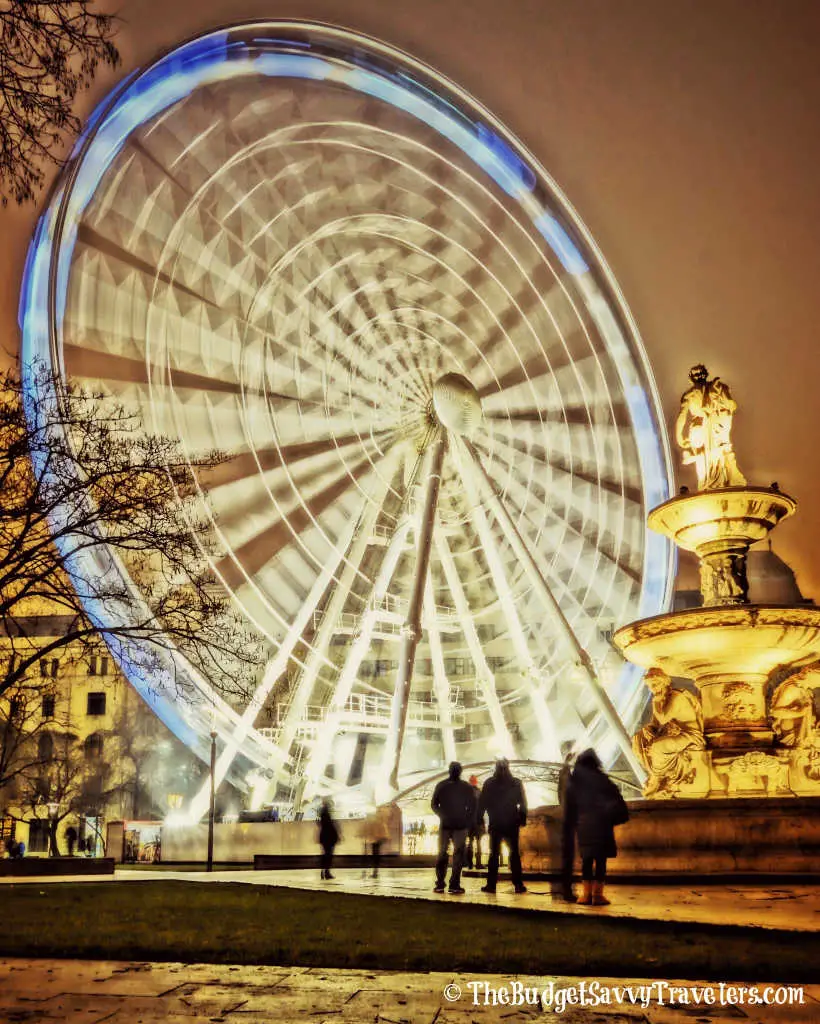 6.  Chimney Cake Stands
Just about every visitor you see strolling the Christmas market is walking around with a smoking chimney cake in their hand.  The combination of warm, freshly baked cake accented with your choice of cinnamon, cocoa, vanilla, or walnuts, is the perfect dessert to warm up cold hands. Our favorite way to "defrost" was to closely watch the baking masters brown the dough over the piping hot coals.
7.  Budapest Parliament Building
Truly one of the most impressive buildings in all of Europe. Visit the peaceful square adorned with a beautiful tree and a life-size nativity scene. Here's an insider photography tip! This is where the professional photographers set up their tripods to try and get the best photos of the lighted Christmas trams.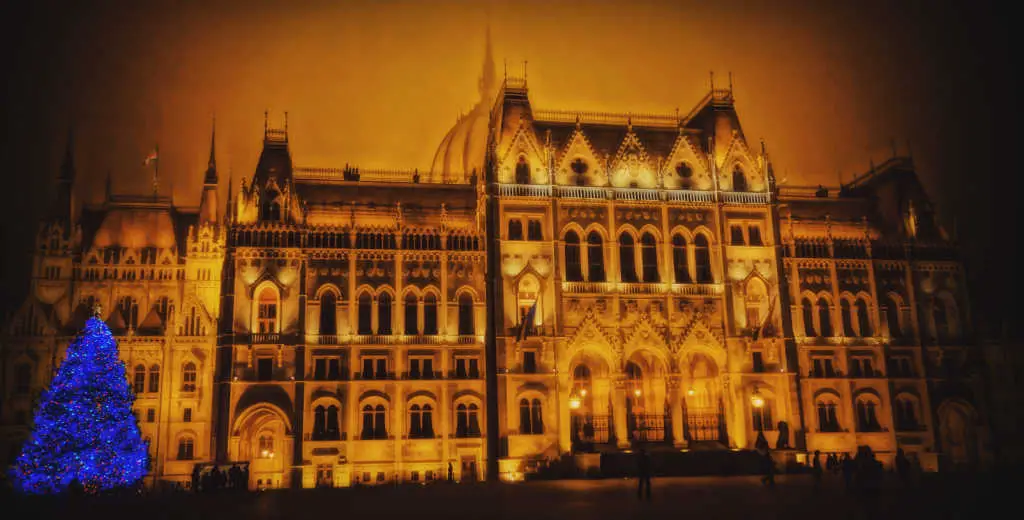 8. Hungarian State Opera House
A visit to the Hungarian State Opera House was a surprisingly inexpensive night out! For a total of only USD 12, we enjoyed listening to the sounds of Handel's Messiah in one of the finest opera houses in the world.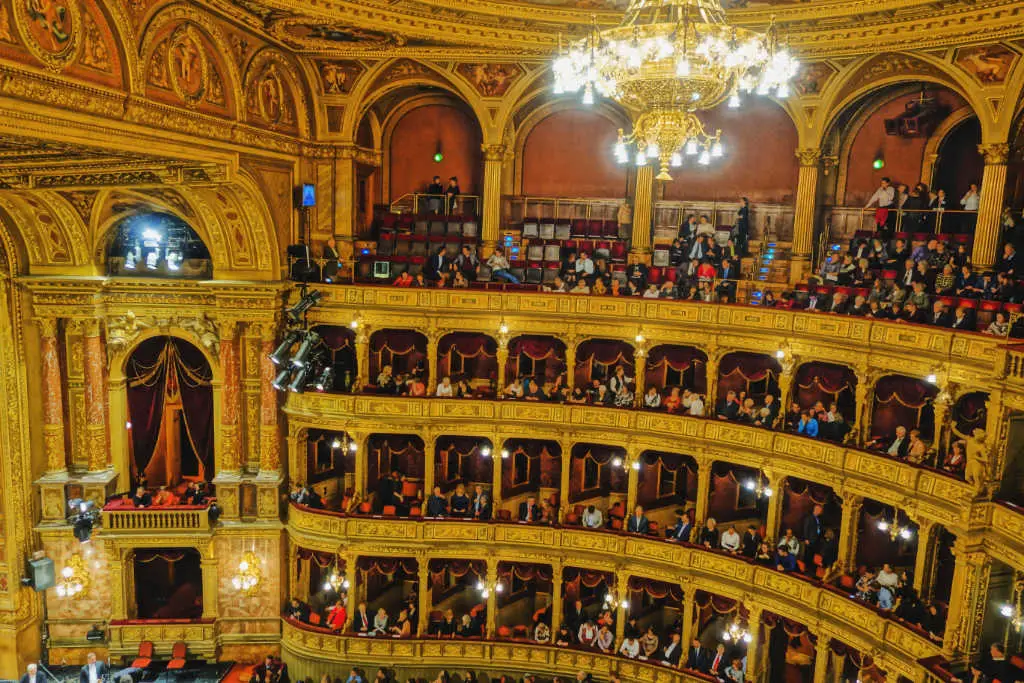 9.  St. Stephen's Basilica
With our toes pressed against the mini ice skating rink, we captured this magnificent photo of St. Stephen's Basilica.  Although it looks calm and serene from this angle, this is one of the busiest and most picturesque squares in Budapest. One of the highlights is watching the kids learn how to skate under this brightly lit Christmas tree.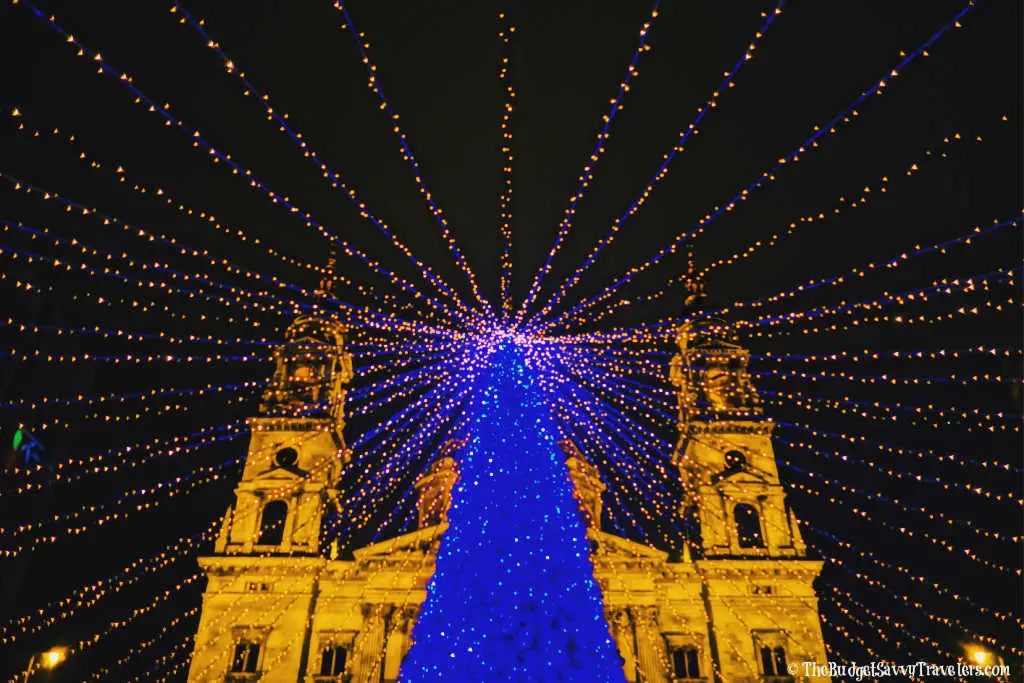 10. Budapest Christmas Tram
To us, chasing the elusive Christmas tram was the highlight of our time in Budapest. With only three trams in the city, each time one is spotted it's like a mini celebration occurs! People cheer, the driver wave, kids run after the tram, and everyone has their camera pointed hoping to get the shot.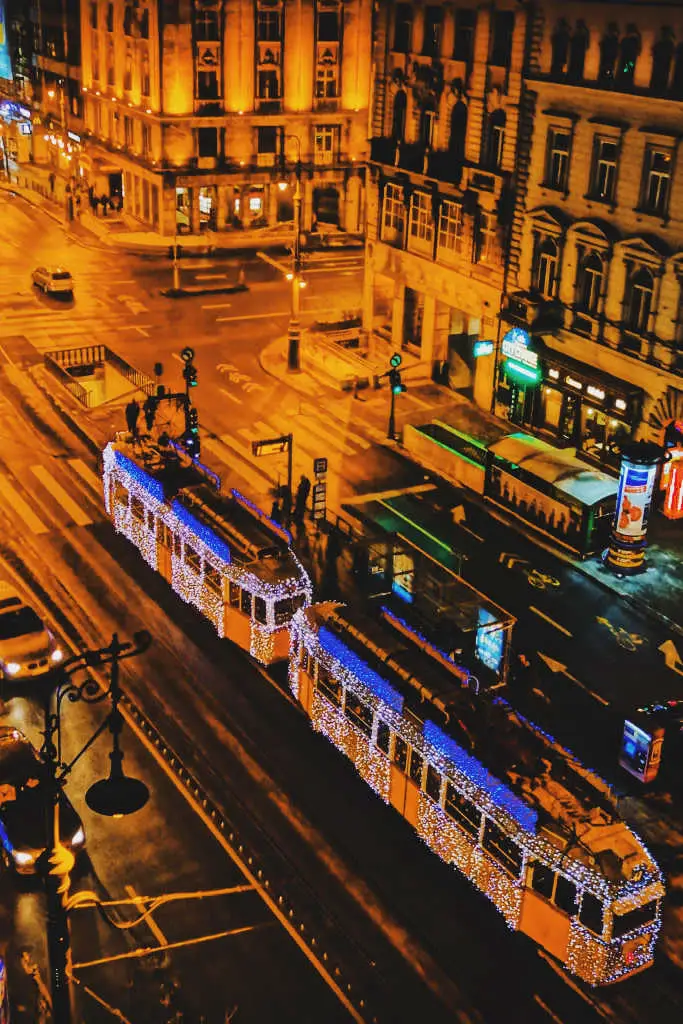 We'll always remember the night we captured the below photograph. It was two days after the Christmas trams were supposed to shut down for the season. Suddenly, out of our balcony window, it appeared just like magic! After many failed attempts, we finally got a treasured photo of the most memorable part of our time in Budapest.
Honorable Mention
11.   Budapest Outdoor Ice Skating Rink in the City Park
This is the largest outdoor ice skating rink in Europe. Where else can you skate to Christmas carols with a backdrop of a picturesque European castle?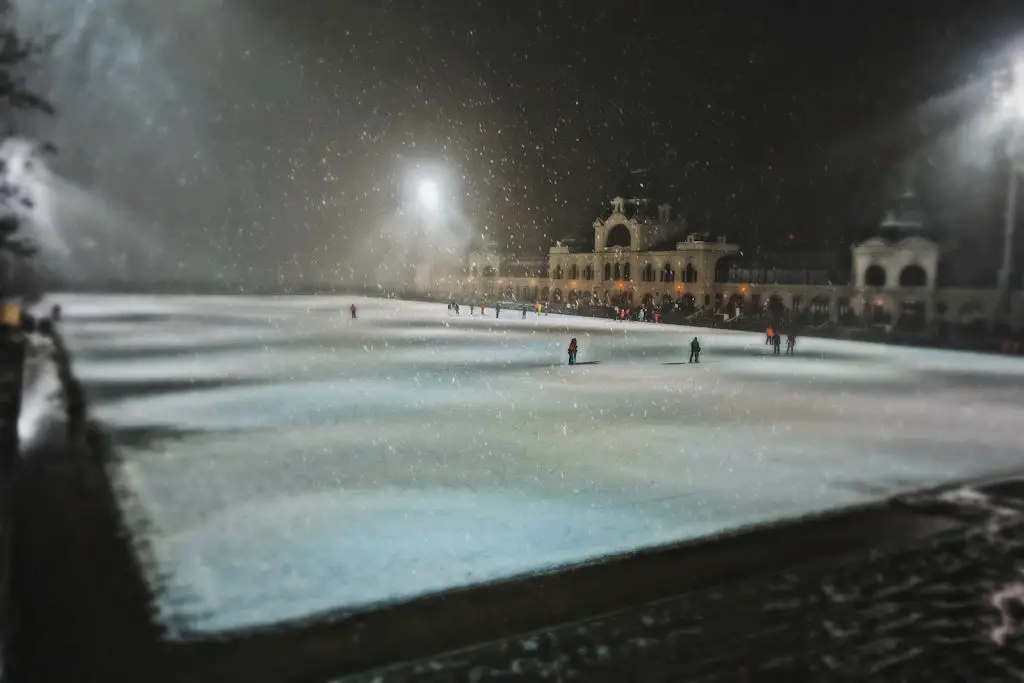 Thank you for the Christmas magic, Budapest!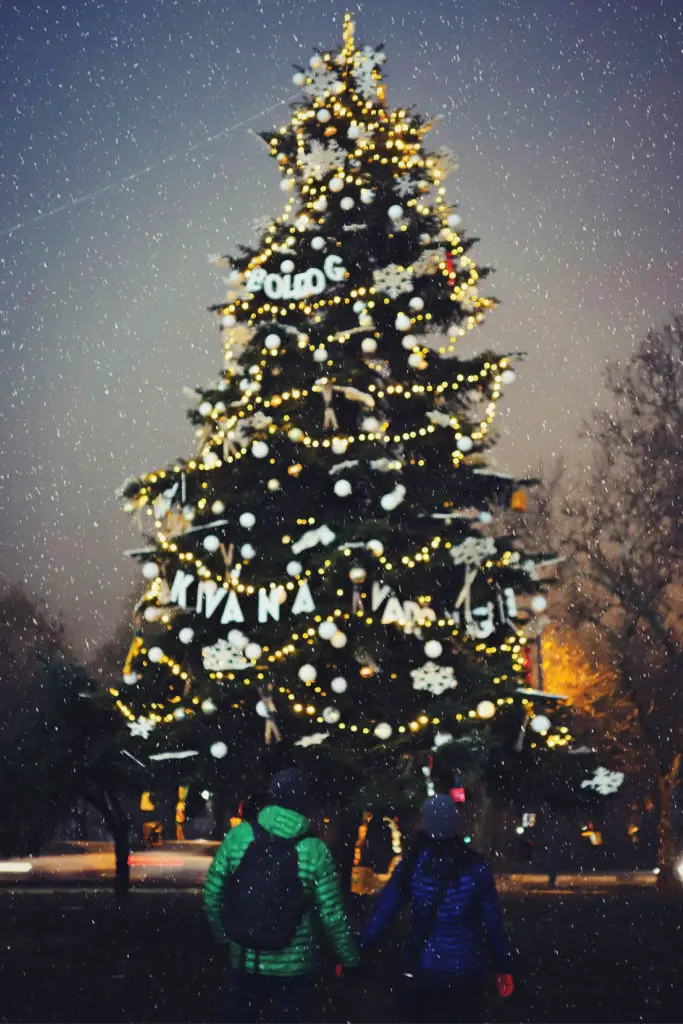 We Need Your Help
Did you find this article helpful? If so, bookmark it and when you're planning your next vacation click on any of the links below before finalizing reservations. You'll get the best price, we'll earn a small commission, and you'll help support future articles.
Thank you!
BEST TRAVEL SEARCH ENGINES
🏘️ Book Your Accommodation
We use Tripadvisor and Priceline's Express Deals to compare prices and reviews in advance and check availability
✈️ Book Your Flight in Advance
To find the cheapest flight options, you can use WayAway and Skyscanner to find the most suitable choice for you
🚗 Reserve Your Rental Car
Use DiscoverCars and Skyscanner to compare prices and view the largest selection of vehicles