If you're dreaming of visiting one of the many resorts with white sand beaches around the U.S. then you've come to the right place. Whether you're escaping the cold of winter or are looking forward to planning a summer beach vacation, the resorts below are positioned on the most epic stretches of white sandy beaches in the country. Seriously, stunning is an understatement.
With nearly 100,000 miles of diverse shoreline, the U.S. has almost every color beach imaginable. However, the number is significantly reduced when it comes to gorgeous white sand beaches abreast with resorts. While the vast majority of beaches are golden in color, the most brilliant are white, and there's only a handful of locations around the U.S. to find them. Moreover, these white sand beaches are not only the best in the country but also the world.
Resorts With White Sand Beaches in the USA
The standout resorts with white sand beaches featured below overlook the ocean. These also have amazing pools, access to tons of water-based activities, and of course, are basically right on the beach—making it easy to live the salt life. From family-friendly to budget-friendly to ultra-luxurious there's something on this list for everyone.
Also, if you're looking to plan a bachelor or bachelorette party or a wedding ceremony then all of these resorts are viable options.
Below are the seven resorts with white sand beaches for all budgets.
1. DoubleTree Beach Resort by Hilton – North Redington Beach
Overlooking the Gulf of Mexico, on Florida's west coast the DoubleTree Beach Resort sits on the shore of North Redington Beach midway between St. Pete Beach and Clearwater Beach. Tourists seek out this specific DoubleTree because of its epic location which features powdery soft white sand, gentle breezes, an outdoor pool, and private balconies overlooking the ocean.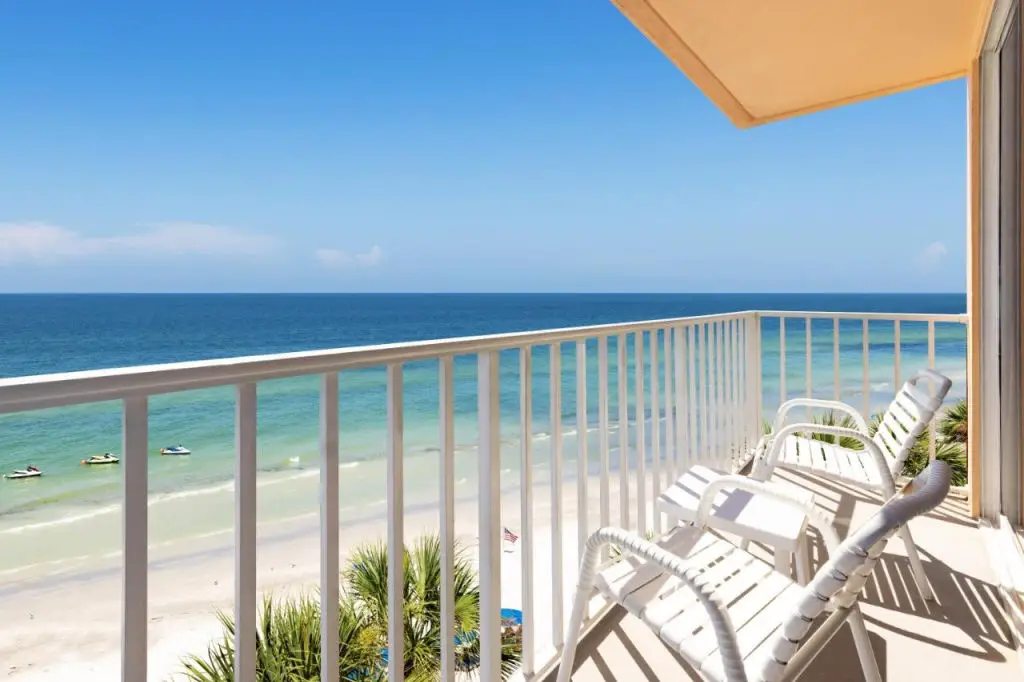 Along with calm waters that are great for swimming, there may be no better place to go fishing, windsurfing, or jet skiing in the country. To clarify, you're a lot less likely to get seasick in the Gulf as compared to the Atlantic and Pacific. Furthermore, the resort's Mangos Restaurant & Tiki Bar is a fantastic place to enjoy a sunset cocktail or to dine alfresco after a great day out on the water.
Two of the best excursions include a day trip to Busch Gardens Tampa Bay or spotting dolphins on a Little Toot Dolphin Adventure.
🌴🏨 DoubleTree Beach Resort by Hilton > Check Availability
2. Coronado Beach Resort – San Diego
Consistently voted as one of the best beaches in America, Coronado Beach, on Coronado Island is truly an exceptional place. Located just across the bay from downtown San Diego, Coronado Beach Resort is surrounded by old-world mansions, elegant gardens, quaint shops, tons of options for dining alfresco, the most gorgeous sunsets, and a dazzling white sand beach.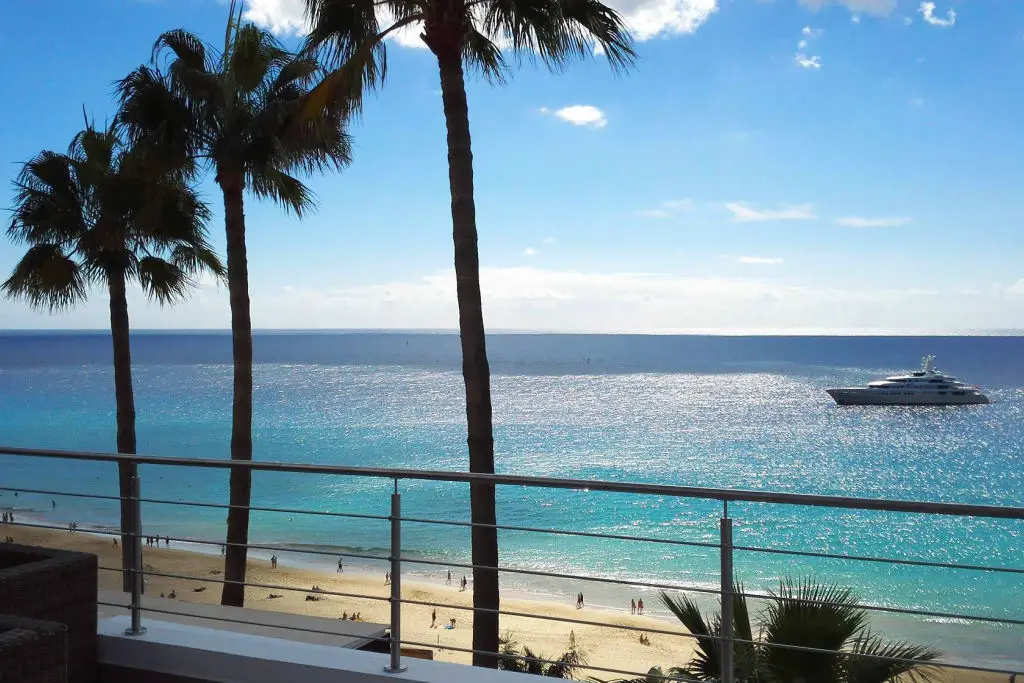 Guests enjoy taking the San Diego Hop On Hop Off Trolley Bus to tour the island and city by way of 11 stops, one of which is right near the resort. Furthermore, this island paradise is great for walks along the beachfront boardwalk, shopping at one-of-a-kind boutiques on Orange Avenue, and of course, water sports including swimming, sailing, kayaking, paddle-boarding, and volley-balling.
Here are two fun must-do excursions that every first-time visitor to Coronado has to do:
🌅🏨 Coronado Beach Resort > Check Availability
3. Four Seasons Resort Hualalai – The Big Island
Of the numerous Four Seasons Resorts in Hawaii, the Four Seasons Hualalai is the most extravagant. With rates starting at about $2,400 per night for a standard guest room, this ultraluxury resort on the Big Island is the mecca for anyone longing for serenity.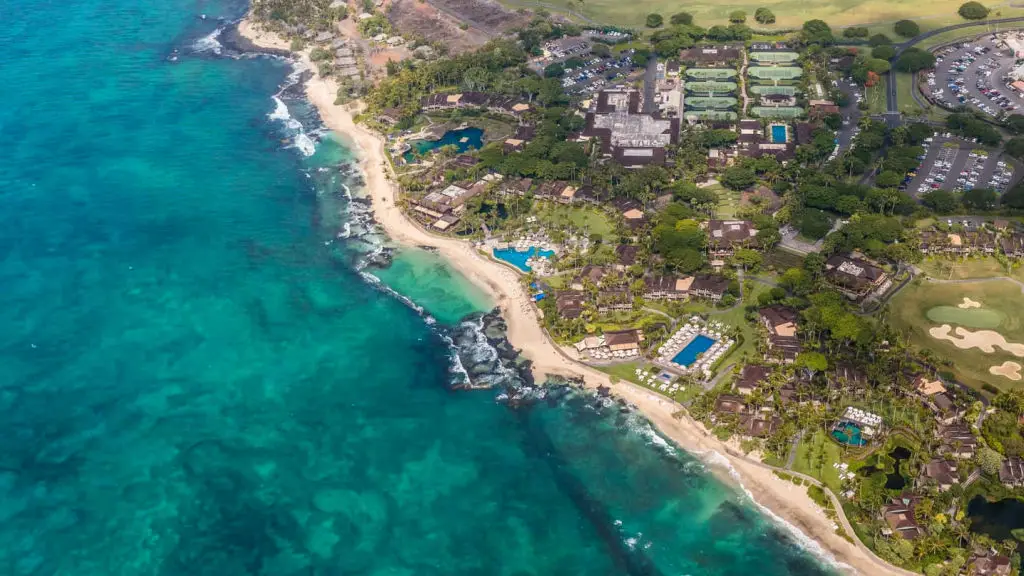 It doesn't get much more romantic than vacationing at Four Season Hualalai. Sitting on a remarkably peaceful and secluded property along the Kona-Kohala coast, the Four Seasons is surrounded by rugged yet incomparable beauty. Setting the stage for a harmonious stay, guests are treated to white sandy beaches, impressive black-lava stones, and landscapes that stimulate a passion for love.
One of the best ways to kick off an evening is with a sunset dinner cruise in Kealakekua Bay. Passengers relish spotting dolphins and other marine life while taking in the live entertainment aboard.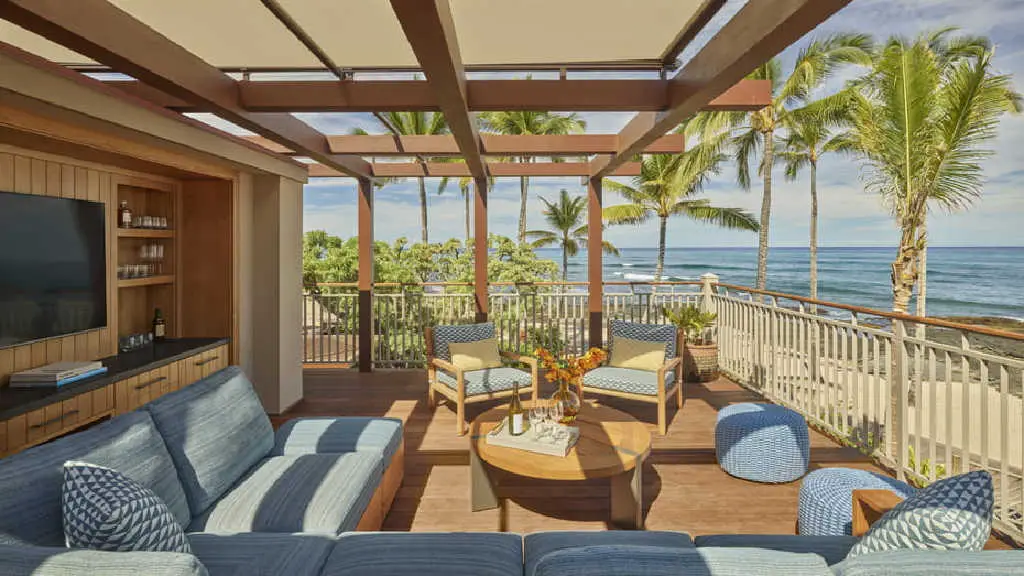 Most tourists to the Big Island stay along the northwest section of the island near Kailua-Kona. This part of the island is at least 100 miles from Mount Kilauea. As a result, this area poses little to no threat to tourists from this distance.
Remarkably, the volcano is so far away that many tourists end up taking helicopter tours of the volcano rather than driving the two-plus hours each way. Generally, the volcano becomes a problem when tourists find themselves yearning for an Instagram shot with molten lava. Nevertheless, if you're yearning for that red-hot shot it's best to go with a guide on an island tour.
🌊🌺 Four Season Hualalai > Check Availability
4. Club Wyndham SeaWatch Resort – Myrtle Beach
Whereas the Four Season Hualalai is one of the most expensive places to vacation, Myrtle Beach, on the other hand, is one of the most affordable destinations for resorts with white sand beaches. Moreover, the Club Wyndham SeaWatch Resort is one of the best budget-savvy accommodations on the beach on this list.
Featuring spacious one, two, three, and four-bedroom suites and ideally located just a few steps from the Atlantic Ocean, Club Wyndham SeaWatch Resort is a serene escape with all the creature comforts.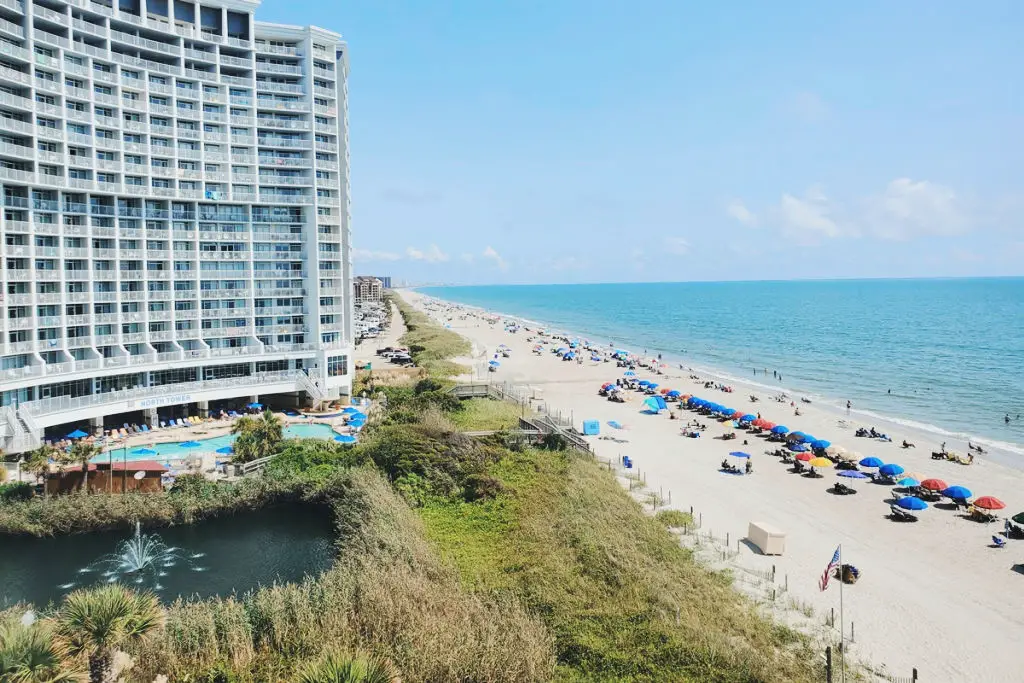 Ideally located only steps away from the sparkling waters of the Atlantic Ocean in Myrtle Beach, South Carolina, this resort property is a tranquil oasis equipped with all the comforts of home including a full kitchen. Furthermore, the pool scene is pretty epic with a large swimming pool overlooking the ocean and a lazy river. Finally, guests looking to take in the strip and restaurant row will find themselves within a short drive to both.
Probably one of the funniest excursions in Myrtle Beach is the Polynesian Fire Luau and Dinner Show performed by Samoan natives. Fire knife dancing, acrobatics, live music, and a massive buffet are included in the package. While visitors looking to take in the great outdoors will enjoy the Waccamaw River Nature and Wildlife Boat Tour, with opportunities to see exotic birds and alligators.
🏖️😎 Club Wyndham SeaWatch Resort > Check Availability
5. Perdido Beach Resort – Orange Beach
Orange Beach is nestled along the Alabama-Florida state line. The combination of freshwater lakes and the Gulf of Mexico make for a unique ecosystem. This natural environment is inundated with wildlife, such as exotic birds, and wonderful nature trails. As a result, the atmosphere here feels considerably more serene, with fewer crowds, than in the neighboring Florida communities.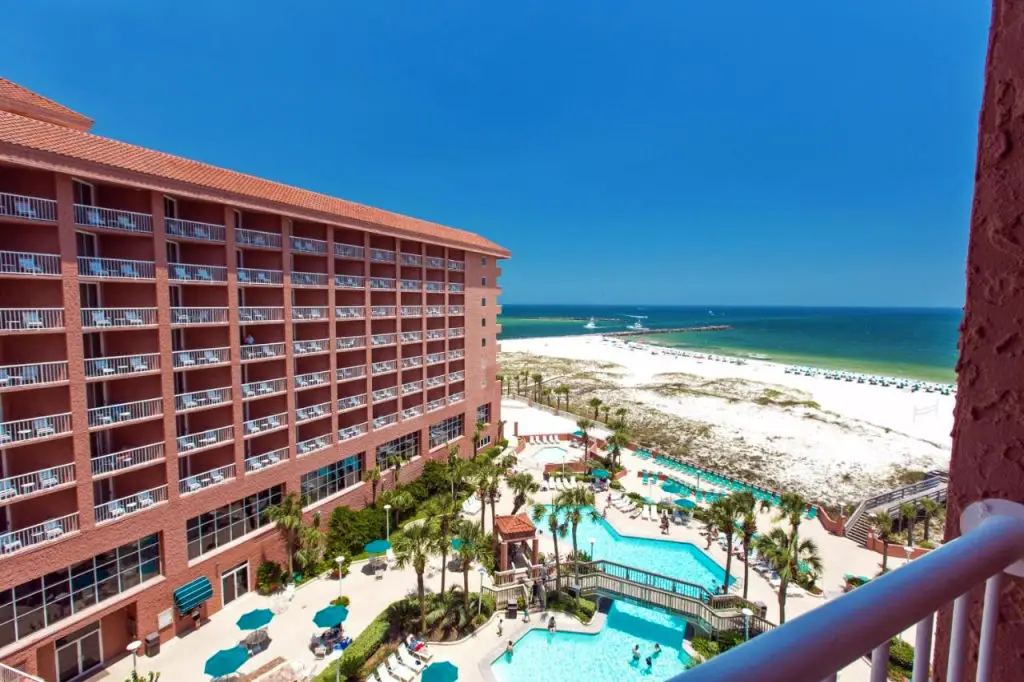 While there are tons of vacation rentals on Orange Beach, if you're looking for resort life, look no further than Perdido Beach Resort. As the only full-service hotel on the Alabama coast, Perdido has it all including indoor and outdoor pools, four restaurants, three bars, and easy access to water sports. Finally, an Alabama Gulf Coast Dolphin Cruise is the perfect way to get out on the water and visit dolphin hotspots.
🍹🐠 Perdido Beach Resort > Check Availability
6. Mauna Kea Beach Hotel – The Big Island
Kauna'oa Bay on The Big Island's Kohala Coast is a dream-like setting with the Mauna Kea Beach Hotel situated on an unbelievable stretch of white sand beach. Guests are treated to spacious accommodations that are both serene and sophisticated. Luxurious amenities include five-star dining options, a spa, a championship golf course, cultural endeavors, and plenty of beach and watersport activities.
Travelers short on time will appreciate taking the Big Island in a Day Tour which includes volcanoes, waterfalls, sightseeing, and the history of the island. While those visitors looking for some water-based fun should try out the 4-hour Ocean Kayak Tour—it's possible to see over 50 species of fish and Hawaiian Spinner dolphins, go snorkeling, and even cliff jump!
🍉🌞 Mauna Kea Beach Hotel > Check Availability
7. The Palms Hotel & Spa – Miami
Every Miami hotel offers its own experience and The Palms Hotel and Spa is no exception. This oceanfront property is the perfect tropical escape, known for its AVEDA spa treatments and beachfront fun. The Palms combines the Miami cityscape with Atlantic Ocean views for holidays focused on wellness, relaxation, and fresh local cuisine. This independently-owned hotel is also an excellent option for honeymoons, anniversaries, and weddings.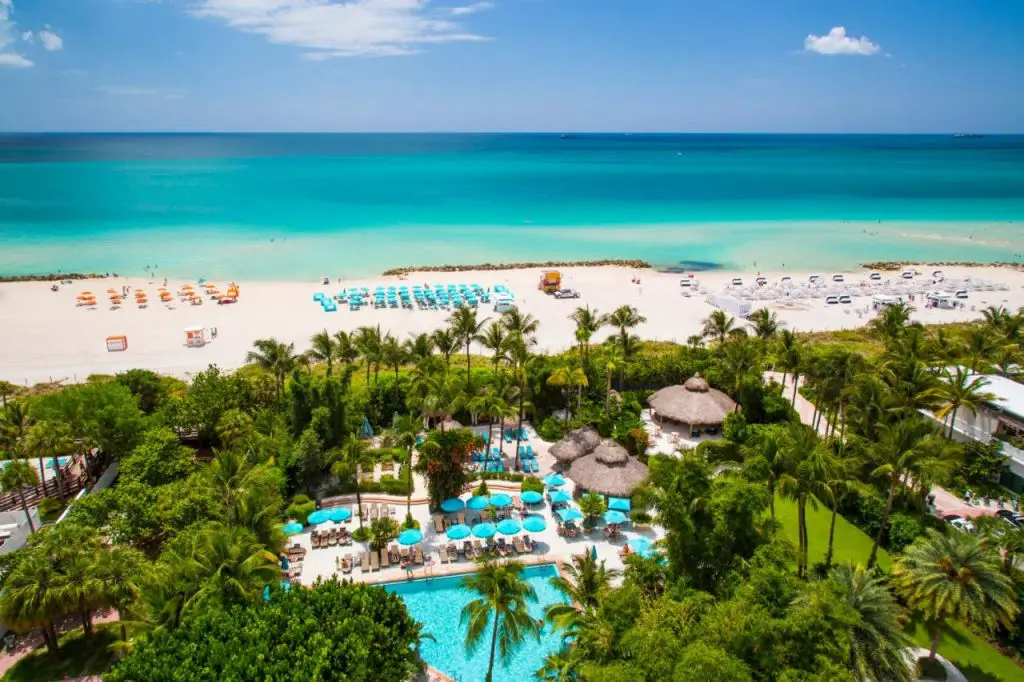 Things can get wild in Miami. Therefore, it can be fun to get out of one's comfort zone and try out some exciting excursions. Try out the Exotic Indoor Firearm Experience where you can shoot everything from a .50 caliber to an automated machine gun. Or, if you have the need for speed take a Thrilling Speedboat Adventure to see the bay, skyline, and private islands.
👙🦩 The Palms Hotel & Spa > Check Availability
We Need Your Help
Did you find this article helpful? If so, bookmark it and when you're planning your next vacation click on any of the links below before finalizing reservations. You'll get the best price, we'll earn a small commission, and you'll help support future articles.
Thank you!
BEST TRAVEL SEARCH ENGINES
🏘️ Book Your Accommodation
We use Tripadvisor and Priceline's Express Deals to compare prices and reviews in advance and check availability
✈️ Book Your Flight in Advance
To find the cheapest flight options, you can use WayAway and Skyscanner to find the most suitable choice for you
🚗 Reserve Your Rental Car
Use DiscoverCars and Skyscanner to compare prices and view the largest selection of vehicles