For the first time in nearly 40 years, the Formula 1 Grand Prix will be held in Las Vegas. Taking place in November 2023, this highly anticipated race will consist of 20 of the world's best drivers zooming around a 3.8-mile circuit with top speeds expected to exceed 200 mph—much of the competition will take place on Las Vegas Blvd!
Passing by Vegas' most popular landmarks including the Sphere, Mirage's volcano, Bellagio's fountains, and New York-New York, the circuit may just be the most epic in Formula 1 history. Nevertheless, to gain a true understanding of the complexity and magnetism of the course a helicopter ride over the course is a must—trying to walk the route simply won't do.
The prices for each flight are below and are per person. Click on the link to find out more details about each custom flight.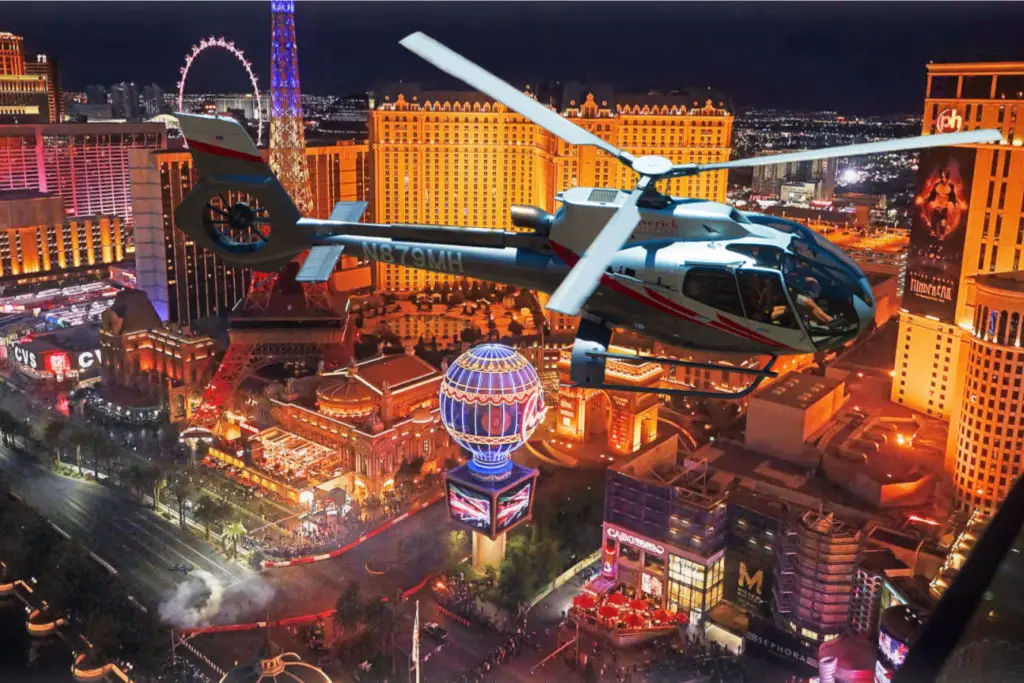 There's little doubt that a helicopter tour is the perfect way to complement a once-in-a-lifetime Grand Prix trip to the "Entertainment Capital of the World." Not only do these flights get you from point A to B faster than any other method, but they also provide unparalleled viewpoints—it's the coolest way to travel!
3 Best Las Vegas Grand Prix Helicopter Tours To Go On
For diehard fans, going on one of the three best Las Vegas Grand Prix helicopter tours below is a must-do activity. Not only will passengers gain a better appreciation of the track but they'll also get a bird's eye view of the start/finish line, the grandstands, the pits, and every twist and turn along the way.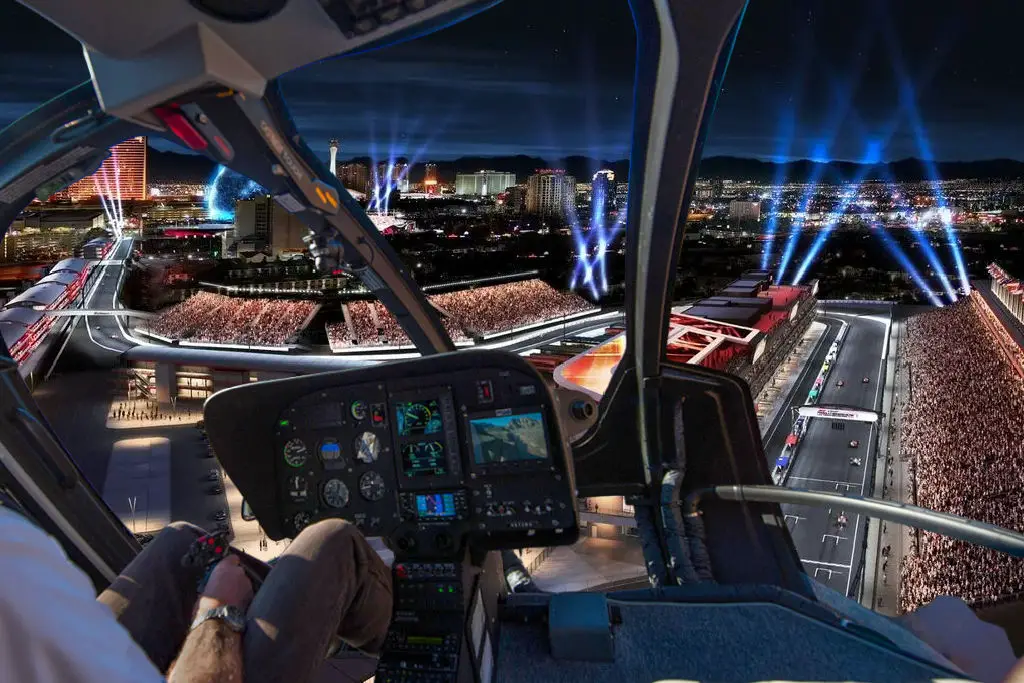 While tickets to the event are basically sold out, along with many of the hotel rooms (however, there are still some discounted rooms available), there are still plenty of seats available for helicopter tours, although they're certain to also sell out fast as we get closer to race day.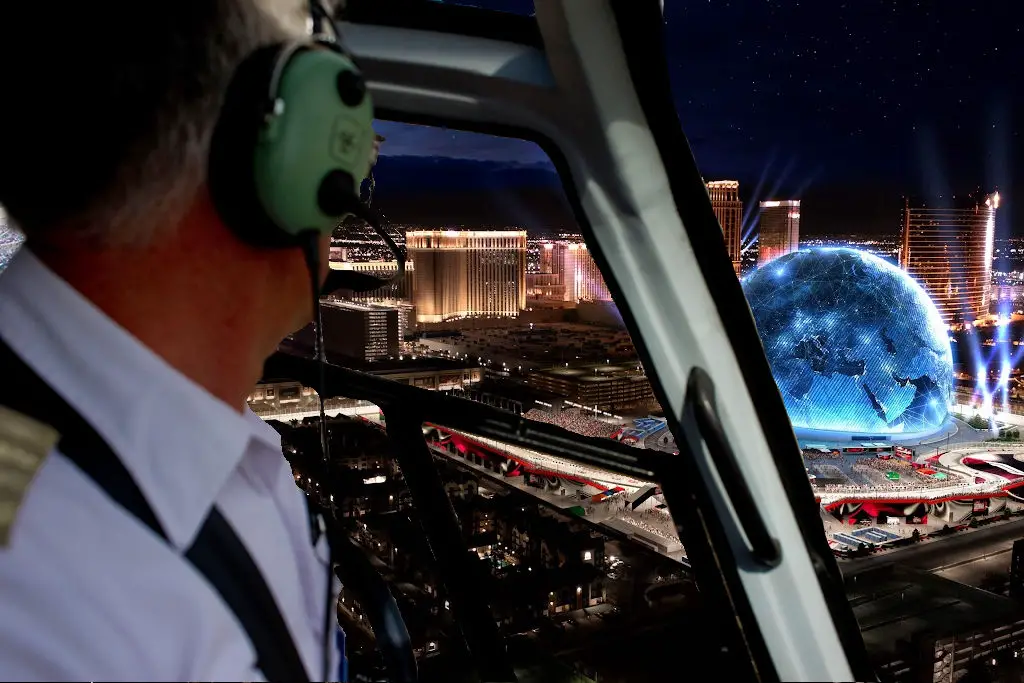 For this reason, if you're considering taking a helicopter tour during the event, from November 16-18, you should reserve your seat as soon as possible, as these time slots will definitely sell out. Also, with a 72-hour cancellation notice policy there's no harm in booking early, so do so.
Below are the three best Las Vegas Grand Prix helicopter tours to go on—all rides take place on a luxurious EC130 chopper.
 1. Vegas Victory Lap 🚁
This $199 budget-savvy flight is both quick and scenic. Passengers board at Maverick's luxury helicopter terminal just south of Mandalay Bay on Las Vegas Blvd.
Once in the air, riders are treated to dramatic views of the Las Vegas Strip and the Formula 1 Heineken Silver Las Vegas Grand Prix circuit, including all 17 turns, the grandstands, pits, and all of Sin City's famous landmarks including the Sphere.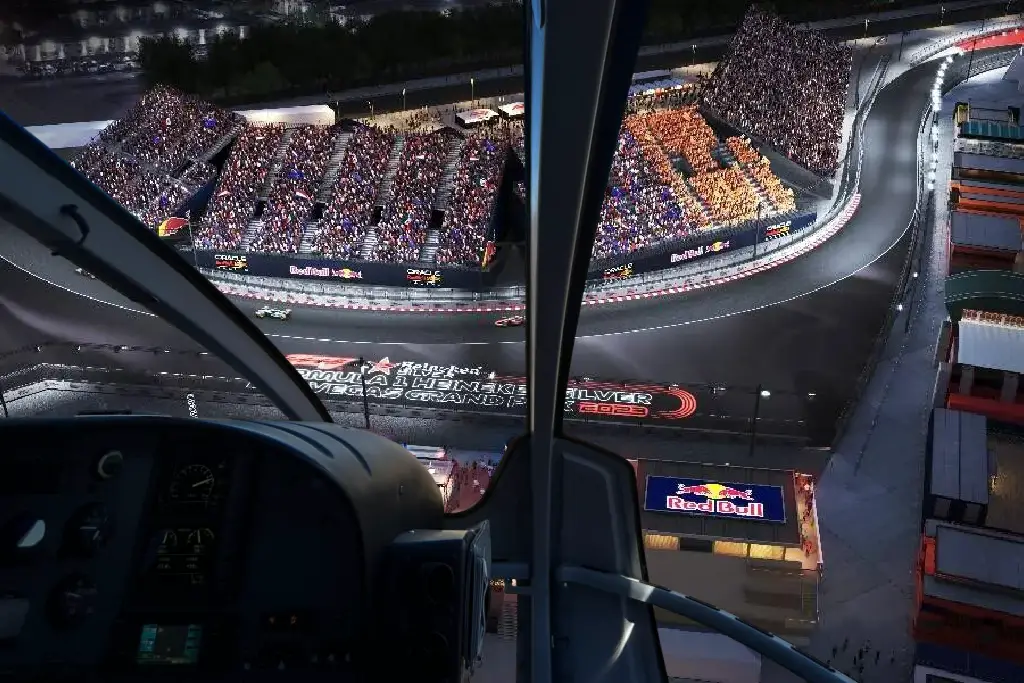 As a bonus, passengers are then flown to downtown Las Vegas to view the Fremont Street Experience and Old Vegas' most classic casino hotels like Golden Nugget and Binion's. From there, the pilot will fly back towards the terminal passing by the STRAT, and down the circuit's longest straight from Treasure Island down to the Cosmopolitan—this is where racers will be going the fastest, 200+ mph!
🏎️🏁🏆 Vegas Victory Lap Flight  > Check Availability
2. Grand Prix Experience 🚁
It doesn't get much better than flying over both the Strip and the Grand Canyon, where passengers land 3,500 below the rim, aboard the Grand Prix Experience. Depart from Maverick's terminal on Las Vegas Blvd and fly over Lake Las Vegas, Hoover Dam, and Fortification Hill. From there passengers will navigate through the Grand Canyon before landing near the Colorado River, 3,500 below the rim. 😲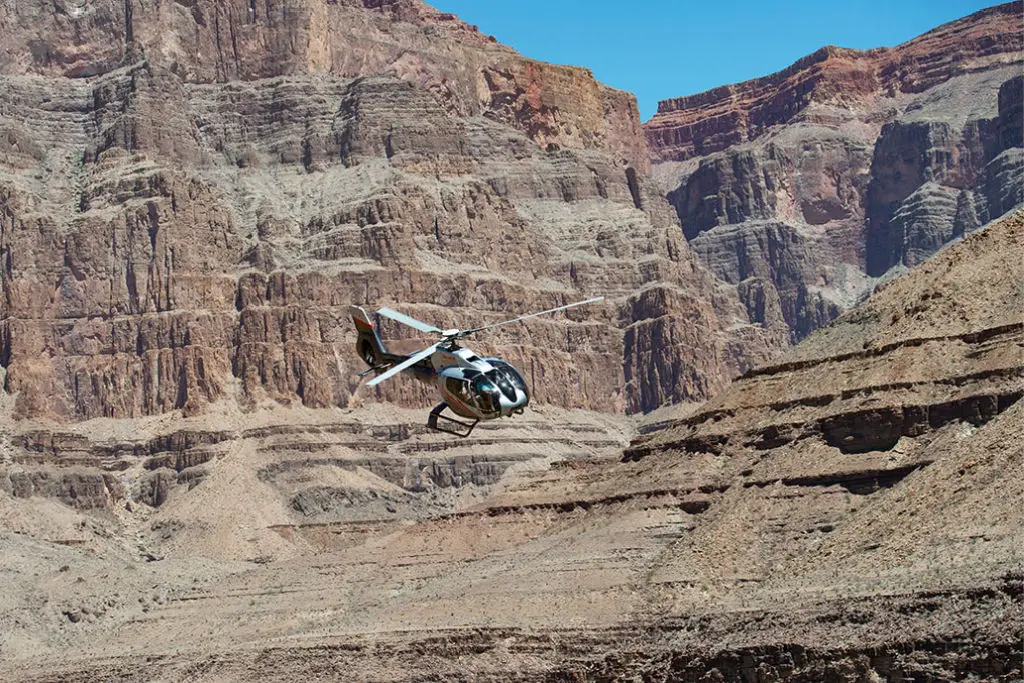 Upon arrival, passengers are greeted with champagne 🥂 and European-inspired hors d'oeuvres. Now in Hualapai Indian Territory, guests are free to relax, admire the spectacular views, and of course, take pictures. Nevertheless, photos do not do the Grand Canyon justice. Experiencing it in person is a must.
Passengers experience dramatic views of the Bowl of Fire on the way back to Vegas. In addition, to see the highlights of the Strip and Grand Prix circuit, a Vegas Victory Lap is included.
🍾🏎️💨 Grand Prix Experience  > Check Availability
3 Best Hotels in Vegas With Balconies
Did you know that very few hotels in Las Vegas have balconies (for obvious reasons)? Many visitors to Las Vegas wonder what hotels have balconies—below are the best three.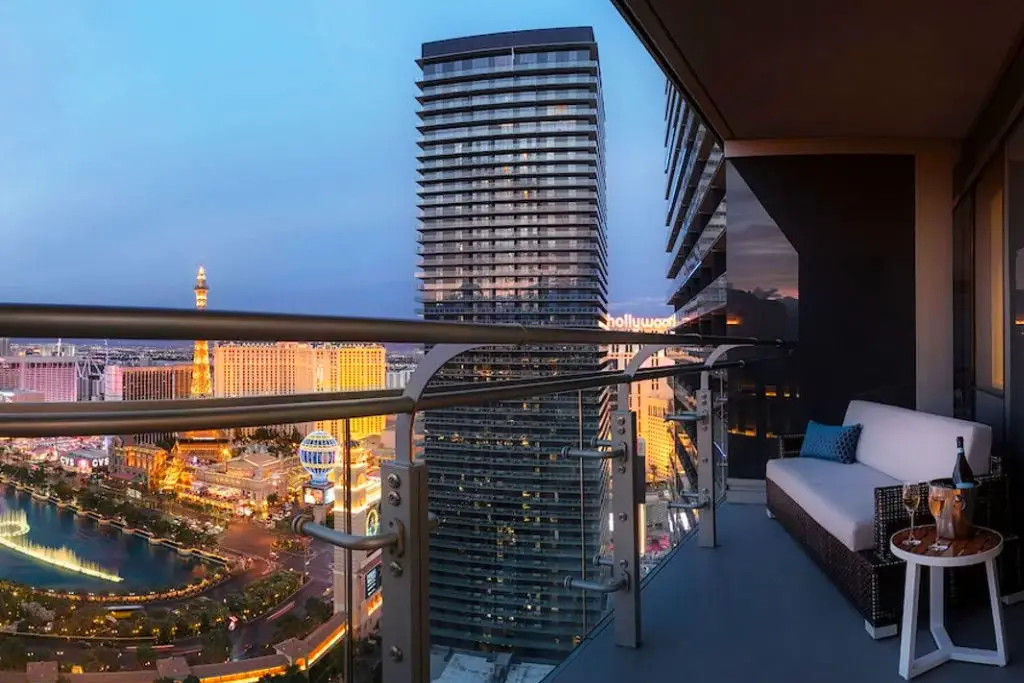 Here are the only three hotels with fantastic balcony views, sorted from least expensive to most. If your budget allows, The Cosmoplitan's Bellagio Fountain View Room is epic, and the only hotel that permits guests to smoke on balconies worry/hassle-free.
💸 Hilton Vacation Club Polo Towers > 1 Bedroom 1 King Suite
💰 Signature at MGM Grand > Deluxe Balcony Strip View Suite
💎 The Cosmopolitan > Studio, Terrace, Bellagio Fountain View Room
3. Grand Prix Sunset Experience 🚁
Includes everything from the Grand Prix Experience (above), except this time the flight returns to Las Vegas at sunset. During the golden hour, only a select few flights capture the moment the Neon Capital of the World transitions from day to night.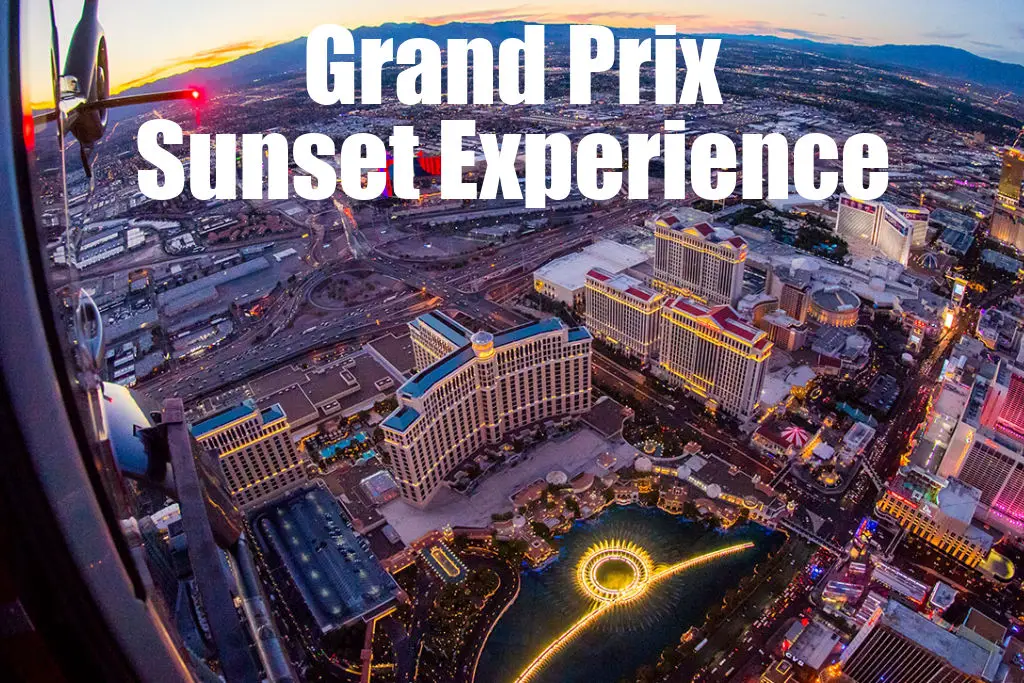 It's quite a special phenomenon to witness. At twilight, the sky has hues of cerulean blue, teal, and aqua. It's at this precise moment that the Strip begins to awaken from its daytime slumber. Observing this event while flying over the Las Vegas Grand Prix Race Circuit is an unmatched adventure.
🌄🏎️🌆 Grand Prix Sunset Experience  > Check Availability
Complement your race week experience with a helicopter tour. You'll gain an aerial perspective of the circuit and the city in one of Macerick's luxurious Airbus EC130 ECO-Star helicopters.
We Need Your Help
Did you find this article helpful? If so, bookmark it and when you're planning your next vacation click on any of the links below before finalizing reservations. You'll get the best price, we'll earn a small commission, and you'll help support future articles.
Thank you!
BEST TRAVEL SEARCH ENGINES
🏘️ Book Your Accommodation
We use Tripadvisor and Priceline's Express Deals to compare prices and reviews in advance and check availability
✈️ Book Your Flight in Advance
To find the cheapest flight options, you can use WayAway and Skyscanner to find the most suitable choice for you
🚗 Reserve Your Rental Car
Use DiscoverCars and Skyscanner to compare prices and view the largest selection of vehicles