Why is Southern Illinois called Little Egypt? While exploring Southern Illinois, you will begin to notice all of the references and correlations to Egypt surrounding the region.
Interestingly enough, although there are several theories, researchers have confirmed that there is no official version or documentation that proves the name's origins. However, there are a few proposed theories as to where all the Egyptian references come from.
Things To Do in Southern Illinois
Best Accommodations in Southern Illinois
If you're planning on staying near Carbondale, the best accommodation options include:
Vacation Rentals
Looking for a vacation rental to enjoy the area? Below are the three best vacation rentals near Carbondale sorted from least to most expensive.
Why Is Southern Illinois Called Little Egypt?
The most popular and sensical theory is that the name arose in the 1830s when cold weather caused a very poor harvest in the northern part of the state. The winter between 1830 and 1831 was known as "The Winter of Deep Snow" and spring arrived late that season. Later that September, an early frost ruined most of the season's crops. It was a very bad year for the folks in northern Illinois. Due to a lack of food, droves of people from the north headed to the bountiful south to buy grain, corn, and other supplies.
During the trek, Northerners associated themselves with the children of Jacob who in a time of famine were forced to head south to Egypt in search of food for their families during biblical times. Fleeing to the Carbondale region had essentially saved their lives and was deemed "Little Egypt." This story was supposedly documented in an article written by Judge Andrew Duff.
Another theory claims that the reference may derive from the similarity between the land of the Ohio and Mississippi River valleys and Egypt's Nile Delta. In 1818, a huge parcel of land was purchased between the two joining rivers.
The developers called it, "Cairo." Today, the city that sits on the peninsula where the Ohio River joins the Mississippi continues to be named "Cairo," but locals do pronounce it differently than the famous city in Egypt.
It's important to note although Cairo was established in 1818, researchers did confirm that Southern Illinois had Egyptian ties years before Cairo was officially named.
Interesting fact: There are several towns in Illinois with Egyptian related names including: Cairo, Carmi, Karnak, Goshen, Thebes, and Dongola.
First Documented Use of the Name "Little Egypt"
Southern Illinois University
Many people don't realize that Southern Illinois University's mascot was originally the Maroons. In 1951 the name was changed to the Salukis, an ancient breed of Egyptian hunting dog. In 1953, the school received its first real Saluki as a mascot and named him "King Tut."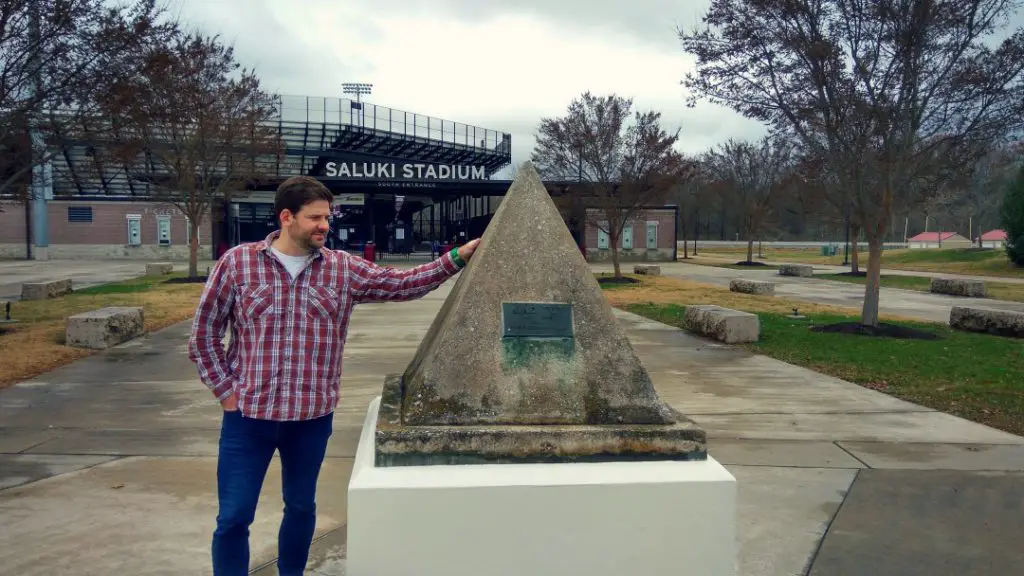 King Tut was buried (after being run over by a car) near the corner of the football stadium, and a cement pyramid was built as a gravestone. With the building of a new stadium, his pyramid was moved directly in front of the entrance. Fans now touch this marker for luck before entering.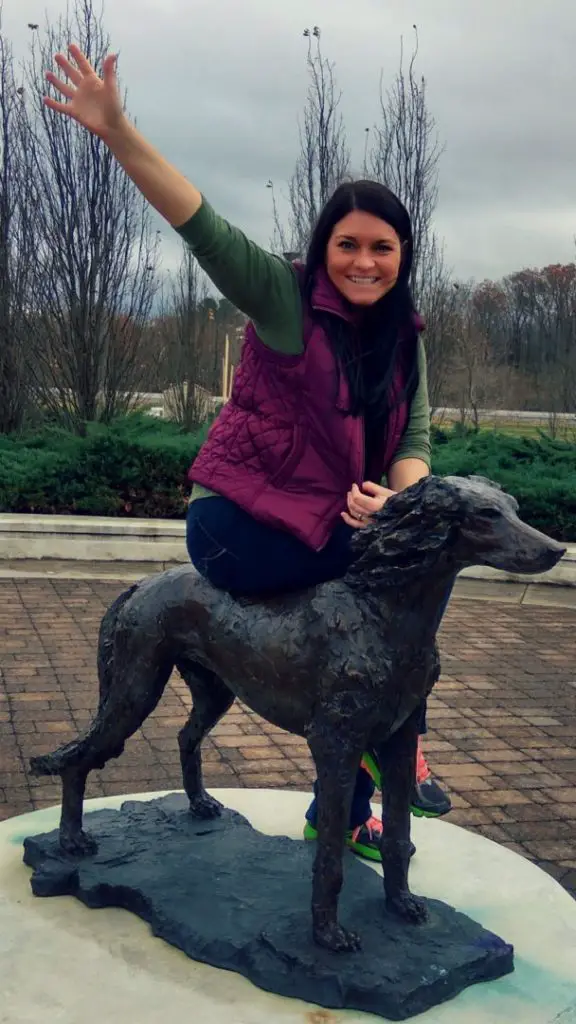 Camel Rock – Garden of the Gods Recreation Area
Camel Rock is located within the Garden of the Gods Recreation Area. This rock formation is so stunning that it was featured in the U.S. Mint America the Beautiful quarters program. The short 1/4-mile hike is easy and amazingly picturesque.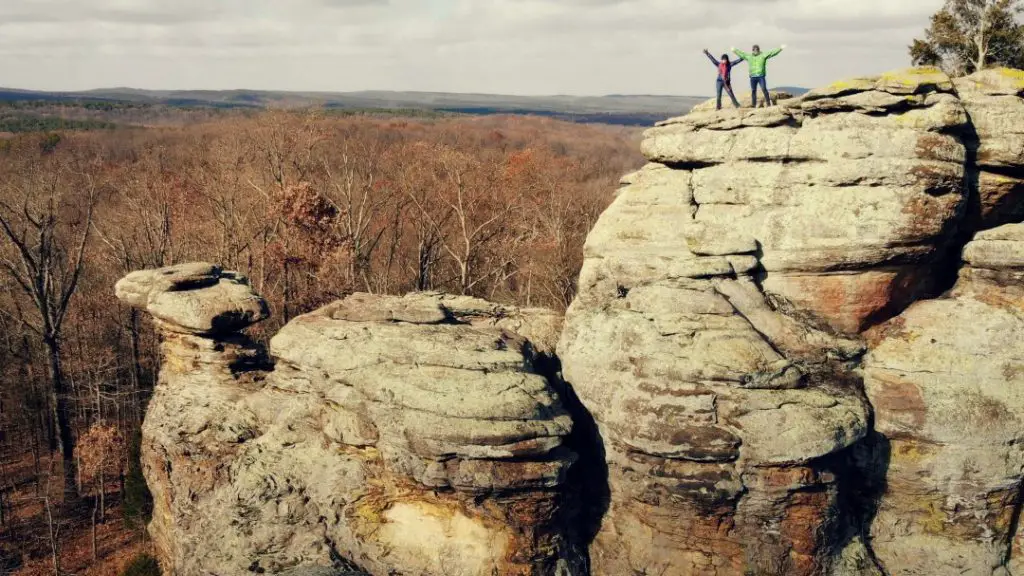 If you've ever wanted to stay overnight on a vineyard then check out this place in the Shawnee Hills Wine Country
Cairo, Illinois
At the southernmost point in Illinois, where the Mississippi River and Ohio River meet, the city of Cairo still stands today. In its heyday, Cairo was an important city along the steamboat routes and railway lines. However, those that decide to drive through the town will find it eerily empty and deserted. Cairo is now considered a true ghost town.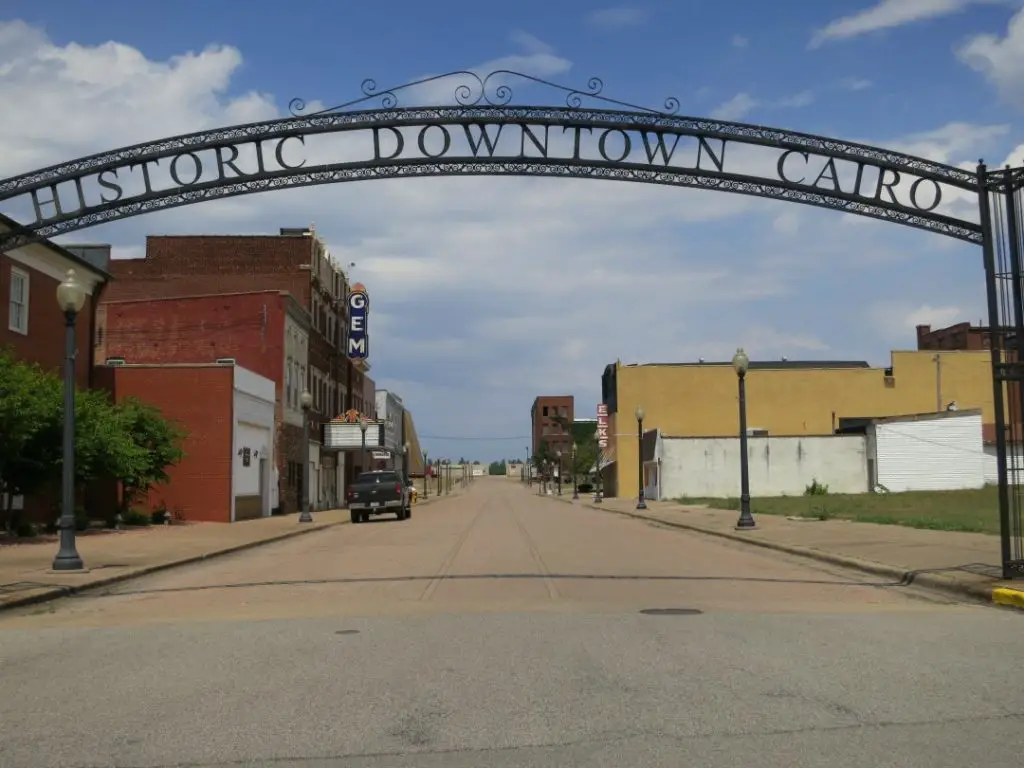 The historic downtown has now fallen to urban decay with crumbling buildings and boarded-up windows. Many surrounding neighborhoods have also deteriorated and have been abandoned. Historians claim that Cairo became a ghost town after it fell into an economic crisis following the decline of jobs from the failed shipping industry and its turbulent history of strong racial unrest.
Bell Smith Springs Recreation Area
Bell Smith Springs Recreation Area just might be the best place for a day hike in Illinois. To begin with, the 8 miles of interconnected trails sit within a lush canyon that uncovers crystal clear, rocky turquoise streams.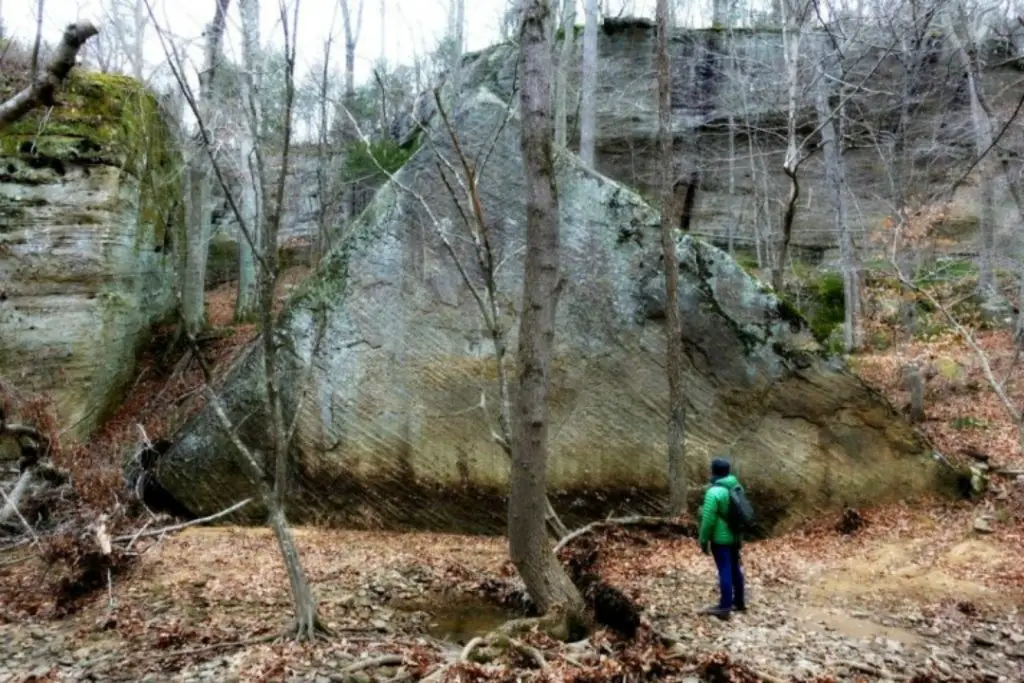 Highlights include Devil's Backbone, natural rock bridge, and Boulder Falls. Moreover, along with one of the lower hiking trails, visitors will find a series of huge boulders that resemble huge pyramids. For example, this cool natural landmark (pictured above) is hidden in the Shawnee National Forest.
We Need Your Help
Did you find this article helpful? If so, bookmark it and when you're planning your next vacation click on any of the links below before finalizing reservations. You'll get the best price, we'll earn a small commission, and you'll help support future articles.
Thank you!
BEST TRAVEL SEARCH ENGINES
🏘️ Book Your Accommodation
We use Tripadvisor and Priceline's Express Deals to compare prices and reviews in advance and check availability
✈️ Book Your Flight in Advance
To find the cheapest flight options, you can use WayAway and Skyscanner to find the most suitable choice for you
🚗 Reserve Your Rental Car
Use DiscoverCars and Skyscanner to compare prices and view the largest selection of vehicles