Find the best snorkeling in the US at one of these seven locations. For many people, the idea of combining the relaxing atmosphere of a beach with the enchantment of the sea makes for the perfect vacation. Stroll into the water, put on a snorkel mask, and a completely different world opens up. An endless number of colorful fish, vivid corals and reefs, sea turtles, stingrays, and even whales may be spotted.
Snorkeling may not be as exclusive as scuba diving, however, it does have its unique benefits, including improved breathing, enhanced cardiovascular health, and increased mood. For those swimmers that have never snorkeled before, you might be surprised how both exciting and relaxing the activity can be.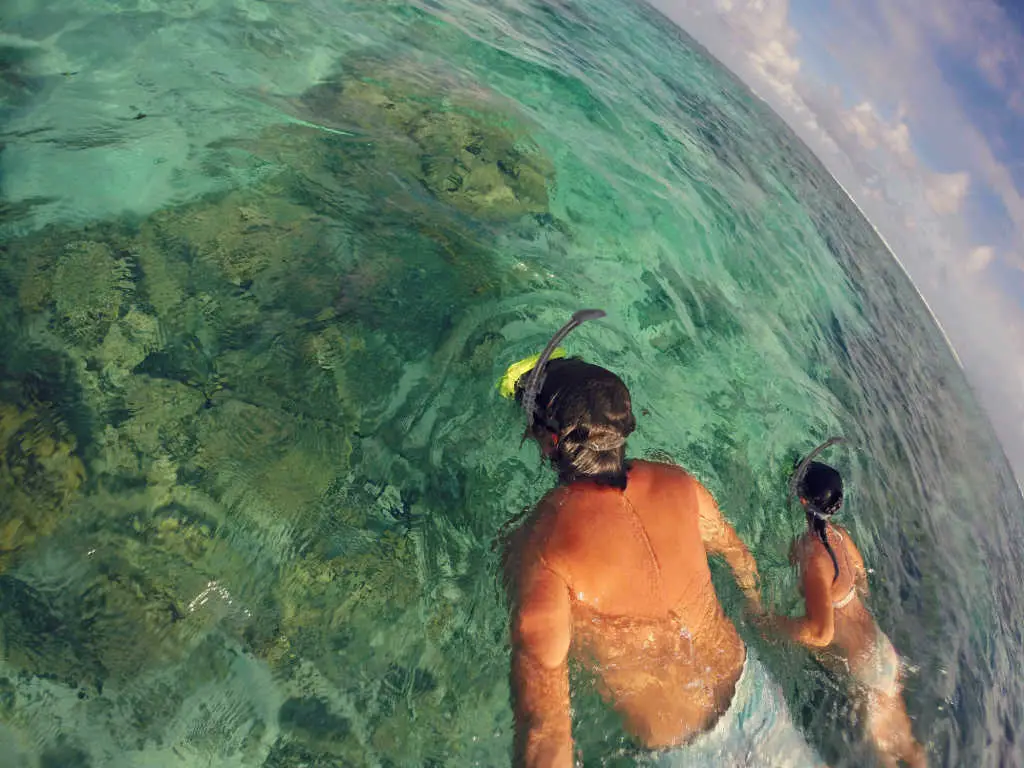 In some cases, there are destinations where snorkelers can take jet skis or boats in between snorkel sites, which can be a thrilling experience. At the same time, simply strolling from the beach into the water can feel just as exhilarating. After all, it's all about swimming, feeling the warmth of the sun, and enjoying the underwater scenery.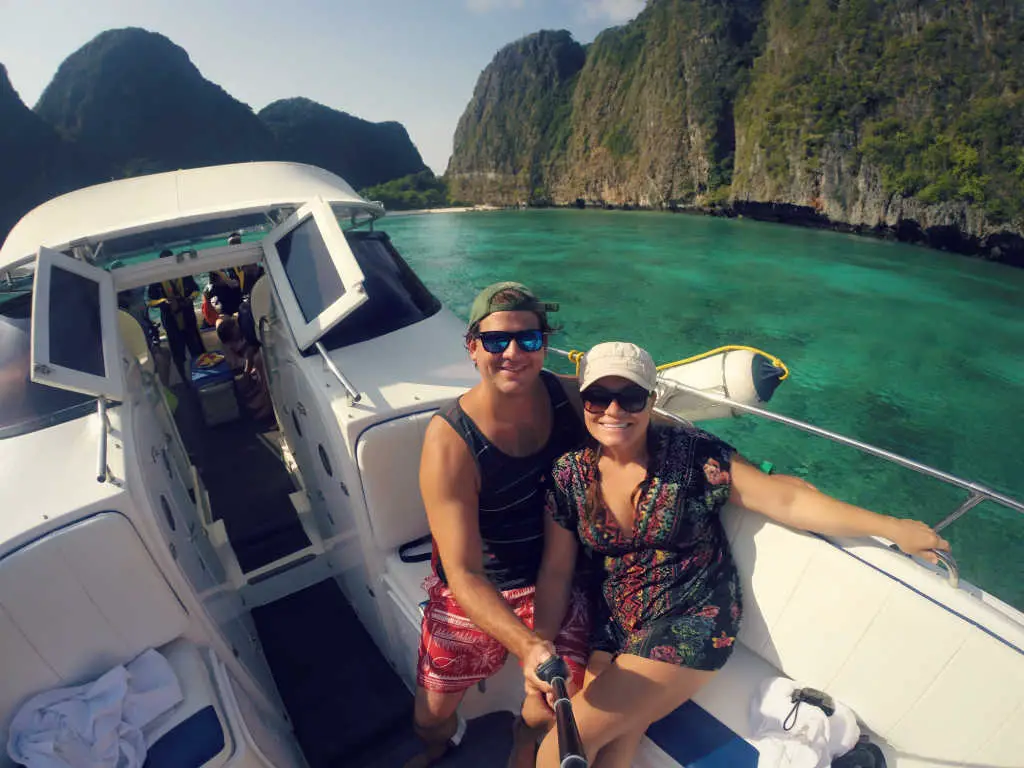 Some of our favorite destinations around the world for snorkeling include the Great Barrier Reef, the Cook Islands, and Grand Cayman. However, if you're looking for the best snorkeling in the US then you should visit one of the seven destinations listed below. From unusual destinations to tropical locales, these sites provide snorkelers with phenomenal underwater adventures. So pack a snorkel mask and some fins and prepare yourself for an out-of-this-world experience.
1. Key Largo, Florida – John Pennekamp Coral Reef State Park
Located just off the coast of Grayton Beach State Park, in the Gulf of Mexico, is the Underwater Museum of Art. This subaquatic sculpture garden is renowned for being the first of its kind. Furthermore, the museum covers about a one-acre patch of seabed, about one mile from the shore, and includes nine artificial reefs.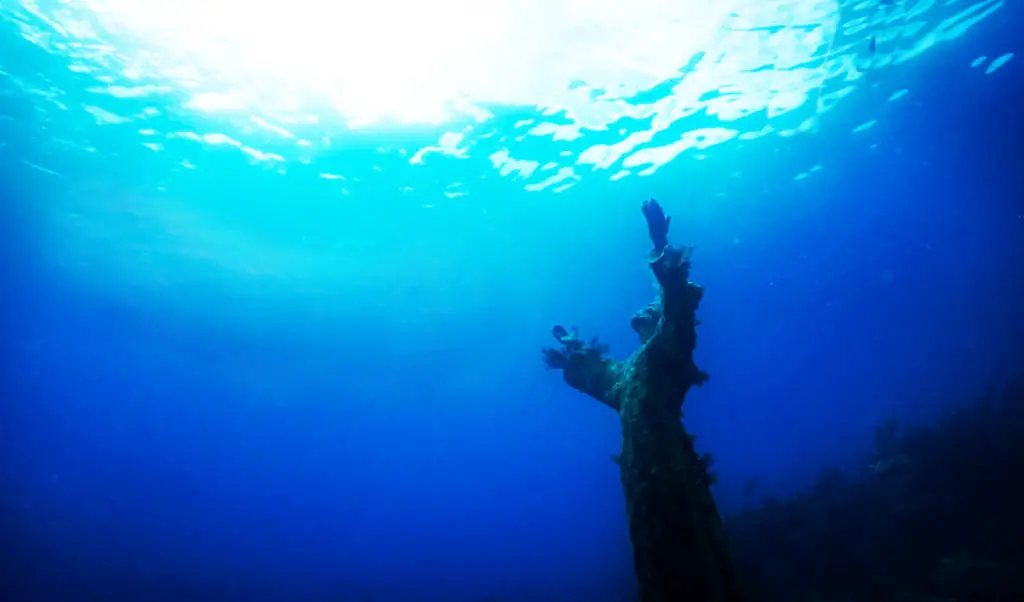 Frustratingly, the museum is only accessible by divers, as it's located about 60 feet below the surface. However, snorkelers looking for a similar experience, at shallower depths, should visit John Pennekamp Coral Reef State Park. The highlight for most guests is snorkeling above the the 'Christ of the Abyss' statue, located in about 25 feet of water. Also, visitors enjoy snorkeling in the many mangrove and seagrass areas which tend to be sheltered and shallow, and a diverse area for exploring.
Excursion to Book: Half Day Snorkel Trip on Reefs in the Florida Key
2. Maui, Hawaii – Molokini Crater
It will probably come as no surprise to see Hawaii on the list for the best snorkeling in the US. After all, it's known for its clear, turquoise waters and diverse marine life. However, even in this island paradise, Molokini Crater offers visitors an ultra-extraordinary experience.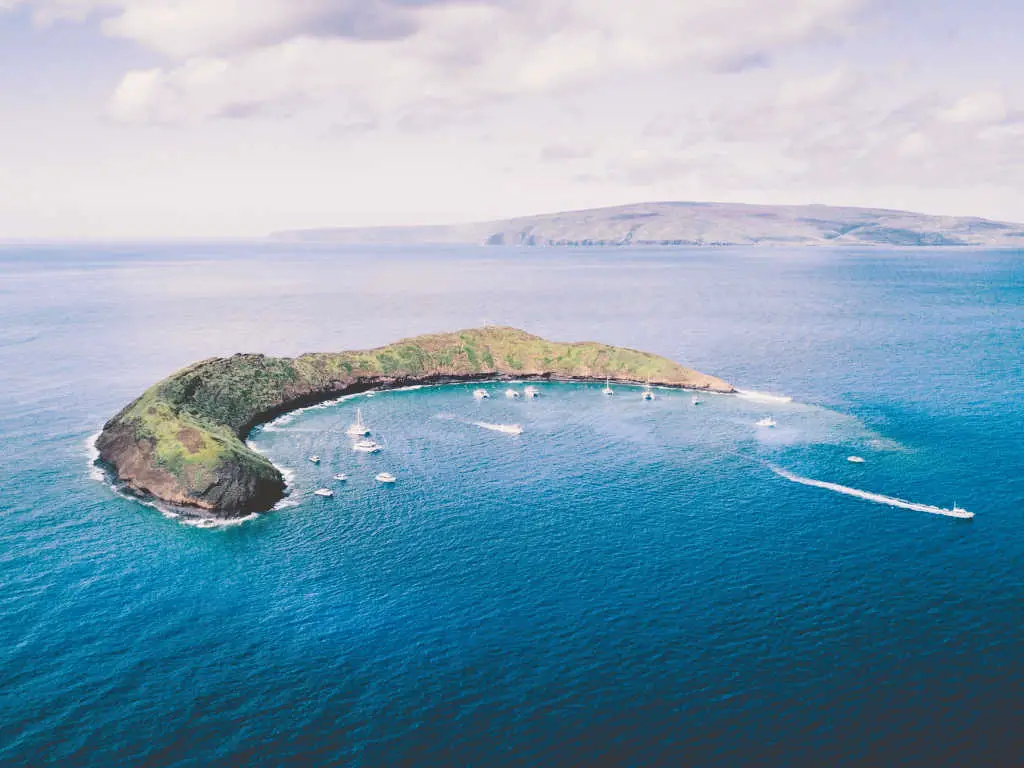 The sunken crescent moon crater, known as Molokini Crater, sits just off the coast of Maui. Thanks to fantastic visibility, which can reach 150 feet, the caldera is one of the most popular snorkeling destinations in Hawaii, especially for group tours. Also, the abundance of marine life, with everything from yellow butterflyfish to manta rays, makes Molokini an exciting destination to visit.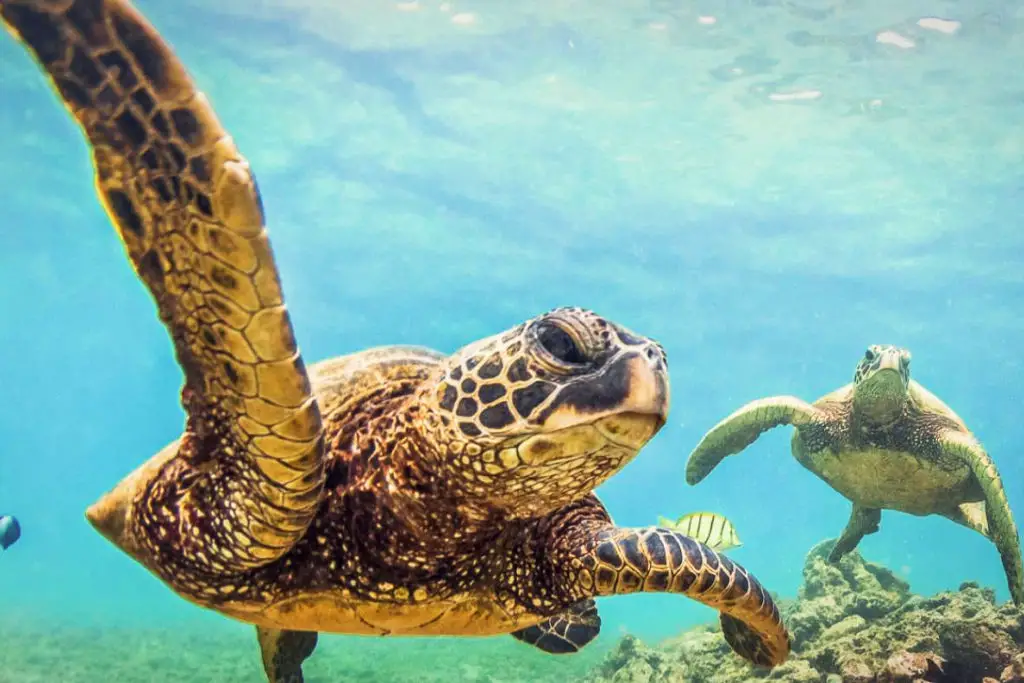 The interior of the crater serves as a natural refuge for marine life and is where most snorkeling tours take place. The exterior back wall on the other hand drops 350 feet into the abyss and is a popular attraction for divers. Furthermore, the journey to and from the crater provides passengers with a great opportunity to sea turtles, sharks, and even whales.
Excursion to Book: Molokini Crater and South Maui Coast Adventure
3. Bar Harbor, Maine – Acadia National Park
Another amazing, however unexpected, snorkeling destination is along the jagged coast within Acadia National Park, in Maine. Due to extreme conditions, such as strong tides and currents, visitors should take extra precautions when visiting―make sure you bring a wetsuit to combat the chilly water.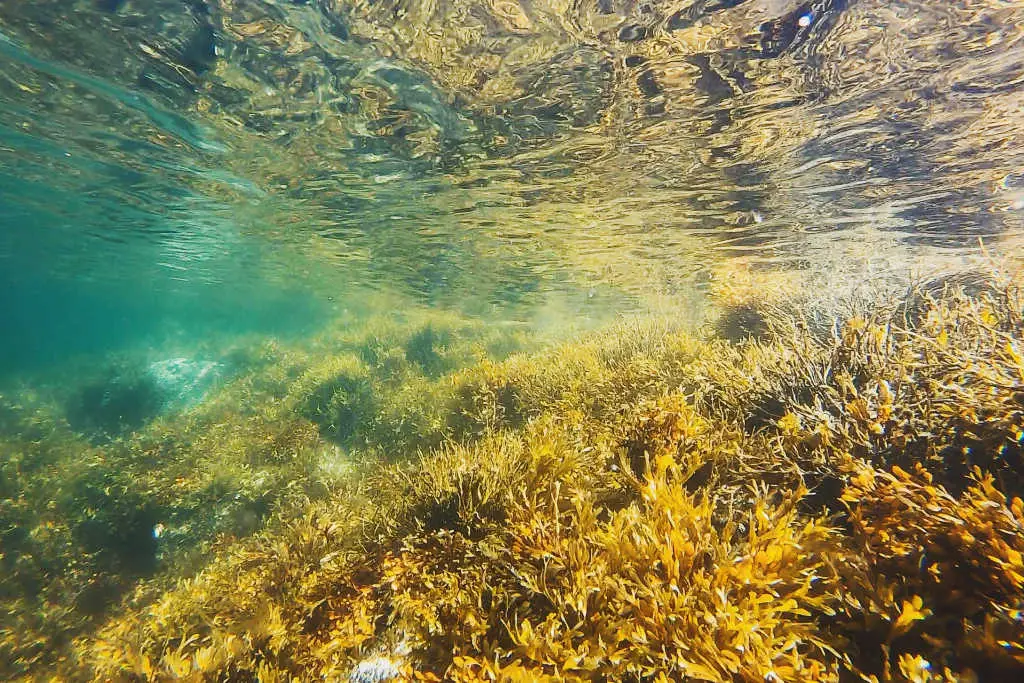 One of the most captivating aspects of Acadia lies in the diverse underwater fauna and flora, as well as the tide pools that become exposed during low tide. It's here in the trapped seawater that a large variety of marine life and vibrant algae live. For this reason, Little Hunters Beach is an ideal location to spot red sponges, copper sweepers, and moray eels.
4. Key West, Florida – Dry Tortugas National Park
Dry Tortugas is positioned in the Florida Keys reef system, the third-largest in the world. As a result, this incredible destination features crystal clear water, white sand beaches, cultural artifacts, and one-of-a-kind underwater habitats. Many of the reefs surrounding Fort Jefferson date back thousands of years and contain numerous coral species including Elkhorn, which resembles elk antlers.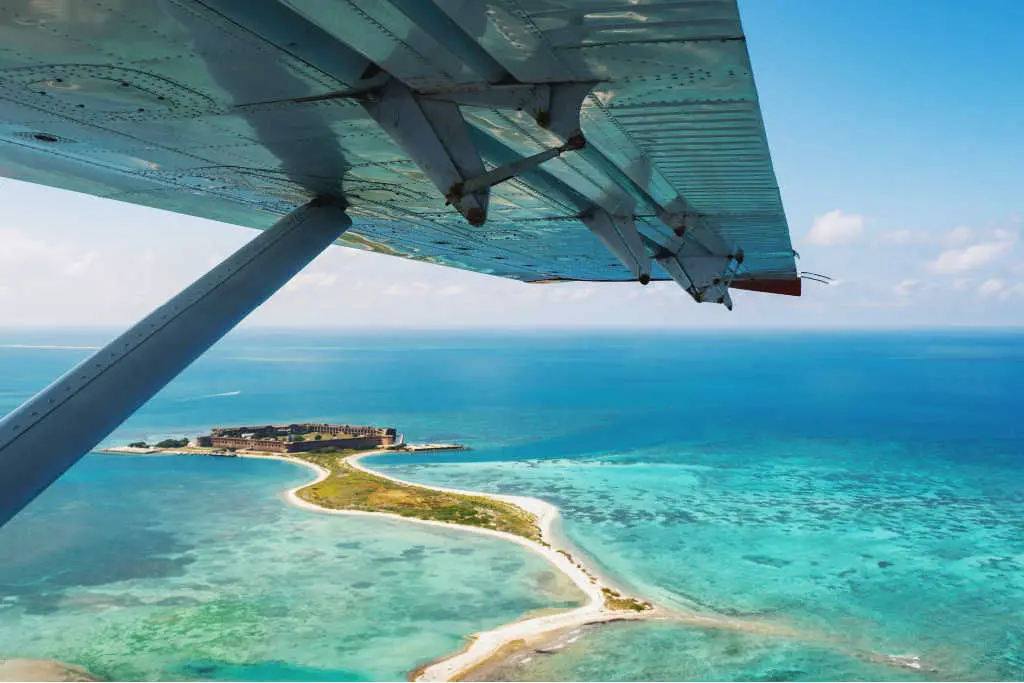 A visit to Key West is one of the best ways for travelers to feel like they're visiting an exotic location without the agony of taking an international flight. As one of the most isolated national parks in the nation, Dry Tortugas National Park is a unique snorkeling experience. The remoteness comes at a cost though, the park is only reachable via a 2.5-hour ferry (one-way), a seaplane, or a private boat.
Excursion to Book: Dry Tortugas National Park Day Trip by Catamaran
5. St. John, Virgin Islands – Cinnamon Bay
Cinnamon Bay, in the United States Virgin Islands (USVI), is another awe-inspiring destination. Without a doubt, Cinnamon Bay provides tourists with some of the best snorkeling in the US. Sitting on one of the longest beaches in the USVI, Cinnamon Bay lies within the boundary of Virgin Islands National Park and allows for easy access to many snorkeling reefs.
Excursion to Book: Sail & Snorkel Experience – St John & Surrounding Cays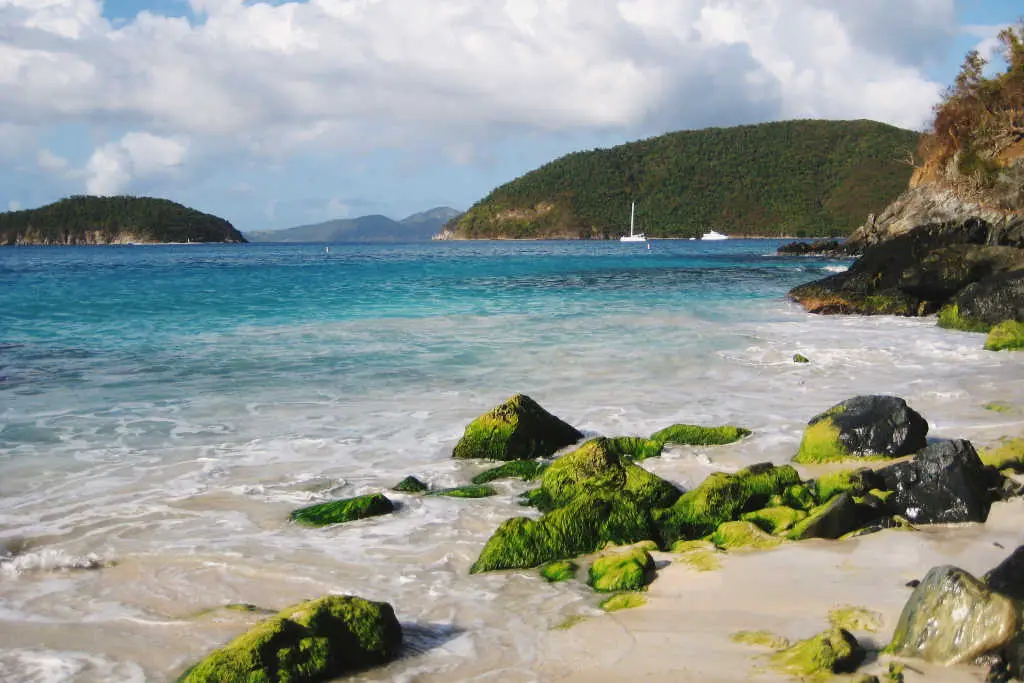 Being fairly shallow, visitors can effortlessly walk from the shore and swim to the reef without a boat. The small island of Cinnamon Cay sits just offshore. It's here, that snorkelers discover lovely coral, waving seagrasses, and colorful marine life, along with the random stingray or turtle.
Where to Stay: Inn at Tamarind Court (B&B – $180) or Estate Lindholm (Luxury B&B – $345)
6. Culebra Island – Puerto Rico
For many people, the highlight of a trip to Puerto Rico is going on a snorkeling tour―it's that amazing. The main island of Puerto Rico has many beautiful snorkeling destinations. However, those looking for the crème de la crème should head to Culebra Island, one of the four outer islands.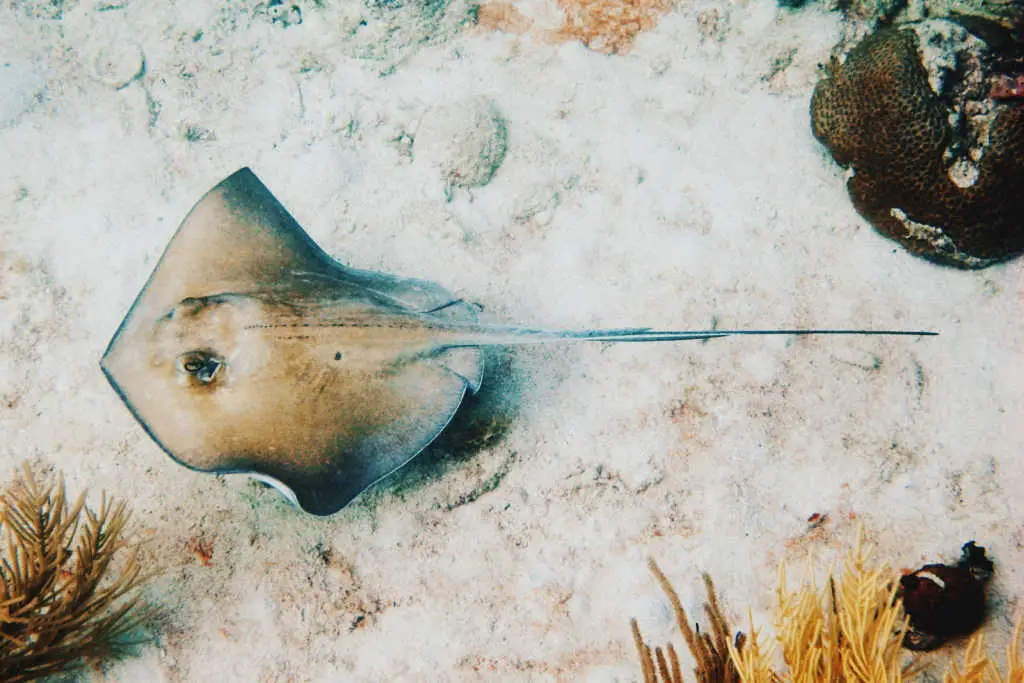 The coral reefs surrounding the many cays of Culebra are filled to the brim with marine life. Snorkelers will frequently cross paths with stingrays and sea turtles as both parties journey from reef to reef. While it is possible to take a day trip to Culebra from the main island, the best thing to do is book at least one night at Aleli Cottages to make sure you don't feel rushed.
Excursion to Book: Snorkeling Tour to Culebra Island
7. Crystal River, Florida – Crystal River Preserve State Park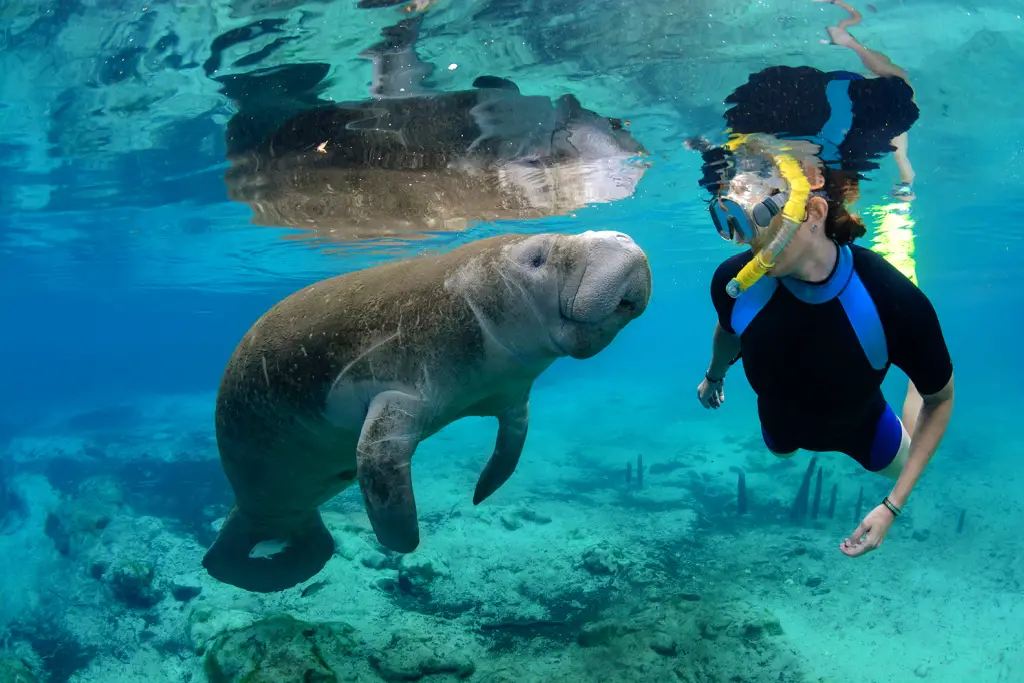 Looking for a unique twist on the traditional snorkel trip? Crystal River Preserve State Park offers incredibly clear waters. Furthermore, this is the only place in North America where you can legally swim with Florida manatees. 
To snorkel in the springs, visitors must book with a local outfitter via an organized tour. During the experience, snorkelers wear wetsuits because the temperature of the spring water is a chilly 72 degrees.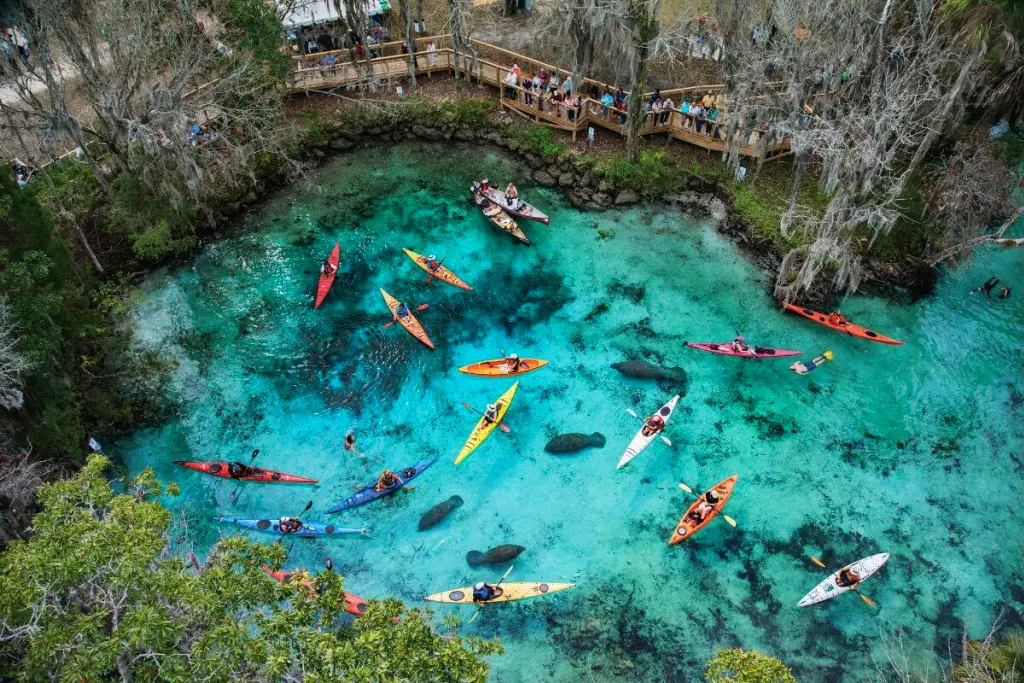 Take note, the height of the manatee season takes place in winter, from November through March. Additionally, the manatees are most active in the early morning. As a result, consider staying within the area to improve your chances of any wildlife sightings. Also, don't forget your underwater camera!
The Crystal River Preserve State Park is located about 90 miles north of Tampa, less than an hour from Ocala. 
Excursion to Book: Swim With Mantatees Adventure
Where to Stay: Holiday Inn Express Crystal River