The West Highland Way in Scotland is one of the most epic hikes in the world. After nine days of trekking in Scotland's wilderness, yesterday, we crossed the finish line of the West Highland Way. Now, as we sit on a bus that is taking us back through our 96-mile journey, we still are amazed by the passing scenery, and how far we walked.
Our itinerary was excellent. It was a wee bit on the slower side but it allowed us the time to enjoy the walk at our pace. Very much under the radar, Scotland has been a hidden gem in our travels—we've now visited it three times!
West Highland Way – Where to Stay, Eat, Do Laundry, and More!
Scotland was never on our initial planned round-the-world journey. We had never even heard of The West Highland Way until we were researching The Hadrian's Wall hike, another long-distance walk.
However, the more we researched Scotland, the more intrigued we became. And with Harry's encouragement, we agreed it was time for a big adventure. And together, we worked to piece together our West Highland Way itinerary.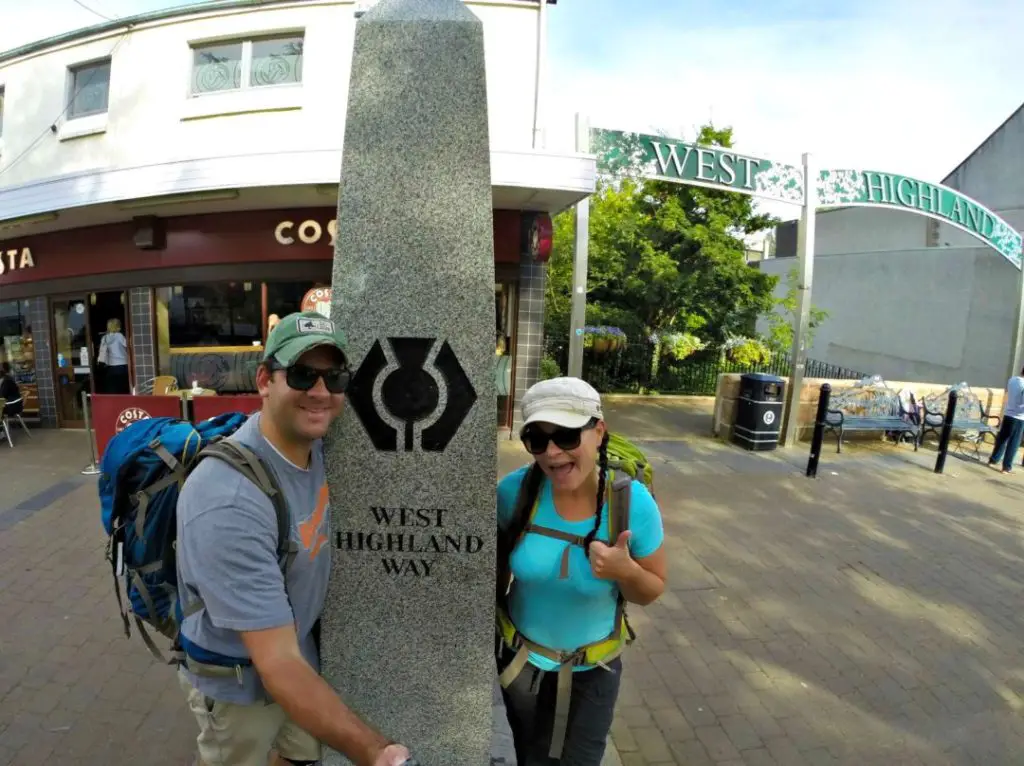 We used the official WHW website to plan some of our 9-day hiking adventures. Most hikers complete the hike in 5-7 days, we took it slowly and completed it in nine.
The website is so comprehensive that nearly all the information you need to plan your walk can be found there. However, we have a few tips to share that we believe will make your adventure a little easier, and of course, more budget-friendly!
Typical Pitstops for the West Highland Way
Below are the typical pitstops for walkers looking to complete the Way in seven nights
Milngavie to Drymen: 12 miles
Drymen to Rowardennan: 14 miles
Rowardennan to Inverarnan: 14 miles
Inverarnan to Tyndrum: 12 miles
Tyndrum to Inveroran: 9 miles
Inveroran to Kingshouse: 10 miles
Kingshouse to Kinlochleven: 9 miles
Kinlochleven to Fort William: 16 miles
The Way crosses 96 miles from Milngavie to Fort William. Along the way, there's a massive variety of scenery, everything from steep mountains, stunning countryside, and vast moorlands. Most walkers will take seven nights to complete the hike. However, it's your vacation, so go as fast or as slow as you like!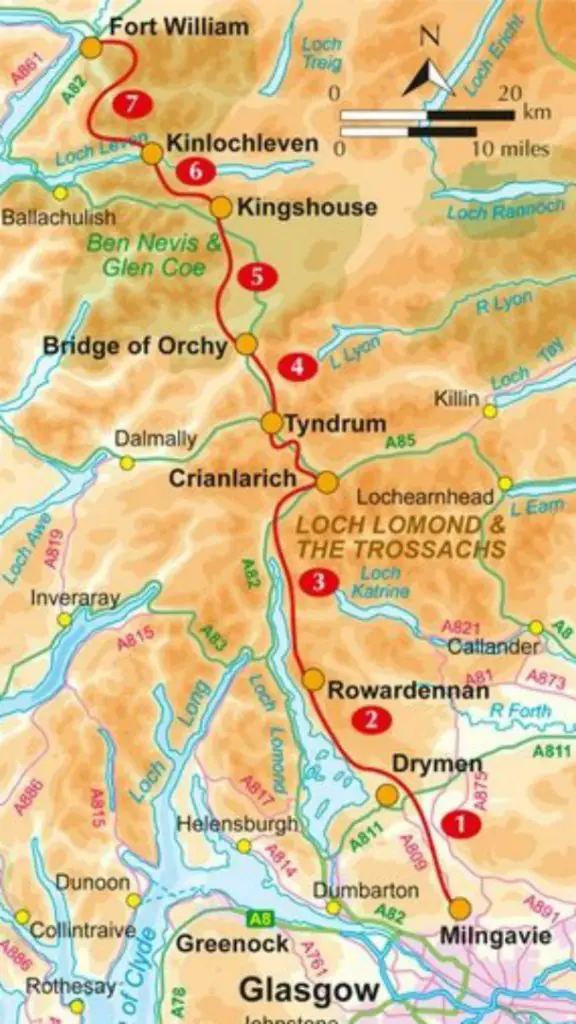 Where to Eat Along the West Highland Way
Just about every accommodation along the Way offers dining options. For the most part, we tried to avoid eating out.  Dining out in Scotland is typically fairly expensive, by backpacker's standards. If you're on a tight budget like us, it's far too costly to eat out for every meal.
As we passed through each town we would stop at the local grocery store or convenience shop and purchase prepackaged sandwiches, noodle soups, snickers, fruit, and pretty much anything else we could get our hands on. Everything we purchased we ate for lunch or used to supplement dinner.
The one key benefit of hiking the West Highland Way, as compared to hikes in other countries, is that pretty much every accommodation will provide you with a massive Scottish breakfast. To save money, eat it as much as possible.
For lunch, we'd typically stop at a grocery store. Finally, for dinner, we'd snack on leftovers from lunch, purchase one of the cheaper meals on the menu at one of the accommodations, or head to the local mini-market/petrol station and scrounge up whatever we could find.
You Will Be Forced to Eat at Some Accommodations
Certain accommodations were so far in the middle of nowhere that without a vehicle we were forced to eat at the lodging. For example, the Kingshouse Hotel is quite isolated. If you show up at this accommodation hungry, you won't have any other option than to eat there, which is what we did.
The Oak Tree Inn has a nice and reasonably priced restaurant. We highly recommend you eat there! Here are the three places we dined along the Way:
Oak Tree Inn – Balmaha
Ardlui Hotel – Ardlui
Kingshouse Hotel – Glencoe
Willing to choose the places to stay by yourself or in case getting a bit off the route? Try Trivago: a service comparing best prices.
Where to Stay – West Highland Way Accommodations
If you're hiking during the high season, book your accommodations as soon as possible. There are only a certain number of beds and rooms at each stop. If you wait, you may end up staying at a non-preferred accommodation. It could be a more expensive hotel or there may simply be no availability.
If you do run into this situation, you have four options:
Walk to the next available accommodation (which may be very far).
Stay two nights at the same place until availability opens up at the next stop.
Take a taxi to the accommodation with availability and return to the place you were picked up the next day (no cheating).
Change the dates of your walk.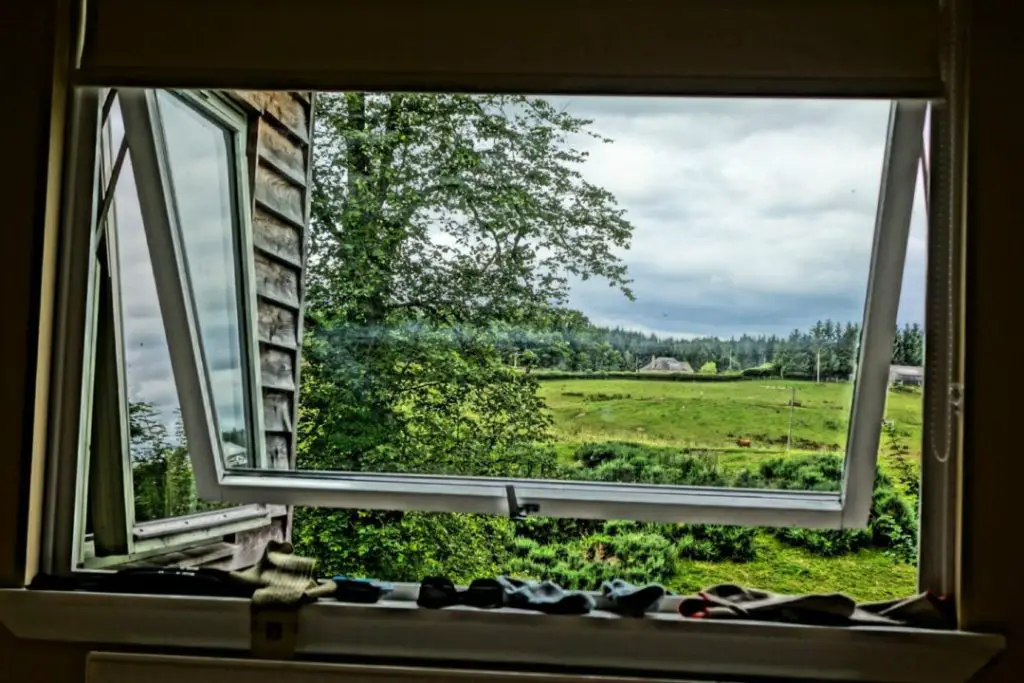 Avoiding Dorm Rooms
As a couple, we try to avoid dorm rooms and shared bathrooms at all costs. However, we did end up staying in a private room with a shared bathroom at Inversnaid Bunkhouse, based on the fact that the Inversnaid Hotel was extremely expensive to stay at.
Regardless, if you're traveling as a couple, it can be a bit challenging to find budget-friendly accommodations along the Way. All of the places were satisfactory or better and came with a large Scottish breakfast.
At the time of our walk, the average cost of the accommodations was about USD 120. However, some were a bit more and others a bit less. We would recommend reserving a room at any one of the accommodations below (sorted from start to finish by town) as soon as you've finalized your itinerary in order to guarantee your booking, otherwise, you may end up in a shared dorm room.
We built some rest days into the itinerary, which our bodies needed. For instance, we stayed two nights at The Drymen Inn to give ourselves a break after the first day, just to get a feel of how our bodies felt.
Tip: Check out other accommodation options for reasonable prices.
Also, while many walkers go directly from Inversnaid to Crianlarich, we decided to add an extra night's stay in between at Ardlui. This probably was a good idea for us because during our stay the night before at the Inversnaid Bunkhouse, the employee told us that "Most people who quit walking the Way will usually do it after walking the segment from Balmaha to Inversnaid."
Make Sure You Bring These Items
Vaseline, medical tape/duct tape, Ibuprofen, and cotton pads were a lifesaver for our tired feet. Many shops along the way have these items available but at a jacked-up price.
Stock up in advance. You'll need it. Also, an in-depth travel guide to the walk is a perk but adds weight.
If you have sensitive knees, bring hiking poles, or use knee supports. On many stages, the knees take a beating. Our knee bands and Ibuprofen kept us from having any significant pain. However, when we did the 57-mile Loch Lomond & Cowal Way we did bring hiking poles.
West Highland Way Baggage Transfer
A great bonus to this hike is that there are companies that will transport your baggage each day to your accommodation. There is no maximum number of days, hence, the flat fee, as long as they are typical accommodation stops along the way. As a result, you can walk carrying only what you need during the day.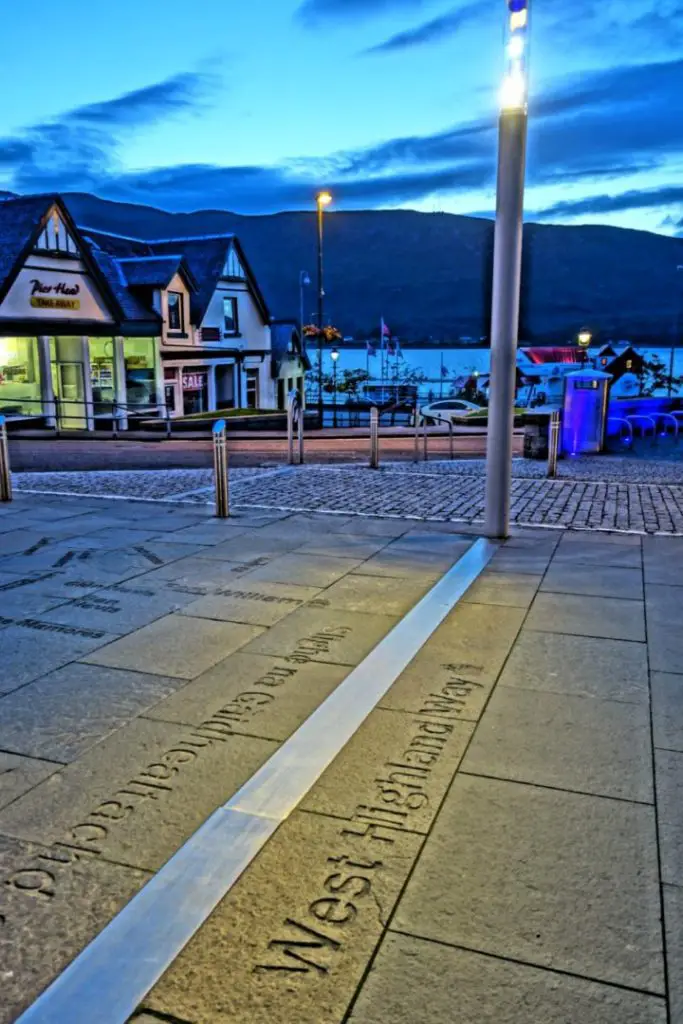 We decided to use Ginger Routes, as they were about USD 5 cheaper than the other companies. Also, we used our main backpacks as day packs and stored all our luggage in one large backpack airport cover bag so that we'd only be charged for one bag transfer.
However, we did slightly surpass the weight restriction, but because they could easily lift our bag an additional fee was not charged. So using the USD 60 service, were able to travel light and avoid worrying about our extra gear.
Expect a Few Surprise Along the Way
Take note that some accommodations are not directly on the trail. For example, we reached the sign for the Arduli Hotel but were unaware that we had to take a GBP 5 (each way, each person) ferry to cross the lake to reach our accommodation for the night.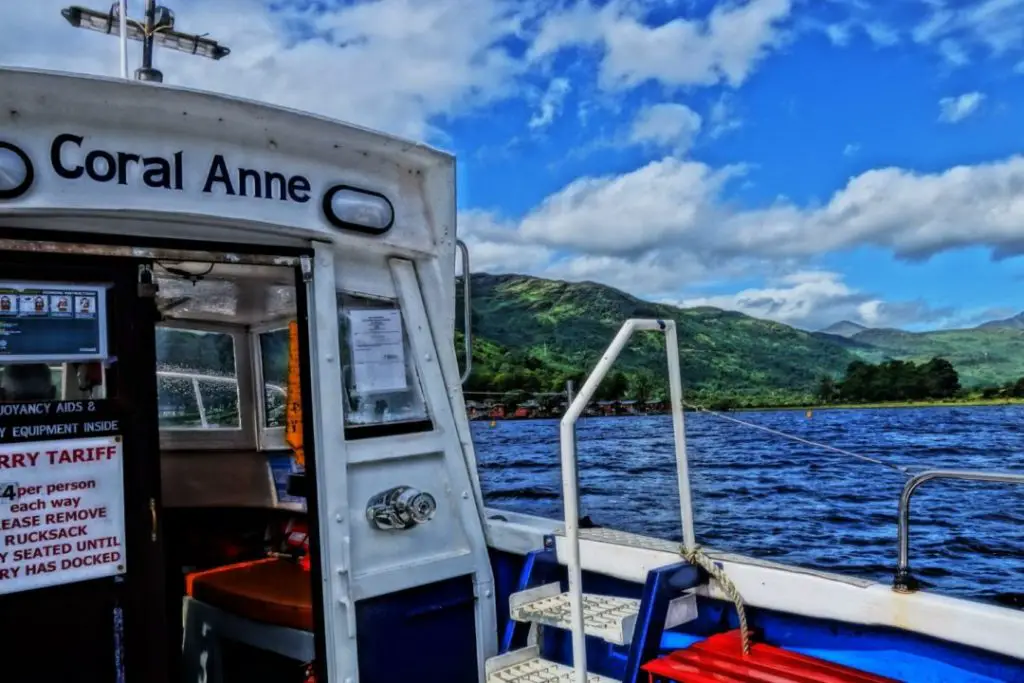 Also, the Ardului Hotel is expensive and dated, it's 'The Grand Budapest Hotel' of the Way. However, the burgers are quite good and the location is epic.
If taking the ferry and the expensive price seem like a turnoff, you may be interested in staying at either the Rose Cottage B&B or Beinglas Farm Campsite. Both are located in Inverarnan, about two miles north.
Finally, we enjoyed our stay at the SYHA Crianlarich Youth Hostel, but we had to hike another mile to reach the building and then walk another mile in the morning to resume the hike.
How Bad Are the Midges on the West Highland Way?
Oh, the midges. We visited during August and almost made it the entire way without any encounters. Unfortunately on our last day, on one of the steepest climbs, we were attacked. That day it was classic midge weather, warm with no breeze to keep them away.
The thing is, no matter how much bug spray you put on, and regardless of what brand, if they're out, you're going to get swarmed. In terms of bug spray, the only thing our thick, costly lotion did was cause us to wear a sticky coating of dead midge carcasses smashed all over our arms and face.
If you cross paths with a swarm of midges the only thing to do is to cover up exposed areas, wear a netted face mask, or keep walking. Eventually, you'll get to an environment where the midges disperse and you'll be left in peace.
Doing Laundry Along the Way
Because Audrey's a fanatic about laundry and we were going to be hiking for nine days, she was concerned about how she was going to get our muddy clothes washed. Many of our accommodations (surprisingly) did not offer laundry services.
The Inversnaid Bunkhouse had a smelly, damp drying room, and washing (not drying) cost GBP 5. While, the SYHA Youth Hostel told me laundry was unavailable because they had too much to do, and the B&Bs didn't even offer it.
In Scotland, it seems like most accommodations do not offer laundry services, and if they do it's ridiculously expensive, sometimes in the neighborhood of GBP 10 to 15 per load. Laundry has been a challenge for us every time we have visited Scotland.
We did get lucky though. After our muddiest day of hiking, we learned that the Arduli Hotel is connected to a holiday park with coin washers and dryers! We were able to wash and properly dry our clothes for under GBP 5 in the middle of our hike.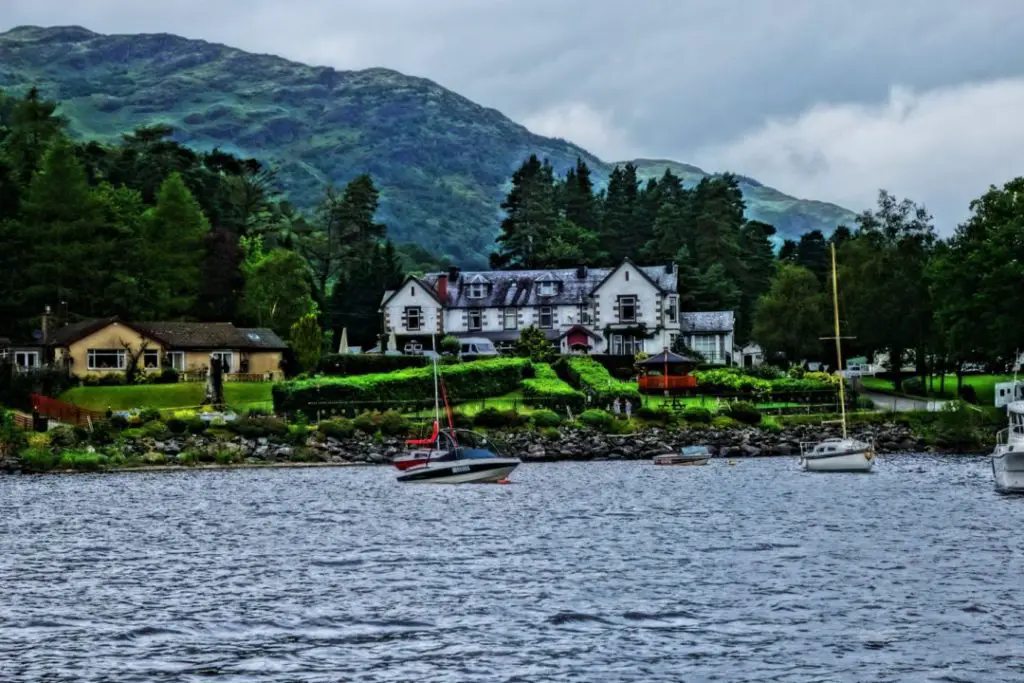 Celebrate at the Finish Line
Right next to the finish line is Wetherspoon the Great Glen, a great restaurant to celebrate the finish of the Way.
"It had nothing to do with gear or footwear or the backpacking fads or philosophies of any particular era or even with getting from point A to point B. It had to do with how it felt to be in the wild. With what it was like to walk for miles with no reason other than to witness the accumulation of trees and meadows, mountains and deserts, streams and rocks, rivers and grasses, sunrises and sunsets. The experience was powerful and fundamental. It seemed to me that it had always felt like this to be a human in the wild, and as long as the wild existed it would always feel this way."
― Cheryl Strayed, Wild: From Lost to Found on the Pacific Crest Trail
Our Favorite Photos
Below is a compilation of our favorite photos taken on the West Highland Way. We highly recommend this hike, especially for non-campers, and are currently scouring the internet in search of a similar experience. If anyone has had any great hiking suggestions, we would love to hear about them! Happy trails!
If you've made it this far down in the article, after 100+ photos, you may be interested in viewing our journey below!