As we road-tripped through France, the wine wasn't the only thing fueling our agenda. During our 28-day tour of the country, we were on a mission to visit all of France's best world war sites and attractions scattered throughout France. Due to our love of history, we sought out anything and everything related to both World Wars.
The goal was to learn more about how both World Wars impacted the people and countries involved. To assist us in planning our trip to France's most worthwhile World War sites, we used this Rick Steve's guidebook. Also, we added a few of our own hidden gems to really make our whirlwind four-week tour of France amazing.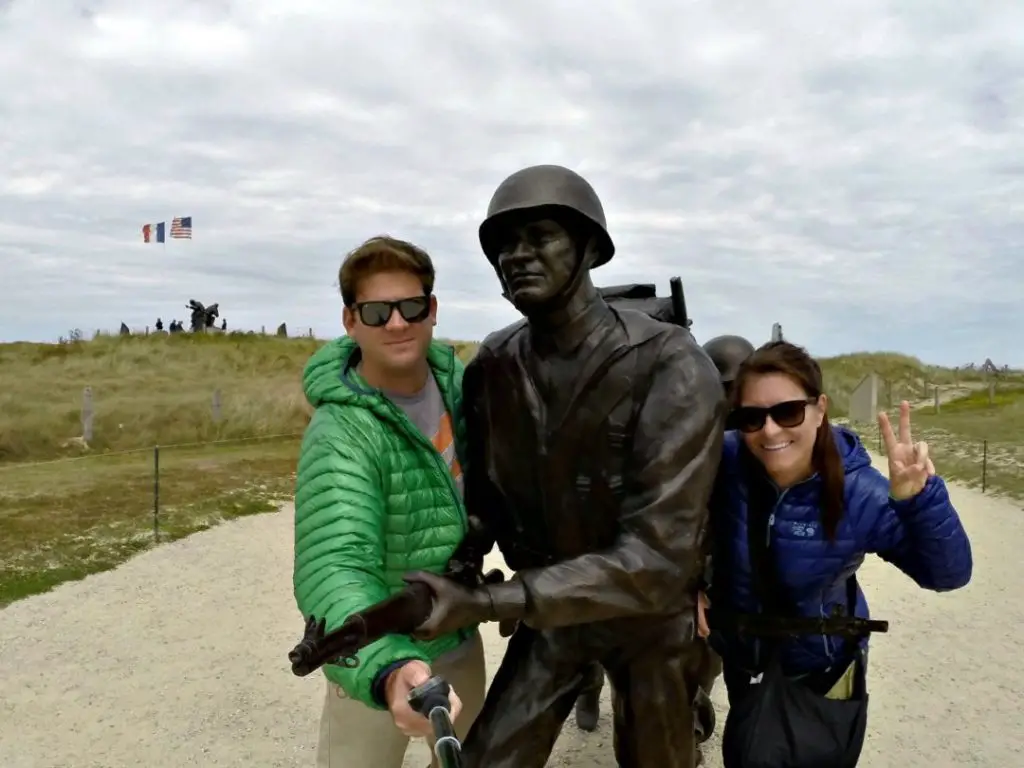 After tons of research and planning, we realized that the best way to tour France was by renting a car through one of the short-term lease buyback programs through Auto Europe. We ended up paying only USD 28 per day for a brand new fully-insured vehicle with a zero-dollar deductible. The catch is, the leasing period must also range between 21-175 days.
Therefore, if you need to rent a car for less than 21 days you must go the traditional way. If you arriving by air and are looking to rent a car, we always compare prices between Discover Cars and Skyscanner to make sure we're getting the best price.
Touring France's Best World War Sites and Attractions
Below is our guide to the best World War sites and attractions in France.
1. D-Day Beaches, Normandy France
It's hard to imagine the death and destruction that occurred on this beautiful piece of France's northern coast back in 1944. Along the stretch of historical beaches, there are memorials, monuments, museums, and bunkers that allow visitors to get a better understanding of the battles fought here. Pack a picnic lunch and take time to walk the sandy oceanfront to reflect on this significant part of WWII history.
Our favorite museum to visit is the Overlord Museum, don't miss it.
Recommended Accommodation > La Sapiniere in Saint-Laurent-sur-Mer
2. Pointe du Hoc, Normandy France
Pointe du Hoc overlooks a cliff overlooking the English Channel. After scaling 100-foot cliffs, over 225 United States Army Rangers assaulted and took over this German strategic site. There are bunkers, underground tunnels, and a bomb-cratered landscape to explore.
An interesting fact is that during the planning and training phases for this engagement, the teams practiced firing the grapnels with DRY rope. However, during the rough English Channel crossing, the ropes became soaked making them extremely heavy. When the Rangers initially fired the grapnels none of them made it to the top of the cliff. (Talk about having to overcome a huge problem at the worst moment!) Luckily, a few of the last ropes were dry enough to be fired to the top of the cliff. The rest is history.
Recommended Accommodation > Le Lavoir des Capucins in Sainte-Menehould
3. La Main de Massiges, Massiges, France
We stumbled on this outdoor museum by chance. La Main de Massiges is a memorial and archeological site where visitors can walk the trenches of WWI. The site provides insight into what life was like in the trenches. Real artifacts are still in place and are free to be touched and held. This is one of France's best World War sites.
When you're ready to book your flight, follow these three easy steps to get the best price.
Historical photos in the ruins provide visitors the chance to get a glimpse into what daily life was like. The site is eerily quiet and often free from other visitors. As late as 2014, excavators and volunteers are still finding the remains of soldiers buried beneath the rubble.
Recommended Accommodation: Le Lavoir des Capucins in Sainte-Menehould
4. Oradour-sur-Glane Village, France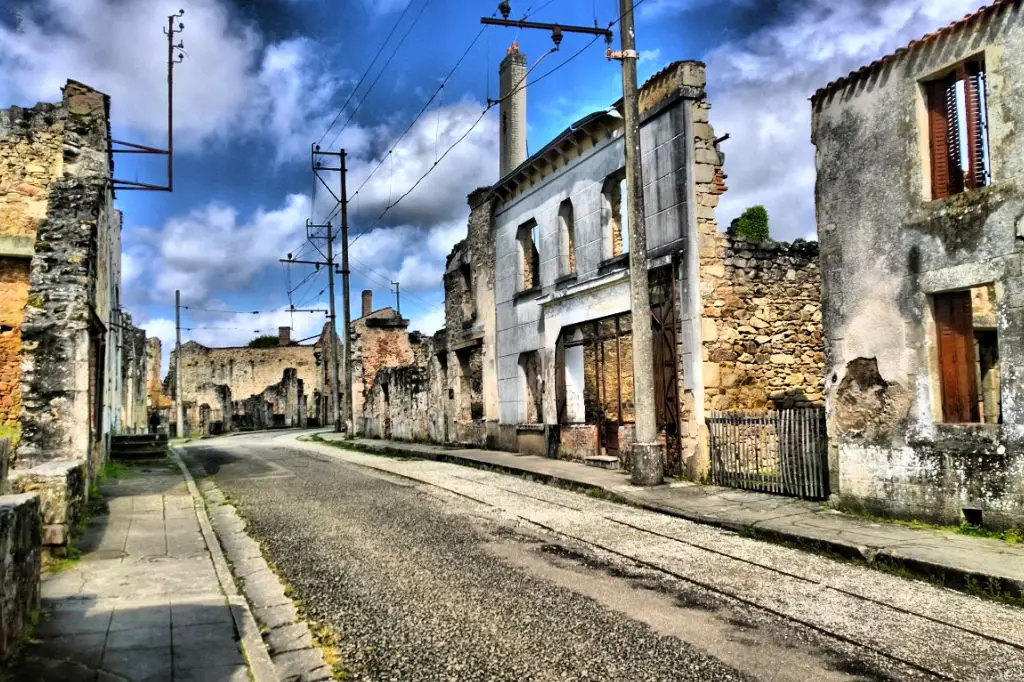 To us, this was the most shocking and disturbing WWII site that we encountered during our European travels. On June 10, 1944, 642 men, women, and children of the small French village of Oradour-sur-Glane were viciously massacred by Nazis. The charred remains of the village still stand as a memorial to all who died in this horrific event.
We use this budget-savvy travel health insurance to protect our trips –
get a quick quote
.
We walked around the rubble in stunned silence, getting a visual image of this war crime which historians claim still has no understandable motive. As this is the site of the worst Nazi massacre of civilians carried out on French soil, it's a bit surprising that this memorial is not better known throughout the world.
Oradour-sur-Glane was one of France's best World War sites that we visited. Touring the village is free. The Interpretation Center has a small admittance fee.
Recommended Accommodation: Le Clos de la Muse in Saint Junien
5. Sainte-Mère-Église
This WWII location tells the story of an American paratrooper (from our home state of Illinois) who accidentally landed on the Sainte-Mere-Eglise Church. He played dead for two hours. Unfortunately, he was shot in the foot and captured by Nazi soldiers. He eventually escaped and continued the fight against the German forces.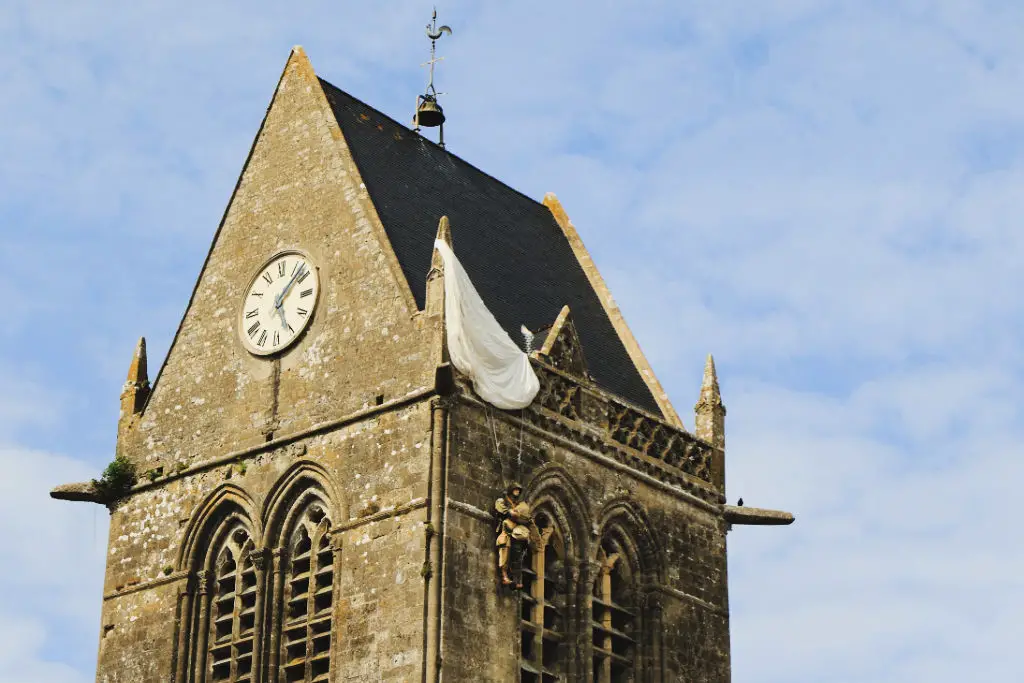 Check This Out: How to Combine France's Wine Country With WW Attractions
Today, a mannequin hangs from the place where he landed back on D-Day in 1944. It's an interesting and unexpected sight in the small village of Ste-Mére-Eglise, which is featured on the Normandy Battlefields Tour (#2 above).
We recommend pairing it with the Airborne Museum, our vote for one of the best WWII museums in France. The admission cost is EUR 8 per adult.
Recommended Accommodation: Logis Hotel Le Sainte Mere in Sainte-Mere-Eglise
6. Normandy American Cemetery and Memorial
No trip to France's WWII sites is complete without paying respect to the American heroes at rest in the Normandy American Cemetery and Memorial. These soldiers bravely gave their lives to help liberate Europe from those damn Nazis. There is a good free museum inside the visitor center. It is worth exploring before walking around the beautiful grounds.
Recommended Accommodation: Chambres d'Hôtes Le Clos Tassin – Colleville-sur-Mer
Have you had the opportunity to retrace the footsteps of some of history's bravest heroes by visiting some of France's best World War sites? If so, please feel free to share your experience in the comments section below.