Komodo National Park is one of the most remote national parks in Indonesia. It was founded in 1980 to protect the world's largest lizard, the Komodo dragon. Due to the park's spectacular scenery, when most travelers arrive their imagination is sparked with tales of a past time.
Komodo National Park is only accessible by boat. Therefore, visitors should plan on taking either a day cruise or a multi-day cruise to see the numerous islands. Since there is so much to see, a multi-day cruise is the best option.
Komodo National Park – Overview
The park covers some 3,670 square kilometers and includes twenty-eight islands off the west coast of Sumbawa. It encompasses a variety of habitats including coastal areas, dry savanna, freshwater swamp forest, and limestone hills.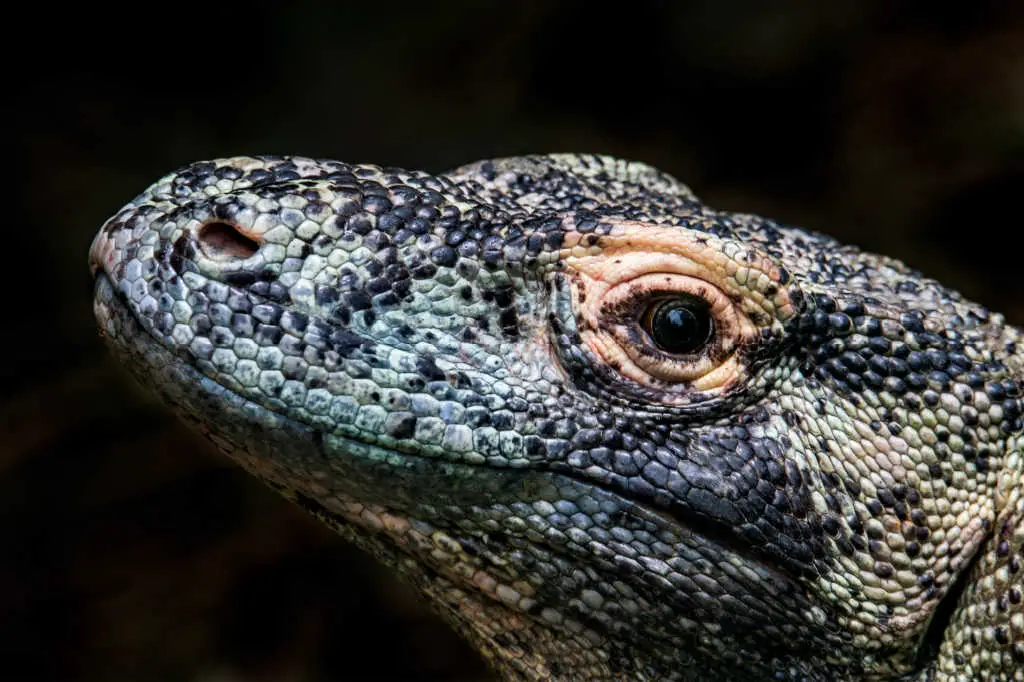 Of course, this miraculous place is home to the Komodo Dragon, the world's largest living lizard. Given that it can grow to up to 10 feet in length, it's quite amazing to see in the wild.
Visitors may spot young Komodo dragons perched high up in trees. However, the best viewing experience usually occurs while watching them searching for prey on the ground.
Interesting Facts: The Komodo Dragon is the largest and heaviest lizard on earth, growing up to 10 feet in length and weighing up to 300 pounds. While typically found walking less than 2 mph on the ground, they do have the ability to run up to 12 mph and travel as far as seven miles per day. As a result, Komodo dragons are dangerous to humans which is why guides carry long heavy sticks to protect the group.
As a carnivore, the flesh of dead animals is the dragon's main source of nutrition. They hunt by waiting along game trails, ambushing their prey, and delivering a venomous and heavily bacterial-filled bite. Furthermore, the animal is typically not killed immediately but will often be found later in the process of dying.
The Komodo dragon is known to eat up to 80 percent of its body weight in a single feeding.
🦎🚢 Best Cruises to Komodo National Park > Check Availability
Terrain
Unlike the dense, lush islands of Lombok and Bali, Komodo Island is generally dry and hilly. Also, much of it is covered in grassland brush.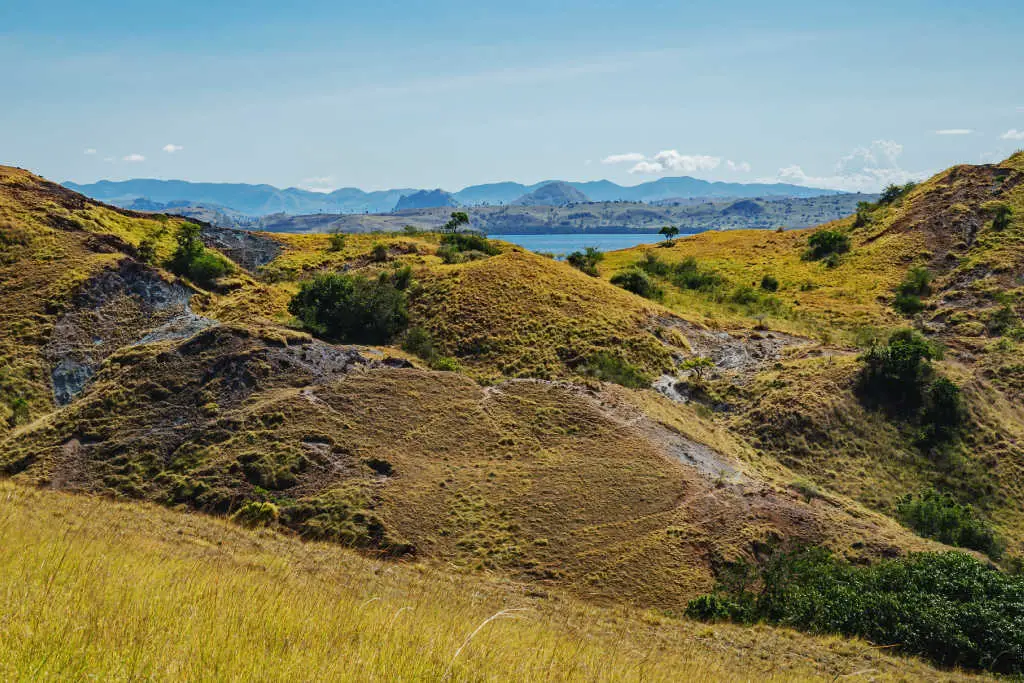 The inhospitable landscape of the island is most easily observed from a distance. However, the environment is the ideal setting for the park's most popular animal, the Komodo dragon.
Other Wildlife
Komodo National Park has over 400 species of marine life and 4 UNESCO World Heritage sites. As a result, it comes as no surprise that the park is an international favorite with travelers looking for adventure and beauty.
Other than the Komodo dragon, the park is home to an abundance of large mammals including wild buffalos, pigs, and Timor deer. Moreover, with nearly 200 species of birds, including white-breasted sea eagles, jungle chickens, and sulfur-crested cockatoos, birders will find the island especially intriguing. In regards to marine life, highlights include the occasional manta ray and sea turtle, as well as parrotfish and clownfish.
Unique Villages to Visit
Both the islands of Rinca and Komodo have villages that welcome guests. As a result, it's quite special for visitors to interact with the only community on earth that lives among the dragons.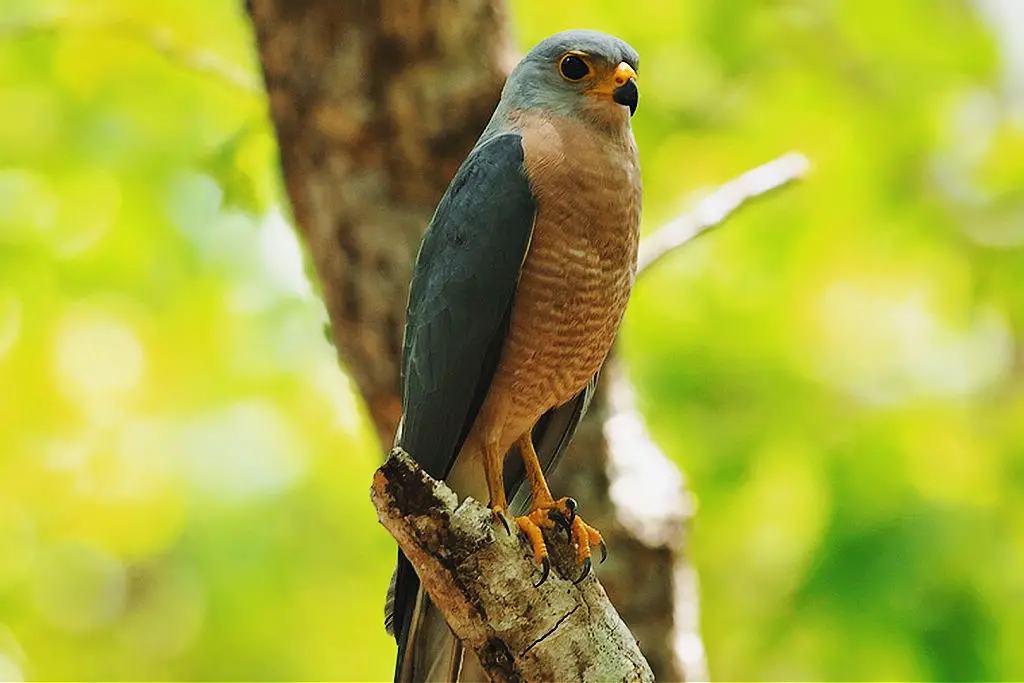 Tourists will quickly notice one of the key architectural aspects of the villages. This is because most of the homes sit on stilts to keep the inquisitive dragons out of their dwellings. Finally, highlights of a village tour include the opportunity to purchase handmade souvenirs while gaining an understanding of everyday life.
Getting to Komodo National Park – Take a Cruise!
The only way to visit Komodo National Park is by boat. As a result, most visitors reach the park via a multi-day luxury cruise or on a day trip cruise. Multi-day cruises depart from either Labuan Bajo on Flores at very reasonable prices or Padangbai and Amed on Bali's east coast, which is typically made up of expensive luxury cruises.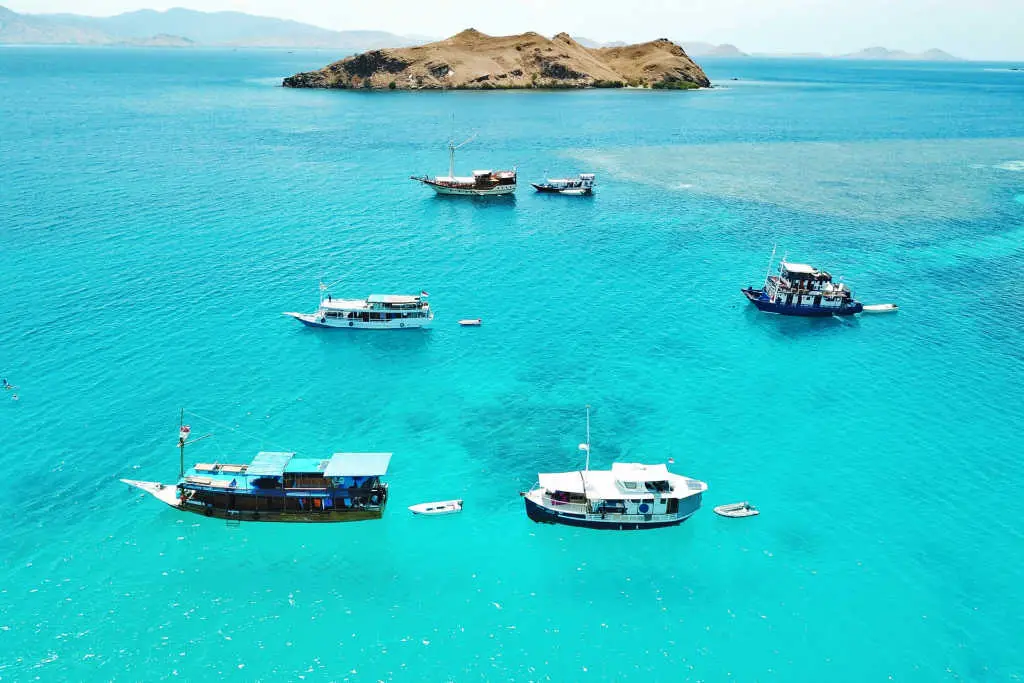 Multi-Day Cruises
Generally, we would recommend reasonably priced cruises from Labuan Bajo. Options include a three-night cruise, two-night cruise, and one-night cruise. The nice thing about these overnight cruising tours is that everything is taken care of and you won't feel rushed.
Single-Day Cruises
Day cruises depart from Labuan Bajo and are a great way for travelers short on time to see Komodo National Park. Furthermore, the highlights of a day-trip cruise include touring numerous islands, the scenic viewpoint on Padar Island, visiting Manta Point to swim with Manta Rays, and included meals and insurance. Also, another option for day cruises from Labuan Bajo is to go on a private fast boat, bringing up to four passengers.
Best Itinerary – Flores and Komodo National Park
The beauty of Flores and Komodo National Park is well worth combining into one beautiful 10-night itinerary. It is possible to go at it on your own, however, we recommend exploring Flores with local guide Matheo (Mat) Gaton for seven nights and then adding a three-night cruise to Komodo National Park.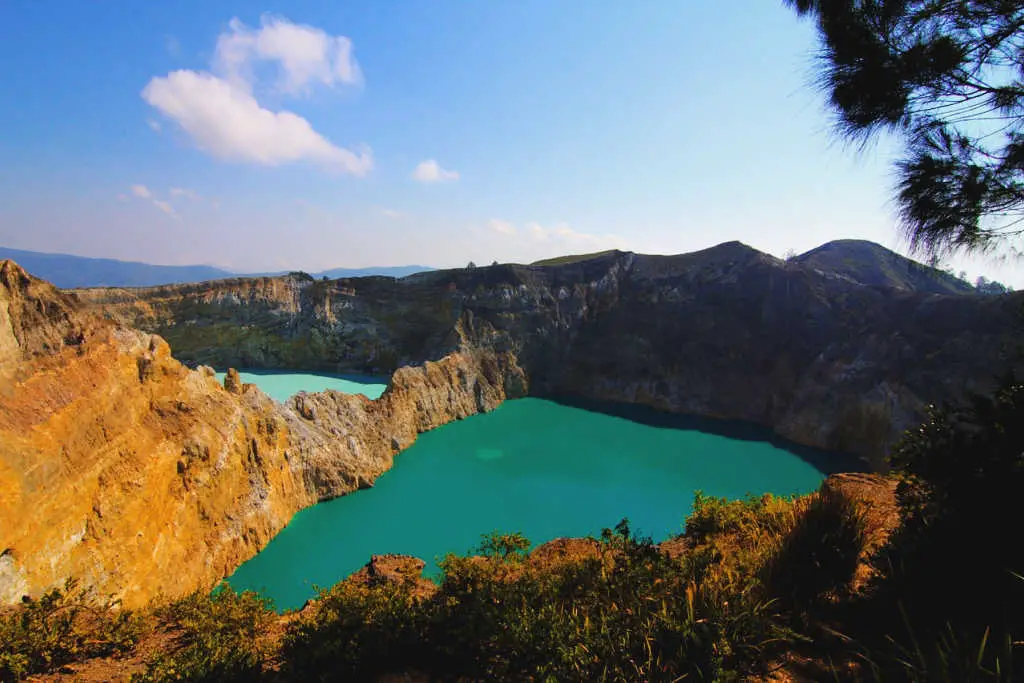 Visitors flying into Maumere Airport (MOF) are picked up by a local guide (Mat Gaton) for their seven-night journey around Flores. Mat's tour ends in Labuan Bajo, the perfect place to take a cruise through Komodo National Park.
Travelers looking to overnight in Labuan Bajo should stay at Inaya Bay Komodo. It's a clean, modern hotel with gorgeous views near the Labuan Bajo harbor (where cruises depart) or Komodo Resort & Diving Club for anyone looking for excellent diving and snorkeling opportunities. Finally, upon completing the cruise, travelers may fly directly from Labuan Bajo, out of Komodo International Airport (LBJ).
Travelers looking for accommodations near the Maumere Airport should consider Amrita Maumere Resort which is only about a 15-minute drive away. The hotel is located on a beautiful beach and offers lovely standard rooms at affordable prices and more opulent beach bungalows.
Exploring Komodo National Park's Three Main Islands
There are 29 islands that make up Komodo National Park. However, the three largest islands are Komodo, Padar, and Rinca.
The Komodo dragon can be found on both Komodo, Rinca, Gili Dasami, Gili Montang, and even back on the main island of Flores. Below is a short overview of each of the unique attributes of the three main islands.
1. Komodo Island
Walking through Komodo Island, the largest of the islands, and a UNESCO world heritage site is like going back in time to the days when dinosaurs ruled the earth. There's something extremely prehistoric about walking near a large, dangerous Komodo Dragon—the king of all lizards!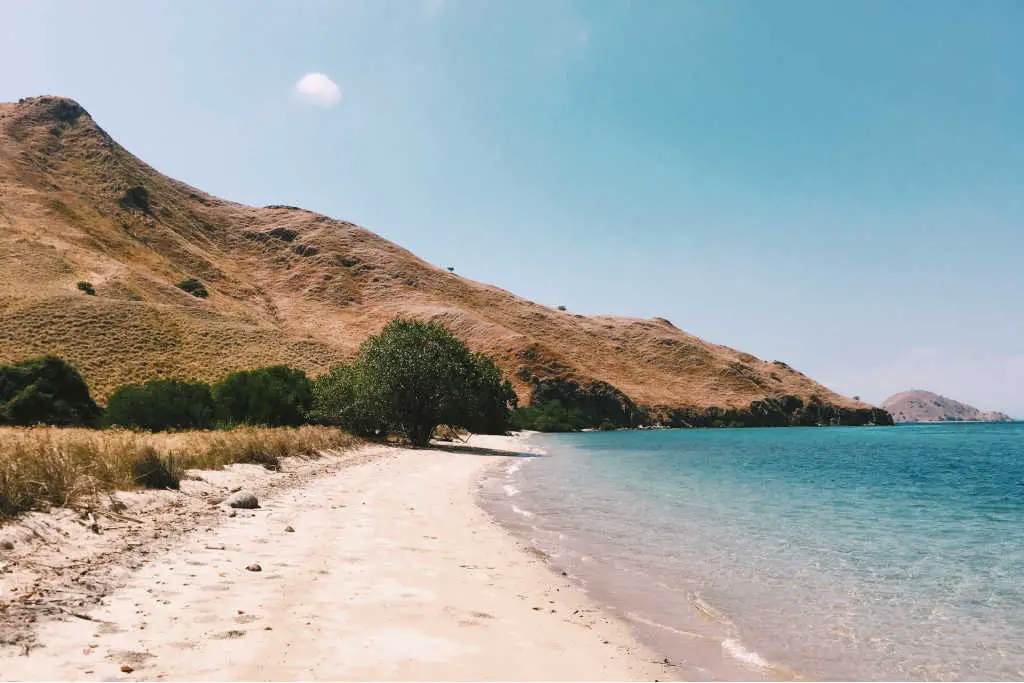 Read: World Heritage Sites: A Complete Guide to 1073 UNESCO World Heritage Sites
The experience of Komodo is especially enticing when you include the amazing setting. Imagine morning mist floating up from the foliage, through the magnificent hills, creating a Jurassic Park-like ambiance. Envision yourself swimming in water so clear and blue that it rivals any other place on Earth.
Pantai Merah/Red Beach
One of the highlights of visiting Komodo is Pantai Merah, or "Red Beach." Due to the presence of red coral particles in the sand, the beach has an amazing pinkish hue. Pantai Merah is the ideal location to relax or celebrate after an adventurous day with the Komodo dragons!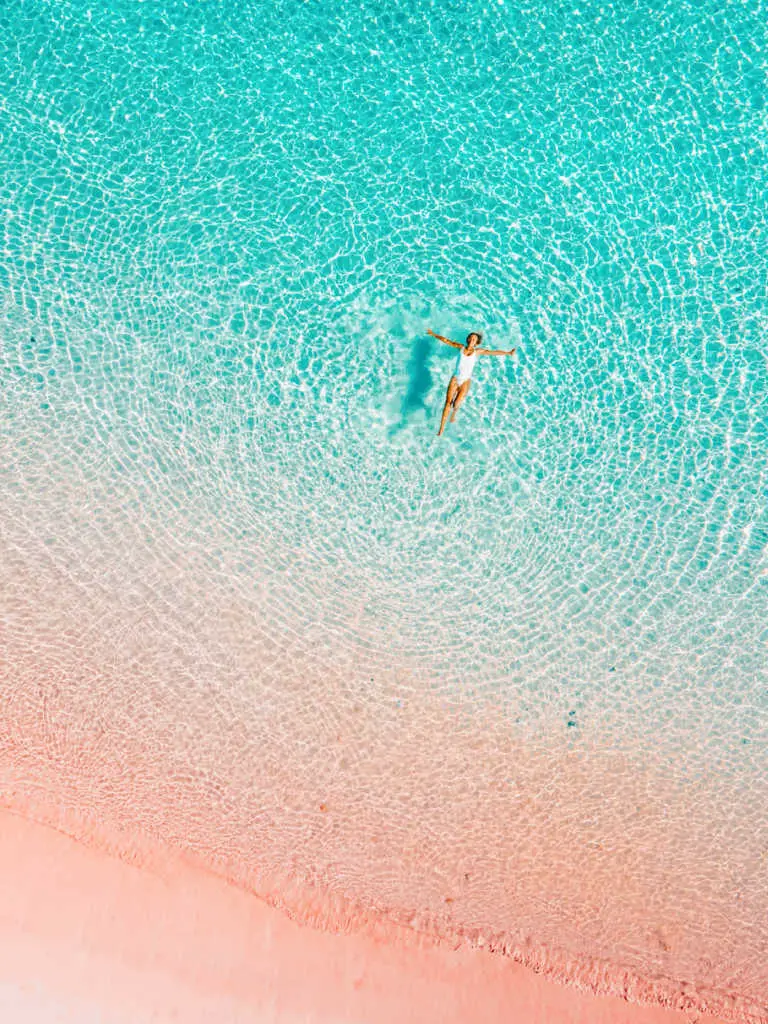 Komodo is based in the Coral Triangle, one of the most popular snorkeling and diving locations in the world. As a result, Pantai Merah is regarded as a gateway to Komodo's water-based activities including paddleboarding, kayaking, swimming, and snorkeling. In fact, tourists looking to go snorkeling will find an enchanting world of coral and sea creatures including manta rays, snake eels, and seahorses.
From walking wildlife safaris to soaking up the sun on fabulous beaches after a day of hiking through the everchanging terrain, Komodo has everything you need for endless fun.
2. Padar Island
The view from Padar Island's famous viewpoint is Komodo National Park's most iconic photo. In fact, when typing "Komodo Island" in a search engine, it's most likely the first image to be retrieved. For this reason, the short 25-minute hike is the most popular activity on the island.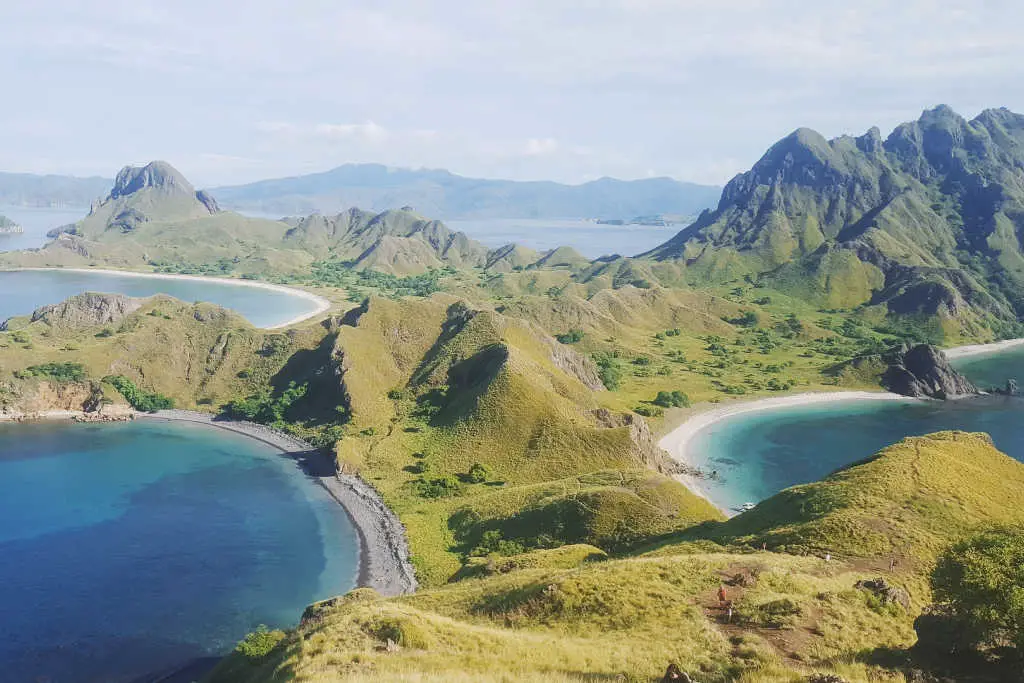 Bring This Book: Amazing Animals: Komodo Dragons
Padar is mostly a treeless, savannah-covered landscape embellished with fairy-tale-shaped mountains. It's surrounded by numerous aquamarine-colored bays, and oddly enough, three of them are each in a different color. The most famous, pink beach, is of course pink. While the other two are black sand and white sand beaches. It's quite rare for such a phenomenon to occur in such a small amount of space—quite a unique travel oddity!
3. Rinca Island
Of the three main islands, Rinca is the second largest. It is less visited than Komodo Island and thus offers a greater opportunity to observe Komodo dragons in their natural environment, along with fewer tourists to compete with.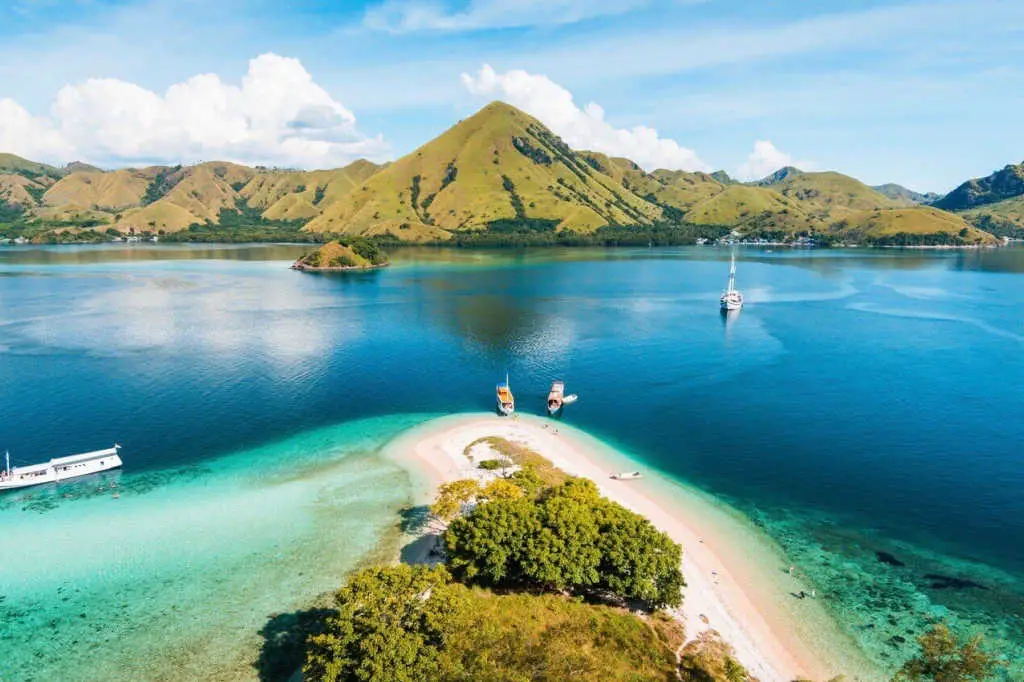 Some visitors report that Rinca is where they experience the most dragon sightings. Many Komodo dragons conveniently gather near the arrival point where the ticket booth, ranger station, and small dining area are situated. Rangers explain that the smell of food lures them to the entrance of the park.
Generally, Rinca Island is known for its hiking and trail excursions. After crossing the scenic bay by boat, visitors arrive to spend about two to three hours exploring along with the park's friendly and knowledgeable rangers. Typically, your local guide will help organize the park tickets and necessary ranger fees.
Rinca Island Trails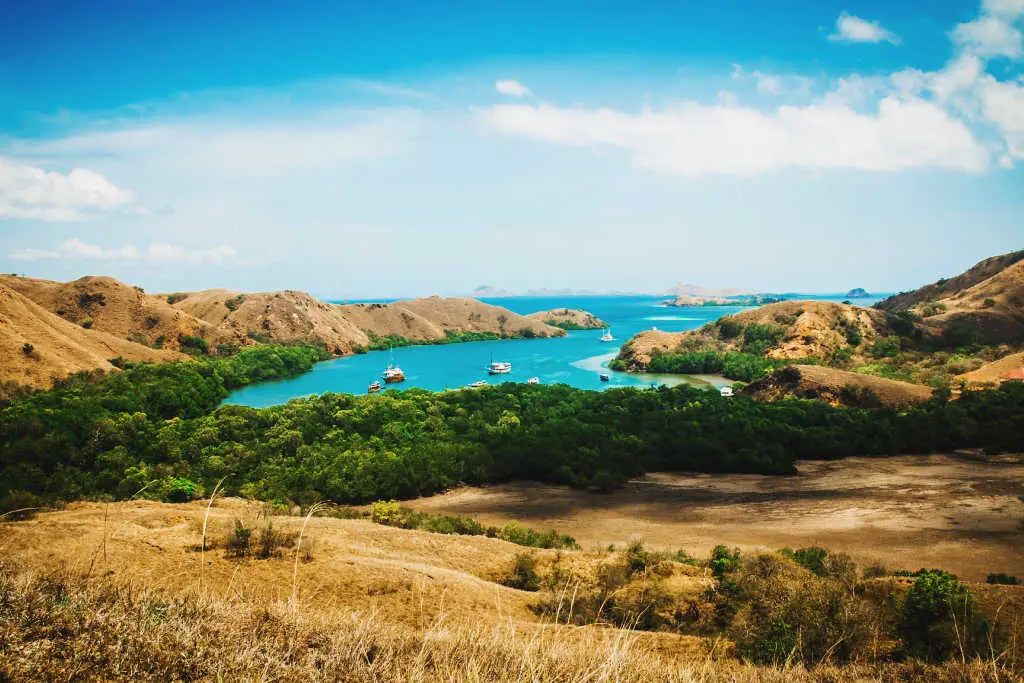 There are three different trails that all start at the Loh Buaya ticket office. They include:
Short: This short route takes visitors on an easy, shaded walk that passes by an artificial watering hole and up a small hill with a view over the bay. It takes about 30 minutes.
Medium: This trail traverses through exposed savanna and in between dragon nesting sites. Dotted with lontar palm trees, it takes about one hour to complete.
Long: For the ultimate natural experience to see Komodo dragons and their prey in the wild, consider the longest trek. The trail takes hikers across steep slopes and past a permanent water source. Although it offers breathtaking views, it is a highly exposed trail so come prepared with sturdy footwear and appropriate clothing. This hike takes about two hours.
During the day it gets extremely hot. Therefore, bring plenty of water, dress for extreme heat, and bring sun protection items such as sunglasses, hats, and sunscreen. Remember, if you want to see the dragons when they are most active, arrive in the earlier hours of the morning before it gets too hot.
Komodo National Park Travel Tips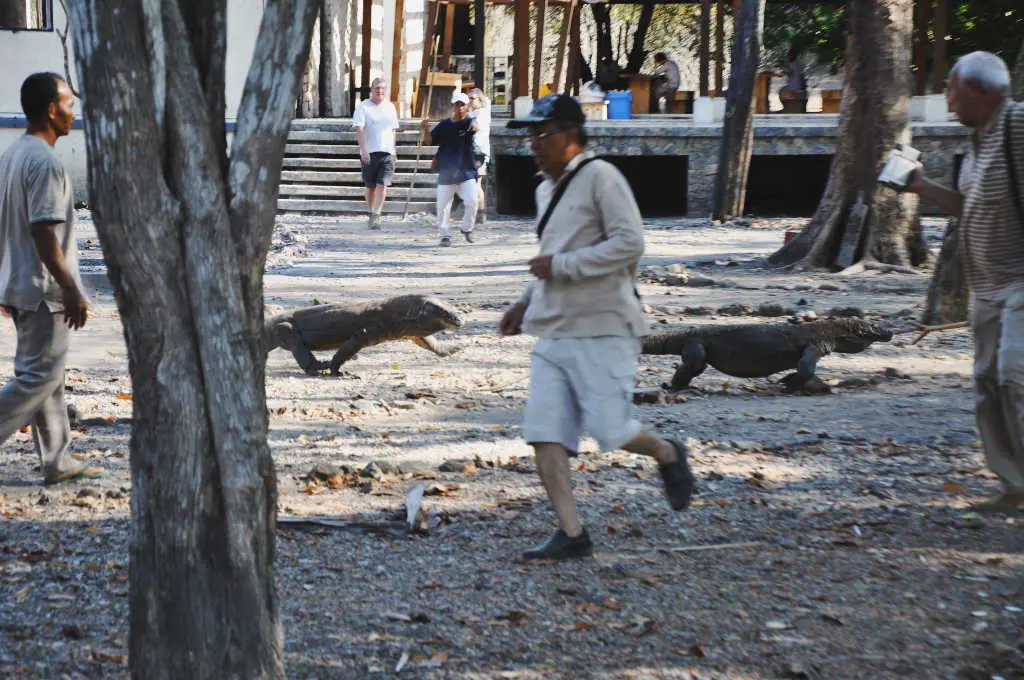 Consider bringing an underwater camera to capture sea life and the underwater reefs that surround Komodo National Park.
Smoking is not allowed in Komodo National Park.
Come prepared to explore with appropriate footwear, sun protection, water, and extra cash to tip guides and park rangers.
Consider a multi-day cruise or day-trip cruise that visits Padar Island. It is one of the most iconic views in Indonesia.
We Need Your Help
Did you find this article helpful? If so, bookmark it and when you're planning your next vacation click on any of the links below before finalizing reservations. You'll get the best price, we'll earn a small commission, and you'll help support future articles.
Thank you!
BEST TRAVEL SEARCH ENGINES
🏘️ Book Your Accommodation
We use Tripadvisor and Priceline's Express Deals to compare prices and reviews in advance and check availability
✈️ Book Your Flight in Advance
To find the cheapest flight options, you can use WayAway and Skyscanner to find the most suitable choice for you
🚗 Reserve Your Rental Car
Use DiscoverCars and Skyscanner to compare prices and view the largest selection of vehicles