Researching a trip to the Shawnee National Forest may seem a bit overwhelming at first. The area covers the entire southern tip of Illinois which is about 450 square miles. It's made up of a vast chunk of land between the Mississippi and Ohio rivers, often referred to as "Little Egypt." 
Touring the area, you'll notice towns, roads, and subdivisions named after those in Egypt, such as Cairo and Thebes. The reason for the nickname has become a bit cloudy over the years, but many historians claim that it stems from the fact that the land was similar to that of Egypt's Nile delta.
SHAWNEE NATIONAL FOREST TRAVEL GUIDE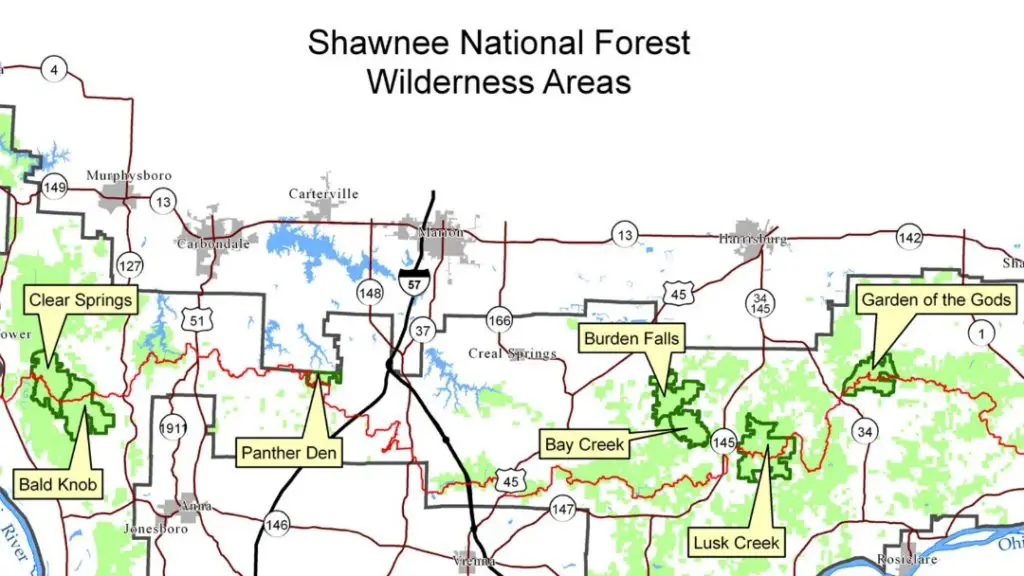 We spent five nights touring the area during the late fall. The weather was a bit chilly. The leaves on the trees had fallen and there wasn't a mosquito in sight. Most people will spend between two to five nights in the region.
Due to the vastness of the forest, we highly recommend that visitors divide up the area into two regions: east and west. Begin researching the area and you'll quickly discover hundreds of things to do and see around the forest. This may make planning your visit somewhat confusing because you may not know where to start.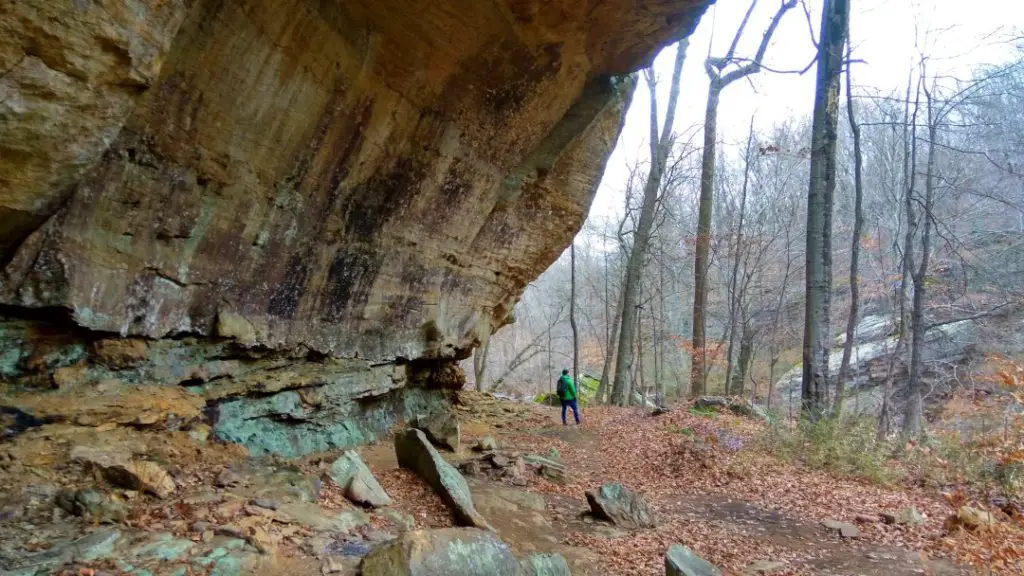 Best Accommodation Options in Shawnee National Forest
If you're staying in Carbondale, the best accommodation options include:
Budget: Super 8 or University Inn of Carbondale (recently renovated)
Mid-Range: Hampton Inn (continental breakfast) or Home2 Suites (modern and many amenities)
Two good options for staying within the Shawnee National Forest are Shawnee Forest Cabins and Blue Sky Vineyards.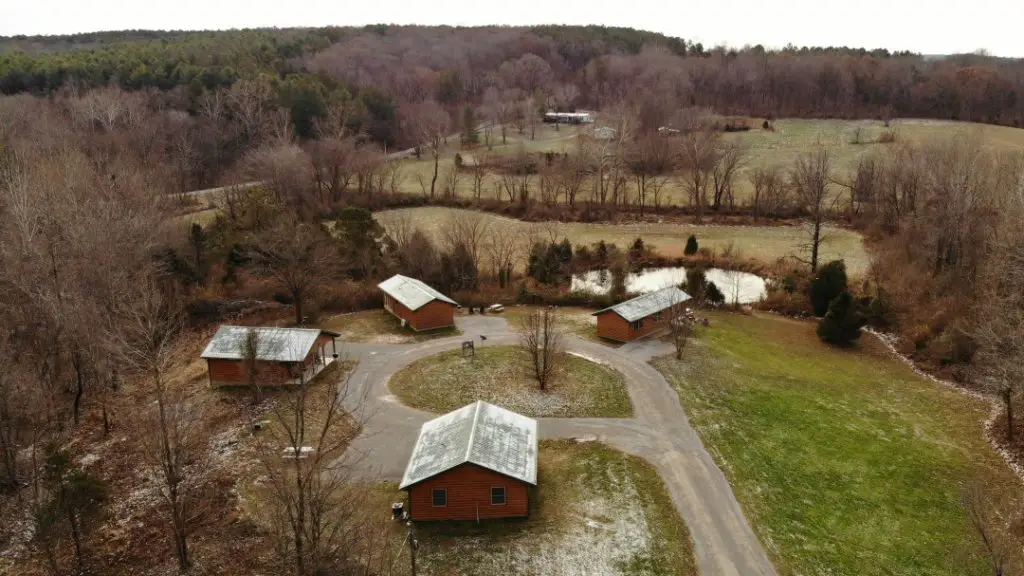 Shawnee Forest Cabins provides guests with private comfortable cabins. Due to the vastness of Shawnee National Forest, it is highly recommended that visitors divide their choice of accommodations up based on the section of the forest that they're visiting.
For example, while touring the east section of the park we stayed at the Shawnee Forest Cabins. While exploring the west region of the park, we stayed at Blue Sky Vineyards.
Shawnee Forest Cabins – East Side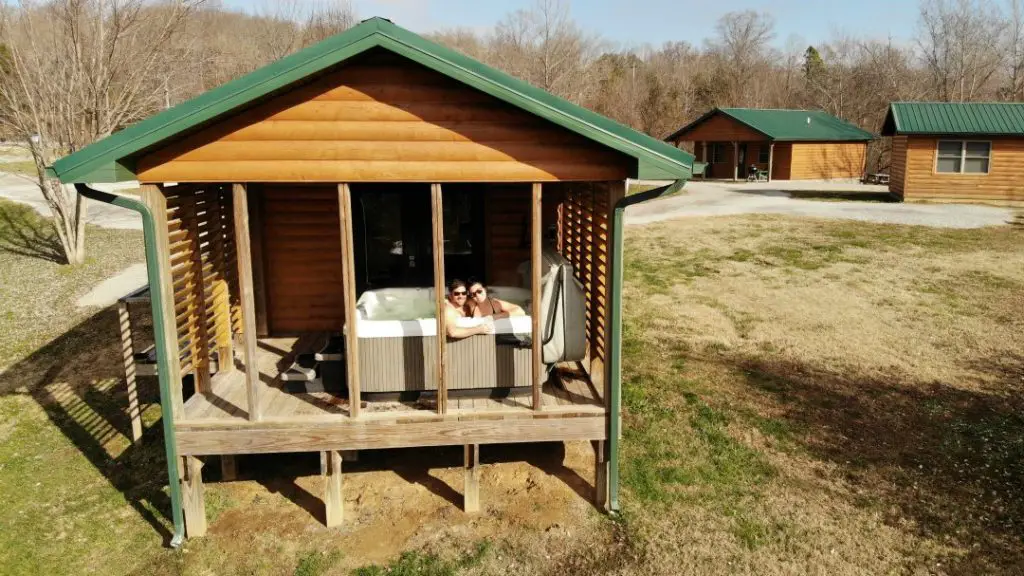 Located across from Camel Rock, the Shawnee Forest Cabins offer the perfect location as a base to explore. Avid hikers will love the fact that they can walk to the Garden of the Gods Recreation Area, in the heart of the Shawnee National Forest. The cabins feature private hot tubs, fast Wi-Fi, fireplaces, satellite TV, outdoor fire pits, and full kitchens.
Blue Sky Vineyards – West Side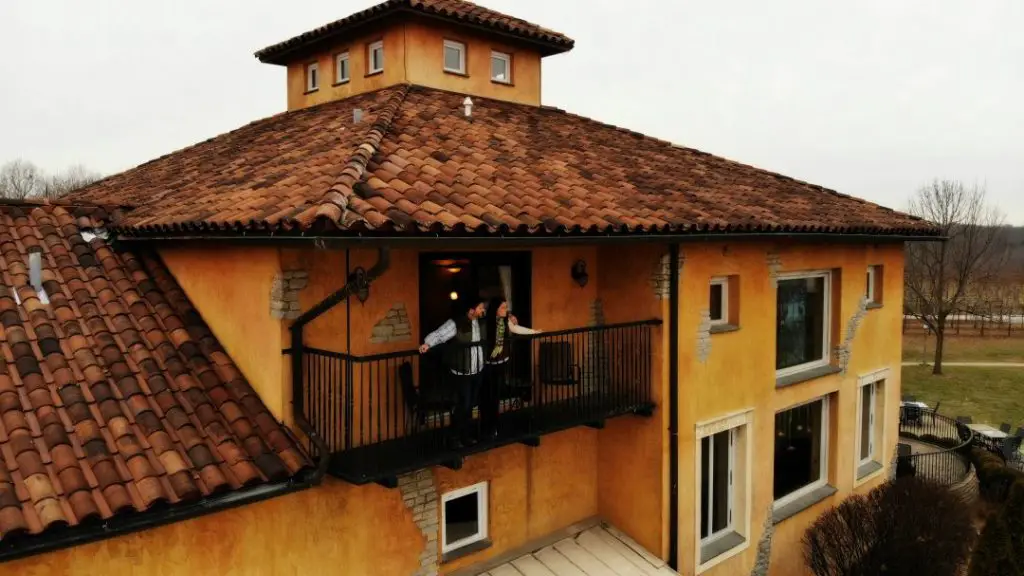 During our visit to the west section of the Shawnee National Forest, we focused mainly on the Shawnee Wine Trail. However, we did make sure to visit the Pomona Natural Bridge which is located on this side of the forest.
Blue Sky Vineyards provides overnight guests with a truly hidden gem. Two spacious suites are located just above the winery tasting room. Our suite, the Tuscany Romance Suite, included a balcony that overlooked the wine bar and an additional balcony overlooking the vineyards and Shawnee Hills.
The Tuscany Romance Suite also offers a small kitchenette with a coffee pot, sink, microwave, and refrigerator. A European-style breakfast comes with each stay. However, guests may decide to choose a bottle of their signature wines in place of breakfast.
Seven Wilderness Areas and Five Recreation Areas
The Shawnee National Forest includes seven wilderness areas and five recreation areas. The wilderness areas are considered more remote and secluded. This is mainly because motorized vehicles are not allowed in this part of the forest.
These parts are definitely for the more hardcore outdoorsman/hiker. Alternatively, the recreation areas are more visitor-friendly and are easily accessible for hiking, camping, picnicking, and exploring nature.
Don't forget to bring a good set of hiking poles⁠—trust us, they will save your knees and ankles from serious injury.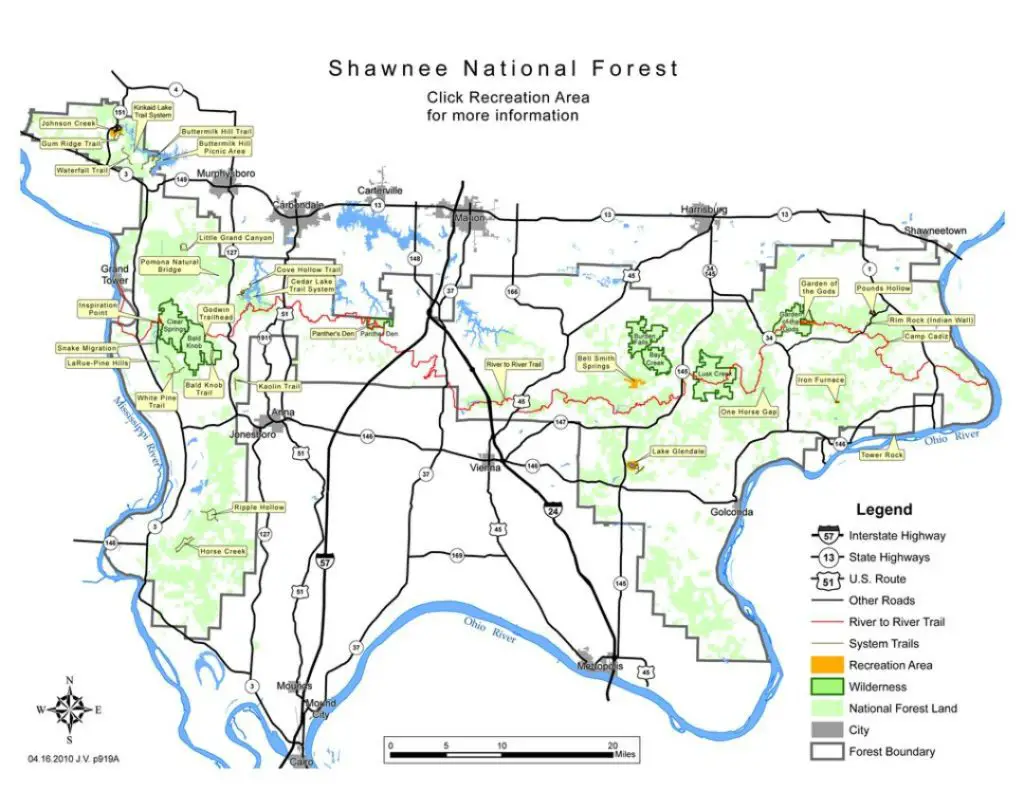 As nice as it may sound, most people don't have the luxury of getting lost for weeks in the vast wilderness. With that in mind, this guide will provide a general understanding of the area so you can focus your efforts in the correct direction. We've gone ahead and have proactively split the areas up (i.e., east and west) and have listed the must-see attractions in order of their significance and ease of access.
This may sound easy enough, but consider that the area offers many options: two National Scenic Byways, rock-climbing, bird watching, horseback riding, miles of short and long-distance hiking (bring hiking poles⁠), and big-game hunting. Remember, it was established as a national site in 1939, so there's a ton of history here too. When you look at Shawnee National Forest as a whole, it can get overwhelming.
Best Places in Shawnee National Forest by Activity
Bird Watching: Panther Den Wilderness
Climbing: Jackson Falls
Cycling: Lake Glendale Recreation Area or Tunnel Hill State Trail
Fishing: Bay Creek Lake #5 (or try a guided fishing trip)
Guided Horseback Riding: Giant City Stables
Hiking: Bell Smith Springs Recreation Area
Picnicking: Goose Bay at Lake Glendale
Best East Side Attractions
Camel Rock – Garden of the Gods Recreation Area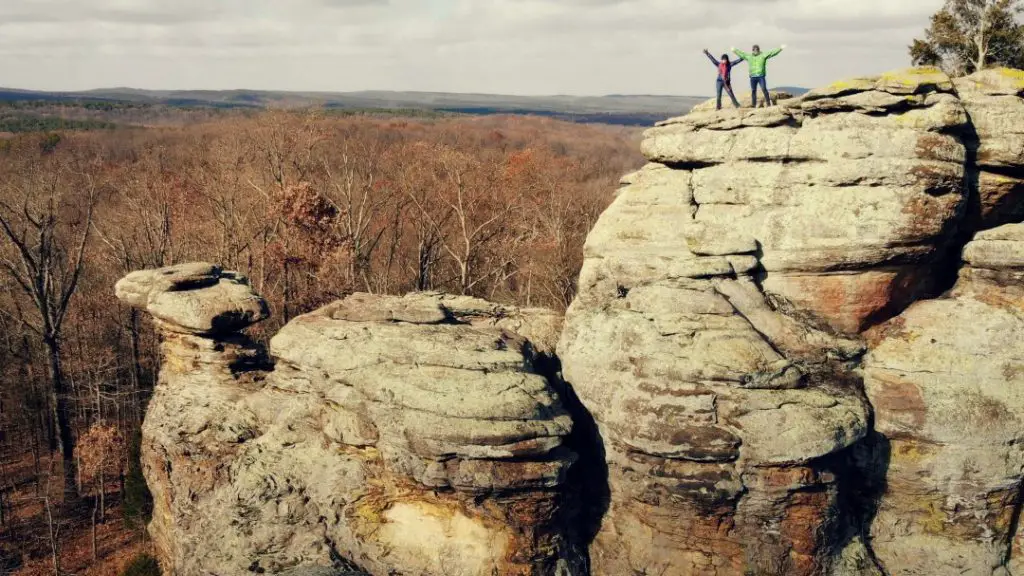 Camel Rock is located within the Garden of the Gods Recreation Area. This rock formation is so stunning that it was featured in the U.S. Mint America the Beautiful quarters program. The short 1/4 mile hike is easy and amazingly picturesque.
Cave-In-Rock | Cave-In-Rock State Park
Along the Ohio River Scenic Byway sits the Cave-In-Rock. Technically speaking, the cave is not located within the Shawnee National Forest (it is surrounded by it). A short walk from the parking lot leads to an awe-inspiring and captivating 55-foot wide cave. The cave sits atop a high bluff that provides astonishing views of the Ohio River. 
Rim Rock National Recreation Trail – Pounds Hollow Wilderness Area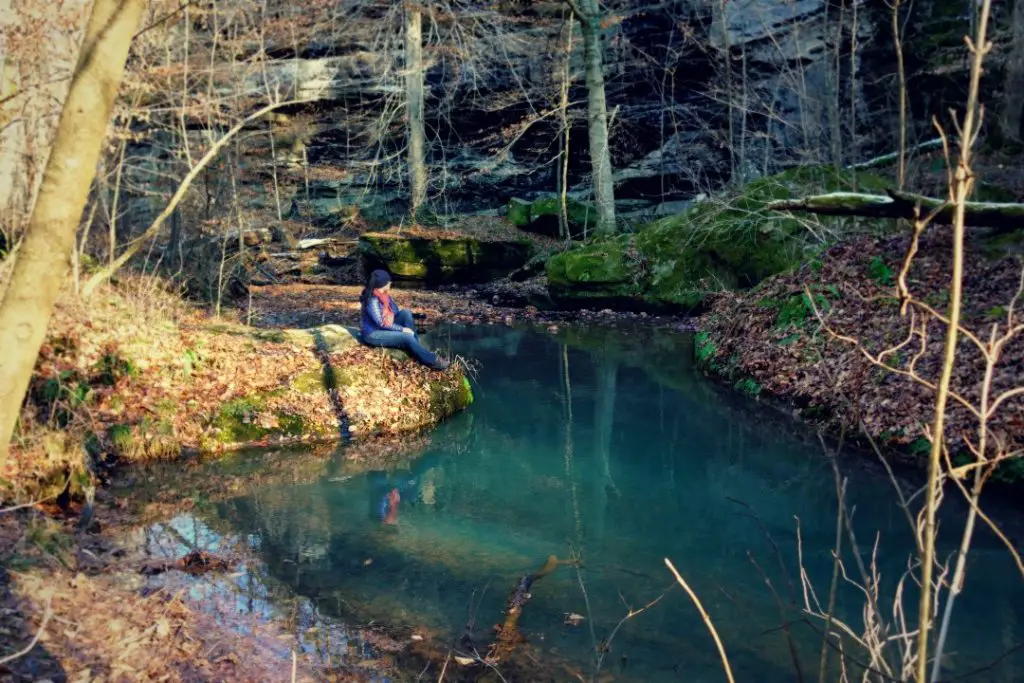 The 0.8-mile circular trail leads around the rim of the rocky escarpment. However, the sheer beauty of Rim Rock is appreciated from ground level. Instead of continuing back directly from the scenic viewpoint, take the stairs down and around the Ox-lot Cave.
This small cave was a natural landmark along the Underground Railroad. There are informative signs on-site that explain more. After exploring, return up by way of the lower trail. Along the way, make sure to take pictures near the beautiful teal-colored streams.
Bell Smith Springs Recreation Area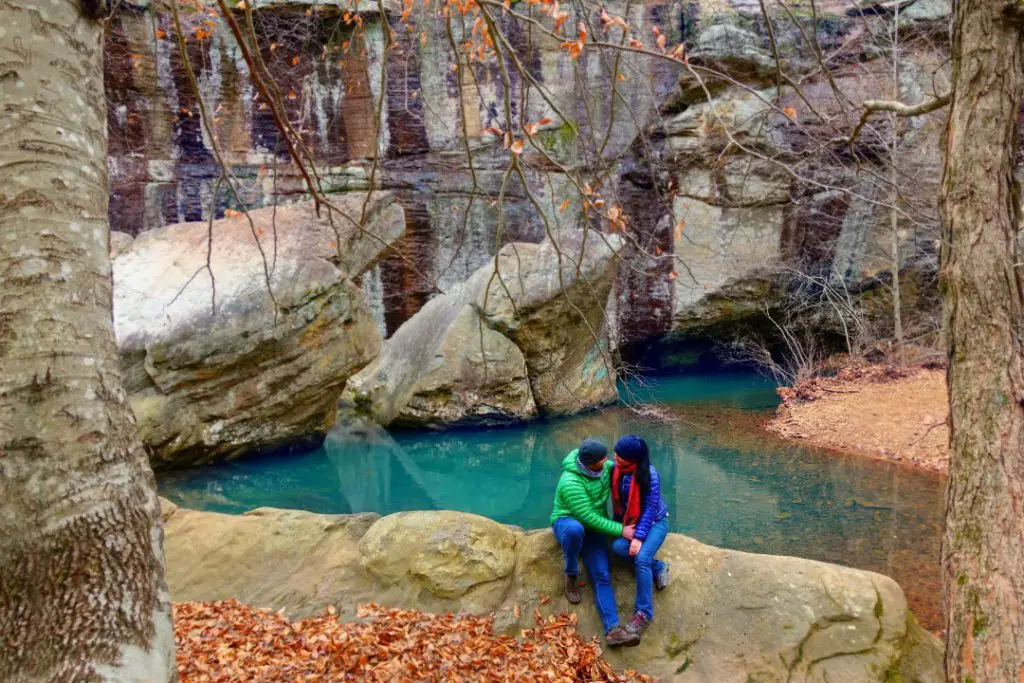 Bell Smith Springs Recreation Area just might be the best place for a day hike in Illinois. The 8-miles of interconnected trails sit within a lush canyon that uncovers crystal clear, rocky turquoise streams. The highlights include Devil's Backbone, natural rock bridge, and Boulder Falls. You'll be crossing many ankle-high streams so don't forget to bring waterproof boots.
Insider Travel Tip: Don't let the water stop you in your tracks. Bell Smith Springs offers the opportunity for some great day hikes in the Shawnee National Forest. However, trails will cross over streams and shallow ponds in both the summer and winter seasons. Waterproof footwear is a must if you want to explore the natural landmarks and venture through the woods.
Burden Falls – Burden Falls Wilderness Area
Burden Falls provides visitors with a short one-mile loop trail that features a small, but spectacular waterfall.
Millstone Bluff Archaeological Area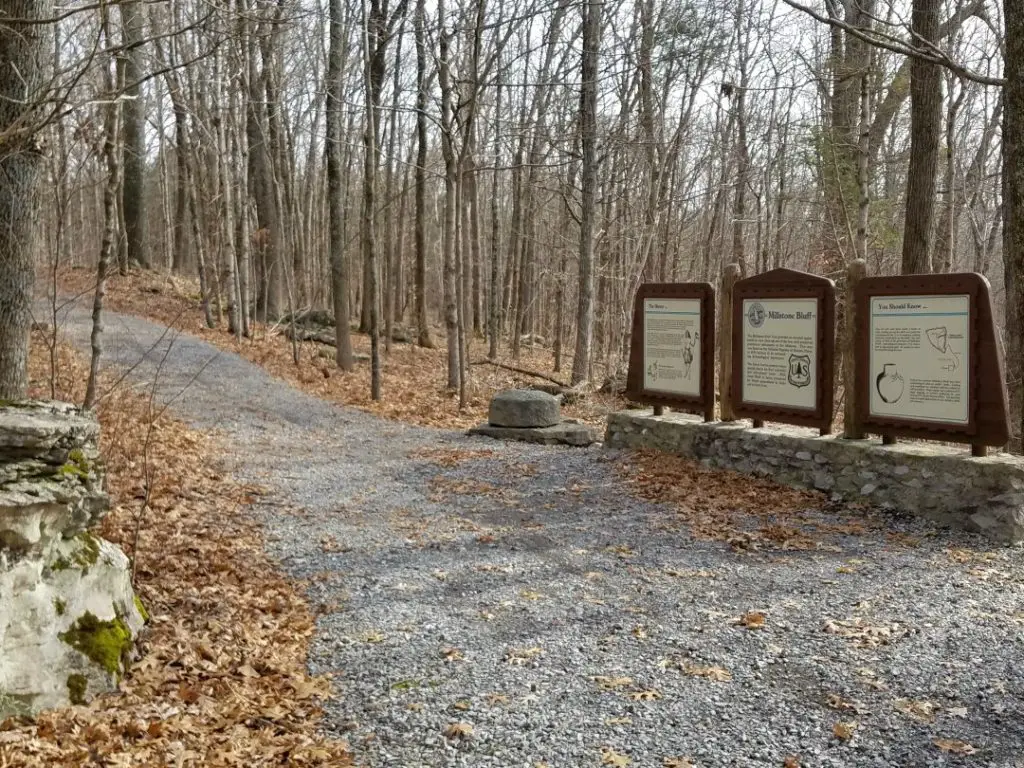 A short 3/4-mile trail ends 320 feet above the valley below. Along the way, enjoy interpretive signs acknowledging the ancient Native American village site that once sat at the top of the bluff. From 600-900 AD, the Late Woodland people built stone forts on the site. From 1350-1550 AD, the Mississippian people built homes, practiced their religion, and buried their dead in stone box graves.
Indian Kitchen – Lusk Creek Wilderness Area
Lusk Creek is the largest of the wilderness areas. It contains some of the most dramatic cliffs and astonishing river views within the entire Shawnee National Forest. Some have even compared it to Colorado. The out & back hike is about 3.5 miles each way.
Bay Creek Wild and Scenic River Study Corridor – Bay Creek Wilderness Area
Bay Creek is the smallest of the wilderness areas and is most popular for camping and horseback riding.
Lake Glendale Recreation Area
Lake Glendale Recreation Area is popular for having the largest sand beach. The area also provides nice opportunities for camping, fishing, boating, and cycling.
Best West Side Attractions
Pomona Natural Bridge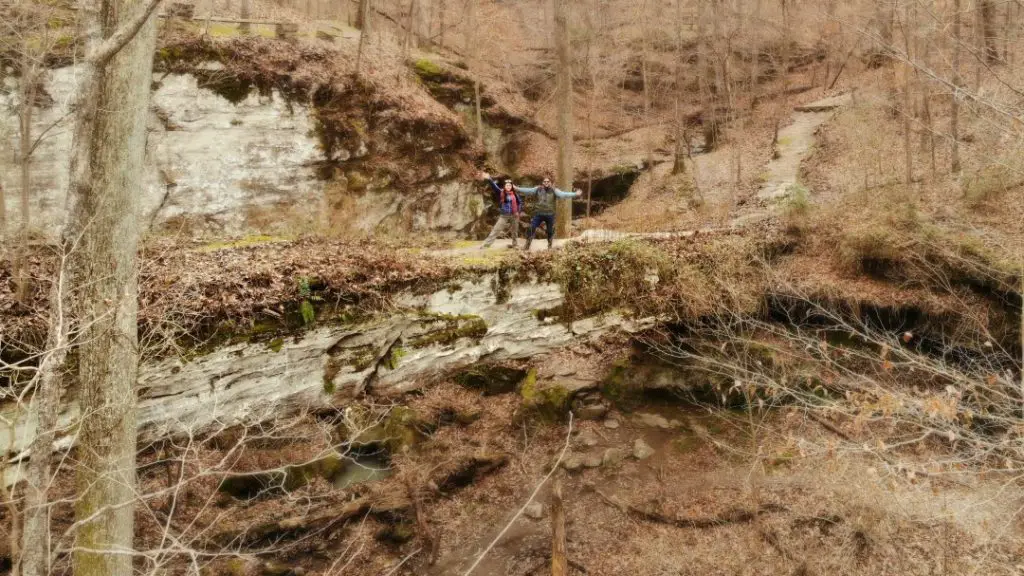 A short five-minute loop trail leads to a 90-foot long natural bridge made of sandstone. The bridge is perched about 12 feet above the tree-covered ravine.
Little Grand Canyon Trail
This three-mile loop hike descends into a canyon surrounded by magnificent bluffs. The upper segments provide wonderful views of the Mississippi and Big Muddy rivers. The seasonal waterfalls along the way are a bonus.
Inspiration Point Trail at LaRue Pine Hills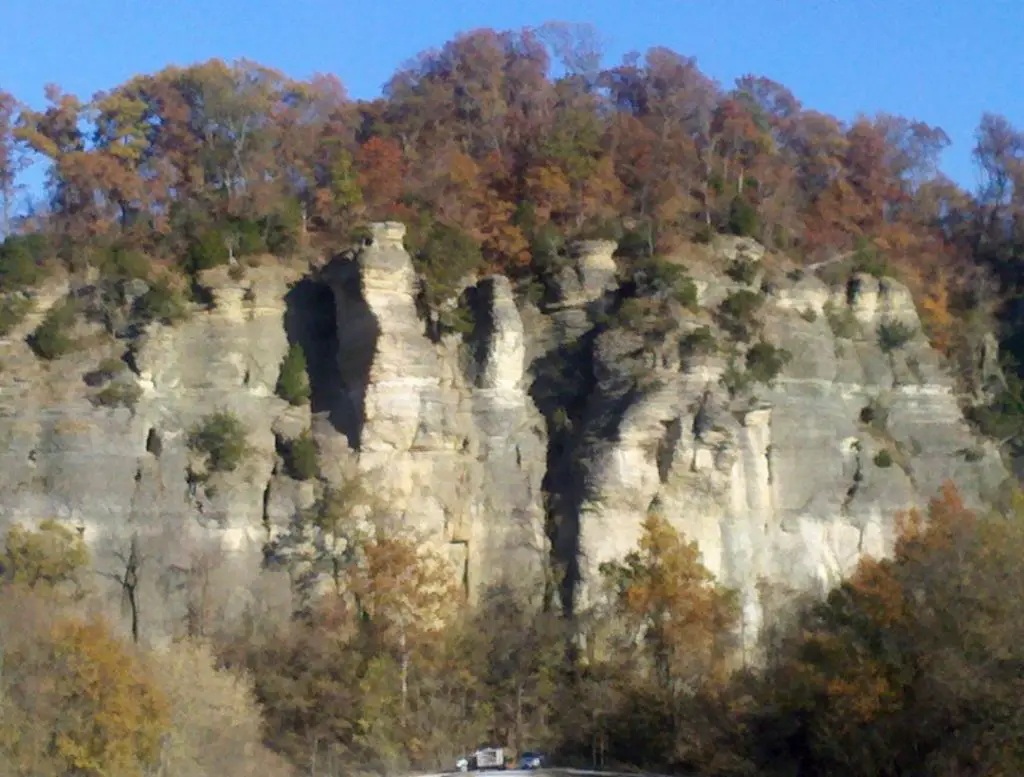 A short but steep 3/4 of a mile hike takes you to Inspiration Point. At this site, you can enjoy views of the panoramic views of the Big Muddy bottomlands and the Mississippi River valley.
Heron Pond – Little Black Slough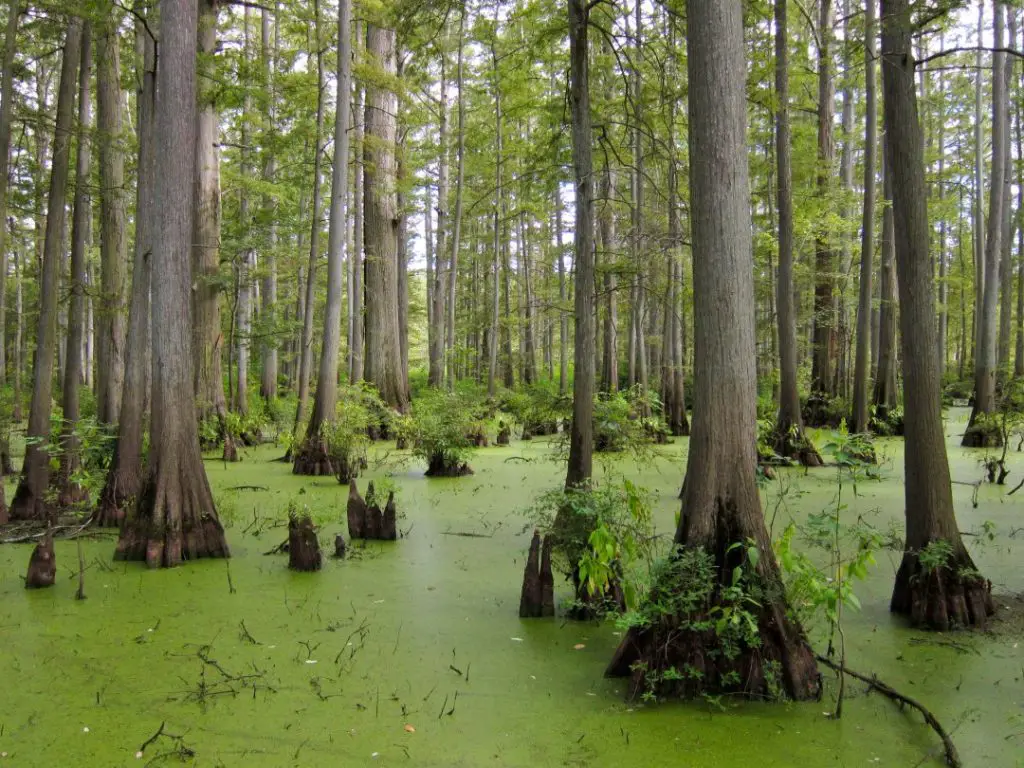 Although technically not part of Shawnee National Forest, Little Black Slough is the largest state-owned natural area. The 1,861 acres are broken up into Goose Pond, Heron Pond-Wildcat Bluff, and Boss Island-Boulder Slope Woods. The highlight here is the Heron pond. A short boardwalk takes visitors out over the swamp, providing a great opportunity to get up close and personal with local plants and wildlife.
Johnson Creek Recreation Area
Located on the large Kinkaid Lake, Johnson Creek Recreation Area is a great spot for fishing, camping, kayaking, hiking, cycling, and horseback riding.
Panther Den Wilderness Area
The relatively small Panther Den Wilderness Area has a 3.1-mile loop trail. It is quite common to spot deer, beaver, and muskrats in the area. This is also one of the best places in Illinois to spot a bobcat. The trail doesn't seem to be very well-marked and may seem confusing for hikers looking for a well-marked path.
Bald Knob Wilderness Area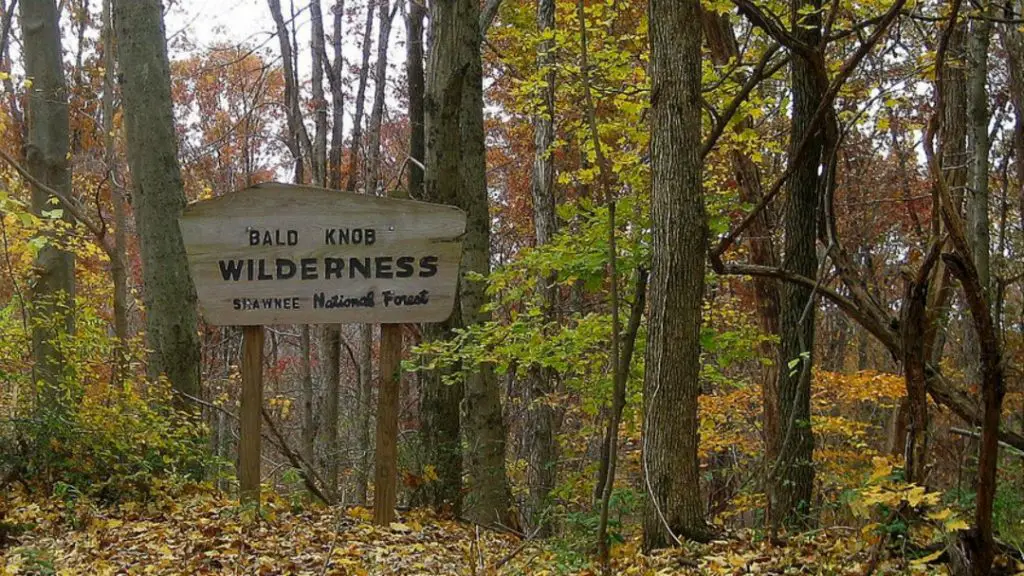 One of the most popular wilderness areas, Bald Knob is rugged and features two prominent trails:
Bald Knob Trail Loop: This three-mile hike is mainly used for birding and hiking.
Godwin Trail: This six-mile (one-way) trail crosses both the Clear Springs and Bald Knob Wildernesses. It also makes up a section of the River to River trail.
Clear Springs Wilderness
Known for its large population of snakes and rugged terrain, the Clear Springs Wilderness attracts hikers, campers, horseback riders, and backpackers. Hiking the Godwin Trail and enjoying views of the Mississippi River are the two most popular activities.
Other Points of Interest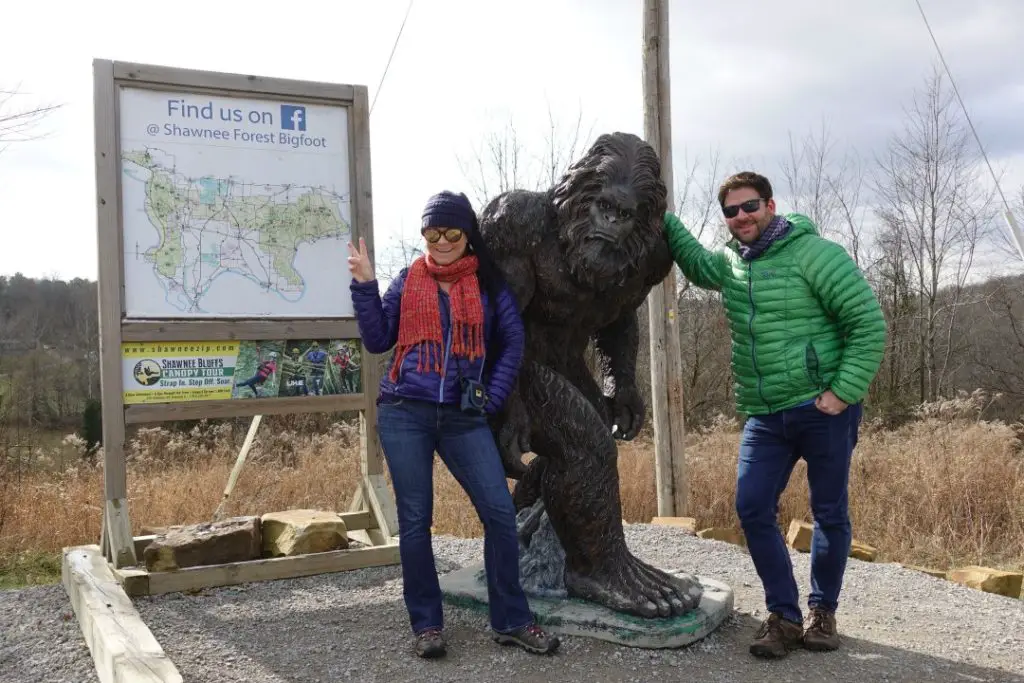 Golconda Memorial Bridge
A great place to view the Ohio River and imagine Lewis and Clark traveling down it.
Shawnee Forest Bigfoot
Located at the intersection of Garden of the Gods & Karbers Ridge Rd., this 7-foot tall Bigfoot is a great place to grab a snapshot on the way to Camel Rock.
River to River Trail
This 160-mile trail spans from the Mississippi to Ohio rivers.
Historic Sites
Underground Railroad
Illinois Iron Furnace
Scenic Drives
Ohio River National Scenic Byway
Great River Road
Best Restaurants in Shawnee National Forest
One reason we enjoyed staying at the Shawnee Forest Cabins was that we had access to a full kitchen. Once out in the middle of the forest, it can be quite inconvenient to travel to a restaurant for meals. For example, it's not uncommon for the closest restaurant to be 30+ minutes away. With that in mind, the locals that we spoke with recommended the following restaurants:
East Side – Restaurants
Diver Down
E-town River Restaurant
The Red Onion
Vienna Diner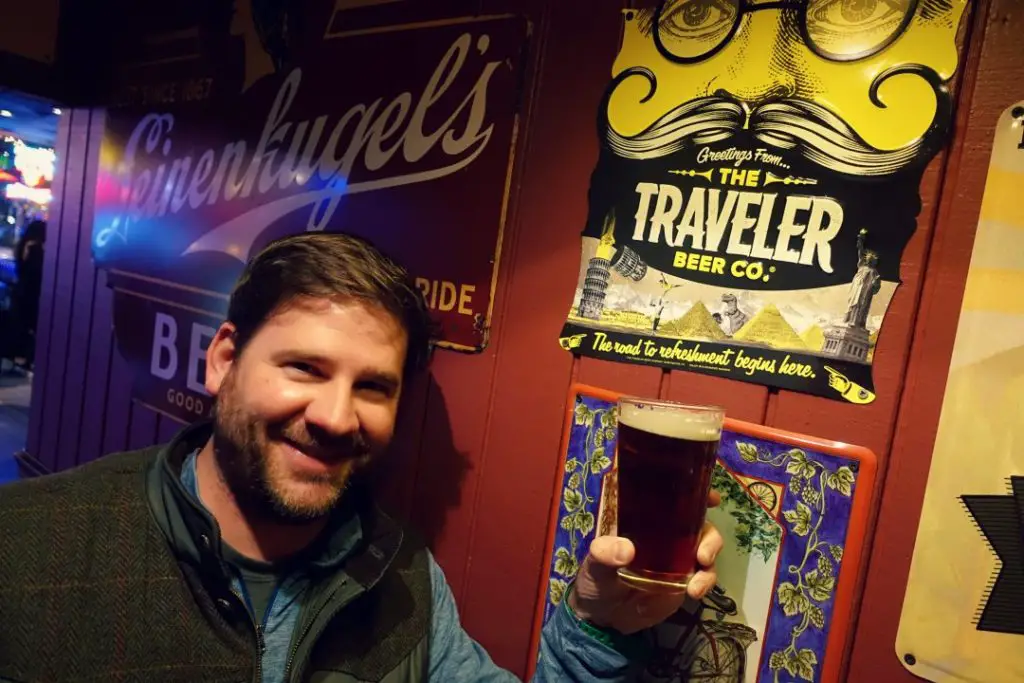 West Side – Restaurants
The west side of Shawnee National Forest is much closer to Carbondale, where there are many options for food.
Pinch Penny Pub [Update: PPP closed in 2019. Try Chango's Bar & Grill.]
Giant City State Park Lodge & Restaurant
Blue Boar Restaurant
17th Street BBQ
General Tips
Use caution when visiting the area.

Cell phones/GPS do not work in many areas of the forest.
Carry extra water, food, first-aid kit, etc.
Poison ivy & venomous snakes are present.
Expect longer response times by emergency personnel.

A great source for detailed information on the area is the United States Department of Agriculture | Forest Service
Have you been to the Shawnee National Forest? Make sure to add your own personal hidden gems in the comments below.