Venture beyond the city skyscrapers and concrete sidewalks to find some of the best wildlife experiences in Illinois. These natural destinations are where visitors can enjoy Midwest wildlife and some unexpected finds too! Come explore the following wildlife in Illinois.
Willowbrook Wildlife Center | Glen Ellyn
Located in Glen Ellyn, the Willowbrook Wildlife Center is a rehabilitation facility that provides care and medical attention to injured and orphaned wild animals. Their goal is to encourage the community to learn more about living in harmony with local wildlife. During a visit, guests can enjoy watching staff feed and care for both wounded and baby animals. Wildlife left with permanent disabilities have homes along an established outdoor trail. Long-term residents include hawks, groundhogs, owls, raccoons, turkey vultures, red foxes, and bald eagles. The rescue bobcat who lives on site is always a fan-favorite.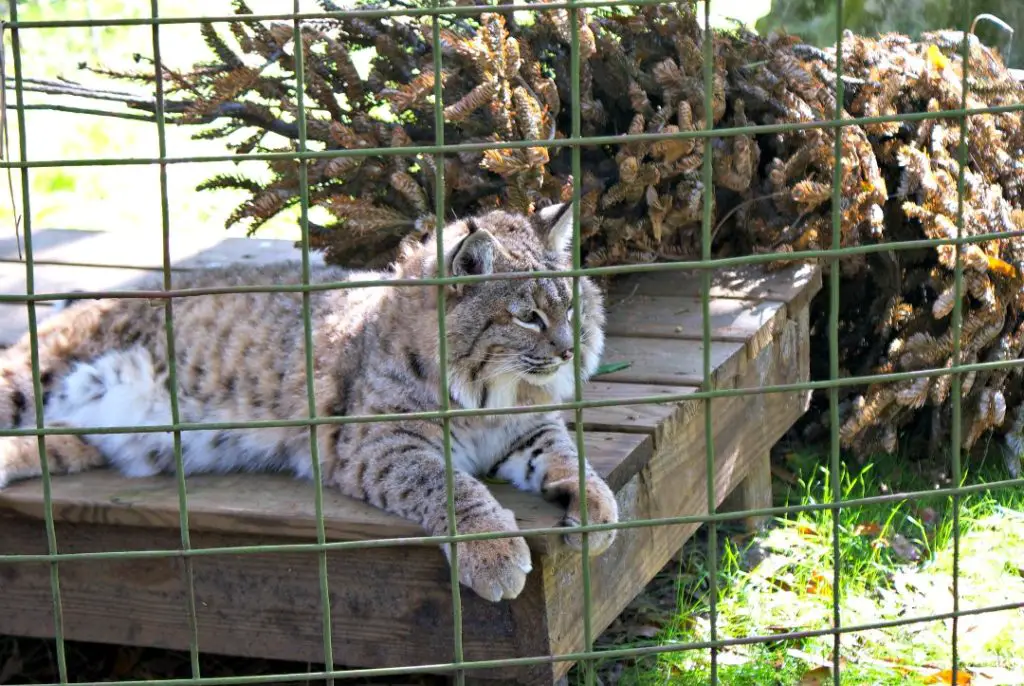 The center also has a butterfly garden full of calming sensory experiences and a small activity center for children. There is a half-mile nature trail that meanders through 40 acres of native northern Illinois landscapes—restored prairie, savanna, woodland, and wetland habitats. This is a great opportunity to go on a walking wildlife safari. There is no admission fee, however, donations are welcome.
Starved Rock State Park | Utica
Winter offers one of the best seasons to view American bald eagles in Illinois. When shrubbery and leaves vanish and animals gravitate to flowing water sources because lakes and rivers freeze over. When the weather is warmer, birds will hunt up and down the river and there will be fewer eagles to view.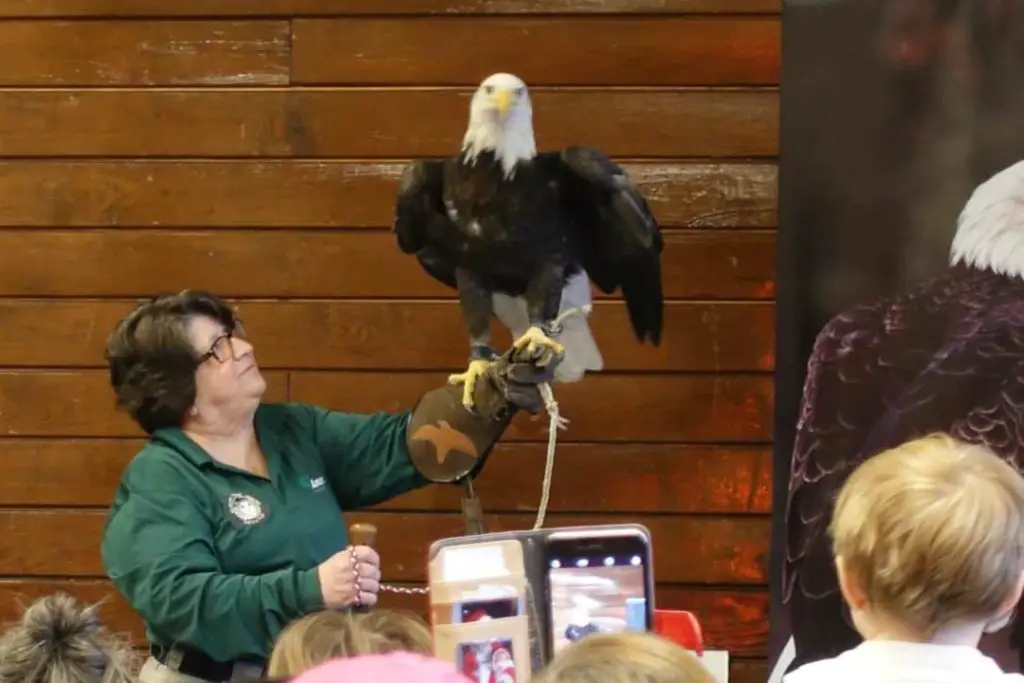 Three locations offer fantastic, elevated wildlife watching: the Illinois Waterway Visitor's Center outdoor viewing platform, the Starved Rock Visitor Center, and at the top of Starved Rock looking out towards Plum Island. Bring your cameras and binoculars to capture local bald eagles, heron, ducks, wild turkey, and deer. Be sure to check out Eagle Weekend which is organized every January at Starved Rock.
Midewin National Tallgrass Prairie | Wilmington
Located north of Wilmington, about an hour from Chicago, Midewin National Tallgrass Prairie is a great place to witness North America's native prairie ecosystem. The land was once a part of the Joliet Ammunition Plant. Today, it's a protected area with the goal to restore the native tallgrass prairie ecosystem.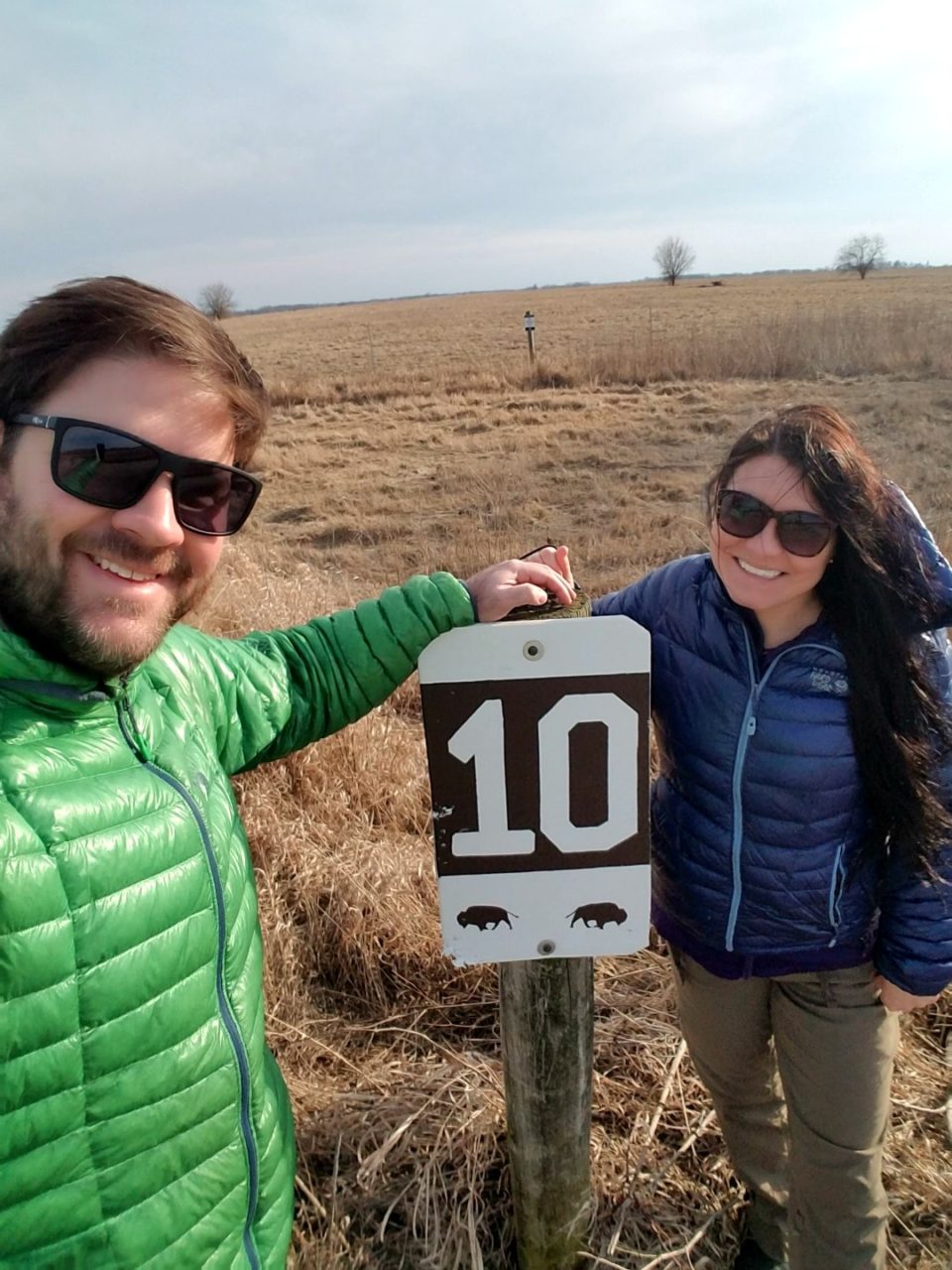 Most people come to hike and try to spot the bison which were introduced to the land in 2015. As creatures that roam, it can be difficult to see the herd. However, a 24-hour webcam tracks the herd's current location. Additionally, visitor center staff can help wildlife enthusiasts track them too. It is important to note that although there are other bison herds in Illinois, Midewin offers the best opportunity to spot a herd.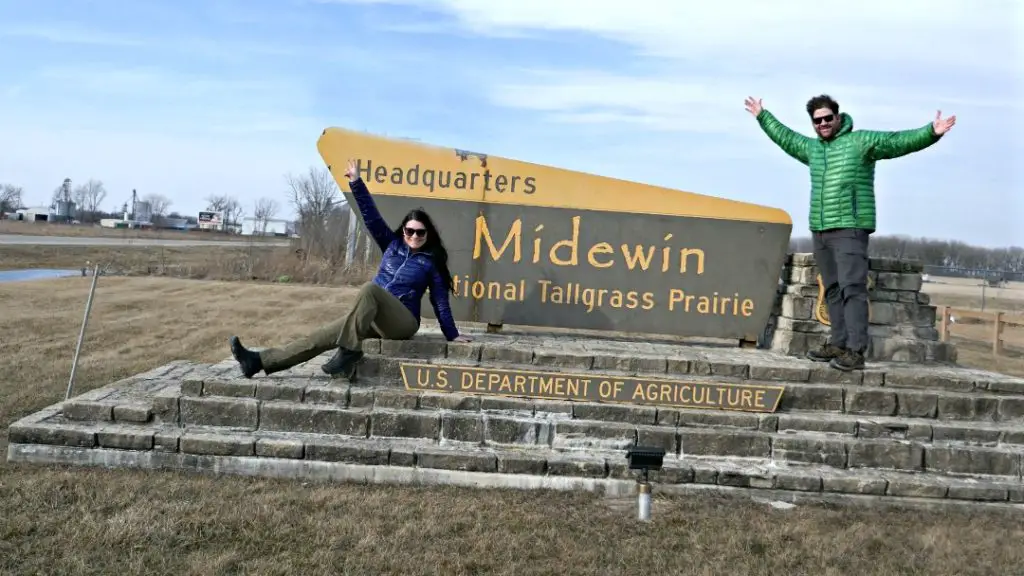 Most visitors take the 3.6-mile Group 63 Trail to explore the old ammunition bunkers that remain in the park. One bunker remains open to allow folks to see inside and to learn more about the history of the area and how it related to World War II. While walking, look for birds, deer, and butterflies.
Peggy Notebaert Nature Museum | Chicago
Hidden in the Lincoln Park neighborhood, the Peggy Notebaert Nature Museum is a serene place for families to enjoy nature in Chicago. It is so close to the city that visitors can see the city skyline from the museum's front door.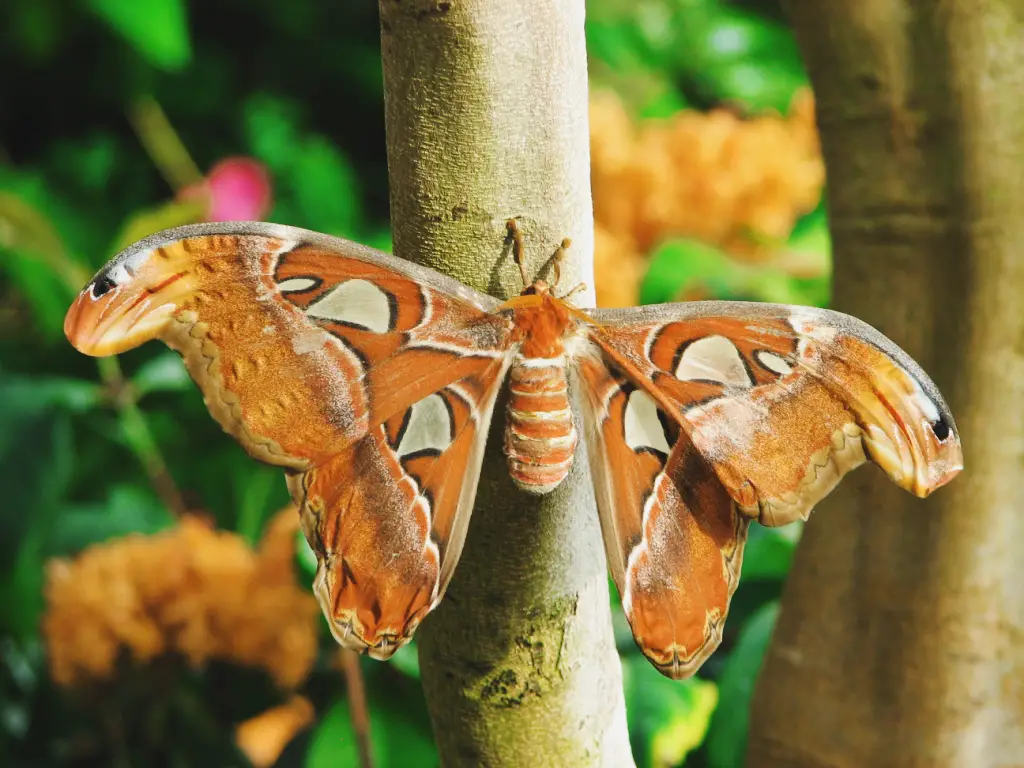 Inside, there are many hands-on exhibits to explore. The RiverWorks exhibit allows children to learn more about rivers through water play. In the Wilderness Walk exhibit, families can enjoy the sights and sounds of Chicagoland's signature natural environments, such as a marsh, a Savana, and prairie lands. Children can use binoculars to watch for birds and other creatures while on the Birdwalk. Additionally, the Peggy Notebaert Nature Museum offers one of the best butterfly conservatories in the country. Thursdays are suggested donation days for all Illinois residents.
The Little Red Schoolhouse Nature Center | Willow Springs
For generations, the Little Red Schoolhouse Nature Center has been educating visitors about the flora and fauna of northern Illinois. The nature center takes its name from the historic 1886 schoolhouse that still sits on the property. Today, the Forest Preserve District of Cook County operates the nature center. Onsite, there is a children's exploration area, a large interpretation center, and historical information available about the surrounding region.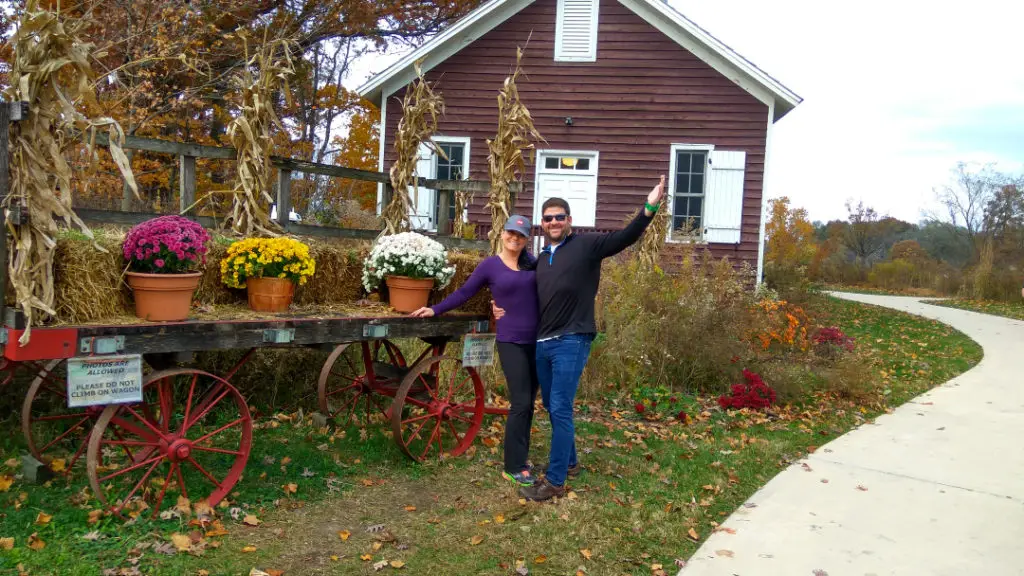 In terms of wildlife, there are animals in indoor and outdoor exhibits. Inside, the interpretive center showcases insects, toads, turtles, and snakes. Rescue owls and hawks are located outside. There are also gardens for spotting butterflies and hummingbirds. There are three unpaved hiking trails where visitors can take a peaceful walk along the sloughs and ponds. Be on the lookout for small snakes, birds, and white-tail deer. The visitor center is closed Fridays. However, walking trails are open daily. Admission and parking are free.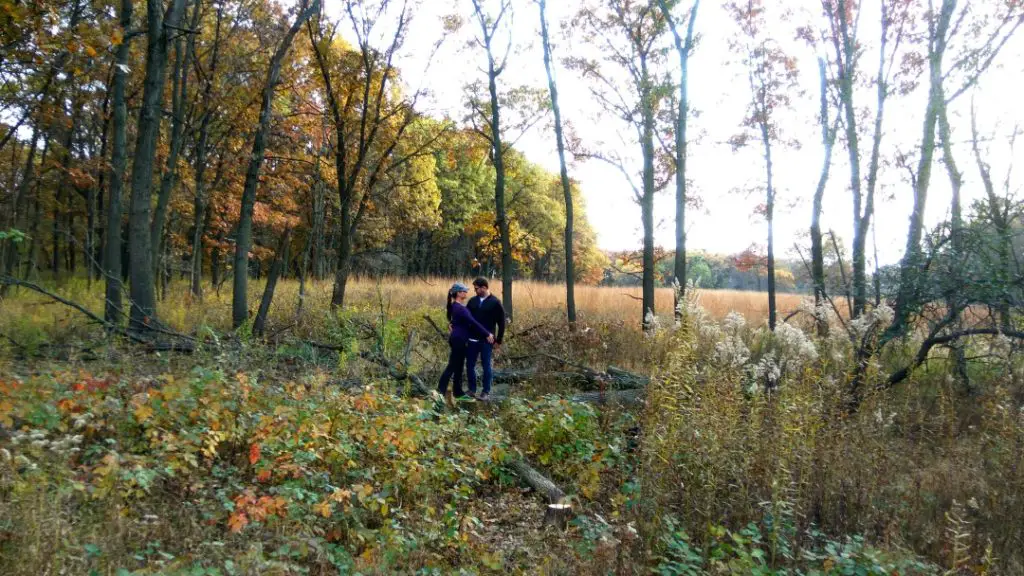 Montrose Point Bird Sanctuary | Chicago
One of the best locations for birding in the Midwest is the Montrose Point Bird Sanctuary. This small piece of land jets out into Lake Michigan offering serene walking trails and spectacular views of the Chicago skyline. Remarkably, over 300 different bird species have been documented here. This includes the rarest birds ever spotted in Illinois. Fall and spring are the best seasons for birding when certain species are in seasonal migration.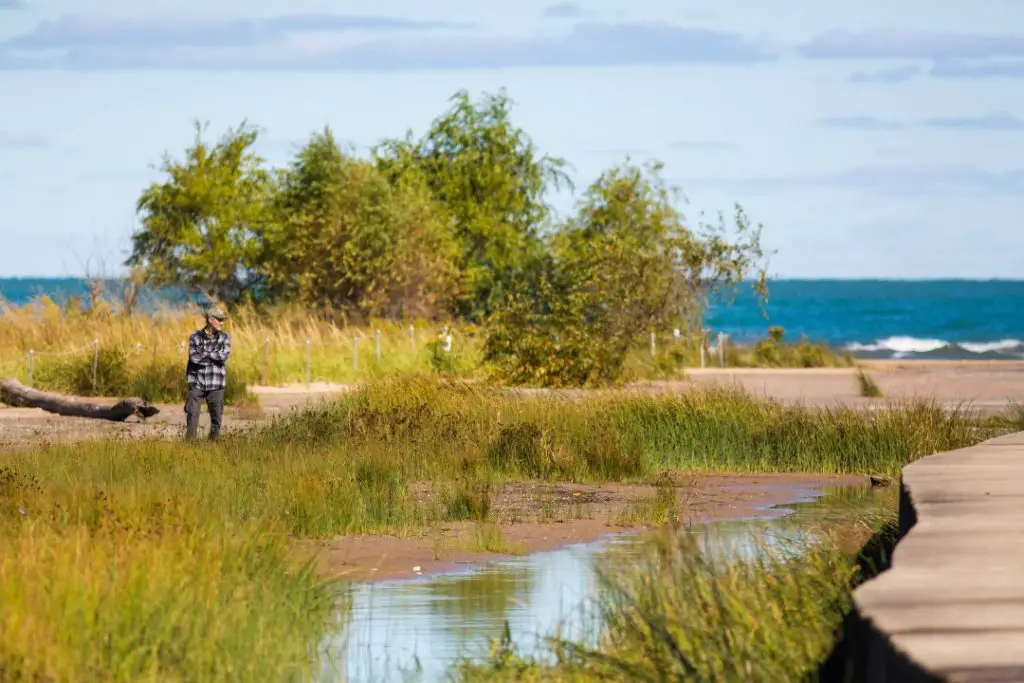 According to wildlife experts, the small stretch of bushes and trees located on the west side of the sanctuary attracts many unique birds. For this reason, this section is referred to as "The Magic Hedge" due to the number of rare species and migrating songbirds drawn here.
If you know of a special place to see wildlife near Chicago, please share in the comments section below.