We decided to document our Patagonia itinerary after our trip because there was a ton of information that we wish we had known before setting off. Unfortunately, there is very little useful information on the internet. In our Patagonia cheat sheet, we will share our Patagonia itinerary, approximate costs, and of course some budget-savvy tips.

Below is a compiled cheat sheet we wished someone would have put in our back pocket (or backpack) before we departed for Patagonia—consider it like CliffsNotes. We would have been so much better prepared for the journey if we knew the information below. Instead, it felt like we sat down for a big test without having the necessary time to study.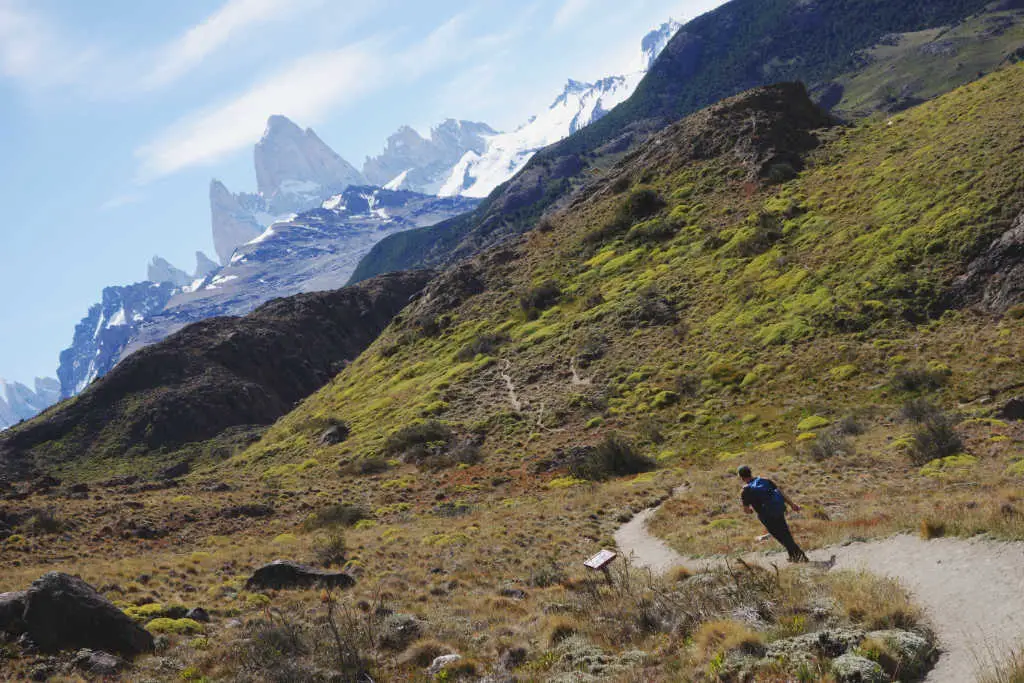 This is how we visited Patagonia on a budget and we're passing it along to you! Use the information below to build your own ultimate Patagonia itinerary. Please know in advance, that while we do enjoy a good day hike, we aren't hardcore backpacker types—we just like to play (and look like them) on TV.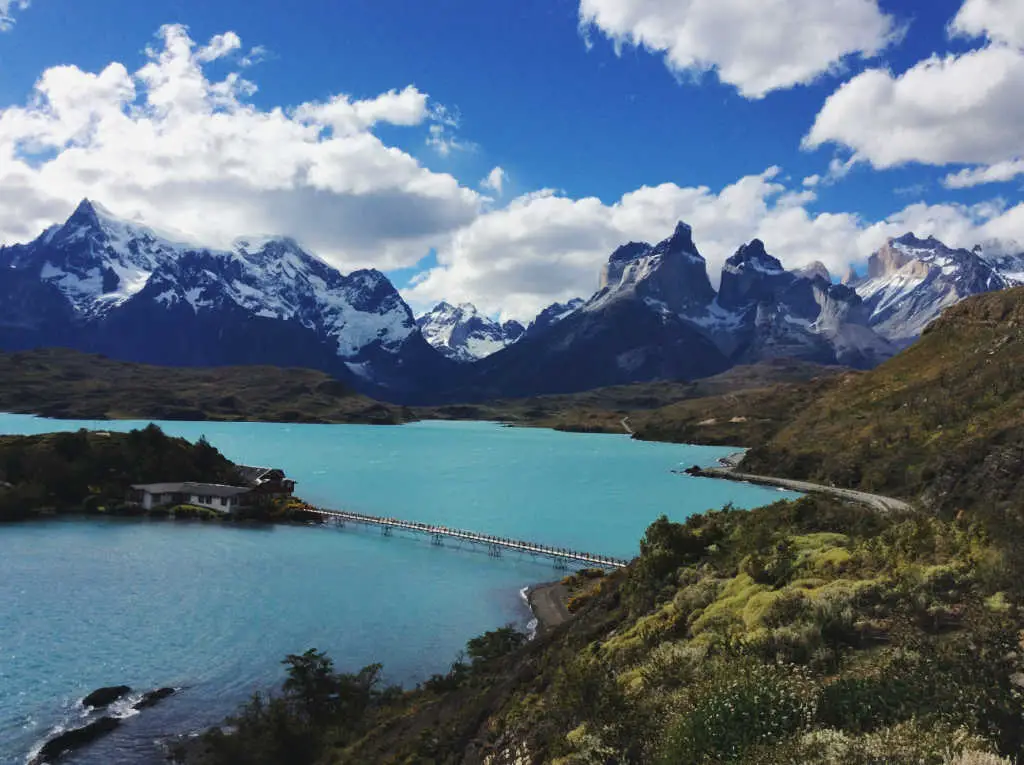 Our Patagonia Itinerary
We booked a 14-night Antarctica cruise that departed from Ushuaia, the city at the southernmost tip of South America. As a result of the cruise, we stayed three nights in Ushuaia before embarkation and one night upon disembarkation. Therefore, our Patagonia itinerary moved from south to north. Below are the stops we made along the way.
Ushuaia ➡️ Punta Arenas ➡️ Puerto Natales ➡️ El Calafate ➡️ El Chaltén➡️ Bariloche ➡️ San Martín de Los Andes
Below is the number of nights we stayed at each destination along the way.
Ushuaia – 4
Punta Arenas – 3
Puerto Natales – 5
El Calafate – 3
El Chaltén – 5
Bariloche – 13*
San Martín de Los Andes – 2
*We visited Bariloche during the Christmas holiday season and extended our stay here for 13 nights.
We chose this route because we wanted to visit the Patagonian wine provinces of Nequén and Rio Negro following our stay in San Martín de Los Andes. After our Patagonia itinerary, we planned on continuing to Mendoza, Argentina, and then onward to Santiago, Chile.
Ushuaia – Fin Del Mundo
We stayed in Ushuaia during the bookends of our Antarctica cruise. Three nights on the way in and one night on the way out, which seemed like a lot of days as compared to other cruisers. Looking back, it felt like it was an appropriate amount of time to take in the city and not feel rushed.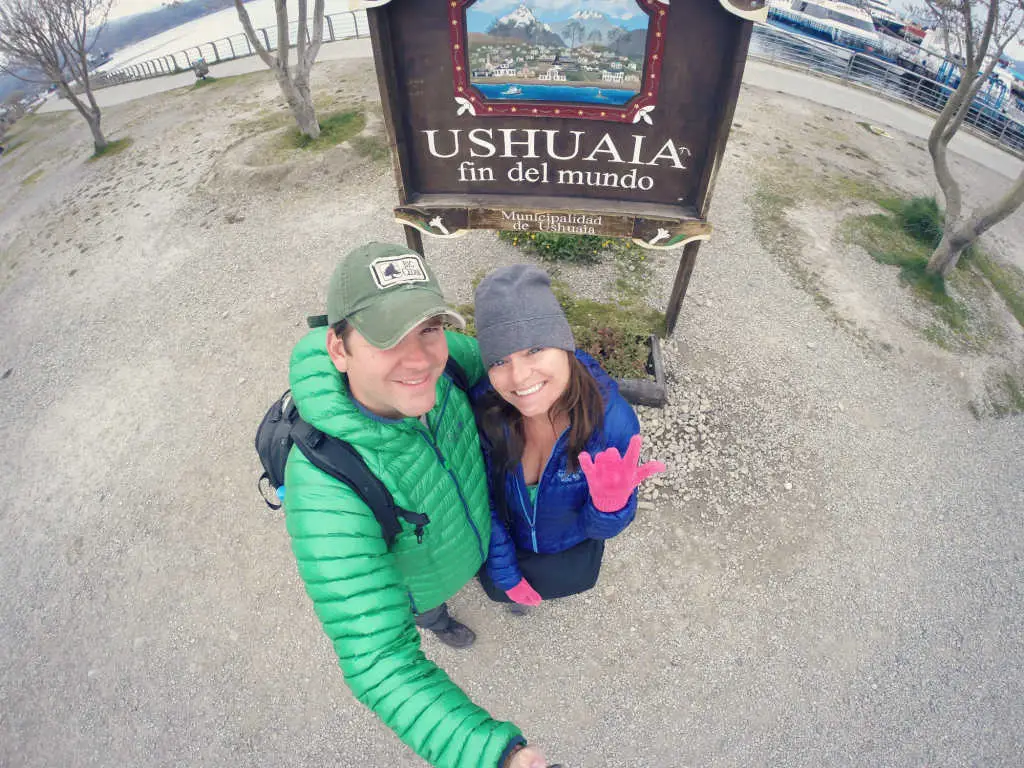 Proclaimed to be the city at the end of the world or "Fin del Mundo," Ushuaia sits on the southernmost section of the Isla Grande de Tierra del Fuego. The Martial mountain range provides a wonderful backdrop to the town, while the Beagle Channel allows easy access to the Atlantic Ocean. Also, Ushuaia is considered to be the southernmost city in Patagonia.
Tierra Del Fuego National Park
If you are coming to this area and are not going to Antarctica, the main attraction is the Tierra Del Fuego National Park. We considered visiting, but even with the extra days, we did not have the time to make it worthwhile.
Looking back, had we had an extra day and had nicer weather, we would have considered visiting. Many visitors enjoy taking the End of the World train to the park.
In fact, we heard mixed reviews on the park and figured that the Antarctic cruise which navigates the Beagle channel would make up for any missed views in Tierra Del Fuego. If you're not taking an Antarctic cruise it is worthwhile to get out on the water to view sea lions, fur seals, and penguins on a Beagle Channel day tour.
If you are an avid hiker, there are several scenic day hikes around Ushuaia. Just keep in mind you'll need to hire a taxi or take a bus to get to the head of the trail for the majority of them.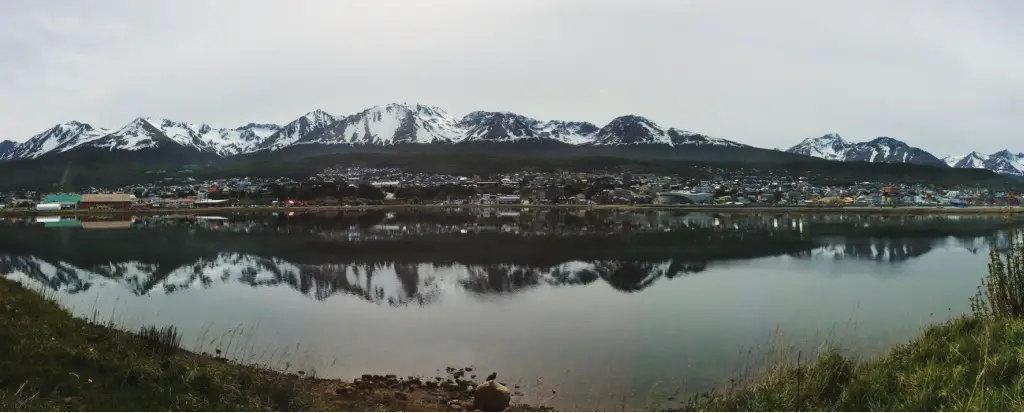 A nice short hike near the city center will take you to a nature reserve (Reserva Natural Urbana Bahía Encerrada) where there are many opportunities for birdwatching. Simply, follow Luis Pedro Fique Rd. (on the way towards the airport and exit on Cap. Armando Mutto Rd., to head back to the city center.
Overall, we decided that we'd rather spend the limited time (before the trip down to Antarctica) exploring Ushuaia. We took a great half-day hike along the Capitan Armando Mutton Road which offers exceptional views of Ushuaia. It's also a great place to have a picnic or a photo shoot.
Best Restaurants in Ushuaia
We visited Andino Gourmet two days in a row for their cake, coffee, and fast(er) Wi-Fi, not food though. We also enjoyed Tante Sara for its ambiance, reasonably priced bar food, and wifi.
On the higher end, we visited Bodegon Fueguino which was recommended by many other travelers. We thought it was okay and enjoyed the ambiance of the cozy dining area.
Of course, we figured by not spending the money on the park fees we could use the money saved towards a great king crab dinner which was on Harry's bucket list. He watches a lot of Deadliest Catch. After a bit of research, we visited Volver.
Volver rolled out the red carpet for us. The wait staff was amazingly courteous and helpful. The crab was fresh and delicious. Overall, it was a memorable dining experience and well worth the splurge.
However, since our visit, it seems to have gone downhill. For this reason, a great substitute is El Viejo Marino.
Best Places to Stay in Ushuaia
We stayed at La Posta Apart at the bookends of our Antarctica trip. It was a bit far from the city center and was pretty much your basic hostel.
Visitors looking in the city center should consider B&B Nahuel or Hotel Austral.
Budget Tips: Busing From Ushuaia to Punta Arenas
Go to the information center at the Ushuaia port to help with bus fare logistics and costs. They gave us a form with the different bus companies that showed their advertised prices. The variance was significant and we saved about USD 30 (each) by shopping around and going with the cheapest rate.
To continue your Patagonia itinerary, take the bus from Ushuaia to Puerto Arenas. The journey lasts about 14 hours with multiple stops for customs to leave Argentina and enter Chile. Also, there's a ferry ride along the way that crosses the Strait of Magellan.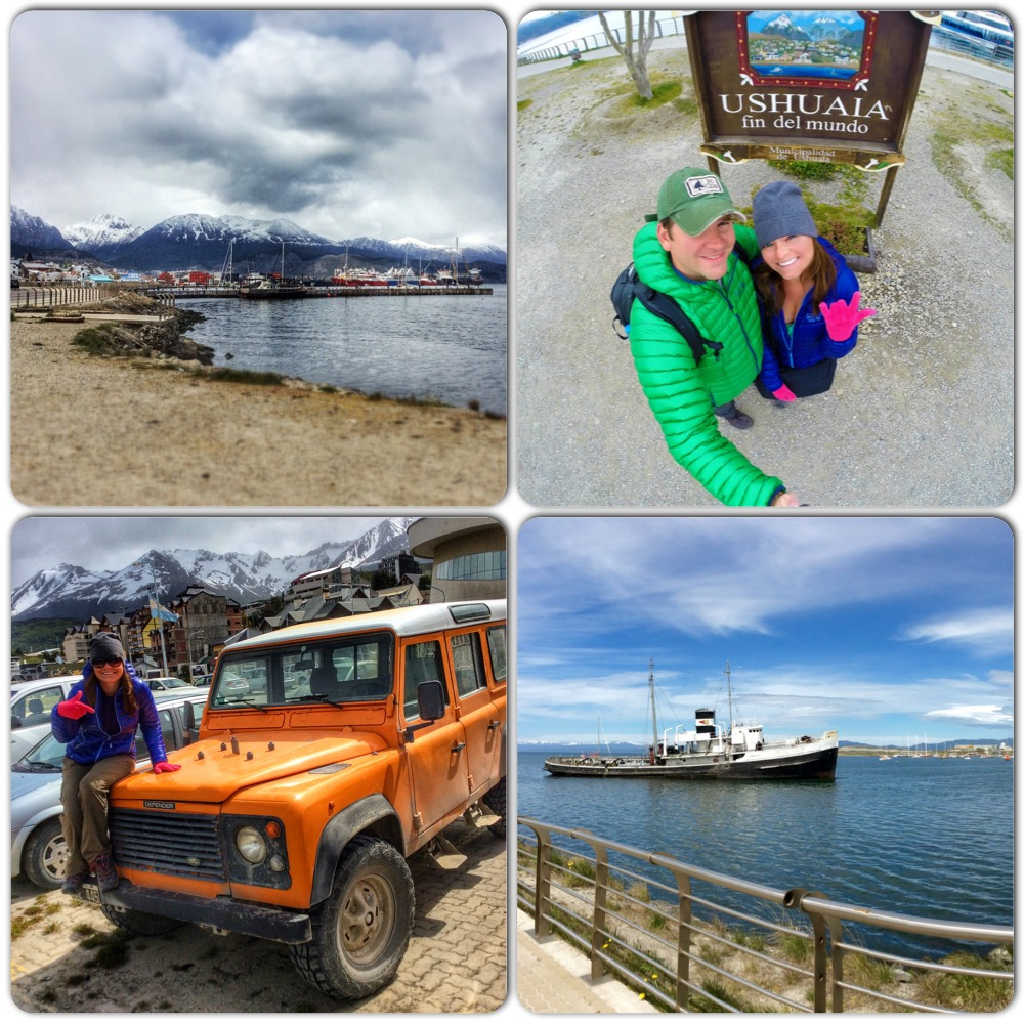 There is what seems to be a common misconception about how strict the customs agents are at the border, with rumors that they will arrest you if you sneak in banned items. Our advice is simply to declare everything on your form and you will be safe if questioned.
For example, we had spices from home that we didn't want to toss and we declared them. No one even checked us and we passed right through. We believe they're mainly focused on meats, fruits, and vegetables. We used the bus company Techni Austral and paid USD 105 for two tickets.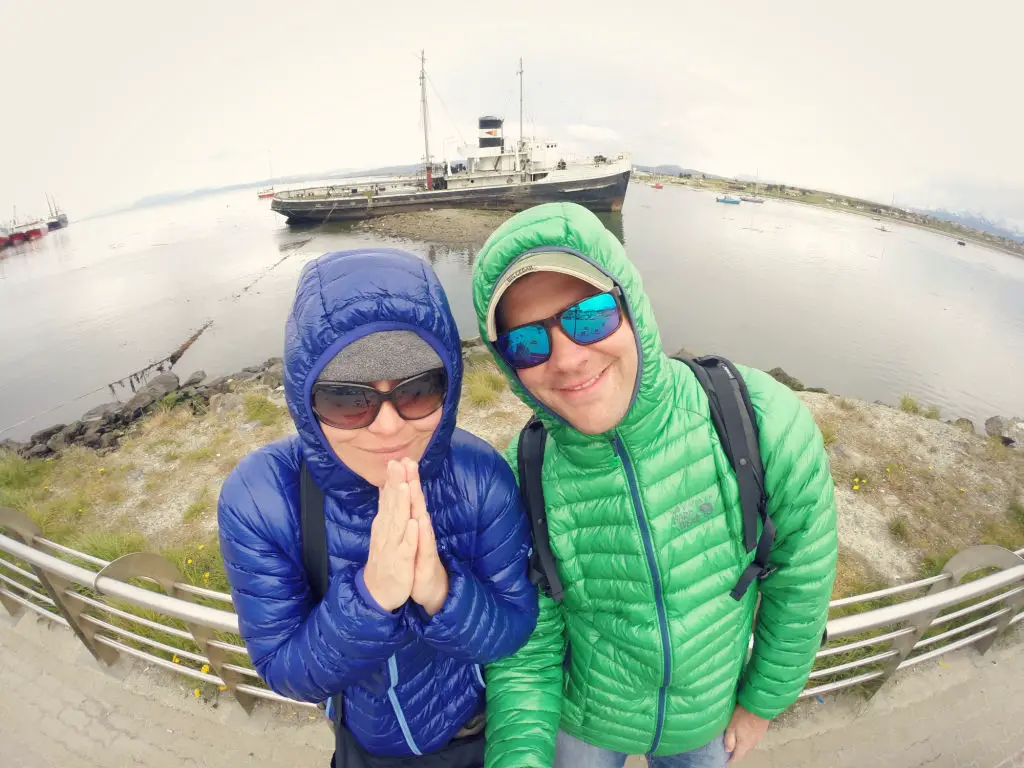 Ushuaia → Punta Arenas
When it comes to building a Patagonia itinerary, generally, most travelers bypass Punta Arenas and take the long trip from Ushuaia directly to Puerto Natales. So, while most people disembark here and quickly board another bus to continue, we were happy to stop in this city. The medium-sized city has a lot of charm, enough to keep you busy for two to three days.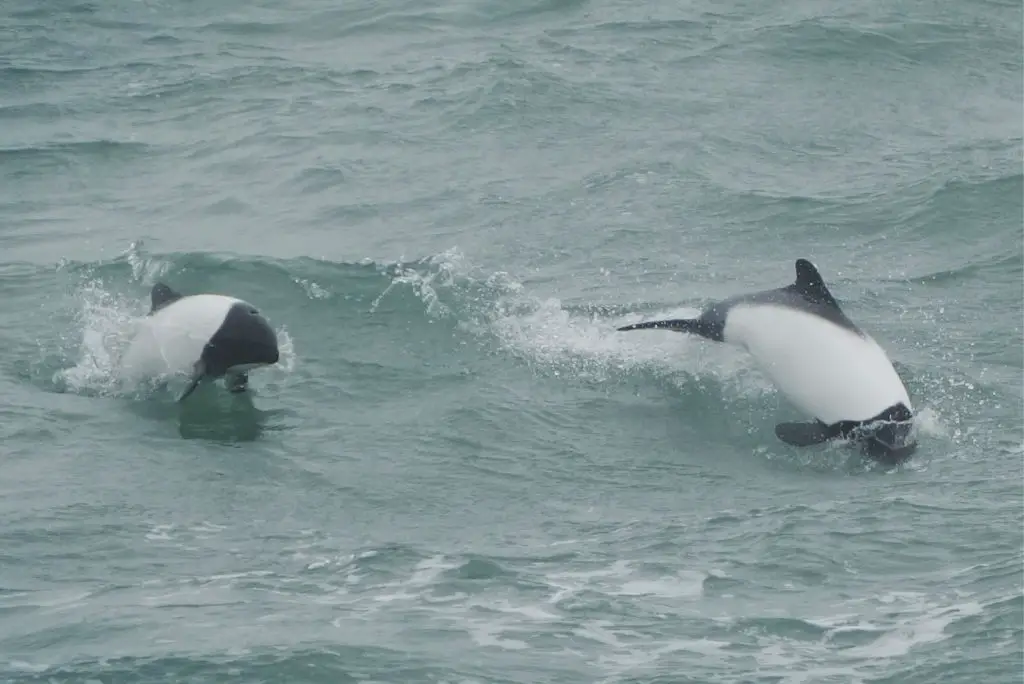 We enjoyed walks along the waterfront, a self-guided tour of the history of Chilean-Antarctica, walking the main square, and the beautiful historic cemetery (Cementerio Municipal Sara Braun). It was just enough time to stretch our legs for the next bus ride to Puerto Natales which is another 3 hours away.
If you don't have the time, you may not feel the need to stop in Punta Arenas. Our only regret, not taking a tour to see the king penguins. Regardless, we had the time to visit Punta Arenas and don't regret it—there's always something to explore!
Best Places to Stay in Punta Arenas
We stayed at Hostel Ovejero which has since closed. Instead, two great lodging options are Rumbo Suites and La Yegua Loca Hotel Boutique, a thematic hotel.
Budget Tip
Pizza restaurants are big here. Go to Gyros Pizza, where the locals are eating! It had the thickest, heartiest pizza we came across and the Gyros were big enough for two to share—good value for the money. Also, we splurged a bit at Damiana Elena, which was well worth it!
Busing From Punta Arenas to Puerto Natales
The bus ride from Puerto Arenas to Puerto Natales was three hours. We took Bus Sur and paid USD 49 for two tickets. A nice, clean, organized experience.
Punta Arenas → Puerto Natales
This part of our Patagonia itinerary is where we felt we did not do our homework and ran into some trouble. So pay attention! Visitors come here to visit the famous Torres del Paine National Park and adventurous types complete the "W" trek, which usually takes between three and six nights of overnight camping or basic dorm-style accommodations, and intense trekking.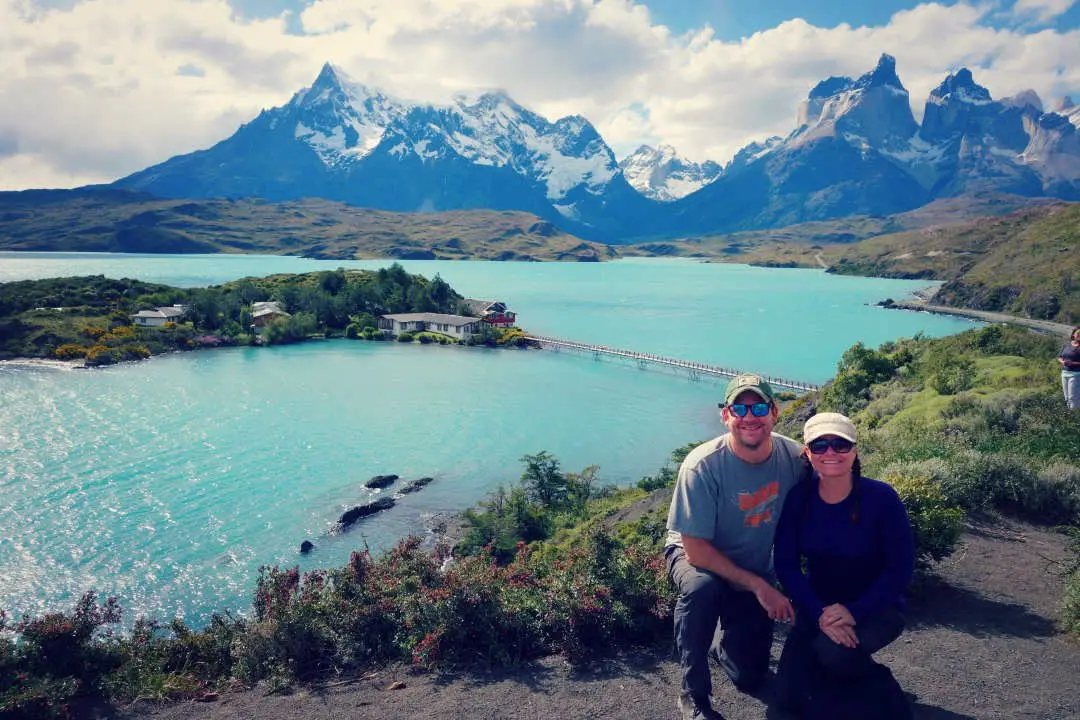 We booked five nights in this city allowing plenty of time to enjoy this iconic park of Patagonia. Here is what we did not know—the trip from the city center to the national park is 2.5 hours one-way. So to get there and back takes about 5 hours!
While visually stunning, the bumpy, windy, gravel roads make the day trip feel exceptionally long. Would we do it again? Yes, but not two days in a row. It's too uncomfortable.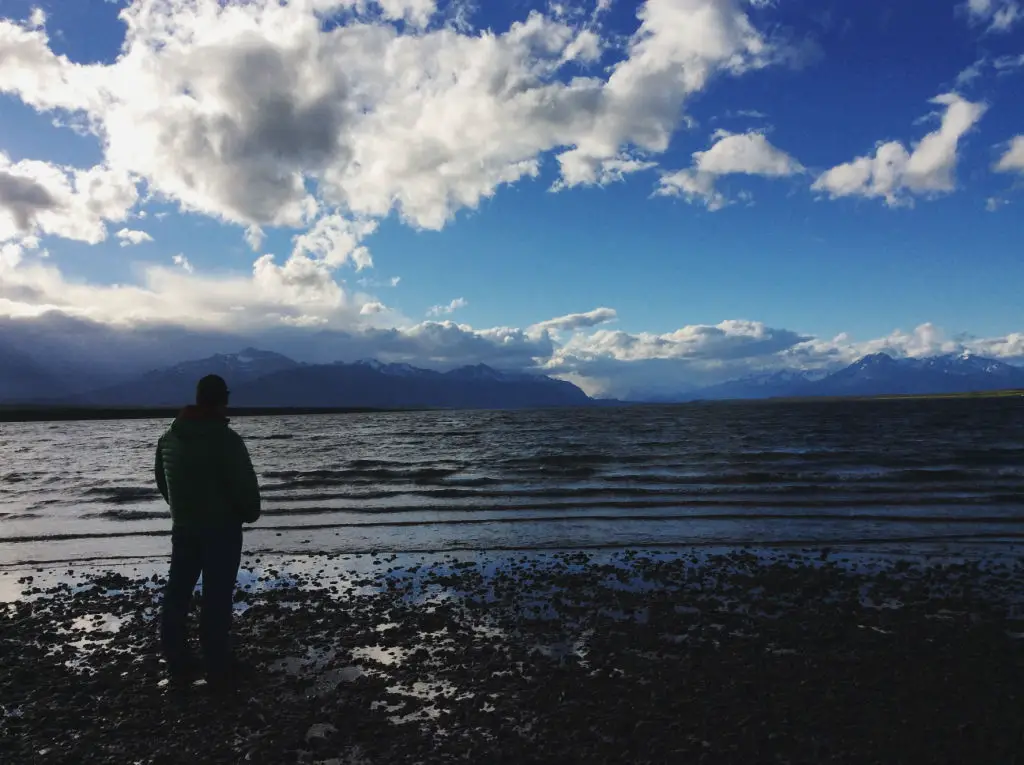 We were planning on spending much of the five days touring various aspects of the park. However, with the 5-hour round-trip commute, we only spent one day in the park (during our guided tour) and then used the rest of our days to explore Puerto Natales.
Visiting Torres del Paine National Park
We decided just to opt for a guided day trip to Torres del Paine National Park to drive to see the famous towers and other major sites. We were picked up around 7:30 a.m. in a minibus and explored Torres del Paine with about 18 others. The price did not include park admission(s) or lunch so we brought sack lunches.
In short, it was a long but fruitful day. We were dropped back off at our hostel around 8:00 p.m. Overall, we felt we had a productive day in the heart of Patagonia and we were lucky to see the towers due to the nice weather.
Negative Aspects of a Guided Tour
Like all group tours, there were a few negatives including feeling a bit rushed at scenic points, and at the end of the day, we were anxious to get out of the packed van after so many hours of driving on bumpy roads. However, this is the only logical way to see the park without camping or staying at an expensive hotel.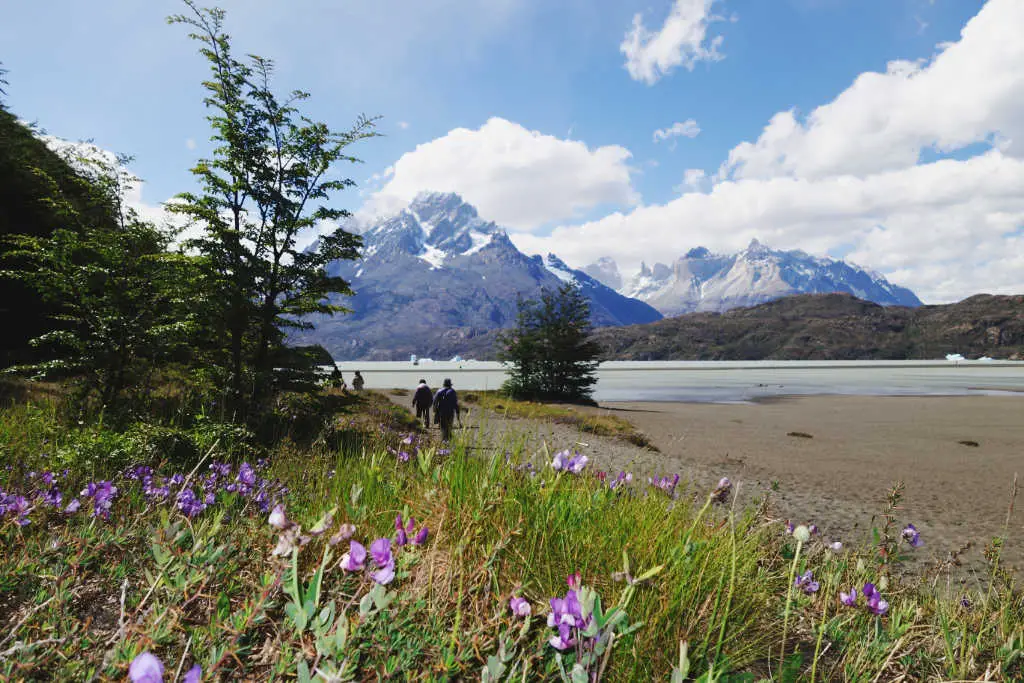 Note, there is a fee to enter Torres del Paine National Park and the Milodon Cave. However, you can get your ticket stamped to enter again at no cost for the next two days.
Glacier Hike on Glacier Grey
We were really excited to do the glacier ice hike on Glacier Grey. Big Foot Adventures is the sole outfitter allowed to get out on the ice. However, if you're not staying near the Big Foot's base or in the hotel located near the glacier (in the park) you cannot bus into the park by the 8:30 a.m. excursion departure.
To make it even more challenging, if you participate in the afternoon excursion which takes place at 2:30 p.m., you won't have enough time to catch the evening bus back to Puerto Natales. If glacier hiking is a must, plan accordingly and book your accommodation at Hotel Lago Grey in Torres del Paine NP. Also, while it is expensive, it's probably worth the splurge to stay in the park for at least two nights.
Where We Stayed in Puerto Natales
Hostels in Puerto Natales are known to help travelers organize excursions right at their own front desks which is a nice perk. Just note, that some off-the-beaten-path excursions can only be booked through specific hostels. We originally booked our lodging at the Yaganhouse and had to leave after one night after a shockingly terrible experience.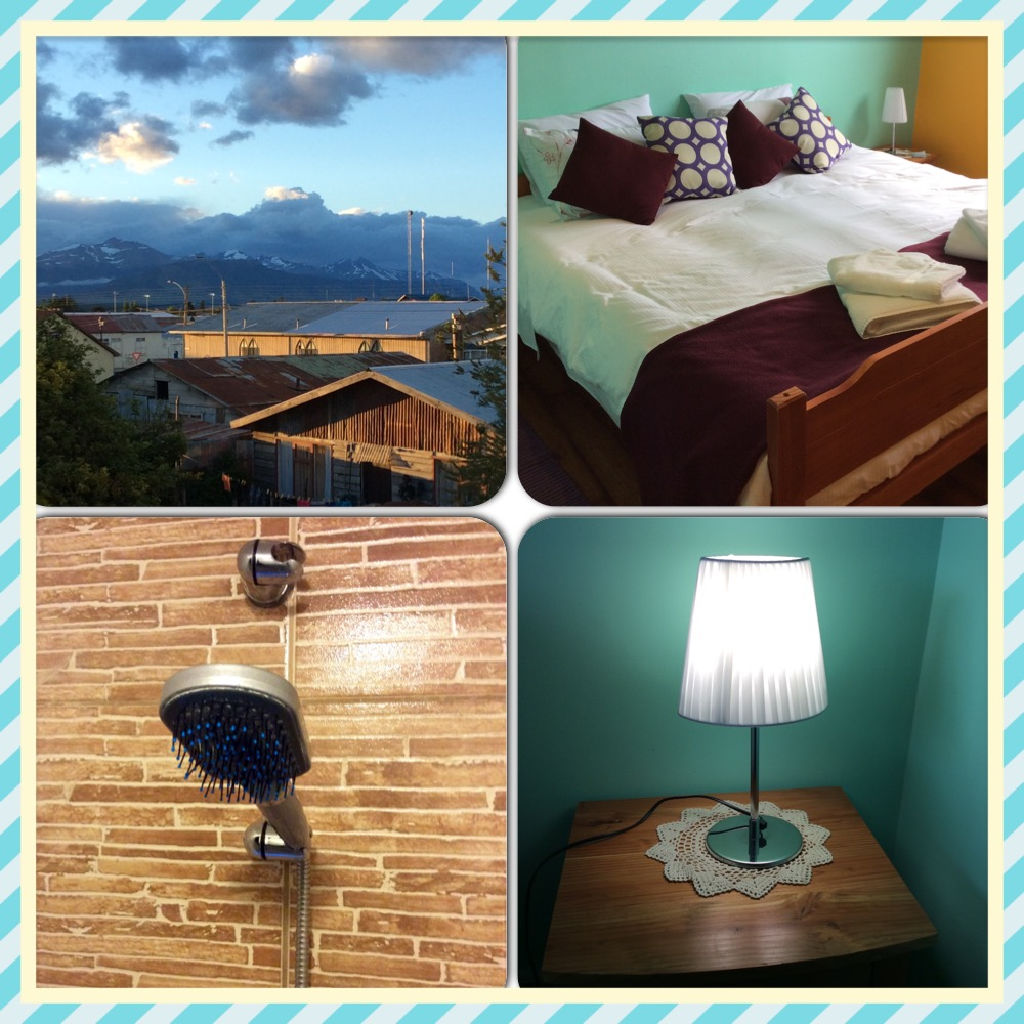 We transitioned to another hostel, where the staff was extremely helpful and it was one of the best hostels we stayed in during our journey through South America. Unfortunately, it has since closed. Another good substitute accommodation in Puerto Natales is Treehouse Patagonia.
Best Place to Eat
One place worthy to mention was Chocolateria Patagonia Dulce. It was absolutely delicious and although it was a little pricey it was worth the splurge.
We'd recommend it to hikers before the big trek to carb up or on the way back to celebrate. Try the Brownie Temptation. We promise you won't regret it.
Departing Puerto Natales
If you are not hiking the W, three days may be more than enough in Puerto Natales. The bus ride from Puerto Natales to El Calafate takes about 4 hours. The cost was about USD 30 per person, booked through Turismo Zaahj bus company.
Puerto Natales → El Calafate
El Calafate was another fantastic city we enjoyed. More developed, with a touristy strip, the entire city is pretty much walkable.
There are many options for tours and another opportunity for glacier ice trekking on Perito Moreno Glacier. Upon arrival, we headed straight to an outfitter located on the strip who informed us that they did not have availability until four days later!
For this reason, if there's any excursion that seems appealing to you make sure to reserve your place ahead of time. Do not wait until you arrive in El Calafate to book your excursions.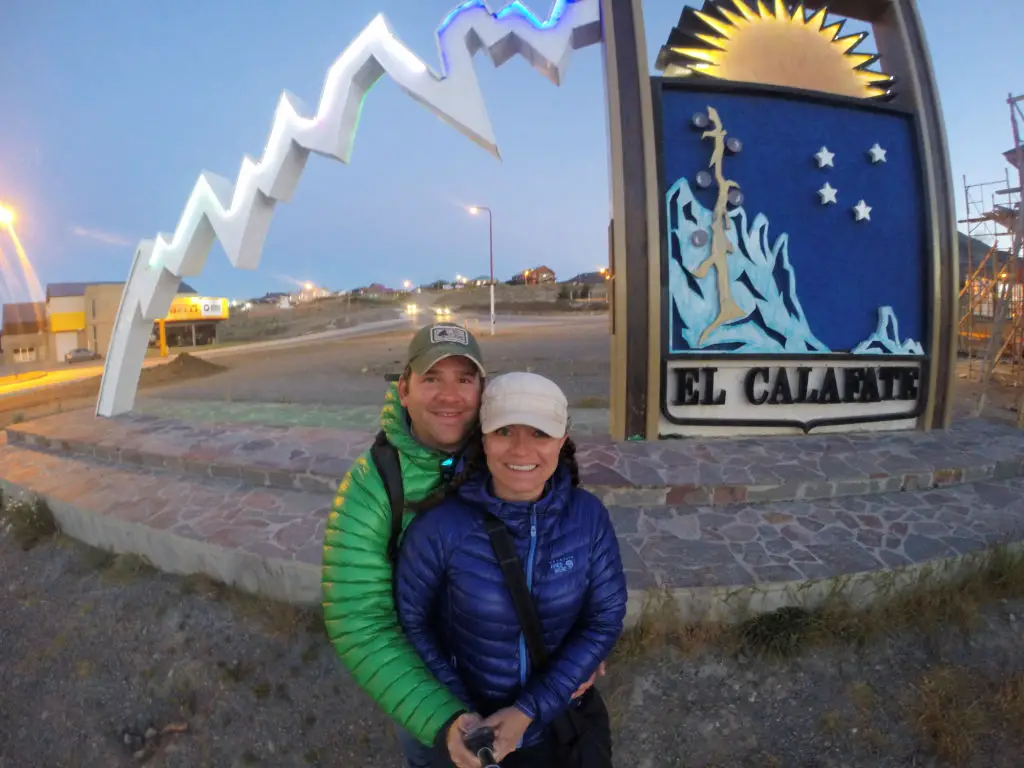 At the time of our trip, TripAdvisor had very mixed reviews on this outfitter and they do not reply to emails (we're still waiting to hear back). Again, if you're interested in glacier ice trekking, plan way in advance!
The two most popular excursions include 1.) Minitrekking on Perito Moreno, and 2.) Tour the Perito Moreno Glacier with Optional Boat Safari.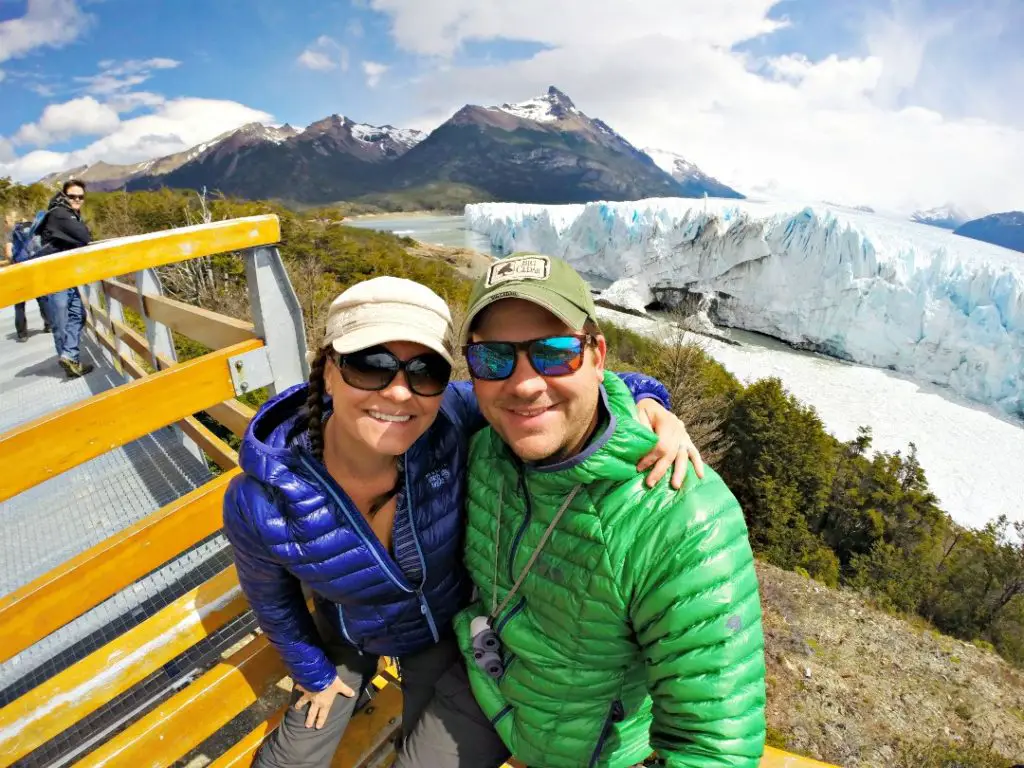 Perito Moreno Glacier
The highlight of a visit to El Calafate is the Perito Moreno Glacier. Purchase bus tickets and board the bus at the El Calafate bus terminal to the national park which costs about USD 30 per person. Another option, which we should have done, is to take a reasonably priced guided tour with an optional boat cruise.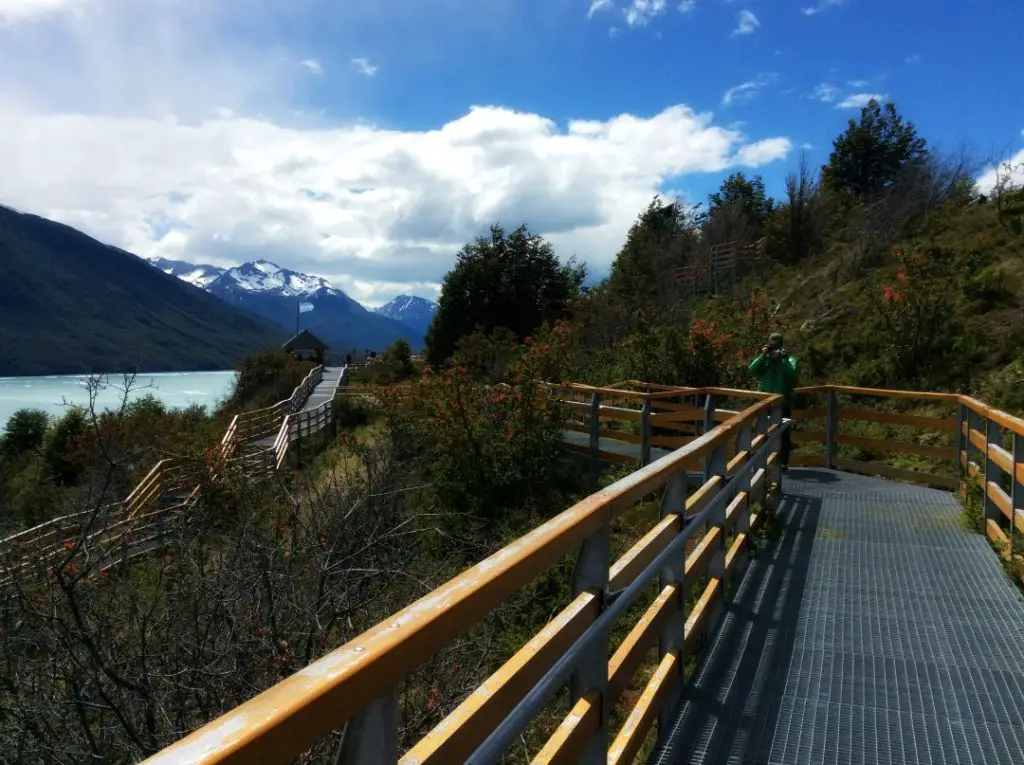 We purchased our tickets a few days prior and there were only four spots left, so book ASAP. There is a morning departure and an afternoon departure. The park is about 1.5 hours away and you pay for admission upon arrival on the bus.
The admission cost was about USD 20 per person. Upon arrival, the bus drops you off and there are walkable trails right from the entrance. The bus waits for everyone with set times of departure.
We enjoyed our time here. It was easily organized, and we highly recommend bringing a huge sack lunch, water, gloves, and hats. We brought some lunch and watched the ice calve off the glacier for about three hours.
Budget Tip
One dining option that we really enjoyed and ended up visiting three times was Panaderia Don Luis. Also, there are a few locations, we visited the one just a few blocks from the bus terminal. They had the best coffee we tasted in Argentina and Chile!
The cakes were heavenly and nice empanadas too. The restaurant also has a strong Wi-Fi signal. Additionally, there's one table that has an outlet to charge up. This is a great pit stop for a bus layover.
After our big day out at Perito Moreno Glacier, we decided to splurge a bit with a nice dinner out at Mi Rancho. If you're looking to combine steak and Malbec then this is the place to go!
Best Places to Stay in El Calafate
We ended up staying at Hosteria Rukahue and had a bad experience and didn't necessarily like the location. If we were to do it all over, we would have stayed much closer to the city center, in one of these options:
Budget: Calafate Hostel
Mid-Range: Hosteria Miyazato Inn (with a Japanese twist)
Luxury: Calafate Parque Hotel
The bus ride from El Calafate to El Chaltén costs USD 30 per person with Marga Taqsa and takes three hours.
El Calafate → El Chaltén
We loved visiting El Chaltén! This was our favorite stop along our tour through Patagonia.
Besides the epic views, one of the best perks of visiting is that there are no park fees to enter Los Glaciares National Park. Also, there are a variety of hikes that you access right from walking out your front door so there is no additional transportation needed.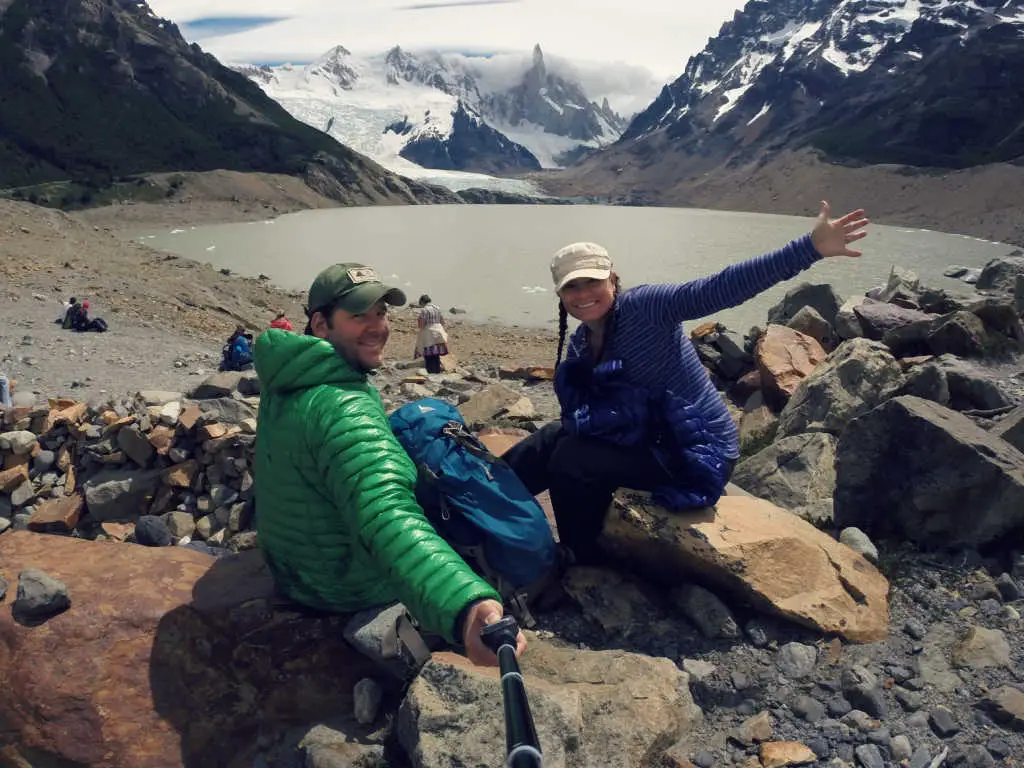 Everything in the 12-block city is within walking distance. From multi-day treks to 1 to 2-hour hikes there's something for everyone.
We visited El Chaltén for five days and felt like it was the ideal amount of time to get some great hikes in and enjoy the small quaint town. However, if hiking and the great outdoors are your thing, then definitely add some days here—it doesn't get much better than this.
Our favorite day hikes included Laguna Torre, Los Cóndores, and Laguna Capri. These treks were all just challenging enough to get our hiking fix.
Best Places to Stay in El Chaltén
We stayed five nights in a hosteria, that has recently closed. For those that don't know (we didn't at the time), a hosteria is more of a bed and breakfast type establishment that does not have the amenities that a hostel provides such as access to a kitchen and basic laundry facilities.
If you're not planning on cooking then a hosteria may work for you. We were unaware of this at the time of our booking and therefore had to make other arrangements for lunch and dinner. Eating out is quite expensive in this area and we could have saved money by having access to a kitchen.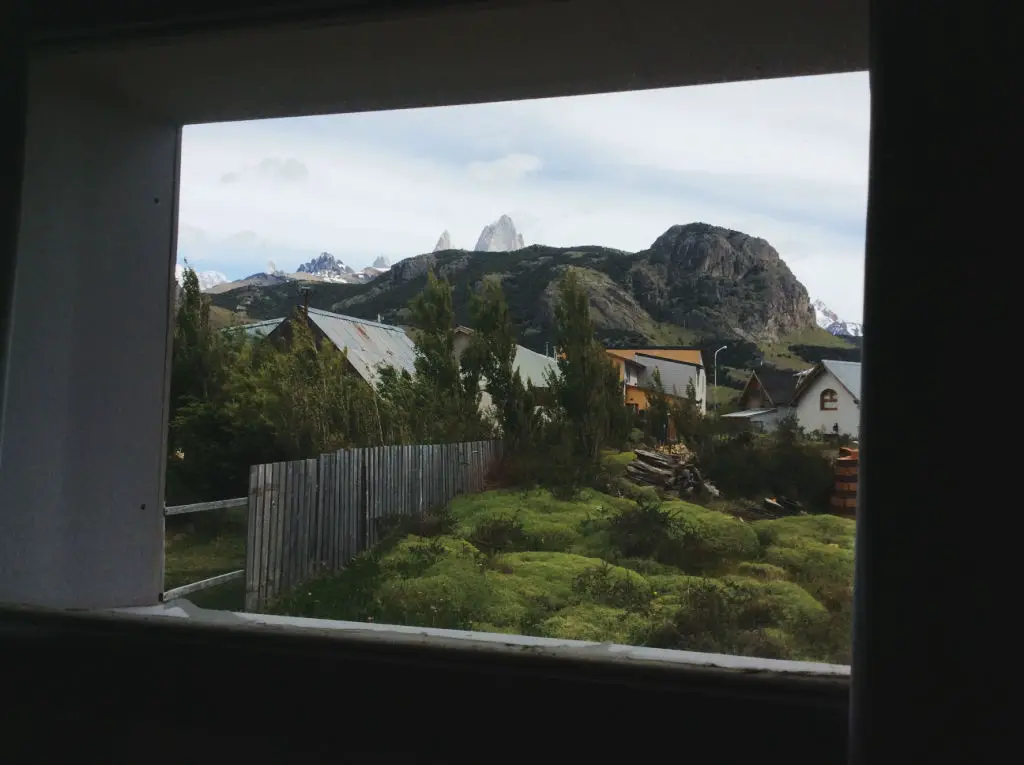 The hosteria was simple and reasonably priced and had a private bunk bedroom and a private shower.
Nowadays, there are many reasonably priced private apartments visitors may rent that offer exceptional value. Tourists looking for a hotel will enjoy one of these highly recommended options:
Budget: Hostel del Lago and Yellow House Cottage
Mid-Range: Pudu Lodge
Luxury: Destino Sur Hotel & Spa de Montaña (with indoor pool & hot tub)
Finally, the town is so small that there's really no reason to be concerned about the location of your lodging—everything is right at your fingertips.
Where to Eat in El Chaltén
We enjoyed Porter Resto Bar and Grill (recently closed) for ridiculously huge burgers and grilled chicken sandwiches. Ten dollars for a bottle of house wine was a steal and beer was also more reasonably priced. We took advantage of the nice outdoor seating to enjoy mountain views after a long hike. This was the place in town where we got the best Wi-Fi signal.
[Update: Visit Cervecería Artesanal Chaltén for just as good or even a better meal and experience!.]
For being a small town there are plenty of restaurant options, enough to satisfy most tastebuds. Restaurants and grocery stores are fairly expensive here.
Head to the grocery store to purchase food for lunches to enjoy out on the trails. Grocery stores have only the basics. (e.g., eight slices of ham cost USD 5, a large bag of chips USD 8.)
Things to Know Before Visiting El Chaltén
At the time of this post, there was only one ATM in town. It was out of service for 2.5 days and many places (including the bus companies) were cash-only.
Bring extra cash just in case or visit the ATM (in the bus terminal) immediately upon entering the city. You could get stuck here for numerous days if you don't have cash.
Busing From El Chaltén to Bariloche
Generally speaking, when busing through South America there are four types of seats:
Normal: Seats recline 120 degrees, with four seats in each row.
Semi-cama: Seats recline 140 degrees, with four seats in each row.
Full-cama: Seats recline 160 degrees, with three seats in each row, which may also be referred to as cama-ejecutivo.
Cama-suite: Seats recline flat, three seats in each row, a personal television, blanket, and pillow.
If the journey is any sort of extended length at all, always choose a cama-suite—it's worth the money. The journey from El Chaltén to Bariloche is 886 miles (1,426 km) and takes about 21 hours non-stop. It took us around 18 hours.
Option #1
We were told by the Caltur bus company in El Chaltén that if we took the bus out of El Chaltén (to get to Bariloche directly), we would have a bus with 'normal' seats, plus have an overnight in a hotel that they would select with shared bedrooms and shared a bath (price not included in bus fare). Well, that sounded dreadful.
Option #2
The other option was to return to El Calafate on a full-cama bus and then transition to another full-cama bus to take us to Bariloche. Throughout, our time in South America, bus companies would interchange the term full-cama with cama-suite. We thought we were purchasing cama-suite seats.
For this long of a journey, we wanted to make sure we had seats that fully reclined flat (as neither one of us can sleep otherwise). During our conversation with the Caltur representative, we were assured that they would be flat. However, in the end, it was merely full-cama.
The bus ride from El Chaltén takes you back to El Calafate where you'll need to hop on another bus to take you to Bariloche. Tickets cost USD 84 per person for 28 grueling hours of travel (pictured below). We took Marga Tasqa which we were not happy with it due to the cleanliness/quality of the bus and the quality of the meals.
No soap, paper towels, or toilet paper in the bathroom the entire ride! How did the man serving meals wash his hands? I suppose after seeing the meal it didn't matter. Gross!
As of now, I still don't believe there is a cama-suite bus to take tourists from El Chaltén to Bariloche. Finally, another option is to fly from El Calafate to Bariloche.
El Chaltén → Bariloche
Bariloche was bigger, and even more touristy than we anticipated. Many of the must-do activities are on the pricier side, but to enjoy the city, we planned one big excursion a day to take in the beauty of Bariloche.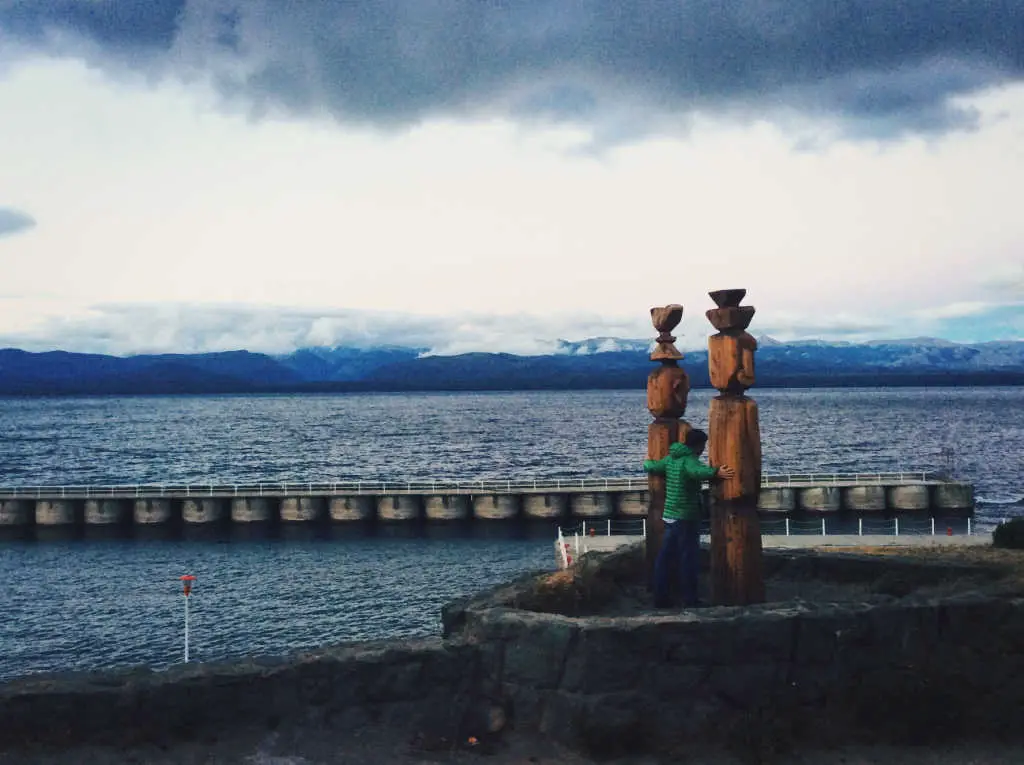 Fun Things to Do in Bariloche
This was our last major stop along the typical Patagonia itinerary, however, we decided to add the Patagonian wine region and San Martín de Los Andes at the last minute. Here are a few of the most popular guided tours in the area:
Below are a few things you have to do while visiting Bariloche.
Take a Ride on a Chair Lift
There are two different chair lifts with views in the city; Cerro Viejo and Cerro Campanario. We opted for the more impressive Cerro Campanario. Also, the ride up is 8 minutes long and costs about USD 10 per person.
We read that you can hike up, but it is very steep and unmarked. We brought sack lunches and ate in the nice seating area at the top with gorgeous views of Patagonia.
There is a restaurant at the top that serves some cakes, coffee, simple sandwiches, and hamburgers. We poked our heads in, but we were unimpressed with the selection.
Although the Cerro Viejo has less impressive views, it does have a rotating restaurant at the top which may be fun if you've never dined "in rotation" before.
Cycle Circuito Chico
Next, we spent an entire afternoon biking the Circuito Chico. We chose the Cordillera Bike Company due to the higher rating on Tripadvisor. The rental cost includes a helmet and bike lock.
The ride is really difficult due to the mountainous terrain. Guided tours by vehicle are also available and make the trip very easy.
It's fun going down, but strenuous to the point that we often had to walk our bikes up the steep inclines. It's a great way to see the scenery including Argentina's most famous accommodation the Hotel Llao-Llao, the hidden beach Villa Tacul, the Bosque de Arrayanes, the Bahía López Outlook, the Green Christ monument, and to view the range at the panoramic viewpoint overlooking Lago Moreno.
To get to Cerro Campanario or the rental bike companies for the Circuito Chico by public transportation, take the number 20 local bus to each destination from the Centro (downtown strip). The bus driver will call out the Cerro Campanario stop and the bike rental shop is the one following Cerro Campanario near the kilometer 18 marker at the roundabout.
Walk, about 100 meters from the bus stop, veer to the right, and Cordillera Bike Company will be on the left-hand side of the street with orange flags out in front. Our apartment came with a local bus pass which we loaded at the designated convenience stores on the main strip.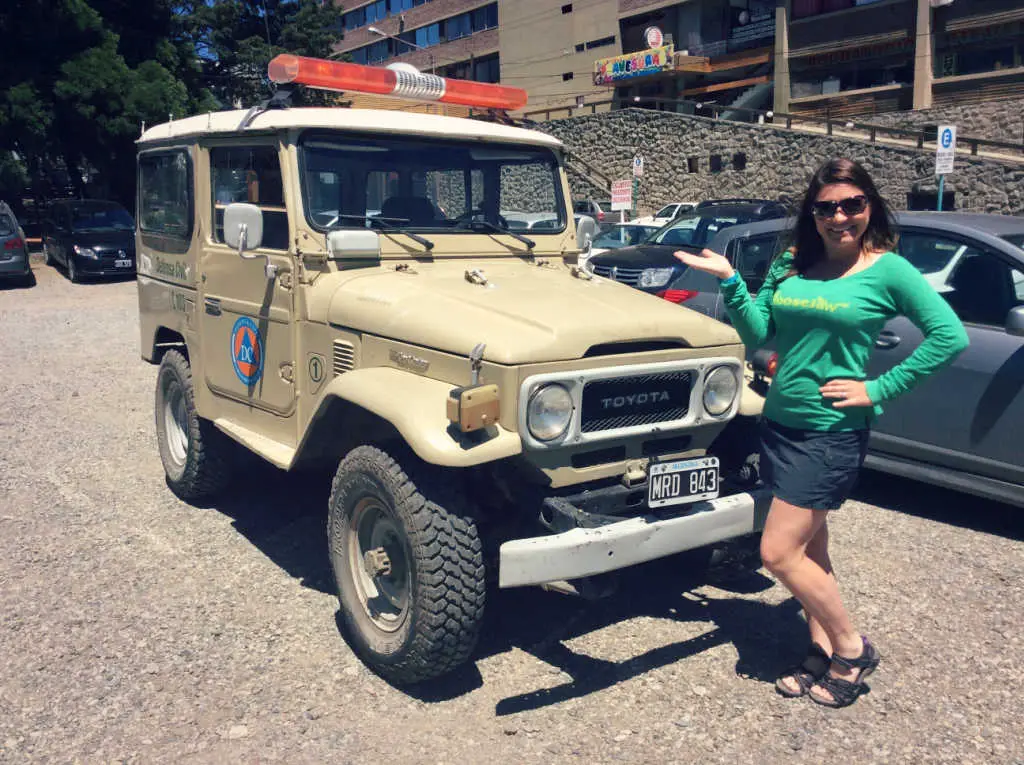 Chocolate is an Experience Here
Lastly, Bariloche is known for chocolate. We visited Mamuschka (which was a better value) and Rapanui to get our sweet tooth fix. Rather than buy a prepackaged box, we opted to pick out a few select chocolates asking for a small box or bag as the chocolates are quite expensive.
The stores also hand out free samples which we took advantage of when we walked the main strip in the city center. Mamuschka Chocolate was our favorite!
Best Places to Stay in Bariloche
We stayed in a VRBO apartment (that is no longer listed) to enjoy the Christmas holiday, and recoup from being on the go, non-stop. Travelers looking for the best places to stay in Bariloche will find them near the Centro Cívico, the city center.
Budget: Hostel NIX (private bathrooms) or Patagonia Jazz Hostel (nightly communal dinners)
Mid-Range: Cacique Inacayal Lake Hotel & Spa (indoor pool and spa)
Luxury: Llao Llao Hotel Resort, Golf & Spa (this place is epic!)
Busing From Bariloche to San Martín de Los Andes
The bus ride from Bariloche to San Martín de Los Andes was one of the prettiest of our entire Patagonia itinerary. The 4-hour trip takes you along the scenic river and because the landscape was different than what we've seen thus far in Patagonia, it was a very enjoyable ride.
We took KoKo bus costing about USD 10 per person.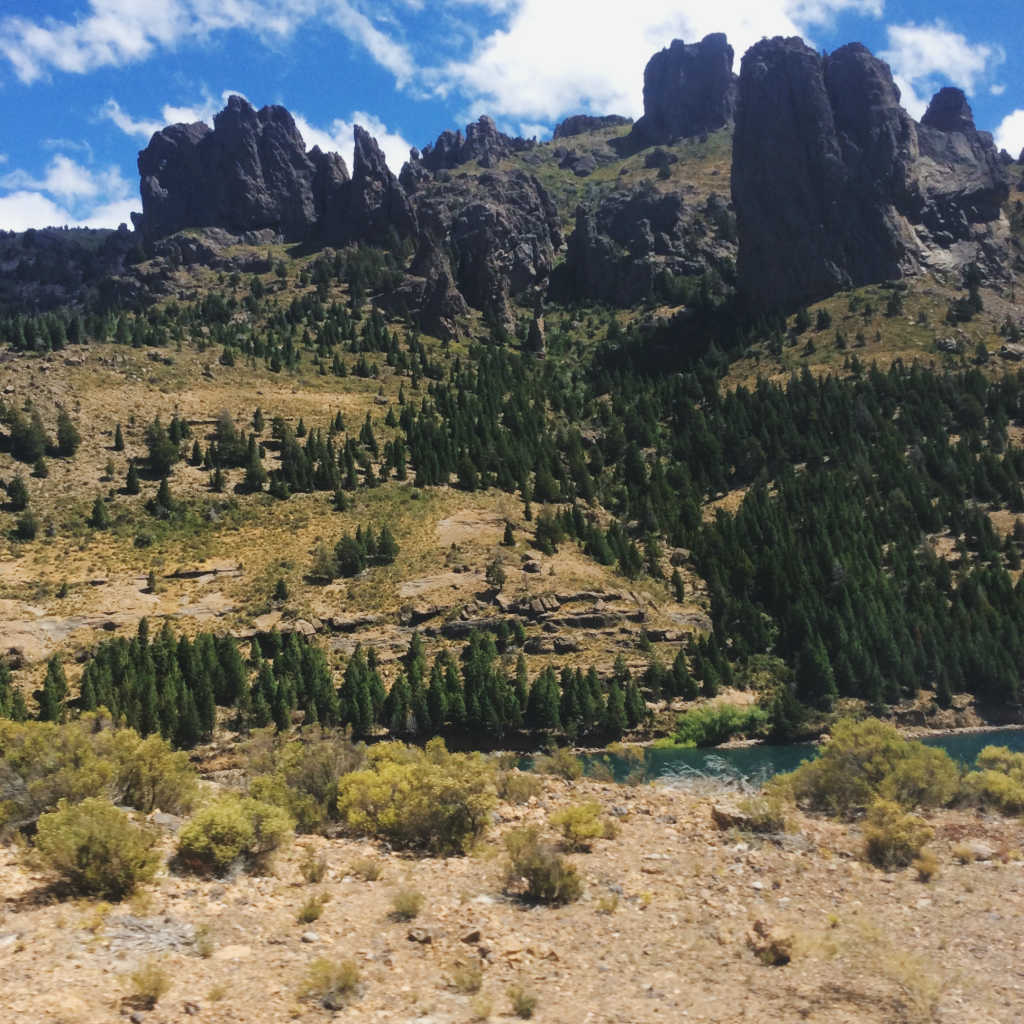 From Bariloche, most travelers will either continue their Patagonia itinerary by heading north to San Martín de Los Andes or west to Puerto Varas, Chile. Reaching Puerto Varas from Bariloche will require taking three buses, and three ferries, and will take about 12 hours.
Bariloche → San Martín de Los Andes
Many travelers do not add this little hidden gem of a village to their Patagonia itinerary. We did so mainly to break up the drive. Upon arriving, I think we were shocked at the beauty of the small town and the scenery.
Located on Lácar Lake, one of the seven lakes, San Martin de Los Andes is a Patagonian utopia. It has everything you'd expect from a European-style alpine village located in the Andes. Sadly, we only had two nights to explore this wonderful area.
Budget Tip: For those short on time there is a full-day tour from Bariloche to San Martín de Los Andes.
With its rustic lakeside charm, famous Seven Lakes beauty, and nice outdoor dining options, this is what we thought Bariloche was going to be. The city is small and walkable. While eating a picnic lunch, we enjoyed sitting at the lake's edge to watch the boats come and go.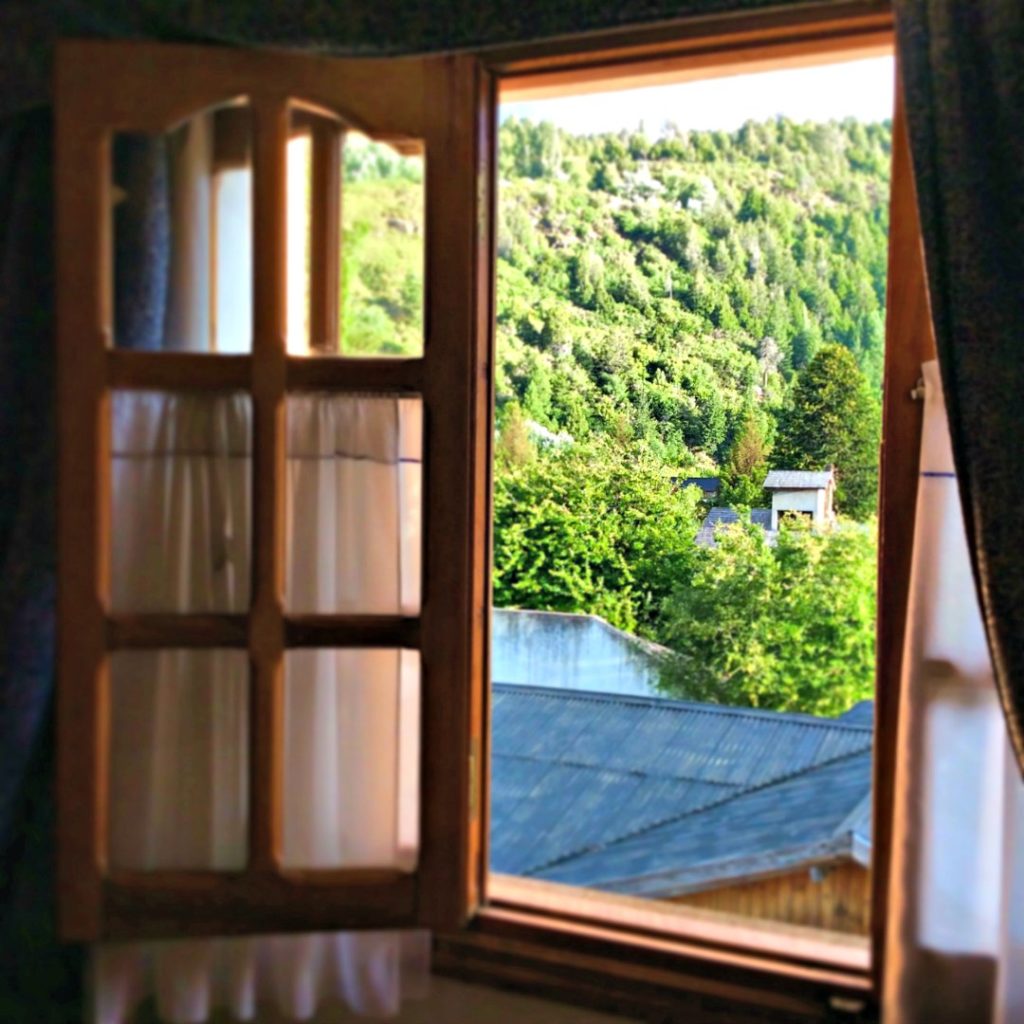 Best Dining Experience
Yes, it was a splurge, but it was here in San Martín de Los Andes that we found the best dining experience in South America, at Don Florencio. The service was impeccable, the tree-lined mountain outside patio views was lovely, and the steak finally lived up to Argentine expectations! Order the Ojo de Bife.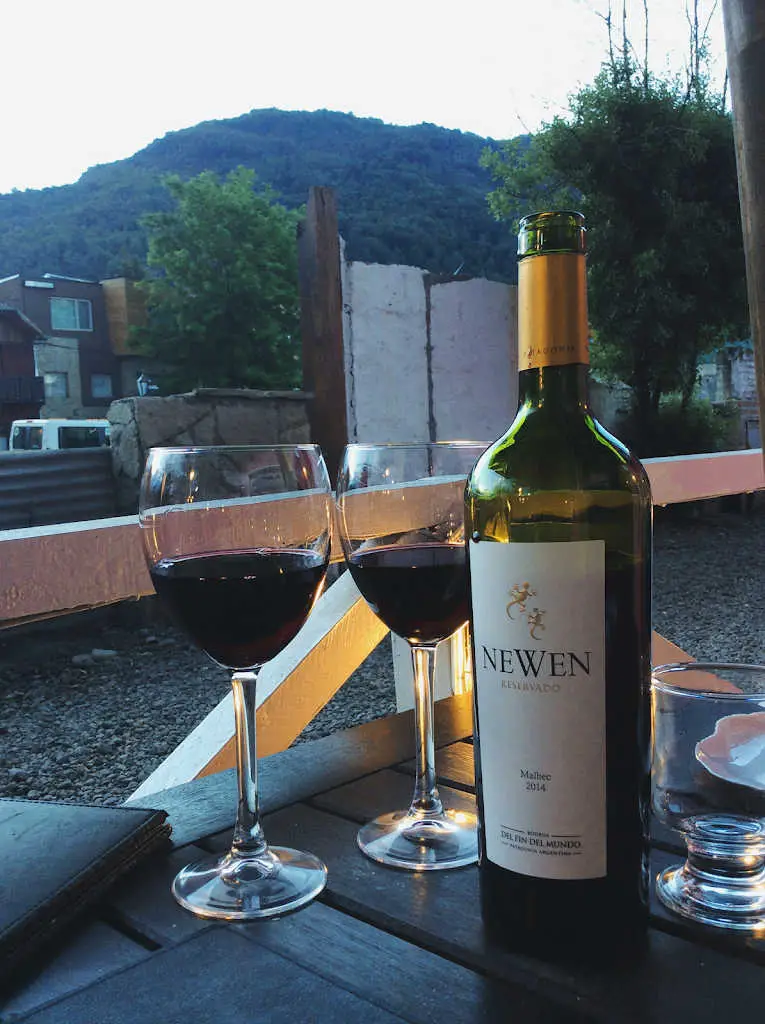 Best Places to Stay in San Martin de Los Andes
Accommodations are a bit more costly at this Argentine holiday retreat—this is not your typical backpacker stop. Regardless, the best places to say in San Martín de Los Andes will typically be closest to the lake. We stayed at the Hotel Intermonti and it was okay. After touring the area, if we were to return we'd stay here:
Budget: Hosteria La Posta Del Cazador (views of the lake) or Rukalhue Hostel (two blocks from the bus terminal)
Mid-Range: Hotel Antiguos (buffet breakfast)
Luxury: Del Sauco Apart & Spa (heated outdoor pool) or Casona DelAlto (mountain-style B&B)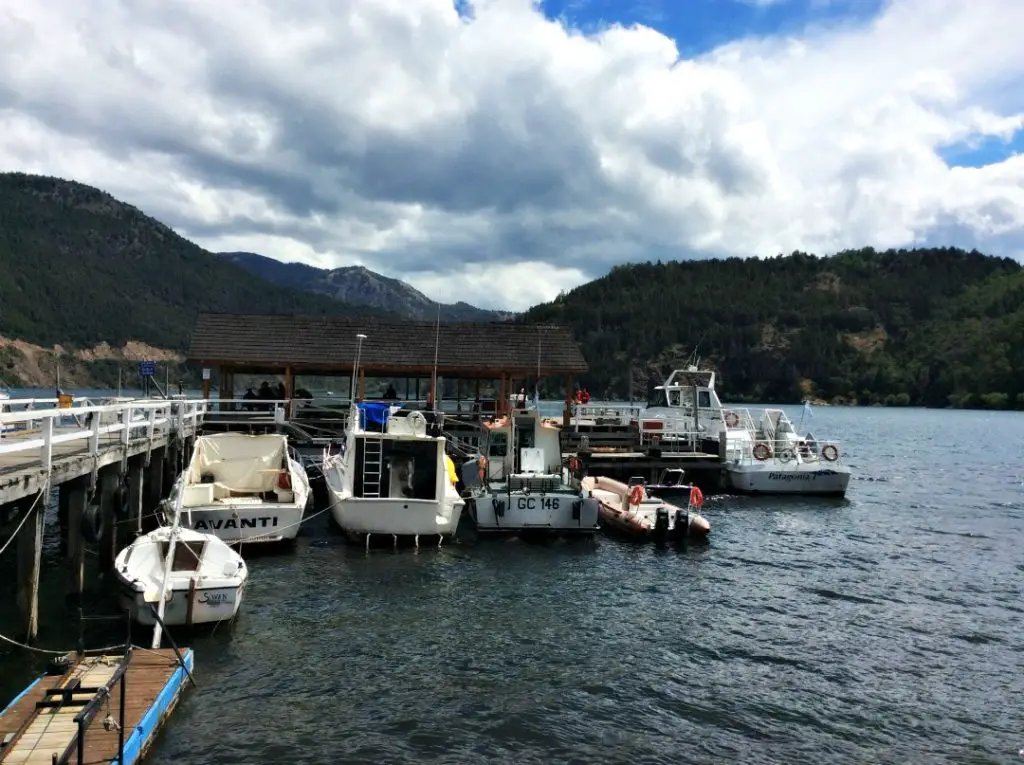 Busing From San Martín de Los Andes to Neuquén
The final leg of this Patagonia itinerary will take about 6.5 hours to travel from San Martín de Los Andes to Neuquén by bus. We took the Chevalier bus company with the full-cama option for about USD 30 per person.
Be sure to check out how we did Patagonia wine country here.
General Patagonia Itinerary Budget Tips
Hosterias are similar to a bed and breakfast without access to kitchens and basic laundry services. We accidentally booked two of these and missed using a kitchen to make lunches and dinners. If you want a kitchen, make sure when you book it says hostel, not a hosteria.
Due to the windy conditions and bumpy/gravel roads, Harry was getting very car sick on the buses. Bring medicine if you are prone to motion sickness. Also, bring your own snacks and water on the buses or you'll be starving and thirsty. Hand sanitizer is a must.
If you have the time, give yourself an extra day or two in each location to help prevent burnout.
Go to Platforma10 to get price comparisons and the name of the bus companies that service your desired route—all in English!
Save money by drinking tap water. Harry and I typically have sensitive stomachs and we drank water straight from the tap the entire time in Argentina, Chile, and Patagonia.
Funding Your Patagonia Itinerary With the Blue Rate
The blue rate is the exchange of USD for ARS that occurs outside of banks. When you sell a physical dollar bill in a cueva (informal exchange agencies), or clandestine financial house in Argentina, you will receive a better rate (blue rate) as compared to using an ATM or exchanging money at a bank.
Bring more USD than you think. It will be worth it. In fact, travelers may double the amount of money received by exchanging on the black market. Also, $100 bills receive a better exchange rate than smaller denominations.
We were surprised by how much money we spent on bus tickets. You can exchange (cambio) on Florida street in Buenos Aires very easily.
We ran out of USD currency while in Bariloche and we went into panic mode because we didn't want to exchange at the bank at the standard rate. We were surprised to find out (from our host in Bariloche) that we could also Chilean pesos (CLP) at a good rate (specifically at BariExpress in Bariloche). This saved us a huge amount of money!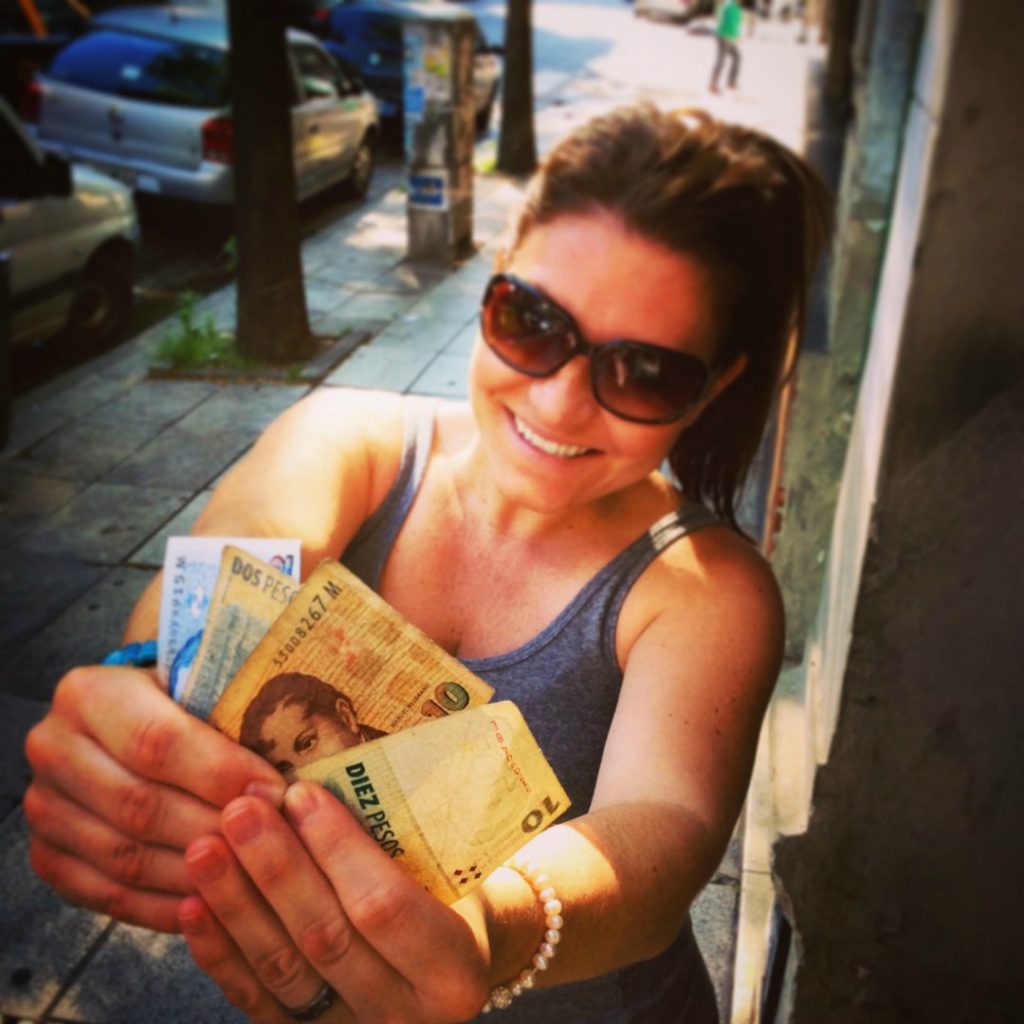 Luckily, we had some CLP left from our time in Chile and were able to exchange it at a good rate.
Rate Quoted on Xoom
The rate quoted on Xoom is not nearly as good as exchanging at an informal agency, however, it is still much better than exchanging at the official rate. The lesson here is to bring as much USD as possible and avoid taking money out of ATMs or using a credit card because you'll get stuck paying for purchases at the official rate. The best alternatives we've discovered in case you run out of USD are:
Near Uruguay? Redeem USD out of ATMs in Uruguay.
Near Chile? Redeem USD or CLP out of ATMs in Chile.

CLP may not receive as high a rate as USD, but it's substantially more than using the official rate.
Find a local money exchange office (in Argentina) and simply ask them for the best rate that they can offer on the CLP. They'll instantly know that you're not looking for the official rate and offer you something close to the "blue" rate.

Xoom.com: Find a location nearby to pick up ARS pesos at a competitive rate, around 30 percent (currently) more than using the official rate.
We hope our Patagonia itinerary cheat sheet helps smooth out some of the bumps in the road you will occur while traveling in South America.