Makarska, Croatia is one of the country's most scenic destinations—and least visited. For those torn between the love of mountains and the sea, in Makarska, you are gifted with both. Spending the day along this breathtaking coastline, tourists can enjoy some of the best travel experiences that Croatia has to offer. Here are five hidden gems of the Makarska Riviera, Croatia.
Makarska Croatia > 5 Beautiful Hidden Gems
On a recent visit, friends offered us a tour of some of their favorite hangouts around Makarska. As tourists, exploring with a local is like being let in on a special secret. Our day was action-packed and full of awe-inspiring views. A few locations even got us so far off of the beaten path that we felt like we had Croatia all to ourselves. So where did our local friends take us?
Where to Stay in Makarska
The best location to stay in Makarska is in the city center for the convenience of restaurants and shopping. However, there are many beachside accommodations available just outside Makarska too. Also, most of the available accommodations in the area are vacation rental apartments. As a result, to see the largest selection of accommodations use Booking.com to find the best place to stay.
Exploring with a local is like being let in on a special secret.
Here are five hidden-gem destinations around Makarska Croatia where those in the know would go.
1 . Hike to Secret Beach at Vruya Bay – Nugal Beach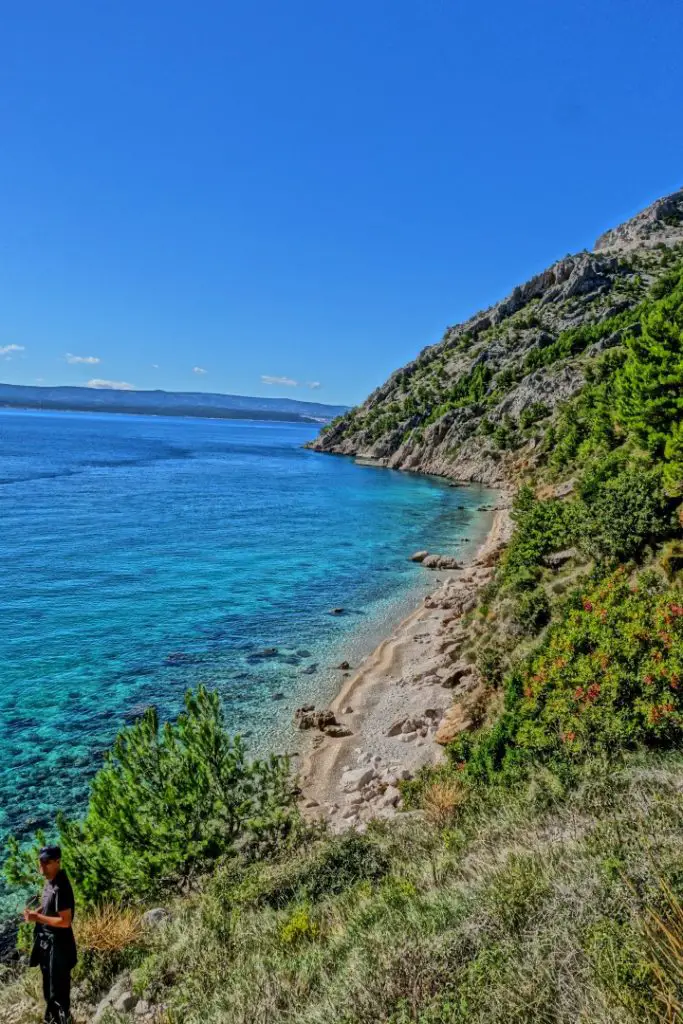 With a dramatic mountain backdrop and the clear, calm waters of the Adriatic Sea, the Makarska Riviera offers some of the most beautiful beaches in the world. While many travelers flock to the typical touristy hotspots, locals know of a secret, hidden bay.
Located halfway between Omis and Makarska, there's a trailhead that is the start of a 40 to 45-minute hike down a rugged path. Eventually, you'll reach Nugal Beach with dreamy, turquoise waters and a secluded beach. Be sure to note the unique geology of how the underground river causes the sea to bubble and stir with its freshwater spring.
6 Popular Tours From Makarska – No Need to Return to Split
🌉 Consider easily checking off another country while in Croatia on this highly-rated day trip to beautiful Mostar in Bosnia and Herzegovina.
⛰️ Honestly, the Biokovo Sky Walk is one of the ultimate ways to take in the Croatian coastline and experience the mountains. On clear days you can see Italy.
🧗‍♂️ If you've landed in Makarska, you'll be lucky to know that you have an amazing zip line experience right in your backyard. Enjoy breathtaking views from a course suitable for both beginners and experienced climbers.
🛥️ Luckily, a Hvar island tour leaves from Makarska, so no extra transport into Split's city center is necessary. Experience Hvar and lesser-known islands with ease on this speedboat tour. This is a great opportunity for those short on time or for travelers staying in Makarska.
🍷 A must for wine lovers staying in Makarska! Enjoy a private guided wine tour, wine tasting with a locally sourced pairing platter, hotel pick-up/drop-off, and a stop at the Imotski Lakes.
🏞️ Explore more of the Croatian coast on an Omis and Cetina Canyon day trip, with lunch included, departing from Makarska.
✈️ Need a transfer to Makarska from Split Airport? If you're not renting a car and staying in Makarska, book a private transfer for up to 8 people to your hotel or vacation rental.
2. Vepric Shrine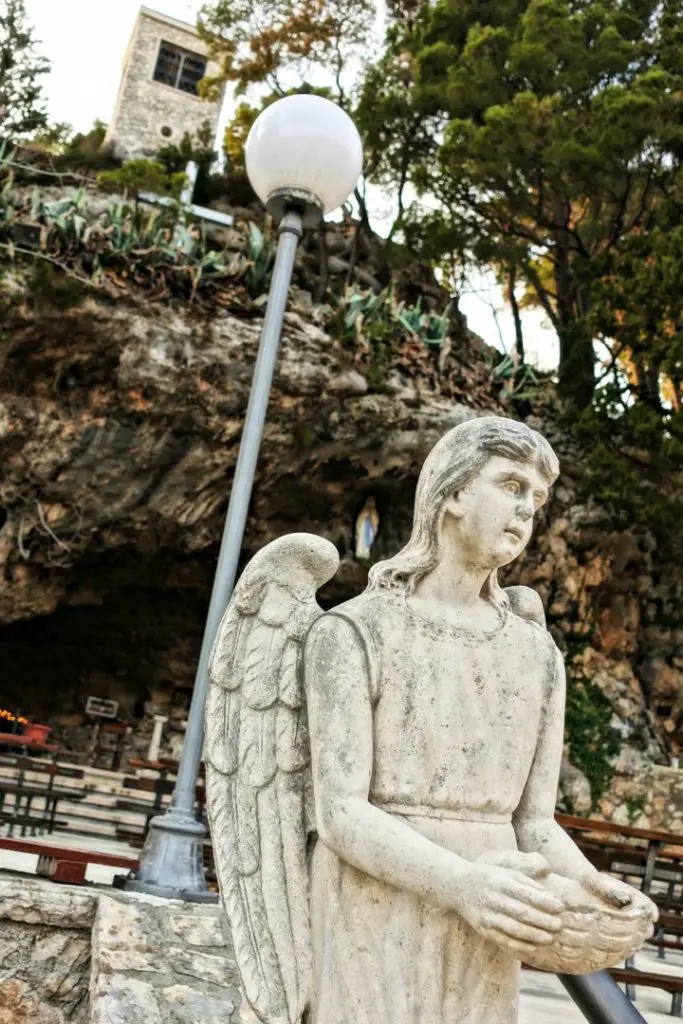 At the base of a wooded hill, there's a holy shrine set within a small cave. It was built in 1908, by a Bishop of the Roman Catholic Archdiocese of Split-Makarska named Jura Carić.
He desired to build a place of religious devotion to celebrate the fiftieth anniversary of the appearance of the Virgin Mary in Lourdes, France. Visitors visit the shrine for a time of reflection, prayer, or to walk among the tranquility in the scenic, natural setting.
3. Walk the Peninsula of St. Peter Coastal Trail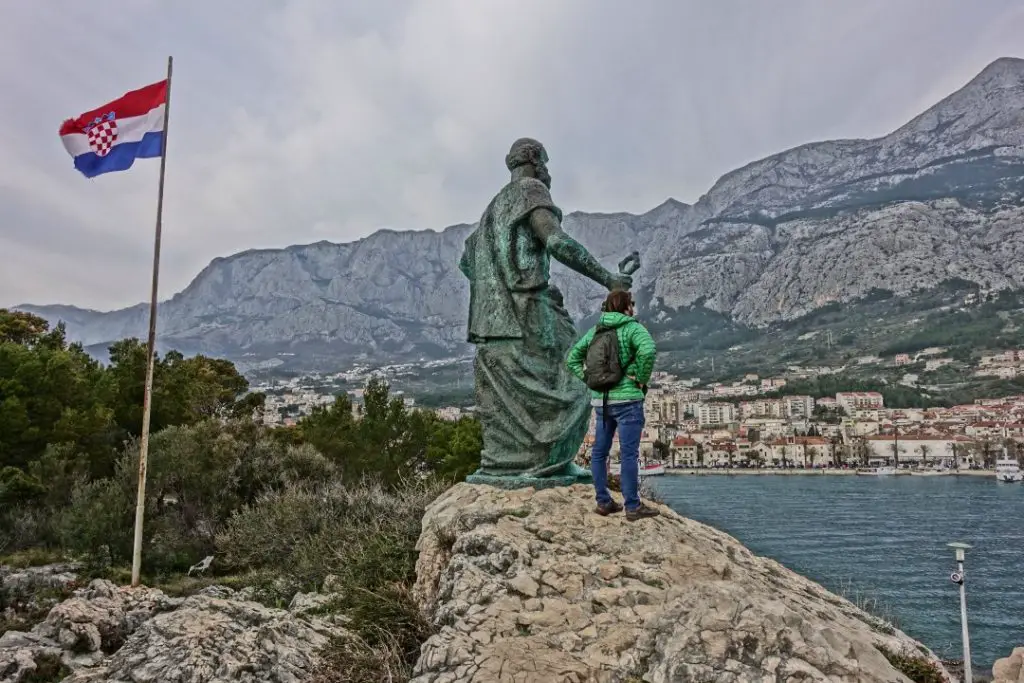 Easily accessible from the Makarska Harbour, a long, but easy trail makes its way along the rocky coast. Visitors can walk under the pines, find a sunny spot to watch the waves, or bring a lock of love to hang on the designated chain fences.
If you're lucky, you'll discover the eerie, abandoned cave bar which was probably quite the "trip" in its heyday. Looking for a challenge? Continue the hike south to find your hidden piece of paradise.
4. St. Marks Church & Kalalarga Street
In the 18th century, Kalalarga Street was Makarska's main strip. The charming stone path leads to St. Mark's Church which features the town fountain constructed in 1755 and Makarska's oldest stone coat-of-arms. Be sure to note the unique fish-shaped doorknob on the church.
In this square, you can also find the statue of Friar Andrije Kačića. Afterward, master the art of savoring the two-hour cappuccino. Enjoy Croatian cafe culture in the adjoining Kacic Square, which draws fewer crowds than the Makarska Harbour.
Explore Another Country ~ Day Trip to Mostar From Makarska > Check Availability
5. Biokovo Sunset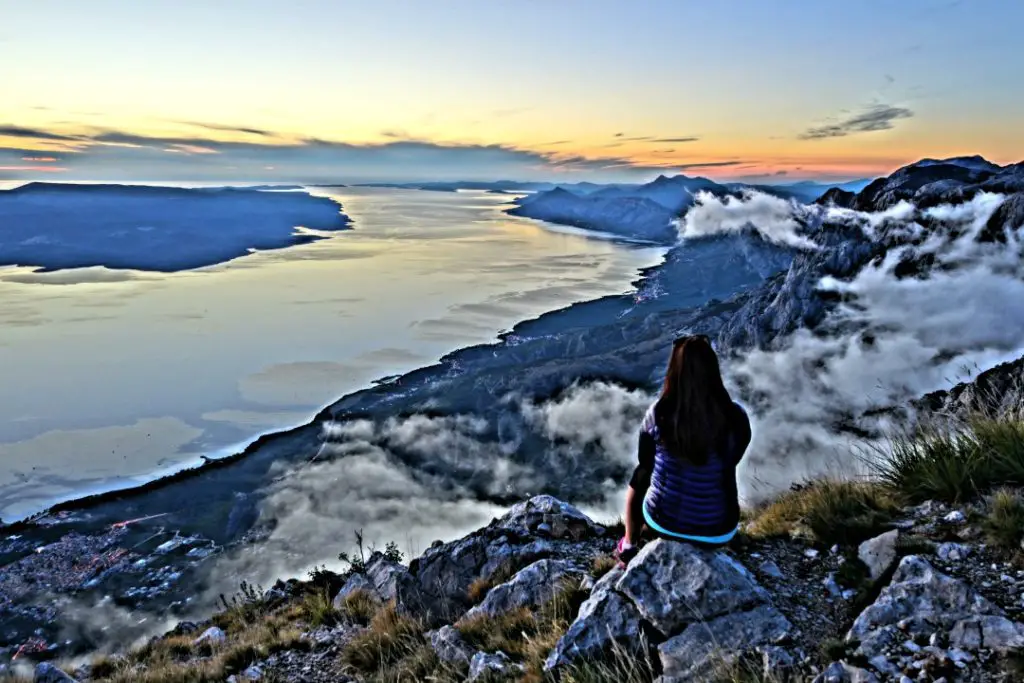 A wise photographer once told us, "If you want better photos, then seek out more amazing places." End the day with a drive and a short hike to the Mt. Biokovo lookout. Take in the sunset at 6,000 ft (1762 meters), which is the highest peak on the Dalmatia Coast.
One of the highlights of visiting Biokovo is the new Biokovo Skywalk Tour. The Skywalk is around 80 feet long, horseshoe-shaped, and has a glass surface for walking—providing exceptional views of the Makarska Riveria. Another option is a guided Hiking Tour in Nature Park Biokovo. The tour includes a nice diversity of terrain to explore and pickup/dropoff to the hotel is included.
On clear days you can see Mt. Gargano on Italy's eastern side which is 157 miles (252 km) away. As darkness falls, drive up further towards the FM transmitter tower to relish views of the beautiful twinkling stars and city lights.
Complete Biokovo Guided Nature Park Tour > Check Availability
Or, if relaxation is what you seek, spend the day at one of Makarska's stunning beaches.