Life is always better at the lake. Now imagine a scenic mountain backdrop and an assortment of adventurous activities to fill your day. From thrilling mountain biking to sunset cruises, Lake Ohrid is the perfect destination for any traveler.
This Lake Ohrid, Macedonia ultimate travel guide will share day-trip ideas, offer budget-savvy tips and provide contact information for locals to help you plan your next holiday to this fantastic region.

Macedonia has been keeping a secret from the rest of the world. It's a little hidden paradise called Lake Ohrid. During weekends in the summer, Skopje becomes unusually quiet because many Macedonians make the 200 km drive to escape to this lake.
It's also a major holiday destination for many Dutch, Polish, Serbian, Bulgarian, and German tourists. Although we've spent quite a bit of time exploring the Balkans, we've heard little about this region. Visiting Lake Ohrid simply blew us away! Especially, with its natural beauty and affordable prices.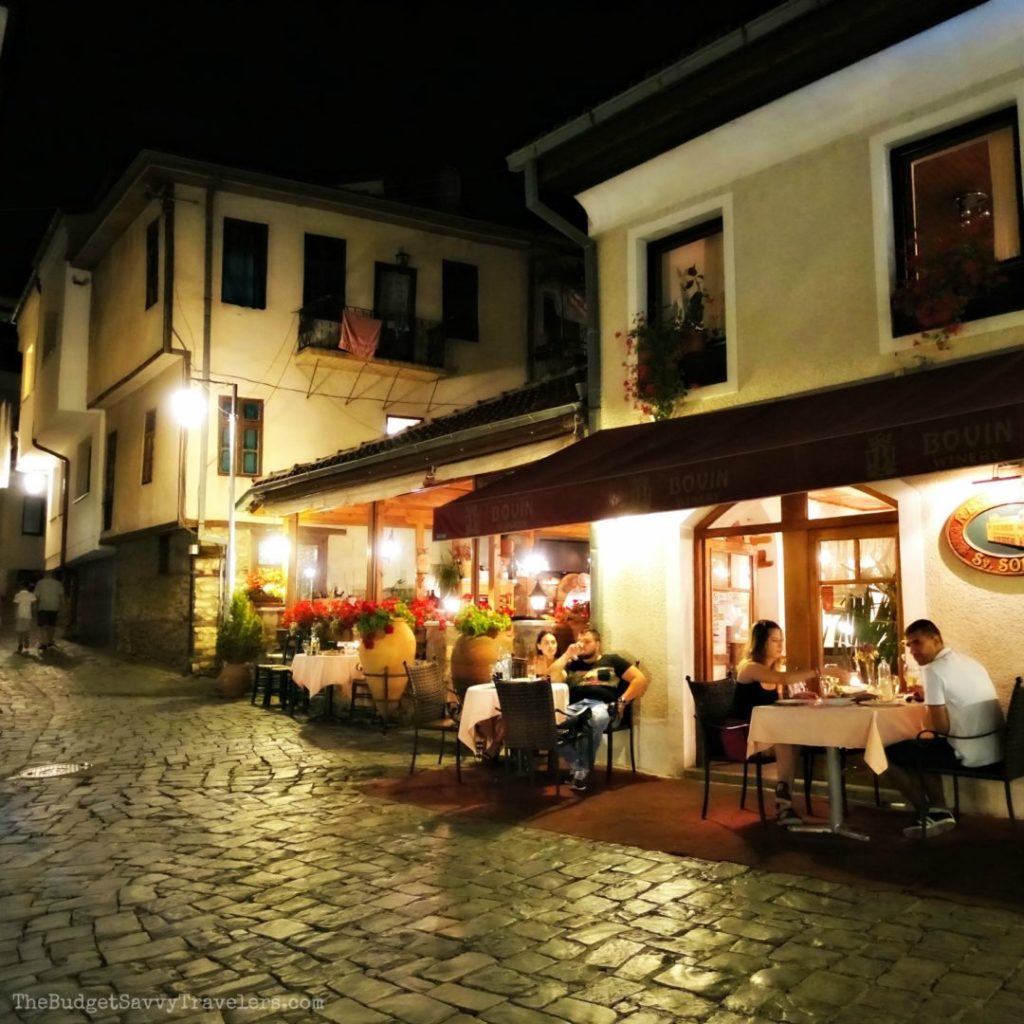 Lake Ohrid is unique in that it holds a UNESCO World Heritage Site award for both nature and culture. With so much to see and do in the area, visitors can be as active or as laid-back as they prefer. Most travelers flock here during summer, but Lake Ohrid is a year-round destination.
Where to Stay in Ohrid
These are the best places to stay in Ohrid, Macedonia sorted by price.
Budget: Villa Dvor Ohrid (great value) or Villa Mishe (modern and clean)
Mid-Range: Villa Dislievski
Apartment: Apartment Villa Dudanov or Port Villa
Luxury: Unique Resort and Spa (large rooms and a pool!)
Best Day Trips in Lake Ohrid
The best day trip in Ohrid includes taking the ferry from Ohrid to St. Naum. From St. Naum, visitors may tour the monastery, swim on the beach, visit the St. Naum Spring, dine at one of several restaurants, or rent a paddleboat.
Beach, Boat, and St. Naum Monastery
One of the best days we had in Lake Ohrid was spent boating, sunbathing, and visiting St. Naum Monastery. If you are not traveling by car, the best way to get to the other side of the lake is by the Lake Ohrid Holiday Ferry.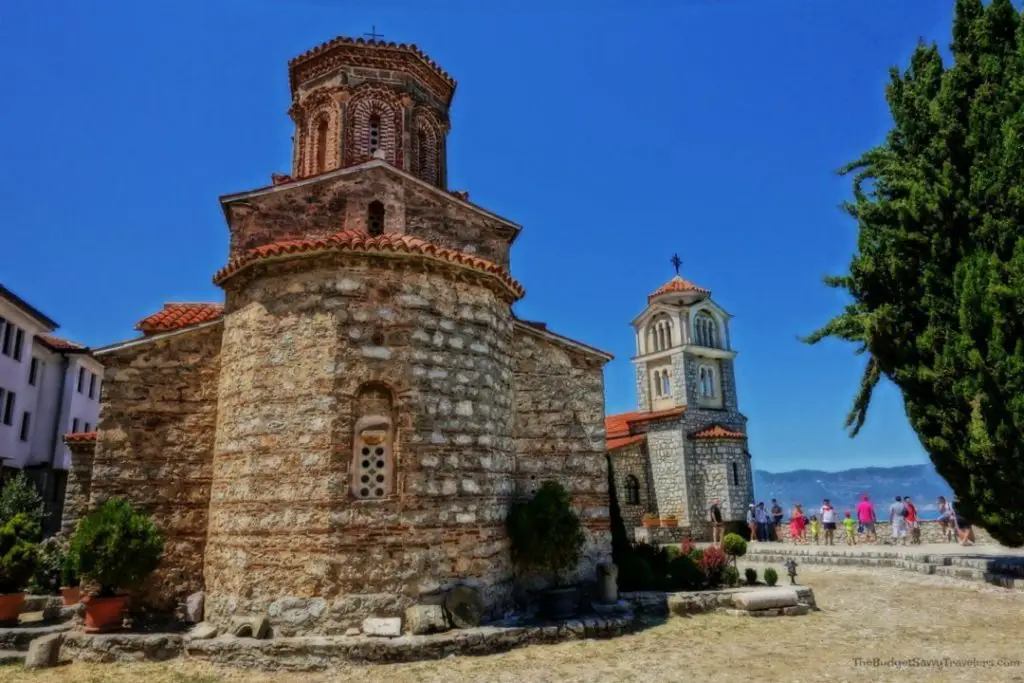 For two people, the cost was about USD 25. The ferry provides round-trip transport to the other side of the lake and a beautiful scenic boat ride. The ferry departs from Ohrid's main city center around 10 a.m. and departs St. Naum around 3 p.m.
Floating over the springs provides passengers with a spiritual and mystical feeling.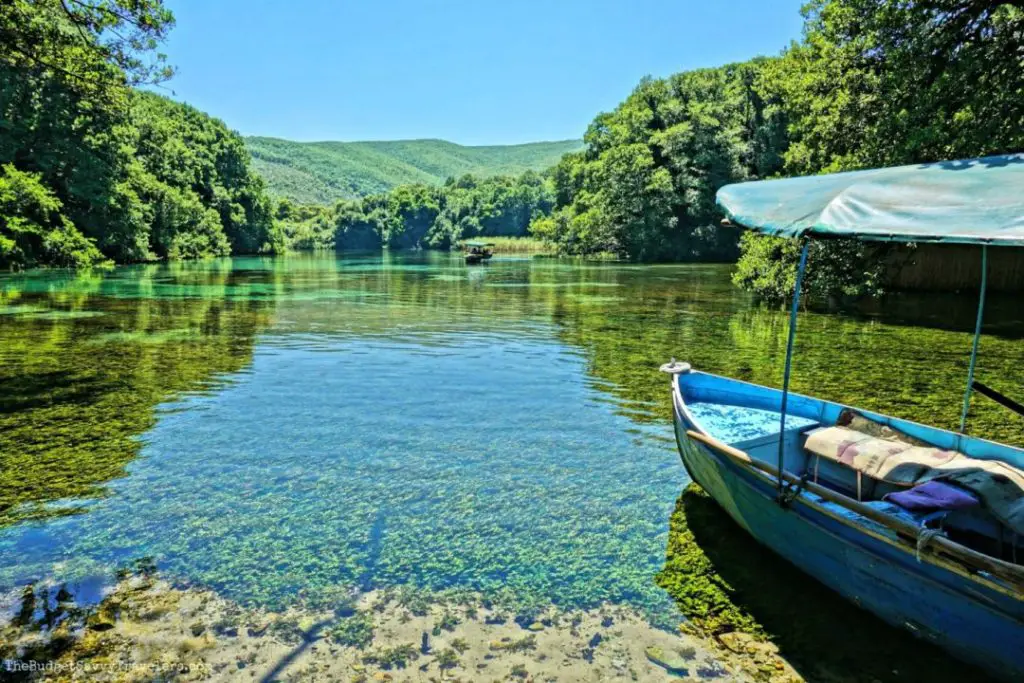 Once we arrived, we toured the picturesque Monastery taking note of the famous peacocks, beautiful architecture, and scenic views. There are a hotel and a restaurant on the premises. During our visit, the restaurant was playing some lovely guitar music, making it a relaxing place to enjoy a coffee or a cool drink.
Thanks to Aleksandar from the EDEN Tourism Cluster of Southwest Macedonia, we were wisely advised to explore the freshwater springs located next to the Monastery. A 30-minute rowboat ride through some of the most pristine water on the planet is available for about USD 3 per person.
St. Naum Spring
Floating over the springs provides passengers with a spiritual and mystical feeling. The guides narrate throughout the boat ride and point out specific locations where the water is released from the earth below. This was one of our top experiences in all of Europe!
After our boat ride, we headed to the only sandy beach on Lake Ohrid. It's located adjacent to St. Naum. The lake was warm despite being so close to the chilly spring water.  There are changing stations, fountains for drinking water, souvenir stands, and a few restaurants.
We ate at Cuba Libre Restaurant Drim, which is directly next to the springs. The ferry departs for Ohrid at 3 p.m. If you'd like to stay longer,  consider the option to take a minibus back for a small cost. Minibusses provide pickup and drop-off in the Saint Naum parking lot.
Outdoor Adventures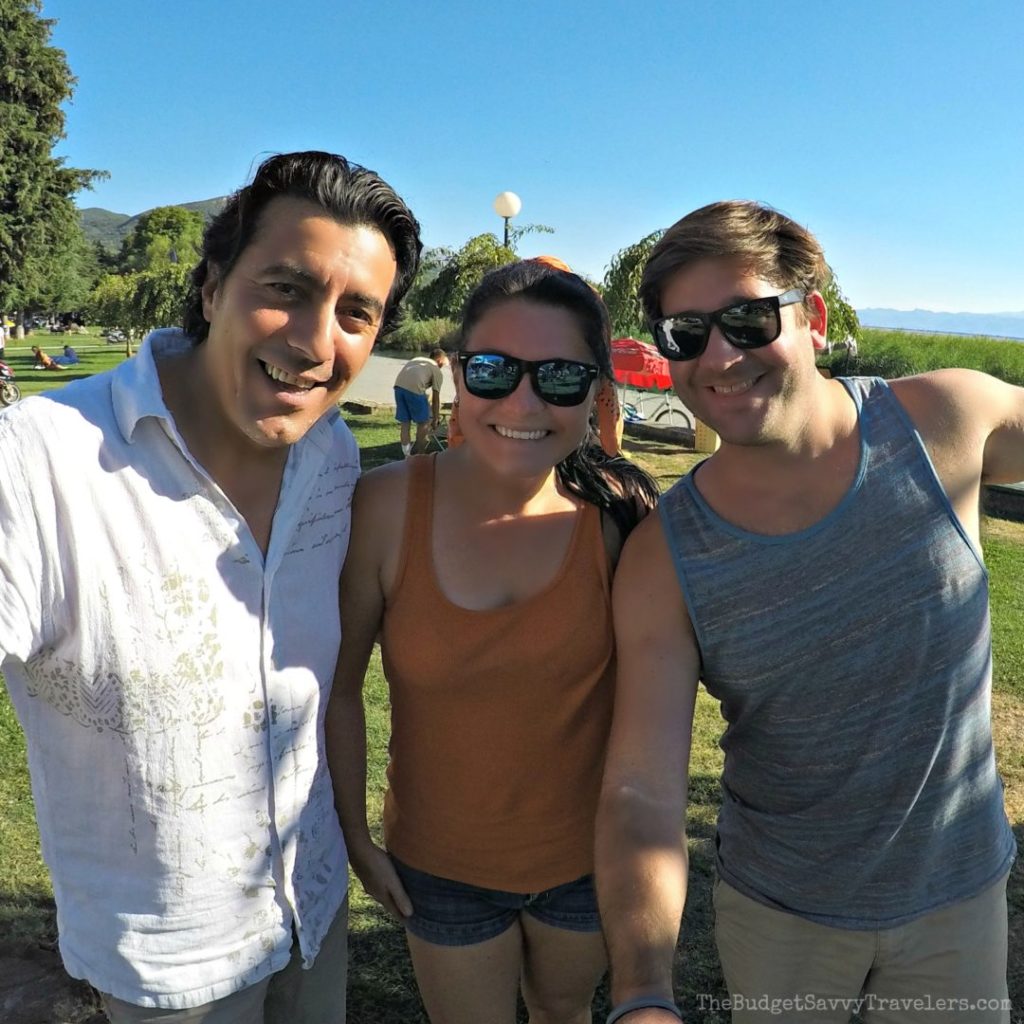 Ohrid's diverse topography provides a great backdrop for a variety of outdoor adventures. For this reason, we decided to enjoy an ATV adventure through Galicica National Park.
Hiking Around Lake Ohrid
Hikers will love the 350+ kilometers of mountain trails to explore around the lake. We spent one day hiking in the Marin Dol Valley, along the Old Velestovo Trail. The trail is elevated providing glorious views of the lake below.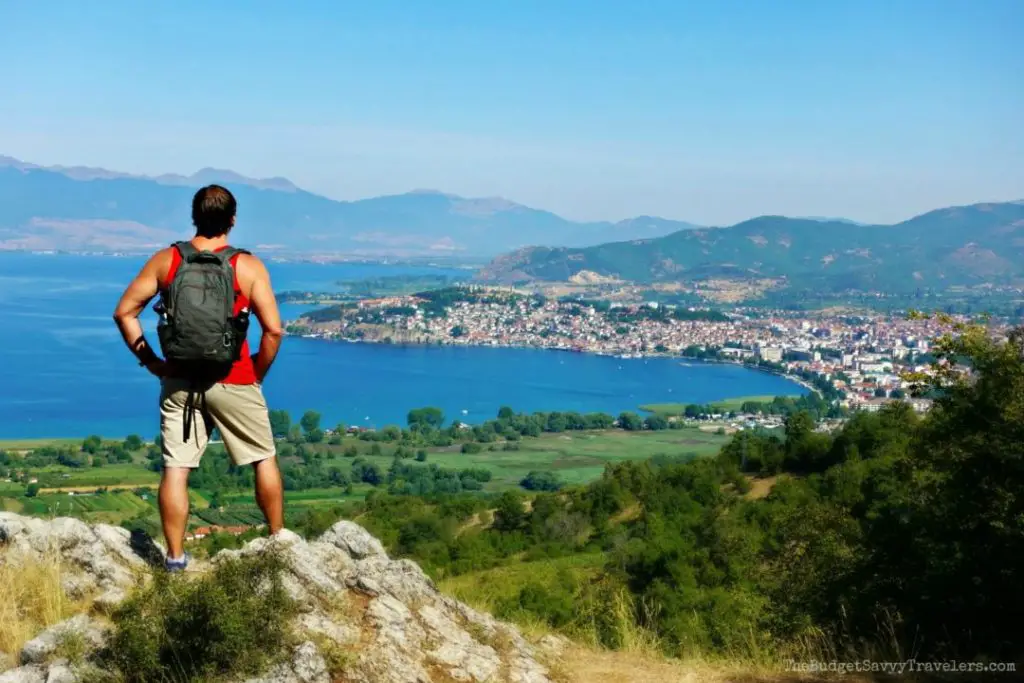 Many of these settlements are now abandoned and it gave us the feeling as though we were walking through an opened time capsule.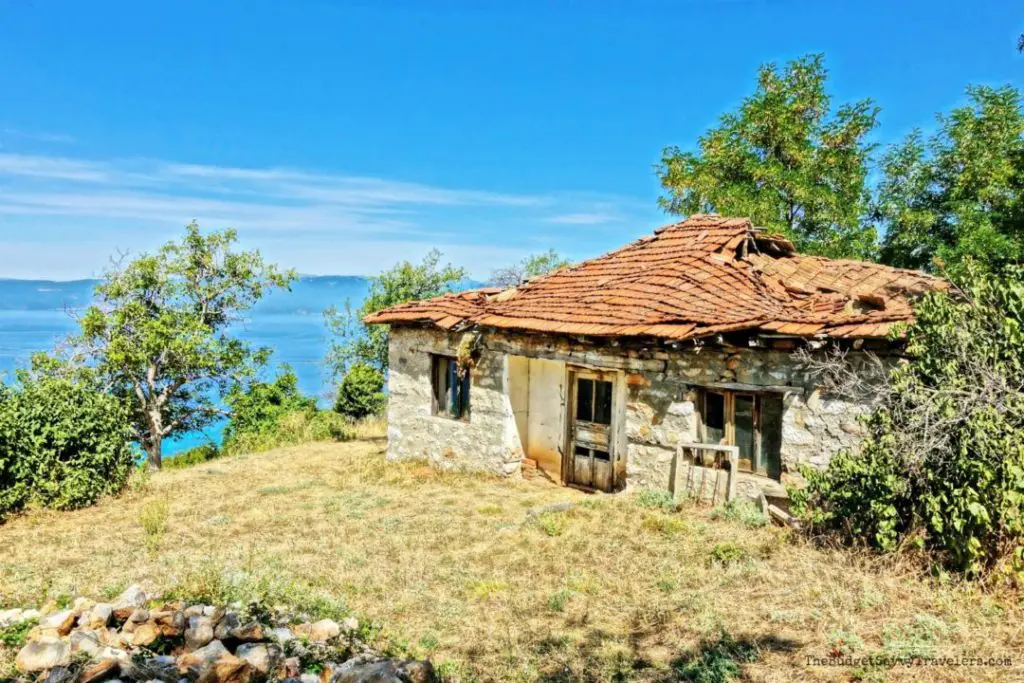 On the walk, we passed through several small villages such as Velestovo, Shipokno, and Gorno Konjsko. Many of these settlements are now abandoned and it gave us the feeling as though we were walking through an opened time capsule.
Villa Minami
Halfway through our walk, almost like a mirage, we came upon Villa Minami located in the village of Gorno Konjsko. During the tourist season, this quaint B&B offers visitors a lovely opportunity for a traditional lunch with gorgeous lake views. (Non-hikers can reach Villa Minami by taxi for about USD 10 from the city center.)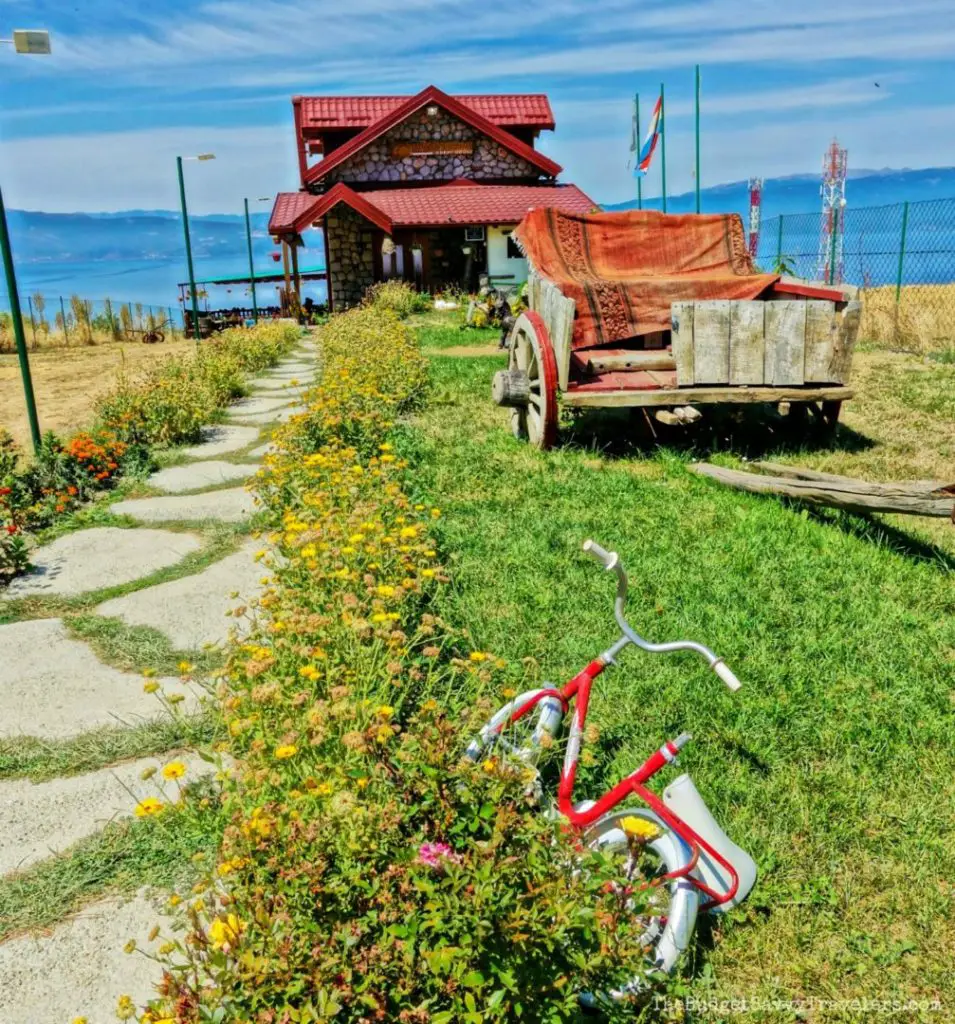 After lunch, we continued through the wooded forest in Galichitsa National Park. During our slow, easy walk, we learned more about the area and shared stories along the way. After a while, we reached Risto's Guest House where we enjoyed the perfect refresher, homemade cherry juices picked fresh from her garden.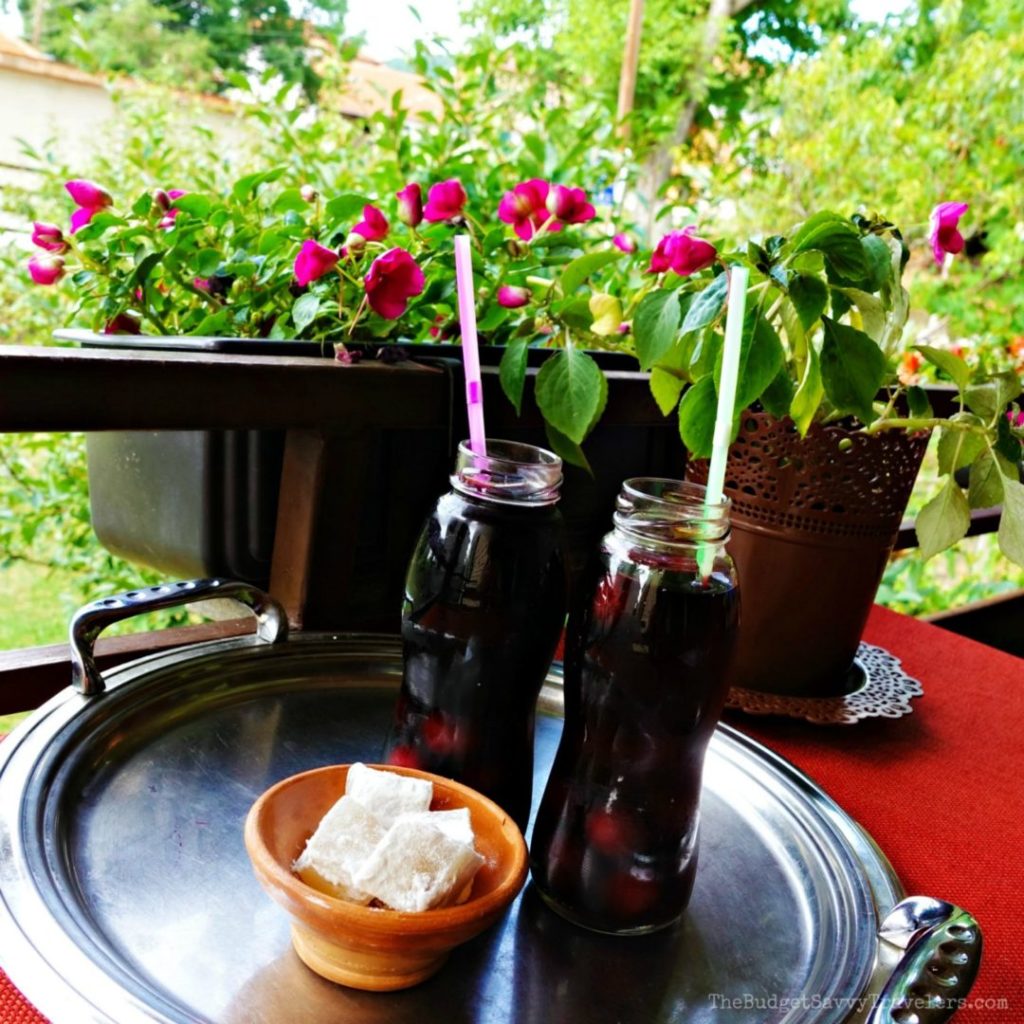 While enjoying our juices we were informed that many hikers plan multi-day hiking tours through this region and use Risto's as a pit stop. Often people will start in Struga and make their way to St. Naum, overnighting in guesthouses along the way.
Risto's Guest House is a popular stop on this hiker circuit. They receive stellar reviews, with some of the best homemade cooking on Lake Ohrid. The Eden Tourism Cluster of Southwest Macedonia can provide additional information and help in arranging these multi-day hiking tours.
Best Hiking Guide in Lake Ohrid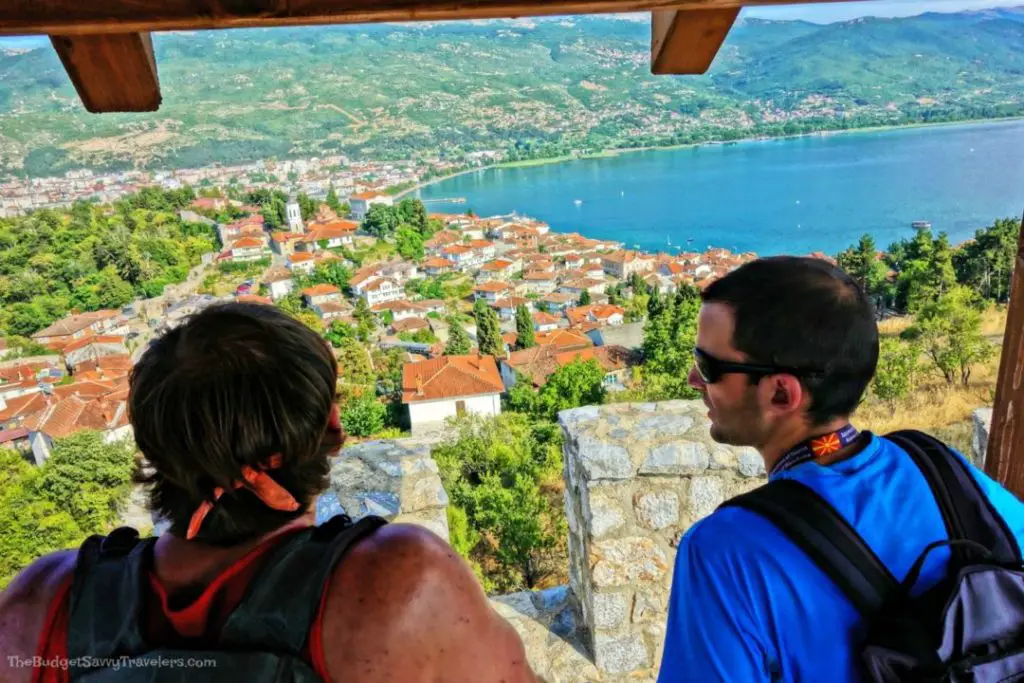 We spent the day hiking with our new friend Ivan Cekic, a licensed mountain guide. Ivan specializes in organized mountain biking and cycling excursions through Travel Velodrome, but he's also an avid hiker with lots of knowledge to share. You can contact Ivan at ivan32@t-home.mk to set up personalized tours throughout the Ohrid area.
Biking Around Lake Ohrid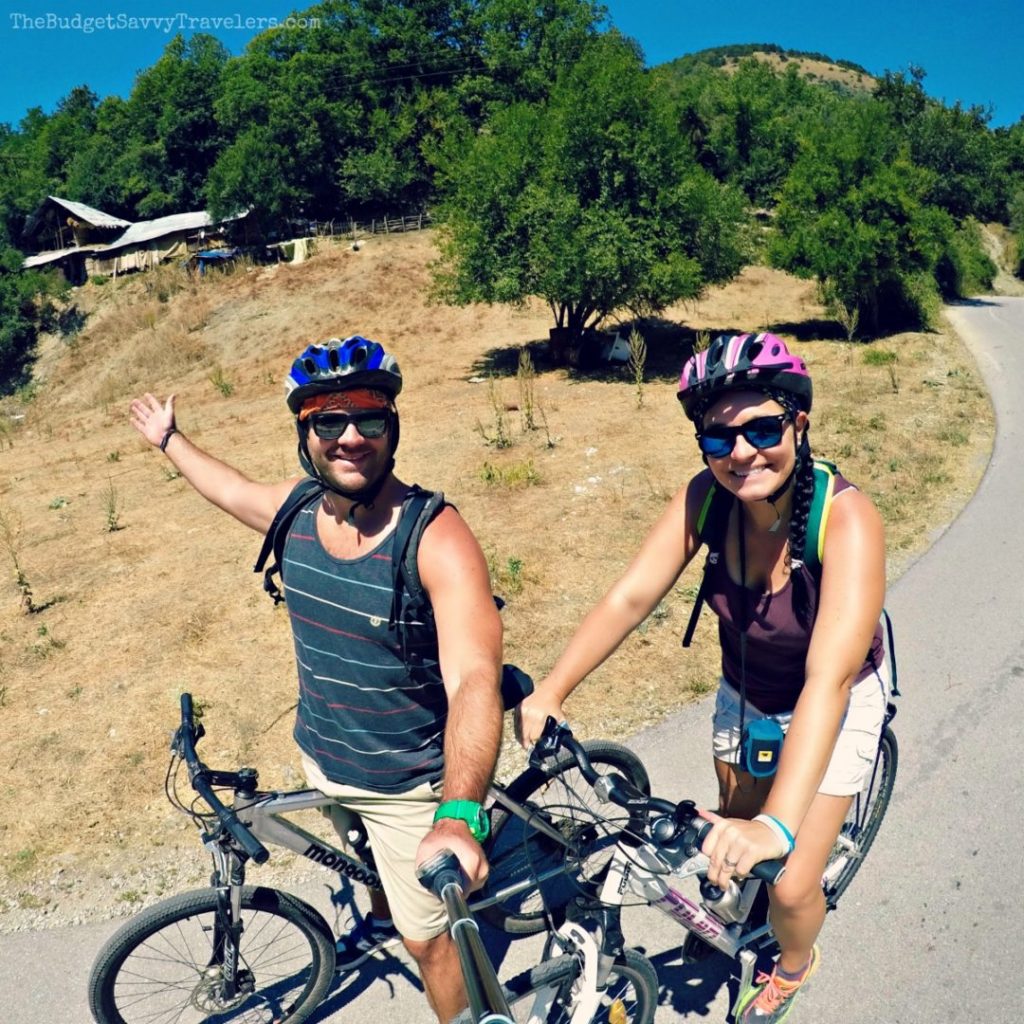 The following day we connected with J.J. Adventures to enjoy a cycling day trip on Ohrid's backroads and mountainsides. There are a variety of different trails and difficulty levels for a wide range of experiences.
J.J. recommended the medium level course that winds it's way along some beautiful countryside and up a mountain to Saint Bogorodica church.
Ivan and J.J. also organize multi-day biking tours for cycling enthusiasts. That morning we met at a local hotel where we received our bikes, helmets, and packed lunches.
Exploring Ohrid's Old Town and City Center
Although enjoying lake life was our main goal, many historical attractions are worthy of a visit too.
Samuel's Fortress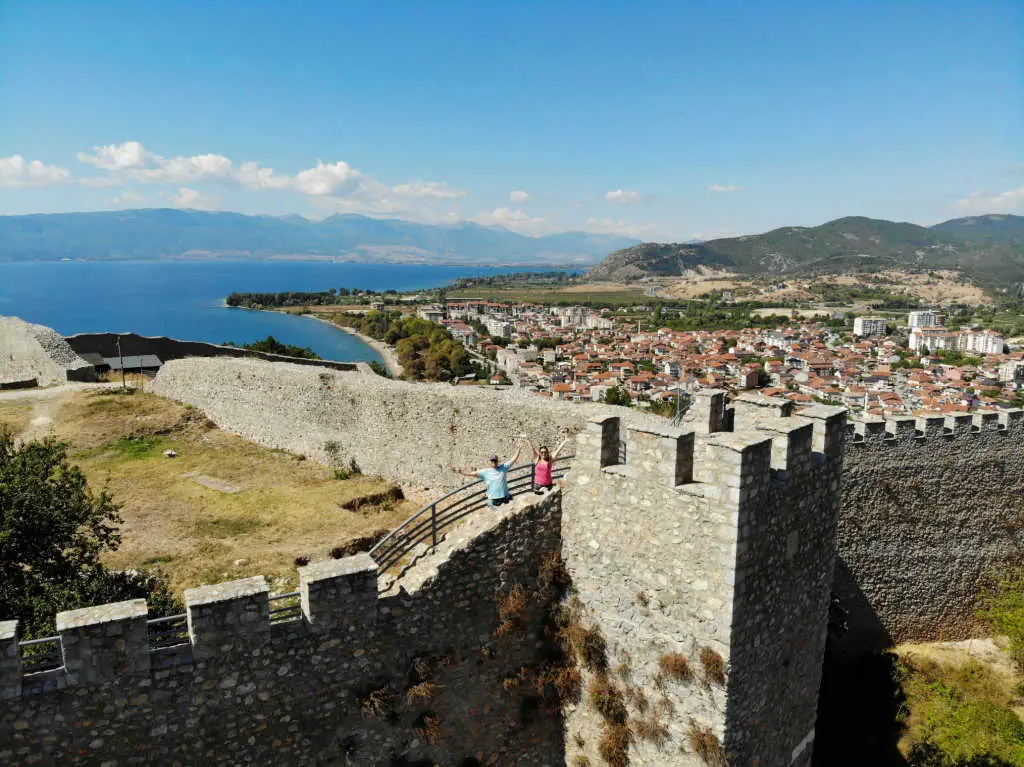 The Samuel Fortress was constructed by Tsar Samuel of Bulgaria who moved the Bulgarian Empire's capital city from Skopje to Ohrid in 990 A.D. Today, the fort is a very controversial character, especially between Bulgarians and Macedonians.
Climb up to the fortress towers to get a great view of the lake and surrounding city. There's a small admission fee, but the views make it well worth it.
Amphitheater
This amphitheater was discovered by accident in the 1980s and was used for gladiator battles and murdering Christians during its heyday. It was believed to be constructed around 200 B.C. and is now mainly used for summertime concerts and performances.
1,000-Year-Old Tree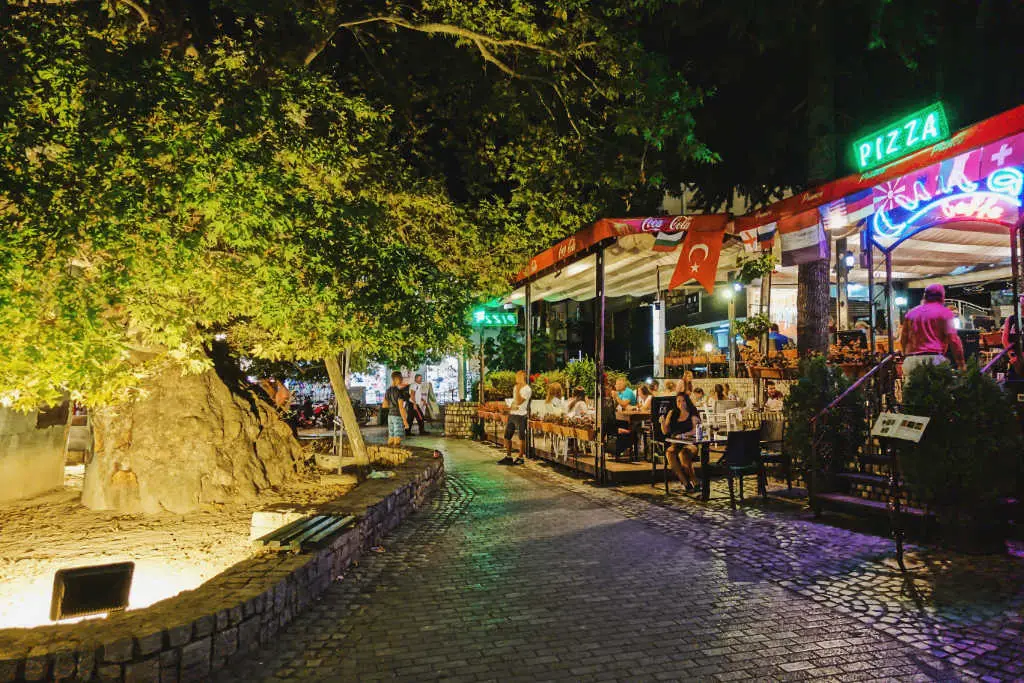 The Old Plane Tree is one of Ohrid's most famous landmarks. It is estimated to be over 1,000 years old.
National Workshop for Homemade Paper
This tiny working museum demonstrates the old-world tradition of making handmade paper. There are many beautiful handmade paper products for sale including journals, postcards, and frame-worthy sketches all for as little as 2 euros. Admission is free.
Church of St. John at Kaneo
Gracing the cover of National Geographic twice, this church is truly the iconic beauty of Lake Ohrid. The earliest surviving documents can confirm that the church has been perched on the cliff overlooking the lake since at least 1447. In 1964, restoration efforts found wonderful frescos painted on the dome.
Plaošnik
Ohrid was built on the Ancient Greek city of Lychnidos. The Amphitheater and the remains of this early Christian basilica, believed to be from the 5th century, were the only two structures left of the initial settlement. However, recent excavations revealed lovely mosaics constructed with the up-most attention to detail.
Bay of Bones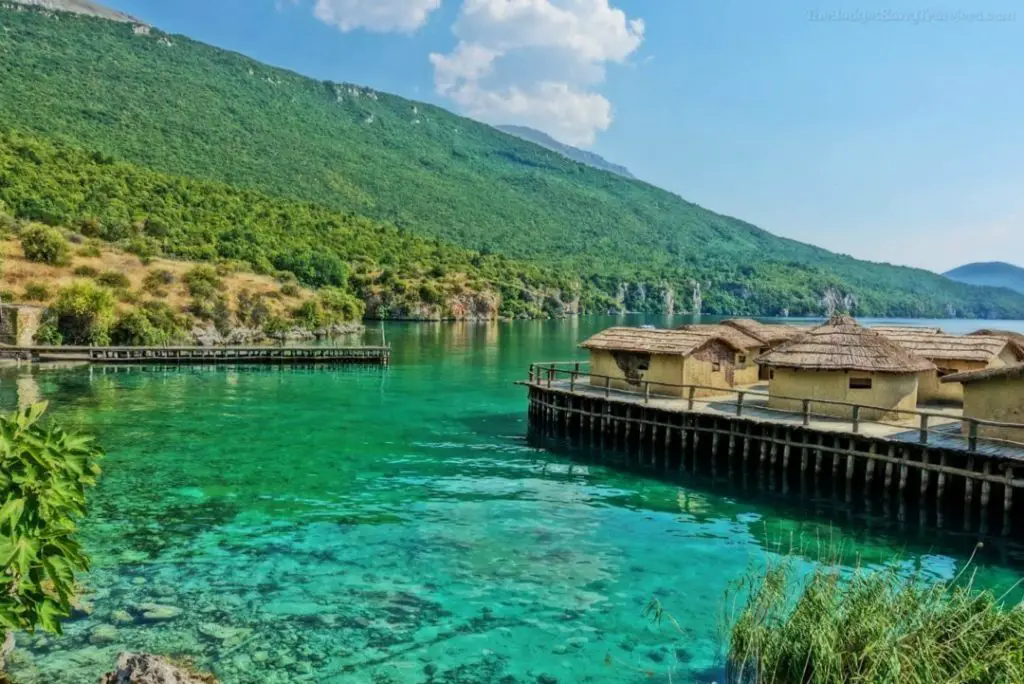 Consider visiting one of Macedonia's most popular museums. The Bay of Bones is a speculative recreation of a prehistoric settlement, from 6000-8000 B.C. It features staged over-water huts replicating the living conditions of the people who once lived here.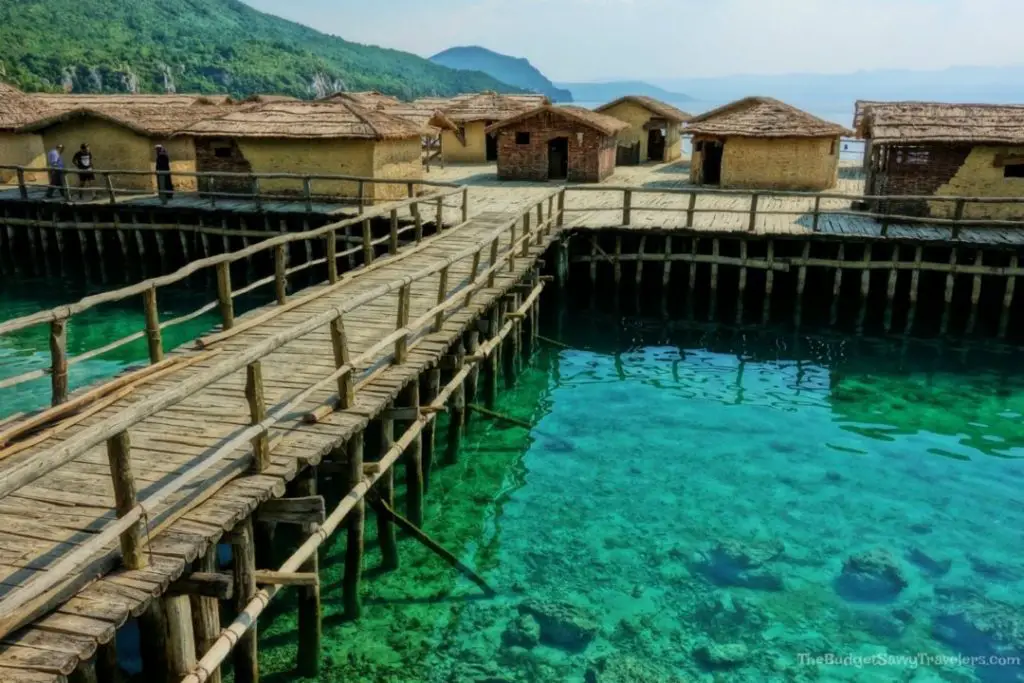 There is a very small museum on-site, but it doesn't provide much information. Touring the museum takes about 30 minutes.
There is a small cafe so grab an ice cream or coffee to enjoy the waterfront and to extend your time at the museum. Next, to the archaeological site, there is a company that arranges scuba diving tours.
Travel Tip
We took a minibus from a local bus stop to get to the Bay of Bones Museum. After our visit, we had a very difficult time getting back to the city center.
We waited for almost two hours at the side of the road waiting for another minibus to come from St. Naum. The easiest, most reliable way to visit the museum is by arranging transportation ahead of time.
Best Restaurants in Lake Ohrid
On our tour, we were lucky to discover three great restaurants that offer a more memorable dining experience in Ohrid.
Fish House Kaneo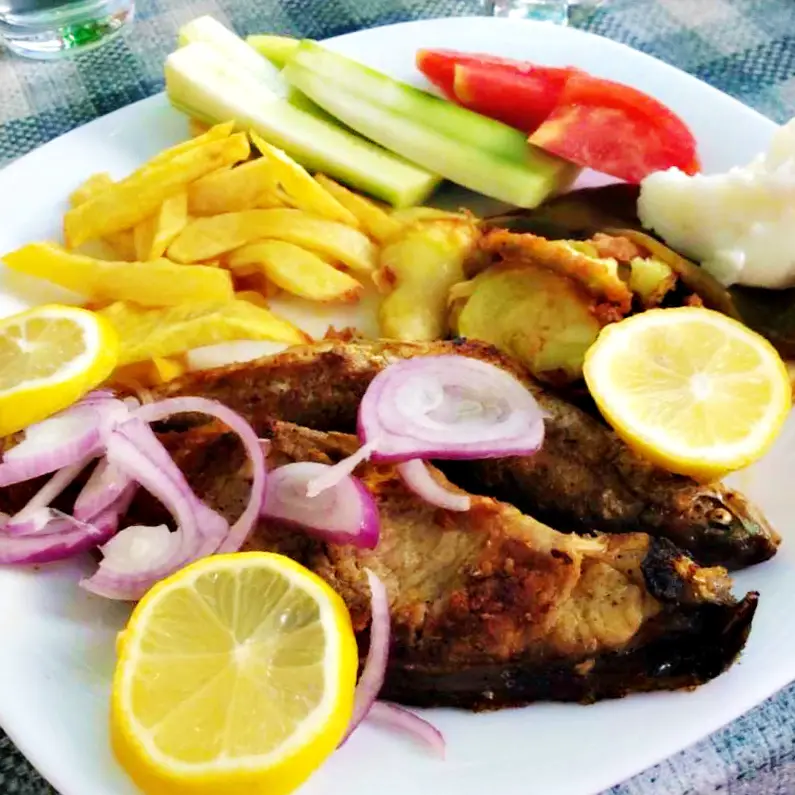 Known locally as belvica, this freshwater fish is a specialty dish around Lake Ohrid. At Fish House Kaneo, we dined lakeside enjoying this local delicacy served with grilled vegetables, roasted green peppers with garlic, and potatoes. When accompanied by a glass of white wine and rakija, this dining experience is as local as it gets.
Before dinner, we enjoyed a sunset boat cruise on the lake. Locals line their boats along the lakeshore making it easy to hail one for a short sunset cruise. Ask a local to find out the going rate.
SU Hotel
The trendy SU Hotel features a fresh, modern menu, lake views, and a great outdoor seating area. Order the Real McCoy, 180 grams of pure baby beef. This is our top pick for the best burger in the Balkans!
Villa Minami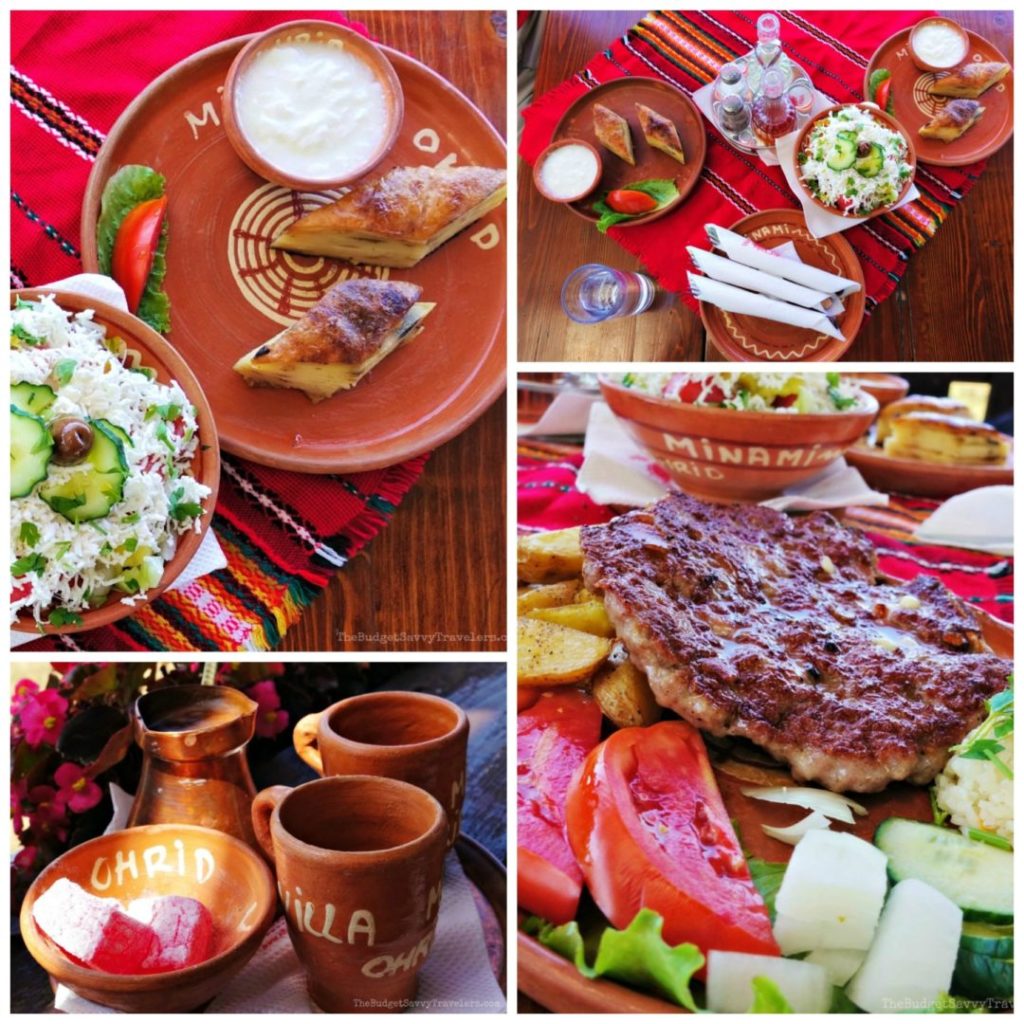 As previously mentioned, we reached this charming, family-run restaurant by hiking, but folks can drive to the restaurant or hire a taxi for about USD 10 from the city center. The restaurant boasts aerial views of the lake and fabulous local Macedonian food at reasonable prices. It is here where we tried Gomleze, a layered Macedonian pie that when prepared in the traditional method, takes several hours to properly make.
Best Cheap Eats in Ohrid
As busy budget travelers, we love cheap local eats that are hearty and satisfying. We found three places worthy of a stop.
Chorba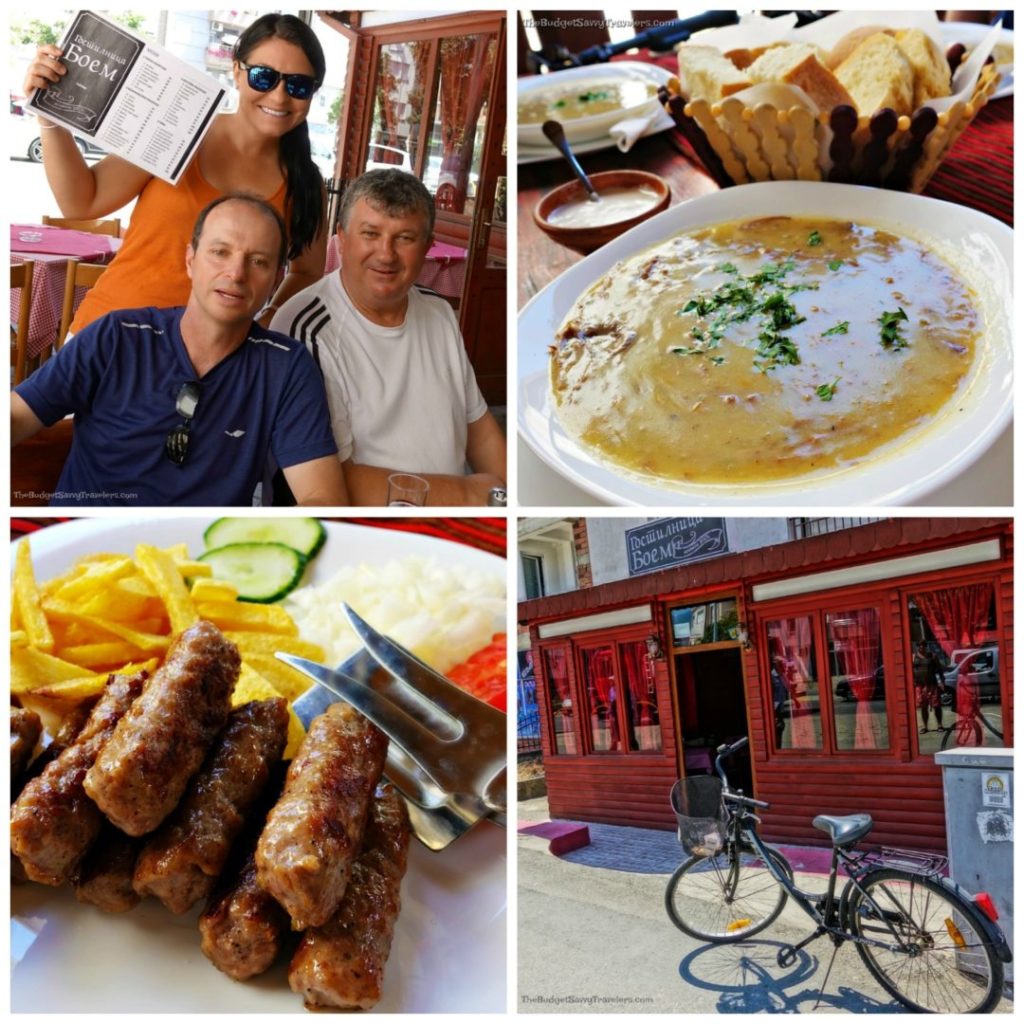 One morning, our host from Apartments Joce invited us to his favorite local restaurant, Restaurant Boem. This place served up some of the best chorba in Macedonia. Along with fresh bread and a regional garlic dressing, this was one of my favorite meals in Macedonia.
It took us some time to realize this, but chorba is a morning dish only. It is often referred to as a cure for morning hangovers. If you want to sample chorba, come before noon! It goes quickly!
Fast Food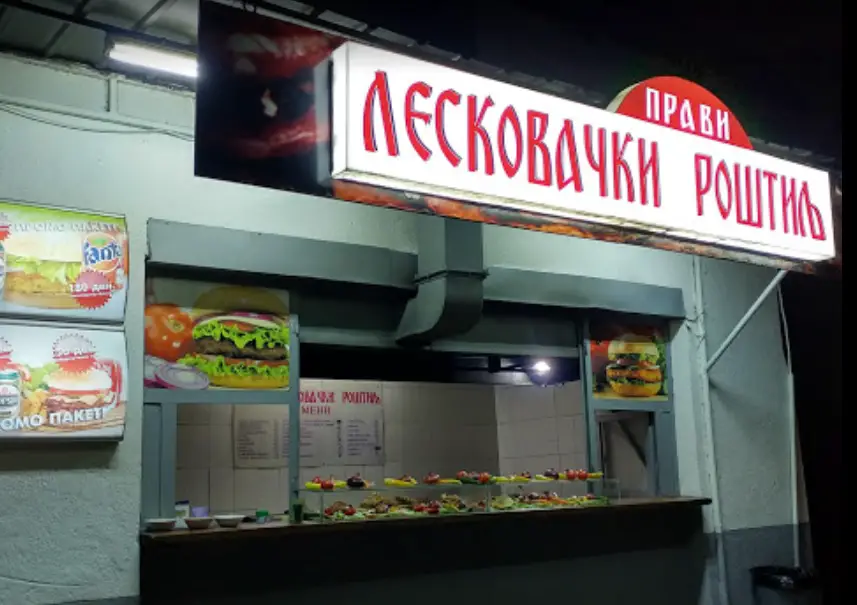 Along the lakeside promenade, a small stand grills up meats for hearty hamburgers and ćevapi pitas. The bonus is the ability to garnish your order. There's a salad bar where you can personally load up on tomatoes, onions, and delicious grilled peppers! It's a good place to stop if you're looking for a quick cheap meal. Great value!
Spicy Sausage Pita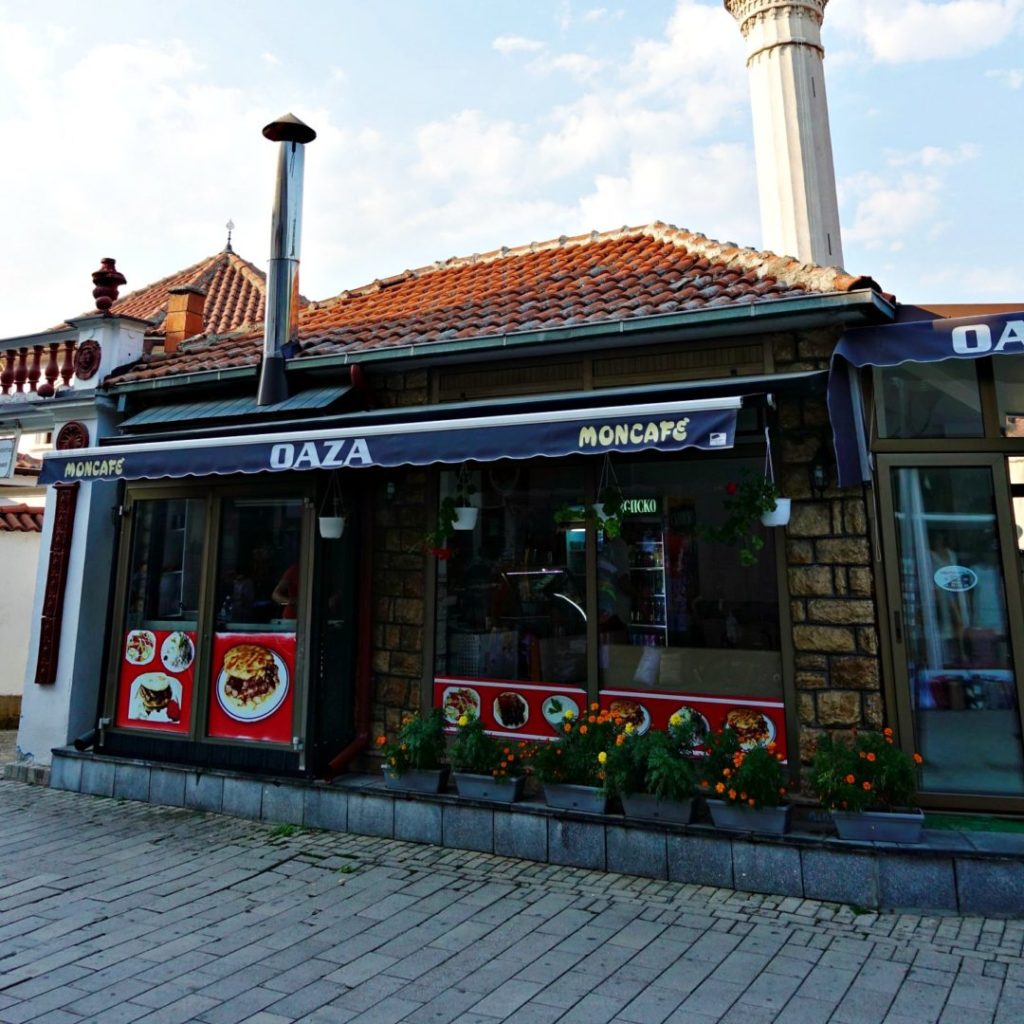 Located in the square with the Old Plane Tree, this restaurant sells spicy, grilled meat sandwiches at a great price. They offer to take away so it's a great option when you want to grab a quick bite to eat.
We'd like to give a special shout-out to our friends at EDEN Tourism Cluster of Southwest Macedonia for helping us plan our week around Lake Ohrid. Their hospitality, warmth, and pride in their country are as beautiful as the landscape itself. We arrived as tourists and left as friends.