It can be hard to find kids presents for children that seem to have everything. Why not get inspired by some of these unique gift ideas geared toward outdoor adventure, exploration, and travel? Whether your young explorer is gearing up for a family trip or you're trying to inspire some outdoor fun, these gifts are sure to please any kid that is extremely hard to buy presents for.
The items below are priced from least expensive to most expensive and will inspire children to explore the great outdoors. However, if you know your child is dying for a PlayStation 5 Console then most of these items will probably be pretty disappointing for them to receive. Just being honest.
Campfire Stories – $7
Know any kiddie campers? The highly-rated book Campfire Stories for Kids offers a brilliant collection of scary and funny stories meant to be shared around a campfire or firepit.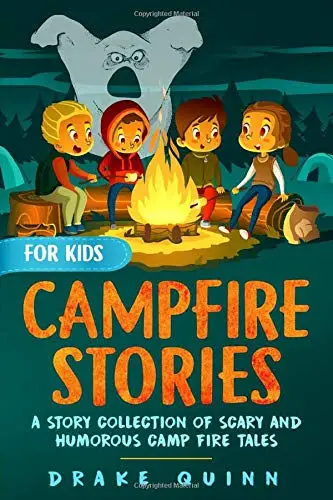 Kids' Atlas – $7
A great first atlas to introduce kids to the ways of the road. Each state features a simplified road map, state facts, and a fun state-related activity. The Kid's Road Atlas is colorful, fun-filled book is perfect for capturing kids' interest and keeping them entertained the whole way.
Country Decals – $7
50 different countries are represented in these high-quality country map decals. These waterproof stickers are an awesome way to customize laptops, MacBooks, water bottles, skateboards, luggage, cars, bumpers, bikes, motorcycles, electronics, or snowboards. The 50 Pcs Country Flag Decals are a fun and affordable stocking stuffer.
American History Time-Travel Book – $8
The setting for Rush Revere and the Brave Pilgrims: Time-Travel Adventures with Exceptional Americans is that Rush Revere, a substitute history teacher, and his side-kick horse, Liberty, travel through time and take students back to relive important events in American history. They meet and talk with the heroes and ask them questions.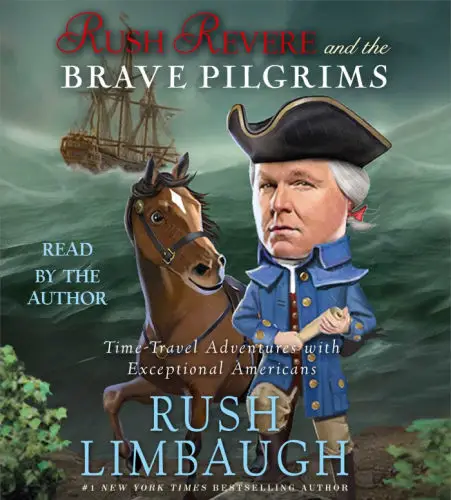 Vinyl Stickers – $8
Fun for children and teenagers alike—this collection of 100 Different Travel-Related Stickers is the perfect way for families to decorate your camper van, RV, scrapbook pages, or even your suitcase with. Also, a unique stocking stuffer for all the young explorers you know.
Manual for Growing Up – $9
"A great primer for young boys. More than just what it teaches but also, the sort of person it encourages boys to be." This beautifully crafted Dangerous Book for Boy's hardcover book holds the secrets to what every young man should know. A thoughtful gift to give to the special boy in your life.
The Double Dangerous Book for Boys is the sequel to the original. Also, The Daring Book for Girls was written as a manual for everything girls need to know.
Lonely Planet Book -$10
Perfect for road trip adventures or playtime at home, the Let's Explore…Ocean book includes puzzles, games, and over 250 stickers. They are great for early learners who love animals and nature. There are four different educational themes; ocean, safari, jungle, and savanna.
Travel Bingo – $12
Remember playing travel BINGO on family road trips? Bring back the nostalgia with your own kids on your next family adventure with these Melissa and Doug Travel Bingo Cards. Made to last with high-quality wood, the two boards come with four different theme cards: signs, country, town and city, and vehicles. What a great activity to get kids away from screen time and focus on the world around them—on short drives or long-distance road trips. Geared toward children ages 4 and up.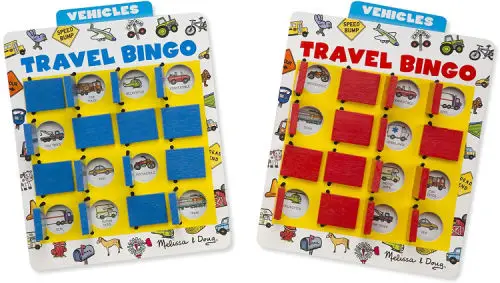 Roadtrip Kit – $13
Tara Toys Ryan's World Road Trip Adventure Kit comes with a themed-activity pad filled with adventures! Pages include magic reveal hidden images, secret clues to reveal with your secret decoder lens, tons of stickers to decorate pages with and a cool magnifying lens for seek and find activity pages. Everything stores inside a sturdy plastic case for fun on the go play!
Inflatable Pool Float – $13
At your next hotel stay, your child can be the King of the pool with the Donald Trump Cool Inflatable! Enjoy a fun experience with family and friends on the water with the Donald Trump Inflatable!
Coloring Book – $14
Lonely Planet has been publishing the world's best travel guidebooks for ages—so their travel gifts do not disappoint. They took the top 100 places to see across the planet and turned them into illustrations in one awesome coloring book. Inspire kids to travel with the Lonely Planet Ultimate Travel Coloring Book, complete with a thoughtful description of each destination.
License Plate Game – $14
"Keep looking out the window for new license plates kids! Playing the license plate game is so much more fun than staring at a screen." This heavy-duty game board keeps the entire family engaged on long-distance road trips. Game pieces are connected via elastic so no need to worry about lost pieces either. Funny enough, both kids and adults enjoy playing this classic road-tripping game.
Travel-Friendly Puzzle Game – $15
Help the squirrels get ready for winter! Can you move the squirrels around and hide their acorns underground? Smart Games' Squirrels Go Nuts is a sliding puzzle game with 60 nutty challenges to test your skills.
Bucket List Scratch Posters – $15
Have a teenager who is full of life and adventurer? Encourage their free spirit with this 100 Things to Do Bucket List Scratch-off Poster. There are also posters featuring The World's Best 100 Movies To See or the Top 100 Books to Read. A unique gift for those hard to shop for older teens.
Projector and Nightlight – $16
Many children dream of sleeping in the Starry sky with a hug from the stars. This Elmchee Star Night Light and Projector will create star and moon effect on walls and ceilings. With this awesome light, children can experience the feeling of traveling through the Starry Sky.
Travel Edition Barbie Dolls – $16
The Barbie Travel Ken Doll is dressed to explore in a casual, trendy look with a backpack that holds all his travel necessities, like a camera. Take items in and out to tell all kinds of tales. Curious minds will love taking him places near and far, letting their minds travel and exploring the world because when a girl plays with Barbie, she imagines everything she can become!
​Imaginations will take off to anywhere in the Barbie Dreamplane that doubles as a vehicle and a playset.
Camping/Bedroom Hammock – $18
The eco-friendly Kootek Camping Hammock is one of our favorites because it's safe for both children and the environment. The straps come with enough length and multiple loops to wrap loosely around tree trunks so it doesn't cause any undue damage or skid marks. Triple-stitched seams prevent tearing and scathing, especially on the middle surface that supports the most weight. What kid wouldn't love a hammock in their bedroom?
Fun Card Game – $19
Bring back the All-American family road trip with fun road trip games to connect the family. Our Moments Kids is a deck of sturdy cards full of conversation starters and thought-provoking questions. The goal is to listen and get to know your children. There are no right or wrong answers. Also could be used around campfires, while hiking, or fishing!
Binoculars $20
Let kids take ownership of their very own set of binoculars. Great for bird watching, learning, hunting, theaters, boat rides, hiking, traveling, and enjoying the wilderness!
These durable Dreamingbox Compact Shock Proof Binoculars can withstand drops and falls on floors due to rubber coating that absorbs shock. If accidentally dropped on the ground, the binoculars are protected from damage with shockproof rubber armor. Perfect for our early explorers and wildlife lovers.
Explorer Kit – $20
Not traveling so much this year? Use this UTTORA Outdoor Explorer Kit to turn backyard time into an adventure. The kit comes with a backpack full of tools to explore; binoculars, a magnifying glass, a bug trap, a hand crank flashlight, and a kid-friendly compass. The kit works for both boys and girls and is geared toward early childhood, optimal for early learners from age two to six.
Kids Camera – $24
This is the perfect "My First Camera" for curious toddlers and kids in early childhood. The PROGRACE Camera takes quality 5M photos, 1080P videos, and even doubles as a game console with 5 puzzle games. Additional features include time-lapse capability, burst-shooting options, and a USB-rechargeable battery. It comes highly recommended as an Amazon Bestseller and is very affordable at under $25.
Jigsaw Puzzle – $25
Puzzles are a great way for kids to work together to achieve a common goal. These 500-piece National Park puzzles feature beautiful scenes with unexpected surprises found within the artwork. We love the look of the Yosemite National Park Puzzle. Another gift that is proudly made in the USA.
Animal Backpack – $29
Adorable and colorful, this Animal World Map Backpack makes an excellent gift for mini-travelers. It's a great size for elementary school students, fitting a water bottle, school supplies, and a lunch bag. This also works for a day pack for everyday outdoor adventures.
Travel Tray – $29
With the Karimba Kids Travel Tray keeping children calm and happy has never been easier. This travel activity tray also works as an organizer, having a compartment for a tablet, two cup holders, and a removable/collapsible storage compartment.
National Parks Scratch Off Map – $30
This was the year for road trips and outdoor adventures, with families opting for National Park vacations to see some of the best parts of these great United States. This Epic Adventure Maps USA National Park Scratch Off Map includes all 62 National Parks and allows kids to keep track of how many parks they have visited. There are 3 different colors to choose from and the map is proudly made in the USA.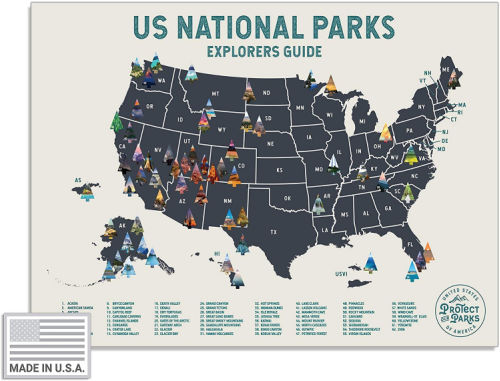 Floor Playmat – $32
This beautifully made world map rug can be used as a game mat, area rug, or a baby crawling mat. It's a great addition to any nursery, bedroom, or playroom. It is also a perfect gift for a baby shower for travel-loving parents-to-be. It's durably made of canvas and folds easily.
USA 50 States Scratch Off Travel Print – $33
Know some kids that love to road trip? Why not gift them a fun poster perfect for a bedroom, playroom, or even the family RV? This scratch-off poster features all 50 states and allows kids to keep track of what states they have already traveled through. A great way to inspire road trips and family adventures.
Ride-On Suitcase – $40
One of the most practical gifts for wee travelers is a
Trunki Ride-On Suitcase
. Ever see small kiddos riding on their luggage as they make their way through the terminal? This is the suitcase! Comes in a variety of styles including a tiger, ladybug, or even a firetruck. Holds up to 75 pounds.
Sports Camera – $40
This super-affordable PROGRACE Kids Sports Camera is perfect for active tweens and teens who want to capture their outdoor adventures. Accessories include a helmet and bike mount. It's very easy to use and comes in a variety of vibrant colors. Please note that an SD card is not included in the package.
Boardgame – $43
One thing that we can all find common ground on this year is that American's National Parks are pretty spectacular. Families, kids, and couples will love playing Monopoly National Parks 2020 Edition—featuring a National Park twist. Buy, sell, and trade stunning landscapes like the Grand Canyon, Yellowstone, and Yosemite. A portion of the proceeds goes to the National Park Foundation.
Snorkel Set – $45
There seems to be much debate around the dangers of full-face snorkel masks which is why we recommend the Promate Junior Mask Snorkel Set with fins for young kids snorkeling scuba diving swimming water sports. Package including Promate Pace Junior Snorkeling Fins, Promate Chico Junior Mask, Promate Nino Junior 100% Dry Snorkel, and Nylon Mesh Bag w/Cord Drawstring. This is the ideal snorkeling set for children under 10 years old.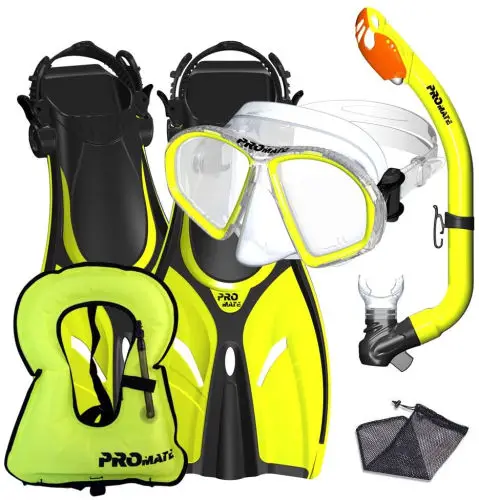 Family Boardgame – $50
The award-winning Trekking The National Parks Family Boardgame is the perfect addition to family game night. It's simple enough for the entire family to play but engaging enough to keep the entire family interested. An exciting way to celebrate our nation's National Parks, even in the comfort of your family room.
Interactive Map – $57
Kids love looking at maps as much as adults do. This multi-award winning BEST LEARNING i-Poster My World Interactive Map is interactive and educational. There are two versions to choose from—a map of the United States and a map of the world. It could be used as a floor playmat, wall hanging, or spread across the table. Kids can learn about maps, languages, capitals, and over 1000 facts and questions about the globe we live in. Geared toward children aged 5 and up.
The BEST LEARNING i-Poster My USA Interactive Map below costs $49.
Smart Globe – $65
For kids who enjoy both geography and technology, the SJ Smart Globe With Interactive APP provides hours of educational fun. Use the Educational "Click Word Atlas" app for iPad, iPhone, and android phone to learn more about the world's countries through guided learning. Turn off the lights, to learn about the world's constellations using the built-in LED light. Doubles as a cool night light too!
Kid's Backpack – $88
The kids are going to love the Deuter Fox 30 Backpack. This is currently the best travel backpack for kids on the market. It works well for most children less than 12 years old. This is the perfect backpack for the next camping trip!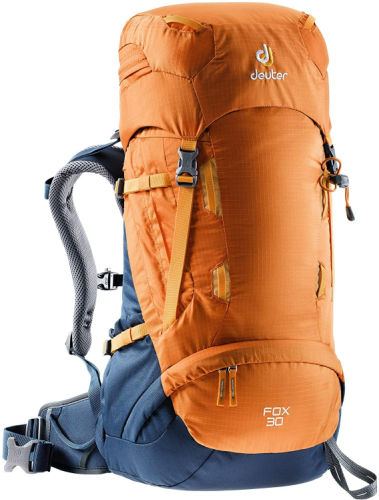 Star Wars Luggage – $102
Made by the highly reputable travel brand American Tourister, these Star Was Character Suitcases are an unexpected gift for any Star Wars fan. Covers feature Darth Vader, Chewbacca, Storm Troopers, R3D2, or C3PO. The company also has a line featuring all your favorite Disney characters too.
Train Set – $180
Toddlers will love this 37-piece Brio Smart Tech Sound Action Tunnel Travel Set. The battery-powered Record & Play Engine is the centrepiece of the play and can communicate with its surroundings automatically responding to Smart Tech accessories.
Stand Up Paddle Board – $230
Realistically any SUP can be paddled by kids, however some will be easier than others and there are a few on the market that are specifically designed for children. For example, the DAMA Youth 10′ Inflatable Stand Up Paddle Board is specifically designed for kids. It's solid, stable, and easy to paddle. Also, it has a slightly more cushioned surface if they should fall.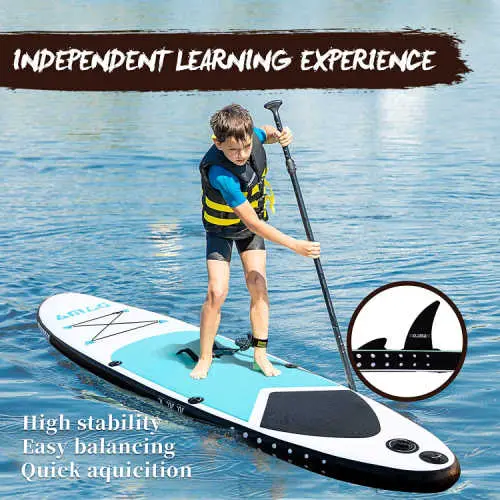 Searching for the unique kids gifts is part of the fun of the holiday season. Hopefully, this list has provided some amazing and one-of-a-kind gifts or inspired you in some other way.
From $7 to $230 there's something here for all budgets. If you came across some great kids presents please let us know in the comments section below so that we can add it to the list!