For many visitors, the highlight of a trip to Florida is taking a Key West booze cruise. While hitting the beach and strolling down Duval Street are fantastic, there's nothing like getting out on the water with good music and a cool drink. If a bit of a cruise and some booze is what you're looking for then look no further—below are the best booze cruises in Margaritaville.
As the southernmost point in the U.S., Key West's subtropical climate is the perfect haven for watersports, beaches, laidback day life, and of course, wild nightlife. One thing to do to ease the transition from day to night is to partake in a sunset Key West booze cruise.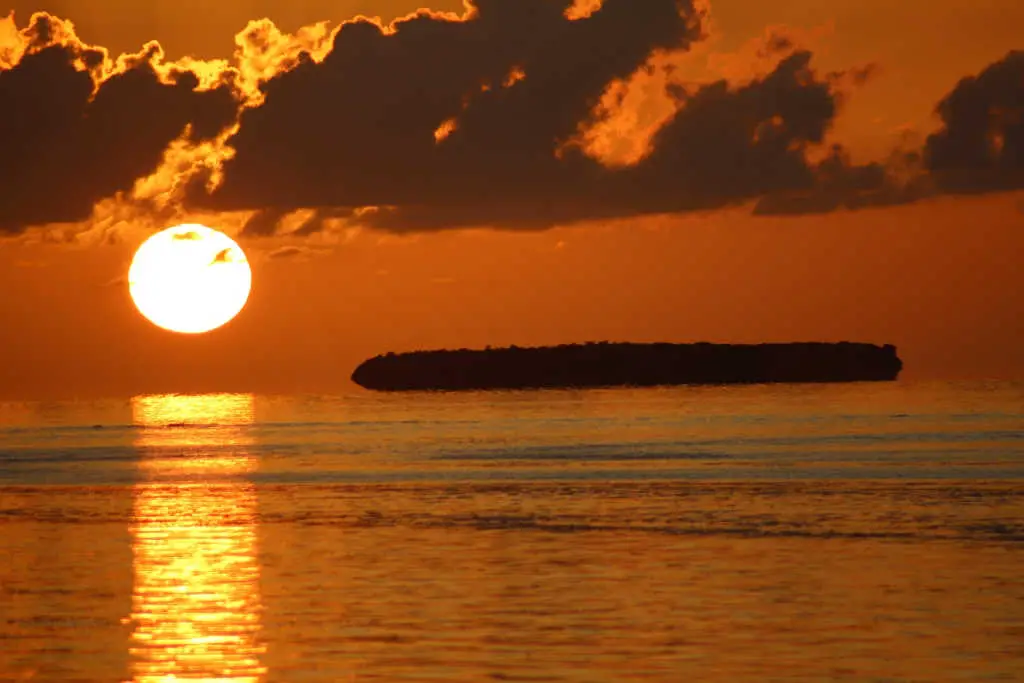 Sunset cruises are perfect for everyone, even families looking to savor some time out on the water. Enjoy a relaxing evening outdoors, admiring the brilliant sunset and evening lights of Mallory Square and the historic port. It's a great way to take in the sunset, see some wildlife and marine life, snack on some hors d'oeuvres, and enjoy a drink or two!
Whether you're driving down from Miami or flying directly to Key West, a booze cruise is a must-do while in the Conch Republic.
Key West Booze Cruise
When it comes to going on a Key West booze cruise, there are tons of options. We've gone ahead and narrowed down the list to three options:
Most tours depart from the Key West Bight Marina, right across the street from The Marker, our favorite Key West hotel. If you're looking for the best accommodation in Key West, look no further. The Marker is in the best location in Key West and it has amazing Margaritaville-type vibes.
Below are additional details about each of the three Key West booze cruises.
1. Pleasant Sunset Sail with Full Bar, Live Music & Hors D'oeuvres
Featuring live music from some of Key West's best musicians, the Sunset Sail aboard a spacious catamaran is one of the most popular and affordable Key West booze cruise tours. Lasting about two hours, and departing from the Key West Bight Marina, the Sunset Sail tour meanders past the historic seaport, Mallory Square, and Fort Zachary Taylor.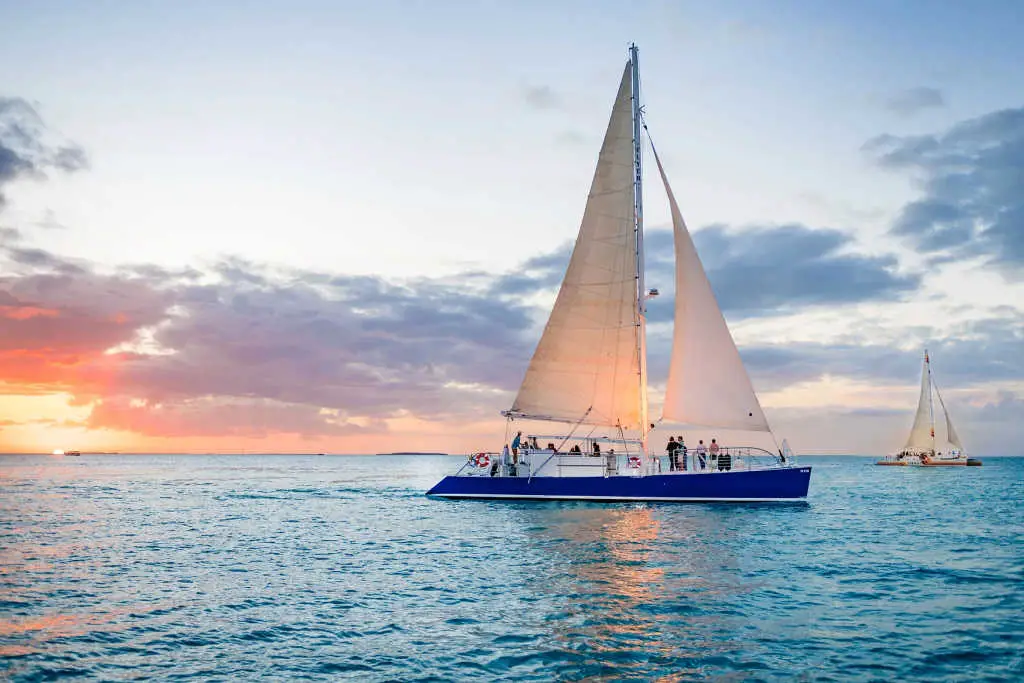 During the tour, passengers are treated to an open bar that includes champagne, tasty shrimp appetizers, and lovely live music—the ambiance created is epic. Moreover, there's no need to worry about using the facilities as there are bathrooms (heads) on board. Also, the captain keeps the capacity limited to ensure that there's plenty of room for passengers to spread and enjoy the 70' sailing catamaran. With high demand and limited capacity, make sure to reserve your spot on the Sunset Sail tour in advance.
2. Private 4-Hour Private Sandbar Cruise on a Tiki Bar Boat
It doesn't get much more fun in Key West than renting a tiki bar boat and cruising to stunning nearby sandbars to waste the day away. This four-hour private sandbar cruise accommodates up to six passengers. Moreover, it's a great way to share an intimate excursion with family and friends.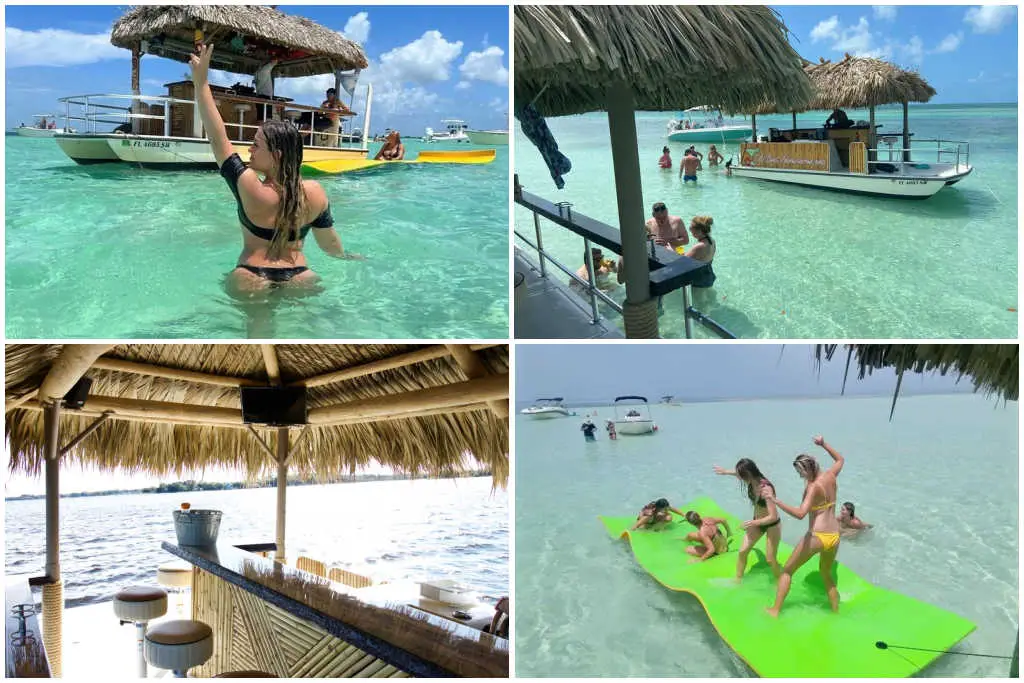 Guests are allowed to bring as much food and liquor as they want. In other words, you are in charge of the booze on this booze cruise. The captain is responsible for the vessel, providing floating mats and noodles, and playing tunes to chill out to.
3. Fun Dinghy Drinking Tour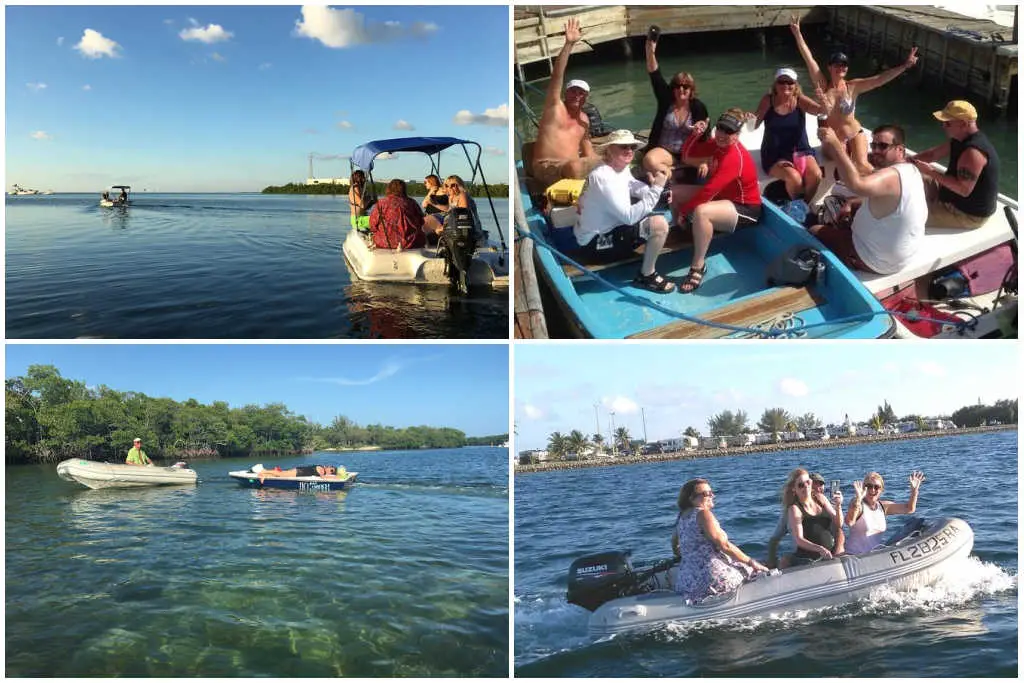 This a grand adventure for people looking to get chauffeured to several restaurants/bars by boat while navigating through mangrove tunnels. Captain Chester, your new best friend, takes you on a dinghy around Key West as if you're long-lost buddies. Passengers are allowed to bring along some additional adult beverages to quench their thirst in between stops. With limited seats, it's best to reserve seats on the Dingy Drinking Tour before you arrive in Key West.