We learned how to get cheap nice hotels during our road trip across America. Staying in everything from two-star motels to five-star hotels, our only requirements were it had to be cheap and it had to be clean.
In fact, these tips and tricks are so good, we probably shouldn't even be sharing them—especially, when they come at amazing budget-savvy prices.
Our road trip began in Chicago where we kicked off our journey down Route 66. Over the next four months, we traveled through 15 states reaching as far north as Glacier National Park, Montana.
For those that don't know, we travel as a couple. Audrey is a bit of a germophobe who's obsessed with cleaning—besides travel, her passions are vacuuming and laundry. Harry, on the other hand, is all about getting the best bang for the buck and never wants to overpay for anything.
In short, 9 out of 10 times we use Priceline's Express Deals and Pricebreakers to get awesome deals.
Combining these two personalities can make acquiring cheap nice hotels quite the challenge. No worries! Using our method, we were able to satisfy both of our requirements, traveling throughout the US for about $50 to $60 per night.
While most travelers are satisfied to pay the lowest price on a travel booking website, for us, that's not good enough. Typically, the schemes we ran had us paying between 20 to 30% less than the best available rate.
The tips we're about to share are mainly geared towards travel in the USA. However, there's a good chance that these tips will also work internationally, so give them a try.
Priceline – Express Deals & Pricebreakers
For many travelers, the suggestion of using Priceline sparks the thought of the "Name Your Price" feature. While we have used it, a few times successfully and many times unsuccessfully, it seems like it's more of a hassle than anything else.
Also, the actual discount never seems as substantial as advertised—simply put, we're not big fans of "Name Your Price." On the other hand, we are huge fans of Priceline's "Express Deals" feature and Pricebreakers.
Example Reservation
If you've never used Priceline before don't worry, it's very user-friendly. Simply go to Priceline.com and click on "Search ." You'll then need to enter the city and check-in and check-out dates.
Priceline will then present several Express Deals and Pricebreakers deals. The Express Deal will consist of one hotel option while the Pricebreakers will consist of three hotel options. From this screen, you may filter by amenities such as free breakfast, a swimming pool, free parking, a fitness center, a neighborhood, etc.
After you've chosen an Express Deal, you're done. You've booked a hotel at a rate below the hotel's guaranteed lowest rate!
Those travelers looking for an even deeper discount may find one through the Pricebreakers deals. Once the three hotel options are displayed and you click "Get 1 of These 3," Priceline will then select one of the three hotels on your behalf. After payment has been made, you'll immediately be notified of which hotel you won—it's kind of fun!
Tips for Using Express Deals and Pricebreakers
After we've selected the city and dates, typically we'll filter our results to include free parking. Next, we'll sort the results from lowest to highest price. Finally, we'll analyze the review score for each Express Deal and Pricebreakers deal.
For example, we never stay at an accommodation (on Priceline) that has less than an 8.0 review. Therefore, when we sort the results by price, we'll typically select the first deal at the lowest price with a review score of 8.0 or higher.
Example Using Pricebreakers
Let's take the example pictured below. There are three Pricebreakers deals, one for $44 and two for $47. The first two Pricebreakers deals include hotels that have less than an 8.0 review score. The third deal, on the other hand, includes all hotels with a review score of 8.0 or higher.
As a result, we would select option number three because it's the cheapest choice and all three hotels meet our 8.0 requirement. Also, there's a possibility to receive a hotel with a review of 9.6. While receiving one of the more expensive hotels would be nice, it doesn't occur often. However, it is possible.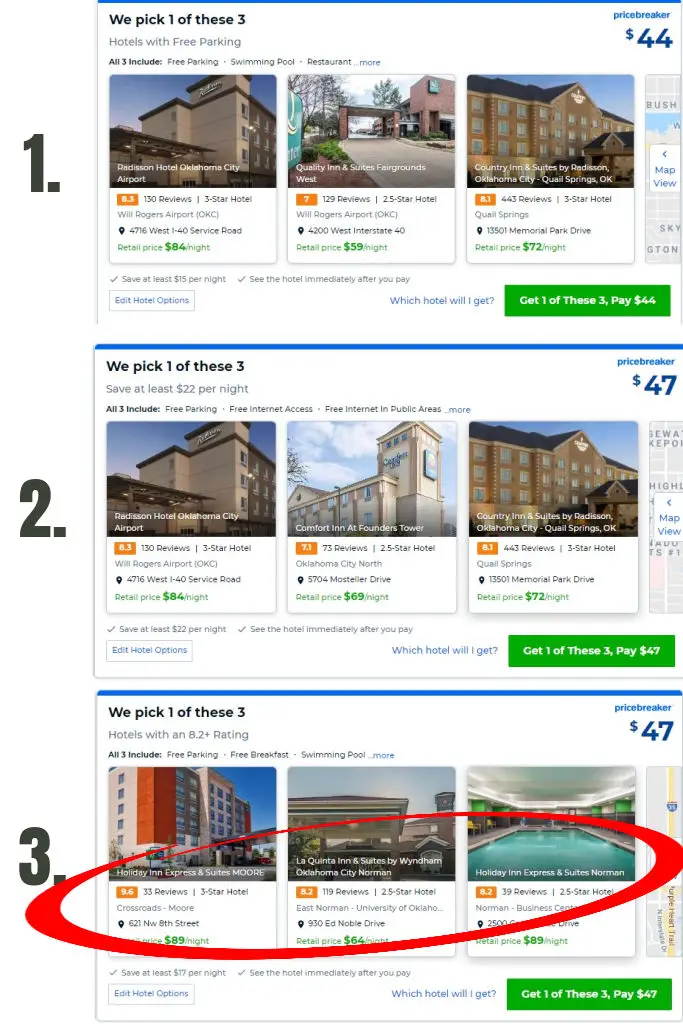 How Much Did We Save Using Pricebreakers
Let's propose that we selected the third Pricebreakers deal at $47. Most likely, we'd end up with the cheapest option, the La Quinta Inn & Suites listed as having a $64 retail price (see it in the green font?). Now, let's compare the best available rate on other popular travel booking websites:
Booking.com $65
Hotels.com $65
WyndhamHotels.com $65
Kayak.com $65
Actual Savings Using Pricebreakers
Let's do the math.
$65-$47 = $18 savings
$18÷65 = 28% discount
In other words, by using Priceline's Pricebreakers we saved $18 or 28% off the best available rate.
Budget Tip: Keep your eyes open for special marketing campaigns. After we completed our Pricebreakers reservation, Priceline emailed us a 10% off coupon to be used for our next Pricebreakers stay. Using the above example, that would have increased our savings to about $23 off or about a 35% discount.
Last-Minute Reservations Are Typically the Cheapest
Try to make the reservation as close to the reservation date as possible. Last-minute reservations receive even heftier discounts. However, keep in mind that you may run into a problem if you make the reservation on the same day as you're checking in.
For example, it may take as long as 8 hours for the request to flow through the system. We heard a horror story from a hotel clerk who had a guest that booked a same-day reservation with Pricebreakers. [Funny enough, we heard this story while we were waiting for our same-day reservation.] Luckily, we only needed to wait about 45 minutes.
Apparently, it took the reservation about 8 hours to flow through the system. The guest was forced to wait in the lobby until the hotel could process the Pricebreakers reservation.
Another fun aspect of using Pricebreakers is that sometimes you do secure a reservation at the nicest of the three hotels. When this happens, you feel like you've won the lottery, and that's how to get cheap hotels.
TripAdvisor – Properties With Special Offers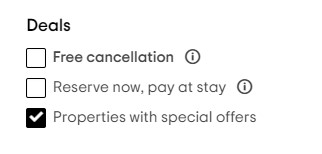 Most travelers who use the TripAdvisor website will mainly use it to look up reviews for hotels and restaurants. However, did you know that there's a feature called, "Properties with special offers?"
Next time you visit Tripadvisor.com and search for a hotel, try filtering the results to only include "Properties with special offers." The "Deals" section is located on the top lefthand side, directly under the "view map."
We used this feature during our road trip across America and scored a really sweet hotel for 50% off the best available rate. In this case, the hotel had a beautiful outdoor pool and hot tub, a fitness center, elegant guest rooms, and room service.
Here's another example. We went to Tripadvisor.com and selected Branson, Missouri, a popular Midwest vacation destination. Next, we chose some random dates to see the current special offers available, pictured below.

As you can see, these are some pretty great deals—especially, the $25 gift card promotion. If you consider that many Best Western hotels go for about $75 per night, then this equates to a 33% discount! Overall, this is one of the best tips on how to get cheap hotels.
Employee Discount Programs
Many corporate employees don't realize that there are special employee discount programs associated with their companies. If you've never taken advantage of these travel discounts, you may be missing out. Check to see if your company offers an employee discount program.
For example, one of the employee discount programs that we have access to is with Wyndham Hotels & Resorts. Basically, the discount provides up to 20% off the best available rate.
Many times, this was our "last resort discount" when we couldn't find anything else appealing. However, it often came in handy because the Wyndham Hotel Corporation offers numerous hotel chains including Baymont Inn & Suites, Days Inn, Hawthorn Suites, Howard Johnson, Microtel Inn & Suites (one of our favorites), Ramada, Super 8, Travelodge, TRYP, Wingate, and of course, Wyndham Hotels and Resorts.
The best part is, as you're using the discount, you're also receiving points that can be used towards free nights. Double whammy!
Keep in mind that many of the discounts offered through employee discount programs (EDP) are often terrible. Many times, it costs more to make reservations using an employee discount program rather than simply booking with your favorite travel booking website.
For example, car rental rates are exorbitant when reserving through an employee discount program—you're probably better off just going through Discover Cars, we do.
Budget Tip
: It's worth the time to see if the company you work for has an employee discount program, as you may have access to great deals. We decided to give ours a scan while writing up this article and noticed a new hotel chain was recently added. We now have access to save up to 30% off at
Great Wolf Lodge
.
Accommodation Websites
Before completing your reservation on a travel booking website, always verify with the accommodation (directly) to see if they have any specials, packages, or discounts. Typically, chain hotels and motels do not offer these types of deals except through their membership programs through earning points. However, if you're looking to stay with an unbranded accommodation, there's a good chance that they do.
For example, if you were to make a reservation at the best available rate online for the hotel below, you would be paying $422 ($366+$56 taxes).

Now, head over to the website of the accommodation and see if they offer any deals. Sure enough, their homepage includes a section for "specials and packages." See below.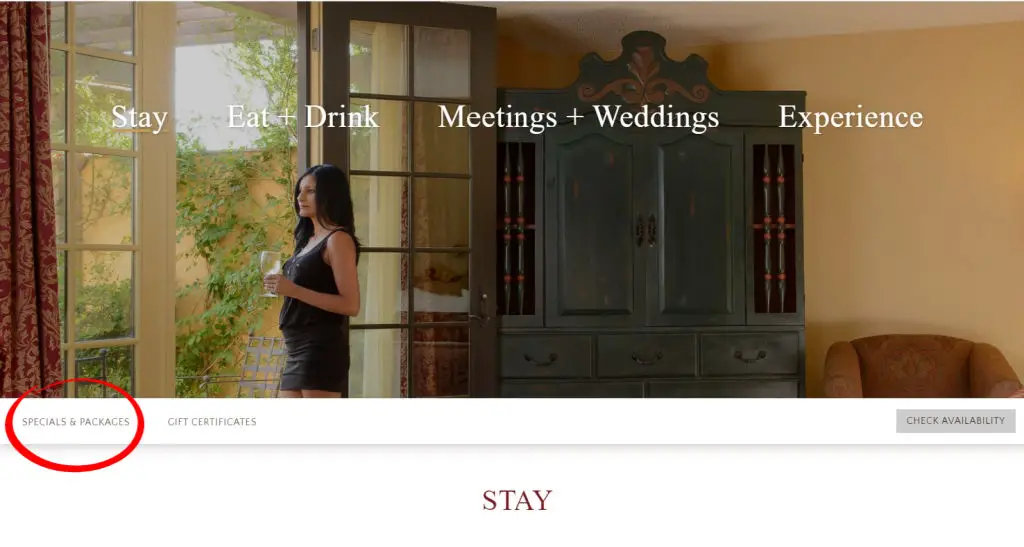 Additionally, clicking on the link "specials and packages" will take you to a page that offers numerous deals. In particular, one is "Stay two nights, receive your third night free." See below.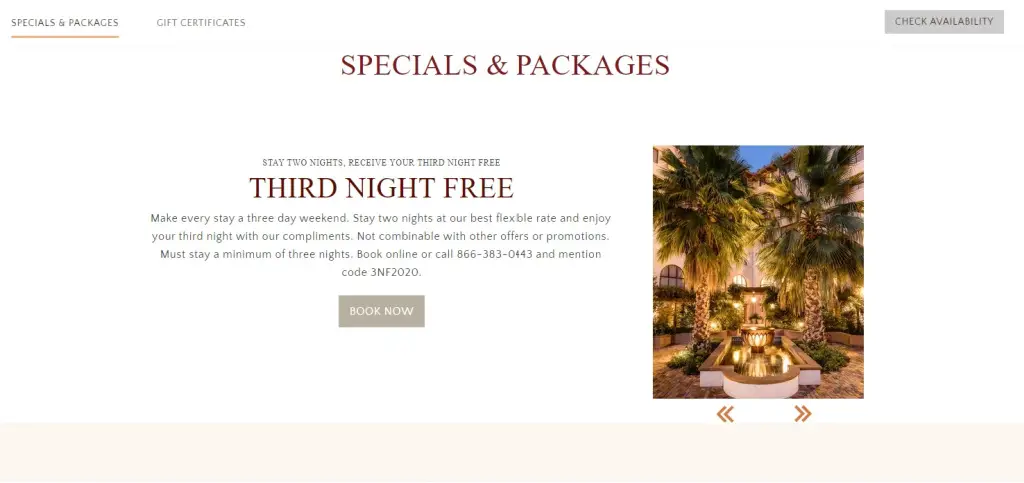 Completing the reservation on the accommodation's website (with promo code), the stay would cost $286 with tax (see below). When compared to the previous reservation of $422, that's a savings of $136 or a bit over 30%!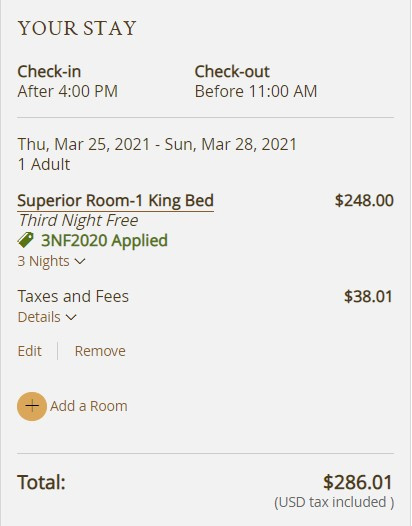 To clarify, before completing a reservation, verify the price on the non-branded accommodation's website. There may be online deals or packages available if you book direct. Sometimes, you can great epic savings by going this route, and it's one of the best tips on how to get cheap hotels.
The tips above explain how to get cheap hotels with great amenities. Following the steps above will make sure you're getting the best price for your hotel reservation.