There's a library in downtown Salt Lake City, Utah where you can obtain your ancestry for free. Also, there are portals all across the USA to access this service for free—we'll discuss this later on in the article.
One of the main reasons we went to Salt Lake City (SLC) was to visit Temple Square's Family History Library, referred to us by two Latter-day Saints volunteers we met in a hotel jacuzzi in Utah. The library is considered by many to be the headquarters for anyone interested in personal family history and genealogy.
Here's How to Find Your Ancestry for Free
The main purpose of library staff is to assist visitors to build their family trees. During our visit, we researched our ancestry for free and were individually guided by genealogy specialists.
Onsite, we gained access to the Church's ancestry portal called Family Search, filled in some unsolved family mysteries, and learned how to properly research genealogy without acquiring any misinformation.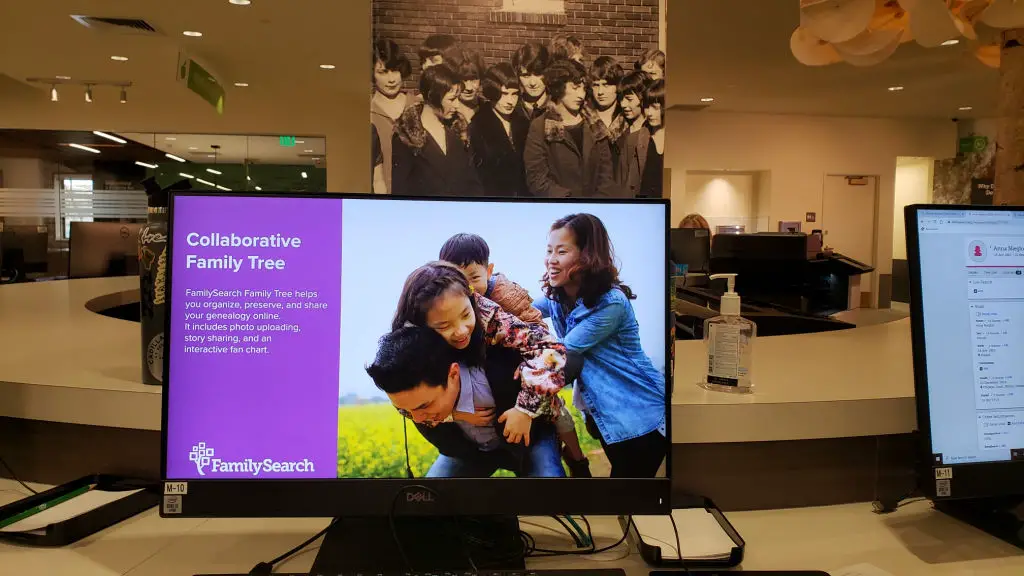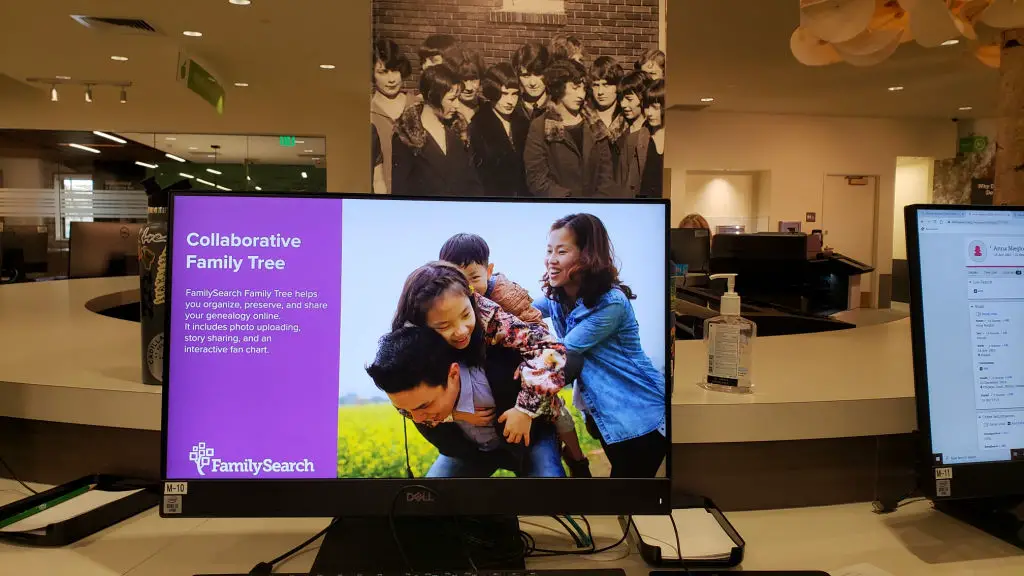 What Is the Family History Library?
Located in SLC's Temple Square, the Family History Library is one of the world's largest libraries dedicated to genealogical records. Operated by The Church of Jesus Christ of Latter-day Saints, the library has records for over six billion people from the past.
While SLC hosts the main genealogy research hub, over 5,100 Family History Centers are located worldwide. By offering the Church's free genealogy database, these global centers make it possible for people to research their family history without traveling to SLC.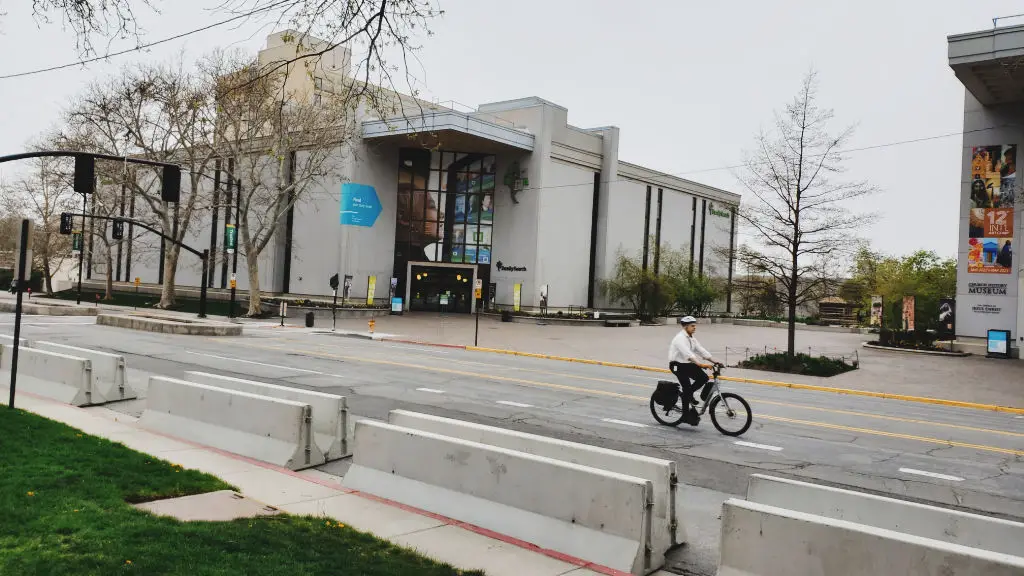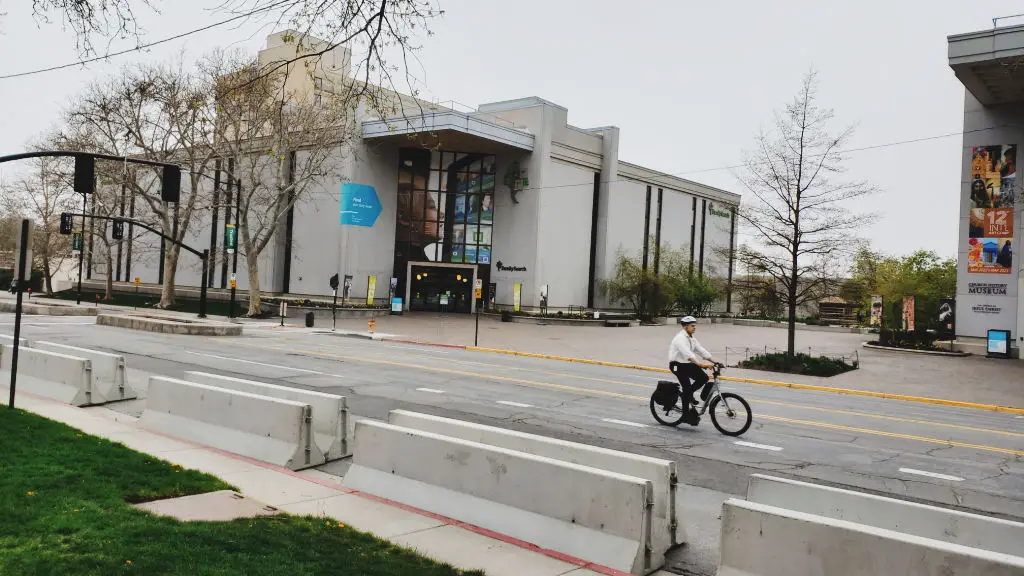 Genealogy Vacation or Long Weekend to SLC
Spending a long weekend in SLC and visiting the Family History Library makes for the perfect genealogy vacation. For starters, the library is located in the heart of SLC, making it easily accessible to hotels, Temple Square, and other attractions.
Furthermore, we would recommend staying at the Crystal Inn Hotel & Suites—it's an affordable hotel with free breakfast, airport shuttle, parking, and an indoor swimming pool, hot tub, sauna, and exercise room. The hotel's downtown location is a short walk from the Family History Library.
What Does a Visit Entail?
Every visitor comes to the Family History Library at a different stage in their genealogy research. Having an idea of what to expect will help you get the most from your visit.
Family Search Account
Upon arrival, the welcome center docents will help get you started. If you haven't created an online Family Search account, you will establish one at this time and this is where you will begin your genealogical journey. Before visiting the library, we had created online accounts but did not add any in-depth information to our family trees.
The Family Search engine is somewhat similar to Ancestry.com. However, it isn't as easy to navigate without a little initial instruction from the docents. Also, because it is affiliated with The Jesus Christ of Latter-day Saints Church, it is a way to research ancestry for free.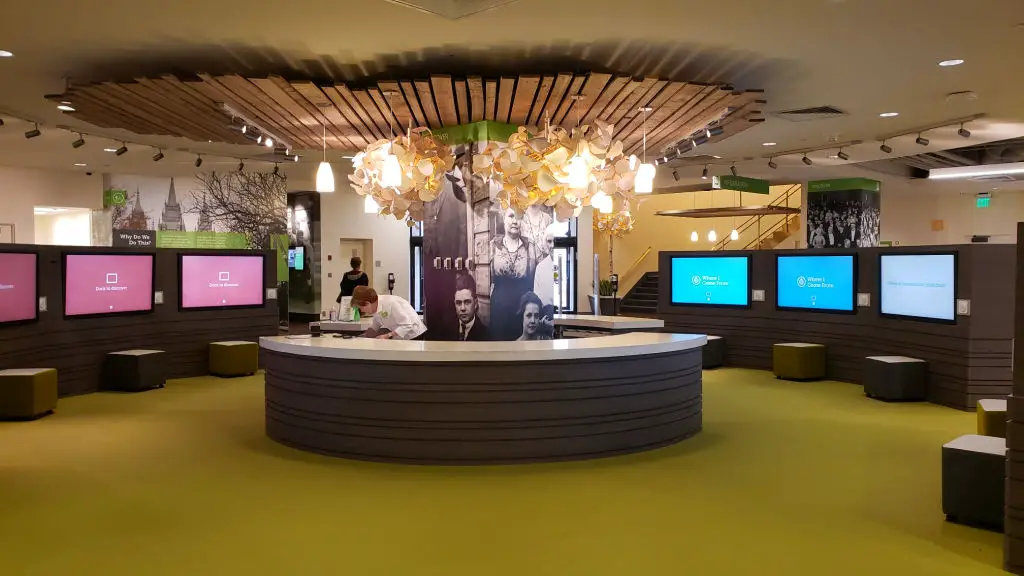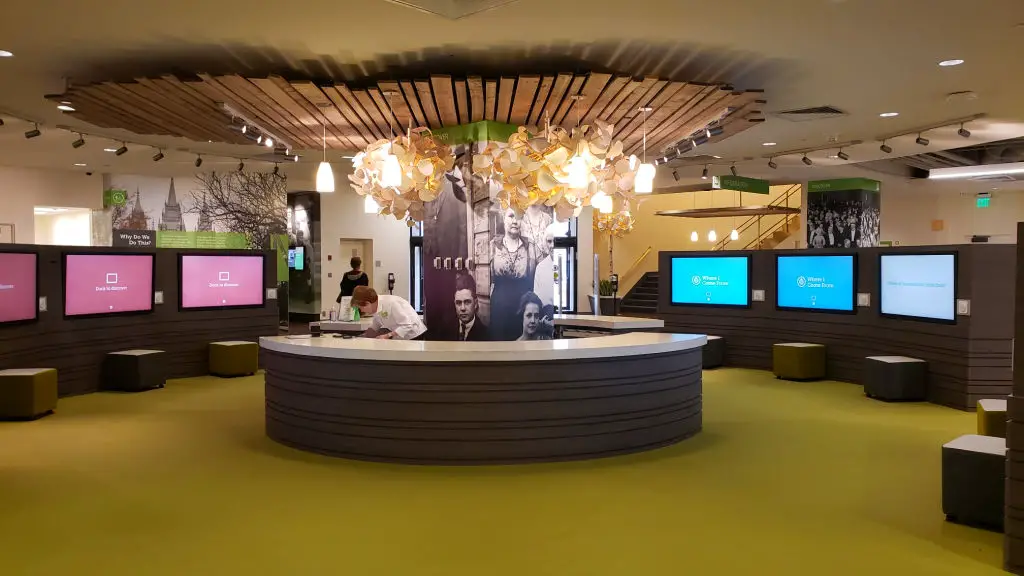 First, the docents instructed us to log in on the visitor iPads and to connect them to the digital wall, allowing us to see if the system had any pre-established information available to us. At this time, a lot of excitement is made about the potential of having famous relatives in your family tree.
However, it is important to note that if no one in your family tree has previously worked on your genealogical records, it will come up empty. It will be up to you to start the research and begin filling in the missing pieces of your family tree. For example, we logged in and connected to the wall, and the results revealed no information.
Connect With a Docent
Afterward, most visitors connect with a docent to help them begin their search. Although the Family Search website is free, it is not very intuitive or user-friendly. Having a docent teach us how to navigate the program and access personal records was extremely helpful.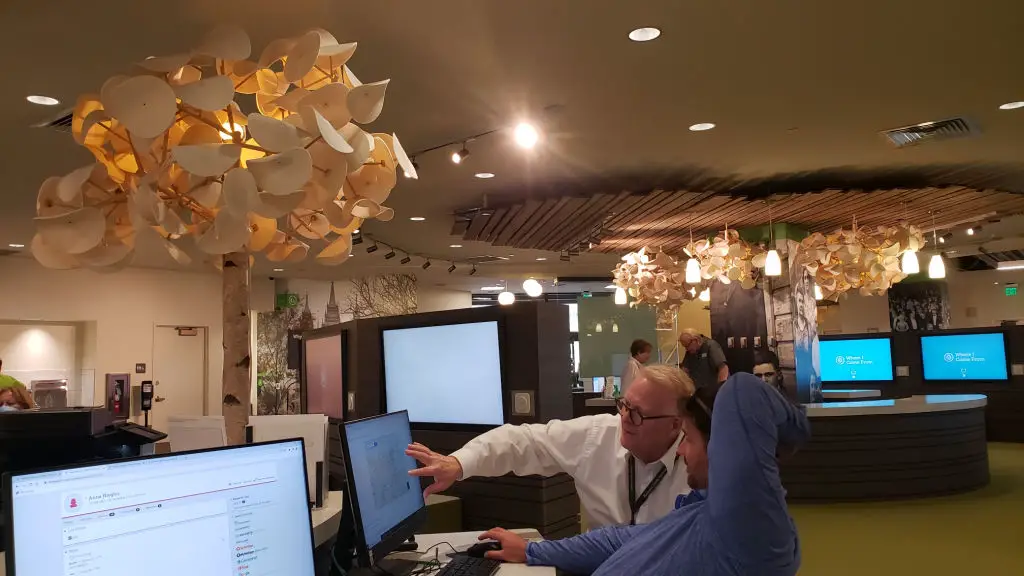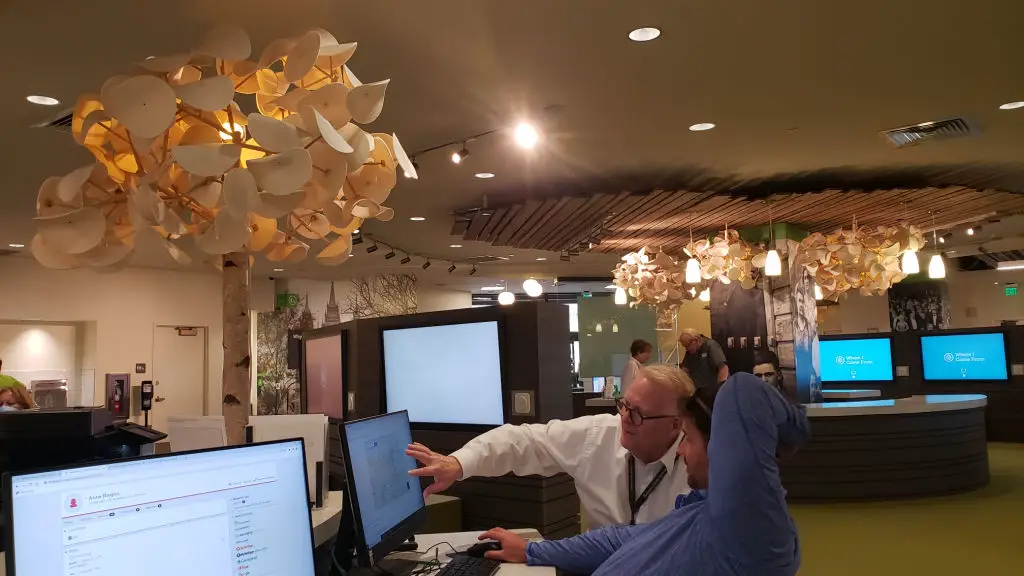 Ancestry.com Setbacks
Ancestry.com is the most popular website for researching genealogy. Therefore, the Family Search portal uses it as a source in its genealogy database. Unfortunately, as we constructed our family trees, we noted a few significant problems with Ancestry.com being associated with the Family Search portal database.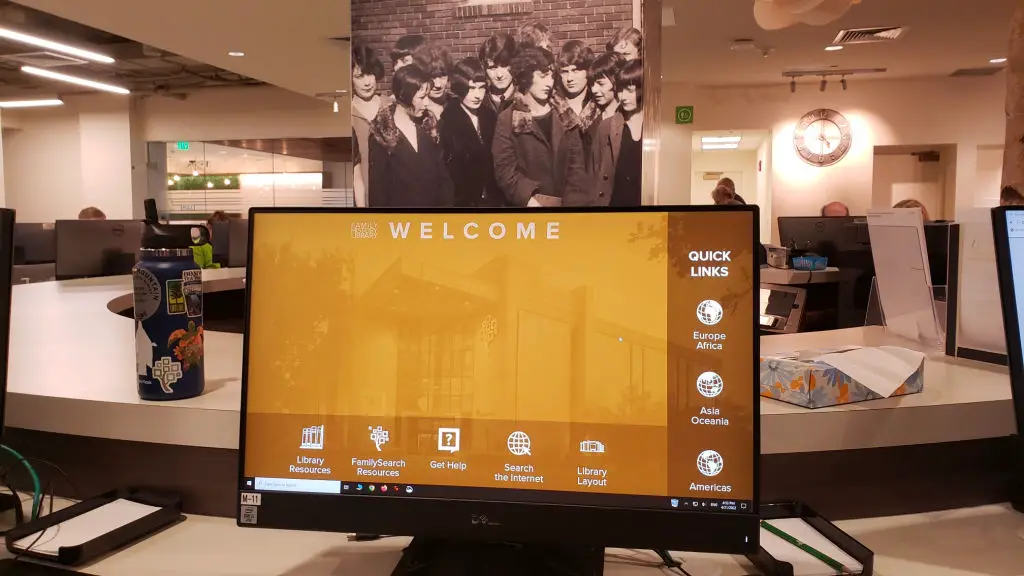 Problematic Misinformation
First, Ancestry.com is a paid subscription-based website. Therefore, there is limited access to Ancestry.com information without being a paying member. I ran into a wall when Ancestry.com had records that I was unable to access without paying their subscription fee.
Second, genealogy misinformation is a huge problem. This is because anyone who has used the Ancestry.com website can insert individuals into their family tree. When a researcher identifies a non-family member as a relative it becomes a case of mistaken identity. One wrong name or date can lead you down an entirely wrong branch in your family tree.
Third, because you can't trust the people before you to be accurate researchers, you must cross-check every family member already established on your tree to ensure it is correct.
Case of Mistaken Identity
As Harry went further back in his genealogical record, he noted that someone working within his tree (possibly a distant relative or even a stranger) had made an error in their research, which he ended up correcting. Specifically, a mistaken identity caused the wrong person to be added to his family tree.
Understand that all data previously completed on Ancestry.com may not necessarily be correct information. Unfortunately, this is not a topic that often comes up in conversations regarding family tree research.
Lineage Perks
European monarchies have a long tradition of documenting family trees and keeping genealogical records. In fact, the British royal tree is one of the most well-known and established family trees in history.
Traditionally, one of the reasons for this is that royal kings and queens produced many offspring and followed the modern tradition of divorcing. Also, births, marriages, and deaths of people of importance were closely documented due to the exchange of land, wealth, and titles being involved. In fact, throughout the generations, royal families hired professional genealogists to maintain and update family trees.
From a genealogical point of view, tracking the history of aristocratic marriages is easy because such detailed record-keeping exists, in a multitude of documented sources. Thus, if you can trace your family tree back to a royal, or even a more aristocratic family line, you're really in luck. These connections make it possible to trace your genealogy back thousands of years.
The British Connection
Throughout history, people of British descent understood the importance of documenting their lineage. For example, if you have Welsh, Scottish, or English blood, you are likely to see a tsunami of relatives pop up on your digital family tree.
If you can trace your family tree into a royal, or even an aristocratic family line, it can take your genealogy back over thousands of years.—The Budget Savvy Travelers
Thankfully, for Harry, this is what happened in his personal genealogy research. He was aware that genetically he had about an eight percent line of British DNA. As soon as he established a connection to a prominent British family line, his family tree exploded taking him back almost 4,000 years.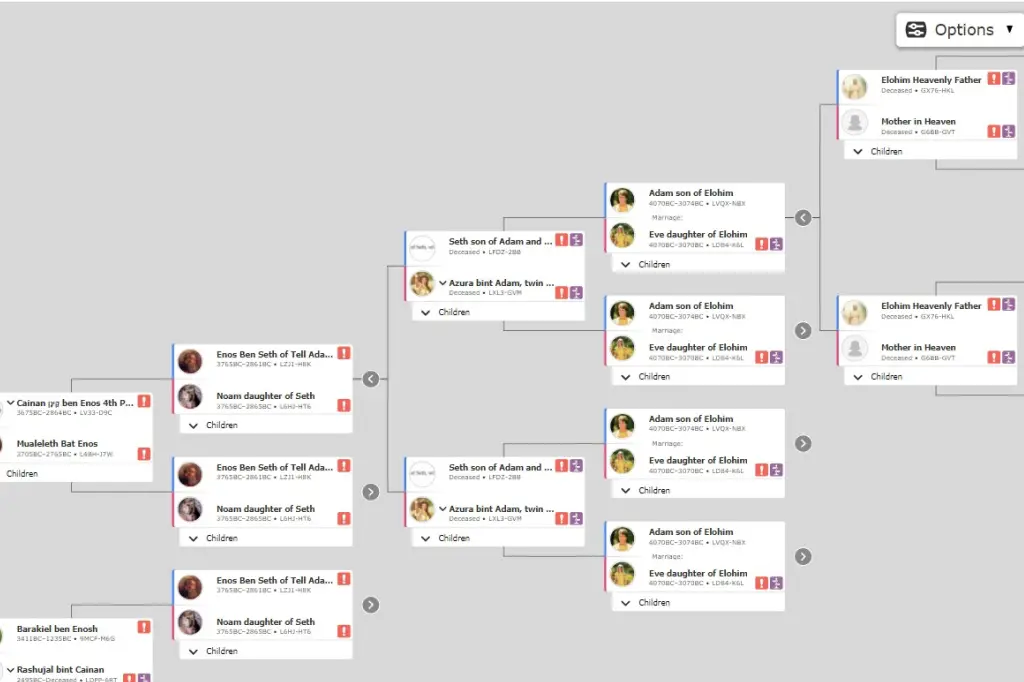 Unfortunately, the problem for most people tracing back their ancestry is that they depend on one-source documentation: birth and death records, newspaper announcements, immigration/naturalization forms, census records, and church records. Fires, neglect, wars, poverty, immigration, and general indifference to diligent record-keeping make it difficult for the majority of us to dig too deep.
What's the Library's Vibe?
The Family History Library is warm, tech-savvy, and inviting. The onsite cafe allows visitors to grab a coffee or a fast bite to eat to focus on their research.
Inside, the vibe feels like a happening museum. People from all backgrounds, religions, and all walks of life come to learn about their family trees. Harry and his docent shared some good laughs as he filled in some unanswered questions about his family tree.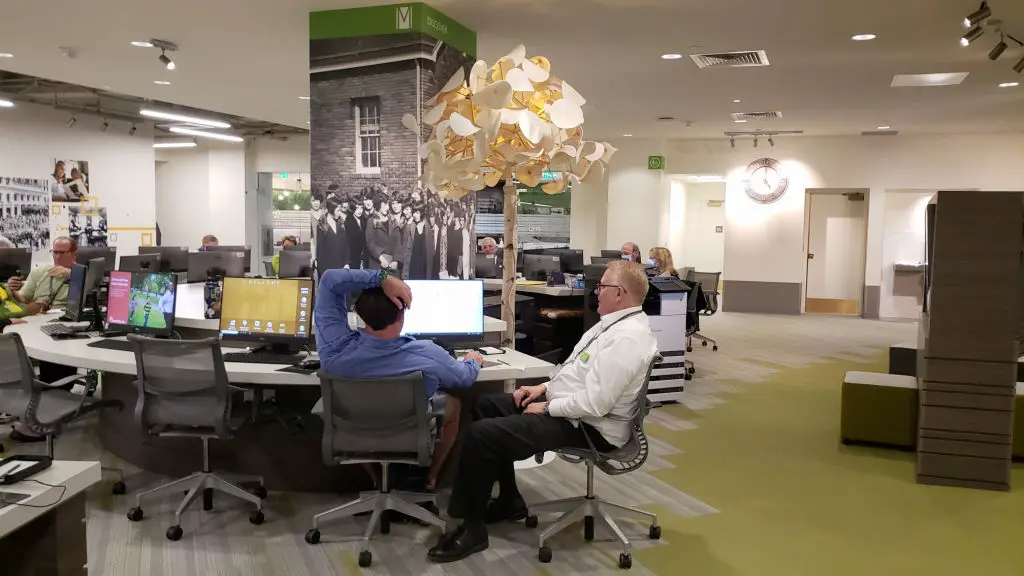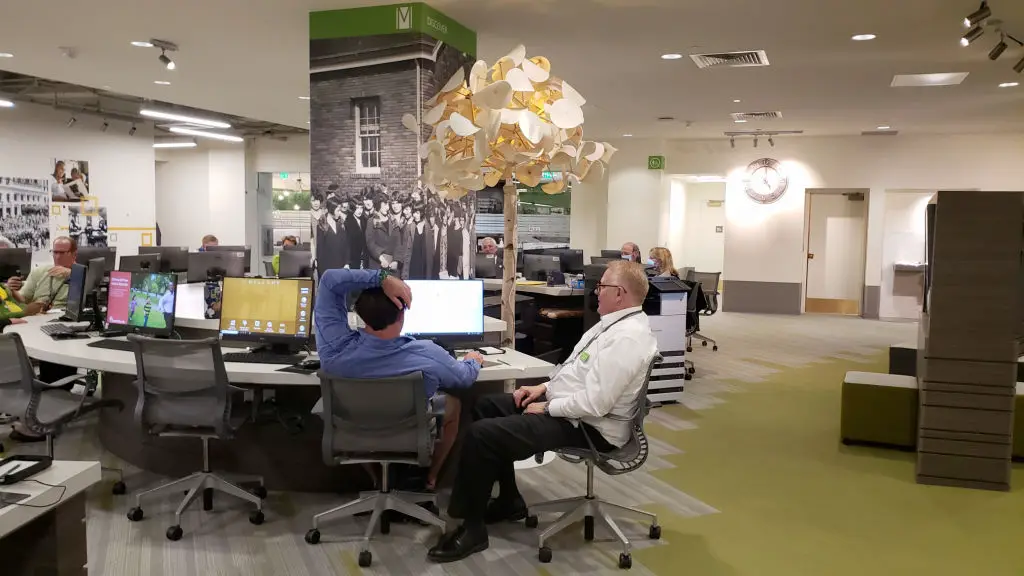 The library is full of energy, and happy faces. Overall, it's very welcoming.
What Is the Admission Cost?
Unlike Ancestry.com, the Family Search website allows you to research ancestry for free. Additionally, it is free to enter the Family Research Library and work with docents on your family tree. Like us, many visitors take advantage of the nearby free street parking in downtown SLC.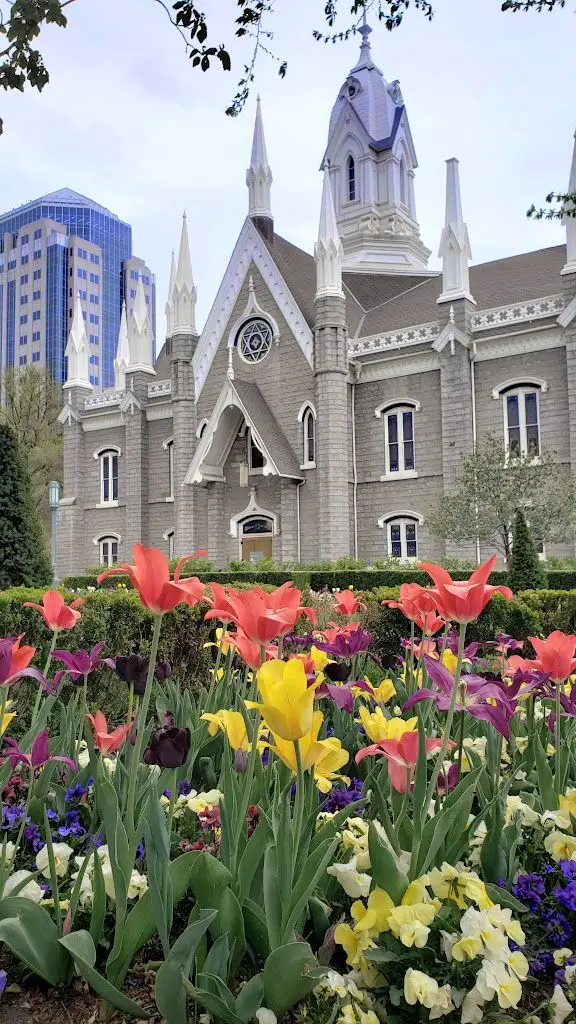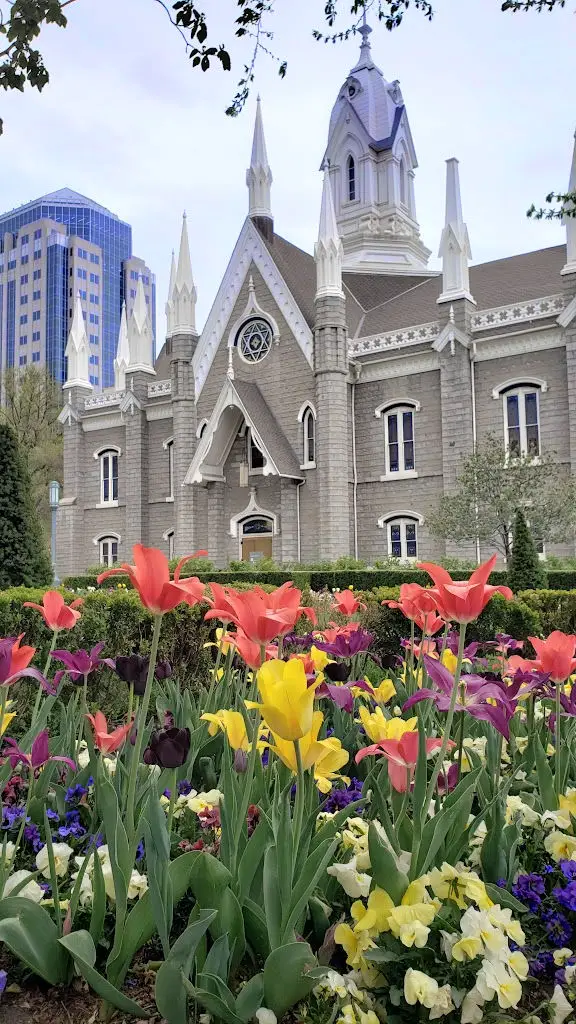 Know Before You Go
There are a few important things to know before visiting the Family History Library.
Experienced researchers are available to help you navigate the Family Search website.
Everyone is welcome to use the facilities and access the records at the Family History Library.
Planning is essential to a productive visit.
Gather dates, names, and any other family history to make the most of your research time.
At the very least, document the birth names, dates of birth/death, and wedding dates of parents, grandparents, and beyond, if possible. This will greatly help the consultants with your search.
Plan on arriving early because everyone ends up wishing they had more time once you get started.
One of our biggest regrets is that we didn't add familiar family tree information into the system before our visit. Had we taken the time to add our parents, grandparents, and siblings into Family Search beforehand, we would have had more time to work on the more complicated sections of our family tree with the help of knowledgeable docents.
Do I Have To Go to SLC to Research?
One of the most important takeaways from our visit was that you do not have to travel to SLC to take advantage of the Church's genealogy database. Local Family Centers are located across the country, where you can research your ancestry for free.
However, while the majority of Church's Family Centers offer free genealogy, understand that local staff may not be as knowledgeable or as helpful as the professional research consultants in SLC.
The SLC researchers have much experience because they work on genealogical research daily with visitors.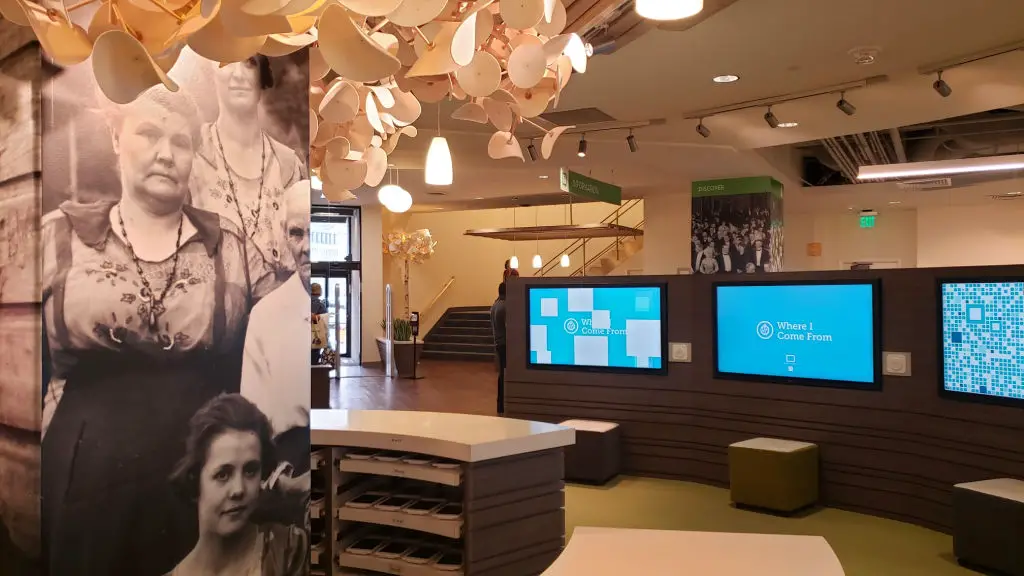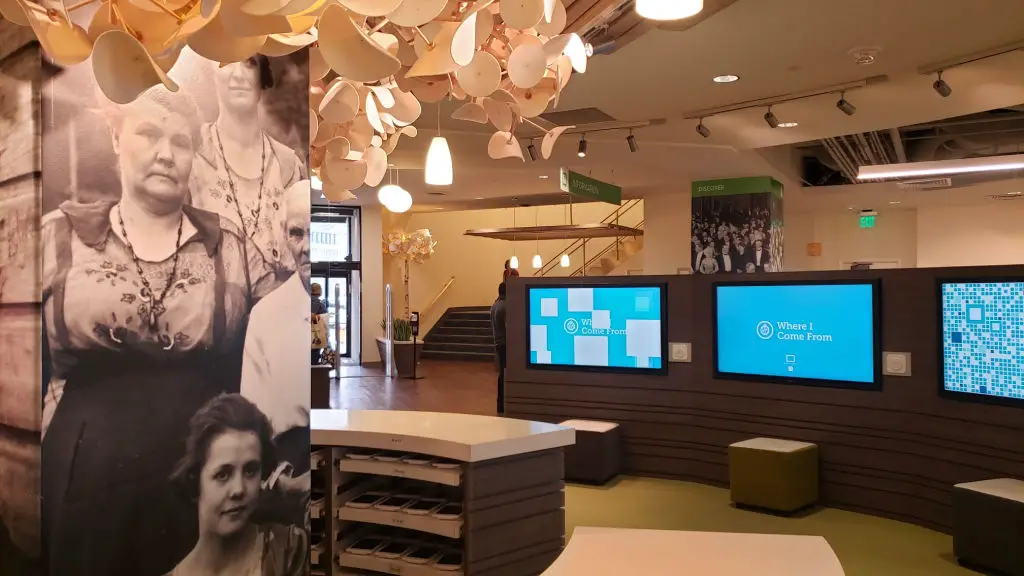 Centers vs. Libraries—What's the Difference?
Four different options are available to people who want to start filling in their family tree. These locations all offer free access to the online genealogy portals and work with databases like Ancestry.com, HeritageQuest Online, and AncestryInstitution.com.
Understanding what each site offers can be hard to determine. Therefore, the main summarized below:
The Family History Library (SLC)
One of the largest genealogical libraries in the world.
Offers a world-renowned onsite collection of books, media, and millions of records.
Has onsite experts in genealogy who are available to assist visitors.
Serves as the main genealogy hub.
Provides access to the genealogy portal.
FamilySearch Centers/FamilySearch Libraries (Major West Coast Cities)
Serve as large branches of the main Family History Library.
Provide interactive Discovery Centers and exhibits.
Contains designated research space.
Sometimes organizes free classes and genealogy seminars.
Offer various equipment to digitalize any family records and media that you possess.
Have free computer access to the genealogy database/subscription websites.
"Library Class" means a larger, more established facility found in major cities.
Family History Centers-Churches/Chapels (Worldwide, 140 countries)
There are over 5,100 Family History Centers around the world, in 140 countries.
Centers offer free computer access to the genealogy portal/subscription websites.
Some centers offer free educational classes on how to properly research genealogy.
Local Latter-day Saint Churches and chapels typically host the centers.
They do not have hard materials like books or archives.
Local volunteers staff the centers.
It is best to call in advance to determine the best time to visit.
FamilySearch Affiliate Libraries 
FamilySearch Affiliate Libraries have free access to the genealogy portal/FamilySearch databases.
These are typically public and university libraries.
This appeals to those who don't want to research in a chapel or prefer the convenience of a public library.
Libraries may not offer all the services provided by the Family History Centers.
Some historical research databases may not be accessible.
Your research will be self-guided.
Explore the map to see what Family Search facilities are located near you.
The Church's Connection to Genealogy
Latter-day Saints are strong believers in the family unit and heritage. The idea that family ties stretch far into the past and continue beyond this life creates the responsibility for them to help others discover and learn about their heritage.
Members of the Church of Jesus Christ of Latter-day Saints actively seek information about their ancestors because they believe they can offer important blessings to the deceased, binding the family together for eternity.
Church tradition states that there is an obligation for record-keeping, due to a direct commandment from the  Lord. Elder Joseph Fielding Smith states, "The matter of record-keeping is one of the most important duties devolving on the Church."
Therefore, it makes sense that the Family History Library is a part of SLC's sacred Temple Square. The unique campus serves as the headquarters of the Global Christian Faith of The Church of Jesus Christ of Latter-day Saints.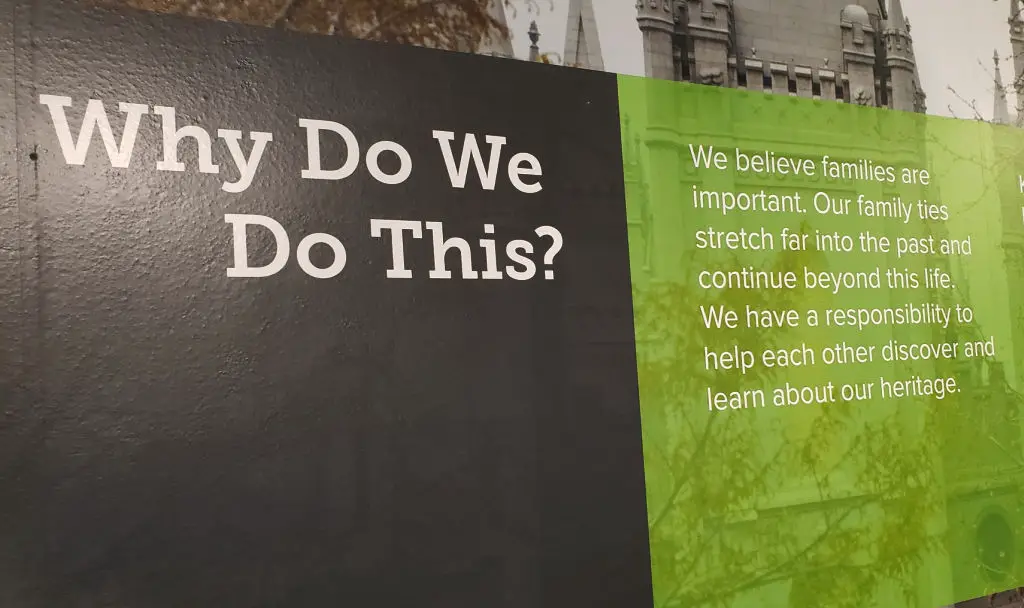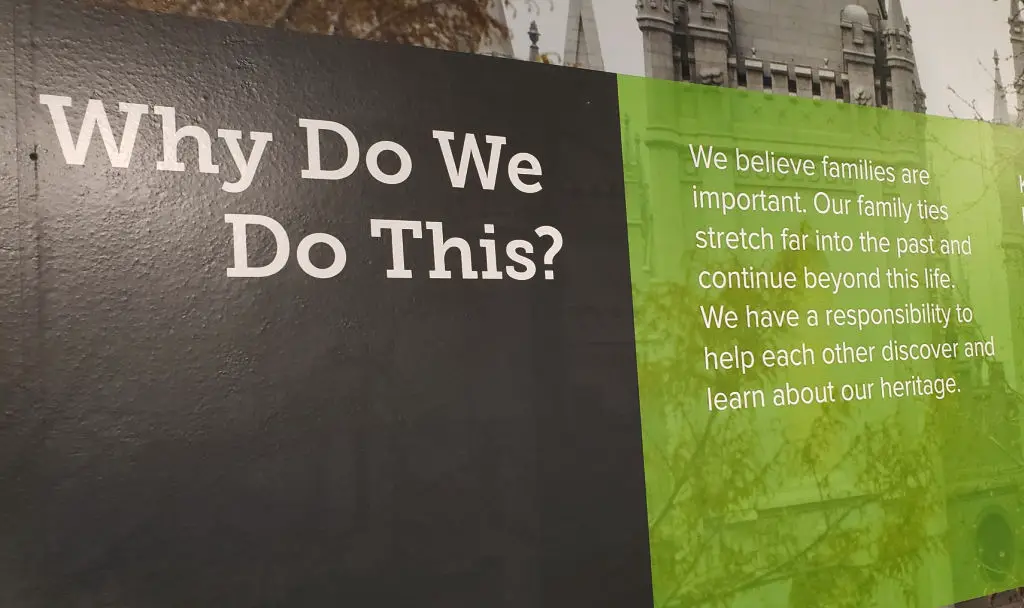 Granite Records Mountain Vault
One of the greatest mysteries—and preservation efforts—is the Church's Granite Records Mountain Vault located just outside SLC. In 1965, The Church of Jesus Christ of Latter-day Saints decided to preserve and protect all the important documents related to the church by placing them in a massive 65,000-square-foot vault buried deep within the mountains.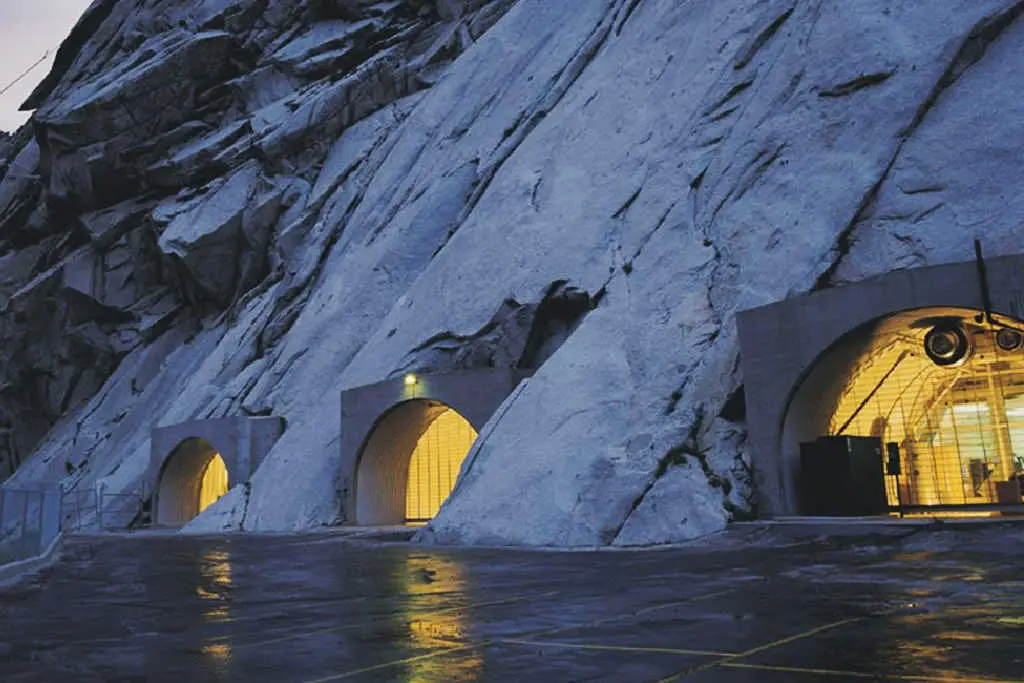 These records are under 700 feet of solid granite with entry doors that weigh 9 to 14 tons each, strong enough to withstand a nuclear blast. Moreover, the vault holds the world's largest collection of genealogical records and all of the materials related to the Church's operations, leadership, and history.
Additionally, the Church's restored gospel of Jesus Christ is preserved in every one of the world's published languages. No public access is allowed but a video tour from 2010 is available online.
Need Assistance
Finally, if you have questions or need assistance with FamilySearch support please call 1-866-406-1830 (in North America) or 00-800-1830-1830 (in the United Kingdom). Finally, for all other international locations, please reach out to Contact FamilySearch.