These are seven things you must know before visiting Half Moon Cay, Bahamas. After all, you only have about seven hours to enjoy this private island paradise.
Being aware of just a few things will make sure that your visit goes off without a hitch. Finally, everyone wants to know if visiting Half Moon Cay is worth the money. No worries! We'll address that too.
7 Things to Know Before Visiting Half Moon Cay – Don't Leave Disappointed
Half Moon Cay is also known as Carnival's private island resort. This uninhabited island sits about 100 miles southeast of Nassau.
Famous for its crystal clear turquoise waters, a 2-mile long white sandy beach and a huge 101-foot-long beached pirate ship bar⁠—it's hard to imagine anyone leaving disappointed. However, many people do, mainly because they get frustrated.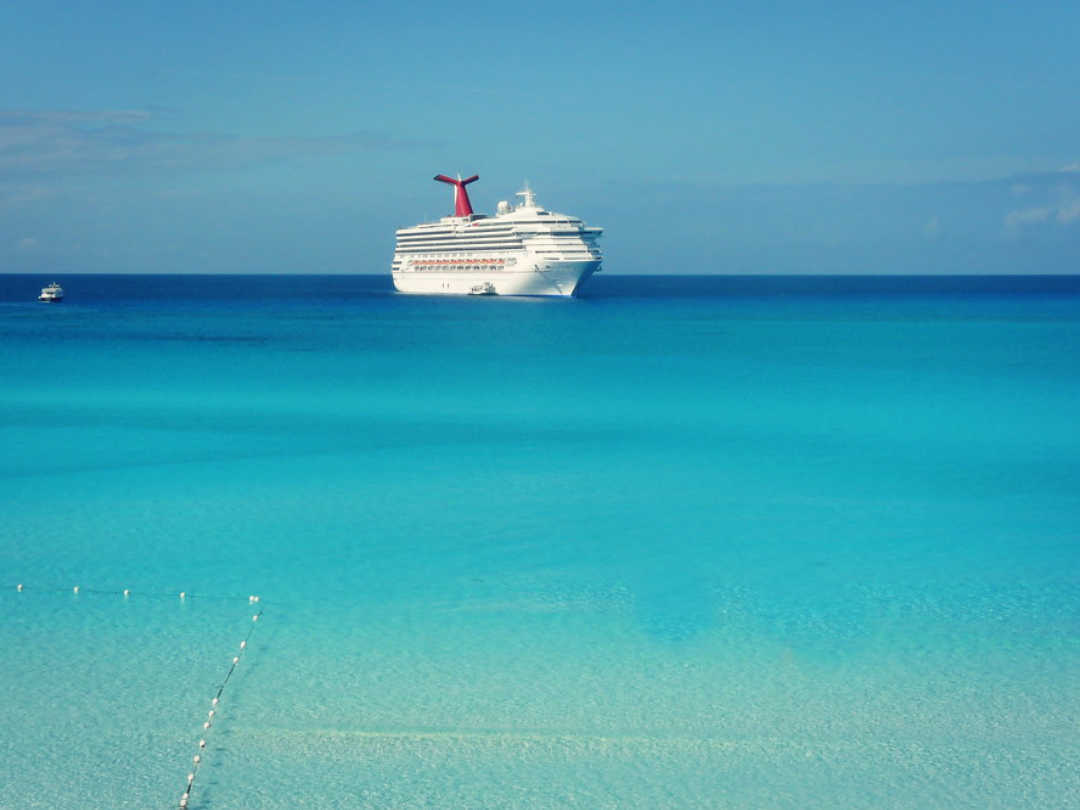 You should be having fun—not getting bitter⁠—because the cruise line placed you in a bad situation. Making sure you understand how to make the best of your time on the island will ensure that you have a great experience. Also, if you haven't already, make sure you get low-cost travel health insurance (this is what we use) before departing.
Here are the seven things you need to know before visiting Half Moon Cay:
It's probably going to be very hot and sunny.
There's a good chance they'll run out of food.
Drink packages don't work on Half Moon Cay.
Getting back and forth between the ship may take a long time.
You may have nowhere to sit.
Passengers with excursions get priority tenders.
Holland America's smaller cruise ship means a more private experience.
Remember to Bring: Luggage Tag Holders & Cruise Lanyards with ID Holders & Instant Stain Remover
Don't overpay for your cruise to Half Moon Cay. Use Cruise Critic to see the latest departure dates and compare all of the cruises that visit Half Moon Cay.
1. It's Probably Going to Be Very Hot and Sunny
When most passengers arrive, they head right to the front row of beach chairs. While they are the closest to the sea, they are also the farthest from the shady trees. Instead, grab a chair in the last row.
Make sure it's one you can easily move under a shady tree. You'll find shadier trees the farther you go down the beach or simply bring a fashionable hat!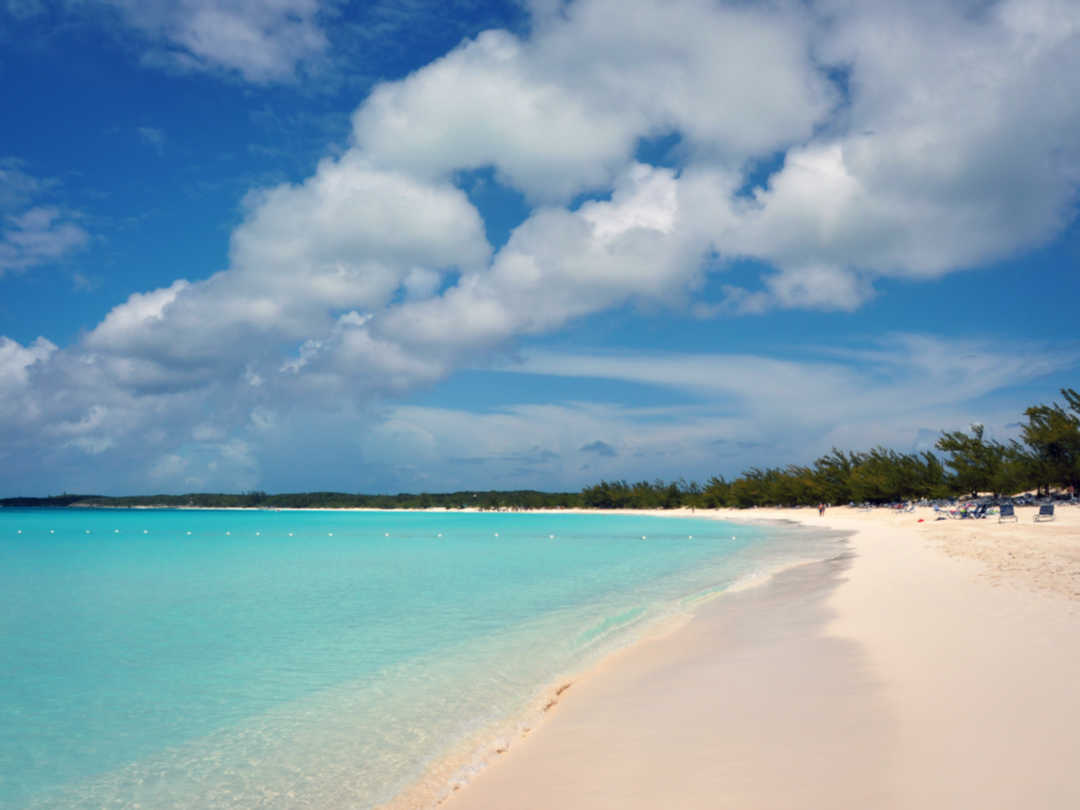 Tour From Nassau: Exuma Swimming Pigs, Sharks, and More
Additionally, keep your eye open for a couple of shaded rest areas with hammocks. There is also the opportunity to rent out clamshell-shaped shades for about $40 per day. If you start overheating, head over to the air-conditioned gift shop located next to the welcome center.
2. There's a Good Chance They'll Run Out of Food
It may come as a shock to you but there's a good chance that the free BBQ lunch may run out of food very quickly. The lunch is marketed by the cruise lines as a "free delicious barbeque burger, hot dog, chicken, fish, and healthy salad lunch" at the Tropics Restaurant.
This tropical buffet lunch is known to quickly run out of food. If you're planning on eating the free lunch, it's important to get in line as soon as it opens at 11:30 a.m. and way before it closes at 1:30 p.m. If you don't, you may be eating beans and rice for lunch.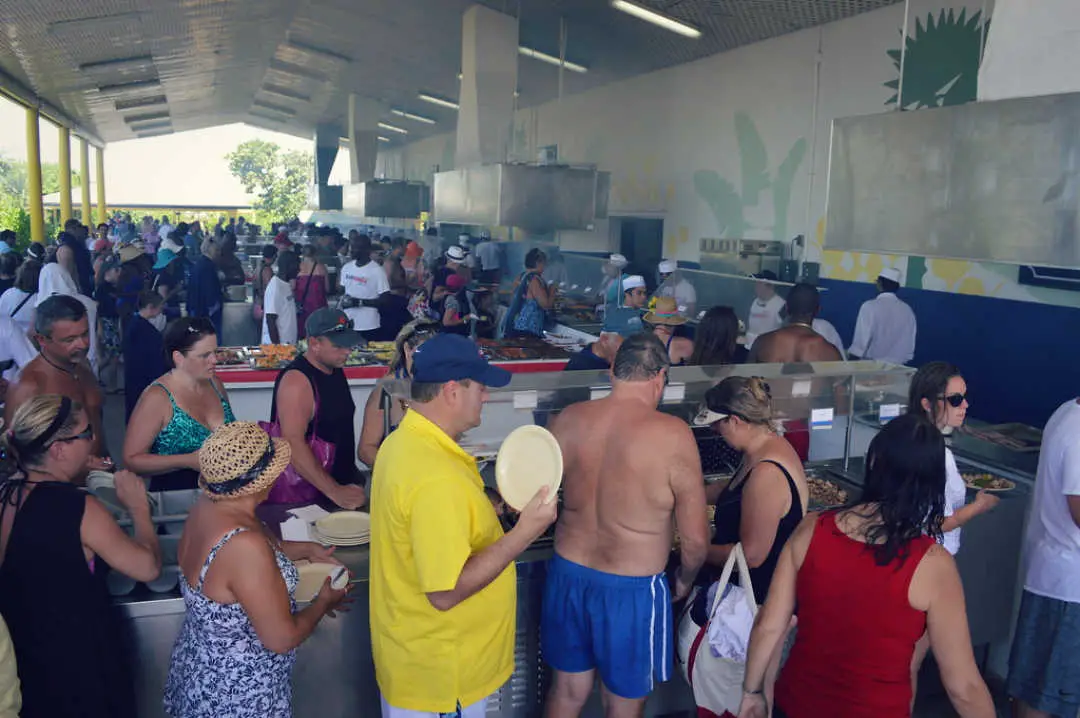 Most people head over to the Tropics Restaurant around noon and are greeted by extremely long lines. For those that enjoy a late lunch, you may be left with slim pickings at the free BBQ lunch—specifically the leftover beans and rice.
Bringing Electronics?: Cruise Power Strip No Surge Protector with USB Outlets
With nothing left, you'll be forced to spend about $20 per person at the only other restaurant, the Lobster Shack. It's located next to the "I Wish I Could Stay Here Forever" bar.
Free water is included in the BBQ lunch so make sure to take advantage of this and stay hydrated!
3. Drink Packages Don't Work on Half Moon Cay
Many passengers think that their onboard drink package (Cheers Package) will automatically carry over to Half Moon Cay. They don't! You'll need to purchase an additional drink package solely for your time on Half Moon Cay. The package will include up to 15 drinks per person for about $25.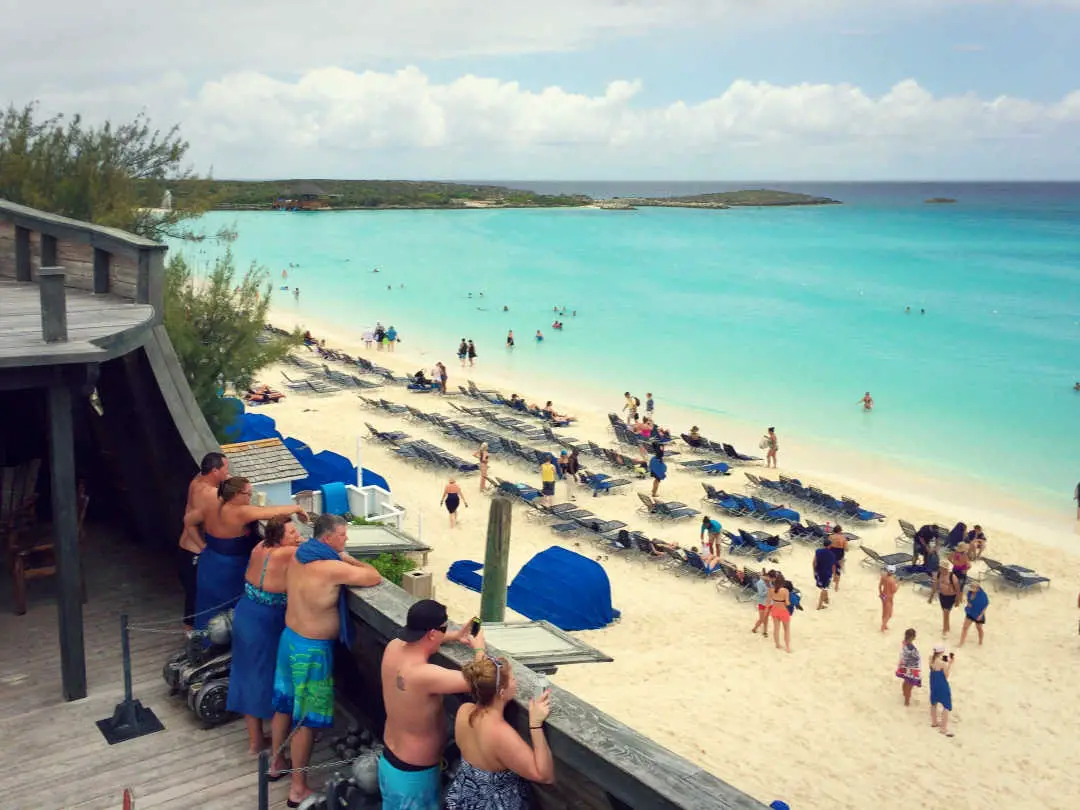 If you decide to pay for individual drinks don't forget to bring your Sign & Sail Card (Carnival passengers) or Stateroom Key Card (Holland America passengers). The four bars on the island are:
Captain Morgan's Bar: This schooner pirate ship-themed bar is just about impossible to miss. Grab a drink and head to the top for epic views of the island.
Lookout Bar: The quietest bar on the island overlooks Bonefish Lagoon. This is where you'll find us!
I Wish I Could Stay Here Forever Bar: The largest bar on the island is located on the beach, about halfway between the Welcome Center and Tropics Restaurant.
Rum Runners Bar: Located right next to the Fort San Salvador Welcome Center.
4. Getting Back and Forth Between the Ship May Take a Long Time
The waters of Half Moon Cay are quite shallow. Therefore, the only way to access the island is by one of the four tender ships (offering water shuttle service). This means that it will take about a half-hour to one hour (possibly more) to get from the ship to the island and vice-versa.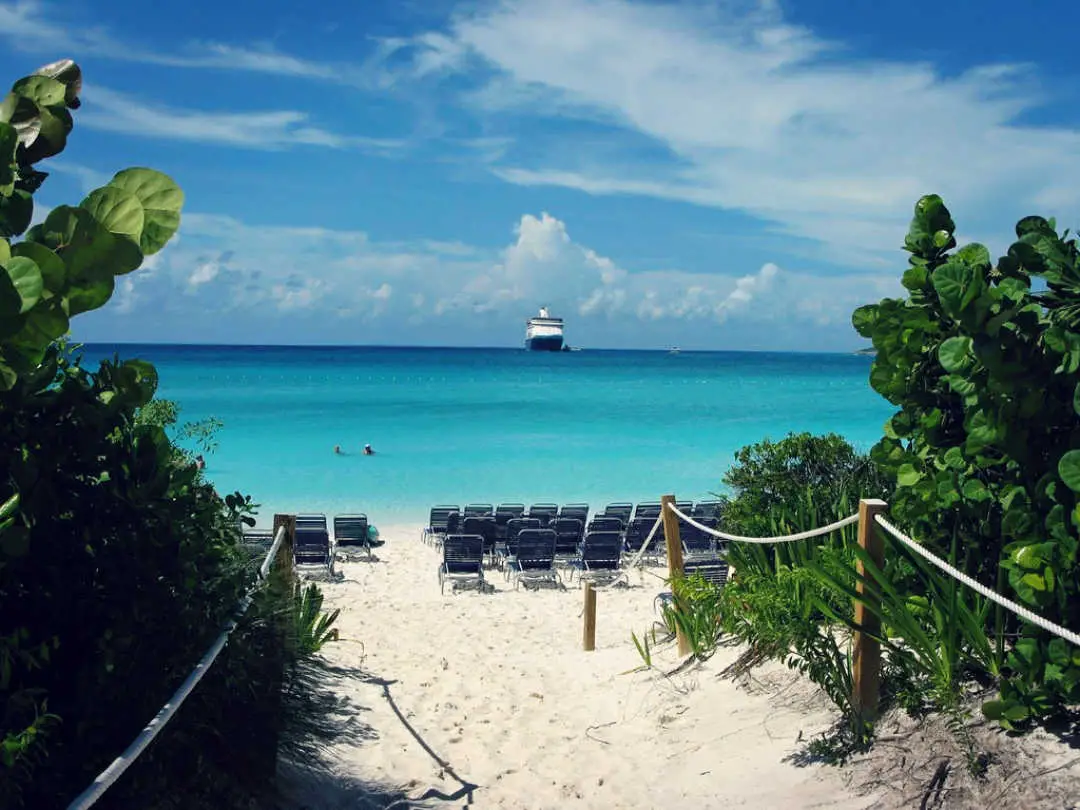 Therefore, you want to make sure that you don't forget anything on the ship. Double-check that you've brought everything you'll need for the day so that you don't spend possibly multiple hours traversing back and forth:
Towel: Unless you've booked a cabana, beach villa, or private oasis, you'll need to bring your own beach towel.
Sunscreen
Insect repellant ultra sport (mosquitoes/sandflies are known to be dreadful in certain areas)
Sand toys for the children or just head on over to the lagoon aqua park
Your Sign & Sail Card (Carnival passengers) or Stateroom Key Card (Holland America passengers) for additional purchases
Camera
Comfortable shoes and clothing, sunglasses, and/or a hat
Personal travel umbrella for the sun
If you're not the type of person who likes lines, Carnival offers the FTTF (Faster to the Fun) pass which allows guests to essentially line cut on their cruise ships. For a fee of between about $50-$100 per cabin, guests are given priority access to the following:
Debarkation
Dining reservations
Luggage
Tendering
Your own line at Guest Services
Apparently, due to Holland America's smaller ship sizes, they don't currently offer anything similar to an FTTF pass.
5. You May Have Nowhere to Sit
If it's busy and you're one of the last ones off the ship you may be welcomed to Half Moon Cay with…nowhere to sit. Even though there are hundreds of free beach chairs, sometimes they're all taken. Of course, this all depends on the size of your group. However, if this does occur, it will leave you in a very uncomfortable predicament.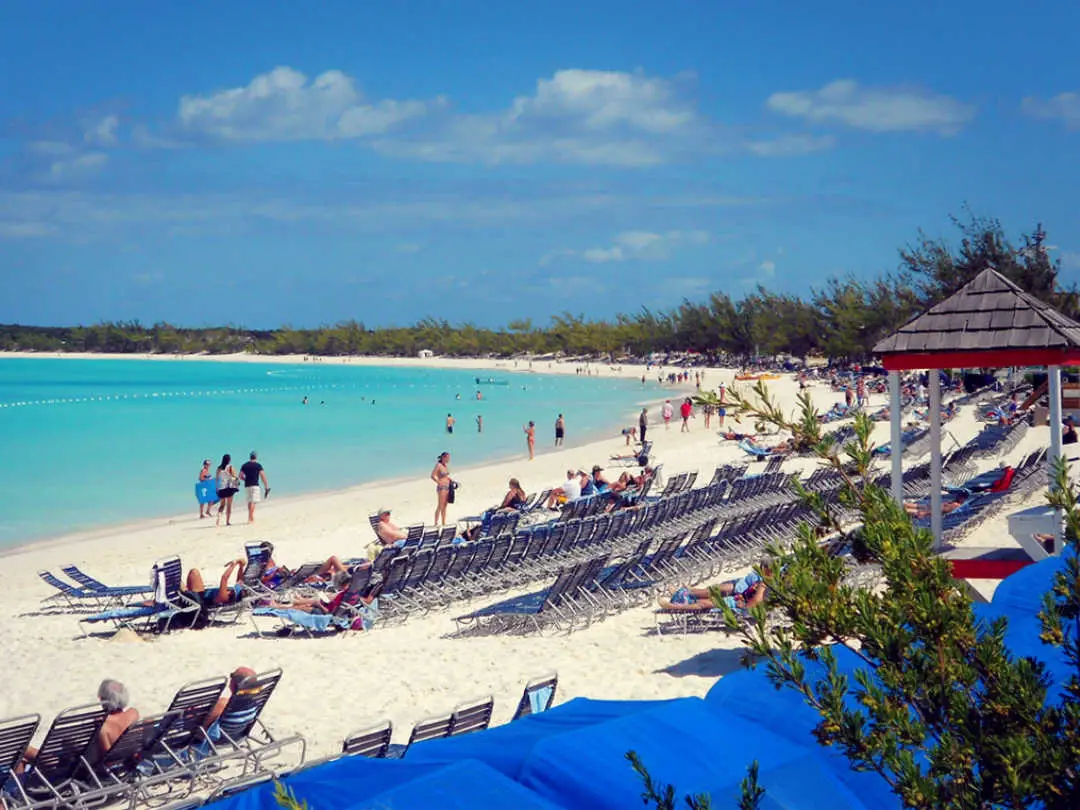 While this probably won't happen, there is the possibility that all beach chairs will be taken. If this occurs, your options will be to lay out a towel in the sand or head over to one of the restaurants/bars.
To avoid this situation you should make sure you get off the ship early or pre-book a cabana, beach villa, or private oasis. This will guarantee you a comfortable lounger and shade! Most passengers agree that the additional cost of the cabana, beach villa, and private oasis is well worth the money.
Highlights of the Cabana | $360
Priority access to tender ashore
Refrigerator
Ceiling fan
Air conditioner table and chairs inside
Deck chairs
Misting shower
An assortment of soft drinks and bottled water
Fresh fruit, vegetables, chips, dip, and salsa to snack on throughout the day.
Floating mats and snorkel gear are also included to use throughout your stay.
Applicable for up to 4 guests.
Highlights of the Two-Story Beach Villa | $600
The same as the cabana and it includes a five people-capacity hot tub. Applicable for up to 8 guests.
When you take the average price of the cabanas by the number of applicable people it may calculate out to be surprisingly affordable!
Highlights of the Private Oasis – $1,600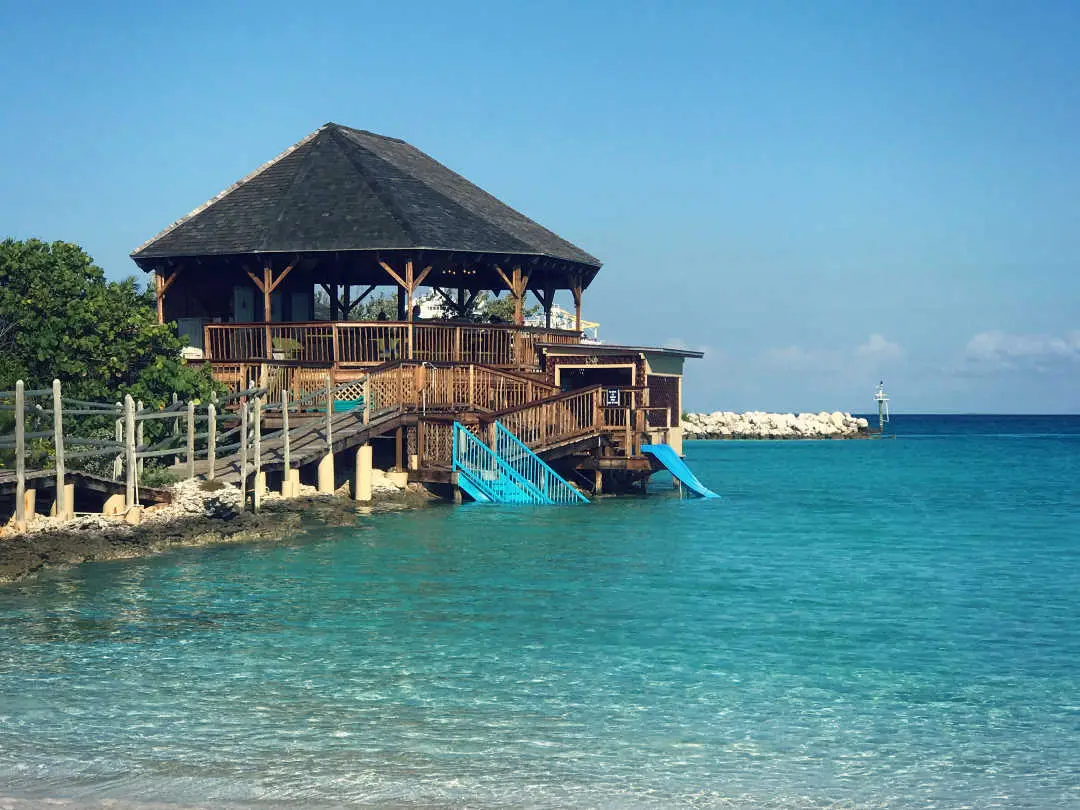 It's the same as the beach villa and it includes the services of a butler, bartender, personal chef, cabana Steward, and lifeguard. Also included are unlimited food and alcoholic beverage package, an eight people capacity hot tub, a private bathroom, and a private indoor shower. Applicable for up to 12 guests.