Clarksville, TN may very well be the best Christmas town in America. About an hour from Nashville, the city of Clarksville, Tennessee becomes a winter wonderland each holiday season. For such a small town, travelers will be amazed at how many fun activities there are to do. Let us show you all there is to do for Christmas in Clarksville, Tennessee!
13 Best Things to Do in Clarksville, TN
Certain destinations around the world just know how to do Christmas well— Clarksville, TN is one of those destinations. There are so many fun holiday activities to enjoy all concentrated in one small, charming city.
Are you looking to make it a weekend getaway? Great idea!
Extend the trip by adding a night or two at Home2 Suites by Hilton. With spacious suites that include kitchens, and tons of amenities like a pool, fitness center, an outdoor grilling area, and a massive buffet breakfast, Home2 Suites is the best budget-savvy option in Clarksville.
Below are the 13 best things to do in Clarksville, TN.
1. Lighted Christmas Parade
Most folks enjoy kicking off the holiday season in Clarksville by joining in on the Annual Lighted Christmas Parade. With nearly 200 floats and hundreds of participants, the parade lasts two hours. Join in as everyone lines the streets with blankets and superlight lawn chairs to enjoy the show. Be sure to bring a bag as it's a tradition for many participants to pass out candy.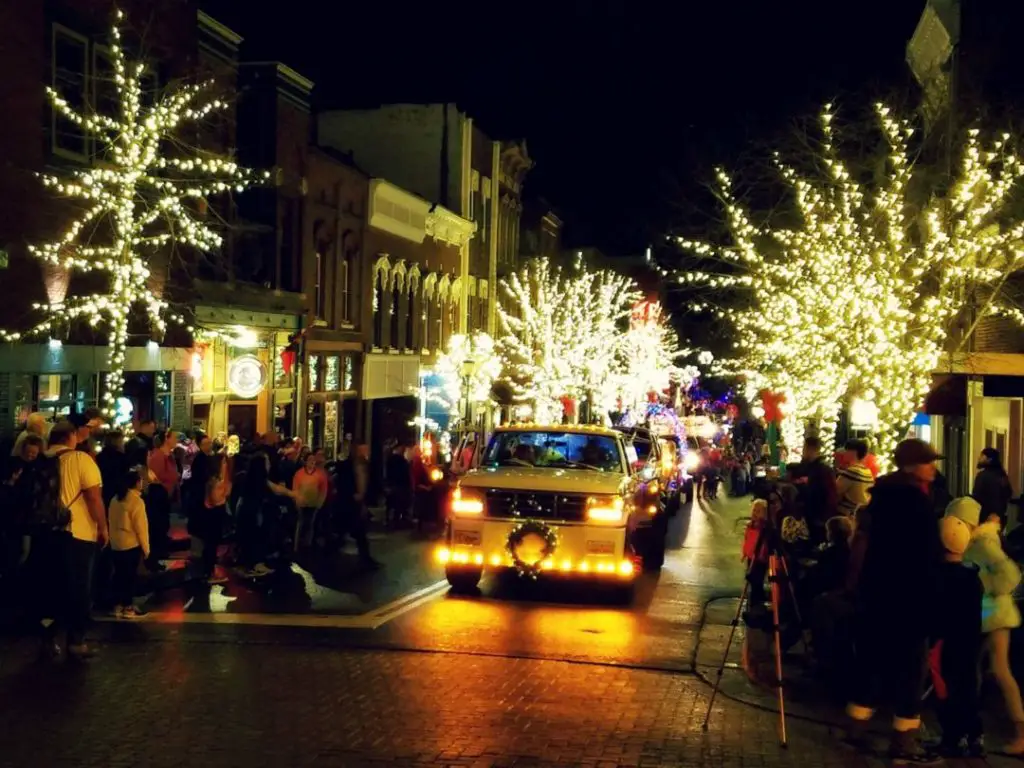 2. Smith Trahern Mansion
In 1858, Christopher Smith crafted this gorgeous mansion in the Greek Revival and Italian style which was popular at the time. Smith was a wealthy businessman who made his money in the tobacco industry. The home features a beautifully crafted curved staircase, and vaulted ceilings, and stands majestically over the Cumberland River.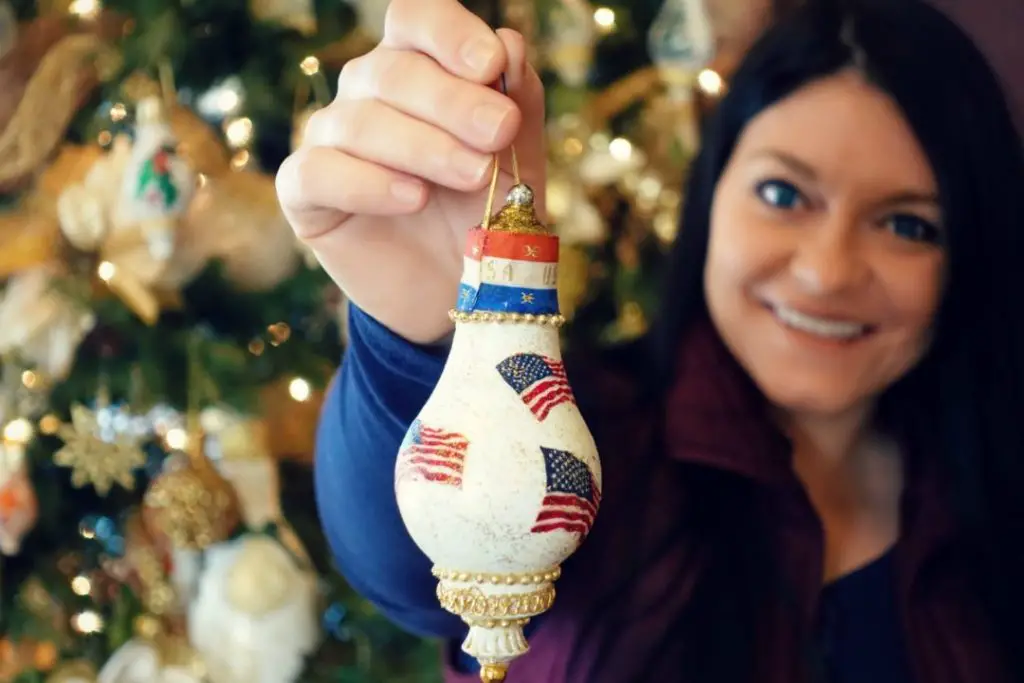 The Smith-Trahern Mansion was added to the National Register of Historic Places in 1998. In winter, the mansion volunteers organize an open house and decorate with over 20 Christmas trees. For tours, contact Barbara Beeman at 931-801-0822.
3. Clarksville Drive-Thru Lights
One of our favorite attractions is the "Drive-Thru Christmas Light Show" at The Clarksville Speedway & Fairgrounds. Bring some hot chocolate and enjoy over two million lights while listening to the best Christmas songs on their custom radio station.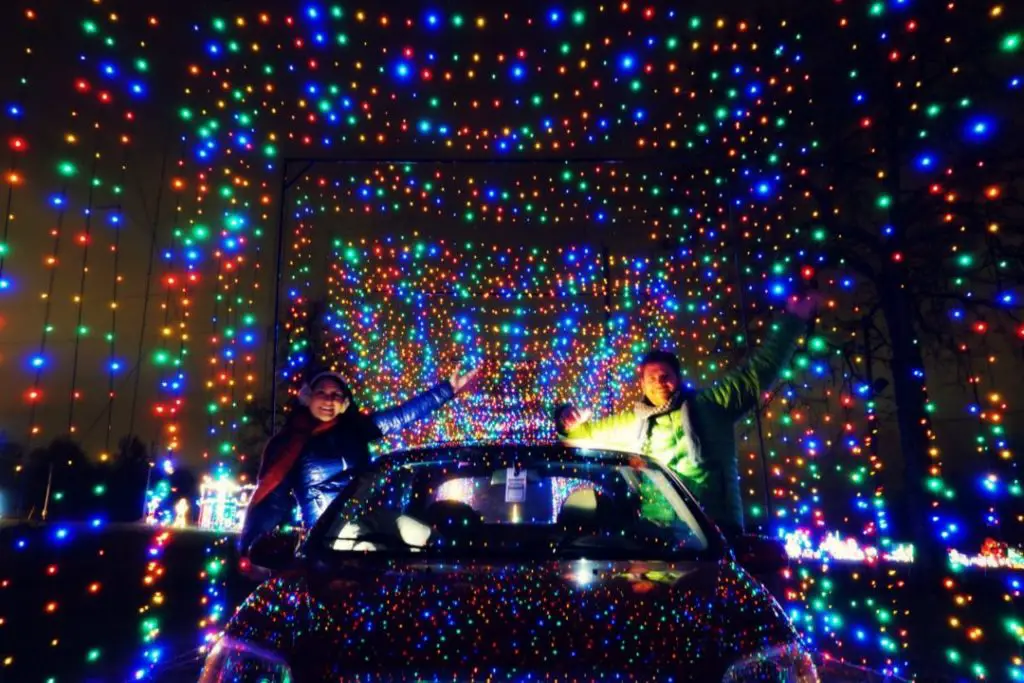 4. Roxy Theater
The Roxy Theater is a professional, live-performance theater that is an icon in Tennessee. The marquee brightens up historic Downtown Clarksville even on the cloudiest of days. During the holidays' various performances are offered including the Christmas classic Miracle on 34th Street.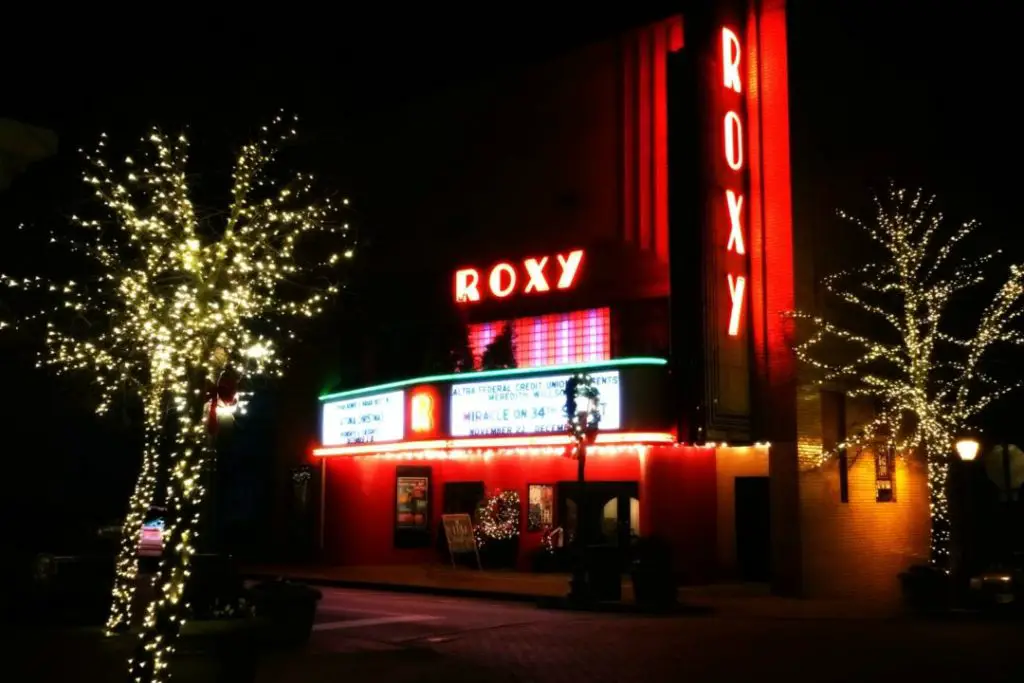 5. Customs House Museum
Come enjoy both the permanent and rotating galleries celebrating local art, history, science, and members of Clarksville. One of the most treasured exhibits is the model trains. In winter, be sure to check out the Christmas Town at the Customs House Museum.
The large collection of porcelain houses has lights, moving pieces, and a model train that circles the village. It's a fun addition to the museum during the holiday season.
6. Christmas on the Cumberland
Now celebrating its 20th year, the annual Christmas on the Cumberland brightens up the Cumberland Riverwalk with over one million sparkling lights. Favorite light displays include the riverboat, ice skaters, and tunnel of lights. Admission is free.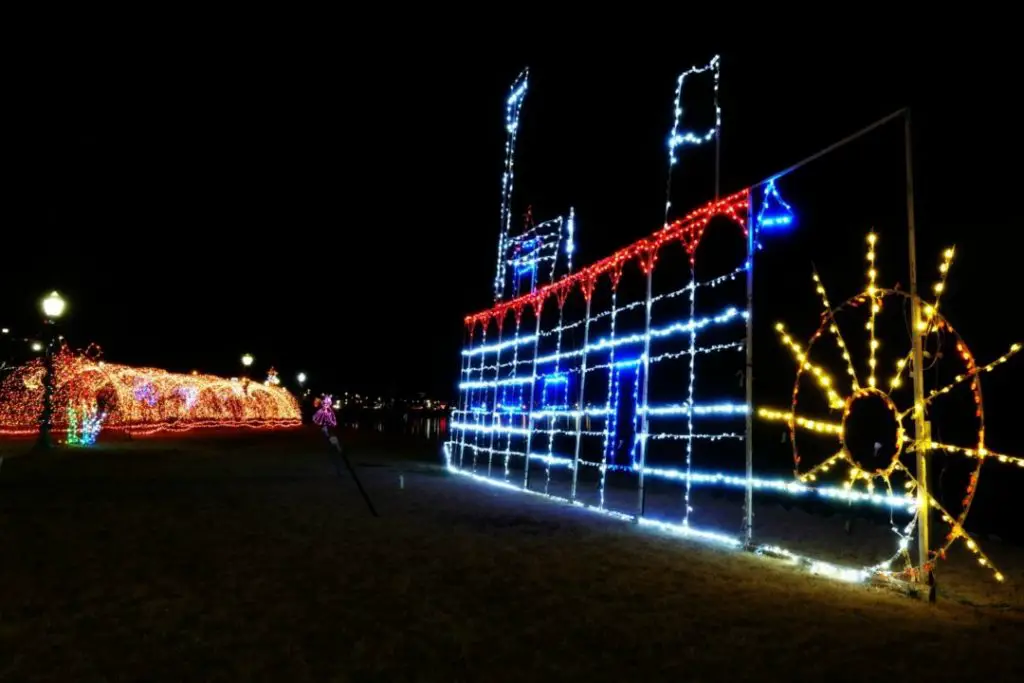 7. Christmas House Tour
The Christmas in Clarksville website has organized a list of all the most festive homes in the area. Set the radio to your favorite Christmas station and experience all the best light displays around town.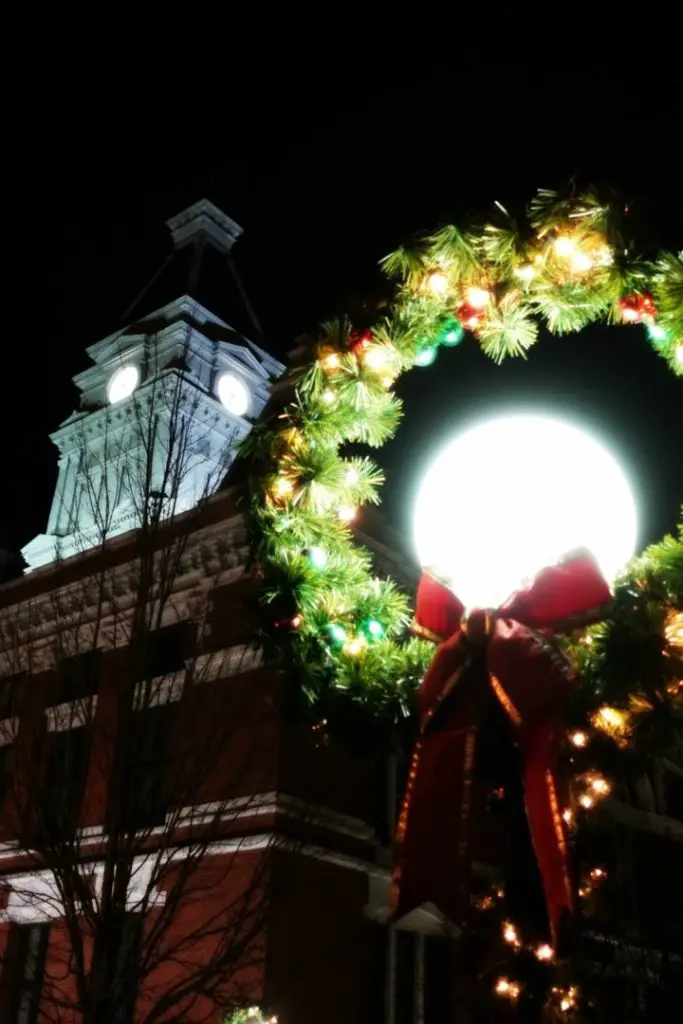 8. Starry Night and Public Art Tour
This street art masterpiece was inspired by one of Vincent van Gogh's most famous works "The Starry Night." For those interested in sculptures and street art, Clarksville has an entirely organized public art tour that takes visitors on an art trail around the city. Starry Night is located at 420 Madison Street.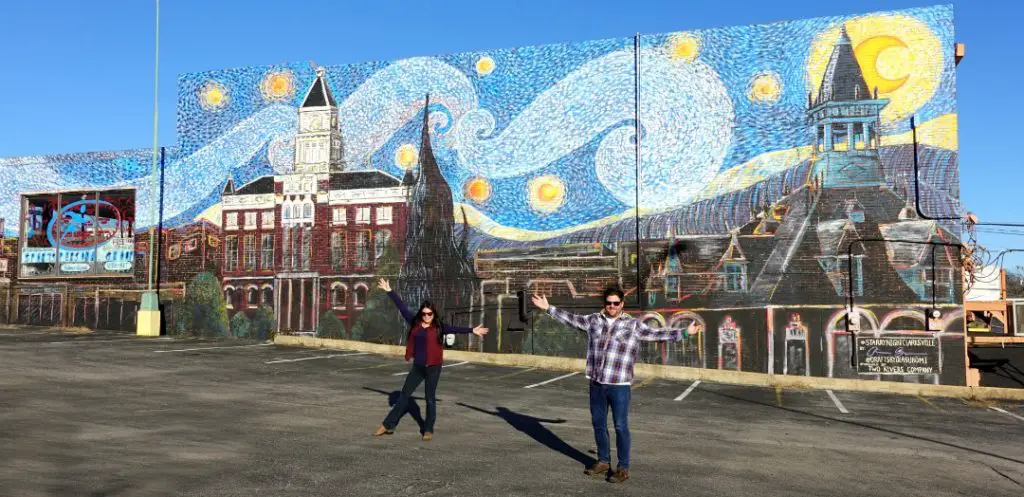 9. Clarksville L&N Train Station
It's hard to visit Clarksville and not sing the famous 1966 Monkee's song, "The Last Train to Clarksville." Those looking for a fun photo opportunity, consider a stop at the Clarksville L&N Train Station. In 1996 the station was restored to its 1901 appearance. It features a classic diesel locomotive and caboose.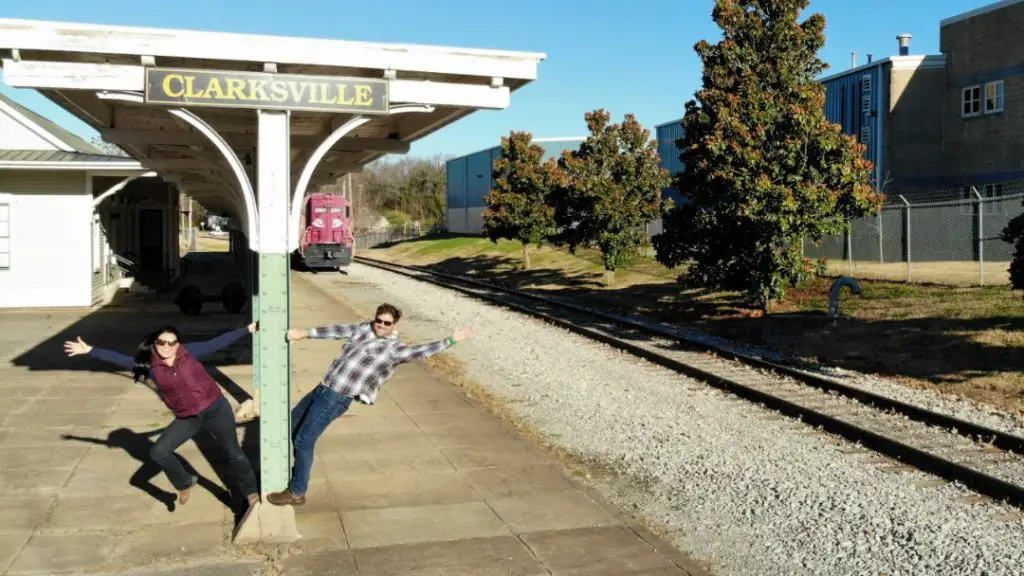 10. Old Glory Distillery Co.
Local Matt Cunningham always had a dream to create a Tennessee bourbon whiskey distillery in his hometown of Clarksville. A few years ago, Old Glory Distillery Company finally came to fruition. Folks can come tour and taste the fruits of their labor at this beautiful distillery located at 451 Alfred Thun Rd.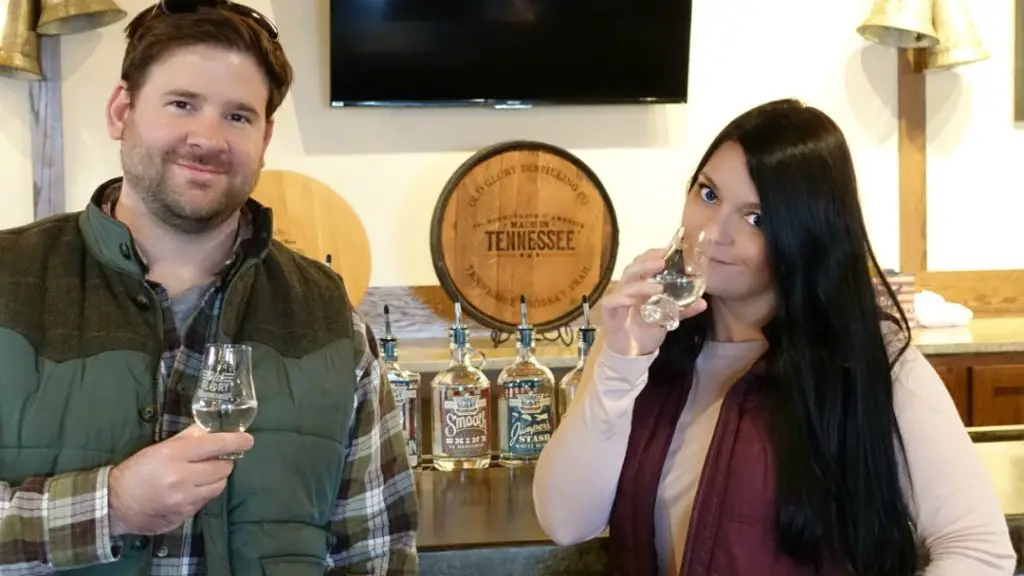 Tours take place on the hour, every hour. During the Christmas season, the distillery offers holiday cocktails, gift baskets, and unique, custom-made gifts available in their gift shop.
11. Downtown Commons Ice Skating Rink
It's hard to throw on the skates and not have a smile across your face. Located in the heart of Clarksville, the Downtown Commons Ice Staking Rink adds an active, fun touch to the holiday festivities. The gorgeous First Presbyterian Church adds a special Christmas flair to the backdrop. The cost to rent is $12 for adults and $10 for children. Helmets are included in the rental fees.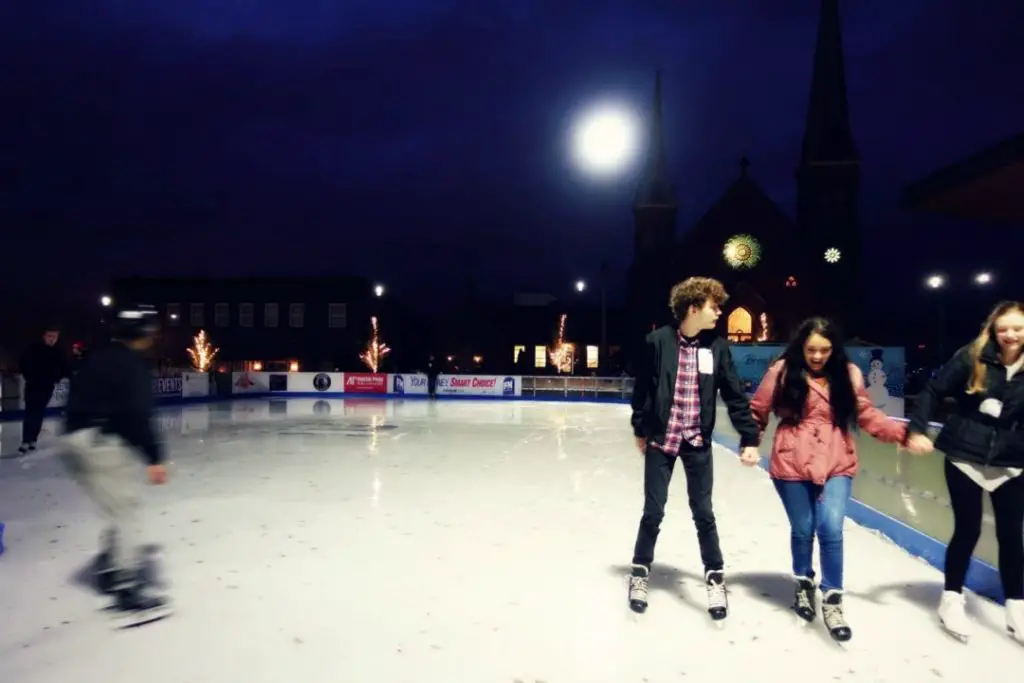 12. Fort Defiance
If you're looking for some local history or outside time, consider a stop at Fort Defiance Civil War Park. The park features walking trails and an earthen fort, considered to be the most preserved earthwork (manmade defense wall or fort made from the soil). A free museum and interpretation center is on-site. Fort Defiance is located at 120 A Street.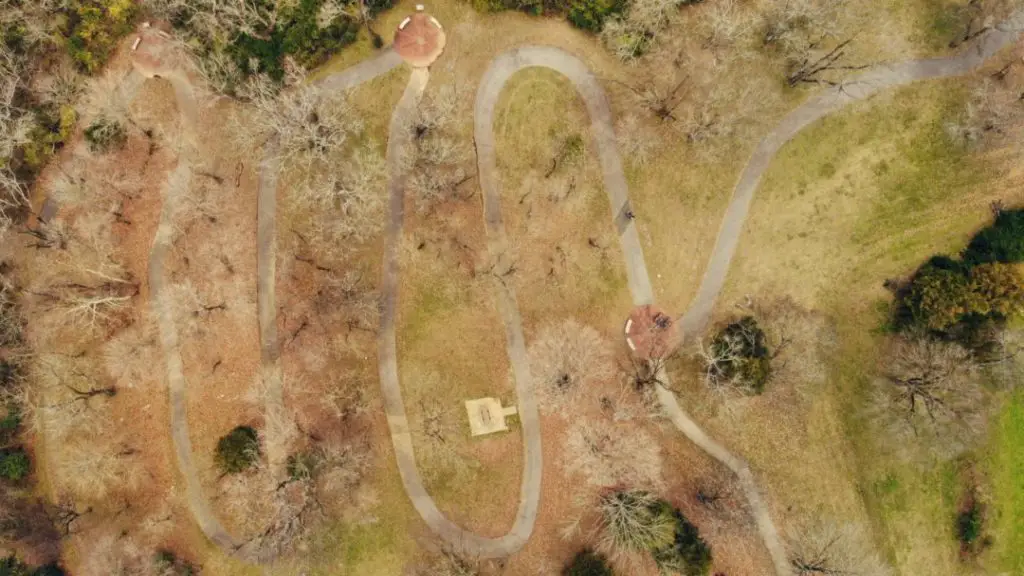 13. Dunbar Cave State Park
Dunbar Cave State Park is a great way to spend the day while waiting for evening Christmas magic to begin. This state park features a historic cave, hiking trails, wildlife watching, and a nice interpretation center. The Dunbar Cave has played a significant role in Clarksville's history, so learning how the locals turned this cave into a summer recreation destination is quite interesting.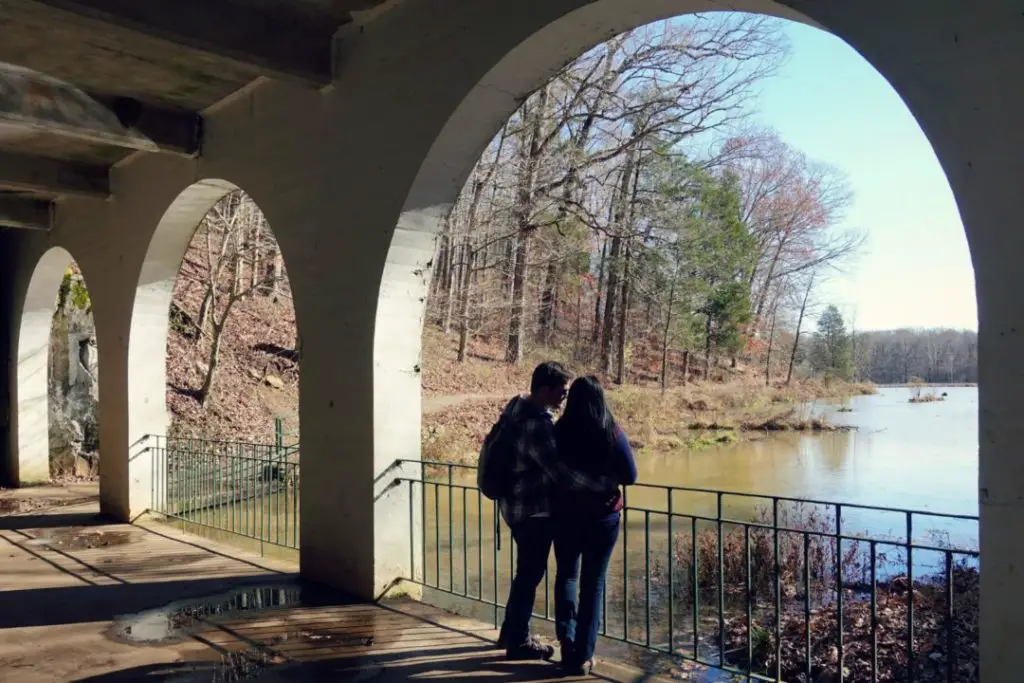 Travel Tip: There are three trails of varying lengths at Dunbar Cave State Park: Lake Trail (1/2 mile), Short Loop Trail (2/3 mile), and Recovery Trail (2 miles).
4 Best Local Eats in Clarksville, Tennessee
Foodies will appreciate how many great options Clarksville offers to enjoy some tasty local eats. The following are a few of our favorites:
1. Silke Old World Breads
Silke Old World Breads is a family-owned German cafe and bakery that's a great choice for breakfast or lunch. People come to enjoy traditional European bread, cakes, cookies, and hearty soups and sandwiches.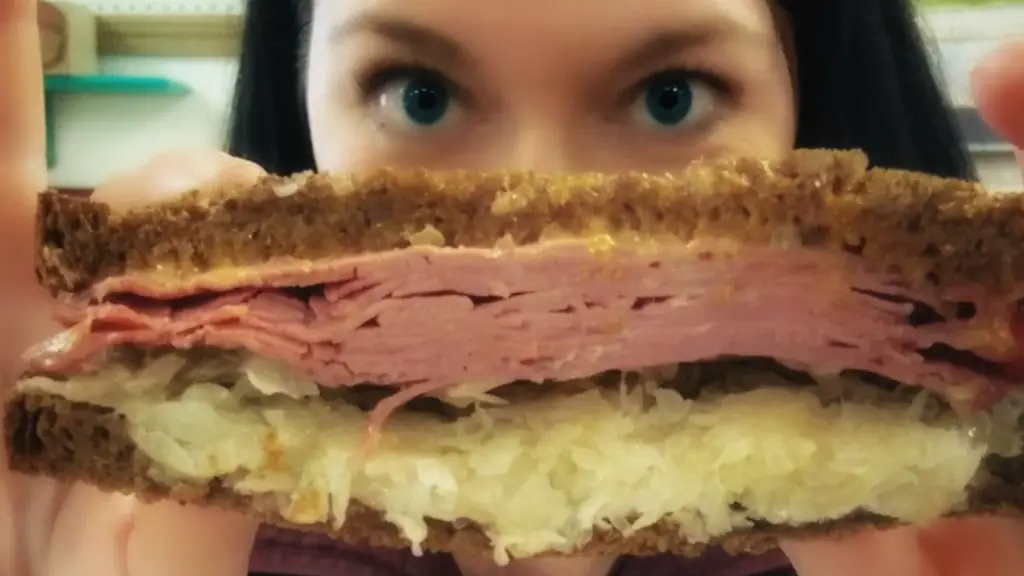 Homemade pizzas are also popular. Locals love the huge Reuben sandwiches piled high with corned beef and sauerkraut on fresh-baked rye.
2. Roux Americajun [Closed]
Roux Americajun recently closed. A good substitute is the Catfish House.
Those looking for some great southern-style New Orleans cuisine may want to check out Roux located in downtown Clarksville. The Cajun-inspired menu includes specialties like their famous shrimp and grits and seafood po'boys.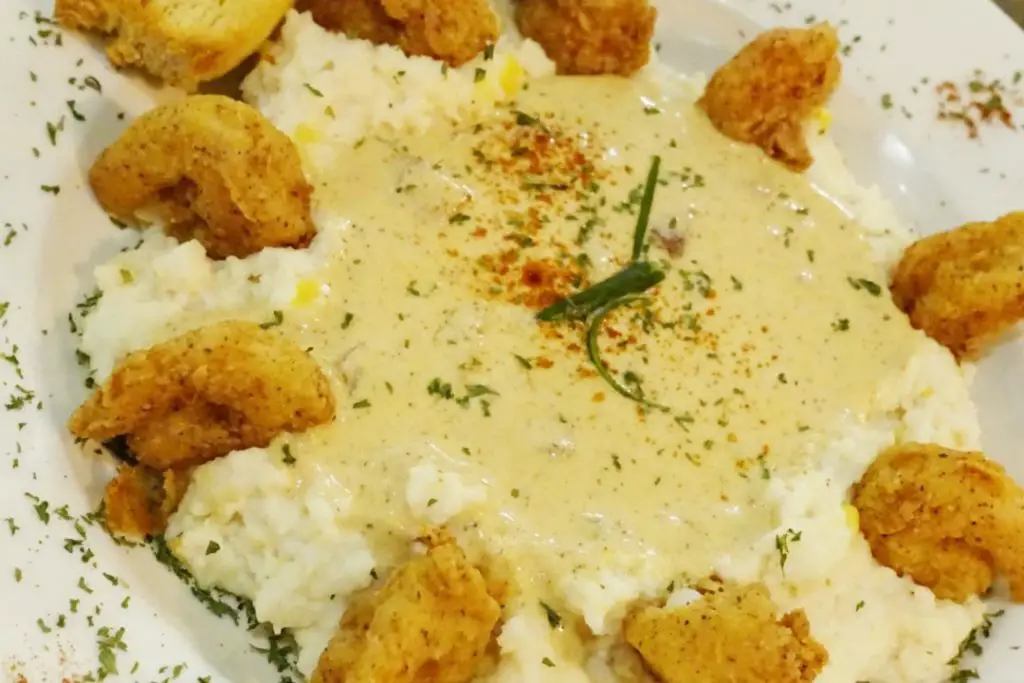 3. Strawberry Alley Ale Works
This sleek, yet welcoming restaurant has quickly become a local hometown favorite. Located in downtown Clarksville, Strawberry Alley Ale Works is known for its killer service and unique take on familiar dishes. Everything is made from scratch and the quality shows in the taste and presentation.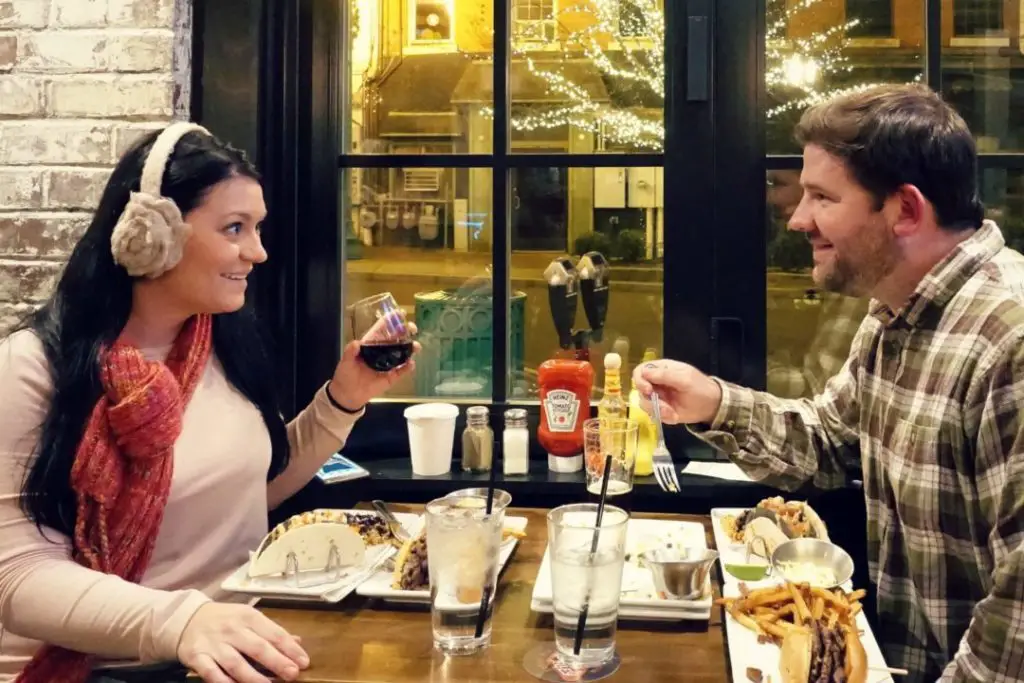 We loved the potato chip nachos (probably the best nachos we've ever had), fish tacos, and bourbon burger. Bonus points for the free samples of ale offered to help you choose the perfect craft beer to accompany your meal.
4. Black Horse Pub and Brewery
For almost twenty years the Black Horse Pub and Brewery has been a mainstay in downtown Clarksville. The restaurant offers great pub grub and grilled specialties like hamburgers and pork chops. The Black Horse Pub is one of the few restaurants open on Sunday too!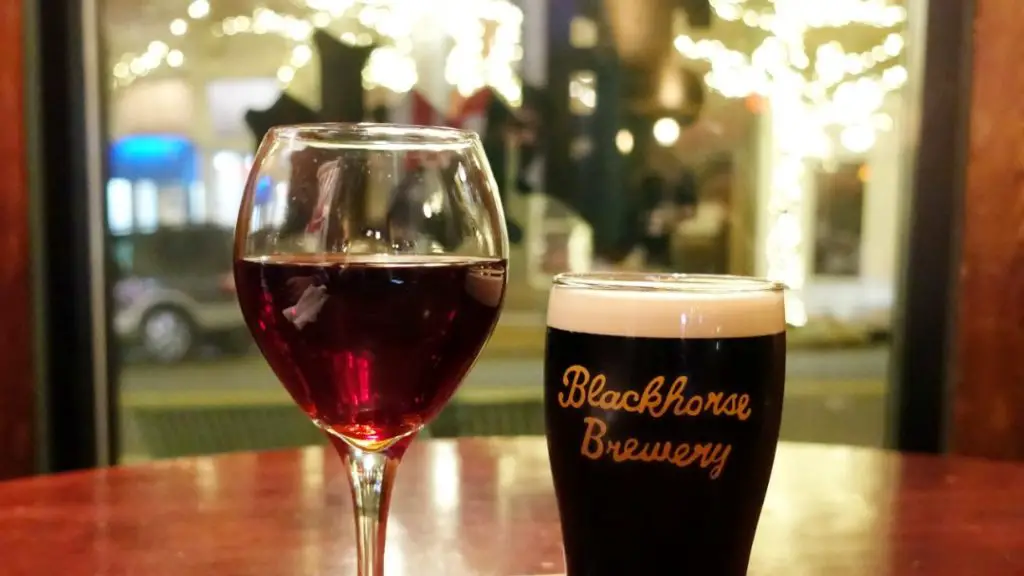 5. Harbor Cafe 
The Harbor Cafe is packed with locals who agree that this restaurant offers great value for the money. Every day from 11 a.m. to 4 p.m., they offer hearty lunch specials all for $10 or less. A basket of fresh-baked rolls and butter is also served complimentary with every meal.
Best Shopping in Clarksville, Tennessee
Searching for the perfect Christmas gift for someone special? With Clarksville's strong community of artists and craftsmen, you'll be pleased to discover some great shopping options around town.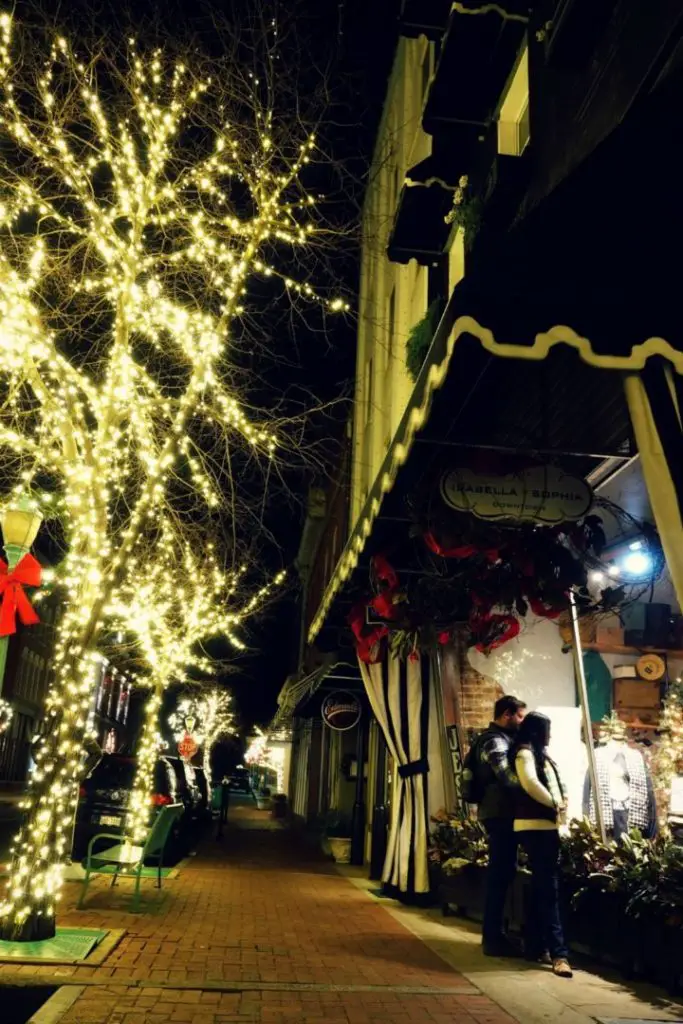 Miss Lucille's Marketplace has over 200 creative, crafty vendors all under one gigantic roof. Additionally, downtown Clarksville boasts a variety of boutique shops with the opportunity to purchase that one-of-a-kind gift. Other local favorites include Journey's Eye Studio and Mildred & Mable's.