Our days in South America are slowly coming to a close. Although it will be hard to move on from this continent in which we started our journey, we are excited to get a change of scenery and start a new adventure. So, what's next for The Budget Savvy Travelers? We're headed to the best island in the South Pacific.
Best Islands in the South Pacific to Visit
2015 is a special year for us because this year we celebrate our 10 year anniversary! We were blessed to have our dream honeymoon in Tahiti and Bora Bora, and we wanted to do something just as amazing to mark ten years of love, laughter, and travel together.
When we played our Choosing the Destinations Game before we left for our RTW, Audrey's #1 pick was Antarctica. But what was Harry's? ….The Cook Islands!
Right now you're probably thinking, where the heck are the Cook Islands? Smack dab in the middle of nowhere in the Pacific Ocean, the Cook Islands are made up of 15 tropical islands that are in free association with New Zealand.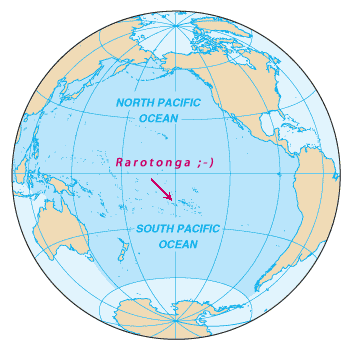 A mix of coral atolls and volcanic islands, many have listed this as a  "must-see before I die".
How Long Will We Be Staying?
We will be spending a total of 41 days in paradise. We're starting with 10 days in Aitutaki and ending with 31 days in Rarotonga. Then we are off to New Zealand. We managed to snag a beachfront bungalow in Aitutaki for $100 per night, and an apartment on Rarotonga for $75 per night.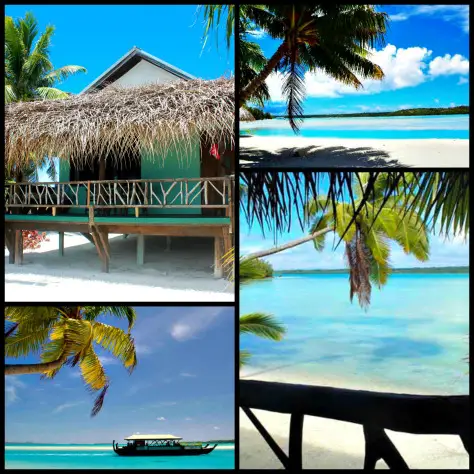 Aitutaki is the main reason we're going to the Cook Islands. It is situated on what some say is, "the most beautiful lagoon in the world." Additionally, because so few people have heard of Aitutaki, it has been spared from mass tourism. (Those kiwis are doing a good job keeping it a secret).
The Cook Islands are extremely easy on a budget which is hard to say about nearby Tahiti (which lies just 700  miles northeast). On Aitutaki, we're staying at Inano Beach Bungalows. At approximately $100 per night, it should provide exceptional value based on the location.
Outside of our meals, we're seeing additional costs in extracurricular activities such as kite surfing, snorkeling, and renting a scooter. We're hoping our average comes out to below $140 per day.
An interesting piece of useless trivia: In 2006, Aitutaki was used as the location for the tribal council in the TV program Survivor: Cook Islands. Surrounding islands were used for tribal camps and crew locations. One of the tribes was named Aitutaki (or 'Aitu') after the island.
Main Island of Rarotonga
Rarotonga, which is considered "the main island," is quintessentially the perfect island getaway. Here, we're staying at Muri Retreat apartments. It's in an ideal location as it's only a short 5-minute walk from Muri beach, the most popular beach on the island for swimming, snorkeling, and relaxing.
At $75 per night, Muri Retreat should provide superior value based on the amazing reviews it gets from repeat tenants. With an extra $25 dollars per day in the budget, we'll be able to explore the island and even go out for dinner every few days! What a great way to celebrate our 10 year anniversary!