Looking for the best romantic getaways near Chicago? Like so many couples, we usually use the month of January to get our lives back on track after the chaos of the holidays. Most couples go into a mode of recovery, both physically and financially, from the merry excess of the holidays.
Once your bank account and waistline begin returning back to normal,  it may be time to start thinking about a romantic getaway. The following are some great destinations near Chicago where couples can enjoy a fun escape. There are unique options for every type of travel couple!
Best Romantic Getaways Near Chicago
For the Luxury-Minded Couple
West Baden Springs Hotel, French Lick, Indiana
The West Baden Springs Hotel was built more than 100 years ago and is considered by many to be one of the most iconic historic hotels in the United States. In fact, it was once referred to as the "Eighth Wonder of the World."
This recognition was mainly due to the mind-boggling atrium that spans about 200 feet. There are many things to do around town to stay busy such as hiking, horseback riding, spa treatments, or trying your luck in the French Lick Casino.
Insider tip: Consider staying in one of the 36 superior guest rooms featuring balconies that overlook the entire 360-degree dome.
For the Couple Seeking Pure Romance 
Serenity Springs, Michigan City, Indiana
Sitting on 85 lovely wooded acres, Serenity Springs offers couples the ultimate getaway experience. It's been said that the location and the motif of each cabin vary so greatly that you could visit all 30+ cabins and have a totally different experience in each one!
Insider Tip: At Serenity Springs, each cabin features a fun butler's door. Throughout the stay, a little red light will illuminate indicating that a complimentary special surprise has been delivered. For example, one night we received a S'mores package to use with our fire pit. As adults, it's not often we get to experience that childlike glee that comes with unexpected surprises.
For the B&B Lovers
Vrooman Mansion, Bloomington, Illinois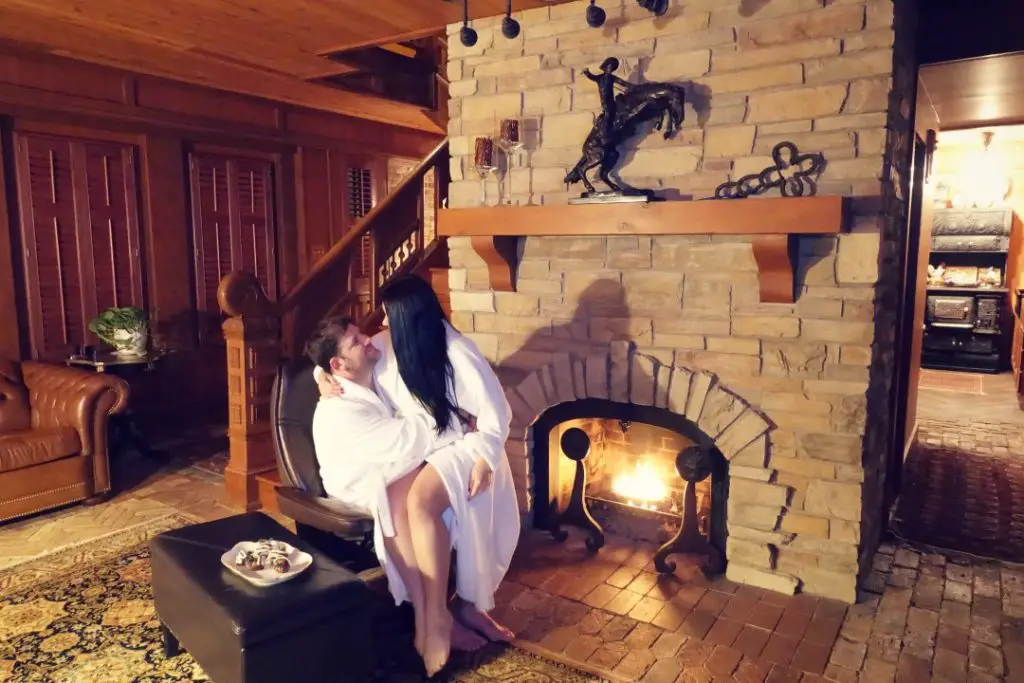 Looking for a much-needed romantic rendezvous or a place to stay while exploring Route 66?  The Vrooman Mansion is the perfect destination for wedding nights, honeymoons, babymoons, and any romantic getaway! The B&B features en-suite rooms within the mansion or guests can choose to stay in the Carriage House just a few steps away from the main house.
Once inside, you can't help but marvel at the time-traveling effects that occur within the mansion. Most homes with this amount of historical significance operate only as a museum. However, overnighting in the Vrooman Mansion allows guests to experience what life was like for Julia Scott-Vrooman; a woman who lived quite a luxurious lifestyle as a member of the elite in the 19th century.
In the mornings, elegant breakfasts are served in the dining room at the very same table once used by Julia Scott.  Candles are lit. Sunlight illuminates the stained glass windows. We found ourselves savoring our cups of coffee, in no rush to leave the cozy, yet exquisite room.
Insider Tip: The Vrooman Mansion offers a great mid-week special. If you book 3 nights and one of the nights is a Tuesday, you get Tuesday night free! For stays in February get an early check-in, late check-out,  a free bottle of champagne, and a special treat.
For the Couple Who Loves History
Market Street Inn, Taylorville, Illinois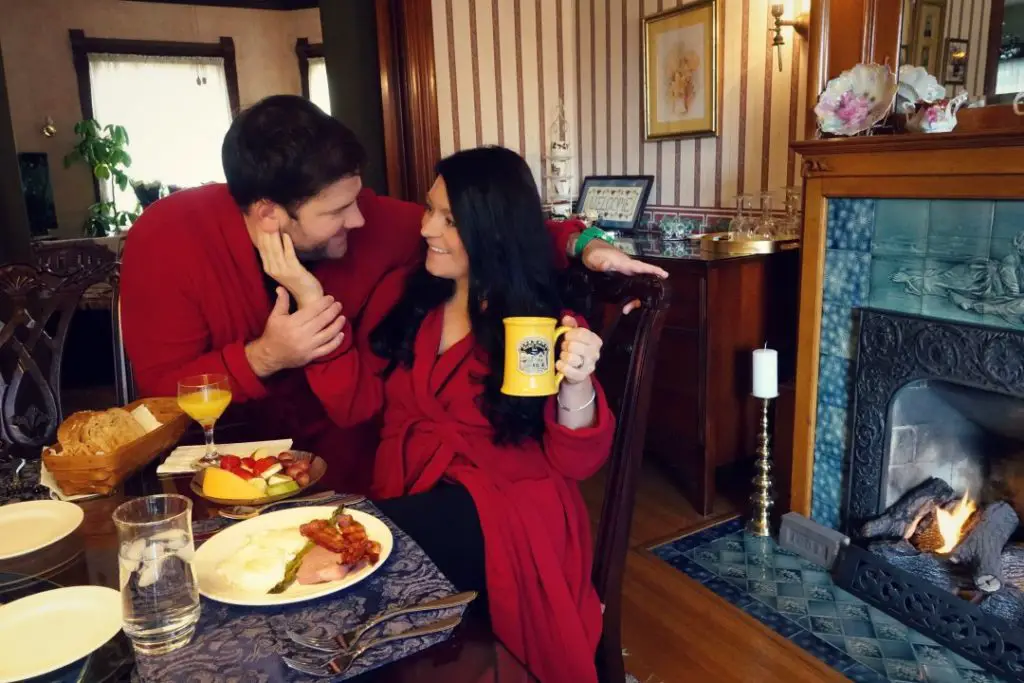 One of the most difficult decisions to make when staying at the Market Street Inn B&B is deciding on what room to stay in. Guests will appreciate all the mysteries and stories that each room holds. With large double whirlpool tubs and fireplaces in most rooms, you can't go wrong.
In the mornings, delicious breakfasts are served in the candle-lit dining room. Savor cups of coffee while enjoying one of the six original fireplaces, accented with Minton tiles that were imported from England.
Using the Market Street Inn as a base, couples can explore many historical sights around the region.  For example, in nearby Springfield visitors can enjoy many historical sights including Lincoln's Tomb, the Illinois Governor's Mansion, the Dana-Thomas House, the Illinois State Capital Building, and Lincoln's home.
Insider Tip: Did you know the Market Street Inn has hosted quite a few celebrities? You can feel like a Hollywood Movie Star here too, just like fellow previous guests Mickey Rooney and Jenna Fischer (Pam from "The Office").
For the Sightseeing Couple
Galena, Illinois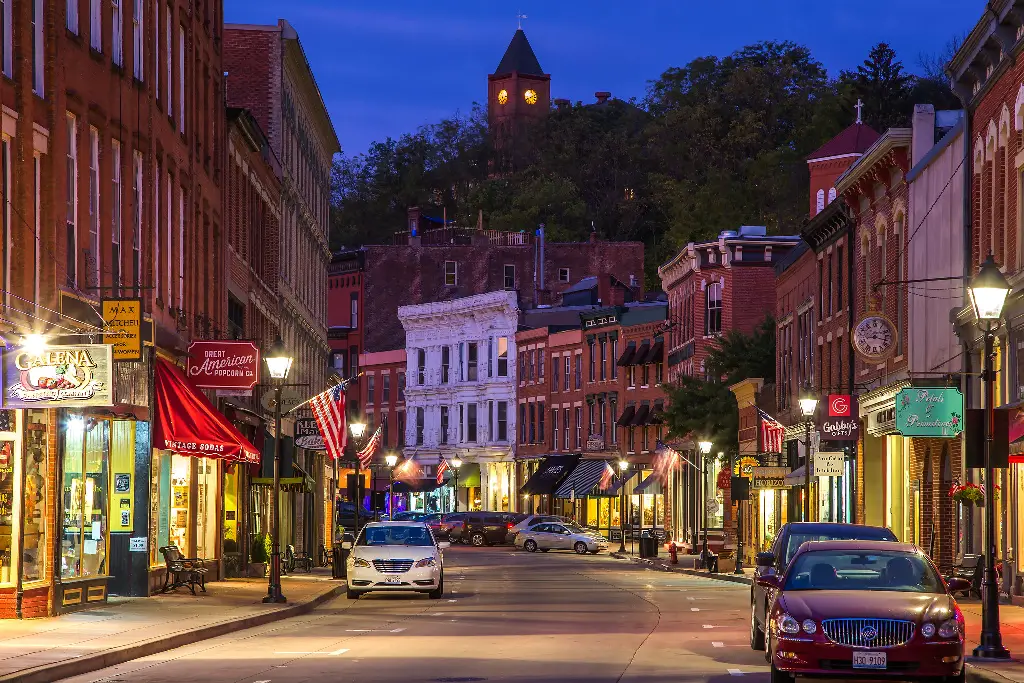 Located in the hilly northwest region of Illinois, Galena is the state's third most popular tourist destination. Although a small town, Galena has plenty of sightseeing opportunities for couples who like to stay busy.
Full of fascinating history, several tours are available to see Galena's major attractions. For example, visitors can explore the former home of Ulysses S. Grant the 18th President of the United States, the Dowling House, and the Belvedere Mansion.
Galena is also a great outpost for outdoor adventure. The Galena River Trail offers free public access for walking, cycling, and cross-country skiing. The path is comprised of finely crushed rock which is best suited for mountain bikes and hybrids. Leashed dogs are welcome.
Some other activities to enjoy are winter sports at Chestnut Mountain, summer water sports on the river, a Long Hollow Canopy Tour, and exploring Horseshoe Mound Preserve.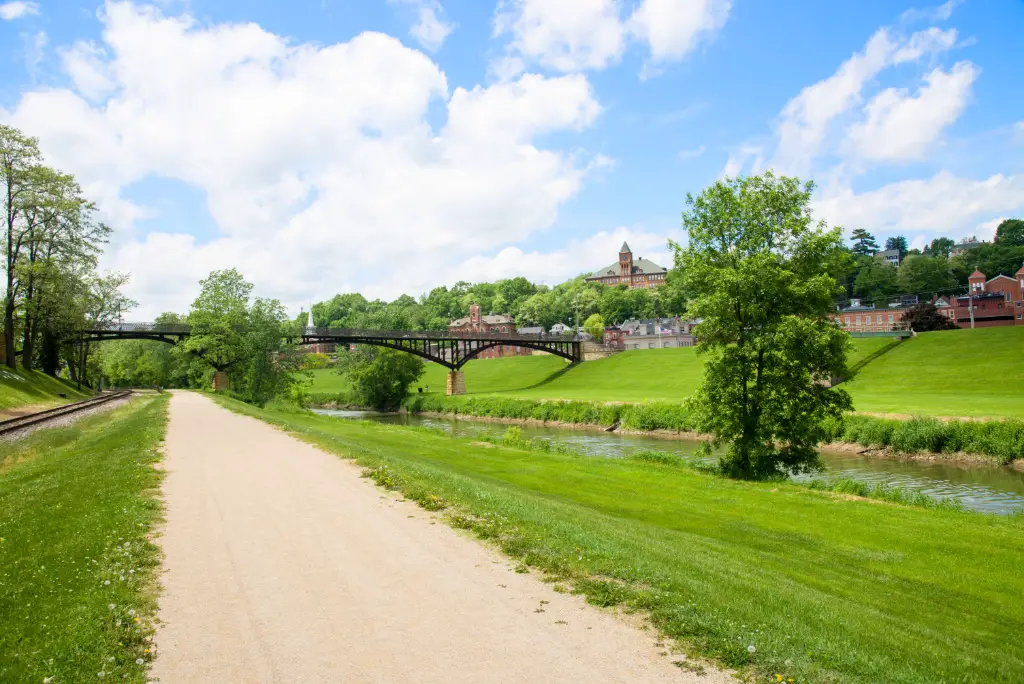 Alternatively, couples can spend an entire day just on Main Street. With over 125 shops, restaurants, and boutiques to explore, many visitors come to Galena just for the unique shopping experience alone.
For those in search of nightlife or a happy hour, there are wine bars, local pubs, and breweries. Thankfully, there are gorgeous B&Bs within walking distance to Main Street, such as the Farmers Guest House and the Alice's Snyder House. All of these options are set on a picturesque street with many businesses still housed in buildings originally constructed in the 1800s.
For the Outdoorsy Couple
Shawnee Forest Cabins, Herod, Illinois
The rolling hills and lush valleys of the Shawnee National Forest are a perfect backdrop for a great escape in the Midwest. Surprisingly, there are many activities to do in the area to help couples make fantastic memories together.
Located across from Camel Rock, the Shawnee Forest Cabins offer the perfect location as a base to explore the Shawnee National Forest. Avid hikers will love the fact that they can walk to the Garden of the Gods Recreation Area. The cabins feature private hot tubs, fast Wi-Fi, fireplaces, satellite TV, outdoor fire pits, and full kitchens; perfect amenities for those looking for a home away from home experience.
Insider Tip: It takes a lot of time to find the most photo-worthy destinations scattered around the expansive Shawnee National Forest.  Click here for our top picks for the most scenic, Instagram-worthy landscapes to discover in Shawnee National Forest.
For the Wine Lovers
Blue Sky Winery, Makanda, Illinois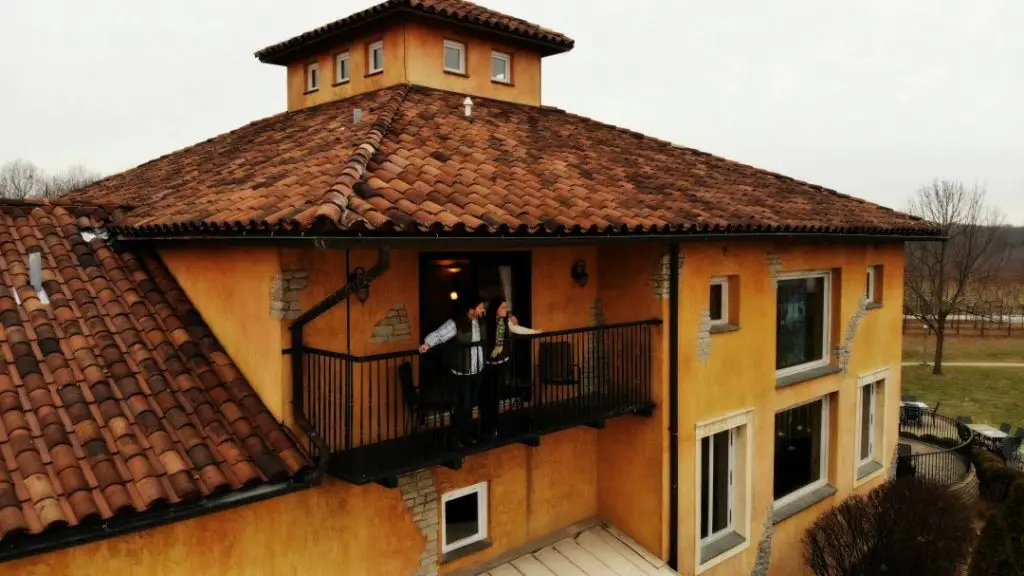 Blue Sky Vineyards provides overnight guests with a truly hidden gem. Two spacious suites are located just above the wine tasting room.
The Tuscany Romance Suite includes a balcony that overlooks the wine bar and an additional balcony overlooking the vineyards and Shawnee Hills. Outside of California, Blue Sky Vineyard is probably the closest winery representing a Napa Valley Estate.
Insider Tip: There are 11 wineries open for wine tastings along the Shawnee Hills Wine Trail. Even though they're spread out over a 40-mile distance, it is possible to visit all of them over the course of a couple of days.
However, if you're short on time and only have the opportunity to visit a few, here are our picks for the best wineries on the Shawnee Hills Wine Trail:
Blue Sky Vineyard.
Alto Vineyard.
Owl Creek Vineyard.
Looking for a great romantic getaway in the Midwest? Why not consider one of these great destinations for your next holiday or couples retreat? If you know of a hidden gem in the region that couples would enjoy, please offer your travel tip in the comment section below.